The Daily Bongo
Books, food, sports, television, movies, politics, and Pittsburgh life

Big Brother 18

Current Entries
---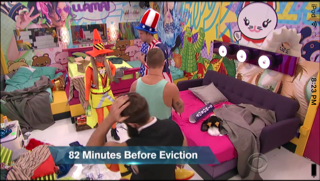 Sunday, August 21, 2016 -- Evening
What Goes Around
Paul found out this past weekend that when you get rid of a staunch ally because you think it's best for your game, you find out it's not necessarily good for your game. Yep, what goes around, comes around. There was some drama when Paul and Victor went up on the block, and Paul did his grade school intimidation on Natalie and Michelle. He succeeds with Michelle, but James knows that Paul and Victor will come after him if they get rid of Corey.

But enough of that! On with the show. The show starts with the HOH competition. They have to hold onto a button in the dark until a voice tells them to let go. They then have 30 seconds to find as many disks as possible. Then they have to go back hold the button.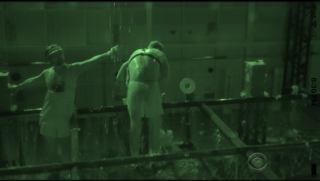 We get a revisit to what happened 82 minutes before the eviction when Paulie and Paul tell Nicole and Corey to go after Victor and Hames. Nicole runs and tells James and Natalie. Nicole tells James she has his back 100 percent. James, Natalie, Nicole, and Corey plan on a final four. While they hold the buttons down, Corey is able to reach and grab one with his long arms. Then Michelle get her advantage of 30 seconds. However, she wastes it by not getting disks that fit. Nicole found three disks right away, but they were decoys. Paul lost his shoe. Corey was also messing with James to win too. Then Michelle was flapping her hand and she was the first one out. Michelle cried to Victor about how she needed to win. Paul kept on saying it was going to puke. He also lost both of his shoes. This was a really cool competition because of the button holding, disk searching, and goop spraying. Natalie says she has seven disk, but she's not sure she can continue with her sore neck. James fell on the final run to the buzzer. They got the final spray, and then were told they survived the black box. Paul had 5 disks, so did Nicole. Corey has 10 disks. Natalie had 10. It was a tie between Natalie and Corey. Paul thinks he is safe with Natalie.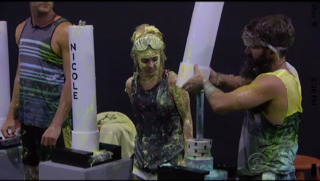 Natalie brought her tenth disk back at 1:57:50 mark, and Corey brought his back at 1:57:54. Natalie won by 4 seconds. James realizes that he's been playing both sides of the house. Michelle feels safe because Natalie won. Victor really hopes that Natalie remembers that Victor did not put her up. The thing is that if Natalie keeps them safe, they will come after her and James next. Natalie, James and Nicole talk because Nicole wants to reinforce that James, Natalie, Nicole, and Corey will be final four. Natalie realizes that ie would make sense for the shommances to team up. Nicole said that Paul is very social, and Victor is good with competitions. Nicole says that Victor and Paul will be a strong team to combat.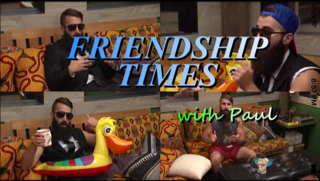 Then there was a lame segments on Natalie spilling things. Then Paul talks to James and Nicole about friendship. While Corey is trying to talk to James and Nicole, Victor comes in. It makes for an awkward time, and Victor notices that the three of them were whispering. Victor goes to Paul and tells Paul that all three stopped talking as soon as Victor walked into the room. Victor says something is off, and Victor asks why people can't stick to a plan--like he did with Paulie.

Then we saw a segment of Friendship Time with Paul. He basically goes into the Safari Room and talks about crap. then it was time for the care package delivery. Michelle got the care package, which was the co-HOH. Nicole realizes that she is good with Natalie and James, but not with Michelle. Michelle wants to make big moves and stir the pot. But Michelle and Natalie can't compete next week. Michelle tells Natalie that she wants Nicole out. Natalie asks who the strongest two are. Michelle says Paul and Victor. They think they have to go after the strongest two.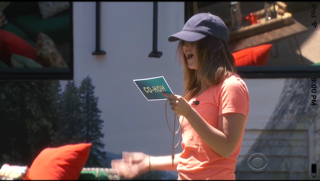 Michelle says that Paulie shed soem light on Paul's actions. Michelle realizes that Paul has been playing both sides. Michelle does not want to put up Victor. She wants to put up Nicole. However, Natalie works on Michelle. Then Corey tells her he is not after Michelle, but Paul and Victor are strong. Corey says he won't go after her next week. Natalie tries to tell Michelle that Corey will come after her. Natalie says she will put up Victor, and tries to talk Michelle into putting up Paul. Michelle realizes that it's personal with Nicole, and that Paul might be the better long term decision.

Time for the nomination ceremony. Natalie nominates Victor. Michelle nominates Paul, and Paul says shocking. Then Paul says to Victor, "can you get his knife out of my back?" Hmmm, sort of what he did to Paulie. Nicole was nervous that she would go on the block. Victor says he's a competition beast, but he's not worried. Ha, well, he doesn't.

---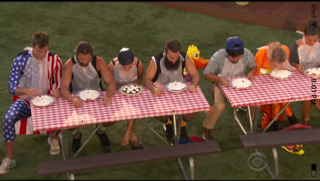 Friday, August 19, 2016 -- Evening
Stupid Clip Show
CBS had a show with some special comps filmed on Monday when Paulie was still in the house. Based on what happened on the live feeds, Natalie won the HOH competition, which was something about finding stuff in sticky honey. Michelle won the care package, which makes her co-HOH and allows her to have one of the nominations. It seems that both Natalie and Michelle want to target Paul and Victor. What goes around comes around.

On the show this evening, Victor says that he doesn't fear anyone in the house. It appears that they are going to show the competitions without Paulie--who actually did compete in the special competitions.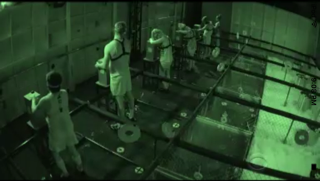 It's weird seeing them not show Paulie. There was a Ziggy Marley concert. I think they had this whos to do a clip show because they had cutout of the evicted house guests (minus Paulie, who was there), and then they showed clips.

They all did a dart game. Paul got $500. James got 25 cent. Nicole got $7.50. Natalie also got 25 cents. Michelle got 25 cents. Victor sucked at the game. He finally broke a balloon and got $500. Then there was a pie-eating competition, and it was obvious that they cut out Paulie, sitting to Natalie's left. It looks as if they had Corey and Paulie at the ends so they could be edited out of the video. Lame!

They did show some clips of the start of the HOH. They have to search in the dark in sticky stuff. Results on Sunday's show.

---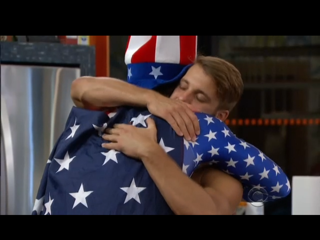 Thursday, August 18, 2016 -- Evening
So Long Paulie
The Pittsburgh Steelers are playing an exhibition game on our CBS channel, but fortunately, I can watch on another channel. While the Olympics are on TV, I'm watching Big Brother with the FiOS app on my iPad. I couldn't miss Paulie going home, and I don't think he has the return trip. So I'm wondering what Big Brother will be doing with the extra show CBS has scheduled for tomorrow evening. The house guest will be playing for prizes, but people are wondering if there will be a returning juror competition. I hope so because I really don't like these people, so it would be good to get some drama.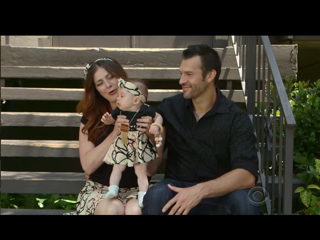 The show started with Paulie being at the bottom. The only way they can both stay in the house is with the round trip ticket. Paulie admits in DR that there is nothing he can do because Corey was his closest ally. James tells Paul that he wasn't going to give Paulie a hug. Paulie talks to James and says that he's not going to campaign against Corey. Paulie says that he realizes that he's not the best for everybody's game. James realizes that even Paulie deserves sympathy. Paulie refused to go and bake an apple pie as part of his punishment. Michelle says that Paulie brooding is making him the biggest baby. Corey tells Paulie that he doesn't want to see Paulie like that. Corey says that he wants to see Paulie at his best. Corey tells Paulie to bake the pies.

Paulie goes and talks to Natalie about the things he said. Paulie apologizes to Natalie. She thinks it's strategy because Paulie is on the block.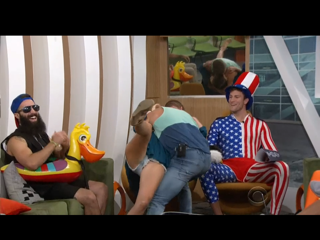 I don't know that he was thinking at that point that he would stay in the house. Paul and Paulie talk about Paulie not staying in the house. Paulie tells Paul that no one wants to keep Paulie in the house. Paul says that he will give Paulie a sympathy vote.

Paulie talks to James while Paulie has his chef costume out. Paulie says that he would be Victor's target. Paulie tells James that taking out both Paul and Victor will be hard for James by himself. James claims that he's about big game moves. Paulie thinks that he might have Paul and James' votes. Paulie talks to James and Natalie about what they will want. Paulie tells them that if James and Natalie save him, he won't screw them.

First, we have a segment on Rachel and Brendon and their new baby girl, Adora. Rachel is obsessed with Natalie. Then we had a jury house segment. Da'vonne cries at Zakiyah coming into the house. Da'vonne tells Zakiyah that's a wake-up call that Paulie did not use the POV on Zakiyah.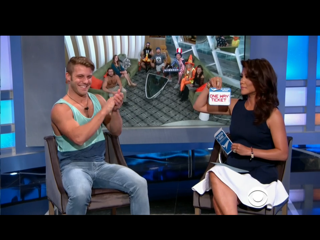 Finally, the live vote. Paulie goes first with a shout out and comments on loving every single one of them. Paulie says Nicole is the sweetest girl. He says Natalie has a heart of gold. Paulie gave Michelle a kiss because she missed a showmance. Corey was boring after Paulie's speech. Corey says Nicole is the sweetest, kindest, most cuddlest snake. Now the vote:

Michelle evicts Paulie
Paul evicts Paulie
James evicts Paulie
Natalie evicts Paulie
Nicole evicts Paulie
Paulie went out nicely. I hate it when they act like jerks when they leave. Paulie also lifted up Julie Chen when he saw her. Paulie had a one way ticket. Julie asked how things went wrong so quickly.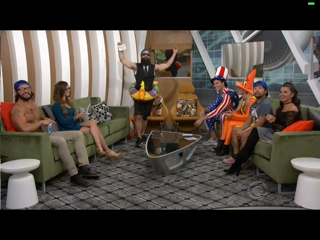 Paulie said that he didn't think there was a weak link. Paulie realizes that Paul had a hand in turning on him. Julie asked Paulie about being so down. Paulie said that it was strategy, and that crying doesn't work as well for men as it does for women. Paulie skirts around the Zakiyah romance. Julie says that Paulie is basically saying no to being with Zakiyah outside the house. Michelle calls Paulie a poor man's Derrick.

From what Julie has said, it doesn't sound as if anyone will be going back into the house from the jury. Julie has the house guests open their envelopes to see who had the round trip ticket. Paul had the round trip ticket. Julie Chen says the next HOH competition will be on the special show tomorrow. AND next Thursday, the house guests will learn that one of the five jurors will be coming back into the house.

---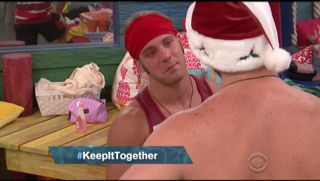 Wednesday, August 17, 2016 -- Evening
POV Ceremony
I wasn't able to watch Big Brother, as I anticipated, but I don't think I missed much from the show. Paulie had a breakdown on the live feeds, and I wonder how much of it they will show on this evening's episode.

The show started right after the nomination ceremony. Victor's target is Paulie. Corey was committed to the all guys alliance. Paulie cries in the DR, because he is a born and bred competitor. He is planning on beast mode.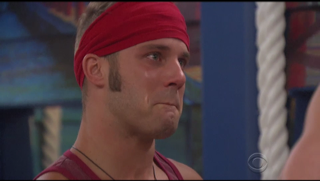 Paulie calls out Victor on the five guy alliance. Corey also adds that he could have put Victor up on double eviction. Paulie says that he was committed to the five guys, and that he trusted the group, which is why he didn't take down Zakiyah. Nicole outs the all guy alliance to Natalie and Michelle. Paulie and Paul talk, and Paul claims it ia slap in the face because he has been behind Paulie. Then Paul was very fumble mouthed when it came to saying he would pull Paulie off if Paul won the veto. Paulie knows he is alone. Paulie goes to Corey, and Paulie starts to cry and says that if Paulie wins the POV, he will use it on Corey. Funny because later in the POV competition, he takes the POV from Corey.

Time to pic for the veto competition. Victor picks Paul. Paulie picks house guest's choice. Paulie asks Michelle if he chose her, if she would save him. She says no, so Paulie picks Nicole. James, Paul, Natalie, and Michelle decide to bully and pick on Paulie on Paulie will suck at the competition.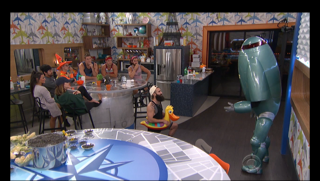 That's the sort of school girl thing that I really hate to see. These people are all a bunch of asses. Paulie asks Paul why he looks so serious, and then he asks if Paul is really pissed. Paul claims he had Paulie's back (lie), and Paul says that he's offended. Michelle says that Paul was not a manipulator. Paulie says that Michelle got into the head of the guys alliance to turn on them on him. James calls Paulie on Paulie making comments about Natalie. Natalie says that James likes her for who she is. Paulie says that it looks like a page out of Paulie's playbook, so he knows that they are all trying to get into his head. I really dislike them all.

It's time for Zingbot. Zingbot calls out Corey by talking about how Hayden was Nicole's boyfriend. Zingbot calls Victor a douchebag. James got zigged on scaring Natalie's parents.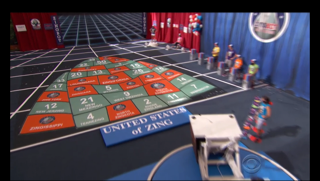 Paulie zinged on being a lesser version of Cody, a poor man's Cody. Michelle got caleld a cry baby. Natalie is called stupid with lots of armpit hair. Nicole was called on throwing her game away on a showmance last time and this season. Paul gets zinged up his stupid catchphrases. He's told to shut the f*** up.

Time for the veto competition. Zingbot is running for president. It's the prize game where the person with the fewest points claims a gift. The last player out gets the choice of prizes. Paul botched the competition on purpose. He's the first out. Paul got the 6th place prize, which was the POV. The numbers they already landed on are no longer in play. Nicole is out next. Nicole gets a secret service prize that makes the holder pat down the other house guests when an alarm goes off. Lame! Corey is next out, and he gets a vacation to any place. Corey takes the veto. Paulie lands off the board, and he gets a zero. Paulie is out. Paulie gets the patriotard prize, and he trades it for the veto. James is next out. His prize is $5000. He keeps the money. Victor gets a prize to make pies. He trades for the veto. Paulie is devastated. He knows he's the target, and he has no fight.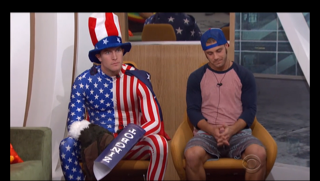 Corey gets a patriotard. Nicole thinks he looks hot. Paul has to dress up in a secret service suit and then has to pat down everyone, and check all checkpoints. It's really lame. Then we see Paulie making apple pie. He has to bake the pie and wave a Zingbot plag while the pie is in the oven. Paulie said that he would try to play the game, but he starts crying, Natalie gives him a hug. He tells Paul and Natalie that he was always the strong one. Paulie wants to just quit. CBS does not show how Paulie said he would not bake pies, and how he wanted to self evict.

Time for the POV ceremony, and of course, Victor does not use it. CBS does a stupid security alert during the POV meeting. Victor tells Paulie that it's really between him and Paulie. Victor says he can forgive, but never forget. Corey says that he loves Paulie, but Corey has to watch out for himself and his game. Paulie does not want to campaign against Corey.

---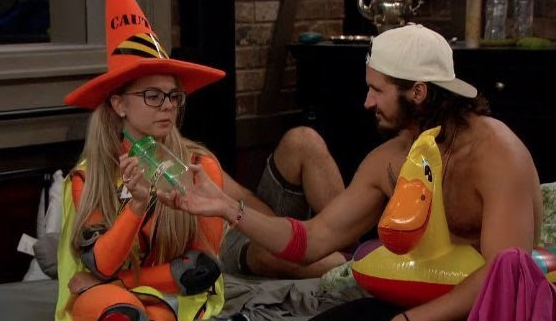 Sunday, August 14, 2016 -- Afternoon
Paulie in Trouble
I won't be around this evening, and I have a busy day tomorrow, so I probably won't get a chance to see tonight's episode of Big Brother. However, I know what is going to be happening for the most part tonight. Victor wins HOH. He puts up Paulie and Corey, which is the big move that Corey should have made on Thursday. Then the house ganged up on Paulie to make him miserable and thrown him from his game. That's one of the reasons that I hate these people. They just love to go around making people miserable, and I'm just really tired of the grade school antics.

Nicole won the safety care package and has to wear a safety cone costume. The POV was Zingbot, and they had to exchange prizes. Victor wound up winning. He's probably not going to change the nominations, so that means Paulie is probably going to go home.

There is supposed to be a show on Friday, and I think that it might be another battle back for the jurors. In tonight's show, we will probably see the fight that happened right before Thursday's show when Paulie's game play was outed, and we'll see the HOH, care package, and nominations. I would imagine the grade school bullying of Paulie will be saved for Wednesday's show.

---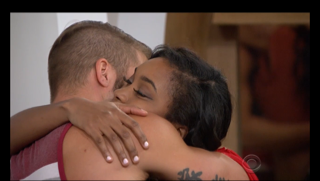 Thursday, August 11, 2016 -- Evening
Double Eviction Night
It's double eviction night on Big Brother tonight. The show started with some of the action from the house where the girls turned against Paulie. Bridgette wanted to shake things up by taking out Zakiyah. Bridgette says that even though she had faught with Michelle in the past, she wanted to play the game. Paul and Paulie say that they have to make a big shot next week. Paul doesn't want to risk another week by getting rid of people who aren't threats like Natalie. Paulie says that he knows that Paul personally is safe. Paul says in DR that he has been scratching Paulie's back, and he wasn't some reciprocation. Then Michelle talks to Natalie and James about how Paulie is running the house. Does Michelle have the numbers? Natalie and Bridgette want to keep Michelle.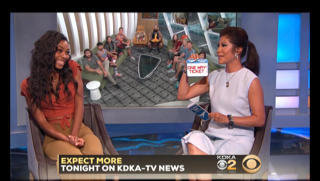 That surprises James, so he wants to stir the pot. James, Natalie, and Michelle tell Paul that Paulie has been running the house, and Bridgette says that Paulie trusts Corey most. Julie says that tensions are high in the house, and then she tells them it's double eviction night.

Time for the first eviction. Zakiyah tells them to do what they do. Then Michelle tells them all that Paulie has been going for $500,000, and now they are all aware of his game. Now James uses his power to block Corey and Paul. Time for the vote:

Paulie evicts Michelle
Natalie evicts Zakiyah
Nicole evicts Michelle--saying that she knows she is staying
James evicts Zakiyah
Bridgette evicts Zakiyah
Zakiyah gets a big hug from Paulie. Julie opens the round trip ticket right away. Zakiyah has a one way ticket. Julie asks Zakiyah about Paulie assuring her that he was safe. Zakiyah syas that it's a lot of different emotions, but Paulie did what was good for Paulie's game. Julie asks Zakiyah if she focused more on the game instead of Paulie, if she wouldn't be sitting there. Zakiyah says that she would like to see Paulie outside of the house, and she has no regrets.

HOH competition is next. The competition is to determine if the statistic they are given on the house is more or less. Bridgett and Pauli are out with the first question. In the second question, everyone is out except for Corey. He is the new HOH. All the guys bumped chests. Michelle had done a victory dance when Paulie went out, but she doesn't look like she's dancing now.


Corey talks to the guys. James is now back tracking to be part of the boys club. Corey should put up James. Corey nominated Bridgette and Michelle.

For the POV, Paul, James, and Nicole will also play in the POV. It's the ball pit game that Jeff lost in. They have to find three clocks and get their last clock in. Nicole, Corey, and Paul get the second clock. Then Bridgette found it. Corey found the third clock and so did Nicole. Corey won the POV. Paul, Paulie, Nicole, and Corey decide that they will get rid of Michelle.

Bridgette and Michelle know that Corey won't use the veto, and he doesn't. So up next is the second live vote.

Time for the live vote. It's time for the final speech. Bridgette says she is ready to play this game hard. Michelle says that she can walk out the door happy because she blew up Pauli's game. She also calls Nicole a snack.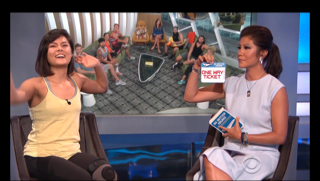 Natalie evicts Michelle
Paulie evicts Bridgette
Nicole evicts Bridgette
Victor evicts Bridgette
James evicts Bridgette
Paul evicts Bridgette--and gave a shoutout happy birthday to his mom
Bridgette is out, and Michelle just sobs loudly. Geeze Louise! Bridgette has a one way ticket. Julie asks how with Michelle's insults she is still in the house and Bridgette is outside. Bridgette is so confused. I think they kept MIchelle because she is a emotional mess.

The next care package is super safety. The person will be safe, and has to wear a safety costume. Julie assured us that we will learn of all the details of what lead up to tonight. Paul told Michelle to stop crying so much. Sigh!

---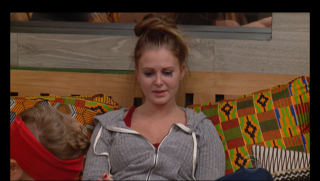 Wednesday, August 10, 2016 -- Evening
The Paulie Show
So Paulie has basically been running the season, and I'm not sure if these smucks will ever figure that out. Sometimes, they seem close to it, but then they back track. He did not use the POV on Zakiyah, because she is expendable, although he may think he can save her by controlling the vote. The feeds have been boring, but let's see what they cover in tonight's show.

The show started with the post eviction action. Michelle sobs, crying and saying that she didn't use anything. Michelle, the supposed super fan, must not know she is on Big Brother. She sobs hysterical, because being such a big fan of the show, she can't understand why she is on the block. The girls try to console her. Personally, I just say BABY! My gosh, I want to smack her through the TV. Nicole told Michelle that everyone has to go up. Michelle says that she doesn't understand why Paulie isn't up instead of her. Michelle whines, and then says she is going to go lay in bed, which she does all the time.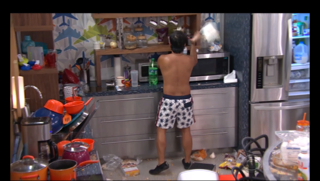 Paul says that Zakiyah should go because she is not as hysterical as Michelle. Paulie tells Zakiyah that Michelle's emotional wreck act is the reason Michelle must go. Paulie tells Zakiyah to pick him for POV. He says he will take her down if he wins. HA! Zakiyah and Michelle talk about how Paulie didn't convince or sway Victor. Zakiyah does believe that Paulie wants Michelle out before Zakiyah. Later Zakiyah asks Paulie what she should do. Then Zakiyah tells Paulie what Michelle said. Zakiyah is doing it just to put the target on Michelle.

When Paulie and Paul talk about the girls, Paulie wants to keep Zakiyah while Paul wants to keep Michelle. Paulie and James talk about how Victor and James want to evict Zakiyah. Paulie is trying to convince James to use his care package power to get Michelle out of the house. James tells Paulie that if James gets rid of votes, those people will be made at him. James is such a pussy.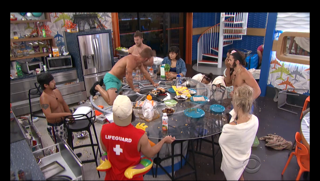 Time to pick players for veto. Victor selects Nicole. Michelle chooses James, and Zakiyah get house guest choice. She chose Paulie. Zakiyah says that will be the test of their trust. The competition is the same as before where the the house guests have to hide a veto card some where in the house. Then the others teer the house apart, and the last veto card found wins the veto. All veto cards look the same. After five cards are found, they stop to see whose card was found. Each person has three minutes to hide their veto card. Michelle, Victor, Michelle, Zakiyah, and James all pick lame places. Paulie hid his inside the kitchen table. James starts to destroy everything. James just wants to destroy the house.

Nicole found the first veto card, which was Victor's. Victor is pissed at the mess that James made in the kitchen, just throwing food all around. Nicole found the the second card (Zakiyah's). James found the third card. Victor finds the fourth card. So far, the competition has taken over four hours. Victor finds the last veto card. So, Nicole found Victor (1), Nicole found Zakiyah (2), James found Michelle (3). Michelle is devastated. Nicole found James (4). Victor found Nicole (5). Paulie wins POV. It's a huge decision of who Paulie is going to piss off.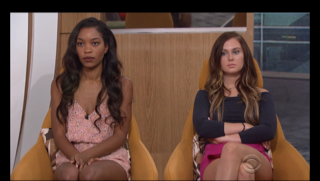 Everyone goes into the house, and Pauli shows them where he hid his card. The house is a real mess. Zakiyah runs up to Paulie to give him kisses. Paul and Paulie talk about who to get out, and what is best for PP. Zakiyah asks Paulie about using the POV. Paulie says that he won't be using the veto unless he thinks he senses a flip. Zakiyah is now feeling silly because Paulie is not going to take her off the block. Silly girl!

Paulie talks to James about getting rid of the right votes. James says that it's obvious that Paul, Victor, and Michelle might be a block. James says that he might cancel Paul's votes. Time for the POV ceremony. Michelle says she has a gut feeling that Paulie won't use it so it is what it is. Zakiyah says that she will respect Paulie's decision. Zakiyah feels numb. She now says that she didn't come there for a boy, but to win. Michelle says that people will have to see how Paulie is winning so much. Michelle vows to get Paulie out. James claims he will use his vote cancellation the way he wants. And tomorrow is double eviction!

---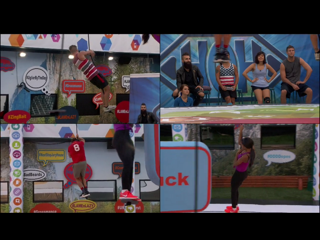 Sunday, August 7, 2016 -- Evening
Update on BB
The live feeds did come back on during Thursday's endurance competition. It came down to Paulie, Victor, Natalie, and Zakiyah, with the final two being Victor and Natalie. After much begging from Natalie for Victor to give her the win, Natalie wound up falling off leaving Victor as the new HOH. He put up Michelle and Zakiyah for eviction. There is a split between Paul and Paulie with Paul wanting Zakiyah out and Paulie wanting Michelle out. Well, Paulie won the POV on Saturday, but it seems that he is not going to use the veto.

The other news is that James got the care package that will remove two votes on eviction night. What the the house guests doen't know is that Thursday will be a double eviction night. As you can see, I recounted most of the action that went on in the house since Thursday. I'm not going to be watching the show tonight because I'll be watching the Olympics, and maybe I'll catch up with it tomorrow. We'll see if I have time to catch up on it.

---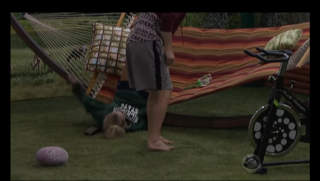 Thursday, August 4, 2016 -- Evening
Does She Stay or Does She Go?
We will find out tonight if Da'vonne has a round trip ticket. The thought is that she does because of a poster with ocho on it. It seems that Da'vonne has an envelope with a number eight on it. So we will see what happens.

The show started right after Da'vonne went on the block. Da'vonne thought she has Friendship with Paul. Paulie tells Bridgette that he thinks only Michelle and Zakiyah will vote Bridgette out. Bridgette says that Da'vonne is a much bigger target. Da'vonne goes up to talk to Paul. She says that she's trying to figure out. Da'vonne said that Bridgette is trying to campaign with Paulie. Paul says he is trying to do things in order. This confuses Da'vonne. Paul does not want a tie so he doesn't vote Da'vonne out. Da'vonne says that she doesn't believe Paul so she has to secure her votes.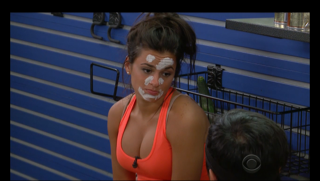 Next is a segment of Nicole falling out of the hammock. Michelle and Zakiyah say they will vote for Da'vonne. Da'vonne feels that James. Nicole is talking to James, Corey, and Paul. James wants to throw a vote towards her. James says he has a lot of eyes and pressure on him. They are all trying to figure out the double eviction. Da'vonne walks in as they talk, and James says that Bridgette and Victor would be up. Da'vonne sort of figures it out that there is a plot against her. Da'vonne goes to talk to James and Natalie. Da'vonne says that this Thursday, she needs to make sure that James and Natalie have her back. Da'vonne realizes that James is going to vote her out. Da'vonne tells James it would really hurt her feelings if he voted her out. Natalie and James talk in the storage room, and Natalie says she will do what James wants.

Next is a segment on Paul's family. Boring! Then it's time for the vote. Everyone appears to be dressed for endurance, which sucks because CBS has NOT been showing the endurance on the live feeds. Bridgette gives her speech first about being on Frank's side and being loyal. Da'vonne gives shout outs. Da'vonne prays there were no lie or deception this week, and that she is just a pawn.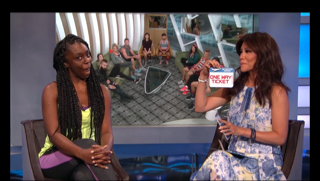 Paulie evicts Da'vonne
Zakiyah evicts Bridgette
Nicole evicts Da'vonne
Michelle evicts Bridgette
Victor evicts Da'vonne
Corey evicts Da'vonne
James evicts Da'vonne
Natalie evicts Da'vonne
Da'vonne is out with a vote of 6-2, but will she go right back in? Da'vonne hugs Zakiyah, Victor, and James before she heads out. Julie Chen called Da'vonne on bypassing James. Da'vonne told Victor that they were out to evict him on the double eviction.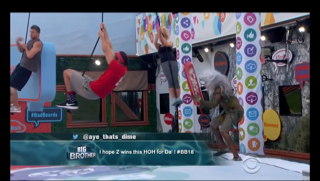 Da'vonne's envelope is opened after a commercial break. Da'vonne had a one way ticket, so that means the ocho hints were wrong. Da'vonne is first to jury. Julie asked who Da'vonne felt most betrayed by. Julie asked if focusing on Frank so much was bad for her game. Da'vonne agreed. Da'vonne thinks Nicole will go far, but James should be careful.

Da'vonne gets the good bye messages. Paul tries to act like he didn't know. James admits that he couldn't blow up his game this early. Da'vonne says the game is hard, but she would play it again and again and again.

Time for the HOH competition. It is an endurance. Damn! It's the standing/squatting on a disk while hitting into objects. The first three to fall off are have nots. Last on is the winner. James is squatting from the start, which I think is how Vanessa won last year. We also got a reminder to vote for the care package. This week's will give the winner an option to cancel two votes in the next eviction. After the commercial break, everyone is still up, so trolls are brought in to whack at the house guests. That's an interesting concept. Now only if the endurance wold be on the live feeds!!!!

---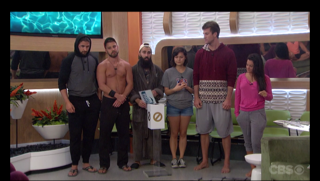 Thursday, August 4, 2016 -- Morning
POV
News on the Big Brother front is a BB19 for the fall that will be shown only on through CBS All Access. There isn't a ton of information other than Julie Chen will be involved, and that it will be 10 weeks starting right after BB 18 ends. I hope that it is a better, more interesting cast than CBS has for BB18. I have to admit that I just passed on watching the show last night.

So now it's time to watch and recap. The show started right after the nomination ceremony. Da'vonne is shocked because she thought Nicole was going on the block, and she did not know about Paulie. So Da'vonne decides to take on the cabbage patch kid and talk about Nicole. Da'vonne tells Bridgette that she has to win the veto. Bridgette doesn't trust Da'vonne, and says in DR that she will only feel safe with Da'vonne on the block beside her. Bridgette talks to Paul. He tries to reassure her. Bridgette offers to make cookies for Paul.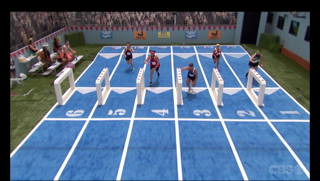 What follows is a stupid hot tub section with the guys in the hot tub making fun of things Nicole says.
Next up is the Zakiyah and Paulie fight. Paulie thinks that he and Zakiyah have a good relationship, but in the past week, Zakiyah has not given Paulie room to breathe. Paul tells Paulie that Zakiyah has too much information. Zakiyah cries to Michelle, and Paulie complains to Paul. Michelle tries to tell Zakiyah to not take it personal. Paul tells Paulie that Paulie should just play along with Zakiyah until Paulie clips her. Paulie just wants to win HOH and put her up. Zakiyah goes upstairs, but Paulie and Paul are already sleeping. Paulie and Zakiyah argue because he says that he needs to sleep because he has to compete in the POV. Zakiyah says she might have to too. But he HAS to. They go back and forth. I feel sorry for Zakiyah because it's obvious that Paulie is a jerk.

Next up are pranks. 'Nuff said. Michelle hits Paul with an apple, leaving a bruise. She cries because it's near his kidney, and she doesn't want to be known as a violent person. Rolling eyes.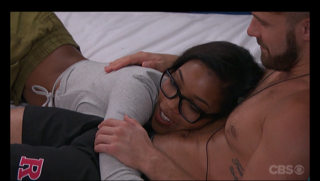 Time to pick for veto. Paul picks Corey. Corey is a giant. Paul gets house guest's choice, and he chooses Victor. Bridgette chooses Natalie.

Next up is Friendship and chess with Paul and Paulie. Da'vonne goes to join them, and asks what happens if Bridgette comes down. She wants Nicole to go up. Paulie goes to Nicole and Corey says that Da'vonne is trying to get Nicole up. Paulie also says that Zakiyah is going to be really pissed when Da'vonne goes home.

The competition is the Ready, Set, Whoa competition. They have to hold down two buttons with their hands, and then look for ready, set, go to run. The last person to reach the end is out. There are other words, and they have to hold down the buttons and not go until go or they have a false start. Corey just wants to show off his running skills because he was in track. So he winds up having a false start. In the second race, Bridgette was last, so she is out. Natalie is tired, dreamy, and out of it. Go came up quickly this time, and Natalie is out. Next race, and Paul is out. It's down to Paulie and Victor (who is wearing stupid pony tails in this hair). Paulie wins POV.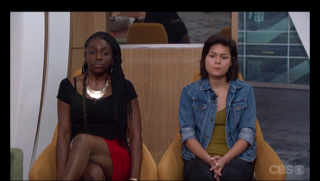 Da'vonne talks to Bridgette about what the plan is. Da'vonne acts as if Bridgette has control. Da'vonne doesn't know how to play Big Brother. Paulie tells Zakiyah that Paul will probably put up Da'vonne. Zakiyah does not think people will want Da'vonne out. Zakiyah says that Paul should be the next person out because he can win. Paul, Victor, and Paulie talk, and Paulie tells them that Zakiyah wants to take Paul out. Paul now wants Zakiyah out. Paul, Paulie, and Victor talk about clipping the girls.

Paul and Da'vonne talk. Paul is trying to cover his butt in case Da'vonne comes back into the house. Da'vonne mentions Nicole and then Natalie. Paul says he is browsing his options against her. Da'vonne thinks she is a big target against Bridgette. Paul tries to tell Da'vonne that they have a good bond, so Da'vonne should trust Paul.

Time for the POV ceremony. Paulie takes himself off, and Da'vonne goes up. Paul acts like he has two big targets on the block. Duh! Only Da'vonne is a big target.

---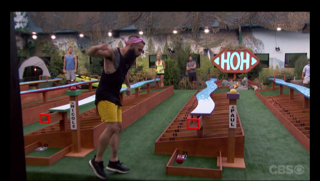 Monday, August 1, 2016 -- Afternoon
The Who Cares Show
I missed BB yesterday, so I figured I would catch up today. I wasn't that interested in the show because there really isn't anyone that I like in the show. The show started with the HOH competition, and we heard how everyone wanted to win the competition. Paulie is the only one who does not want to win. He just threw his ball down the track, and he got a 6. Paul uses this "friendship" phrase. One thing we did learn is that Natalie is totally incompetent at the game. She feels special with James' support. Victor went with the red ball because he was consistent with the yellow ball. Victor gets a 14. Paul goes with the red ball, and he gets to the end, and gets a 21 by getting it in the end box. Someone has to tie him or get it in the HOH box, and since Paul is first, he would be HOH if they get 21. It's just that everyone has to roll their balls. Dumb!!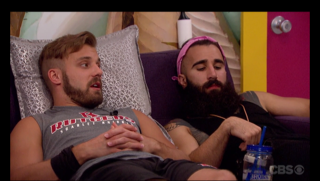 Paulie does tell Bridget that he has her when she rolls her red ball and gets a 10. Natalie starts getting perfect shots, so she goes for her red ball. She gets a 2. Natalie wants to cry because she is going to be a Have Not. Corey went off the track. He got a 0. Nicole goes for the red ball. She gets a 19. Zakiyah goes next, and she goes off the track and gets a 0. Da'vonne and Michelle go for it. Michelle gets a 16. Da'vonne gets a 19. So Paul is HOH. Victor, Paulie, and Da'vonne are all excited. Paulie wants to keep Bridgette as a number and get out a bigger fish.

For some strange reason, Paul wants a strong player to go up against Bridgette. Victor is not stupid, and he refuses to go up as a pawn. Paulie tells James and Corey that he wants Da'vonne to go up. Paulie says Da'vonne is Frank in girl form. James hopes that Paul does not get on board with it because James is boring and dumb. Paulie tells Paul that he really needs to get Bridgette out. Paulie says again that Da'vonne is Frank. Paul wants to put someone strong up to win the POV, like Victor. Paul really wants to take the weak way out and just get rid of Bridgette.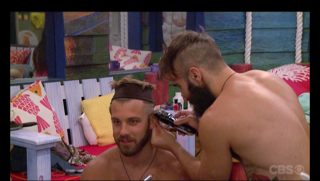 CBS shows us an HOH room review. Boring! It seems Paul lives at home with his mon, dad, and sister. When Paul asks for a pawn, no one volunteers. Da'vonne says that she already was on the block. James claims to have nerve damage from the HOH competition. Nicole says no. Zakiyah says hell no. Nicole says she is not the best at comps, but whatever. So Paul says "friendship."

Next up is a stupid discussion between Nicole and Corey about shelter dogs. Corey comes across as a really stupid person. CBS shows Corey and his dog, with the dog kissing him. Corey swoons and goes off into fantasy land about how gorgeous his dog is. He looks scary.

Bridgette goes to talk to Paul and Paulie. Bridgette says that Nicole and Da'vonne are close. Paulie says that Da'vonne is worse because Da'vonne stirs shit up.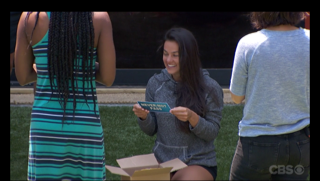 Zakiyah comments on how Paul and Paulie are twins. We then have the twins segment. Paul calls it PP action.

Time for the Care package reveal. They explain that it will be five weeks with an advantage for the house guest who receives it, who has to open it in front of everyone. Natalie says she is so excited. Nicole is nervous because it could be a game changer. They hear the announcement, and they go to the backyard to get the care package. It goes to Natalie who gets the Never a Have Not pass. There are socks and then finally the Never Not Pass.

Nicole tries to talk Corey into doing it. She feels that she made a huge mistake volunteering. Paul talks to Nicole, and Paul realizes that Nicole is freaking out. Paul wants someone to trust as a pawn. Paulie says he will go up. Paul gives a whole bunch of PP and friendship comments. These people are such lamers!

Nomination ceremony. Bridgette and Paulie go up. Paul says that Paulie has to make sure the POV gets in the right hands. Bridgette says this is not friendship. Da'vonne is surprised that Nicole, who volunteered, is not on the block.

---