The Daily Bongo
Books, food, sports, television, movies, politics, and Pittsburgh life

Celebrity Big Brother 2

Current Entries
---
Tuesday, January 22, 2019 -- Morning
Welcome Celebrity Big Brother 2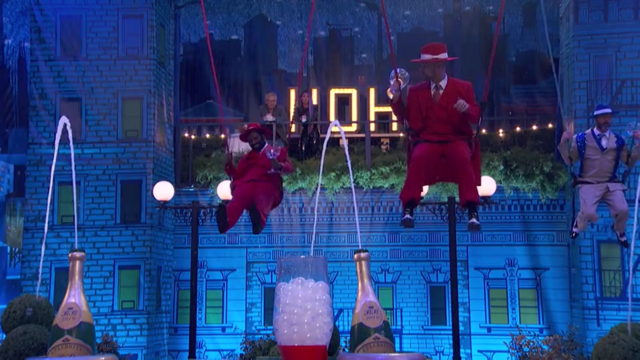 Celebrity Big Brother is back for another season. This year, there are 12 contestants, and I have to say that quite a few of the names are familiar to me, which is a welcome change from last year's version. It will be a fast paced season because it only lasts three weeks. To fit it into my schedule, I'll probably not be watching the days it airs, as the first episode was last night.

Julie Chen started the show by saying she was Julie Chen Moonves, supporting her husband from ancient accusations. Of the new houseguests, the ones I'm most interested in are Ryan Lochte, Anthony Scaramucci, Tom Green, and Joey Lawrence. Ryan comments that he is known as the party boy, but says that part of his lifestyle is over, We'll see if that's the case. Kato Kaelin is interesting because as he says, never has a man does so little and gained such fame. He believed at the time, and still does, that OJ murdered his wife. Kato made a joke about this being the first time he had a key to his own place. Funny! The house does look very nice. BB did a good job of redecorating. Lolo and Ryan know each other from the Olympics, and Ryan is keeping count of his medals.

Joey Lawrence seems like fun, and Dina sounds very much like Lindsay. I never heard of Jonathan Bennett. The second batch goes in to meet the first half. It seems some people like Kandi and Kamar might have a connection. For example, Tom Green and Anthony were fired by Trump, the Olympians, Anthony played in a movie with Lindsay Lohan. And the first announcement is that they have to pair up. Julie called it a Power Pair. They will join up to compete in the first HOH. The pair that wins will have one of the members be HOH.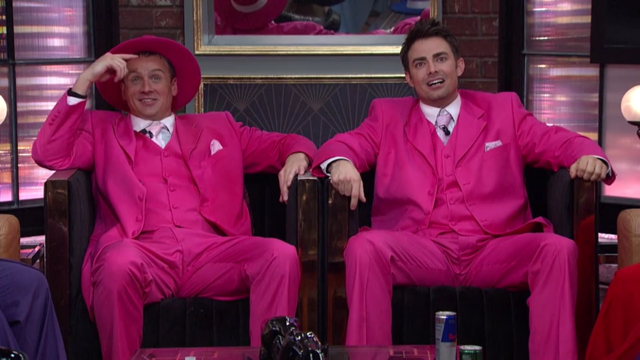 Only five pairs will compete with one sitting up. Ryan chooses his partner first. He wants the brains to his brawn, so he picks Jonathan. Jonathan picks the next house guest, who is Tamar, who picks Kandi. She picks Joey who picks Ricky. Ricky picks Lolo who chooses Tom. Tom chooses Dina. Dina picks Anthony as her partner. That leaves Kato and Natalie not playing, and they are completely safe at the next eviction. They all dress up in costumes before the HOH.

The HOH competition lame. It's just swinging. Ryan figures it out by swinging gently. He is at the back. He puts champagne is his glass, transgers to Anthony, who has to swing to get it a bigger glass. Natalie yells at Kato because he is trying to cheer people on. She seems like a real *itch. This really does seem like a nice long endurance competition. Ryan and Anthony, and Tom and Lolo are in the two who are competing successfully.

Ryan and Lolo are real competitors. Tamar and Kandi are lost. Ryan and Jonathan just manage to get their glass filled first. So since only one of them could be HOH, there must be some additional competition. They have to compete against each other. The winner is HOH, and the loser is first on the block. We won't have the competition until the next show (tonight). The POV will be Wednesday with the eviction on Friday.

---