The Daily Bongo
Books, food, sports, television, movies, politics, and Pittsburgh life

Big Brother 20

Current Entries
---
Friday, September 14, 2018 -- Morning
Double Eviction
I was not able to catch up on the show this past week. Kaycee won the HOH, nominated Sam and Haleigh, and then won the POV. So nominations stayed the same, and that took us into the double eviction. Haleigh was voted out. Tyler won the HOH and nominated Sam and JC. Angela won the POV, and she took JC off the block. Tyler put Brett on the block, and he was voted out. He was pretty much caught unawares. The big news is when Julie Chen signed out as Julie Chen Moonves. Her husband was just ousted from CBS this week over sexual harassment allegations from the 1980s and 1990s. It was a good way for Julie to show support for her husband.

---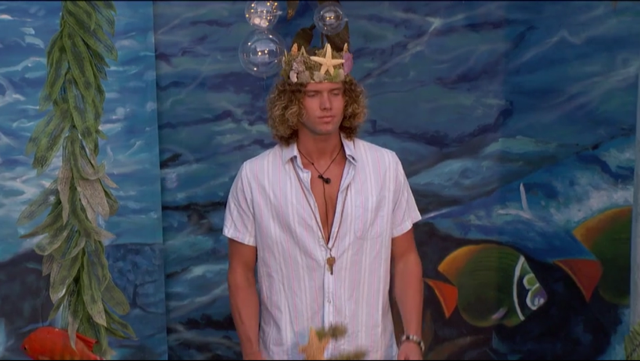 Friday, September 7, 2018 -- Afternoon
Good-bye Again, Scottie
Last night's show started after the POV competition. Tyler goes to rub Icy Hot into Haleigh's neck because she says her neck is still sore from the HOH competition. Tyler is not liking how Haleigh is always asking him if she is the target. Tyler then tells Scottie that Haleigh is constantly asking him if she is the target. Tyler feels a bit bad about blindsiding Scottie. Scottie buys it hook, line, and sinker.

Up in the HOH room, JC is asking Tyler what is going on with Angela. When JC walked up to the HOH room, JC said that he heard Angela running from the bed to the couch. JC says that he doesn't believe her. JC doesn't like how close Tyler is with Angela. JC tells Tyler that Brett wants to put up Kaycee and Angela. Tyler tries to talk JC back from the cliff on the topic. When Angela comes back, Tyler tells Angela that JC heard Angela running from the bed to the couch. Angela is pissed off at what JC is doing. Angela wonders if Brett and JC would flip. Angela wonders if it would be better to get rid of JC over Haleigh. Basically, Tyler tells Angela that JC can't win. Tyler says it's better than JC take out Angela. As Tyler says, he came there to win, so many JC should take Angela out.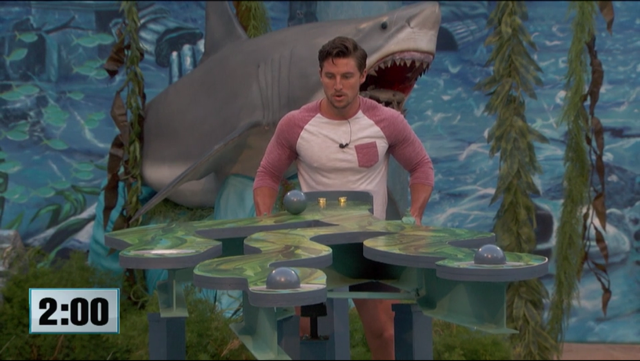 Next up is a filler segment with JC trying to not speak with his spanish accent. JC learns how to say turtle. Then Scottie tells about his experience in the jury. Brett wants to take advantage of the scenario because he wants to know what the climate is like there. Scottie tells Brett that Rockstar hated Angela's good-bye message more than Brett's. Brett thinks that if he gets rid of Angela, he would get the jury votes. I say if he takes Angela to final two, he wins over her. JC and Brett talk about getting rid of Angela.

More filler with Derrick from BB16. He provides his viewpoint. Yawn!

Time for the speeches. He tells people that they should vote for him, and if they don't except for Tyler because he already gets plenty of that. Everyone was sort of taken aback by that. I think he swore too because there was an inaudible spot. Now for the live vote:

Brett evicts Scottie
Kaycee evicts Scottie
Sam evicts Scottie
Angela evicts Scottie
JC evicts Scottie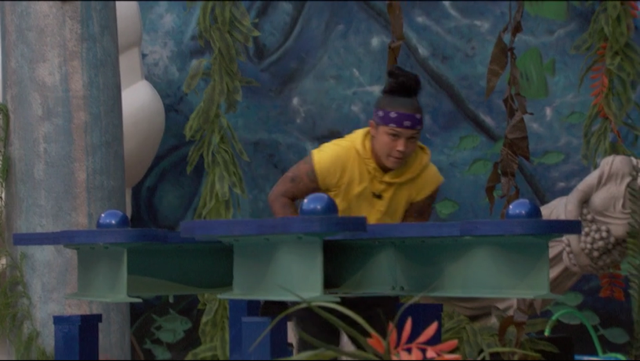 It was unanimous, which was surprising because Sam seemed to be in Scottie's camp. Scottie only hugged Haleigh, then jumped over the couch, grab his stuff, and leave. JC didn't understand why everyone was so shocked at Scottie's speech. Scottie thinks that they voted him out because he was unpredictable. Julie asked why not be predictable. Scottie claimed they weren't good liars, so he suspected he was going home. Scottie felt that he was wrong about Tyler. Scottie says that Tyler is a coward by doing what the house wanted. Julie said, isn't that playing the game? Scottie said he would have stuck with Tyler, but he would also put Tyler up. In the good-bye messages, Tyler says he a power app and never used it, and Brett and JC both said they were powerless and just doing what Tyler wanted. They are now trying to play the jury.

Onto the HOH competition. The competition is the get 3 balls down a 3 pronged device. If someone gets all three, they win. It's timed so whoever has the most sunk in three minutes wins. Kaycee, Brett, and Angela got one. Then Kaycee got the second. Brett got his second with two minutes left. Kaycee got all three and won HOH>

We find out back in the house that Kaycee beat Brett by one second. Then Julie lets us know that we will have a double eviction on Thursday.

---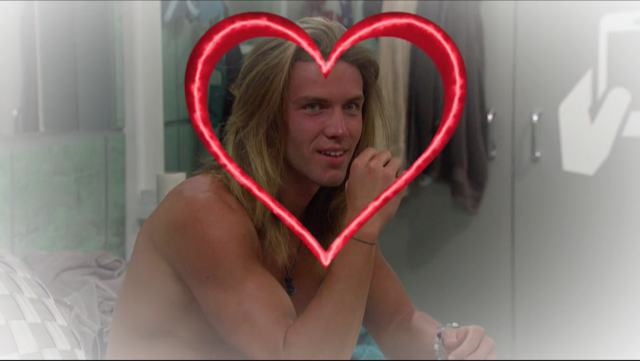 Thursday, September 6, 2018 -- Afternoon
POV
The show started after the POV ceremony. Tyler personally would rather see Haleigh go. But he wants to keep both calm because the one who remains in the house will be after him. Haleigh is sure that she is not going to go home. Haleigh tells Scottie that she thinks Sam will be out next. Haleigh tells Scottie that she thinks there is an alliance of four with Tyler, Angela, Kaycee, and Brett. Tyler tells Haleigh that he put up Scottie because everyone wants Scottie out since he came back into the house. JC says Tyler is his guy, and JC is sure that he is controlling the nominees. Tyler tells JC that they are both on a power trip. Tyler says that if JC uses his tricks on Tyler, that there is only one winner in BB, and Tyler wants it to be him.

Now we get the filler content on Sam straightening Tyler's hair. Tyler doesn't like the straightened hair, and he thinks he looks like a female.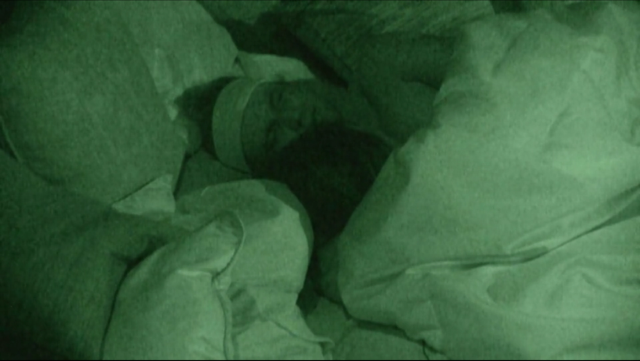 Tyler and Angela have been getting close, but everyone keeps on barging into the HOH room. Tyler and Angela make a game of people coming in. They get one point for that, and two points if someone directly asks if they are in a showmance. JC asks Tyler if is is a showmance, and Tyler denies it. Two points.

Time to pick for veto. Tyler picks Kaycee. Scottie gets houseguest choice, and he picks Sam. Haleigh picks JC. Haleigh wants to win to keep herself safe, so we'll see where that gets her. Nowhere.

Another section about Sam being crazy about cleanliness and neatness. Then we have a segment with Haleigh and Kaycee bonding, in case Haleigh gets HOH next week.

Time for the veto competition. The competition is to get an emoji ball, go under a bar, go over a seesaw balance bar, and put the emoji ball in the pit at the end of the seesaw. If they or the ball fall off, they have to start over.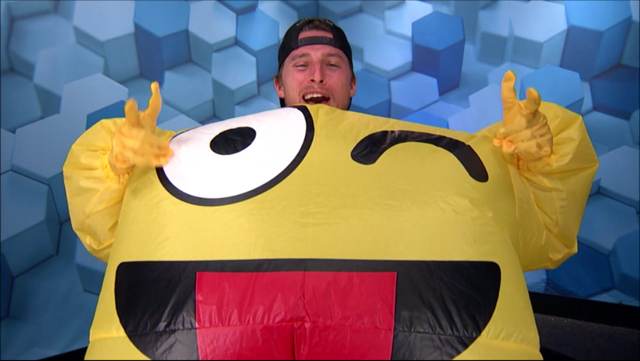 JC wants to win to show he is a competitor, but JC is not a competitor. Haleigh was in the lead with three balls, but she had to reset when one ball fell. Kaycee realizes it's all about controlling the seesaw. Scottie is having real issues with his balls. Then BB adds water to the competition. Surprisingly, JC and Tyler were in the lead with Kaycee right behind them. Kaycee is getting the rhythm, and she really starts to catchup. Tyler realizes that he is getting tired as time goes on. Then Tyler lost a ball and has to reset. JC was in the lead. Kaycee is down to two balls, but she can't get traction to go up the beam. A ball almost fell out. Kaycee got her bing to bounce to get the emoji back in place. Haleigh then slipped and they had to start over again. Kaycee goes for her final emoji, and she wins the POV.

After the veto ceremony, Haleigh talks to Tyler about how she needs a person. Haleigh says that Tyler and Angela are in a showmance. Tyler does not like that Haleigh is always asking him questions. Haleigh says that Tyler is always beating around the bush. Haleigh talks to Scottie who says that Tyler told Scottie that Scottie was the pawn. Haleigh cries, and Kaycee goes to comfort her. As Kaycee says, it bothers her when Haleigh is sad.

Time for the veto meeting, and Kaycee does not use the veto. The plan is to send Scottie home, but Tyler would rather have Haleigh go.

---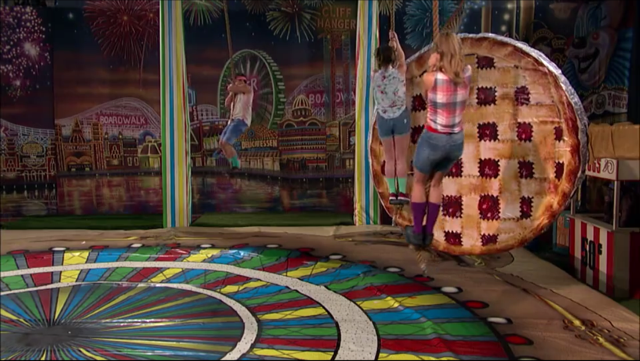 Tuesday, September 4, 2018 -- Afternoon
Catchup
I had to play catchup on the BB show. We had the whole celebration on Scottie returning to the house. Tyler thinks it was a good move for him. Faysal told Scottie in the competition that JC was in his ear and that's why Faysal put up Scottie. JC, meanwhile, wants Scottie to go home again.

Time for HOH. Scottie claims although he still has a crush on Haleigh, he wants the money. It's the stand on the disk as it spins around, and the last person standing on the disk wins. No sitting is allowed. JC was the first person to fall. Then they got blasted with ketchup, mustard, and chicken feathers. Sam was out next. She was feeling woozy. Sam wants Tyler to win. Scottie went into a spin, then he hit the pie and fell to his butt on the foot stand. Kaycee barfed because of the spinning. Brett slides off when he hits the pie. It's down to Kaycee, Tyler, and Haleigh. Now the cherry pie starts to hit the players. Then Kaycee was knocked to her seat. She didn't see that coming at all. Then my app crashed, and I couldn't get it back. Basically Tyler outlasted Haleigh, although there was some controversy that both of his feet may have come off the stand at one point. Unfortunately, that controversy didn't happen until after Sunday's show, so no backsies. He then put up Scottie and Haleigh.

We'll see the veto competition tomorrow, but Kaycee won again, and the nominations stay the same. It looks like Scottie will go home, but I would send Haleigh home first.

---
Thursday, August 30, 2018 -- Evening
Battle Back
Unfortunately, our local station has football on instead of Big Brother. So I'm watching on a station where I can't get screen captures. Ah well!

Faysal though he did a great job last week with his HOH so he and Haleigh would not wind up on the block together. He's a moron. Faysal is too busy concentrating on life outside of the house. Haleigh tells Faysal that she's the same person outside the house as in the house. Haleigh says that she will pursue a relationship outside of this house. Faysal says he will set things up so Haleigh wins, and she should be good for a few weeke.

Then we see the talk Brett and Tyler had while the others were playing in the POV. It seems Brett and Tyler were locked up alone in the have not room while the competition was going on. It results in Tyler having a final two with Brett. Tyler says he likes Angela, but Tyler is in the game to win the money. Even though Angela is cute, he will cut her. So now Tyler has four final twos.

JC goes to talk to Tyler to plant the seed of getting rid of Angela or Kaycee. He thinks they should go before Haleigh. Tyler says no. Tyler says he won't vote them out before Haleigh. Tyler is not Faysal. So JC figures that Brett will be his next Faysal. Brett tells JC that the Battle Back will not be good for Brett because everyone outside of the house hates Brett.

Time for the live vote. Faysal tries to throw Angela under the bus. Haleigh says she could not have picked a better group of people to play with. Her speech is very positive. Time to vote.

Tyler evicts Faysal
Brett evicts Faysal
Sam evicts Haleigh
JC evicts Faysal>
Kaycee evicts Faysal
Faysal will have to battle back. Faysal said that he made up the stuff about Angela to make trouble in the house. The thing is that everyone knows Faysal is a moron. Julie asked Faysal why he and Haleigh waited until too late to make other alliances. Faysal said that if he won the veto, he doesn't know if he would have used the veto on himself or Haleigh. Faysal realizes now that he probably shouldn't gotten Scottie out of the house. Good bye messages. JC says he is low energy now. Kaycee says there can only be one football person in the house. Then Haleigh cries about Faysal being her only person in the house. Julie thinks they will date outside of the house. She asks if Faysal would do something different. He doesn't know what he would do. Then Faysal hears about the battle back.

After the commercial break, Julie tells them there is a battle back. So the competition will not be one where the folks in the house join in. They will find out after the competition. Bayleigh is hoping Tyler or Angela will come into the house. Bayleigh and Rockstar are annoying. Bayleigh yells at Rockstar for telling Tyler the answer. Rockstar can't forgive herself for that one. That side is so dumb. Then Scottie comes into the house. Scottie tells them that he had a crush on Haleigh, and Scottie did not realize that Faysal was in love with Haleigh. Bayleigh says she is going to target Tyler. I don't like Bayleigh. Julie asks the jurors who the next person nis. Bayleigh says JC, Angela, or Tyler. Rockstar says Angela or Tyler. Scottie says Brett or JC. It's Faysal who apologizes to Scottie and says he's so stupid.

Time for the Battle Back. They have to race and one at a time, get four balls of their color into a tube, and then buzz in on the other side. Scottie quickly got the four balls, and Scottie is returning to the BB game.

Scottie says that he's going to try to resurrect his alliance with Tyler. Scottie says JC will be most upset because he was whispering in Faysal's ear. Everyone seems very happy to see Scottie back, and he gets lots of hugs. Later tonight, there will be he HOH, live on the live feeds.

---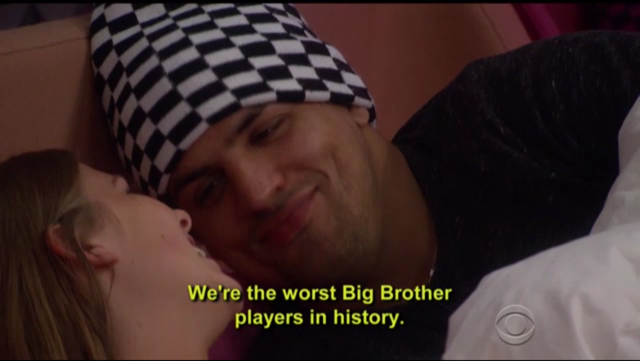 Wednesday, August 29, 2018 -- Evening
Kaycee Wins One
The show tonight started right after the nomination ceremony. Faysal admits that he was blindsided yet again. CBS edited Haleigh to make it sound like she tried to warn Faysal that he might go up, but she was totally in the dark again. Meanwhile, Sam is taking it hard because she likes Faysal. Up in the HOH room, Angela is saying that she is evil, and Tyler, Angela, and Kaycee talk about how Faysal was a moron to be blindsided again.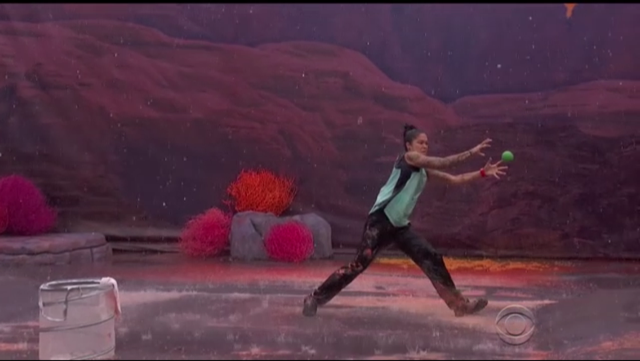 Faysal finally admits to Haleigh that he should not have put up Scottie. Haleigh then tells him that Zingbot called Faysal a moron because Faysal put up his own alliance member. Meanwhile, Faysal claims that Haleigh had the bad movies. They are both idiots. Haleigh says that they are the worst players in BB history. Meanwhile, JC tells Angela that they don't want Sam to play in the veto, because she will take down Faysal.

Time to pick for the veto. Angela picks Kaycee. Faysal picks JC, and Haleigh picks houseguest choice, and she takes Sam after Faysal told her to do that. Sam wants to win to keep herself safe. After the ceremony, Haleigh and Angela talk. Angela tells Haleigh that if she is up with Faysal, Faysal goes. If Faysal comes down, then Haleigh is going to be the target.

JC tells Faysal that it's better than being backdoored. JC also says that if he wins veto and take Faysal down, then JC will be targeted. faysal tells JC that JC is at the bottom of the totem pole, so he won't be around long if he doesn't keep Faysal. JC isn't listening.


Time for the veto competition. It's an individual competition. They basically have to catch balls without dropping them. Haleigh is up first. Each ball you catch on the first one is worth one point. The creature spits out slime with the ball. Second round is worth two points. Third round is worth three points, and you have to use your mouth to catch them.

Kaycee is up next, and as a professional wide receiver, she says she should not miss any balls. Kaycee is really good at round two, and it looks like she catches every ball. Next up is Sam. As with the others, Sam doesn't catch anything in the first round. She also has issues with round two, but at least catches one. She does not do well in the third round. Next up is JC. JC says the monster is being than him, but most things are bigger than him. JC moves forward, and gets hit in the family jewels. JC finally managed to catch a ball in round two.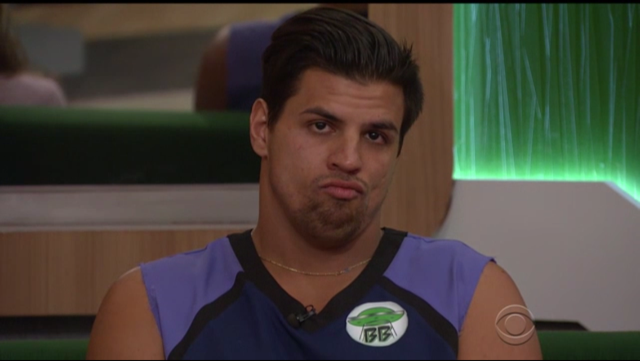 Next up is Angela. Everyone has issues with the first round. I noticed in her close-ups that Angela looks like she has a moustache. She does not do well in the competition.

Finally Faysal gets his shot. Faysal used to play football too, which is why Kaycee thinks Faysal will be her biggest competition. As Faysal says, he catches stuff for a living, and he catches a few in the first round. He's the only one to do that. Faysal seems to do good in the second round. As he says, he keeps his feet moving because slow feet don't eat. Faysal had some issues with the third round, but got it.

Time for the results. JC gets 2 points, Haleigh gets 13 points. Sam gets 2 points. Angela gets 16 points. Faysal gets 32 points. He looks very smug. Kaycee gets 33 points. She wins by one point. Haleigh cries afterwards because she has to hangout with folks other than Faysal.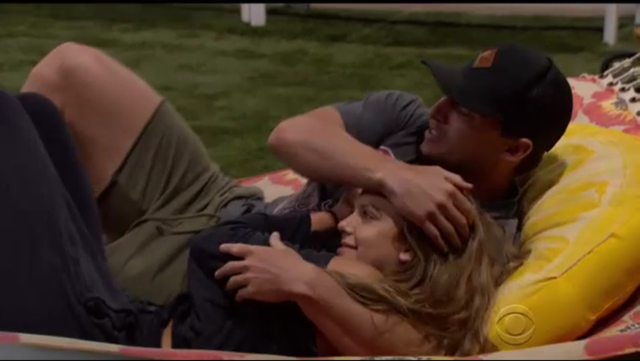 Haleigh is almost 100 percent confident that Kaycee won't use the veto. Haleigh tries to integrate in with the others. Faysal is not happy because Haleigh is up in the HOH instead of spending time with him on his last days in the house. Faysal gives her the silent treatment. Haleigh asks him what she is supposed to do. Faysal wonders is they do have a relationship. Haleigh goes to cry in the hammock, and Brett goes to console her. Brett asks if she and Faysal are in a showmance. Brett says that he will take care of her. Meanwhile, Faysal buries himself under the covers in bed.

Time for the veto ceremony. Kaycee gives them a shot to say why she should be using the veto. Faysal tells Kaycee her win was a long time coming. Kaycee says gamewise, it's best to keep the nominations the same. Kaycee says in the DR, long time coming my ass. Haleigh says that she is looking out for herself, and that she wants to win this game. Tyler is happy because he didn't need his cloud power app. Tyler says he has to be careful moving forward because it will get tricky. Tomorrow, one person leaves (Faysal), and one will battle back into the house.

---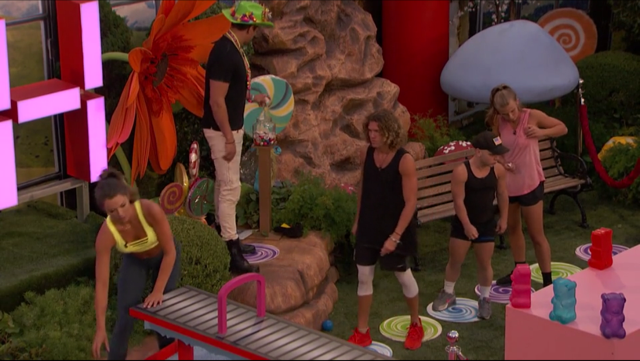 Monday, August 27, 2018 -- Afternoon
Faysal Blindsided Again
Folks who watch the feeds are commenting on how CBS has been editing Haleigh as being not in agreement with Faysal's plan to get rid of Scottie, but she was totally in agreement. Obviously, CBS doesn't want Haleigh to be seen as a total moron like Faysal. Supposedly, last night's show does more of the same: making Haleigh seem as if she has a clue what is going on.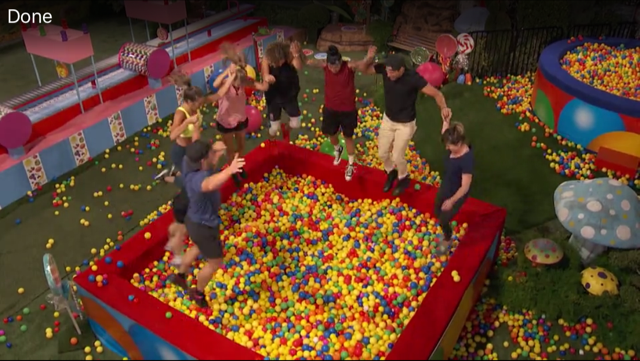 On to the show. It started with the HOH competition that kept on breaking down. Faysal thought that his HOH was brilliant because he got a big target out in Scottie. Shaking my head in wonder at his stupidity. Tyler says that he's good for anyone but him winning HOH. Brett wants to win. JC says he loves the competition because no one is coming after him. He's just playing with the balls. Kaycee has been trying for a score, but she's not locking in her score because she doesn't want someone to pass her. Haleigh throws the ball off the rack. Meanwhile Sam has just been gathering tickets and not using them. JC thinks Sam is crazy because she was giving the tokens away. JC says some of those people are coming for you, Sam. It's stupid. Kaycee got a 34, but she didn't keep it.

After 45 minutes, Angela decides to step up, and she gets 39 points. Tyler wants a perfect shot because he's a bowler. He gets a 38. Haleigh is looking for a token with 1 minute left. Brett's ball just went off the table. Haleigh has her final shot, and she gets a 37. Angela is the new HOH. Faysal is delusional and thinks his alliance won. Loser!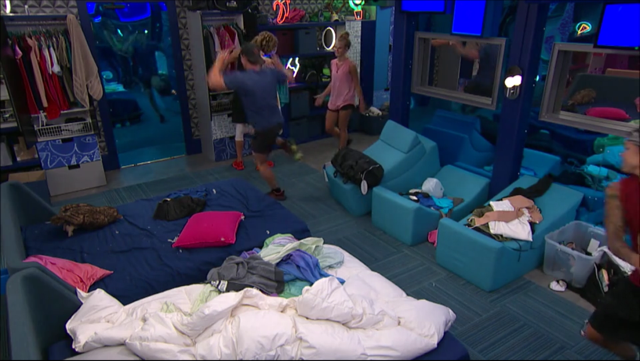 Angela wants to get out of the week scotch free. Dummy, it's scot free. Haleigh and Faysal throw Sam under the bus. Haleigh walks in on Brett, Kaycee, Angela, and Tyler celebrating Angela's win. Haleigh thinks that it should be a celebration with her, Faysal, Tyler, and Angela. Faysal comes in, and Haleigh says she found the four celebrating. Faysal tries to tell her that the others are with her. Haleigh thinks that she will go up with Sam and that Haleigh will go home. Faysal thinks it would be so stupid to put him up. Faysal is sure that his deal with Angela and Tyler is a good one. Faysal says Haleigh should trust him, and that he got them.

Meanwhile Brett and Kaycee say to put up Haleigh and Faysal because that way one of them goes instead of one winning and taking the other off to keep both safe. Haleigh says that Sam should go up, and Haleigh volunteers to go up as a pawn. Angela wonders if Haleigh is as dumb as her boyfriend, and says she will take Haleigh up on the offer.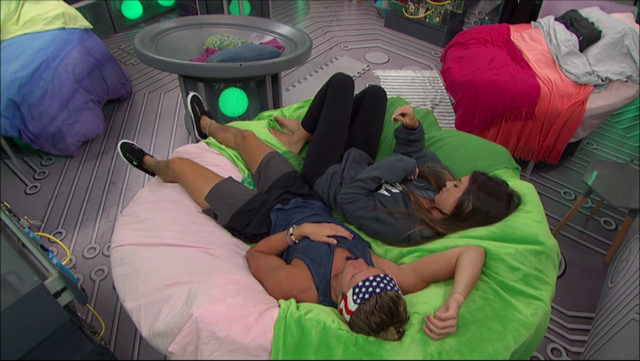 Faysal says that he will talk to Haleigh. Faysal keeps on saying in DR that he has it, and let your man take care of things. Faysal tells Angela that it's the smartest thing for him and Haleigh that neither goes on the block. Haleigh tries to say something as Faysal talks to Tyler, and Faysal told her to shut up and let him talk. Haleigh did not appreciate the way Faysal was talking and talking over her. Haleigh says that Faysal is making it seem like Angela and Tyler owe her something. Faysal doesn't get that the way he is acting is irritating Haleigh. She asked him if he was like that in the outside world.

Now we have a JC segment where he makes food to fatten people up so he would be the only one who is in shape.

Then we have the segment that outs Tyler's and Angela's showmance. Tyler says that Angela is a perfect human being. Angela says that Tyler is her best friend in the house. Tyler says that Angela smells like a baby. Tyler also says that Angela is the girl he would want in the real world. Angela admits in DR that she has a little crush on Tyler.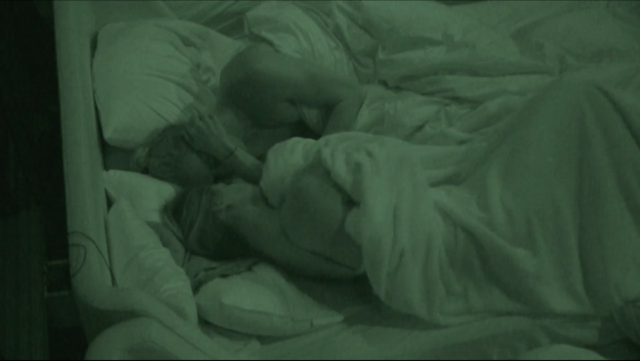 Tyler and Angela don't really want to talk about it. I do like the Angela and Tyler showmance. Angela doesn't like that she and Tyler are the ones getting blood on their hands.

JC talks with Brett that is Sam goes up, she is not dangerous. And if Angela puts up Haleigh and Sam, Faysal will win the veto and take Haleigh off the block. Brett is with JC that they have to put both on the block, and then they can send one home. JC then talks to Angela. He says Sam gets on his nerves. But Faysal taking Haleigh off will be a problem. JC is willing to vote Faysal out. JC feels that he was the spy for them.

Faysal wants to know if Haleigh wants him to talk to Angela for her. Haleigh says he can do what he wants. So Faysal goes up to talk to Angela. Angela tells him that she is leaning towards putting Haleigh up. Angela says that people will be suspicious of her if she doesn't put Haleigh up. Faysal is such an idiot!

Time for the nomination ceremony. Angela nominates Haleigh and then Faysal. Angela then says they were a day late and a dollar short because they came to her in day 60 something to make an alliance. Haleigh cries about being on an island without Faysal. Faysal, per usual, didn't see this coming. NOW, Faysal feels stupid. After 60 days of stupidity.

---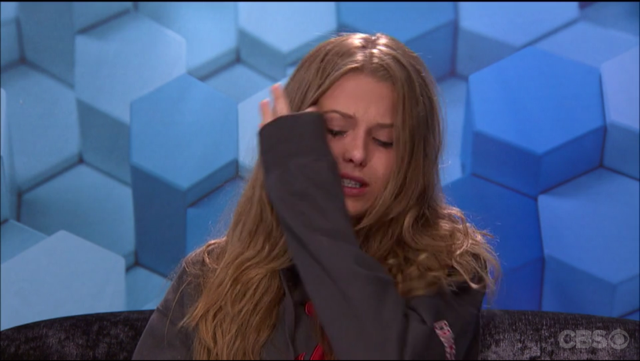 Friday, August 24, 2018 -- Evening
Bye Scottie
I missed the show last night, but I did hear that there will be a battle back. I really don't want Bayleigh or Rockstar to come back, so I have to hope that it will be Scottie or whoever goes out this week.

The show started with the action pre veto ceremony. Faysal says that he has to tell Haleigh that Scottie was throwing her under the bus. Faysal tells Haleigh that Scottie called her Kaitlyn 2.0. Haleigh cries because she defended Scottie. Boo-hoo! Meanwhile Angela says that Faysal should just put Sam up. Haleigh sobs to Angela, Kaycee, and Tyler. What I like about this house is that even people on the other side are nice to the other side. They all comfort here. Kaycee thinks it is crazy because Scottie is throwing his ally under the bus instead of the other side. That's because Scottie knows the other side would vote for Haleigh over him. Haleigh goes to talk to Scottie, and he tells her that it's the best thing for Haleigh. He tells Haleigh that he thought she didn't have his back. Now he realizes that it was incredibly stupid to have stabbed Haleigh in the back. Scottie tells Haleigh that he owes her an apology. Haleigh tells Scottie that he was her friend.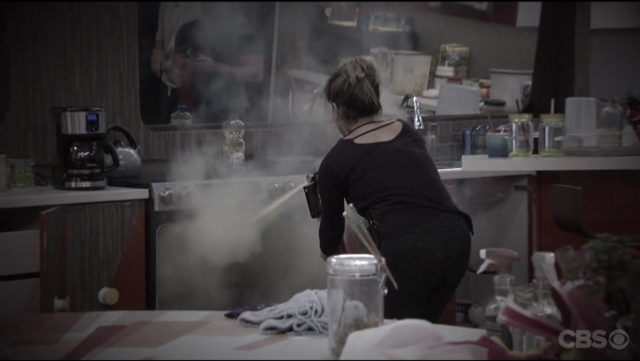 So then Scottie went up to Faysal to say that he did not want Haleigh to go up on the block. Then Scottie says that he has feelings for Haleigh, and Scottie doesn't know how to handle it. Well, Faysal doesn't like that because Haleigh is Faysal's girl. Scottie says put up Sam. Faysal is not sure if he wants to put up crazy Sam.

Finally we get to see the veto meeting, which I heard was epic. Brett gives Scottie a chance to tell Brett why Scottie should be saved. Scottie threw Sam under the bus. Faysal then says that Scottie said to put up Haleigh and then to put up Sam. Both were people who supported Scottie. Faysal says those are red flags. Faysal puts up Kaycee. Scottie really screwed himself, and he was the vote flipper. Scottie is confident he would stay if Sam were on the block. Sam was shocked because she was friends with Scottie. Kaycee goes to talk to Faysal and says that she will be laying low. Meanwhile, Brett and Tyler say that will keep Scottie thinking that they might vote for him.

Then we have a segment where Brett starts an oven fire, and Sam puts it out. She's the woman! After, Angela and Tyler go up to talk with Faysal and Haleigh. Faysal tells them it's real because he's HOH this week. Angela thinks it's beneficial to her game if Haleigh wins HOH next week. Tyler and Angela talk, and they think they should not win. So it should be Brett or Kaycee who win. Tyler realizes that having an alliance with everyone in the house could backfire on him. JC wants to make sure that Tyler is only loyal to him because they have been together since day 2. JC says that he will never turn on Tyler. Tyler's final four would be Angela, JC, and Kaycee and ideal final two would be with Kaycee. So Tyler realizes that he has to not win HOH, and just hope that the others take shots at each other.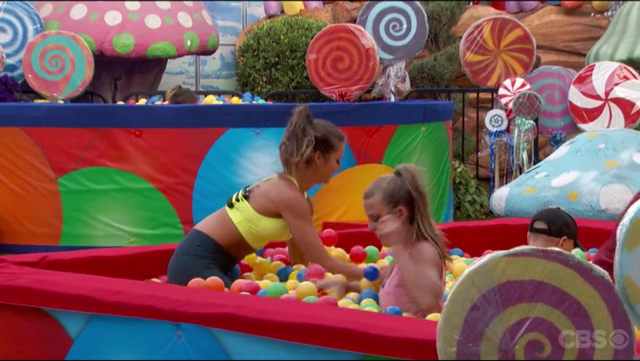 Time for the live vote. Kaycee gives her speech, even thanking CBS. She tells Scottie he is weird, but she loves him. Scottie says he acted like a fool and panicked. He said he just wanted to apologize for his immaturity.

Angela evicts Scottie
JC evicts Scottie
Tyler evicts Scottie
Haleigh evicts Scottie
Sam evicts Scottie
Brett evicts Scottie
I do like the people in the house now, so I'm a bit sorry to see Scottie go. Scottie gives everyone a hug. Scottie runs out giving everyone a chance to scream. Scottie whispered to Sam that he would talk to her later. Julie asked Scottie how he got there. Scottie says that Zingbot may be right, and Faysal is a moron. Or Faysal is the flipper. Julie asked why Scottie didn't defend himself to Faysal when Brett took credit for the Rockstar vote. Scottie says his feelings for Haleigh are real. Scottie feels he was betrayed first when Faysal and Swaggy sent Scottie's best friend Steve out of the house. Time for the good bye messages. Faysal shows how he is a moron. Brett apologizes for what he did because Brett wanted to play in veto. JC claims ignorance. Haleigh says that it was a weird week, but she thinks that she and Scottie will be friends outside of the house. I feel for Scottie because he appears to have genuine love for Haleigh. I hope Haleigh bounces that idiot Faysal.

Time for the HOH competition. They have to search the candy pits for a token. They roll a ball down a track. The first to get a perfect show wins. If there is not perfect shot, they get scores. After one hour, the winner is the house guest with the highest score. I heard this competition took some time because things kept breaking. And we hear from Julie that next week is the Battle Back.

---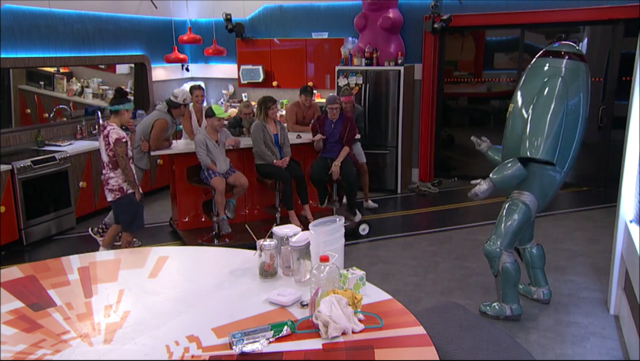 Thursday, August 23, 2018 -- Afternoon
Zingbot
The show started post nomination ceremony. As Brett says, Faysal is a big buffoon. JC says that he should get credit because he knew which buttons to push. Faysal says he nominated Scottie because Scottie is in his alliance and claims to have voted for the Rockstar so this is his chance to prove it. Faysal is suck a fricking idiot! Haleigh goes to convince Faysal that Scottie is on their side. But Faysal is a fricking idiot! Faysal says that he doesn't know if he can trust Haleigh. The guy is really a fricking idiot!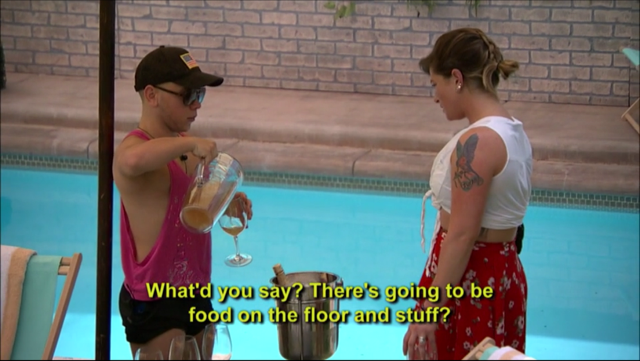 Time to pick for the veto. Faysal picks Angela. Scottie picks houseguest choice, and he takes Haleigh, which gets Faysal upset. Brett picked Tyler. Tyler and JC talk with Faysal. JC leaves, and Faysal feels that Tyler, Angela, and Haleigh are playing the game. As Faysal says, even though they haven't been on the same side, they are playing the game. As Tyler says in DR, welcome to the game on day 60 when alliances are already made.

Then Zingbot shows up. Tyler was soo excited and ready to explode on the inside. Angela is called soulless, but Tyler thinks she is cute. Zingbot does one on a blond liking Brett. Faysal was instantly alert, but it was Scottie. These were some decent zings. Zingbot calls Brett a douche. The Faysal one was great. He zinged Faysal on being a part-time teacher and a full time moron. Zingbot called Sam crazy. JC tells Sam that she's not crazy; she just has some bad moments.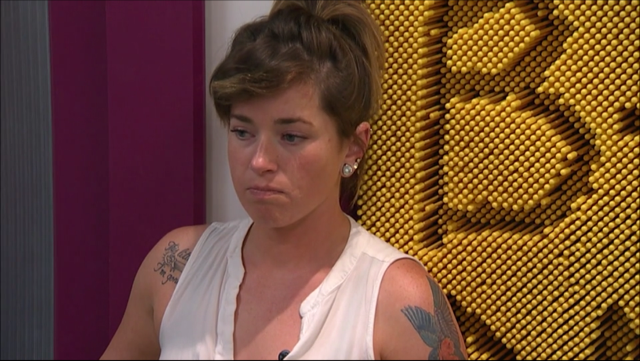 It's the hide and go veto. They all get three minutes to hide a photo. Each will then look for a folder. When they find one, they bring it out. After five are found, they stop and open them. The one not found wins. They won't know the vetos. Haleigh hides hers in the ottoman. Faysal hides his in the slot behind the dresser drawer. Brett hides his in a pillow and hides it under other pillows. Tyler hides his in Sam's pants because he doesn't think anyone has the guts to go in Sam's pants. Angela hides hers in the oven, covered in coffee grinds. Scottie hid his behind the bathroom sinks.

Haleigh goes first, and she can't find any in the kitchen. Faysal looks through the pile of pillows, and can't find anything. Brett's idea is to just make sure his folder is well hidden, piling mattresses on his folder. Scottie figures he will put liquid on the floor to keep people from looking for his stuff. Tyler says that he doesn't think Sam will like the mess, and then we cut to JC telling Sam not to go into the house. Tyler finds Angela's folder in the oven. I'm waiting for Faysal to find his own folder. HA! Scottie finds Tyler's folder. Brett goes in to pile more stuff on his folder. Faysal finds Haleigh's folder. Tyler wants to investigate, but he can't because there are all those mattresses. Scottie finds Faysal's folder after checking to make sure his is still there. Haleigh finds Scottie's folder. The reveal shows that Haleigh found Scottie's folder, and Brett has the POV. Brett says he's El Cockaroach, and he is going to stay in the house even after the game.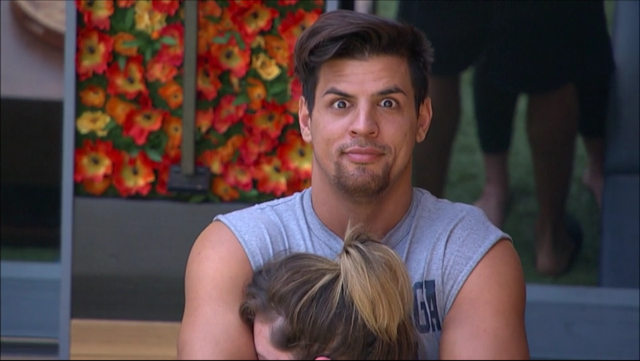 Sam is really upset at the mess. Brett tells them all that he played defense. Meanwhile JC is talking to Faysal. Scottie tells Sam and Brett that he can only think that he could beat Haleigh. Brett tells Sam that she won't be able to convince Faysal to put Haleigh. Scottie can't believe that Faysal would put up Haleigh. The sad thing is that this puts Sam on Faysal's and Haleigh's target sight.

Sam goes to talk to Faysal. Sam tells Faysal that Haleigh is always bossing and sassing Haleigh. Sam tells Faysal that Haleigh sees him as a tool, and she's just using Faysal. She really tries to convince Faysal, telling Faysal that he needs to do this. Faysal says Haleigh may not go home, and Sam says even better. In DR, Faysal saya Sam is crazy. Scottie tells Faysal that there is one person that everyone wants out. Scottie says Kaitlyn 2.0. Faysal thinks that it is obvious that Sam and Scottie are working together. Faysal doesn't know what to do. And we don't see in this episode that he puts up Kaycee.


---