The Daily Bongo
April 2014
Tuesday, April 29, 2014 -- Afternoon
The Figure in the Shadows by John Bellairs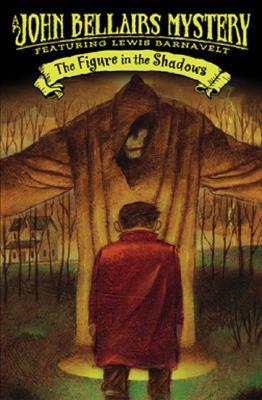 The John Bellairs gothic horror books are not very lengthy. I started The Figure in the Shadows yesterday and finished it today. This book is the second in the Lewis Barnavelt books, and it continues with the same characters: Lewis, Uncle Jonathan, and Mrs. Zimmermann. Rose Rita is introduced as Lewis' best friend. Now, Rose Rita is a girl after my own heart. She's a tomboy who doesn't take any sass from any boy. Lewis featured even more in this book than in The House with a Clock in Its Walls. At the beginning of The Figure in the Shadows, Lewis is crying over being bullied by the other kids. It's pretty much a repeat of the bullying about Lewis being fat and lacking athletic ability. To cheer him up, Uncle Jonathan lets the gang (him. Lewis, Mrs. Zimmermann, and Rose Rita) look through Uncle Jonathan's grandfather's trunk. Lewis finds an amulet, which he thinks is magical, but Mrs. Zimmermann tests it and says it is non-magical. Lewis thinks it is, and he finds a book Mrs. Zimmermann wrote about amulets, and he performs a test to see if it s rare, magical amulet. It turns out that the amulet is one of those rare, magical amulets that doesn't seem seem magical with normal tests. Lewis starts wearing it around his neck, and he finds that the amulet seems to be affecting him. For one thing, Lewis starts receiving weird, disappearing postcards and letters that say Venio, Latin for "I'm coming." Who is coming? Is it something evil? Lewis finds that he has some ability to stand up to local bully, Woody, punching Woody in the nose. The problem is that Lewis did not want to punch Woody, but something, the amulet, maybe, seemed to control his fist and make him punch Woody. Lewis becomes so frightened that he finally tells Rose Rita what has been going on with the amulet, and they fight when she tries to get it off of him. The problem is what to do with the amulet, and who is coming?

The Figure in the Shadows is an enjoyable book. The tension builds nicely and draws the reader into the action. The only thing that annoyed me is Lewis' extreme crybaby routine. I found myself wishing that Uncle Jonathan would tell Lewis to stop being such a wuss and stand up for himself. Rose Rita does effectively stand up for herself, and the contrast between her and wussy Lewis is striking. On to The Letter, the Witch, and the Ring. That book will feature Rose Rita, and I am looking forward to it.

---
Monday, April 28, 2014 -- Afternoon
The House with a Clock in Its Walls by John Bellairs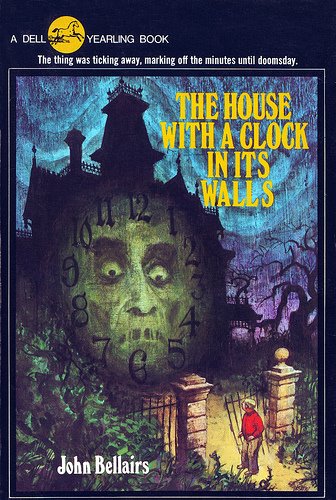 When I was a child, one of my favorite authors was Edward Eager. I read his few books over and over again. I loved the magic and wonder, and I was always on the lookout for anything similar. However, somehow, I missed John Bellairs. I was surfing the Internet recent and came across something talking about his books. I did some investigation, and I found that his books, especially the Lewis Barnavelt books, dealt with magic and mystery. Of course, I had to check it out, and got The Best of John Bellairs, which has the first three novels in the Lewis Barnavelt series. I just finished the first book, The House with a Clock in Its Walls.

Lewis Barnavelt is a 10-year-old orphan who goes to live with his Uncle Jonathan after the death of Lewis' parents. Uncle Jonathan lives in a interesting old house in New Zebedee, Michigan, and he's a wizard. Uncle Jonathan's next door name is Mrs. Zimmermann, who seems to barge into the house at any time. Oh, Mrs. Zimmermann is a witch. Uncle Jonathan acts weird at times, wandering around the house, and listening at the walls. Lewis spies on his uncle, and finally, he learns that it's because there is the sound a ticking clock in the house that is worrying Uncle Jonathan. Yep, it's the clock in the title of the first book The House with a Clock in Its Walls. Uncle Jonathan fears that it might be some evil magic from the former owner, Isaac Izard. Uncle Jonathan bought the house after Izard's death.

Lewis makes attempts to fit into his new home and with the new school kids. However Lewis is on the tubby side, and he's not very good at sports. The kids all make fun of him, but Lewis thinks he made a friend in Tarby, a popular, athletic boy. But Tarby starts to join in on the mocking. Lewis decides to wow Tarby with stories about Uncle Jonathan's wizard abilities by eclipsing the moon. Tarby seems impressed, but then Tarby says that Uncle Jonathan must have hypnotized him. Lewis then says he can bring a dead person back to life. Well, Tarby calls Lewis on it, and the pair meet up in the cemetery. Unfortunately, Lewis performs some magic from his uncle's books, and he appears to raise Isaac Izard's wife, Selenna. Everything heats up then. An evil presence (could it be the dead Mrs. Izard) moves into the house across the street, Tarby is more mean than ever to Lewis, and Uncle Jonathan is getting more antsy about the ticking clock in the walls. is it a Dooms Day machine? Can Lewis, Uncle Jonathan, and Mrs. Zimmermann return Mrs. Izard to the dead and stop the ticking clock?

The story was a quick read, and I found myself rooting for Lewis. The action moved fast and furious at the end, and I just know that there will be more exciting adventures for Lewis and company. The most interesting thing is that Edward Gorey illustrated the book, and his illustrations really add to the eerie atmosphere. Because I am such a read-aholic, I got several John Bellairs books from the library. Now, I'm hoping for a nice, good thunderstorm tonight!

---
Thursday, April 24, 2014 -- Afternoon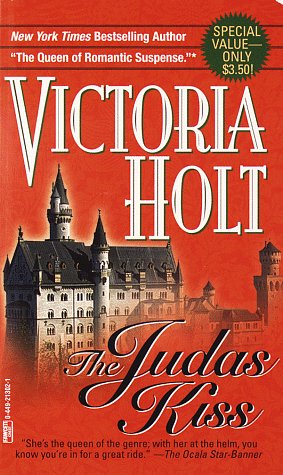 The Judas Kiss by Victoria Holt
When you are in the mood for romantic suspense, you can't go wrong with Victoria Holt. I had just finished one book, and I was eager for more. You know how you get that feeling that you don't want the book to end. Well, in the case of folks who continue to publish several books in a genre, you have that opportunity. This time, I read The Judas Kiss. I don't remember reading it before, so I knew nothing of the plot.

The heroine of The Judas Kiss is Philippa, aka Pippa, Ewell, the younger sister of Francine, who is a gorgeous and charming young woman. Unfortunately, the Ewell sisters lose both parents within a short time of each other. The father had run away to the island of Calypse to be an artist and marry the woman he loved, leaving behind a repressive live on his father's country estate. With their parents dead, Francine and Pippa's grandfather brings them back to England to raise them. The grandfather is an malicious person, hiding mean spiritness behind religious zeal. He makes the girls' life miserable, and the only good thing is that they have each other and their kindly grandmother. When foreigners from the Bavarian Alps visit the next-door estate, Francine and Pippa sneak in with the aid of their maid and the foreigner's houseboy. When Francine catches the eye of Baron Rudolph, heir to the kingdom of Bruxenstein, who is visiting, it seems like an answer to a prayer. The grandfather wants Francine to marry Cousin Arthur, who is just like the grandfather. Well, Francine runs off with the Baron, and they marry. Francine keeps Pippa updated with a few letters, and then Pippa finds out that her sister has been murdered in a hunting lodge with Rudolph. The newspapers refer to Francine as Rudolph's mistress, and they don't mention the little boy that Francine told Pippa she had. Well, Pippa is shocked. As she goes every day to the empty house where the foreigners lived, she meets a handsome man that she thinks is an equerry to Count who owns the house. They go to look at the church registry that Pippa had seen with Francine's wedding signature, but it no longer exists. Thinking that Conrad, the equerry will marry her, Pippa sleeps with him. She can't believe it when he says that he can't marry her, but he can make Pippa his mistress. Pippa couldn't bring herself to leave with him.Then when the grandfather tries to get Pippa to marry Cousin Arthur, Pippa rebels. The grandfather dies in a fire, and some think that Pippa killed him because he was going to throw Pippa out of the house. However, the fire is deemed an accident, and Pippa, with inheritance money from her grandmother's estate, travels to the Bavarian Alps to find out what happened to Francine. There she finds that Conrad is really Baron Signmund, next in line to rule the kingdom of Bruxenstein. Pippa is in Bruxenstein under an assumed name, and acting as a companion to Countess Freya, who is supposed to marry Sigmund/Conrad.

As you can tell, there is a lot of intrigue going on and a rather complex plot. Does Pippa figure out who killed Francine and Rudolph? Can she prove the pair was married and had a child? If she can, she might be able to free Sigmund/Conrad from his marital obligation to Freya. Of course, all is resolved in the end. I grew to like Pippa. She gave in to human emotion and lust, and she had a relationship with Conrad, even though she knew it wasn't really right, and that Freya, whom she grew to love, would be hurt.

All in all, The Judas Kiss was another satisfying read. I found myself engrossed in the mystery, and I have to admit that I didn't figure out who the evil person was in the plot until the very end. I do have to recommend The Judas Kiss, and I will be adding it to my favorite Victoria Holt books.

---
Wednesday, April 16, 2014 -- Evening
The Devil on Horseback by Victoria Holt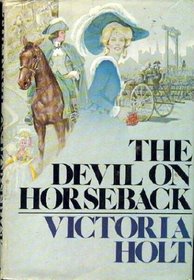 I've mentioned before that Victoria Holt was one of my favorite authors. I discovered her when I was a teen, and I devoured her romantic suspense books. I've read most of the Victoria Holt books and a good number of the Philippa Carr, her other pseudonym. One of my favorite of the Victoria Holt books was The Devil on Horseback. When you read something as a teen, and then reread it as an older adult, you sometimes wonder what you ever saw in the book you loved. So I have been hesitant to read some of favorites over again.

This time, I saw The Devil on Horseback on the local library shelf, and I decided that read it again. The heroine of the story is Minella Maddox, an English girl who helps her mother run a girls' school in England. The local lord of the Derringham Manor sends his daughters to the school, and he encourages his friends to do the same. When the Comte Fontaine Delibes comes with his wife and daughter to the Derringham estate, he sends his daughter, Margot, to the school. Minella, or Minelle as Margot calls her, and Margot become friends. When Minella goes to the manor house to take tea with the Derringham girls and Margot, Minella wanders into the Comte's bedroom as she secretly wanders during a game of hide and seek. The Comte is instantly fascinated. Also fascinated by Minella is the only Derringham son, Joel. Minella's mother dies, Joel is sent to Europe before he could commit to a relationship with Minella, and Margot runs off with a stable boy. Margot is brought back, but is found to be pregnant. The Comte has an idea of how to solve the problem of Margot and how to get closer to Minella. Minella will act as a cousin to Margot. The pair would go off to a distant town in France for Margot to have her baby, and then Minella would go with Margot as a companion and cousin, back to the Comte's estate in France. Of course, Minella has been raised to behave properly, and she does not succumb to the Comte's overtures. Intrigue follows Minella as the Comte's past peccadillos are revealed to her. He has an invalid wife, an illegitimate son (Etienne), Etienne's mother (the former mistress), and the surviving twin of a child that the Comte killed in a riding accident (Leon). The Comte's wife dies from an overdose; was it suicide or murder? Margot is blackmailed over her illegitimate child. Minella is a target of murder attempts, and the whole of France is an an uproar with the approach of the French Revolution.

The story is well-written, and I found myself on the edge of my seat for the last quarter or so of the book. There were a variety of twists to the plot, and it looked like things would end poorly for the Comte. He's the Devil on Horseback of the title. The book has the perfect blend of romance and suspense. I found myself becoming very attached to the characters, and I was anxious that all would turn out well for them. The Devil on Horseback lived up to my fond memories, and I would have to say that it is still one of my favorite of the Holt books.

---
Wednesday, April 9. 2014 -- Evening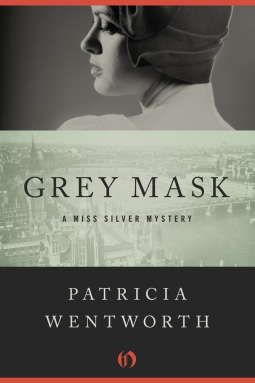 Grey Mask by Patricia Wentworth
I read both print and Kindle books, and Grey Mask by Patricia Wentworth was my recent Kindle read. Grey Mask was the first in the Miss Silver mysteries that Wentworth wrote. Even though the book was written in 1928, it's still an interesting and thrilling read. Grey Mask is the name of a master criminal who is running a crime ring out of Charles Moray's house. Charles has been out of the country for several years after his broken engagement, and returns just in time to spy on a meeting of the gang. Charles is ready to bust the ring when he is shocked to see his former fiancee, Margaret Langton participating. As Charles listens, he cannot determine Margaret's involvement, but he does learn of a heinous plot against a young 18-year-old heiress, Margot Standing, whose father, Edward Standing, was recently swept overboard on his yacht in the Caribbean. Pushed overboard is actually what happened. Standing was murdered so his nephew, Egbert would collect the large inheritance. The gang plans on destroying all evidence that Margot is the legitimate daughter of Edward Standing and on destroying the will. Instead of going to the police, because of Margaret's involvement with the gang, Charles goes to Miss Silver, who has built quite a reputation in the wealthier classes as a private investigator. Miss Silver is knows to intelligently and discretely handle sensitive matters. Not only does Miss Silver accept Charles' case, but she seems to have a greater understanding of the Grey Mask gang. That's the surprising thing about Miss Silver. She looks very unassuming, and she's always knitting something or other, but she is lightening quick in figuring out what the heck is going on. Also, Miss Silver, unlike Agatha Christie's Miss Marple, actively investigates crimes, even trailing suspects to learn more about their evil doings. Meanwhile, Charles and Margaret come upon Margot, who escaped from her cousin, Egbert, after overhearing his plot to murder her. Charles tries to keep Margot safe from the gang, while he also questions Margaret's true involvement in the situation. Can Charles trust Margaret? Can they keep Margot safe from the Grey Mask? Who is Grey Mask?

Boy, did I enjoy reading Grey Mask! It was thrilling and exciting. The plot was convoluted enough to keep the reader guessing what was going to happen next. I have to admit that I did not foresee one of the twists in the end. I did figure who Grey Mask was, but there was a lot more going on than I figured out. One of the things that I love about Wentworth's Miss Silver books is that there is always a romantic relationship developing throughout the story. In Grey Mask, it is the relationship between Charles and Margaret, the former engaged couple. Then there is the budding relationship between Margot and Archie Manning, Charles' buddy, who helps him with the threat against Margot. In the end, everything is satisfactorily tied up. I like happy endings, and Grey Mask's ending was very satisfying!

---
Sunday, April 6, 2014 -- Evening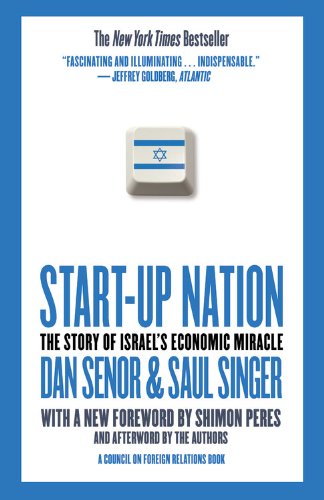 Start-up Nation: the Story of Israel's Economic Miracle by Dan Senor and Saul Singer
Why do some companies succeed over others? Why do some people seem to have everything they touch turn to gold? in Start-up Nation: the Story of Israel's Economic Miracle, Dan Senor and Saul Singer attempt to answer that question by looking at the success that start-ups and entrepreneurs, in general, have had in Israel. You may not realize it, but several of the technology companies, like Intel, Microsoft, and Google have a presence in Israel. Why has a country that is so small and in such a potentially unstable area of the Middle East. Senor and Singer have some suggestions. Part of the reason may be that Israelis are more accepting of failure. When you fail in the US, you aren't necessarily given a second chance because you have the loser taint attached to you. But in Israel, failure is seen as a learning experience. You figure out what went wrong, and you move on to the next challenge. A second factor is that in Israel, every citizen goes into the military. The most intelligent and gifted are chosen for elite operative forces that tend to encourage innovative thinking.

Israel is also a land of immigrants. Some have had to make a livelihood from nothing. The emigrants from other Middle Eastern countries, such as Iraq and Iran, had to leave all their possessions behind, escaping for their lives. These people have had to pull themselves up from their bootstraps, and they did a pretty good job of it.

I found the book informative and entertaining. Senor and Singer talked to a large number of entrepreneurs and politicians. They managed to get time from a variety of interesting folks, including Shimon Peres, who could explain how things were developing in the beginning of the birth of the country through to the modern day. The cool thing about Start-up Nation: the Story of Israel's Economic Miracle is that it does a good job of explaining the Israeli personality and the state of business in Israel. If you are interested in starting up your own business, you can leave some tips from the book, but in general, the goal is to explain a country-wide phenomenon.

---