The Daily Bongo
Celebrity Big Brother
| | | | |
| --- | --- | --- | --- |
| | | | |
| Ariadna Gutierrez | Brandi Lynn Glanville | Chuck Liddell | James Maslow |
| 8th out--2/25 | 5th out--2/23 | 1st out--2/9 | 6th out--2/23 |
| | | | |
| Keshia Knight Pulliam | Marissa Jaret Winokur | Mark McGrath | Metta World Peace |
| 2nd out--2/13 | Winner | 9th out--2/25 | 4th out--2/19 |
| | | | |
| Omarosa | Ross Mathews | Shannon Elizabeth | |
| 7th out--2/25 | Runner-up | 3rd out--2/16 | |

Final HOH: Marissa
Evicts: Ari and Mark
Winner: Marissa

Check out the CBS Celebrity Big Brother Page to watch the live feed and complete episodes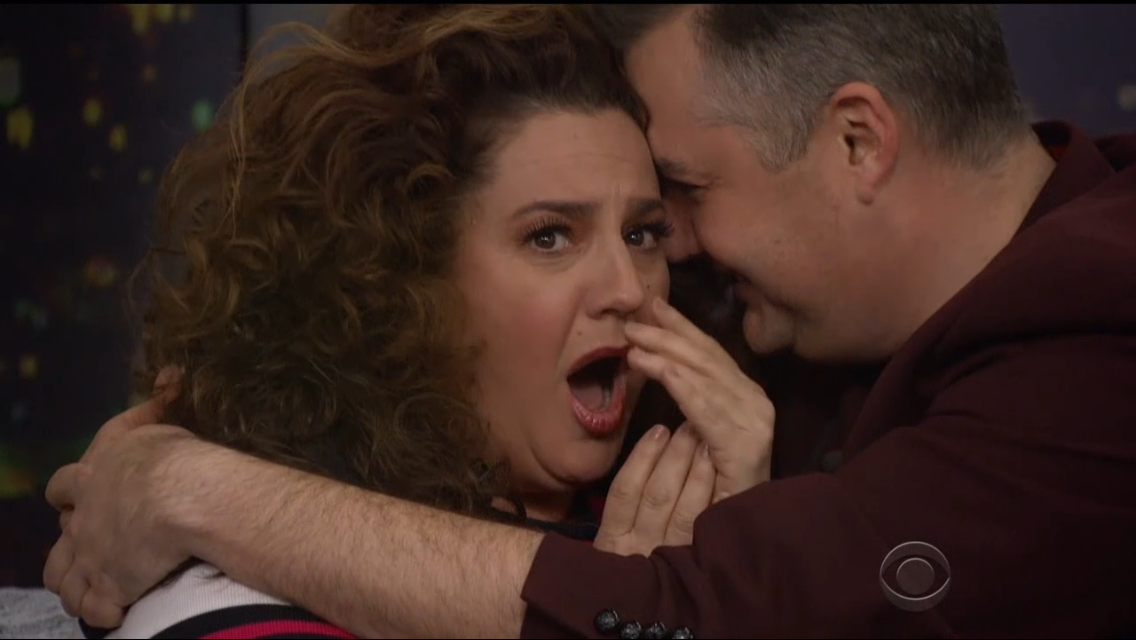 Sunday, February 25, 2018 -- Evening
Disappointment
I'm watching the Olympics closing ceremony, and just watching the results of BB online. Ross won the final 5 HOH, and he nominated Ari and Omarosa. Then he also won POV. He didn't change the nominations, so Omarosa went out. Then Marissa, surprise of surprises, won the final HOH. She evicted Ari and Mark. The final was down to her and Ross. Of those two, I would definitely vote for Ross because he worked to most in the game. Marissa just talked endlessly. I couldn't believe that anyone would vote for Marissa, but she wound up winning. That really sucks because Ross played a much better game. I'll try to actually watch the two hour show tomorrow.

---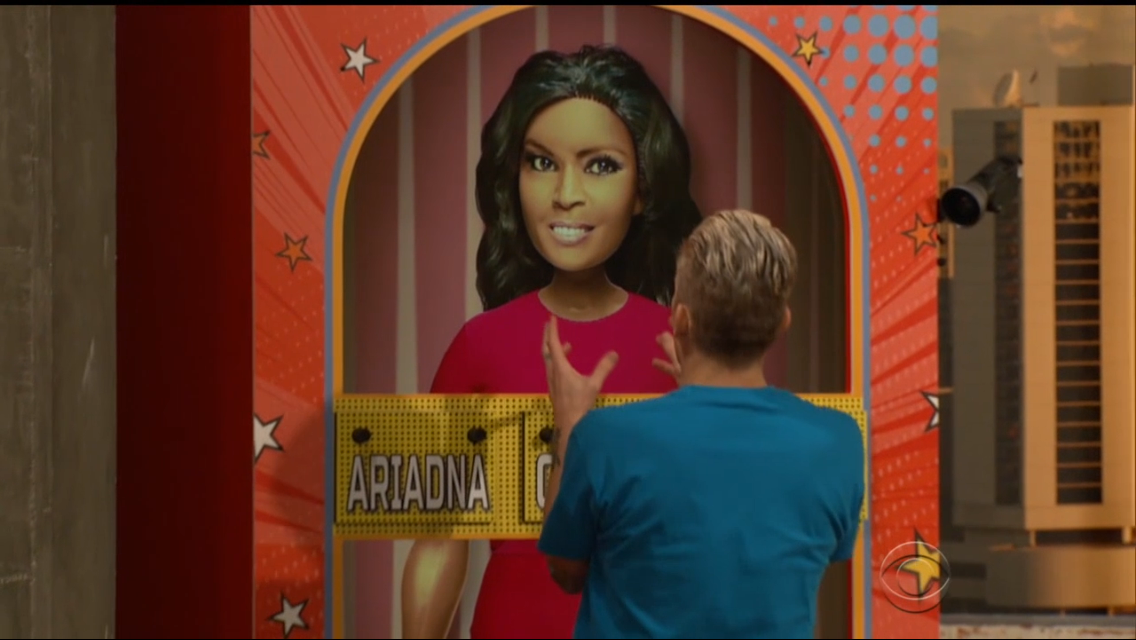 Friday, February 23, 2018 -- Evening
Double Eviction
It's a double eviction night, and the first to go will more than likely be Brandi since she's up against Marissa. This double eviction episode will be two hours long. Really? I hate these two hour long episodes. The celebrities have been in the house for 24 days. I guess that it has to take two hours because they have to show us the POV, which already happened, and was won by Ari. So I guess the two hour show makes sense. Brandi thinks James is pulling the strings, and that he is making a stupid move. Omarosa is happy that she's not on the block, and she refers to Brandi as the wicked witch.

Ari and Brandi wonder if Marissa and Ross knew about the plan. They believe that the foursome now is Ross, Mark, James, and Omarosa. Ross tries to talk to them to find out if they are okay. Marissa now trusts Mark and James because they didn't put her on the block. Ross realizes that he can't save Brandi from Brandi. Ari and James Talk, and James says that Brandi is the target. It's nice that they have games and Twitter. James plays a game while Ari tweets. James assures Ari that if Brandi comes off, Omarosa will go up.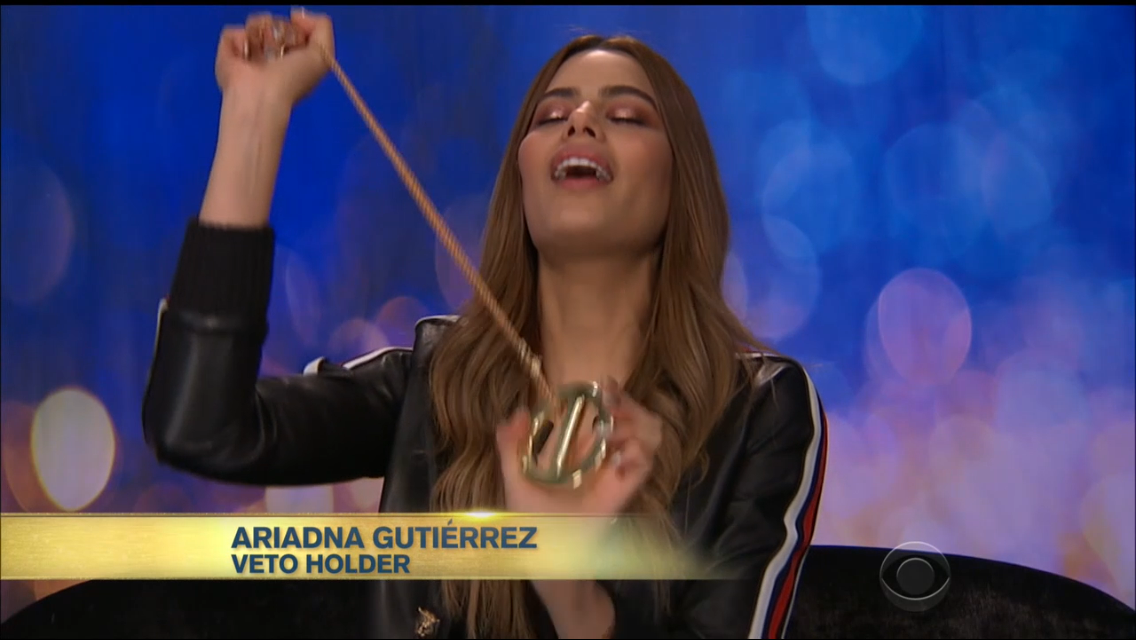 Omarosa goes on about politics and how no one got her educational background correct in the news.

Time to pick for veto. Mark picks first, and selects Omarosa. Brandi selects James. Ari selects Marissa. Ross is the only one who isn't selected, and he's happy. Ross won't tell Ari if he will vote her or Brandi out of the house. The houseguests find out that it's double eviction night.
Everyone is out in the backyard, and Brandi dares everyone to say something bad about Julie Chen. Everyone leaves her. Even Omarosa thinks Brandi needs to go. Brandi says that she would put up James and Omarosa. James tells Brandi that she has a lot in common with Omarosa. Brandi is upset at that one. James tells Brandi that she has been really rude to him throughout the time in the house.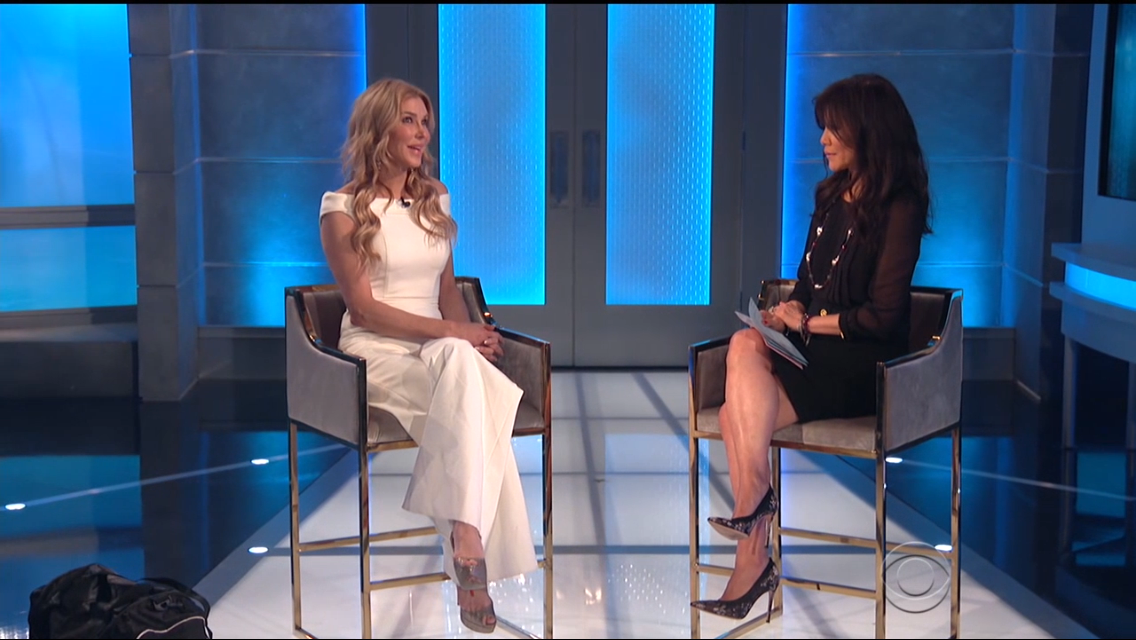 James tells Brandi that going along with the house twice is not Brandi saving him. Then Brandi starts in on Marissa saying that Marissa is joining in with the guys when James was saying he was not happy. Marissa was upset to have Brandi yelling at her. Marissa says she was just nodding her head ad James talked. Even Marissa says that there's no hope in saving Brandi now.

Time for the POV competition. They are going to compete one at a time, then go to the HOH room to watch the others with Ross. Omarosa is first. It's a figure out the mix of the houseguests face. They have to figure out the eyes, nose, and mouth on four images. Omarosa gets to set the first time. Omarosa doesn't want to win veto, so she screws up intentionally. Keshia is Metta, Shannon, and Ari. Omarosa says that she has to pick up the time. It's Mark, James, and Omarosa. Keisha, Marissa, and Ross are the faces in the final figure. Omarosa talks to Ross telling Ross that he won't beat Marissa or Ari in the final two. Ross tries to get Ross to understand that he wants to go to the final with Omarosa. Ross doesn't know about that. Omarosa thinks they can pull it off.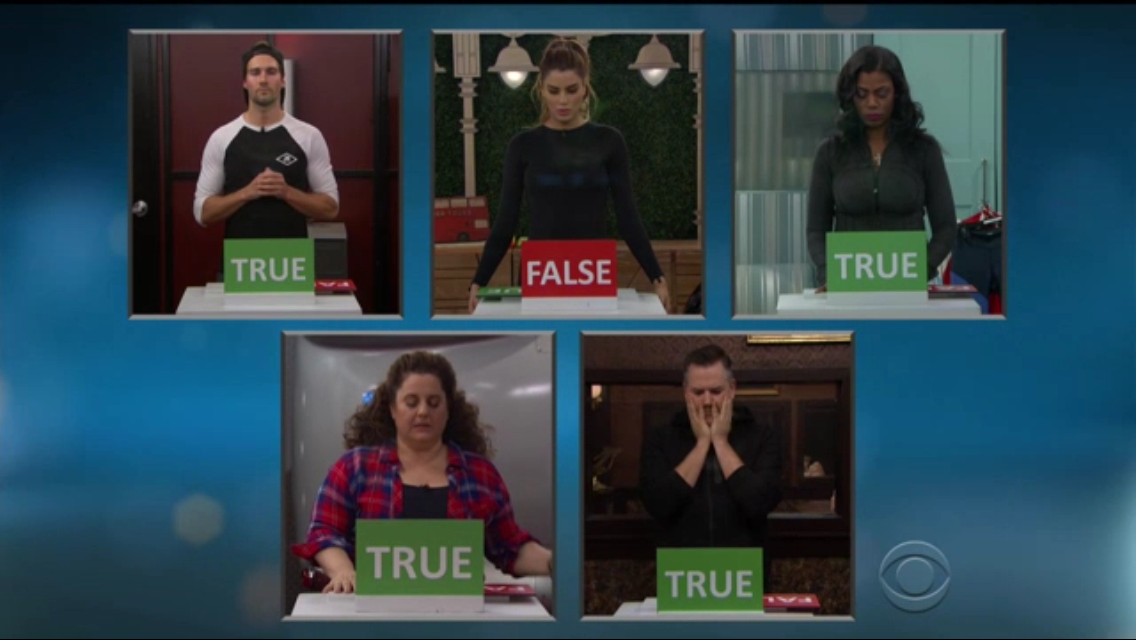 Omaros'a time is 38:52 minutes. Ari is next, and she misses that the first one has her face part. Ari says that she has been studying their faces all the time. Ari's time is 9:10. That's pretty quick, and James says that he has no ides who the first face is, but he guesses quickly. James gets stuck on the third face. Marissa is next, and she really wants to win, but she is getting everything wrong. As Marissa says, it looks so easy on tv. Marissa ran out of time. Now it's Mark's time. Mark is not good at it. He can't get past the first face. Now it's Brandi's turn. Everyone in the HOH room is yelling at Brandi as they watch on TV. Time starts slipping away, and Brandi is still working on the first one. Mark doesn't feel bad, and he congratulates Ari. Brandi hopes that Omarosa goes up. Mark says he has to pick a replacement that will get Brandi out.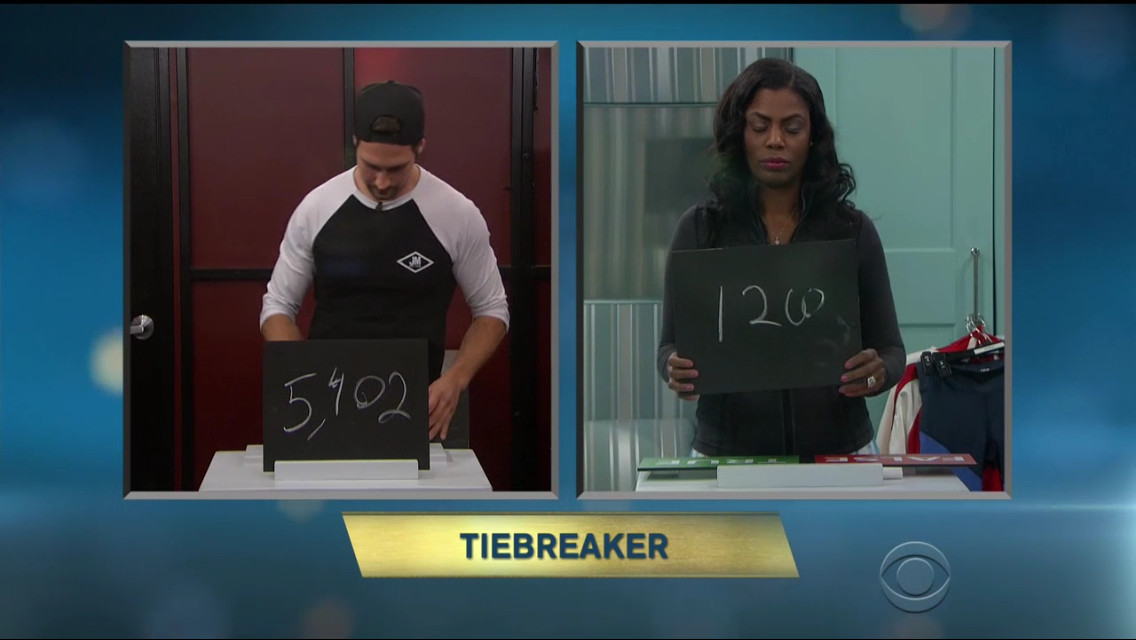 Mark and James are exercising, and Mark says that he is nominating Marissa because she has not been on the block, and he wants Brandi to go out. Mark says no one wants Marissa out. James is happy that he and Mark are on the same page. James wants to take Mark to final two. As Mark tells James, this is Big Brother, not Big Hommie. At the veto meeting, Ari takes herself off. Mark puts Marissa up against Brandi. Marissa just wants to stay out of Brandi's line of fire. James is really happy that Brandi won't be around to insult him. As Ross says, Big Brother doesn't work with you not voting out friends.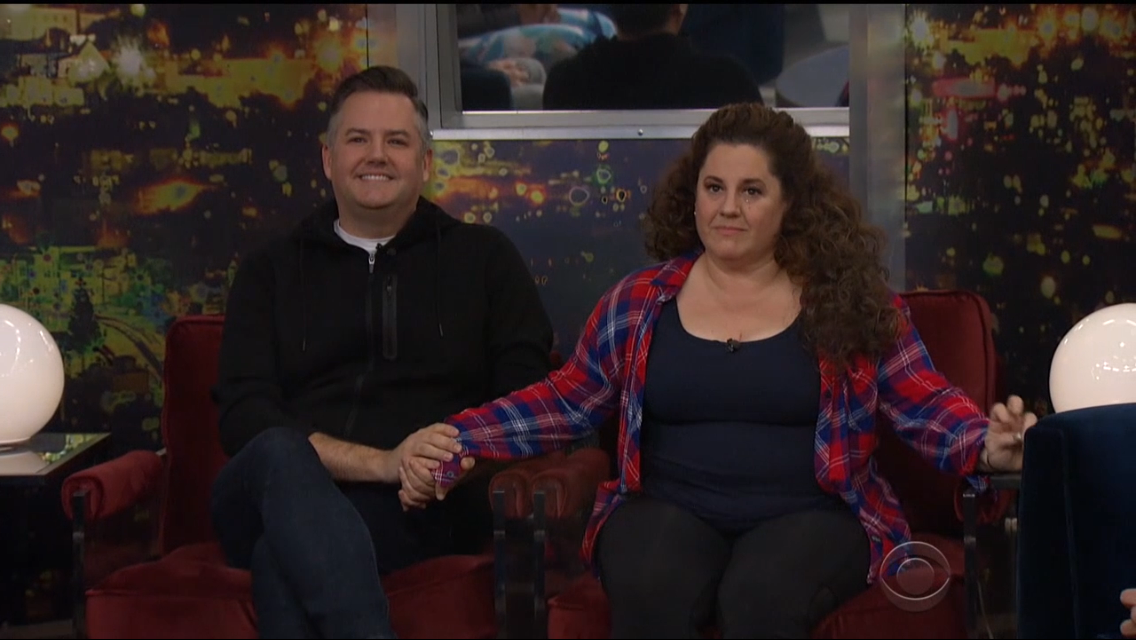 Time for the first eviction of the night. Marissa says she won't campaign against Brandi, and she is just happy to be a cancer survivor and Zev's mommy. Brandi said that she loves a lot of them in the house and made a lot of friendships. Brandi says she's shocked to get along with Omarosa. Time for the vote:

James evicts Brandi with great pleasure
Ari evicts Marissa
Ross evicts Brandi saying he loves them both
Omarosa evicts Brandi saying that even Brandi's showmance wants to vote her out
Brandi is evicted. Ari and Brandi hug and cry. Mark says that was quick. Brandi is surprised that Ross didn't choose her over Marissa. Brandi says ehe wants Ari to win, but she didn't expect To be beside her. Brandi knows Ross outside the house, and she is not mad at him for voting against her.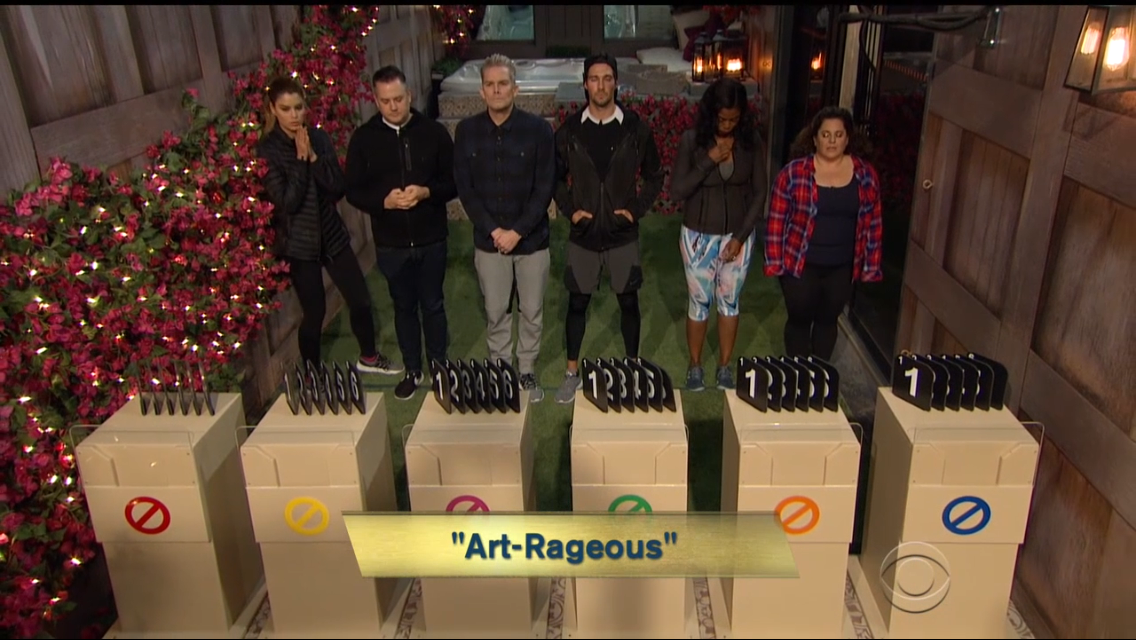 She said that Ross bribed her with a life time of alcohol. Julie asked Brandi if her mouth got her in trouble in the house and why didn't she change it. Brandi says she's 45, and she can't change herself. Brandi was really funny. Brandi says it was hard and more cut throat in the BB house than in Real Housewives. Brandi learned that she is not very strategic, and that she is softer than she lets people know. Godo bye messages: Ari tells Brandi that her heart is with her, and Brandi is her best friend. Marissa said that she is really sorry. Ross says he had to make a choice. James says this is the best day he's had in the house, and he couldn't stand her. Brandi says that her good bye message to James was much worse. Julie then dares Brandi to say something bad about her. Funny!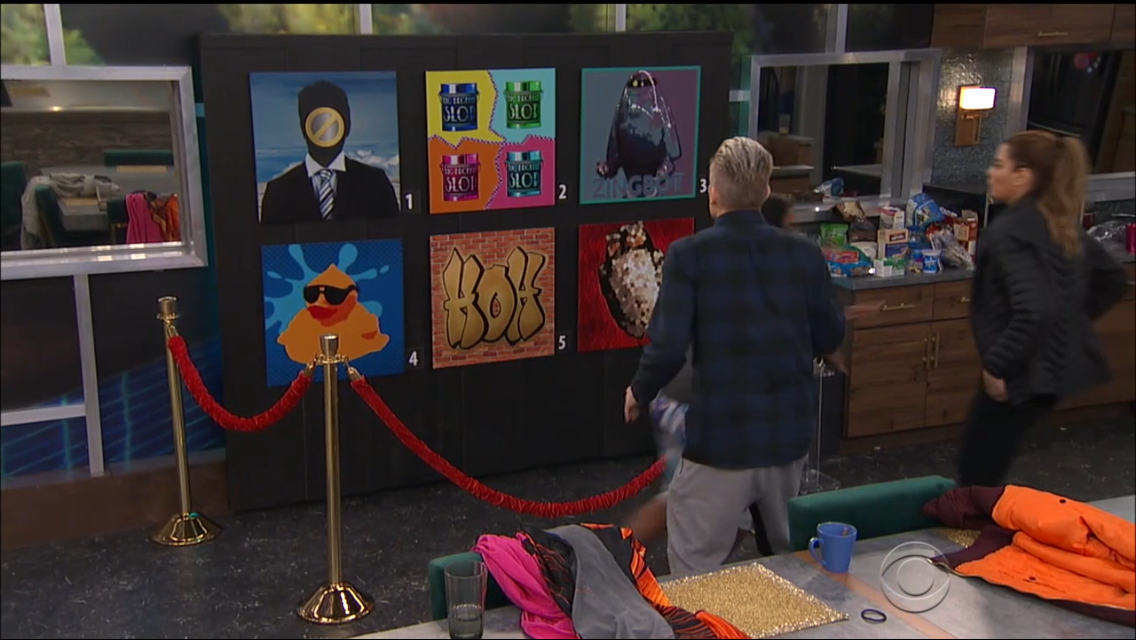 Tiem for the HOH. They were shown pictures today, and it will be part of the competition. They are in separate rooms in the house. They will be asked a series of questions and have to answer true or false. They get a point for each correct answer. The one with the most points after 7 questions wins HOH> Ari gets the first one wrong. Ari is the only one to get the second question wrong. Everyone has two points except for Ari who has 0. Ross and James get the third question right. Omarosa is the only one to get the fourth question right. Now, it's a three way tie with James, Ross, and Omarosa. James and Omarosa now have 4 points. Everyone gets question 6 right. Final question. It's a tie between James and Omarosa with 6 points each. Question, in the award squeezing competition, how long in seconds was it from the beginning until Shannon won. Omarosa got the HOH>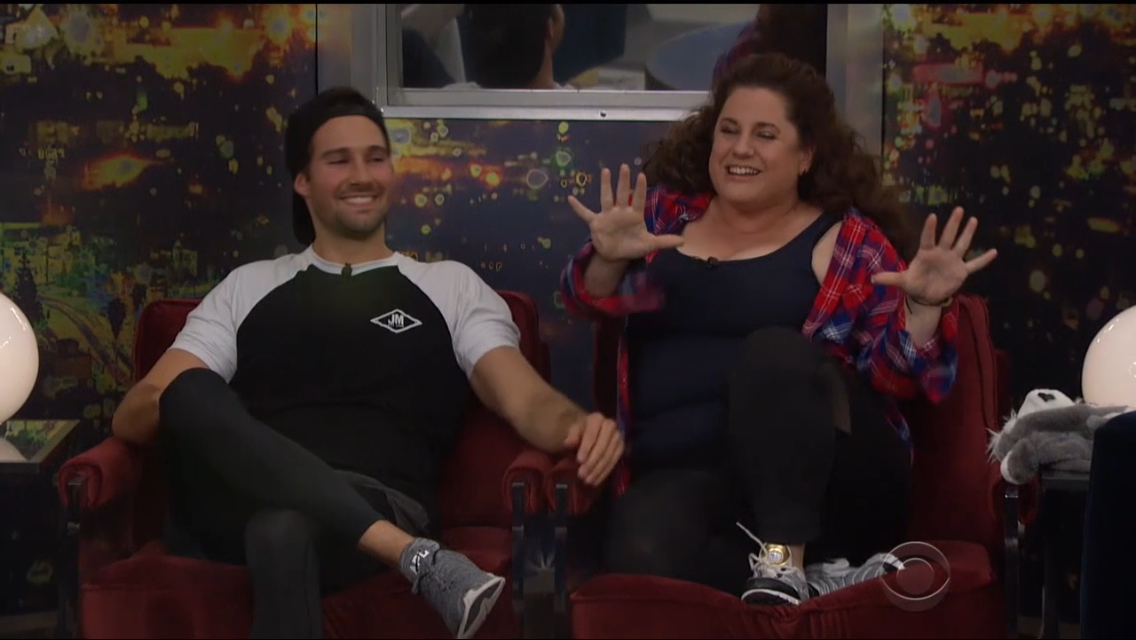 Who will Omarosa put up? she puts up Ross and Marissa. Time for the POV ceremony. All of them should compete. They have to identify which of the 6 paintings in the picture is not an exact match. The firs to identify wins. If the person guesses wrong, they are out. They have to race around the house and hope to compare the pictures accurately. Ross got it right. it was number 4. He wins the veto. Who will Omarosa puts up? I hope that she puts up Ari because I'd like for the guys to stay in the house.

Ross will probably take himself off, and he does. Marissa shakes her head about him using it on her. They hug and kiss. Omarosa nominates James. I'm really sorry to hear that because he will probably be the one to go.

They each get a final statement. James says that it's no fun campaigning, but everyone seems to think they can't beat Marissa. Ari and Omarosa whisper. Marissa says that it's okay to take her because she can't win. So they should take her because James can win.

Ari evicts James
Mark evicts Marissa
Ross evicts James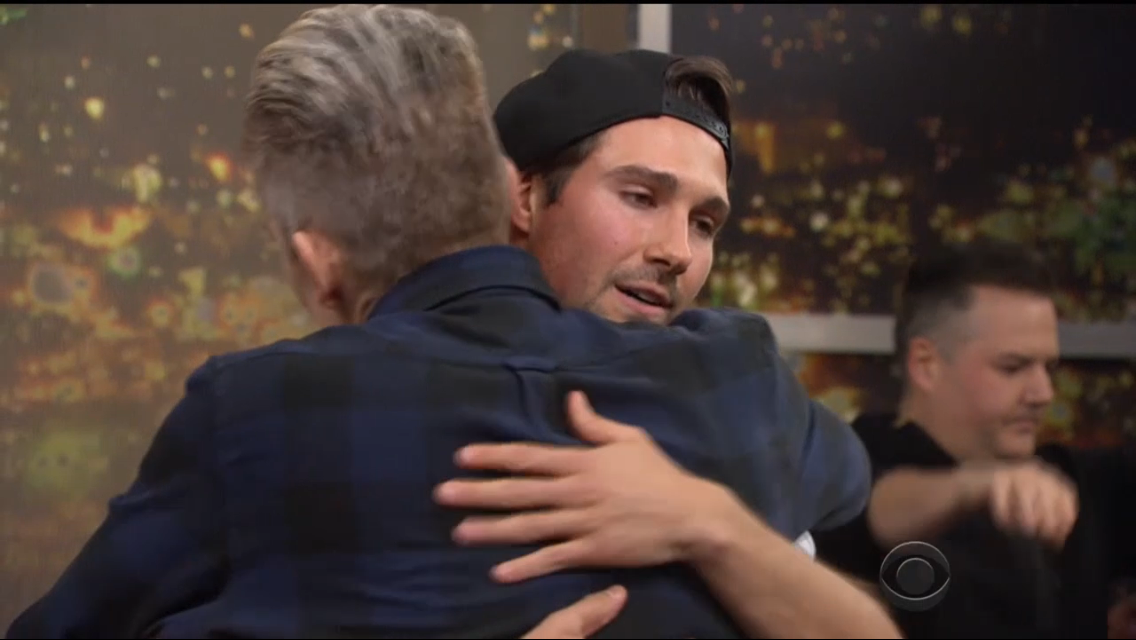 James is out of the house. I'm sad because I really grew to like James James says it's depressing, and he gets that it's only a game. James runs to get his jacket because it was all so quick. He goes to leave as he is dressed. Omarosa says that James was the biggest target. Omarosa says that Mark was the only one who didn't know. James thought that Omarosa would put up Ari. James said that he was going to try to win. Julie said James was a competition beast and was loyal. James is proud that he didn't scheme with Omarosa. James thought his final four has a better chance to go forward. It seems that Brandi told some lies about James, and that made Ari think that James said things he didn't say. Julie asks James if he will date Brandi after this, and James said he has thought of it zero times and that's a no. James thinks it's anyone's game, but Ross has a shot. James said he had a lot of fun, and at least he beat Brandi. They really hated each other.

Julie tells them the final five are headed to finale night. The final four will compete live to be the last and most powerful HOH, and that HOH will immediately evict one person. Then it seems it will be a vote between three at the very end. There is another special episode tomorrow with the HOH competition.

---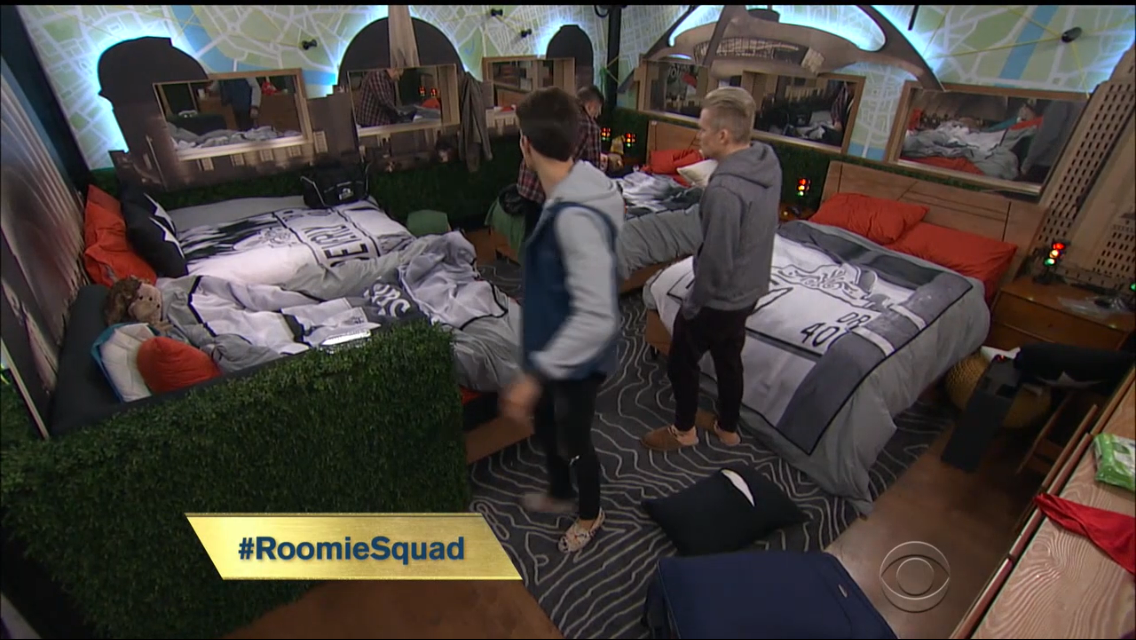 Wednesday, February 21, 2018 -- Evening
HOH and Nominations
I'm actually watching the show tonight as it airs. The show started with everyone waving bye to Metta. Omarosa said that everyone knew that Metta wanted to go. One hour before the eviction, Metta told Omarosa that he wanted to go because he thought being in the house wasn't healthy for him. Ross is glad that he is in the house. Omarosa was glad that Ross didn't use the second veto. Then we see Ross talking Marissa into working with James and Mark. Then we have a segment where the guys try to come up with an alliance name. They came up with RoomieSquad. Lame! So Marissa and Ross are in two final fours.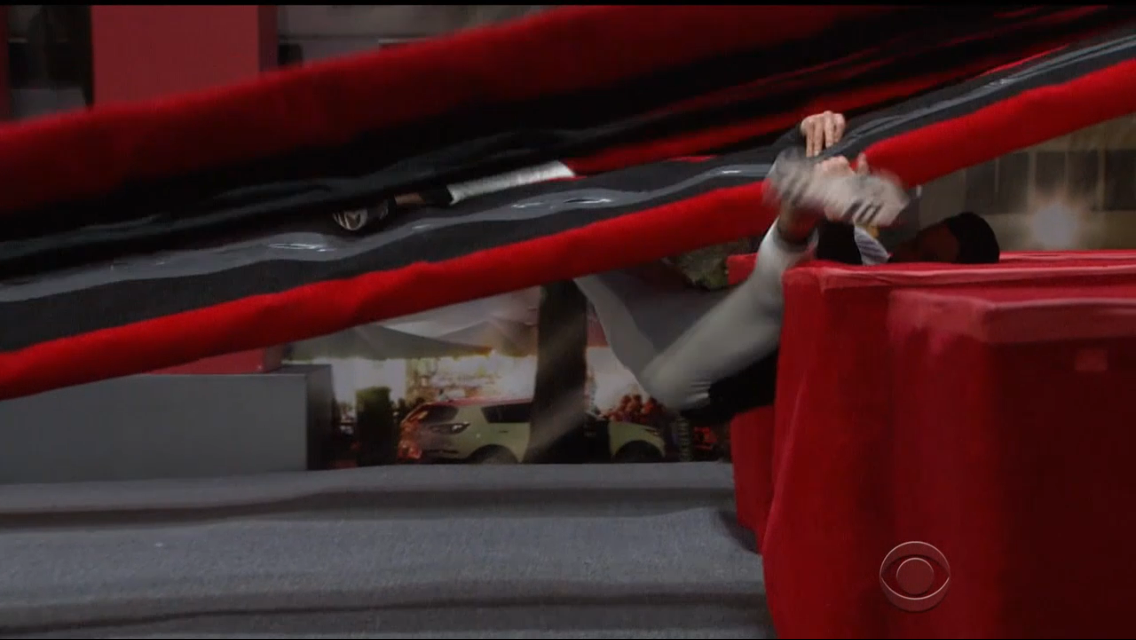 James wished that Ross didn't use the POV because Ross had the numbers. James just really wanted to get rid of Brandi. James tells Ross that Omarosa may not be the next target because Ari and Brandi are. James says that he's not mad at Ross though. Ross goes and talks to Ari and Brandi, and he wants everyone to join against Omarosa. However, as James would say, Omarosa is alone in the house. Meanwhile, Ari notices that Ross was in the kitchen talking with Mark. Brandi and Ari want to take James out.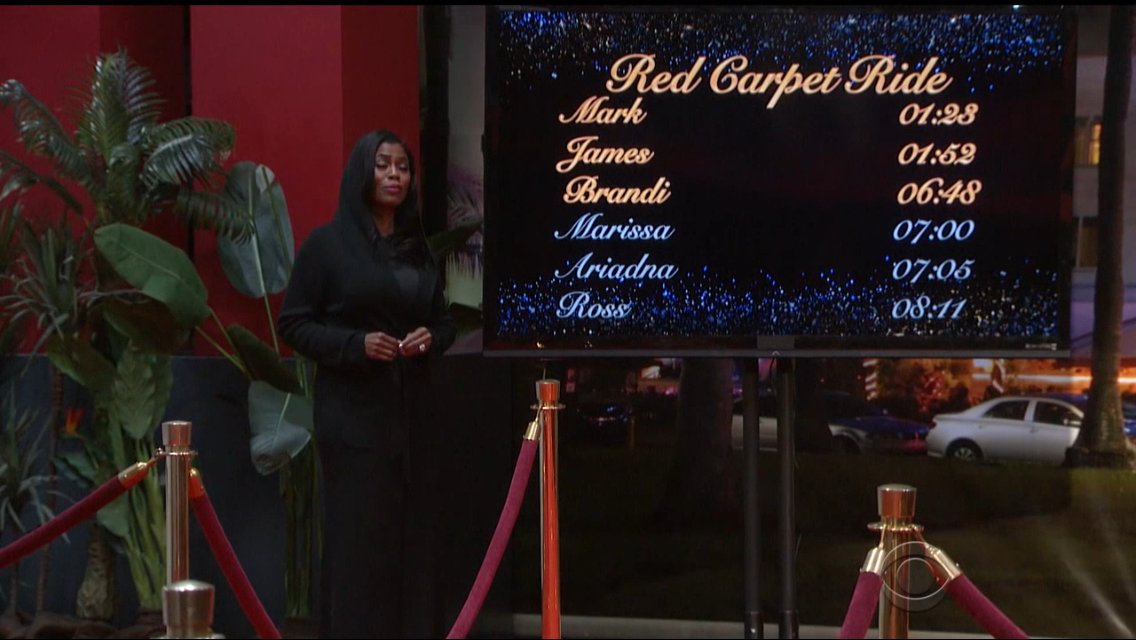 Omarosa says that she wants to get rid of James. Omarosa lies to Marissa and says that the guys wanted to put Marissa up. Time for HOH. So they race as teams of three, and then comes down to the team of two that win, and the winner of that final heat wins. First up are Brandi, Ari, and Marissa. It gets easier the longer it takes. Brandi won the first heat, with Marissa second and Ari third. Next up is the guys. Ross' goal is to throw the competition because he doesn't have to win it. Mark says that red carpets shouldn't be this difficult. James got to the end, when he flipped and had to start again. Mark manages to finish first. Then James follows. Ross can't do it. The guys kept on giving Ross encouragement.

Mark was the fastest with 1:23. James had 1:52. So Mark and James are in the final heat. The third player in the final round is Brandi with 6:48. Ross had the worst time with 8:11. And of course, there's a commercial break.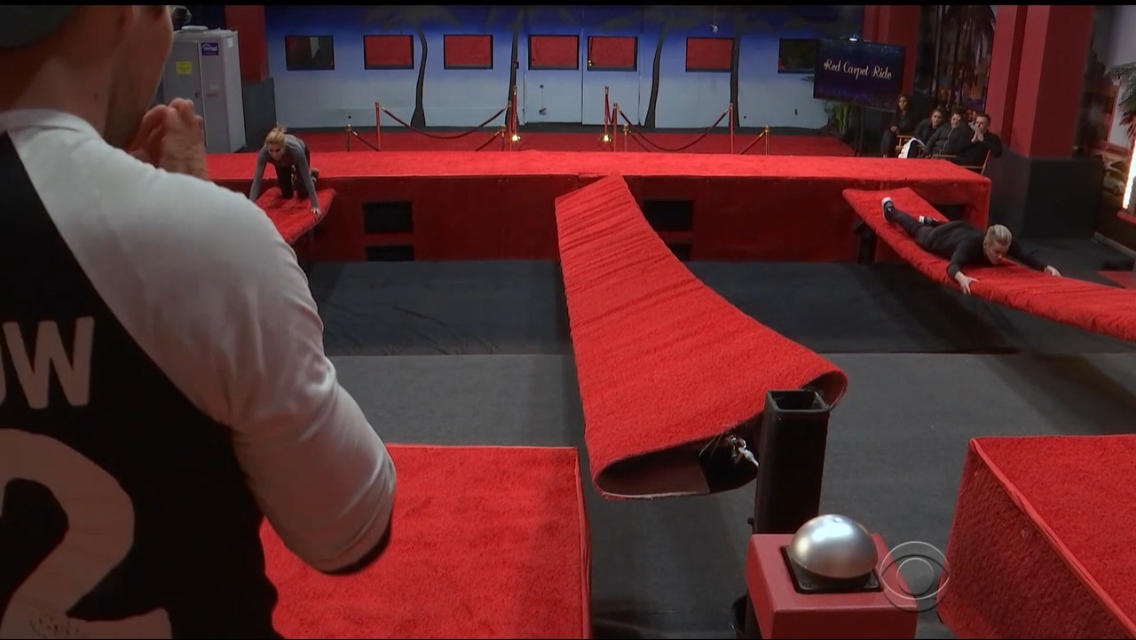 Time for America's vote. We get to pick our favorite houseguest. And now we are back to the final heat of the HOH. Ari says Brandi is their only hope. James gets to the end first, but he won't hit the button because he wants to give it to Mark. James tells Mark that Mark has it. Omarosa manages to figure out that James is throwing the HOH to Mark. Boy, Omarosa! What a genius you are, NOT! Mark does win, and he celebrates with James. Ross is really happy for Mark.

Mark is happy that he finally has the power. His goal is to break up Ari and Brandi. Marissa is really worried about Ari and Brandi. She wants to put a target on Omarosa. Mark tells Omarosa that he wants Ari and Brandi up. Ross tells Mark how Omarosa lied about the guys wanting to put up Marissa. Mark tells Marissa don't rock the boat. Marissa wants to safe Ari and Brandi. Mark should be suspicious.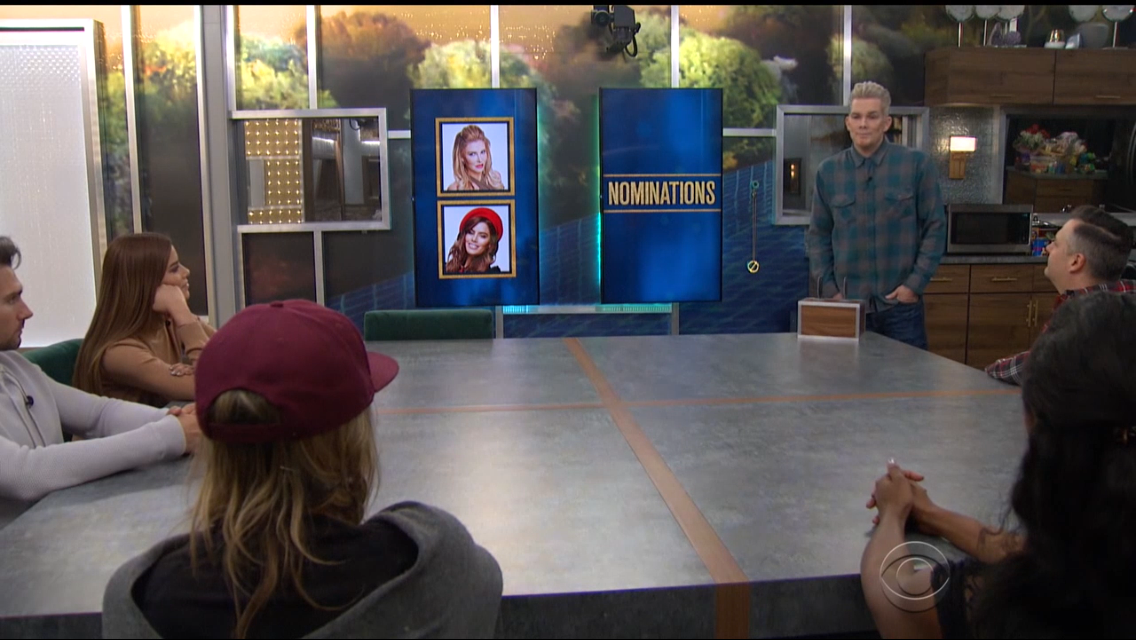 Mark says he misses music in the BB house. A montage of James singing to Mark ensues. BB yells at Mark for singing, and he isn't. Then more politics from Omarosa. This time it's flying in Air Force One and motorcades. Then Brandi asks Mark if it was a setup with James that he let Mark win. Mark says that James didn't articulate it, he just let Mark win HOH. Brandi is trying to say that James wanted to be HOH in the next competition. Omarosa and Ross sided with Mark. Brandi running her mouth is going to get her out of the house--we hope, we hope. Personally, I'm hoping for Mark or James to win. Final four with Ross and Omarosa. How's that?

Time for the nominations. Mark nominates Brandi and Ari. As Mark says, he's heard through the grapevine that Brandi wanted him up. Marks says he nominated Ari because she is partners with Brandi. Brandi blames James for the eviction.

Now we have Friday to look forward to. We'll find out who wins POV< and it will be a double eviction. Only two more episodes (3 more hours of show).

---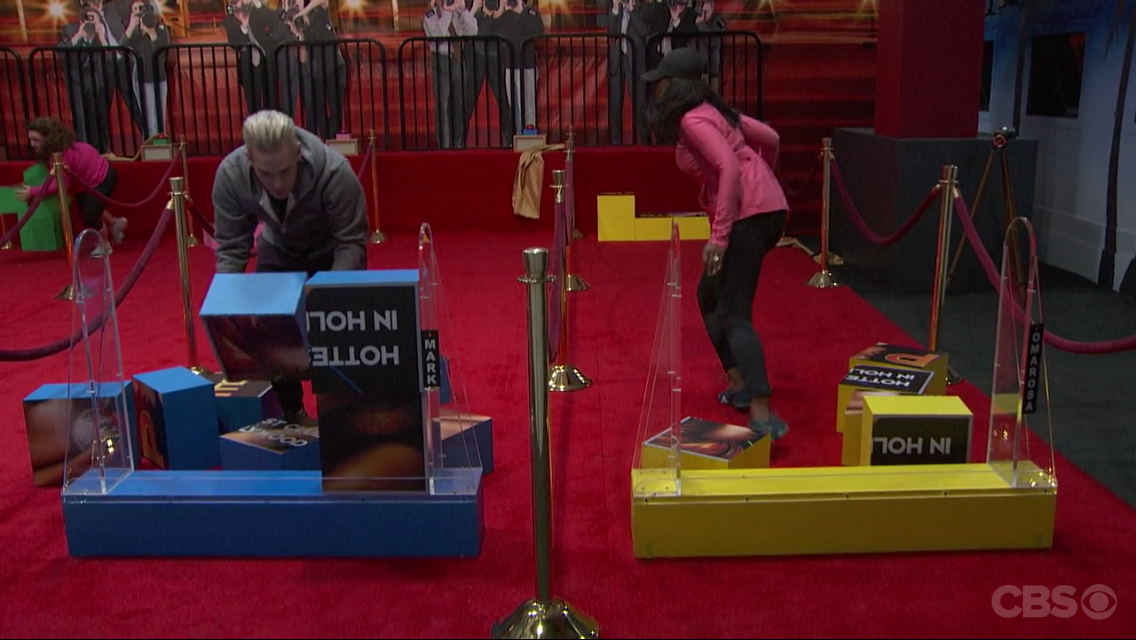 Tuesday, February 20, 2018 -- Afternoon
Live Veto and Eviction
Unfortunately, I checked, and I know who was evicted last night. It was Metta World Peace, and he was adding some light entertainment to the house. Really, I think the only person that I wouldn't want to win would be Brandi or Omarosa. Ross and Mark are funny, and I think that James has been the best at playing the game so far. I just hope that James can make it to the final. He has too big of a target on his back.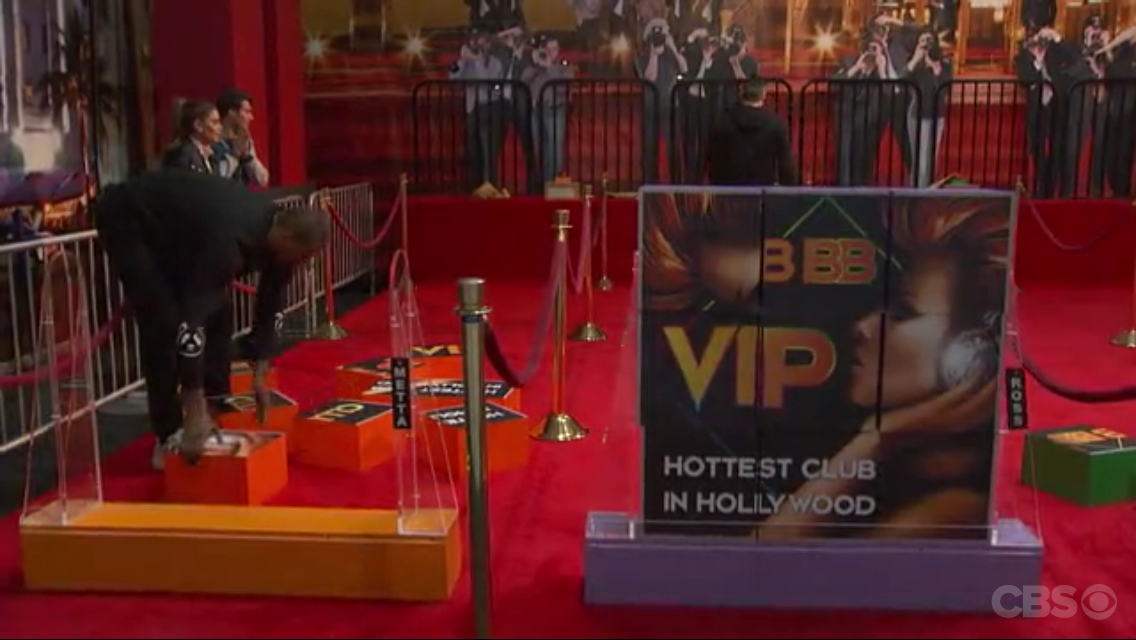 Now on to last night's show! Omarosa said that her goal with nominations is to break up the pairs. She chose Ross because Ross put her up on the block. Ross thinks it will be the best dinner party conversation that he was put up by her. Brandi is concerned that someone crossed to the dark side. Omarosa is hoping to plant a seed of distrust. Then Brandi outed that Brandi, Ari, Ross, and Marissa had a final four. Brandi is really digging herself a hole by outing her own alliance in front of Omarosa. Marissa feels bad about Brandi personally attacking her in the game. Marissa is not sure how they will move forward in the game with this. Marissa and Ari talk about how they thought Omarosa would put up the guys, and she didn't. After talking with Omarosa, Mark came down and told Ari and Mrissa that he might go on the block. Marissa and Ari said that Mark must have made a deal with Omarosa. Ari tells Marissa that Omarosa is going to come after one of them. Marissa tells Ross that Ari is the smartest in the house, and that Ari noticed that Mark and James made a deal with Omarosa. Ross doesn't think that James or Mark made a deal. So Ross says that he will talk to Mark.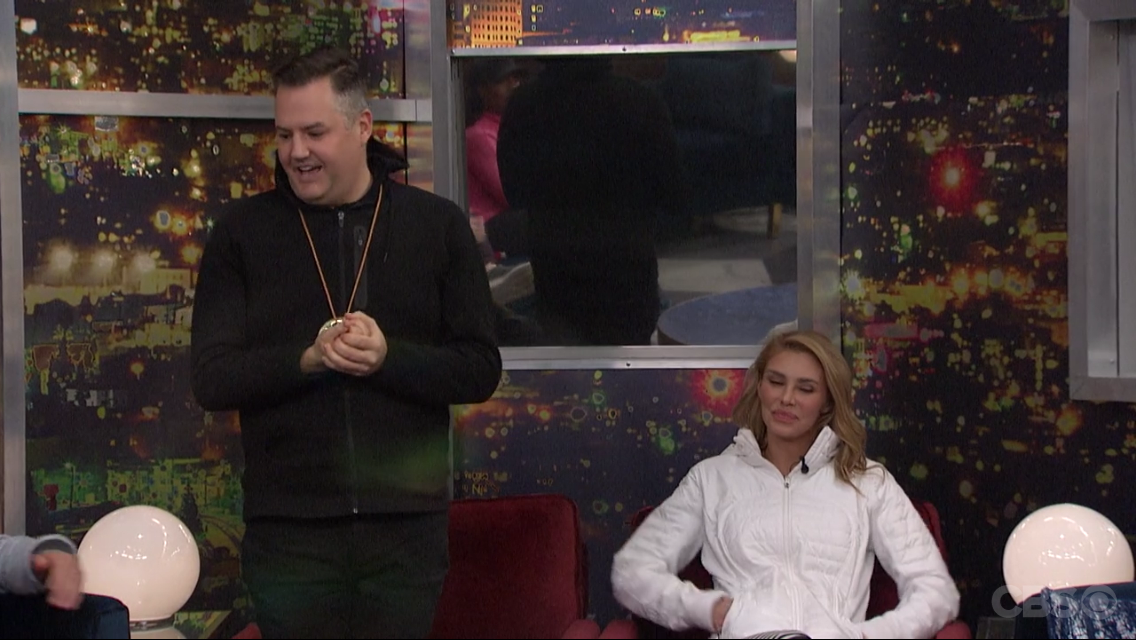 They all play the Twitter game, where they ask questions from people on Twitter. First is somoene asking Ari about Steve Harvey, who called her country over the real winner of Miss Universe. Brandi pretends to be a Twitter user who asks if James made a deal with Omarosa and Mark. As James said, Brandi has been rude to him from day one. Ross talks to James and Mark in the morning, telling them not to trust Omarosa. He tells the guys to not trust Omarosa. Mark said Omarosa plays mind games. James is interested in a deal with Mark, Ross, and Marissa. James and Mark about whether they should go with Omarosa or Ross. Mark says that he has to rethink the whole Omarosa deal. Mark realizes that they either blindside or they don't. Mark and James say they need to blindside and not get rid of Ross who is Omarosa's target.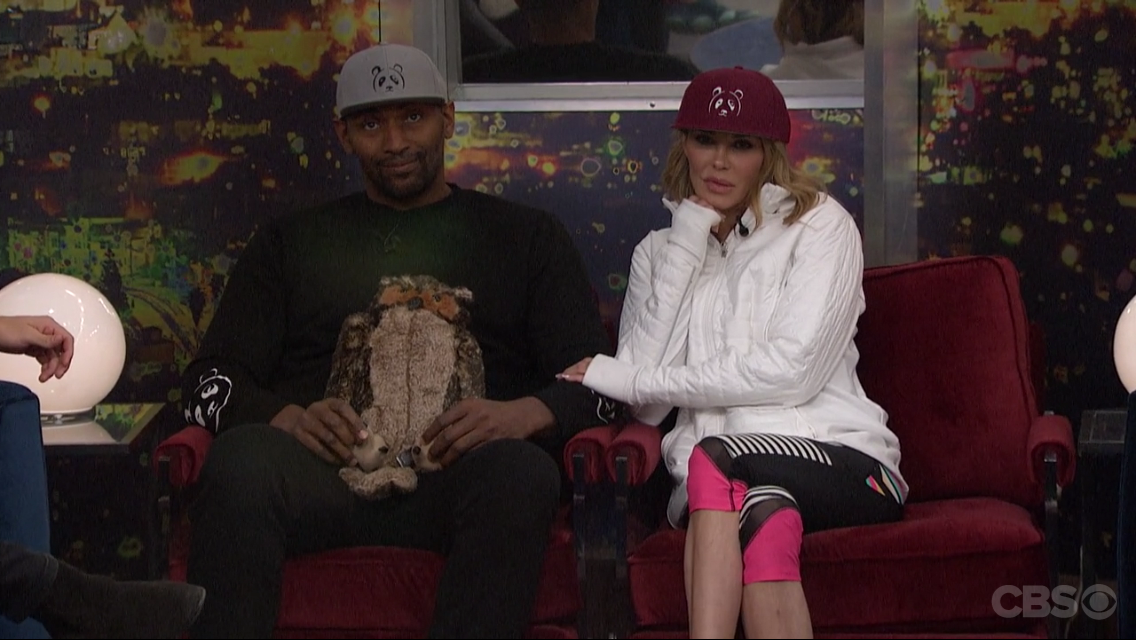 James approaches Marissa about saving Ross. Marissa says that she doesn't want to leave Ari in the dust, and James said that no one will be able to win against Ari in the end. Marissa is conflicted over it. Marissa tells James that she has to think over it for a second because she has to think about how it will feel not to work with Ari. James tells her to think about it, but if she doesn't, he doesn't have the numbers to do something for Ross. Marissa says it's every man for himself in the competition. We will see Omarosa, Ross, Brandi, Mark, Metta, and Marissa (who were just chosen by draw) compete for the veto. They learn about the vetos: Spotlight that the winner has to use, the VIP veto that can be used twice, and the Diamond veto that allows the winner to name the replacement. The veto was the VIP veto that allows the winner to use it twice in the veto ceremony.

Time for the live veto competition (well, live yesterday). They have to race down the walk, grab puzzle pieces, and successfully complete the puzzle. Ross does the smart thing, building the puzzle on the floor. Mark thought he has his puzzle first, but he did not. Ross was very clearly putting the puzzle together correctly. Ross did not think it was right, but he pressed the button because Mark and others said to give it a try. It looked like Omarosa was getting there quickly. He just beat out Omarosa.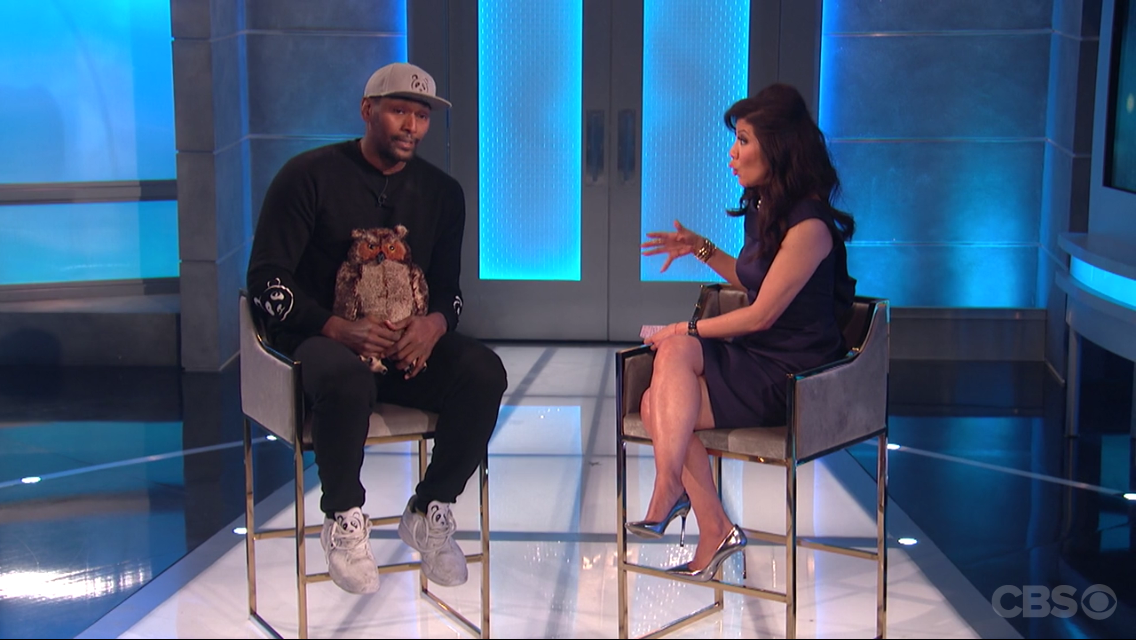 Time for the veto ceremony. Ross uses the POV to save himself. Omarosa replaced Ross with Metta because Metta wanted to leave. Ross does not use the veto a second time.

Metta gives a statement thanking BB and CBS. He says that it has been very difficult to be away from his family. He says BB is an amazing show, and he was pulling for Shannon. He really came across as a nice guy. Brandi thanked Metta for wanting to go home.

Ross evicts Metta with great love and respect
James evicts Metta
Mark evicts Metta
Ari evicts sadly the greatest Metta
Marissa evicts Metta
Metta is out, but has to wait until after the commercial break. Metta hugs and kisses everyone and takes his owl. They all tell him they love him. Everyone is happy for Metta, and happy he got the cheer. Metta is crying. As he said, he built a bond with everyone in the house. There are only six more days to go, but he couldn't take being away from his family. He talks about his children, their mothers, and his future wife. As Metta says, the game is more mental than physical. Metta really loved Shannon and wished that she would win. So now, he says he would want Ross to win. Metta said though that he would have put up Ross and James because that is what a competitor would do. Shannon is going to be on the Talk today with Metta. Julie did let us know that a double eviction is coming up because Sunday is the last day. Friday is double eviction day. Sunday is the two hour finale, with three celebrities evicted.

---
Monday, February 18, 2018 -- Morning
HOH Results
So the HOH competition wasn't that rough. The contestants were sitting, and they were lifted into the air and tilted. Marissa is hopeful that Omarosa isn't the HOH. Mark asks the question about what is in slop. James comments that he doesn't trust anyone, and he would rather not win if he doesn't have to. Brandi whispered to Ari that she voted against Mark, and Ari isn't sure if she can trust Brandi anymore. It seems that the seat are rough on their butts. Metta says that he felt like he was in a basketball game. He wants to take his shoes off because the foot stand is too small for his feet. After tilting the seats a bit, they have popcorn and water shot at them. Metta is sliding because he's 6 feet 5 inches (and three quarters), and he weights a lot too. Metta is the first out and will be on slop. After he falls, they throw t-shirts at the contestants. Ross doesn't know which hurts most, his fingers or shoulders. Ross is the second one out. He is rooting for everyone except Omarosa.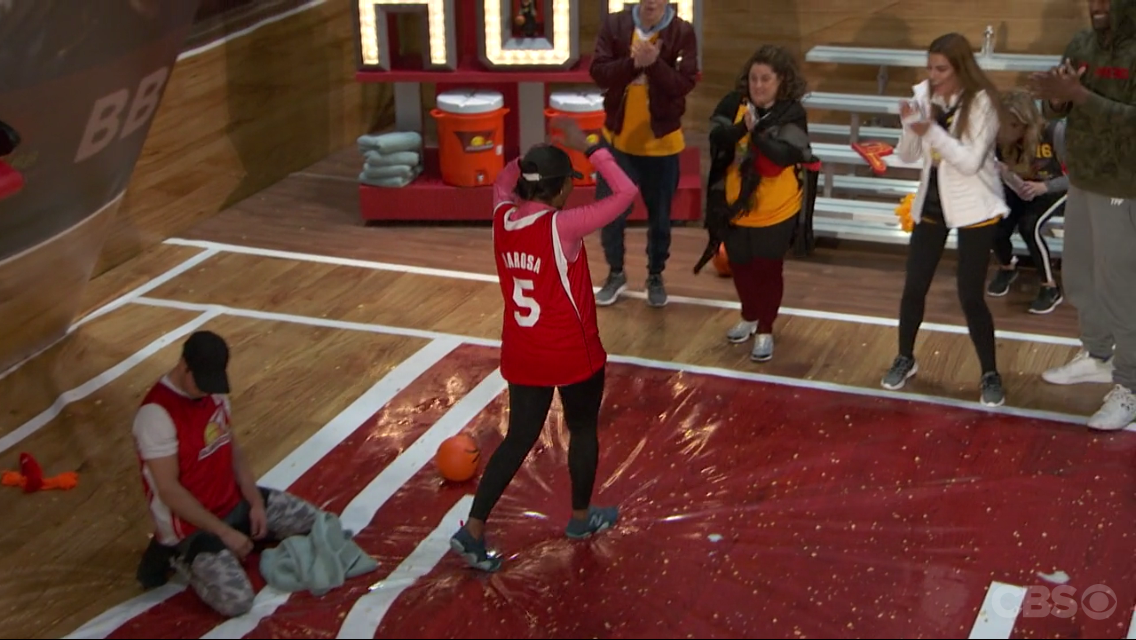 Ari tells Metta and Ross that Brandi voted for Mark. Mark says that it sucks having big balls in this competition. Mark is the third to fall, and the last to get slop. James makes a joke that the seats are as painful as watching the Clippers. Marissa is the fourth to go out. So she avoided slop, but Marissa sees that only Brandi remains of the alliance. James doesn't want to win HOH, but he feels that he might have to win since it's down to Brandi and Omarosa. Meanwhile Omarosa doesn't trust anyone, and she feels that she has to dig deep to pull a victory out.

T-Shirts and balls are thrown at the remaining three. They tilt the seats more. everyone says that with Omarosa's big butt will help her. Brandi falls off after 1 hour and 26 minutes. Omarosa says that she will make a deal with James, and that she won't put him up at all. She says that if James drop, he is safe. Omarosa says that she's solid. James thinks that neither he or Omarosa has a friend in the house. No one wants him to fall, but he takes the deal and drops. It's over at one hour and 31 minutes. As James said, he was working with Chuck, and Chuck was evicted. Then James worked with Shannon, and she was evicted. So James needs to think about pairing with Omarosa. The others are now worried about how Omarosa will go after them instead of James.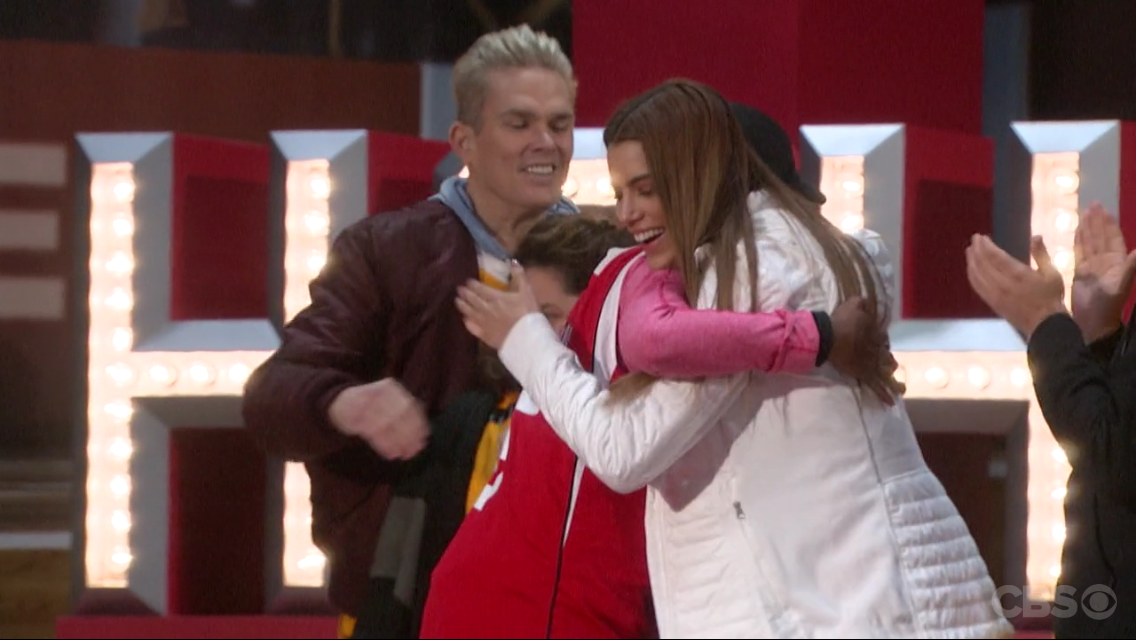 Metta says that he is going to miss beans and carbs being on slop. Ross is okay with slop, because it's part of the BB experience. He's concerned about Omarosa. Omarosa in the meantime is concerned with the pairs. Ross thinks the only reason Brandi voted for Mark was to curry favor with Shannon in the jury. Ross, Marissa, Brandi, and Ari hand out together to talk about the situtation, and Metta joins in. They all tell Brandi that it was not a good decision to vote for Shannon. Brandi doesn't think it would be a big deal because it wouldn't change the outcome. Later, Ross, Marissa, and Ari talk abut they can't trust Brandi anymore. Brandi sees them, and the whole topic is rehashed yet again. Brandi eventually leaves teary-eyed. Ross said they are still in a position where they need numbers against Omarosa. The three go to tell Brandi how much they love her. As Ross says they needed time to digest what Brandi did. Brandi said that she wasn't even thinking, and it was a last minute thing. Brandi says that she just wants things to go back to normal.

Omarosa has decided that Ross is her target, but she's not sure who to put up against Ross. Brandi tells Omarosa that she gave Shannon a sympathy vote, and Brandi says she might do it again. Omarosa wants to think of a way to spin it to Omarosa's advantage.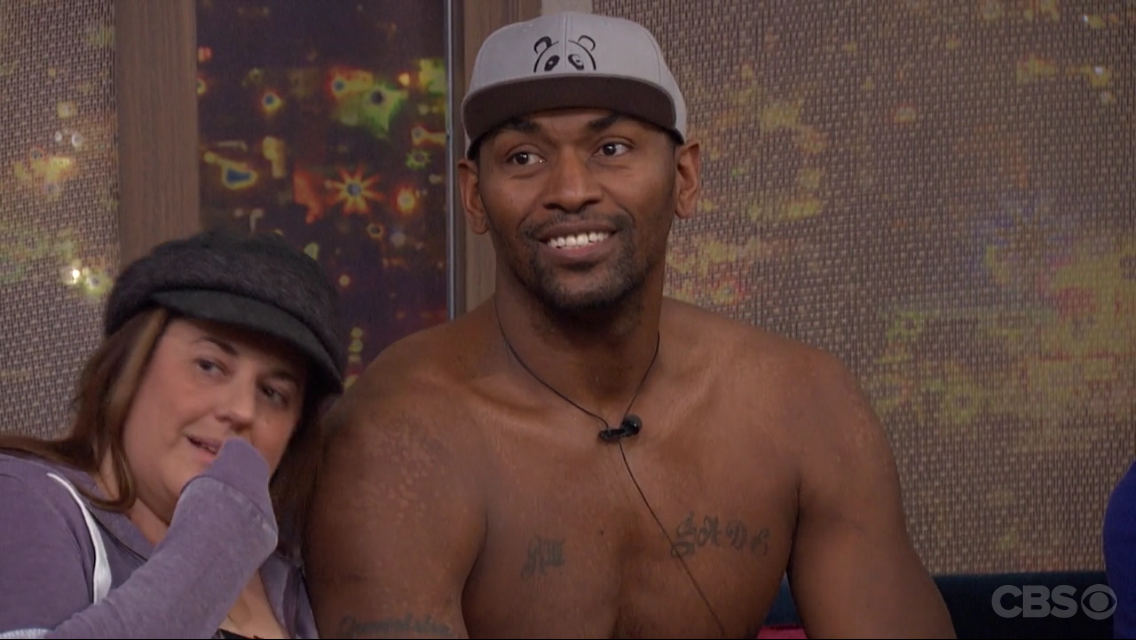 Everyone gets called into the living room for an announcment that America is voting on something for the veto, and they will find out when the live veto takes place Monday. Omarosa wants to find new allies, so she brings Mark into the HOH room to talk to him. Mark said that he is trying to not be a target. Omarosa said that Ross is trying to make allies with everyone. Mark said that he has never plotted against Omarosa. Mark promises Omarosa that he won't put her on the block or backdoor her. Omarosa also wants to talk to Metta and James to get them on her side. James wants to know if he has a deal with Omarosa, he wants to have more than just him and her on the team. Omarosa said that she would like a dream team of James, Mark, and Metta. James thinks that maybe he should make a deal with Omarosa to go to the final four.

Omarosa still talking politics. This time she said she was used and abused by the Ready for Hillary organization. She always has some sort of story. I'm not sure where truth lies. Omarosa goes back to talk with the girls to see if she can get the four women (Brandi, Ari, and Marissa) to the final four. Marissa claims that she hasn't done anything. Also, Ari and Marissa are quick to throw Brandi under the bus.

Time for the nomination ceremony. Omarosa has a bit of a wheeze at the start, and Metta told her to take her time. Nominees are Ross and Brandi. She says that Ross sowed seeds of doubt. Omarosa says that Brandi went against her allies to vote for Shannon. Marissa says it's horrible for her game because it sucks for her alliance. Omarosa is happy to have exposed a couple of people to see the alliances crumble. I probably won't watch tonight, so more on that show tomorrow.

---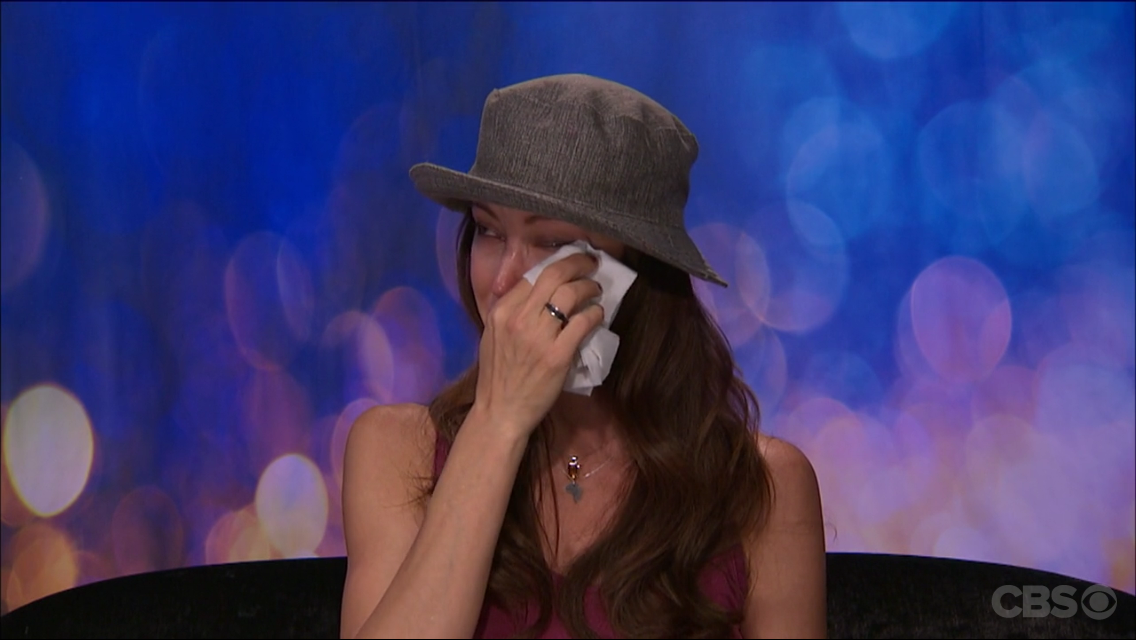 Sunday, February 18, 2018 -- Afternoon4> Bye-Bye Shannon It's very hard to keep up with Celebrity Big Brother with the four-day a week schedule, and the Olympics. It's especially bad when the Friday episode, which I'm watching now, is 2 hours long. Shannon is very upset, and she doesn't feel that she deserve to be the target. James talks to Ari, and says that if Shannon comes off the block, then he is going home. So he has to win the veto. Brandi is talking to Shannon, and Shannon is upset most with Ross and Marissa. Brandi tried to explain why everyone didn't trust Shannon. Shannon outs Omarosa. Omarosa tries to tell everyone what she thought the sitation was. Shannon says that Omarosa is just lying. Mark overhears the crying and tells Metta and James. Mark says in DR that Shannon can win the POV. Meanwhile, Shannon just has a very defeatist attitude.

Brandi feels that it's a weight on her to vote against Shannon. Omarosa thinks Shannon is resourceful. Brandi asks Omarosa if she ever slept with Trump, to which Omarosa said no. Omarosa claims that someone in the White House is sleeping around with everyone.

Marissa is watching James get ready to go into the shower, and Ross covers his eyes. James says he feels like a stripper.

Time to pick for the veto competitors. Ari picks Ross, Shannon picks Omarosa, and James picks Brandi. Omarosa is excited to play in the veto.

Metta is snuggles with an owl that he found in the house. He feel that the owl is something that he is attached to, and that he can go with to the end. Metta says that the owl keeps him comfy. It's interesting seeing a big strong person like Metta with a stuffed owl.

Shannon goes to Omarosa, and Omarosa tells Shannon that Marissa wanted Shannon out. As Omarosa says, she did not want a boy to win. As Omarosa says, she is covering herself. Omarosa tells James that they are targeting him. James goes to Marissa and Ross and tells them that Omarosa is telling him everyone is against James. Marissa and Ross go and tell Ari that Omarosa has been telling stories. Ross says that Mark is a pawn, but maybe it might be good to put Omarosa up again so she can feel the pressure.

While Marissa is talking to Ari and Brandi, Omarosa overhears Marissa say that James said the target was on him. Omarosa tells Marissa to keep her voide down, and Marissa said she'll just get James and settle it. So everyone goes into the living room, and James says that Omarosa told him that he was in trouble. Omarosa tries to twist the words that she told James. James stands up, and James said that Omarosa told James that he was in trouble. It's hilarious that Omarosa wants to twist her words. She's all about honesty, supposedly, but it's obvious that she is an ace liar.

Marissa and Ross talk about how James will come after one of the four (Ari, Brandi, Marissa, and Ross). As Ross says, no one can stick to a plan. He just needs to get them to keep to a plan. Ross goes to get James so they can get him as part of the alliance. They want to use James to get rid of Omarosa. Meanwhile Shannon hears Brandi call James upstairs, and that makes Shannon realize that she has to win. Shannon talks to Metta, but he is gunning for Shannon. Brandi tells James that they will all try to save James if they win the veto. So it will be everyone against Shannon and Omarosa. James says that he'll tell them anything they want to hear, so he says that he is down with their plan.

Now a segment where the houseguests get a message from home. Metta was very excited to his wife. It was really nice. Ari cries when her dad comes on. He looks sick, so she is obviously upset at seeing him. Julie asks them if it helps their game. Everyone is crying and very overcome with emotion.

Omarosa next ripped on Sean Spicer. She kept on saying that he could barely pronounce words. She is really a bitter witch. Omarosa claims she was in the Bill Clinton's White House with Ken Starr. As she said, it's very unfortunate that it was costing the American people so much. Then she said there was nothing that rises to the level of impeachment.

The POV is something that they do one at a time. They have to go through a four course meal in the dark. They have to turn on the light to stop the clock. The one who does it the fastest wins the POV. Ross is first. He gets hit in the face with pea soup in the first room. Then he has to find the second room. Second room has cheese, then he goes through a pool of honey. Then he gets in a spaghetti room that squirts out sauce. The last room is a chocolate lava room, and he has to find the cord to turn on the light. Next up is James. Obviously BB loves throwing slime on folks, and James jokes about getting slimed at the Nick awards. Ari is third. When she is in the honey, she said that it so thick that it's pulling her pants off. Fourth is Omarosa, and she has a problem with her leggings being pulled off by the honey. She wound up back in the same room as the first course. Fifth is Brandi. She gets grossed out easily. When the lights come on, Brandi thinks she looks like a turd. Last is Shannon. She realizes she has to win to keep herself in the game. Her strategy is to stay low and crawl around. She is very confused.

The results came after the commercial break. Ross took 9:46. Ari had 12:02. Omarosa had 19:29. Brandi had 21:29. Shannon had 8:41. James had 6:24, and he won the POV. Shannon cries as she congratulates James. She is really bummed because she wants to keep on playing. Ari is going to have to put up a replacement nominee.

Ari doesn't want to poke the bear. Ross tells her it doesn't matter to him who she chooses. James uses the POV, and Ari names Mark as the replacement. Mark is not surprised, but he says they should not underestimate the crotchedy old man.

Omarosa says that Shannon could have been one of the greatest BB players, but she overplayed her hand. Ross tells Shannon that he didn't nominate her, and Shannon tells James to take out the pairs. Ross tries to tell everyone that Shannon is going to say stuff, but they have to hold onto her as the target.
Time for the vote. Mark is first, and he just says nice stuff to his family and the houseguests. Mark says the question they should ask if they get rid of him is to ask who will do the dishes. Shannon is next, and she says that it is a dream come true because she has watched since the first season. Then she brought up her animal fund that she was playing for. Both Mark and Shannon are very long winded.


Ross evicts Shannon, but he supports her!
Marissa evicts Shannon
Omarosa evicts Shannon
James evicts Shannon
Brandi evicts Mark
Metta evicts Shannon

Metta is really growing on me. We have to wait for the commercial break to evict Shannon. Shannon gives a big smile when she is evicted, and wished people luck in the HOH. She tells Metta right before she goes where his owl is. Shannon knew that she was coming out. Shannon says that Brandi and Ari thought that Shannon said something that she didn't. Julie tells Shannon that Ross wanted to backdoor her. Shannon said Ross told her, probably to get her vote where he won't. She really wanted to compete in the endurance competition that night. She loved the game she said. As she also said, she felt she had to win so a girl wouldn't go out in the first round. Shannon said that she did have the word responsible in her mind. She just didn't know that the others could only do four letter words. Shannon then said that the boredom was the worst, and people shutting up when she walked in. Omarosa said that she was sad to see Shannon going. Marissa said that she had to switch to Shannon. Ross told her they knew she was too good, and they would not be able to win around her. Ross hopes Shannon can forgive them. Metta then compares Shannon to Kobe Bryant, and he says that he loves her as a sister, and that he loves her. Metta is really a sweet guy.

Time for the start of the endurance competition. I know that it came down to James and Omarosa, and he gave it up to her, so Omarosa is HOH. Basically, they have to sit in a seat. This is the usual competition where people stood. The first three who fall get to eat slop. I think Metta winds up being first to fall because he is tall, and it's awkward. It's sad because Marissa was saying that she didn't want to fall with the live show on. These people are not competition beasts.


---

Thursday, February 15, 2018 -- Morning Catch-up on Drama The show started with Omarosa thanking people for sending Keisha home. Omarosa and Shannon were both very lucky. Three hours before the eviction, Keisha said as a single mother, she has to provide for her daughter. She has not been away from her daughter, and her breast milk is starting to dwindle. Ari is concerned because they wanted Keisha to stay and to backdoor Shannon. Omarosa and Keisha talk about how Metta wants to go home, but people are keeping him because of that. Brandi is pissed because she wants to backdoor Shannon. Brandi said that maybe Keisha should not have been in the game if she was the only source of food for her bad. As Brandi says, she has to feed her kids, and they all miss their kids. Keisha then runs to everyone to tell them that Brandi berated Keisha for her decision.

Mark says that the house is crazy after people have been in the house for two weeks. Metta says that no one would send him home, but since he is in the house, he might as well play. Shannon doesn't know what Keisha's whole speech was about, but Shannon believes that she is fine with her alliance. Ross said that it was a wasted HOH for him because Keisha made the decision that she did. Brandi said it was frustrating dealing with the situation.

Shannon tells James that she doesn't know what Keisha is talking about. James tries to reassure her that he is down with the foursome of Shannon, Marissa, and Ross. Ross has to play dumb, and he has a really good confused face. Ross' goal is to make sure that James and Shannon do not know of his backdoor plan until she walks out the door.

Time for the HOH competition. Ross is dressed as a ship's captain. The competition is the golf game. You have to get a hole in one for each of three tees in the fastest time. Brandi is up first. They turn on giant fants to affect the shots. When you miss, you have to go back to the tee. It took Brandi 5:56. Shannon is next, and she quickly gets the first and second shots. Shannon has issues with the third hole. Her time is 3:04. Omarosa is up next. She has trouble with the first hole. Omarosa says that she is a golfer, but this is putt putt from hell. Omarosa cannot beat Shannon's time. As Ross says, Marissa is proving that stereotype that theater kids aren't good at sports is true. Marissa is out. Ari is up next. They all tell her to turn the club around. Ari has issues with the first hole, but eventually gets it. Ari beats Shannon's time of 2:18. Everyone mobs Ariadna, and Ross thinks everyone is being too excited. Metta is up next. Metta gets all metaphysical, having weird thoughts going through his head. As Mark says, if Metta wins, anyone could go up. Metta said he played in front of the toughest fans, but the BB fans are the worst ever. Metta can't beat Ariadna's time. Mark is next. Mark says that his strategy is not to win. He wants to float. Shannon tells James not to throw the competition. He goes through the first two holes quickly, but he has trouble with the third hole and sinks it just after 2:18.08 with a time of 2:18.09. That was a close one. Shannon thinks this is the perfect person to win HOH. Brandi is happy that Ari is in power because they are so tight.

James and Shannon talk about how Omarosa and Metta should be the nominees this week. Everyone is still onboard to backdoor Shannon, but the big question is how to go about it. Metta is upset that they didn't want to send him home. As he says, they just unleased Metta World Beast. Metta does a lot of camera talking, which is really cool. Metta says that he is a natural born obsessive competitor. Metta is shocked when he hears that Shannon and James are the targets. He tells Ari that she has to put up both Shannon and James so one does not win veto and take the other down. Very sage words from our Metta.

Omarosa talks about her time in the White House. Omarosa says Melania is amazing, attractive and highly intelligent. As Mark comments, Melania speaks seven languages. The problem is that people are just haters, and liberals especially hate conservatives. Since liberals run most of the media, the media on Melania is negative. Metta as if the basketball court is still there. Metta says that Obama was crazy putting in that court. Ari knows that she has to send Shannon home, and she does not want to waste her HOH. They all agree that they need to put both up against each other.

Ari doesn't want to be by herself because Shannon is so good at convincing people. They all tell Metta that he can't live while Omarosa is out of the HOH. Shannon comes into the HOH room, and Metta is staying in the room to block Shannon from getting to Ari. He says that it's his professional basketball ability. Metta refuses to leave, and Shannon is getting upset because Metta won't leave the HOH. Shannon said that she woke up feeling that they were going to turn on her and James. Shannon knows what it means when people don't look you in your eye. Shannon says that she's done, and so ready to go home. She says she doesn't have it in her anymore. James gives her a pep talk telling Shannon that she is such a competitor. James tells her it's the game to be attacked. Shannon says that it's so crazy. James tries to explain that there is still game to be played there, and that Shannon is damned good at the game.

Before the nomination ceremony, Shannon says that no one believes her when she says that she is being honest with them. Shannon says that she is staying true to what they have. James is nominated first and makes a joke about how nice the photo is. Shannon is nominated next. Ari tells them that they are the biggest competitors in the house. As Ari says in DR, she is not afraid of big moves. Shannon cries in the DR because everyone has been against her since day one, which is so not true.


---

Tuesday, February 13, 2018 -- Afternoon Rudy Huxtable I am really enjoying Celebrity Big Brother. It's a lot of fun.

Behind again. Julie was funny. As she introduced the start, she gave a cough, and everyone laughed. Obviously mocking Omarosa. Shannon was waiting for all hell to break lose when Omarosa was nominated, but there was nothing. Ross tells Omarosa that this was just a game. Ross was prepared for the wrath of Omarosa, but she was philosophical. Ross wasn't buying it. Meanwhile, Ari and Brandi are aligning, and they want Shannon out. Brandi thought that it was obvious that Shannon and James were working together. Ari said that she would prefer Keisha and Omarosa over James and Shannon, who Ari and Brandi think are the stronger competitors. Ari and Brandi go to talk to Ross about the plan. Ross thinks that if he's the one sitting outside next week talking to Julie, it's because Shannon put him out of the house. Ross talks to Marissa. Ross thinks that they need to grow a big pair. Marissa said that Shannon can't stop playing a hard game. Marissa can't believe that she wants to backdoor Shannon after being friends with Shannon outside of the house.

Everyone is talking about Omarosa was just in the White House, and now she's in the Big Brother house. Omarosa loves talking about what happened in the Trump White House. Omarosa is definitely really anti-Trump. As Mark says, is it's true, is it game, or is just Omarosa's world? Omarosa claims that Pence would be much worse than Trump. She is definitely spinning a yarn. Ross brings up the topic with Mark, and Mark says that they have been playing Shannon's game. Mark says that they should target Shannon while they have the numbers. Mark is really onboard with it because someone has to take a shot at Shannon some time. Mark was going to tell James, and Ross tells Mark not to tell James.

Metta is in the hot tub, and he starts talking to the camera. The camera nods to let Metta know they are listening. Metta does a fight with the two mini flamingo. It was quite funny.

Meanwhile in the HOH room, Ross can't figure out if he should target Shannon. Shannon came to the door, and they tried to pretend that they were sleeping. Such drama! Shannon seemed to believe it, and went back downstairs.

Time for the live veto competition. It's Ross, Omarosa, Keisha, Marissa, Shannon, and Ari. They compete in pairs, and they will be show pictures. Julie will ask a question, and they will have to guess if the answer if more or exactly or less. If they are right, they continue. If they are wrong, they are out. if they don't answer, both are out. Keisha got the first answer right, and she picked Shannon and Omarosa to compete next. Shannon answered first and was wrong. She was out. Omarosa picks Ari and Marissa. Marissa wins. Now it's Omarosa and Keisha. Keisha guessed wrong, so it is Omarosa against Marissa. Marissa rings in first and wins. She gets a few minutes to decide if she wants to use it. As they are going to commercial, Keisha is crying, and she tells Brandi, Ari, Ross, and Marissa that she wants to go. Omarosa comes out to comfort Keisha. It seems that Keisha has been missing her daughter and not liking the drama.

time for the veto meeting. Marissa is not going to use the veto. Commercial break before the vote. Keisha looks very upset, and she thanks everyone. She said that she wanted to compete, but her breast milk is depleting, and she wants to go home. Keisha tells James that Shannon was targeting him, not her. Omarosa says to vote to help Keisha.


Shannon evicts Keisha
Ari evicts Keisha--she is teary eyed too
Brandi evicts Keisha
James evicts Keisha
Mark evicts Keisha
Marissa evicts Keisha
Metta evicts Keisha

Keisha is out, and everyone was very sad as they gave their vote. Another commercial break. Everyone applauds Keisha when she is told the vote. Keisha tells them all not to kill each other. Keisha is telling them all to tell production to give Keisha their contact information, and Keisha will contact their families. Keisha told Julie that her daughter really only drinks breast milk; the baby is a bit over a year old. Keisha said that Omarosa was the one person who surprised her the most. Keisha said it's the human aspect, not the political aspect. Keisha said that she hopes that what she said to James threw Shannon under the bus. Keisha felt that Shannon created a lot of divide in the house. Keisha also said that she really enjoyed the experience. Keisha will be back on Sunday, February 25 to vote for the winner.

The next episode is Wednesday night, with another eviction on Friday night. Episodes are Mondays, Wednesdays, Fridays, and Sundays.


---

Monday, February 12, 2018 -- Afternoon Who is HOH? So much has been going on that I've already fell behind in Big Brother watching. An eviction episode will be on this evening, so I have to catch up. Metta says that everyone is an animal in the house. Omarosa realizes that she is the only person who voted to evict James. Keisha and Omarosa realize that everyone in the alliance flipped on them. Meanwhile everyone else, especially Brandi, is happy that Omarosa has gotten hers back. Marissa is upset that Omarosa yells at Marissa when Marissa went to make nice with her. Shannon, James, Marissa, and Ross make a final four. All four say any previous alliances are null and void. Ross can see himself in any final four, so he's not limiting himself. Ross admits to Ari and Brandi that he is afraid to approach Omarosa about the vote. Omarosa says that she only wants to talk to Shannon by herself.

So Shannon tries to explain how they all thought Keisha was setting up a side group with Chuck. Omarosa says that who decided this. Omarosa insists that Shannon is running the group. Omarosa tries to tell Shannon that Omarosa was the only one who had Shannon's back. Shannon decides that she has to go to everyone to tell them that Omarosa came to Shannon to make an alliance. Marissa said that Omarosa must be pissed at Shannon. Ross's mind is blown that Shannon had an alliance with Omarosa. As Ross says, Shannon is playing this game hard. So Brandi, Ari, Keisha, and Ross make an alliance. Ross wishes he has that luck when he was dating.

Meanwhile Keisha and Omarosa are talking with Metta about how they are in trouble. Metta is confused, and he thought he was voting for Chuck to stay instead of going. Metta is an idiot. Well, he is a basketball star, not a genius. Omarosa wants to become HOH so she can be her usually bitchy self.

Time for the HOH competition. The competition is Bowlerina. Basically, they have to spin around until dizzy, then they have to bowl against each other in a head to head competition. They have to spin to hold the gate open for 12 seconds. The winner stays in the game, and goes to the back of the line, and the loser is out. Keisha will get them in order. Omarosa is the first person to go in the competition. Shannon says that Omarosa can't be the one to win. Omarosa goes to the group and calls out Shannon for saying something about everyone trying to get Omarosa out. Omarosa just starts a ton of tension. Omarosa challenged Marissa because Marissa would be the weakest. But Marissa is a dancer who has spun for a living. Omarosa was struggling. Omarosa claimed to have an asthma attack, and she had trouble getting her breath. Omarosa ran to the DR to get a medic to give her the inhaler.

Ross is up next, and he challenges Metta. Ross is funny about how he struggles. Metta is throwing the ball, but Ross manages to beat him. Mark chooses Brandi. Brandi admits that she was a mess. Mark beats Brandi. James takes on Ari. Mark quickly wins. Shannon challenges Mark. Mark beats her. Marissa challenged James. James quickly gets all the pins down. Keisha doesn't like that James is doing so good. Then Ross challenges Mark, and Ross wins. Metta seemed to really get into it. It's down to Ross and James. Shannon tells James that if he throws it to Ross, the girls will trust him. James wants to play next week so he throws the competition. Metta is really cheering. Even James doesn't think anyone will believe how bad he is at throwing the game. Ross is really excited at winning the HOH.

Everyone is wondering where Omarosa is after the competition. They look for her, but they can't find her. Ross realizes that he has to go for Keisha and Omarosa. Ross says that he's going to put up Omarosa and Keisha because if one comes down the other goes. Ross calls everyone into the living room about a message about Omarosa. It appears she had an asthma attack that had to keep her hospitalized for a bit, but she would be returning to the house before the nomination ceremony. That's a good thing for Shannon because it will keep her off the block. Ross is worried about putting up someone right out of the hospital. Manwhile Ross and Ari notice that Shannon and James are really bonding over pool.

Omarosa is back in the game the next morning, and as she said it in DR, she gave a bit of a cough. She didn't say anything when she came back in, and Ari just happened upon her in one of the bedrooms. Ross goes over to say hi, but Omarosa pretends to be sleeping. Keisha is relieved that Omarosa is back in the house.

Time for the nomination ceremony. Ross nominates Omarosa and Keisha. He tells them that it should not be a big surprise that they were nominated, but that it's not personal. It's Big Brother. Keisha is upset that the girl alliance fell by the wayside. Ross hints that if either comes off, there might be a bigger move to come. Omarosa was a bit of bitch to Ross. After all, it is just a game


---

Friday, February 9, 2018 -- Evening Eviction So it's going to be tricky watching Celebrity Big Brother because the Olympics start today (well, late yesterday). The Winter Olympics is my favorite. I love all the sports.

Since I'm recording the Opening Ceremony, I'm watching BB--maybe all two hours. After the nomination ceremony, James is upset over being nominated. Brandi wants James to go. Chuck talks with Keisha, and he tells her that Shannon is planting seeds in other people's heads. Keisha wants James to go home first. Shannon talks to James and tells him not to do anything, to lay low.

Omarosa talks to Keisha about forming a black girls alliance. Omarosa figures it's safest to have a side alliance in addition to Shannon. Time to pick for veto. Keisha picks Houseguest choice and she picks Shannon. James picks Ari. Chuck picks Mark. Omarosa is chosen to be the host. Keisha asks Mark who he would save, and he says James. Keisha then goes to talk to Chuck about Mark, and asks who Chuck thinks Mark will save. Chuck does not think Mark will save him.

Julie asked the houseguests how they were doing since they were in the house. They play a game of True or False nominations. Fist was that Jay Z won big at the Grammies. Well, he didn't because it was Bruno Mars. Black Griffin traded to Lakers from Clippers. Metta thought it was true. Nope, Blake went to the Pistons.Then a question about Kylie Jenner. Then they were asked about a second government shutdown. Then they were asked about Tom Brady winning the Super Bowl.

Time for the veto competition. The backyard is setup like a spa. It's the hunt for letters and spell a word. Whoever spells the longest word wins. Not only is it muddy, but they also get sprayed with watery gunk. Chuck wants to spell spring, and he is looking for the letters. Mark is doing what I would od, just grab letters and see what he has in the end. metta starts chanting "let's go nerds" and says all of them are nerds because they are spelling. Ten minutes are up. Ari tried to spell warning, but she couldn't find an n. Mark spelled "some." Keisha spelled "primed." Shannon spelled "responsibilities." She has a 16 leter word. James dropped his y in spelling "family." Chuck spelled "spanned." Ari and James are tied for last, and they will share a penalty.

Keisha is happy that Shannon has the veto. Keisha wants Shannon to take Chuck down, and Keisha wants to up Mark up. Ross says he wouldn't do it because Shannon will then have Chuck and Mark mad at her. Shannon says that she isn't think it's good for her game, and Omarosa jumps on it saying Shannon is always looking out for herself. Damn, doesn't she notice that everything should be around Omarosa. Then they all talk about we have to look out for women and be a good example for little girls. Ross is there like, what the heck! Then Shannon starts crying and they all hug her. Ross thinks it's all crazy. Later, Brandi doesn't like how they are all disregarding Ross. So Ross does not trust his alliance because he realizes he will just be the last guy voted out. Marissa and Ross talk, and Marissa becomes upset that they are marginalizing Ross.

Time for the punishment. James and Ari have to dress like babies. Ross tries to tell Shannon that she has to do what is best for Shannon, not what is good for Keisha. Shannon wonders why Keisha is fighting to keep Chuck in the house, and to get blood on Shannon's hands. Shannon goes and tells Keisha that she doesn't want to get more blood on their hands. Keisha said that she thought that's what the alliance decided, but if it's what Shannon wants. Omarosa says that she thought it was decided that Chuck would come off. Shannon wonders what kind of alliance this is with Keisha and Omarosa attacking her, and Ross not supporting her. Omarosa says they have to play agressive like the boys. Brandi doesn't seem to like Omarosa telling Shannon what to do.

Omarosa goes to talk to Shannon, and Omarosa says that no one knows the game better than Omarosa and Shannon. Omarosa said that taking Chuck off and putting Mark up would send a message to Mark. No. It's a stupid move. Omarosa keeps on telling Shannon that she has to play smart, and Shannon starts to cry. Omarosa says in DR that Shannon isn't stable enough to go the distance in the game. Time for the veto meeting. Shannon does not use the veto. Keisha thinks that this move is best for Shannon's game but not for the "alliance."

Light spot with Ian, Derrick, Nicole, and Josh. Ian and Josh favor Ross, while Derrick and Nicole favor Marissa.

Ross talks with Shannon about not trusting Omarosa and Keisha. Ross said that he knew from the start not to trust Omarosa, and now he's in an alliance with her. Shannon is talking about flipping the vote. Ross is going with it because he wants Omarosa to be the target. Shannon says she should talk with Marissa. Shannon tells Ross, Brandi, Ari, and Marissa that Keisha and Omarosa have Chuck on their side. Shannon tells them that if they don't take this opportunity now, they are stupid.

Time for the live vote. James gives a plug for his new album. Chuck is not eloquent.


Brandi evicts Chuck
Ariadna evicts Chuck
Omarosa evicts James
Ross evicts Chuck
Metta evicts Chuck
Marissa evicts Chuck
Shannon evicts Chuck
Mark evicts Chuck

With a vote of 7 votes, Chuck will be evicted. I can't wait to see Omarosa's reaction, but we'll have to wait until after the commercial break. Julie reveals the vote. Keisha looks a bit shocked at the news, but Chuck takes it well. Omarosa says good bye to him last. Chuck is tongue twisted. He thinks that James had a better social game. Julie said that the guys left Chuck in the lurch. Chuck says that he'd rather be on Amazing Race with his wife. Chuck will get to vote, but instead of going to the jury house, he gets to go home. Chuck thinks that Shannon and James are good, but it could be anyone. Omarosa leaves him a message about not wanting him to go, and she was against it. Chuck did say that he had a lot of fun over the past two weeks, and that he hadn't laughed so much in a long time. No HOH competition. That will be on Sunday.

I love the faster pace of this game, and I'm really loving the game play. This is a fun game. Keisha and Omarosa were teary eyed in the closing credits.


---

Thursday, February 8, 2018 -- Evening Who Has the Recast? Ross said that he wasn't caught off guard, but the twist made him nervous. James on the other hand is excited to see what he might get. Ross knows that the point of BB is to suck up to the HOH. Mark called out that Shannon was a cold hearted killer, and that's what he told Ross. Omarosa said that the girls have to keep their numbers or the guys will pick them off. James realizes that it appears that the girls are hanging out with the girls. His only hope is that a guy gets the recast power.

Everyone gathers in the living room. It seems that as soon as a gift bag icon shows up on the living room screen, they can go into the diary room to they want to open the gift bag. However, they won't know what it is because they will only be able to open the bag at the nomination ceremony. Marissa says that everyone has to ask to open their bag, so they enter the random draw to open their gift bag. It's confusing. It appears that Chuck and James knew each other outside of the house, and they are buddies. James wants to call his alliance with Chuck the celebrators. How stupid!

Mark tries to talk strategy to Shannon. Mark tells Shannon that James and Shannon are the biggest threats in the house. What a stupid move, and Shannon even comments on it in the diary room. Mark does think Shannon is a smart girl. The nice thing so far about this season is that people do appear to be doing things. This is much appreciated after last summer's crappy season.

Shannon wants to bring Ross in with the girls to ask as a spy for the girls. Ross agrees that it's a great move for him to align with the girls. Meanwhile, James likes working out with Chuck and Metta. James tells Chuck and Metta that it makes sense for the guys to bond. Chuck realizes he has to socialize with the girls to stay in the house. This leads to Chuck getting a facial in the HOH room. Metta opt for a manicure.

Omarosa talks with Shannon in the HOH room. Keisha admits that she is a polar opposite from Omarosa because Omarosa supported Trump. Omarosa says that her relationship with Trump is similar to Keisha's relationship with Bill Cosby. Omarosa said that how Cosby impacted the black community should not impact on Keisha. Omarosa is a very good talker, and she says in diary, "please, don't judge me and not yourself."

Chuck goes to talk to Shannon, and it becomes obvious that the guys are joining together. Duh! So are the girls. James go and talks to Shannon about how the girls are obviously joining up together, but he says that guys aren't doing the same. James tells Shannon that she crushed the HOH, and she's smart. That makes her a threat. That is true. She'll be the first female targeted. Shannon, however, is going to target James.

Metta tells Shannon, and in the diary room, he admits that he really loves his wife and kids and wants to go home. Shannon doesn't want to send him home, but she managed to talk Metta into not using his gift bag. Omarosa tells Ross that she would do anything to win in the Apprentice. Ross tells her that she is paying the price from then and from the White House. Ross says that he's doing investigative journalism for everyone. Omarosa said that it wasn't a vacation in the White House. Well, it shouldn't have been because it was a job. She says it wasn't her, but she chose to be there. Ross says that he doesn't trust her because he feels that she is saying what she thinks others want to hear. It should be noted that Omarosa was fired. Omarosa claims that she was terrorized by Trump's tweeting. I think it was a lot of crocodile tears. Omarosa says that everyone should be worried because it is not going to be okay. What a bunch of hooey! I think she does not like how people are hating on her, so now she is changing her tune. Phoney!

Shannon is planning on putting up Mark and Metta as pawns. She basically doesn't want anyone to open a gift bag because she wants to remain HOH. Up in the HOH room, all the females and Ross make fun of Mark for not wanting to wear a leotard. Instead, they are going to put Chuck up by saying there is some sort of broken deal. The gift bag comes up, and Chuck goes to open his gift bag. Chuck says that he's playing for the long game because he's a go hard or go home.So the girls and Ross line up to use their gift bag to force a random draw.Shannon approaches Chuck, and he said that Shannon has seven, but he only has four. Chuck realizes that he could be in danger now.

Time for the nomination. Since more than one wanted to open the bag, there is a random draw. They each picked a color, and Shannon picks a color to show them who will open their gift bag. Orange is the token drawn.

Time for the nominations. They all take their bags to the kitchen table. Keisha had the orange chip. She has the recast, so that makes Keisha the HOH. Shannon cannot be nominated. Keish nominates James and Chuck. Keisha says that it's not personal. Since the recast has been used, the gift bag twist is over. Chcuck says he's going to knock the veto out of the park. James does not feel that he should be on the block. Metta is upset because they won't nominate him. Metta is going for the girls because they wouldn't nominate him.


---

Wednesday, February 7, 2018 -- Evening Celebrity Big Brother I have been really burned out from Big Brother and disgust at the brand, to such an extent that I did not finish watching season 19. I didn't miss it either. I was REALLY glad that Paul wound up losing after practically being given the game by production. So now, come February, here I am starting in on Celebrity Big Brother. I debated on whether I was willing to give the brand another try. I guess that I am.

The first contestants into the house: Mark McGrath from Sugar Ray, Brandi Glanville of Real Housewives fame, Ross Mathews, AAriadna Gutierrez and Metta World Peace. I really didn't know those people. Ross said that he was in the audience for the finallie of Season 1. Well, I guess I do know Ron Artese (Metta World Peace). The house does look nice. Metta World Peace says he needs a bigger bed. The next group to go in: Shannon Elizabeth (who claims she is a BB fan), Chuck Liddell (an MMA fighter), Keisha Knight Puliam (Rudy from the Cosby Show), Marissa Jaret Winokur (who is a Broadway star--her son Zev is a huge BB fan--and he cried when she found out that she was on it), James Maslow, who was on soem Nick show, and finally Omaarosa (who claims to be a reality TV legend--and she claims to be a super fan of BB), Even though I only know of Omarosa, it does seem like an interesting bunch. Ross does not like having Omarosa in the house.

It seems Shannon and Marissa know each other. James doesn't know that Trump was the host of the Apprentice and asks who it was. Idiot! Everyone seems to think James is an idiot. James doesn't like that Brandi is being abrasive and shutting him off. James thinks that Brandi can't hold her liquor. James says that he would nominate Brandi if he gets HOH.

Omarosa wants women to work together. She talks with Shannon who tells her that she worked with Marissa. Marissa wants to be with Omarosa as opposed to against her. Later Brandi says the guyds have Bro Code, and they need Hoe Code. As Brandi says this, she is wearing what looks like lingerie, and sucking down the wine.

Time for the first HOH competition. The backyard is decorated like the Oscar stage. Julie has an envelope with a number. The person who stands behind the star with that number is safe that week, but that person can't compete for HOH. The number was 5 and Omarosa was number 5. So she is safe. The competition is to wrap their arms around their award statue. The statue will be raised, and the last person left hanging on will be HOH.

Puke, barf! They brought in Paul--yes, Paul--to sing. And then Rachel comes in. She does not look good. They had Jody and Cody and Jessica, and Jesse. Marissa was the first off the statue. Metta World Peace was out next after the smoke came out. Then the statues started to spin and get sprayed with goop. Mark is out next. Ross is off after 15:13 minutes. it's amazing how quickly the people are dropping off. Chuck is next. James is the last man standing. at 20 minuntes Ariadna is down, then Keshia and Brandi. It's down to James and Shannon.

James almost slipped off, and he tried to make a deal with Shannon. Omarosa calls him out on it asking why Shannon should make a deal when she is solid. Shannon didn't know how long she could hold on when James slipped off. Shannon is the HOH! Afterwards, they are told to go into the house and take one of the gold gift bags, but NOT to look in them. The twist? there is a recast power in one of the gift bags. They will find out later who has the power.


---