The Daily Bongo
Sunday, February 17, 2013 -- Evening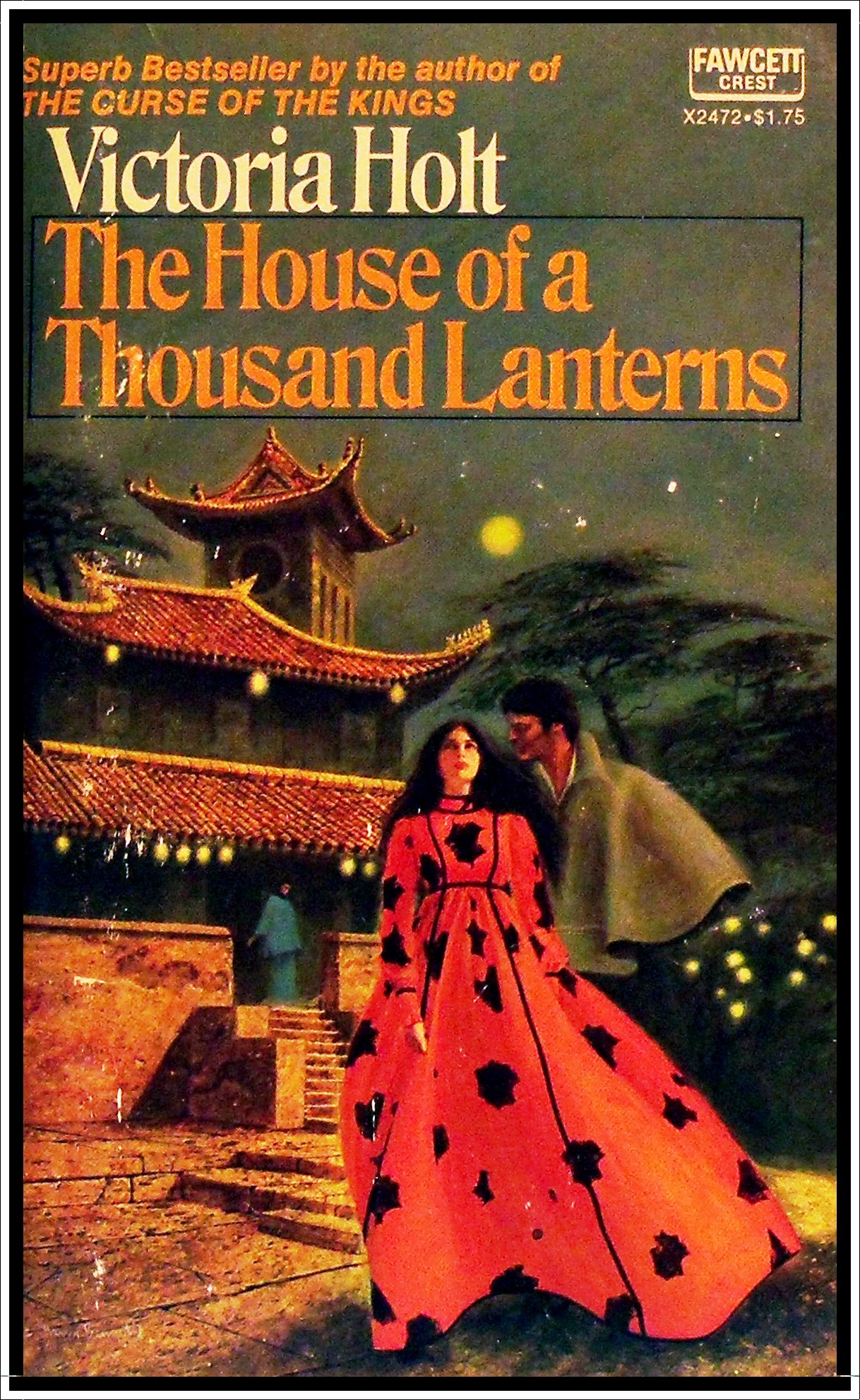 The House of a Thousand Lanterns by Victoria Holt
I have definitely been in a mood for comfort reads. To me that means classic mysteries and gothic romantic suspense. I was looking through the numerous titles that Eleanor Hibbert (aka Victoria Holt, Philippa Carr, and Jean Plaidy), and I saw a few Holt titles that I don't remember reading. I started with The House of a Thousand Lanterns. This one caught my eye because of the exotic setting: Hong Kong/China in the late 1800s.

The story revolves around Jane Lindsay. When she was a child, her father died. Her mother got a job as a housekeeper in a place that would allow her to bring Jane with her for vacations. Jane's mother was set and determined to send Jane to school just as others had in Jane's father's family. The family had disinherited the dad when he married Jame's mother. Anyway, Jane's mom finds the perfect job at Roland's Croft, which is owned by Sylvester Milner. Sylvester made his living buying and selling Chinese art. He was quite skilled at his job, and there is some mystery about his treasure room, which is always locked. After Jane was caught sneaking into the room, Sylvester kept his eye on her and offered her a job as his assistant when Jane graduated from school. Soon after Jane started working for him, she met his nephew Joliffe. Of course, they both fall in love, and after a whirlwind romance, Jane and Joliffe get married. Within months, Jane found out that Joliffe had another wife. Joliffe thought the first wife had died in a train accident, but she didn't. Jane returned to Roland Croft, found out she was pregnant, and wound up marrying Sylvester to give the baby a name. Of course this caused quite a bit of controversy with Joliffe who just wanted to run off with Jane. The title of the book comes from the house that Sylvester owned in Hong Kong, where the action in the last half of the book takes place. Sylvester died, Jane (after a year) remarries Joliffe, whose first wife finally died, and both Jane and her six-year-old son, Jason, both find their life threatened. Of course, most of the drama is caused by Jane not knowing if she could trust Joliffe even though she loves him so much.

As is typical of Holt's books, this one has a very long middle section that sets up a lot of the history and personal interactions between the characters. I would have loved to smack Jane. She married someone, but then never communicates her concerns or questions Joliffe about his actions. If only she were open with him, she would never have found herself in dire straits. Of course, there would not have been any story, but the way Jane goes on and on about it was just so irritating. That said, I did enjoy the book. It was a typical Holt with a strong female character and a questionable, but really okay, male character. The mystery was decent. All in all, it was a good read to take my mind off of the troubles of life.

---
Thursday, February 7, 2013 -- Evening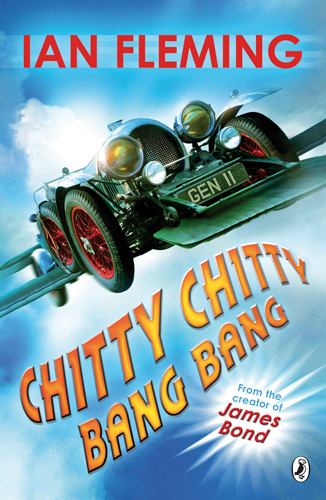 Chitty Chitty Bang Bang by Ian Fleming
Somehow in my life, I had not watched the movie, Chitty Chitty Bang Bang. Recently, I tried to watch the movie. Note the word tried. It was not a good experience. I got halfway through the movie and stopped. Dick Van Dyke just annoyed me, and the story seemed a bit disjointed to me. So I gave up on it. However, my husband said that the movie was one of his favorites as a child, and he said that he particularly loved the book. Well, I was hesitant to read the book because of the movie, but he assured me that the book, in his memory, was much better than the movie. I broke down and got the book from the local library. I had, of course, read the James Bond books, but I wondered how Ian Fleming would do with a children's book.

Chitty Chitty Bang Bang, the book, was very good. It was not at all like the movie. Well, I supposed I shouldn't say that because the basic premise of the magic car is in the book and the movie. In the book, the Potts were a family with father, mother, and two children. The father was Commander Caractacus Pott, the mother was Mimsie, and the twins were Jeremy and Jemima. Commander Pott was an inventor and explorer, and he developed the whistling candy, and the recipe was sold to a candy maker so the family could buy a car. The family fell in love with Chitty Chitty Bang Bang. Commander Pott rebuilt her, and the family went on adventures with the car. Chitty Chitty Bang Bang could fly and sail on the water.

I loved the book! The adventures were fun, and I found myself falling in love with the characters and the car. I was sad to finish the book, because I knew that Fleming died shortly after the book was published, so there could be no further stories of Chitty Chitty Bang Bang. Of course, I did look, and others have continued stories with the characters, but I'm sure that it would just not be the same. My recommendation: pass up the movie, read the book, and sing the Chitty Chitty Bang Bang song as you read.

---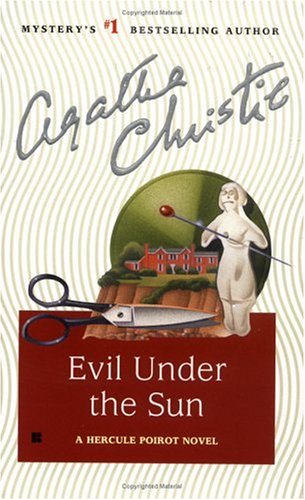 Tuesday, February 5, 2013 -- Evening
Evil Under the Sun by Agatha Christie
I was in the mood for an Hercule Poirot mystery, so I got Evil Under the Sun by Agatha Christie. It's one of the earlier Christies, written in 1941. Poirot is on vacation and before you know it, he finds himself in the middle of a murder. Arlena Stuart is strangled, and the husband, Kenneth Marshall, looks like a good suspect. He could see that Arlena was flirting with Patrick Redfern, and everyone is sure that the romance has to be getting under Marshall's skin. However, Marshall appears to have an alibi. Redfern also has an alibi. Redfern's wife, Christina, also has an alibi because she is with Marshall's teenage daughter, Linda. Linda is acting guilty, probably because she hated her step-mother. But could a young girl strangle a grown woman? It looks as if the only person who could have committed the crime is a mentally troubled priest or an anonymous drug dealer.

I really enjoyed the book. Unlike some of the other Christie mysteries, there is only one murder. If you pay close attention, all the clues to the murder are there. This book was also made into a movie, starting Peter Ustinov as Poirot. The movie also stars Diana Rigg as Arlena Stuart. The book was a quick and enjoyable read, and I found it to be a pleasant way to spend a snowy weekend.

---