The Daily Bongo
February 2015
Tuesday, February 17, 2015 -- Evening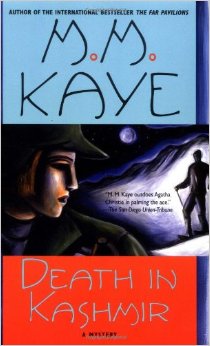 Death in Kashmir by M.M. Kaye
I just finished my last M.M. Kaye mystery Death in Kashmir. In this book, Sarah Parrish gets involved with Janet Rushton, who turns out to be a spy for the British government at the time that the Raj was handing over India to self rule. Sarah is on a ski vacation, and she doesn't want to take the situation seriously until Janet turns up dead. Sarah knows it is murder, but the others in the ski party think that it was an accident on the slopes. However, Sarah knew that Janet was waiting to transfer important information to her superiors, and it did not seem that had happened. A few months later, Sarah gets a letter from Janet's solicitors that Janet had left her boat rental in Kashmir to Sarah. Sarah knows she should just ignore it and go back home to England. However, she can't get over a feeling of obligation to help Janet since Janet took trust in Sarah. Of course, this leads to Sarah being the object of unwanted attention from the person that killed Janet. Can Sarah find the information that Janet left behind and get it to the proper authorities?

As with the other Kaye mysteries, the heroine is some backbone, but lacks in common sense because she gets herself into trouble, which could have been avoided if only the heroine thought about it. Death in Kashmir is a good thriller, and Kaye did keep my guessing about who was the bad guy. Kaye did a great job describing the situation in India in the late 1940s. In the Author's Note, Kaye mentions that the literary agent who was assigned to her was Paul Scott, who went on to write the Raj QuartetDeath in Kashmir.

It's a shame that Kaye only wrote six mysteries. I'll have to check out Far Pavilions and The Ordinary Princess.

---
Tuesday, February 10, 2015 -- Evening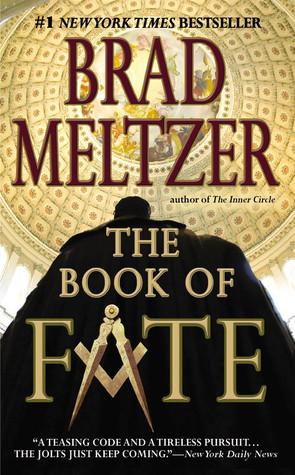 Book of Fate by Brad Meltzer
I love Brad Meltzer. Not only is he really into history and conspiracies, but he writes a darn good thriller. I recently got Book of Fate out from Overdrive, and I found myself engrossed in the story to the point where I could not put it down. i found myself taking reading breaks throughout the day and missing my stop on the bus ride to work and home because I was too engrossed in the story. Wes, the president's aide, is there at the NASCAR racetrack when Nico seemingly attempts to assassinate President Manning. Life changed forever for Wes, who suffered an injury to his cheek that left him scarred and bitter. Even worse, Wes felt responsible for the death of the President's friend, Ron Boyle, who was killed in the attempt. Manning lost the election because he came across as the Cowardly Lion during the assassination attempt, and eight years later, when Manning travels as former President to Malaysia, with Wes still an aide, and a shell of himself, something happens. Wes thinks he sees Boyle. A Boyle with plastic surgery, but Boyle nonetheless. When Wes returns to Palm Beach with Manning, he begins a search to find out the truth. Is Boyle alive? Did Manning know? How could Manning lie to Wes? Wes' life is endangered when the Three, a secret group possibly behind the assassination, start trailing Wes. Then Nico, the assassin, escapes from mental hospital to get Wes and Boyle.

Meltzer twists the plot and tension around. I never suspected the truth behind the Three, and the tension was constant with Wes trying to figure out what the heck was going on and Nico trying to track down Wes and Boyle. The story moved around from the viewpoints of Wes, his friend Rogo, and intrepid gossip reporter Lisbeth. I was reminded of The Fifth Assassin, another Meltzer book. I think that Meltzer sticks to a genre that he knows and does well. I enjoyed the book, and I just wish that Meltzer wrote more books.

---
Wednesday, February 4, 2015 -- Evening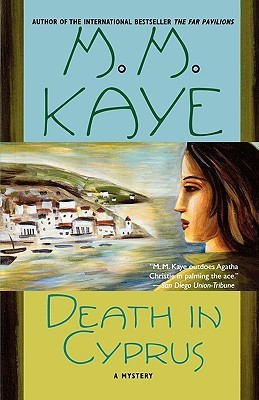 Death in Cyprus by M.M. Kaye
I just finished Death in Cyprus by M.M. Kaye. I've been reading through her mysteries, and I only have one more left to read. Death in Cyprus was originally published in 1956 as Death Walked in Cyprus It tells the story of twenty-year-old Amanda Derington, who is breaking out from under her guardian uncle's thumb by traveling first to Egypt to visit with an aunt, and then to Cyprus. Uncle Oswin is not keen on Amanda's rebellion, but he makes plans for her to stay with the manager of his winery business in Cyprus. On the ship from Egypt to Cyprus, Julia Blaine drinks a poisoned glass of lemon water and dies. The problem is that Amanda had just switched cabins with Julia, and Amanda thinks the water was meant for Julie. Steve Howard, a handsome, artist type that Amanda thinks is very attractive, comes to Amanda's rescue when Julia collapses, and he shows great interest in what happened. When the ship gets into Cyprus, the killing doesn't stop. Amanda feels a threat to her safety, but every time, Steve happens to be there to save her. Will Amanda figure out what is happening, and what will happen with Steve Howard?

I really enjoyed this book. The action was fast paced and thrilling. I have to admit that I couldn't figure out who the murderer was or why the murders were happening. The clues are all there, but Kaye does a good job of keeping the reader guessing. What I like the most about Kaye's mystery books is the romantic element. The heroine is always getting herself into trouble, and the hero is always the strong, omniscient, silent type. The heroine doesn't know if the hero suspects her of murder, and the pair of them tend to be at odds because they can't realize that they are in love. Of course, all works out well in the end, which is why I loves these books. Unlike the real world, everything works out for the best. Death in Cyprus is a winner.

---