The Daily Bongo
February 2016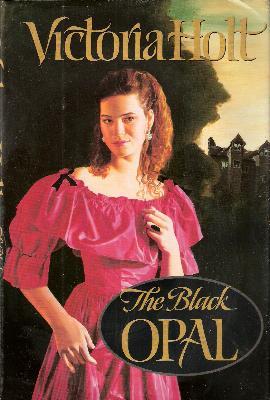 The Black Opal by Victoria Holt
Boy, has my reading been slow lately! I have been in a weird mood, so I have been returning to the authors that are comfort reads. This time, I was looking for some Victoria Holt books that I have no memory of reading. I settled on The Black Opal, and it was a winner.

This book is different than some of the others because the love interest really doesn't make itself known until the last third of the book. Also, it's not one of those torrid affairs, but one of those gentle realizations. Carmel March is found under a bush at the Commonwood House, and is taken in my Dr. Marlaine and his shrew of a wife. It seems that the wife would rather send the baby to the orphanage, but Dr. Marlaine stands his ground and has Carmel raised with his own children. Carmel shares everything, but the Marlaine kids make her realize that she is not really one of them; all except for Adeline, who is not really all there mentally. However, when Uncle Toby visits, he makes Carmel his special favorite. Also, Lucien the eldest son at the near-door manor, The Grange, shows a fondness for Carmel. When Miss Carson comes to tutor the children, things change. She forms a relationship with Dr. Marlaine, and when Mrs. Marlaine dies, and Miss Carson is pregnant with the Dr. Marlaine's baby, Uncle Toby sweeps up to take Carmel to Australia. It turns out that Carmel is really his daughter with a local gypsy girl. Of course, there are adventures in Australia and the return of Carmel to England, with lots of suitors making themselves available.

All in all, the story is an enjoyable read. Carmel is not the usual strong heroine of the Holt books, but she doesn't wimp out either. She makes her final decision on a husband based on love, and the husband (no spoilers) is the strong, womanizer that is usual in Holt's books. There is a mystery, and everything is nicely wrapped up in the last 20 pages. As I said, it was an enjoyable read.

---