The Daily Bongo
January 2013
Monday, January 28, 2013 -- Afternoon
The Shivering Sands by Victoria Holt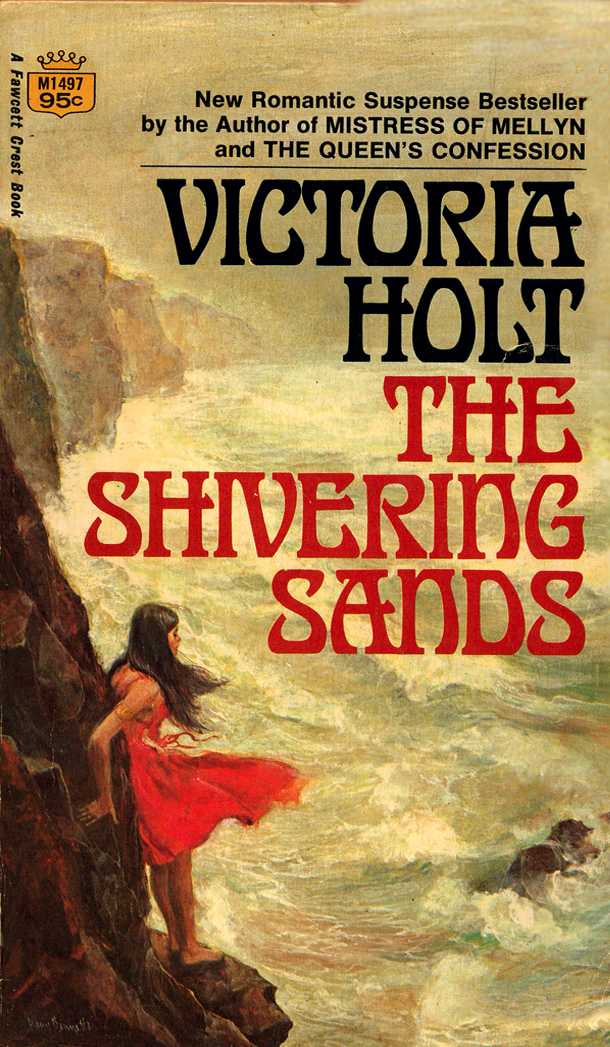 I was feeling in the mood for a gothic romance, and I remembered that I used to love Victoria Holt. I haven't read anything of hers since I was a teenager, so I thought I would give one of her books a try. I picked up The Shivering Sands from the library. This book was just like the typical Holt that I remember from my childhood. The book was set in the late 1800s, and the heroine had a service role in the household with the dark, brooding hero. The heroine, Caroline Verlaine, was a woman in her late 20s who was a widow. Her husband was a famous pianist, Pietro Verlaine. Caroline had given up any notion of becoming a concert pianist in her own right when she married Pietro. Caroline also lived in the shadow of her parents and sister who were renown archaeologists. Caroline's parents were killed together in a train accident, and then Roma, the sister, mysteriously disappeared shortly after Pietro's death of heart attack. Boy, talk about tragedies! Caroline went to Lovat Stacey, where Roma had been investigating Roman remains, as a replacement for her former music teacher. The position got Caroline into the house, and introduced her to the family. Caroline's wards were Edith (the recently wedded wife to Napier Stacy, the dark brooding hero), Allegra (illegitimate daughter of Napier), Alice (the housekeeper's daughter), and Shelia (the pastor's daughter). Caroline found that she was getting heavily involved in the family's affairs, and in fact, that she was falling in love with Napier. Napier had a cloud of murder over his head, having accidentally shot his wonderful, older brother, Beau when they were teens. Beau died, Beau's mom killed herself, and Napier found himself banished to Australian. Eventually, Napier was brought back home to marry Edith. When Edith disappeared, just like Roma, fingers started to point at Napier. Can Caroline solve the mysterious disappearance and clear Napier? Or will she find out that Napier is the guilty party?

Of course, Holt introduced a second love interest: Godfrey. Godfrey was the total opposite of Napier, and of course, Godfrey appeared to be in love with Caroline. Holt loved having her heroines not only facing danger, but she loved to give them the choice between two polar opposites. One was always the safe, sensible choice (Godfrey), while the other was sure to make the heroine's life a roller coaster of danger and emotional upheaval (Napier).

The Shivering Sands lived up to my expectations. I got the dark brooding hero. The hero fell deeply in love with the heroine with very little contact or conversation. There was a ton of smouldering looks and touches. The book was really enjoyable, and a great choice for the recent cold and blustery days here in Pittsburgh. If you like the more typical gothic romantic suspense, give the The Shivering Sands a try. You won't be sorry!

---
Saturday, January 19, 2013 -- Evening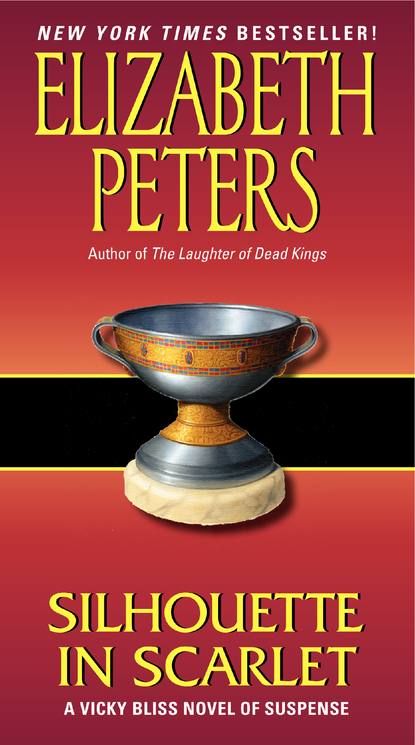 Silhouette in Scarlet by Elizabeth Peters
Vicky Bliss is one of my favorite fictional heroines. Why? Because she's not like the typical romantic suspense heroine. She's not the little dainty girl who can't take care of herself. She's not in her early twenties, and although she attracts the men, she doesn't always end up with the hero in the end. Of course, Vicky's flaw is that she does tend to jump into things without thinking, which is a typical "had I but known" reaction of heroines. In Silhouette in Scarlet, Vicky is in prime form. She receives a letter and reference to Karlsholm. Of course, she knows that the message is from John Smythe, her romantic counterpart in the Street of the Five Moons. A year earlier, Vicky met up with Smythe in Paris, where she was left facing the police when Smythe skipped out of the hotel room. When Vicky goes to Sweden, Smythe tries to avoid her. It seems he is being chased by some criminals, and Vicky is totally in the dark about what is going on. She meets up with Leif, a tall (taller than tall Vicky), muscular, Swedish type. Vicky also gets contacted by Gus, who thinks he's her long lost, much removed cousin. Smythe is behind making Gus think that Vicky a relation because Smythe is trying to get Gus to let him dig in Gus' estate pasture to look for Roman gold. Of course, the other gang members get involved, and before you know it, Vicky, Gus, and Smythe are imprisoned and in danger.

I don't remember reading this book in the past (although I must have because I'm sure I read the whole series), and I really enjoyed the story this time. Would Vicky figure out what was going on? Would Smythe receive his just desserts from the criminals? Would they all escape to live happily ever after? I admit that I was surprised at the reveal of the criminal at the end. i didn't suspect it although I suppose I should have. The clues were all there. What I love the most about Peters' Vicky Bliss stories is the humor that's mixed in with the suspense. When you read Peters, you know that you are going to go on a amusement park ride. It will be fun and thrilling, and when you finish the book, you are going to be gasping with pleasure.

---
Wednesday, January 16, 2013 -- Evening
Pens Are Back In Action
The Pens are back in action. Hockey had a lockout for the second time in eight years. I have to admit that as time passed, I didn't find myself missing it. They made a deal, and there will be a shortened season. It's starting this weekend, and going through the end of April. Then there will be playoffs. I'm still not much interested, and I'll have to see if my feelings for the game returns when the season starts. The Pens are doing a nice thing tonight. They had a black on white scrimmage game for free at Console. The stands were standing room only to watch the Pens play each other.

---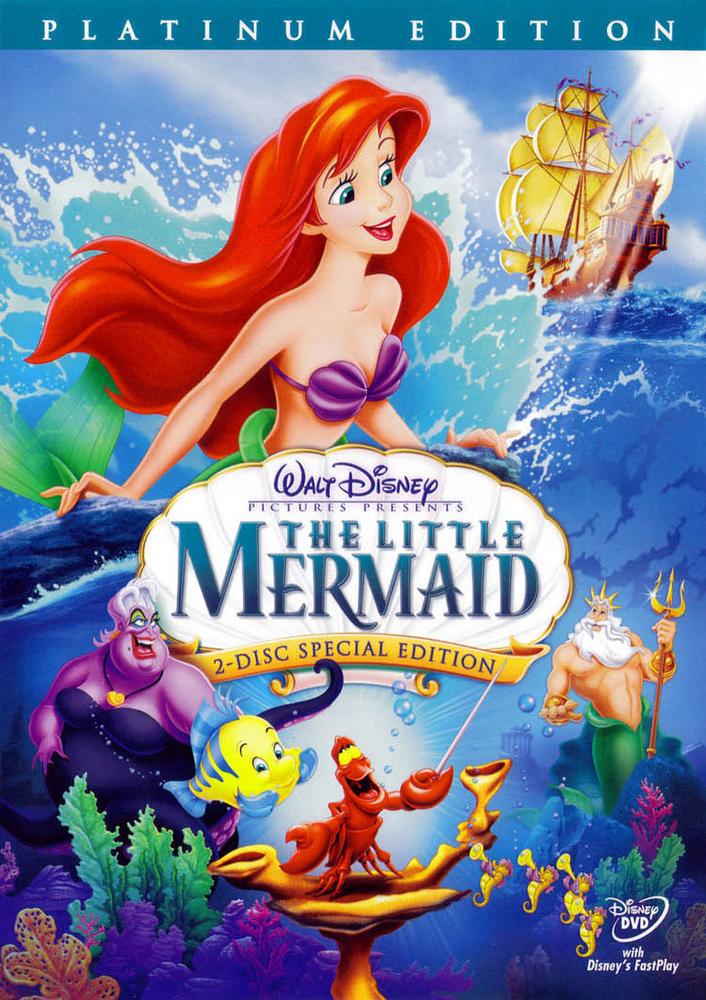 Sunday, January 13, 2013 -- Evening
Disney's The Little Mermaid
It's been a long time since I watched Disney's The Little Mermaid. That was remedied today when I had to watch it three times with my two year old niece. I had to watch her for several hours today, and I was trying to come up with entertainment for her. She never saw The Little Mermaid, so i thought that we might give that a try. The niece is hard to please though. She was not a fan of Beauty and the Beast. I hoped that the music and story would work their magic on her, and boy, did they! We watched it the first time, and as soon as the credits started to roll, she started screaming for more. Her mother came to pick her up as the movie was ending for the third time, and Maya was quite eager to tell her mom all about Mermaid. And so starts yet another girl down the path of giving up everything for the prince of her dreams. Oh Disney! What a web you wove with your catchy musical tunes and cute little talking animals!

---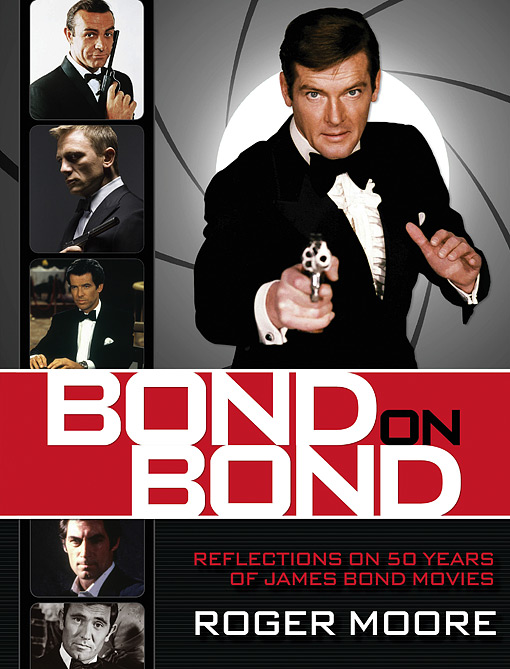 Wednesday, January 9, 2013 -- Afternoon
Bond on Bond by Roger Moore
People say that your favorite actor in role played by many actors is the first actor you saw in the role. I would say that is true. My favorite Doctor Who is Tom Baker, and my favorite James Bond is Roger Moore. Of course, the first time I saw Roger Moore was as the Saint. The first Bond movie that I saw was Live and Let Die. Since then, I have seen every Bond movie and read a few of the books. With this past year being the 50th anniversary of Bond, I celebrated by reading Bond on Bond: Reflections of 50 Years of James Bond Movies by Roger Moore. The book is like getting double the bang for my buck. I get to read about the highlights of the past 50 years, all from the perspective of my favorite Bond!

Roger Moore dishes on a variety of Bond topics: cars, gadgets, girls, villains, locations, and other Bonds. Of course, all are discussed from Roger's point of view. There isn't much that is new or earth-shattering, but then would you really expect there to be? The book is full of beautiful photos, and it's a quick read. Bond on Bond isn't meant to be a comprehensive analysis of the Bond movies. Note that the subtitle contains the word reflections. It's meant to be a reflection by Roger on the phenomenon that is James Bond. Some people complained that there wasn't much new here. That was fine with me. The book gave me what I wanted: a coffee table piece written by my favorite Bond. Maybe I'm biased, but I loved the book. I would recommend it for the movie fan, the Bond fan, or just the Roger Moore fan.

---
Monday, January 7, 2013 -- Afternoon
A Caribbean Mystery by Agatha Christie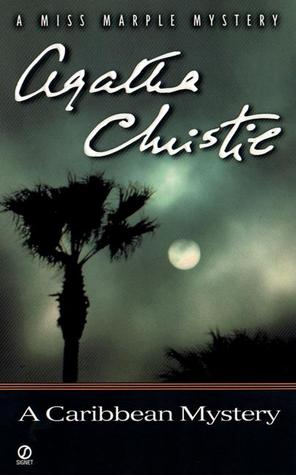 As some of you may remember, Miss Marple is one of my favorite fictional detectives. I love reading Agatha Christie, in general, but for some reason, I find Miss Marple more entertaining that Hercule Poirot. I think that part of it may be because Miss Marple is more self-effacing. Others toot her horn more than Miss Marple does. I've randomly read her novels over the years, and it's been quite some time since I read A Caribbean Mystery. This is one of the later books of the twelve Marple novels, published in 1964. The book was made into a movie with Helen Hayes, which is also very enjoyable.

In A Caribbean Mystery, Miss Marple was vacationing in the Caribbean as a treat from her nephew, Raymond West. Miss Marple had been feeling poorly, and a vacation in a tropic area was just the ticket for recovery. Miss Marple found herself involved in murder when a fellow guest, Major Palgrave was murdered after offering to show Miss Marple the photograph of a man who had murdered a couple of wives. Of course, Christie explained to the reader that people just don't listen to the repetitive stories of the elderly. As Miss Marple tried to get a glimpse of the photo and get the authorities to confirm if Major Palgrave died due to natural causes, another housemaid turned up dead. An investigation showed the Major Palgrave was poisoned, and the housemaid must have known who did it. Miss Marple knew that the way to catch the murderer was to figure out who was the murderer in the photograph. As Miss Marple explained to the rich, crotchety Mr. Rafiel, the person in the photo must have been planning another murder! There were plenty of suspects, but with the help of Mr. Rafiel and his manservant, Jackson, Miss Marple saved the day.

Although this book is one of the later books, the story wasn't as rambling as some of the other books. We did get to see things more from Miss Marple's perspective than we have in other novels. Usually, the teller of the story was someone else, and Miss Marple was a supplemental character. I think that having the story from Miss Marple's viewpoint allowed Christie to give some perspective on old age. Miss Marple realized that she wasn't as mobile as she was. Christie also complained about the eagerness of doctors in prescribing medications and finding health problems with people. We have that same problem today. Doctors are quick to prescribe antibiotics for colds and a variety of pills for the most routine ailments.

Of course, the most interesting interaction was between Mr. Rafiel and Miss Marple. Miss Marple took the role of Nemesis. Hence the title for the succeeding book Nemesis, where Miss Marple looked into a mystery for Mr. Rafiel as a request from his will. I really enjoyed reading A Caribbean Mystery. It wasn't the best of the Christies, but it had a good mystery and interesting characters. As Mr. Rafiel said to Miss Marple at the end, "Ave Caesar, nos morituri te salutamus." Christie, I salute you!

---