The Daily Bongo
January 2015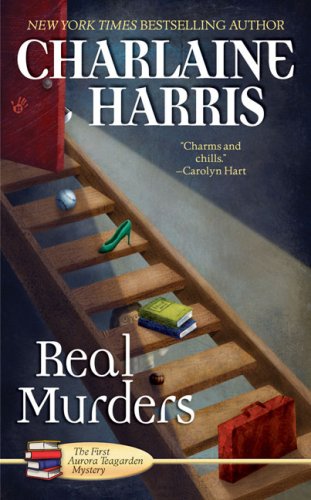 Wednesday, January 28, 2015 -- Evening
Real Murders by Charlaine Harris
I had heard that Hallmark Movies and Mysteries Channel was going to made movies out of Charlaine Harris' Aurora Teagarden books. I've read the Sookie Stackhause books, and enjoyed them except for the last two, so I decided to give Aurora a try. The first book in the series is Real Murders, which is not being made into a movie by Hallmark. Aurora Teagarden is a librarian and also a member of the Real Murders group. The group researches real murders and discusses them. In some cases, the murders are unsolved, or there is a question about the guilt of the murderer. The group meets once a month, and at a meeting where Aurora Teagarden is to present information on a murder, she finds one of the other members with her head bashed in and arranged like the woman in the murder that Aurora was going to discuss. It seems like one of the Real Murders members did the murder, and when more murders happen, setup to look like other famous murder cases. Everywhere Aurora goes, murder seems to follow, which makes her a bit of a suspect, and it also means that Aurora starts to worry that the murderer might be closer to her than she would like. The ending of the book was quite unexpected and disturbing.

Real Murders was a real page-turner. I found myself reading the book every spare moment, walking up the steps, eating lunch, riding on the bus, etc. Aurora is a likable character, and I will definitely be checking out the second book in the series when it's available for Kindle loan from Overdrive. I'm also looking forward to the Hallmark Channel movies. Candace Cameron Bure will be playing Aurora when the movie comes out in April.

---
Tuesday, January 20, 2015 -- Evening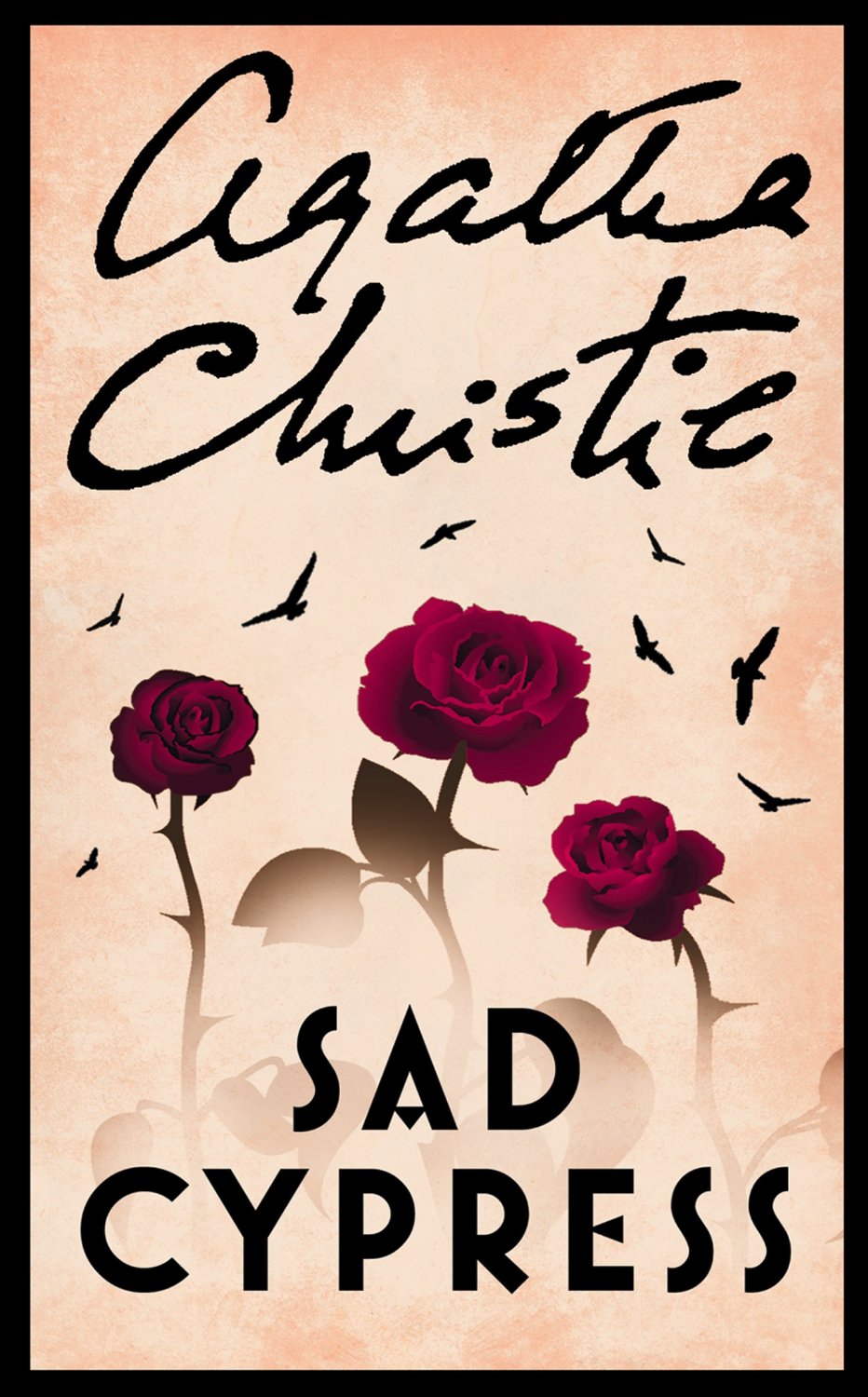 Sad Cypress by Agatha Christie
I like to listen to podcasts of old time radio shows. Sometimes, instead of old time radio, the podcasts will have fairly recent British radio show offerings. My favorites are when they offer a radio play based on one of Agatha Christie's novels. Recently Boxcars711 had a rendition of Sad Cypress. Unfortunately, they only had two of the three parts, so I was quite interested in reading the book to find out if I had figured out whodunit.

Sad Cypress is an Hercule Poirot mystery. Elinor Carlisle is accused of murdering Mary Gerrard, a young woman who had been a protege of Elinor's aunt. When Elinor and her fiance, Roddy Winter, who is also a relation by Elinor's aunt's marriage to Roddy's uncle, get an anonymous letter about Mary Gerrard cozying up to the sick aunt, they go to visit the aunt to see what's going on. Roddy winds up falling for Mary, and when the aunt dies suddenly after a second debilitating stroke, Elinor is the sole heir. The aunt died without a will, but she did express an interest in taking care of Mary Gerrard. Elinor breaks off her engagement because Roddy is in love with Mary, and Roddy also seems upset that Elinor has all the money. Roddy is rebuffed by Mary, and Elinor encourages Roddy to go to Europe. When Elinor goes down to sell her aunt's house and invites Mary and Nurse Hopkins to lunch, Mary winds up dead. Elinor is instantly suspected because of jealousy over the loss of Roddy. The local doctor, who is smitten with Elinor, enlists the help of Poirot to prove Elinor is innocent. Can Poirot do it? More importantly, is Elinor innocent?

Sad Cypress was an enjoyable mystery. The clues are all there, and when Poirot gives the recap at the end, it makes perfect sense. I know that I found myself smacking my palm to my forehead over clues that I overlooked, or didn't even realize were clues. Christie was the master of weaving a great mystery, and in this case, she created some believable characters. Elinor may not always seem very likable, but I did feel sympathy for her. Not only that, but I could see myself have the same reaction to losing my fiance. All in all, Sad Cypress was a thoroughly enjoyable mystery that I would recommend to any who haven't experienced Christie or Poirot.

---
Sunday, January 18, 2015 -- Afternoon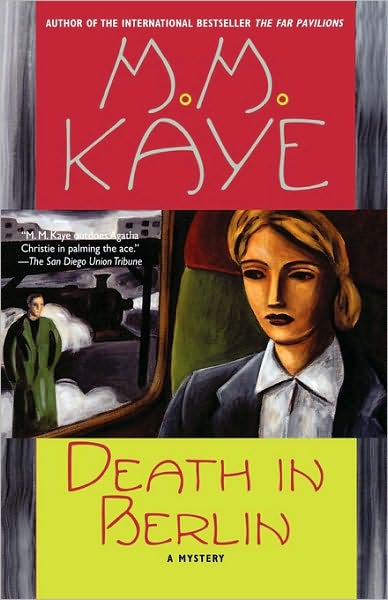 Death in Berlin by M.M. Kaye
I just finished Death in Berlin by M.M. Kaye. This was originally published in 1955 as Death Walked in Berlin. Miranda Brand was on a month-long vacation with her cousin, his wife, their daughter (Lottie), and Mademoiselle (the nanny) in Berlin. As you can tell from the original publication date, the story was set in the time after World War II when the Russians and British/Americans were in Berlin, but before the Wall went up. Miranda's cousin, Robert Melville was in the British military, and his wife, Stella, was older, and a bit concerned about losing Robert to someone younger. While on their way to Berlin, Miranda and the Melvilles joined up with others heading to the city, such as Sally and Andy Page, the Leslies, and the Marsons. While at dinner the night before the group arrived in Berlin, the Melvilles dined with Brigadier Brindley, who told a story about a German SS officer named Riddler who had gotten a fortune in diamonds to only disappear with his wife. The story was that they killer their man-servant and his wife, and escaped. Brindley mentioned that they had a daughter, and a girl had escaped to Britain with a doll full of Riddler's wife's jewelry. Imagine the shock when Miranda said that she was that girl, and that she wore the ankh that was found in the doll. Things took a turn for the worse when on the train to Berlin, Miranda couldn't sleep, went to took for the coachman, and then accidentally walked into Brigadier Brindley's cabin to find him stabbed to death. Fortunately for Miranda, Simon Lang was also on the train, and he investigated the death. More deaths followed, making Miranda appear either responsible or the intended victim. Lots of thrills ensued until the mystery was solved.

I have to admit that Death in Berlin in Berlin is my favorite of the Death in ... series of Kaye's. The mystery is not obvious, and the tension and suspense build as the story continues. Miranda is a very likable character, and I found myself rooting for more action between her and Simon Lang. If anything, the romance part of the story is a tad underdone, but that means that most of the concentration was on the action and the suspense. All in all, this was an an enjoyable and entertaining read.

---
Sunday, January 4, 2015 -- Evening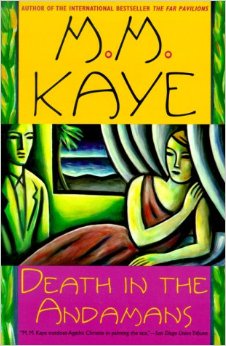 Death in the Andamans by M.M. Kaye
I have been laid up with a bad back for the past week, but it did give me a chance to catch up on some reading. I have had an urge to read some M.M. Kaye, not the Indian saga, but the mystery books. I just finished Death in the Andamans. This book was originally planned with Kaye and a childhood friend that she was visiting in the Andamans over the winter holidays. A hurricane struck the area, and Kaye and her friend were holed up over Christmas until the storm abated and things returned to normal. The pair plotted out the story of a murder, and years later, Kaye put it to use in this book. The plot is similar to the real situation: with a hurricane that hits the area on Christmas Eve. Copper Randal is visiting with her friend, Valerie Masson, whose step-father is the commissioner of the islands. After a picnic party, a slew of celebrants are headed back to the main island when the hurricane strikes. All except one makes it back safely to the main island, but Ferrars Shilto doesn't make it back. Since a trio of boats, on which Ferrars was traveling, capsized, it is assumed that Ferrars drowned due to the storm. However, one of the guests, who is also a doctor, thinks otherwise, and he turns up murdered after checking out Ferrars' body. Another murder happens before Copper and Val, with their boyfriends, Charles and Nick, figure out whodunit.

I really enjoyed reading the story, and it was an added touch that it happened during the Christmas holidays. The plot was just convoluted enough to keep it interesting and to prevent me from figuring out who done it. It should have been as clear as the nose on my face, but Kaye did an excellent job of keeping the reader guessing. Next up is Death in Berlin.

---