The Daily Bongo
July 2010
Saturday, July 31, 2010 -- Evening
Britney Wins POV
Britney won the POV competition today. It seems that Rachel and Britney were talking before the POV that if Kristen came off the block, Rachel would put up Kathy. I find that I'm really losing interest in this gang. There's not a single person that I like in the house. In fact, I would say that the majority of them annoy me. Those that don't annoy me are just there, as far as I'm concerned. It will be interesting to see what happens to the ratings with this bunch.

---
Friday, July 30, 2010 -- Evening
Rachel Does the Obvious
Rachel nominated Hayden and Kristen for eviction today. That was the sort of move that Matt should have made last week. Unfortunately, he didn't, and we are forced to see more of Rachel's antics.

---
Thursday, July 29, 2010 -- Evening
Shalom Andrew
Eviction night on Big Brother. It's fairly obvious from the live feeds that Andrew will be the one going home. His POV speech did not go over well; it made everyone think that he has an alliance with Brendon. The brainiac, Matt, is an idiot.

Tonight's show started with a recap of Matt's stupid move. You want to get rid of Brendon and Rachel, nominate them both. Don't nominate floaters! I really can't stand Kathy either. She looks extremely crazy with lunatic eyes. Britney made fun of Rachel's eye rolls. Rachel commented that she had to be in a house full of haters. Andrew thought he had to make a power move by saying that he was going for the obvious couple in the house. Brendon goes to talk to Rachel who can't seem to understand game play. Rachel got really pissed when she found out that Brendon knew what Andrew was going to do. Meanwhile up in the HOH room, Ragan comments on Andrew concocting the whole thing. The house thought Rachel's reaction was fake, when in actually it was true. Matt tells Andrew that people were willing to vote for him prior to the veto meeting. But after the meeting, everyone was against Andrew because they thought he was in league with Brendon. Rachel wants to get rid of Andrew because she thinks that Brendon's plan to keep an ally in the house instead of voting him out is stupid. The girl is an incredible idiot. Brendon feels like the wind is out of his sails when Rachel starts doubting him over the whole Andrew thing. Up in the HOH room, Kathy is telling Ragan that she needs the money because she has cancer, or had cancer, and thinks she is going to get cancer again. Ragan buys the whole sob story and says that Kathy is a fighter. Ragan said that after talking to loser Kathy, he is reconceptualizing what a fighter is. Meaning a fighter is a loser like Kathy who is lazy and does nothing. Andrew is getting angry because Kristen, who used to be his friend, is bonding with Kathy, and treating Andrew like a leper. Andrew said that it was very hard to be in the house when you have no one to talk to (and we see Andrew crying). Andrew goes into the bathroom and tells Kristen to stop playing him like a fiddle in front of Kathy. Kristen says that Andrww needs to talk to her, then Kristen starts yelling at Andrew that Kathy is the only one Kristen has, and Andrew says what about him. Kristen tells Andrew that he is digging his own grave, and he tells her that she is digging her own grave. Andrew leaves, just as Rachel comes into the room. Matt, Enzo, and Hayden are talking about keeping Andrew because he has a bigger target on his back. Enzo wants to keep Andrew because it will cause friction in the house.

Julie asks Rachel how shocked she is about not being on the block. Rachel says she is really shocked. I cannot stand Rachel. Lane said that he misses spotlight, where you shoot something when you see the light reflect. Julie makes fun of Enxo's accent. Then she tells everyone that there will be no slop next week.

There was a segment on Matt, and we got to see his wife. She has really ugly teeth. Maybe he needs to win the money to get some orthodontia done for her. Matt's wife purposefully put something in the letter to him to get people to believe him. When Julie talked to Matt, he said that he thought that his wife supported him. Also, Matt said that he suspected that Hayden had something going on with Kristen, but that Matt would stay true to him. Losers!

Kathy said that she loves everyone, and that she has loyalty, religion, and integrity. Andrew outs Hayden and Kristen. Andrew went through everyone telling them what is going on behind their back. Andrew said that it was all true and that Hayden and Kristen were making out while Andrew was in the room. Andrew also tells Hayden that he needs to get out of the relationship. All vote to evict Andrew, which I think was really stupid of a good majority of them. He spoke the truth, but those losers who are in the house are too stupid to believe it. Hopefully, some of the things Andrew said will sink in to the rest of them. Doubtful because the people are so danged stupid. Ragan commented that he voted to institutionalize Andrew. Ragan is so dumb for buying Kathy and Matt's sob stories.

As Andrew leaves, he tells everyone Mazel Tov. Then Andrew leaves. I really likes Andrew. Julie told Andrew that was the best speech ever. Julie said that Andrew should have blackmailed Hayden and Kristen. Andrew said that maybe they will start thinking for themselves. Julie asks Andrew if he regrets his move telling Brendon he was after him. Andrew said that he really likes Hayden and thinks he is a great guy and needs to go away from Kristen. Julie tells Andrew that the disease Matt said his wife had was a real disease, but she doesn't have it. The good-bye messages were positive. It seemed that everyone like Andrew, except for Kristen, who is a wench.

Time for the HOH. I hope it's someone who puts up Rachel and evicts her. The game is one based on previous competitions and the houseguests go up against each other in twos. The answer is HOH, Have or Have Not, and POV. Hayden knocks off Britney, and picks Brendon and Rachel to face off. Rachel wins and picks Kristen and Hayden. Hayden gets eliminated. Kristen picks Rachel and Kathy, and Kathy gets the wrong answer and is out. Then Kristen and Enzo are up. Enzo is eliminated. Then it's Rachel and Ragan. Ragan is eliminated. Only Kristen and Lane are left as twosomes, and Kristen is eliminated. HOH is up to Lane and Rachel. Rachel got the last question, and got HOH for the second time in the season. I really hate Rachel.

There's a new saboteur. America gets to chose the houseguest. We get to vote for a saboteur, and the houseguest will get $20,000 if they make it past two weeks undetected.

---
Wednesday, July 28, 2010 -- Evening
Being a Pawn Is Stupid
Time for the POV edition of Big Brother. Rachel couldn't believe that she and Brendon weren't nominated. Hayden said that the Brigade was hoping for a power move, but then goes for Kathy and Andrew. Matt agrees that everyone thinks that Matt is crazy, but that Matt has to do what's good for him so he can win the prize. Andrew starts to pack his clothes muttering over and over how stupid it is. Rachel and Brendon were making out in one of the rooms when Andrew walks in, and Brendon tells him to win the POV. I really can't stand Rachel and Brendon. They really sicken me with their constant face sucking, acting like this is a great romance. Matt tells Kathy that he won't be campaigning for one over another. Andrew tells Kristen and Hayden that it's really stupid to put up Andrew in the hopes of backdooring Brendon. Hayden says that he hopes he gets to compete becuase he will use the POV to take off Andrew in the hopes that Brendon goes up.

Andrew flips out when Rachel put the peaches in the ice tea because that instantly made the ice tea inaccessible for the have nots. Andrew said that Rachel is insensitive to others. Kathy checks on Andrew, and he says that he can't understand Matt's reasoning, and he really can't stand Rachel because she is an idiot.

The Brigade talk in the backyard about the plan to possibly backdoor Brendon. Matt said that if the opportunity presents itself, Brendon will be backdoored.

Andrew said that cleanliness is next to godliness. As Enzo says, Andrew cleans the stuff that's already clean. Andrew does all the cleaning, laundry, and everything. As Andrew says, he needs to talk to some of these people's moms.
Time to pick for the POV. Matt picks Brendon's name. Kathy picks Lane. Andrew picks Rachel. As Andrew says, it couldn't get worse. Andrew said that he thought God loved him, but obviously, Andrew must have done something wrong. Enzo is the MC. Matt and Lane were complaining about how it could be possible that Brendon and Rachel got into the competition. So out of the Brigade, it comes down to Lane and Matt. Every time, they talk about Brendon and Rachel, the producers show them smooching. Andrew talks to Matt in the storage room about how it sucks that Brendon and Rachel are playing. They seem to think of Brendon and Rachel as scientists. I think Rachel is just boobs. Lane, Enzo, and Matt are making fun of Andrew in his prayer clothes, and call him Captain Kosher. They hope that Andrew wins the POV so they can take out Brendon or Rachel.

Lane talks about coming from Texas, and having a gun and shooting at things. Boring conversation. Then it's time for the POV competition. Enzo is dressed up like a genie. The competitors have ten minutes to look at the items on scattered around the yard. Andrew realizes that it's one of those counting games. Matt claims that he is great at math, but he can't count. Yeah, right. The goal is to win three points. Everyone writes down a number, then they can decide if they stay or fold. If they are stay and are close to the actual number, they get a point. If they play, but aren't close, they are out. Andrew says that he has to win, and so does Brendon. First they have to guess the number of fortune cookies. Lane said that it's like Texas Hold'Em. Andrew, Brendon, Kathy, and Rachel fold. Matt and Lane stay. So right off the bat, they eliminated a Brigade member. Andrew would have won if he stayed because he guessed it right. Then they had to count the candles. Rachel decides to stay, saying that she has to figure out what Brendon will do. Rndrew was only 6 over on the candles, and he stayed to win, and eliminated Matt. They have to guess the size of a spiral. Brendon gets a point, and Kathy is eliminated. Brendon and Andrew both have a point. Andrew was fairly close to guessing the number of Tarot cards, and he was the only one to stay and won. Then they had to guess potion. Then Brendon was the only one to stay so now it's a tie of two points between Andrew and Brendon. They they had to guess the number of eyeballs in a glass. They all stayed. Brendon wos the closest and won the POV. In the DR, Brendon says that the house is being taken over by Brachel. I really can't stand Brendon or Rachel. Especially Rachel because she is so skanky. Brendon says that he needs Andrew to stay in the house because Andrew would be on Brendon's side. Again, Brendon on top of Rachel in the bed.

The funniest thing is when Enzo says in the DR that Matt isn't the brains of the group anymore since he really screwed up the nominations. Matt talks to Andrew in the HOH room. Andrew said that he trusts Matt and hopes the Kathy goes home. Andrew said that he couldn't understand not putting both Brendon and Rachel up. Matt said because he wanted to make sure that it was Brendon who would leave. Andrew then says in DR because Matt is so bad and making a mess of everything, he doesn't want Matt working on his behavior. As Andrew says, he will clean up his own mess.

Andrew and Brendon talk late at night. Andrew says that he is going to make a move, but for Brendon to not tell Rachel. Time for the POV ceremony. Andrew says that he is tired of being the scapegoat, so he has to take care of himself. Ksthy goes first and says that Brendon should not use the veto on her because Rachel would go up. Andrew said that Matt's strategy worked last time, so he's going to tell Brendon right out that he is going after him and Rachel and wants Brendon to use the POV on him. Everyone looks confused. It was a stupid talk. Andrew said that if the house thinks he is going to get Brendon or Rachel, everyone will vote to keep him. Matt said that now everyone thinks Andrew is working with Brendon and Rachel. Brendon thought Andrew did a convincing job. I like Andrew, and I hope he stays, but it's so hard to tell how those losers will vote.

---
Tuesday, July 27, 2010 -- Evening
T.O. and the Bengals
I must admit that I am a Terrell Owens fan. Yes, the guy can kill a quarterback's morale. He can get in the quarterback's face, cry about his mistreatment, and overall act like a diva. But T.O. has personality. After he left the Buffalo Bills, most people were thinking that T.O. was washed up. His stats weren't good: only 55 receptions and 5 touchdowns. I could excuse that because the Bills are basically a crappy team without a decent quarterback. Chad Ochocinco, another favorite of mine, wanted T.O. on the Bengals months ago. Both of them traded appearances on their respective reality shows on VH1. Things started to heat up though, when Carson Palmer spoke up in favor of T.O. If the quarterback of your team says that T.O. would be an asset and that he could work with T.O., you have to sign him. The Bengals did just that this evening, signing T.O. for a year, paying him $2 million with a $2 million performance bonus.

---
Sunday, July 25, 2010 -- Evening
BB Nominations Show
The BB show this evening started with the endurance HOH competition. Britney said she had to win because she doesn't know where she will stand in the house, and Andrew said that he had to win HOH because he was alone in the game, and he did not want to be a Have Not because slop isn't kosher. Kathy realized that she might have sealed her fate by voting for Matt. Matt knew that Britney and Kathy were the ones who voted against him. Meanwhile the whole Brigade wants one of the members to win because they need to keep the Brigade save.

As a comment on the endurance competition, Andrew said it was hard with the water and the board moving. As he said, it's not a Jew sport. Kathy claimed that she fell to make herself seem to be weak. Lane fell off because he's not used to board sports. Matt says right away that he could do this all night. It looked like Kristen just jumped off the board, and then Hayden jumped off the board to. As he said, he might was well eat and have a great week because he felt safe. Britney also leaped off because she didn't want to be a Have not. Brendon realized that he had to win this week. Enzo made fun of Andrew's short shorts, saying that the Daisy Dukes didn't look kosher. Matt and Ragan were staying up close against the wall, and I think that's why they lasted that long. Matt was playing mind games with everyone telling them that he was a sure thing for the competition. Ragan asked Andrew if he was okay, and Andrew said nope. Enzo didn't want another Have not week, but his right leg was hurting him, and he couldn't stay on. Enzo felt that he let down his family and the Brigade. Lane said that Matt had to stay on to make sure the Brigade stayed safe. Ragan called out to his former high school bullies, telling them that he was doing better than them because he was on BB.

Brendon fell off, and Rachel consoled him, because Brendon was upset that he let Rachel down by not winning HOH. Andrew really badly wanted a letter from his family and his daughter, and said he would cry, but wouldn't. Ragan tells Andrew that if Ragan won HOH, he would not put Andrew up. Andrew said he had a two out of three chance of being safe that week. Andrew feel off when the surfboard pulled in. He said, it felt like someone shoved him. Ragan asks all the houseguests to go into the house, and then they start talking about HOH. Matt tells Ragan that Ragan doesn't have to give him HOH because he can do this forever. Andrew was the first to come back out because he forgot his yamulka. Matt told everyone they could come back out. At 2:15.48, Ragan got this tear-eyed look, and then jumped off the board. So Matt wins the HOH, and Brendon realizes that Matt winning puts a huge target on his and Rachel's back. Rachel and Matt go into one of the rooms, and Rachel starts crying. Brendon tells Rachel not to treat Matt any differently. Rachel goes out and asks to talk to Matt for five seconds, and Matt says that they can talk for 20 seconds. Matt tells Rachel that he kept up his side of the deal, and all Rachel had to do was to keep it quiet, but Rachel couldn't do that. Rachel said that was her worst nightmare, and she believes that Matt is going to send her home.

Britney and Enzo were in the kitchen, and Britney was making fun of Enzo's New Jersey accent. Finally, it was time to see Matt's HOH room. Matt felt very emotion seeing all the things that his wife got him. Matt's wife made comments about being okay and being strong, and everyone took that to mean she was talking about the disease that Matt made up her having. The Brigade meets in the HOH room to talk strategy. Enzo said that Brendon and Rachel must go because they are public enemy number one. Matt said that Rachel made sense. Matt says that Kathy is on his radar though. Hayden leaves the HOH room so he could go and make out with Kristen. He tells Kristen that they have to be really, really careful. Hayden said that, of course, he is a member of the Brigade, but that he would do anything to keep Kristen save. Lane, Enzo, and Matt talk about Hayden and Kristen looking a lot alike and that they might be related to each other. Enzo claims that Hayden spends a lot of time with Kristen but doesn't hook up with her. Meanwhile Hayden is down in the other room, laying on top of her. Enzo says bros before hos. Matt doesn't think Hayden will turn on them, but Lane said anything can happen.

Rachel starts cutting Brendon's hair by straddling him, but Andrew is right there vaccuuming the hair off the floor. Then Brendon and Rachel are making out on the bed, when Andrew walks into to get his clothes. Andrew says that he feels very uncomfortable, and Rachel says they have no were else to go. Britney and Lane are in the kitchen watching Brendon and Rachel in the yard. Britney and Lane start making up a pretend conversation, mocking the couple. Enzo and Andrew are talking about what the food would be for the Have nots. When they go into the kitchen, they find that it's baby food and bok-choy. Andrew is happy because it's kosher.

Matt told Brendon and Rachel that they were really stupid to have called that stupid house meeting. Matt claims that he won't put up Brendon and Rachel and said that means he wants some say in their nominations if they win next week. Andrew goes up to the HOH room, and Matt said that everyone likes Andrew and thinks that he is being much more social. Matt tells Andrew that he wants to put Andrew up, but that he doesn't want Andrew to go home. Andrew asks about Brendon and Rachel, but Matt said that he wants to backdoor them. Andrew said, if you want someone to go, you should put them up.

Nomination time. Brendon said he's sweating the nominations, but he'll worry about it after the fact. Andrew said that Matt's plan doesn't make any sense, and the it might blow up in his face. Andrew realizes that Matt doesn't care because it's not Matt on the block. Matt said that there is a lot to put into the nominations because the Brigade has to be cool with the nominations. Time to pull the keys. First safe is Ragan, then Kristen, Hayden, Enzo, Lane, Britney, Rachel, and finally Brendon. As we already know, Andrew and Kathy are on the block, and Brendon has the POV.

---
Saturday, July 24, 2010 -- Evening
Nominations and POV
Ragan did give up the HOH to Matt, who promised Ragan that Ragan would be safe for the week. Matt instead came up with a plan to nominate Andrew and Kathy with the goal of using the POV to take Andrew off the block and replacing him with Brendon. This would have been a good scheme if Matt didn't tell Brendon about his plan, and if Brendon and Rachel didn't have their names picked from the bag as POV competitors. Brendon won the POV, and it's not likely that he will take anyone off the block. Supposedly, this will mean that Kathy will get voted off on Thursday, but you can never tell with these houseguests. I'm getting really tired of the Brendon/Rachel overboard showmance, and the Hayden/Kristen sex show. It's just becoming old and tiresome.

---
Thursday, July 22, 2010 -- Late Evening
Who will be HOH?
When the feeds came back on, Kathy and Lane were both off the surfboards, after around 16 min. Kristen was out a few minutes later. Hayden falls off next, and then Britney comes down. Those are the five Haves. I would have thought that Britney would have tried to stay on longer, but I guess that she couldn't. Enzo goes down next and becomes the first Have Not. Left are Matt, Ragan, Andrew, and Brendon. Brendon comes down, and I'm cheering on Andrew now! Dang! Andrew fell, leaving only Ragan and Matt who start to make deals as soon as the others go into the house. I would never leave folks alone during an endurance competition. It looks like Ragan wants to hand over the HOH to Matt. I never understand it when people do that, but I guess if you figure you are really safe, then you can compete for HOH the next week.

Surfer Dude

---
Thursday, July 22, 2010 -- Evening
Eviction Night
Eviction night on Big Brother. The show, of course, starts immediately after the POV ceremony. Monet was really upset at still being Rachel's target, and thinks Rachel is a stupid, bimbo. Britney is also upset that Rachel picked Matt over Andrew. As Rachel says in DR, she does not trust Monet. Matt says that he has the Brigade and the entire house behind him, so he's just sitting pretty and waiting for Monet to go home. Lane loved the pawn comments that Rachel made, and Matt tells Lane that's what he told Rachel. Brendon tells Rachel that she made the right decision. Britney cries because Monet is her only friend in the house. Then we have a crying fest with Monet and Britney. Monet thinks everyone is stupid, but obviously Monet is stupid because she is going home. Matt joins in the pity party. Matt tells Britney and Monet that Rachel and Brendon will get theirs next week. Matt says in DR that he could care less, and he's just having fun with the criers.

Kristen goes out to the back yard to join the guys, then she and Hayden go into the bedroom to have sex. Hayden talks about how secret their showmance is, but that's all we see on the feeds, and it is absolutely sickening and boring. Andrew says in DR that he's in the same room with them, pretending to sleep, and he's overhearing everything Hayden and Kristen are saying about how hot they are, and how much they love each other, etc. Rachel tells Kristen and Hayden that people are talking about her vote, but Rachel was lying just to see where Kristen is sitting. We seldom see Kristen on the show, although she stars on the feeds in her sex things. Kristen asks Britney and Monet if they are saying that she is voting to evict Matt. Kathy goes running in to tell Rachel to go out and talk. Monet tells Rachel to stop saying that Monet is a bitch. Rachel tells Monet that she doesn't use language like that. Monet walks away, hinting that she would love to punch out Rachel's lights.

Britney goes and cries to Rachel after the back yard drama, basically because Britney wants to be safe next week. Rachel tries to make an ally by telling Britney that Matt volunteered to go up. Britney then tells Rachel that Matt is acting pissed at Rachel putting him up, and that Matt is going after her. Rachel is stupid because Matt told Rachel to keep the volunteering thing quiet because he's going to be acting shocked at being put up. Rachel calls a house meeting. Everyone went to the meeting, except for Andrew who was observing Tisha b'Av. Matt gets called out for saying he would put Rachel and Brendon out. Matt said that he and Ragan were bullied into the HOH. Matt tries to talk sense about how he is playing a game. Rachel says that Matt is playing everyone in the room. Matt says that they are really stupid, while Rachel keeps on saying that Matt played both sides of the house. I don't think that Rachel gets that it is a game, and that Matt TOLD her that he was going to act like he hated being up on the block. Rachel is an idiot.

The houseguests are asked about the saboteur, and Hayden said that now they can trust others a bit more than before, which elicited a laugh from the audience, and an "oh really?" from Julie. Everyone is asked about the Have Not competition. Andrew is asked about being and observant Jew, and he says that everyone is very tolerant of him practicing his faith. Kathy is asked which is worse, being a police office or being in the BB house.

Talking to Rachel in the HOH room. Julie asks Rachel about Matt, and Rachel says that she thinks that Matt is a snake and won't let anyone take advantage of her or Brendon. Julie asks about the relationship, and Rachel says that Brendon is once in a lifetime, and she has to go for it. Rachel has an incredibly irritating laugh, and just laughs constantly. Rachel says that if she had to pick between Brendon and the money, she would pick Brendon.

Matt and Monet get to plead their case. Monet says that it's been a pleasure to meet everyone, and she respects their decision. Matt says they are all his friends, but they should remember that it is just a game, and that no one should hold anything against anyone, and then Matt thanks the "Chen-bot."

Time for the vote. Andrew evicts Monet. Enzo votes to evict Monet. Britney votes to evict Matt. Kathy votes to evict Matt. Hayden votes to evict Monet. Kristen votes to evict Monet. Ragan votes to evict Monet. Monet is going home. Brendon and Lane vote to evict Monet. It's time for Monet to leave. The houseguests are told by a vote of 7-2, Matt is safe. Monet starts to cry, goes to collect her stuff, says "bye," and leaves. Enzo calls out that Monet is a great person and not to take it to heart. Britney cries over Monet's exit, while others console her. Monet said that she told those whose votes she knew she had good-bye last night and this morning. Monet knew that Britney and Kathy voted for her. Monet said that she isn't as emotional outside the house, and has learned that maybe she is more emotional than she thought. Monet thinks that winning the $10,000 was a factor in her getting voted out.

It's time for the HOH competition. This one is an endurance competition with a twist. The first five to drop out will be Haves for the week, and the others will be Have-Nots. The competition is called "Hang 10." There is a surf board setup. Rachel will be a Have for the week. The surf boards are tilted downwards and facing into a pool. BB has water pouring onto the houseguests on the boards. Who will be HOH? We should know soon.

---
Wednesday, July 21, 2010 -- Evening
POV Competition
Big Brother started this evening with the Nomination Ceremony. Britney was really upset about being nominated with Rachel's claim that Britney was getting people against Rachel. Afterwards, Brendon and Rachel went to the HOH room to smooch. Downstairs, Britney started to cry in the Have Not room. Then Monet joined her and they both started to cry and feel sorry for themselves, saying that it wasn't game play, but was strictly personal. Monet kept on repeating that and calling Rachel a stupid hooker. Britney thought that she had been nice to Rachel. Hayden was worried about one of the brigade being nominated if someone comes off the block. Rachel said it was the worst feeling ever to know that she made Britney cry. Britney says that she's not made at Rachel or Brendon. Britney said that she doesn't know who told Rachel stories, but Britney hasn't gone to people saying things against Rachel. Rachel says that she wants to get rid of Monet, and Britney says in the DR that she would like to keep Monet. Rachel reminds Britney that there is the POV and that Britney is a strong player. Later, when Rachel and Brendon are making out in the HOH room, Rachel starts crying because she was mean to nominate two people. Brendon reminds Rachel that it's only a game. Rachel says that the only thing she doesn't want is for her and Brendon to be broken up. Monet claims that Rachel is jealous of Monet because Monet isn't a skanky stripper. Monet and Britney just sit around in the back complaining about Rachel and making really rude remarks about Rachel being a whore.

Matt and Andrew are talking, and Matt tells Andrew that his wife is sick with a disease. Matt tells us all in his DR that he is lying about his wife being sick. As Matt says, "who would vote out a guy who's just trying to save his wife's leg." Ragan says that Matt is there to play for his wife, and Matt is not there for selfish reasons. Andrew realizes that Matt is making up the disease. Matt thought he was safe because Andrew is a salesman. He doesn't know that Andrew is a podiatrist.

Time for the POV. Rachel gets houseguest choice, and she chooses Brendon. Monet chooses Lane, and Britney chooses Enzo. Enzo wants to keep the Meow-Meow safe. Basically the POV competition has the houseguests locked into stocks, holding onto a briefcase. The person who drops their briefcase closest to the hour mark, wins the POV. Hayden and Andrew notice that Brendon and Monet are counting. Monet says 60 times 60 is 1200. Britney got it right, counting up to 3600. Enzo was just trying to think of things that took an hour. Then while they were in the stocks, they started to get hit with a dollar bill. Lane admits that there were times when he woke up in college with one hand tied. Britney drops out first. Then Enzo. Then Lane. Brendon thought when Lane dropped out, it was 50 minutes. Then Brendon dropped. It was down to Monet and Rachel. When Monet dropped her briefcase, Rachel dropped it right after. Rachel had 1:15.17. Monet had 1:15.06. Brendon had 1:06.04. Lane had 1:01.29. Britney had 0:52.07. Enzo had to be closer to a minute without going over, but he had 1:00.14. So Britney got the POV.

After POV, Monet goes up to the HOH room while Rachel and Brendon are making out. Monet tries selling that Andrew is out to get Rachel and Brendon. Monet claims that Andrew is her target because he might be in an alliance with Rachel and Brendon. Rachel is really stupid, and says she has to think about it. Rachel doesn't want to have people pissed off. Rachel says she likes Andrew to which Monet says "at least he doesn't matter." Hayden, Enzo, and Lane are talking about who might be backdoored. Rachel says putting up Andrew is a win-win. If Andrew stays good, if Andrew goes then she has Britney and Monet's trust. Brendon, however, asks if they can trust Britney and Monet. Brendon doesn't think it's a smart move because Andrew hasn't been a threat. Britney and Monet think that Rachel will buy into it, and they are already patting themselves on the backs over their brilliance.

Ragan and Matt go to the HOH room. Rachel says she has to put someone up, but she wants to know that Monet will go home. Rachel wants to put Andrew up as a pawn, but still get him to stay. Rachel mentions putting up Andrew, and Matt says that it would be better to put Matt up because Andrew has too much going on in the house against him. Matt thinks that it's a win-win because he will gain Brendon and Rachel's trust and keep the Brigade safe. Hayden says that there is no chance he would put himself up as a pawn. Lane thinks it's huge that Matt gave himself up for the Brigade. Brendon agrees that Matt should go up. Brendon says not to put up Andrew because Andrew would not go for them, and if Andrew won HOH, he is on Brendon and Rachel's side. Andrew comes in at that point, and realizes that they may want to put him up. Andrew tells them, not to worry about it, that he is definitely on their side. The thing is that Rachel thinks Matt is acting suspicious. Brendon keeps on telling Rachel that she should not trust Britney and Monet. Brendon questions the wisdom in trusting two girls that are known as trouble. After a bit of yelling, Brendon says he doesn't want to discuss it, but he thinks it is a huge mistake to put up Andrew because they might risk Andrew going home, and Andrew is definitely on their side.

Time for the POV ceremony. Britney says it's obvious that Andrew would be put up. Matt thinks that it was a brilliant idea to go up as a pawn because it's a social game, and he is building trust left and right. Britney says right up that she is removing herself from the block. Rachel says it is a huge responsibility to put up someone, and says she genuinely likes everyone in the room. Rachel then says that she is going to do everything to make sure that everyone knows that Matt is only a pawn. Andrew says that he has to just watch Matt and Monet battle it out. Britney got upset because she said that she did so much work, and Rachel screwed her. Monet says she won't give up until she stays in the house.

---
Monday, July 19, 2010 -- Evening
Matt's Plan Backfires
The POV ceremony was late this afternoon, and Matt was put up in Britney's place. The thing that is so hilarious about this is that Matt thought that having this weird paranoia behavior in front of Rachel and Brendon would keep him safe. Really? If you are that paranoid that you think they will put you up, then it might start them thinking that, in turn, if you were HOH, you would put them up. The burning question is if the houseguests will vote out Monet or Matt? The good game play would be to get out the person who might be the stronger player. That would mean Matt. However, I think that Monet will be having the door smack her backside on Thursday.

To Kill a Mockingbird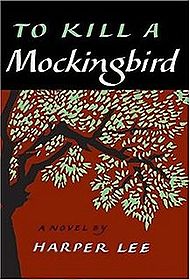 As I mentioned early, I thought that I would spend this summer trying to catch up on classics, either that I read so long ago that I cannot remember them or that I never read. To Kill a Mockingbird falls in the latter category. I don't know how I missed reading the Harper Lee classic. It was never an assigned reading in high school, although that doesn't mean much considering I came from a school district that didn't care much about academic achievement. I've never seen the movie with Gregory Peck either. So I was really in the dark about the story. Yes, I did know that it was about a lawyer, Atticus Finch, and his defense of a black man charged with the rape of a white woman. I knew that somehow his children, Scout and Jem, figured into the story, but I really didn't know how. After reading the book over the past few days, I am really sorry that I didn't read it earlier. Harper Lee really knew how to get someone enthralled in a story, and it's a real shame that she didn't publish anything else. Scout shows us her small town through her six year old to eight year old eyes. It's the mid 1930s, and blacks are not treated with equality. In fact, there is a definite class system with whites who have a long upper class lineage outranking up and coming whites outranking white trash outranking blacks. As the blurb on the cover proclaims, through her experiences with family, neighbors, teachers, and other townspeople, Scout experiences a loss of innocence. There are tons of websites that go into a detailed description of the plot: Jem and Scout hanging out with Dill, who comes to spend summers with his aunt; their fixation on Boo Radley, the reclusive, troubled next-door neighbor; Tom Robinson's trial for rape based on the false accusations of Bob Ewell and his daughter, Mayellla. So there's no need for me to go into exhaustive detail on plot. The book did not concentrate as much on the trial as I thought it would, and I think that made for a much more engaging story. I was living Scout's life, seeing her world, and seeing the trial, and all of life's other unfairness, through her eyes. One of the most captivating moments for me was when Scout's third grade teacher was incensed over the treatment that the Jews were suffering at the hands of Hitler. The teacher says that in America they have democracy and equality and fair treatment for all. Meanwhile, Tom Robinson has been convicted of a crime that he didn't commit because he was black. Scout couldn't understand how someone could be such a hypocrite, how someone could not see that treating blacks the way they did was just as bad as Hitler killing Jews. As Miss Maudie says at one point, there may be many others in the town who quietly support Atticus Finch in his defense of Tom, and his exposure of the unfairness of racially motivated decisions. But it's a quiet support, an invisible support.

To Kill a Mockingbird should be read by everyone. It is one of those books that stirs your emotions while you read it, and stays in your thoughts for a long time after. I'm glad that I finally got around to it. In fact, I think that I may need to re-read it again, soon, to pick up on all the other little nuances that I missed the first time around.

---
Sunday, July 18, 2010 -- Evening
Houseguests Learn Annie's Role
During the recap of Thursday's episode on tonight's BB, we saw that shortly after Annie left the BB house, a smoke bomb went off. I'm telling you those saboteur tricks were really, really lame. Brendon admitted that he was going to get a biological physics degree. In the DR, Andrew and Ragan were glad that they weren't outed yet. Brendon and Andrew were very excited and grateful when Rachel won. Hayden said that Andrew made the target bigger on his back because of his reaction to Rachel's win. Monet admits that she doesn't like Rachel, and Rachel doesn't like her, so Monet is thinking things aren't good for her. Rachel and Brendon make out after Rachel wins, and Brendon says that he is proud of Rachel. Rachel thinks they should use the HOH to get farther in the game. They both talk about getting rid of Monet and Britney so they can feel more secure in the house. Enzo and Britney talk about Andrew getting so excited when Rachel won. Enzo says that Andrew must be in an alliance with Brendon and Rachel because Andrew doesn't have anyone else in the house. Andrew tells Britney and Monet that he was excited that they didn't win because they would have put have him up. Andrew tells Britney that she knows that they have never liked each other, so why not just admit it.

It was HOH room time, and Matt commented about how you have to see like you really care about the HOH room. Rachel has the most annoying laugh, and Britney and Monet were really being petty and saying that it was embarrassing how excited Rachel was. That's what we call sour grapes. Rachel was also happy that she could spend the week alone with Brendon in her HOH room. Hayden and Lane talked (well, Hayden talked while Lane grunted) about how Rachel and Brendon might make a move against Hayden because Hayden put them up last week.

We finally got hear Kristen talk. She was walking past Hayden, and he saw her birthmark on her stomach. She claimed that a birthmark is the place that you were stabbed in a previous life. Crazy! Hayden tried to start a relationship with Kristen because he thinks that she is hot. Kristen thinks that she and Hayden have good chemistry. Later during the afternoon, Britney and Monet were sitting there making fun of everything the rest of the houseguests say. Britney says that Monet is the only girl she can stand to be around. Britney thinks Kristen and Rachel are so fake. Hayden says that Britney is the one who causes the drama. Rachel thinks that Monet and Britney are being very catty, which they are. Meanwhile Rachel and Kristen have bonded, and Rachel tries to talk Hayden into a Rachel/Brendon/Hayden/Kristen alliance, but Hayden doesn't seem to excited. So that puts some doubt into Rachel's mind. Matt claims that he is paranoid and wants to know if he is going on the block. Matt is just playing a game to get the target off Matt's back. Matt thinks that Andrew got too freaked out over Rachel winning. Matt tells Rachel that everyone thinks that Andrew is influencing Rachel. Well, his plan backfired with Rachel, and she started to think that Matt might have to go up since he is so paranoid. Rachel and Brendon started to make out in the HOH room, and during their makeout session, Brendon says that he thinks Matt is so nervous because he is hiding something. So Brendon is going to keep his eye on Matt.

Time for the Have and Have Not competition. They are in groups of four. Each group has to tape one of them members onto a wall, The wall is raised and whichever team lasts longest is a have. That team picks who is the have not team. Britney, Kathy, and Ragan were taped to the wall. Brendon thought Ragan wasn't as strongly attached. Ragan thought he wasn't getting targeted because everyone loves him. Then Ragan realized that it's because his tape job was so bad that it was obvious he would be the first off. Ragan could feel each piece of tape coming down, and he was the first to tall taking out the blue team. Blue team went after Britney . Kathy, who looks really scary, said that she was holding on with dear life. Britney thought that shooting at her face was personal. Like those folks could aim that good. Britney claimed that she couldn't breathe, and the green team had to take Britney off the wall. They orange team took the blue team as another have, so the green team was the have not team. When they went into the house, they found out that the have nots would have to eat fish sticks and fruit cake.

The saboteur video came on, and Annie admitted that she was the saboteur. Hayden felt like a king because he put up Annie. Matt admitted that he was wrong. Andrew was happy that he was now free of the innuendo.

Britney tells Rachel that she would not have put up Rachel and Brendon, but would have gone for Andrew. At least those are Britney's stories, and Rachel said that she can't be sure that she trusts Britney. Then Rachel talks to Monet, and Rachel tells Monet that she believes that Monet would put up her and Brendon. Monet lied and said, of course, she wouldn't do that. Monet said that she would have put up Andrew and a floater. Rachel said that she thought of Matt as a floater. Rachel talks to Hayden and said that she and Brendon want to know where Hayden stands. Hayden tells them that he would be with them and Kristen as the final four. Brendon says that he trusts Brendon and Kristen. Brendon mentions Matt, Lane, and Enzo as the people he trusts the least. Brendon mentions that Britney is a bitch, and Monet already has $10,000.

Time for nominations. Matt is confident that he false sense of paranoia was a good strategy (he doesn't). Britney doesn't think that Rachel is after her, but is after Monet and Britney might be guilty by association. Rachel claims that she is targeting people who would target her, which is why she should target Hayden. Payback. But she doesn't, because she goes with petty girl feelings. The first key pulled out of the box is Brendon, then Kathy, then Hayden, then Ragan, then Kristen, then Enzo, then Matt, then Andrew, and finally Lane. Monet and Britney are up for eviction. Rachel says that she knows how bad it sucks to be a have not and up on the block, but it's just a game. Britney says that she is pre-menstrual, and Monet says that she hates Rachel even more. Hayden is happy that all the folks he is aligned with are safe. POV will be shown on Wednesday, but we already know that Britney won the POV.

---
Saturday, July 17, 2010 -- Late Evening
Nominations and POV
Rachel has been saying that she wants to get rid of the floaters this season so now one floats to the end like Natalie did last year. To that end, she nominated Monet and Britney for eviction. Personally, I would think that Kristen is a floater since she never seems to be doing anything, but then what do I know. Anyway, the POV competition was today, and Britney won. So now Rachel will have to come up with a replacement. She is talking about Matt or Andrew as possible pawns. It doesn't seem as if Andrew is very popular in the house, so if he went up, he would be evicted. What I think is interesting is that Andrew is being promoted as an Orthodox Jew. If that were the case, how could he compete in competitions held on the Sabbath (Saturday). Not that someone who was really observant would even be on the show.

---
Thursday, July 15, 2010 -- Evening
Who Cares About the Saboteur?
Eviction night! We finally get to find out who the saboteur is. I can only hope that the action picks up with this pronouncement because so far, the saboteur's actions have been really lame.

Julie Chen was looking nice this evening in a tight blue dress. Hayden, on the other hand, looks like he needs a serious hair cut and wash. The action in the show starts right after the POV ceremony with Britney saying that Annie isn't playing with a full deck of cards. Rachel is sad that Annie is up against her, but she is hoping that she can stay in the BB house with Bredon. Annie got upset with Britney because she claims that Britney was telling others that Annie was aligned with Brendon. Brendon knows that Annie is acting crazy, so the secret is to just lay low and let Annie shoot herself in the foot. Annie took out her angry on Brendon. Brendon and Britney plan on just ignoring Annie. Matt says that the Brigade is running the house, and Annie is guaranteeing her exit by acting crazy. Annie makes a big deal about how Brendon is going to have to choose between her and Rachel and that Brendon will choose Rachel. Later, we see Brendon and Rachel making out. Right in the middle of making out, Brendon starts talking about Annie. The funniest comment was Rachel saying that he shouldn't be getting upset over a girl he just met 8 days ago. Like he didn't meet her 8 days ago.

Annie is the saboteur. Boy, that really sucks because Annie is probably going to go home tonight. One of the things Annie did was to plant devices that made cricket or other annoying sounds. We got to see the saboteur give the message that the two people on the block are not the saboteur. As an aside, the producers had to blank out Rachel's boobs because they were constantly hanging out of her bikini top. Andrew was talking to Hayden about splitting the power by getting rid of Rachel. Hayden is really contemplating it. Annie outed Brendon for not just being a swim coach, but also going for a PhD in Applied Physics in the fall. Annie really seems to be working on the whole crowd on voting out Rachel. It will be interesting to see if it works.

It's time for the houseguests to plea their cases. Annie said that he wouldn't say anything against Rachel, but she would say that Rachel was too close to Hayden, and that they had to get rid of Rachel to weaken Brendon. Rachel said that she has had fun, and it has been great to be in the house. Rachel ended by saying that she loved everyone in the house. Now for the votes. Monet evicts Annie. Andrew votes to evict Annie. Lane evicts Annie. CBS then went to a commercial break, but it was obvious that things were not looking good for the saboteur, Annie. Boy, that really has to suck for CBS.

Kathy votes to evict Annie. Kristen votes for Annie. Brendon also votes for Annie. So Annie is out. Ragan evicts Annie. Enzo votes for Annie. Matt evicts Annie. Britney happily evicts Annie. So everyone voted to evict Annie, and there goes CBS' saboteur plot. Rachel thanks everyone for keeping her, and Julie talks to Annie, telling her that CBS just told everyone that Annie was the saboteur. Julie said that Annie made a really good point in her final speech, but unfortunately no one there was very bright. Annie was shocked that America thought that Kathy was the saboteur because Kathy is a bit weird. Britney put in some snide remarks about Annie, but Ragan said that he thought Annie was the saboteur. When Rachel was obnoxious about Annie trying to get her man. That's when Annie said that Brendon was going after Annie, and Annie turned him down, and that's when the shomance started. As Annie said, "congrats on getting my sloppy seconds." You go girl! Oh, wait, you are going! Annie did promise that she left behind a saboteur surprise.

Now it's time for the HOH competition. It's a majority rules competition where the folks who answer in the majority advance while the minority are out. Whose life story would make more money at the box office? Kathy or Enzo. The majority chose Enzo. So Brendon, Kathy, and Kristen were out. Who does the majority think would win the Miss BB? Rachel or Kristen. Rachel got the most votes. Enzo, Matt, and Lane were out. Who is more likely to put a larger than life size sculpture in his house? Hayden or Brendon. Everyone picked Brendon. Who has more Facebook friends? Britney or Monet. Everyone picked Britney. Who would you cheat off in an exam? Ragan or Matt. Everyone picked Ragan. Who would the majority prefer to pack their parachute? Andrew or Lane. Everyone but Andrew picked Lane so Andrew was out. Who is more likely to talk their way out of a traffic ticket? Britney or Ragan. Britney got the most votes so Ragan was out. Time for the tie breaker for Britney, Rachel, and Monet. How many gallons of caramel were in the pool for the Sweet Tooth competition? Britney picked 41, Rachel had 80 and Monet had 735, but Rachel was the closest because it was in the 300 range. So Rachel is now HOH. Must have some of the folks in stitches over their eviction choice. Also, it seems that the houseguests will learn that Annie was the saboteur on Sunday.

---
Wednesday, July 14, 2010 -- Evening
POV Competition
Time for the POV show of Big Brother. The show starts right after the Nomination Ceremony. Enzo thinks that Brendon is probably the saboteur. Hayden thinks that Rachel and Brendon are too close, too early, so you have to break it up. Rachel thinks that Hayden did it to stop the twosome from hanging out. Brendon doesn't want to go home in the first round because he wants to show that he is a tough competitor. Annie comes in to the room with Brendon and Rachel in shock. Shortly after Annie enters the room, so does Lane. Annie claims that she is sad because she likes Brendon and Rachel, but doesn't want to hang out with them because that would put a huge target on Annie's back. Enzo comes into the room, and he starts to become suspicious of Annie's actions. Enzo tells Hayden and Lane that he thinks Annie is in an alliance with Rachel and Brendon. After the guys were talking, Annie came out to join them, and Lane, Hayden, and Enzo acted suspiciously quiet. The funny part for me was when Brendon started to get teary-eyed because he was being nominated because it made Brendon feel that he wasn't loved. That got to Rachel, and she and Brendon pulled a blanket over them on the hammock and started to make out. Meanwhile, the other houseguests were looking out from the kitchen. For some reason, Rachel and Brendon making out made Hayden angry about them increasing the size of the target on their backs. Yep, it definitely does sound like Hayden has a case of the green-eyed monster.

Brendon goes up to the HOH room, and tells Hayden that if Brendon wins the POV and comes off the block, he's coming after Hayden if Hayden doesn't make a deal with him. Brendon tells Hayden that he trusts Annie, and that seems to confirm Hayden's thoughts (supplied by Enzo) that Brendon, Rachel, and Annie are in an alliance.

Time to pick people to play for the POV. The HOH and two nominees pick someone to play. Rachel said that she would use the veto to take Brendon off the block because she thought Brendon would be more likely than herself to be sent home. Hayden picks Enzo's name from the bag. Brendon picks Andrew, and Rachel picks Monet. Monet was offended because Rachel rolled her eyes when she picked Monet's name. Hayden selected Annie as the POV host. Enzo, Matt, and Hayden were discussing options if Brendon or Rachel wins POV. Brendon tries to talk to Hayden before the POV and make a deal if Brendon wins. Hayden didn't want any part of it, and that was probably a bad move on his part.

Time for the POV competition. Pinatas were all over the back yard. The pinatas were filled with sour mayo and letters on cardboard. The goal was to spell the longest word correctly. The other houseguests had to watch in the splash zone, so everyone was getting rotten mayo on them. Andrew commented that mayo was kosher so it was okay if it got into his mouth. Hayden was caught on spelling journeyman. Andrew said as a doctor, he would know how to spell anything. Rachel was hung up on spelling chemistry. Brendon just took the route of collecting letters and eventually spelling something. Hayden spelled "possible." Enzo spelled "factory." Rachel spelled "chemistry." Rachel was in the lead. Monet spelled "cheaters." Brendon spelled "understanding." Brendon took the lead with 13 letters. Captain Kosher (as Hayden called him) picked pastuerized" which was misspelled. Brendon said that Hayden should have taken the deal because now Brendon is coming. Andrew said in his diary room that he purposefully misspelled the word. Enzo said they could put up Kathy, but then what happens when if Kathy is voted out. Enzo and Matt talk, and they decide to backdoor Annie.

Enzo, Matt, and Hayden talk about putting Annie on the block in place of Hayden. Enzo claims that he thinks Annie is the saboteur. Annie goes to the HOH when Britney and Monet are there. Annie said that she is scared because it will be one of them. Britney tells Annie that Hayden asked Britney if Annie was close to Brendon. Britney admits in the diary room that she has no allegiance to anyone o that's why she told Annie. Annie confronts Hayden about it, and says that she heard it from Britney. Annie throws Britney under the bus claiming that Britney is trying to stir up trouble in the house. Lane says that Rachel will always side with Brendon, but Annie could be swayed to vote with them. Lane thinks Kathy should go up because she's neutral and Kathy wouldn't be as traumatizing to others in the house. Hayden doesn't know what he wants to do. The saboteur comes back, and in the videotape, the saboteur claims that two of the houseguests are life-long friends. Kristen (who we haven't seen much of) thinks it's Matt and Annie. Andrew thinks that Matt and Ragan are a pair. Andrew tells them all that he is not the saboteur because he is not friends with anyone there because no one there knows anything about judaism. Andrew tells the viewers in the diary room that he is just trying to divert attention from himself.

Time for the POV ceremony. Brendon says that he is trying to preserve both himself and Rachel. Kathy is saddened with the thought that she might go up on the block. Annie thinks that Britney is lying to her, and that worries her. Brendon uses the POV (obviously), and Hayden nominates Annie as the replacement. Annie blames Britney for lies when Britney was the one who tried to warn her. Annie said that she never thought people would be dumb enough to put someone like her on the block. Rachel is happy for Brendon, and thinks they can concentrate on keeping Rachel in the house.

So far this season, I'm really having trouble coming up with anyone that I really want to watch in the house, or root for. They are such a vapid, loser bunch, in my opinion. Tomorrow, we find out who the saboteur is and who gets voted out.

---
Tuesday, July 13, 2010 -- Evening
Drama? Not Really
Boredom at the Big Brother house. I have to admit that this crew of houseguests are on the boring side so far. Annie is being targeted as the first person to be voted out of the house. I'm looking forward to finding out who the saboteur is and if he/she will be doing anything really cool because so far for me, it's just been a bust. I hope that they don't have the saboteur doing lame stuff like they have with America's Player. Thursday, the viewers get to find out who the saboteur is.
Fahrenheit 451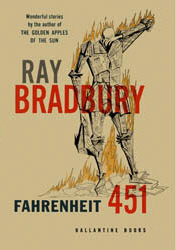 Somehow, I did not read Fahrenheit 451 by Ray Bradbury. I don't know how I missed it in my reading lifetime, but I did. The book is set in the future where owning books (and indeed even having questioning, inquiring thought) is banned. If books are found in your house, the fireman come to burn them and your house down. The main character of the book is Guy Montag, a fireman, who begins to question who he is, what he is, and what society has become. The questions are precipitated because of a chance meeting with young Clarisse McClellan. Clarisse is not like anyone Montag knows. She asks Montag why things are the way they are. Clarisse's appearance in the book is brief, and is the catalyst for Montag's change. The interesting part of the book is that even though it was written over 50 years ago, I could see signs of an impending apocalypse in our current day. Don't ban the books, just make them subject to mockery. Diminish what books give to people. Come up with substitutes to fill the time and minds of the gullible. Before you know it, the plodding, gullible non-thinker dominates the society, and books and any intellectual thought are gone. Montag's wife, Mildred (Millie) is a semi-sympathetic character. At the start of the book, she has overdosed on sleeping tablets and has to have her stomach pumped: a common enough occurrence in this brave new world. However, you lose sympathy for her as the story progresses and she turns in Montag for having books. Montag's boss, Captain Beatty, is an intriguing character. You know that he has had exposure to books, because he quotes them in an attempt to show Montag the stupidity of books. It all collapses in the end. Mildred turns in Montag, and Montag is forced by his boss to burn down Montag's house with the books in it. However, Montag doesn't stop there. He also kills Beatty, becomes a fugitive, and sees the destruction of the city and society. Will things become better with the rise of the new phoenix from the ashes, or is society doomed to repeat its mistakes because it is unwilling to learn from them. I really enjoyed Fahrenheit 451, and I'm glad that I finally did read it. It does make me think what society will make of itself in the future as we become addicted to mindless video, either on TV or streaming on our computers. Definitely a book that everyone should read, think about, and discuss.
---
Sunday, July 11, 2010 -- Evening
Nominations and Intrigue
I haven't been commenting on the happenings in the Big Brother house, but it doesn't mean that things haven't been happening. Alliances are forming, Brendon and Rachel were the first to be nominated with Brendon winning the POV. Annie went up in his place.

The show was on this evening, and it picked up where it ended on Thursday with the food storage room locked. They were down to slop, which of course, no one likes. As Annie commented, paranoia was running rampant through the house. Andrew admits that everyone thinks that he is the saboteur. Brendon didn't look good either because he got up to get his toothbrush when the lights went out. The goobers are so stupid that they don't realize that it's probably not the most obvious person. Enzo and Andrew talked about the who the saboteur might be. Andrew likes and trusts Enzo, not realizing that Enzo doesn't trust Andrew. Andrew says that he thinks it's Brendon who is the saboteur, and everyone seems to thtink that the whole toothbrush thing was suspicious. I thought the funniest thing was when Brendon said that he had a master's in physics. Rachel admits that she has a chemistry degree and is a member of the American Chemical Society. Rachel and Brendon bonded over their love of science, and Rachel said that she fell in love with him then. Brendon thought that it was great to talk science with such an attractive girl. A group of folks were in the HOH room talking about who would be the saboteur. They thought that it might be Annie so she is on the list of people to target. The thought is to target a female saboteur candidate this week and a male saboteur next week.

Annie approached Ragan and told him that she has a girlfriend. Annie said that she felt comfortable sharing that with him. I think that she targeted the gay guy, so she could bond with him. Ragan told Annie how honored he felt that she shared her confidence with him. Rachel said that she wanted to encourage others to love chemistry. We see Brendon and Rachel chatting in the hot tub while Hayden looks at them suspiciously. Hayden said that it looks like a shomance, and that means alliance, so he's thinking he needs to target them. Enzo thinks that he can convince Hayden of what he needs to do. Enzo tries to form an alliance with Lane, Hayden, and Matt. Matt thinks that those guys have his back, and thinks it will be the strongest alliance in BB history. Enzo says that they will make BB history, and he thinks that he's the mastermind and organizer. Enzo comes up with nicknames for them. Lane is the Beast, Hayden is the Animal, Matt is the Brains, and Enzo is the Meow-Meow. They call the group "the Brigade." Lane says that he has no clue what a brigade is. Matt thinks that he should put up Brendon and Rachel. I'm waiting for the first crack in this alliance.

It's time for the Have and Have Not competition, and Andrew claims that he has to win because slop isn't kosher. The houseguests split into three teams. The first two teams to find eight teeth will get to eat while the other team is the Have Not. Monet thought that the caramel pool was incredibly sticky, and Brendon wound up losing his shorts. Matt found the first tooth to give the blue team the early lead. Brendon was second to find a tooth, bare butt and all. Pink quickly tied the game. Annie got the second tooth. The blue team was complaining because Kathy was looking too slowly for the tooth. Britney couldn't crawl though the caramel. The green team took an early lead with four teeth, with blue in second with three teeth. Pink only had two teeth. Britney was really stupid to get herself totally covered in caramel because that really slowed her down. The green team got eight teeth first, so Andrew, who was on green, didn't have to go on slop. Meanwhile, Kathy was stuck in the caramel, and acting like such a loser by making no effort to get out of the caramel. Blue lost the lead because of her, and pink finished second. Matt now thinks that Kathy is the saboteur because there was no reason for her to just give up. The Have Not bedroom looks awful with lounge chairs for bed, and it smells because of the jars of maggots. Kathy carries on like a simpleton. I really dislike Kathy. She gave up on the competition, and claimed she got so tired digging through the popcorn. Kathy said that Britney was the weakest and struggling, when Kathy was just laying in the caramel, and not moving.

In the morning, green X's appeared on Kathy and Britney's pictures. Andrew was the first to notice it. He ran to tell Hayden, and Hayden says it is so obviously Andrew. As if the saboteur would be stupid enough to call attention to himself. Kathy said that she was scared but played it off. The houseguests are so incredibly stupid. The saboteur tape plays in the living room, and he tells everyone to watch their back. Britney talks to Hayden about it, and Hayden said that he is trying to make a decision that would cause the least drama. Britney said that she would nominate Kathy, but she would vote for whomever Hayden puts up.

It's finally time for the nomination ceremony. Andrew is automatically safe because he didn't compete in the HOH. Annie got the first key, then Ragan, Enzo, Kristen, Britney, Matt, Monet, Kathy (who was looking on with bug eyes), and finally Lane. Brendon and Rachel are up because of the showmance, and Hayden's jealousy of it, and Brendon brushing his teeth during the lights out.

---
Thursday, July 8, 2010 -- Evening
Big Brother Returns
Big Brother started this evening. The contestants seemed interesting. Andrew is a podiatrist and a practicing Orthodox Jew. Rachel claims to be a chemist, although she is actually listed as a VIP cocktail waitress. The show started with the contestants getting their key and being told that they had an hour to get ready. I loved how Andrew took pots so he could keep kosher while he's in the house. Boy, I don't see Andrew lasting long! It's so interesting to hear all the schemes that the players have before they go into the house. Because they never manage to keep to their plans, or the others foil them. The twist this season is that one of the guests is the saboteur who is playing the game not to win the money. Rachel was one of the first to go into the house, and I thought that she would knock herself out with one of her boobs when she ran into the house.

Matt said that he's a Mensa genius with an intellect in the top 2% of the world. Monet commented on how Rachel had watermelons on her chest. As the group introduced themselves, they seemed really vapid. Rachel is the opposite of Matt and said that Andrew was wearing a Yom Kippur on his head. Andrew lied about his occupation and said that he was a shoe salesman. Ragan also lied about his career saying that he was a graduate student instead of already having a PhD.
Surprise of surprises! Julie had the houseguests gather in the living room and told them that one of them is not there to win the game. She tells them that is a saboteur in the house whose mission is to sabotage the game. If the saboteur makes it to the 6 week mark, he/she gets $50,000. If he/she gets evicted before that, he/she gets nothing. Kathy, as a police office, is curious about figuring who is the saboteur.

For the HOH competition, the houseguests had to split into two teams of six with one of them being the mascot. Andrew raised his hand to be the mascot, and that made Enzo suspicious that Andrew was the saboteur. Unfortunately, being the mascot, Andrew couldn't compete for HOH. Andrew started to rethink his decision when he had to dress up like a hot dog. Andrew did find out that although he couldn't be HOH, he was safe from the first eviction. That made a slew of the guys suspicious. Although I'm sure that the saboteur WANTS to be HOH. The competition had the houseguests holding onto a hot dog across a moat to either win money or if you are last across, HOH. Monet and Annie got the $10,000 on each of their teams. All the fun ended when Britney fell off the hot dog and hurt her leg. Britney got to go to the other side, and Kristen was brought back to try again. The red team was the first to get all their players across, and Hayden was the last player, so he was HOH.

America gets involved with the saboteur by suggesting things that the saboteur could do to the houseguests. THe lights went out. Brendon went to brush his teeth, and Andrew played pranks by making noises. When the lights came on, the storeroom was padlocked and the houseguests have to eat slop. Various people are thinking it was Andrew or Brendon, but I think that I suspect Matt. We will find out next Thursday.

---
Tuesday, July 6, 2010 -- Evening
Life Interfers
Life frequently interfers with a person's trival daily plans. In my case, moving and then the death of a friend have sidetracked life for me. It has made me philosophical. The move into the new house was an exhausting experience: packing and cleaning at the apartment, cleaning and unpacking at the new house. One of the things that I have learned is that tending a house and small garden is much more work than I initially though. I find myself trying to identify and unpack all the essential items. This in itself is a problem because the new locations for things aren't necessarily set in my mind. I find that as I unpack, I lose things. Sure, I put those treasured items into the most logical place, but a few days later, when I go in search of the item, I find that the location wasn't the most logical place. Sometimes hours are spent looking for something.

Death also takes a toll by bringing inertia. You must spend time learning to accept the news, turning it over in your mind to understand all the implications. Visitations must be made to share grief with others and to fulfill the obligations that culture and society places on one. Personally, I don't understand the funeral home experience. The family is basically taken advantage of financially by those who make money from death. I would much rather think it would be easier to cremate the dead person, and then just have one memorial gathering. Who wants to go and look at a dead body, looking nothing like life, dressed in clothes unlike those worn in life? I know that my recent experience has made me reevaluate life. Life should be embraced with joie de vivre.

I also find myself irritated and angry with those who would take their own life. I know that life can hand out some lemons, but suck it up and make lemonade. There are too many things to love to end it early. And in the case of some, there are dependents who should not be tossed aside like so many grains of loose rice.
Gonchar Goes to Ottawa
Big news that I missed last week was Sergei Gonchar leaving the Pens for the Ottawa Senators. The Pens tried to shore up defense with Zbynek Michalek, who is a defensive defenseman. Also added was Paul Martin on defense. Gonchar will be a loss because he was well-liked, and could be good offensively. However, the Pens have been suffering from a weaker defense. This should help Marc-Andre Fleury get into the groove, and hopefully, have a better season than this last one.
---