The Daily Bongo
July 2014
Thursday, July 31 2014 -- Evening
All Because of a Pickle
The eviction show started, and Julie made a comment about being hopeless romantic, but in this case, it was just hopeless. I heard that Caleb asked if he could talk at the eviction ceremony, but they told him that he could not talk unless Julie asked him a question. Amber did not like that Zach had something to say, but she wasn't going to let him get under her skin. Jocasta is crying, but people are telling her that Jocasta has the vote. Caleb, at that point, still believed that this was a test to see how Amber reacts. Amber goes into the Have Not room to cry. Amber goes outside to badger Frankie, and he claims that it is not personal, and that he didn't have a hand in this even though he is HOH. Frankie comments on how passionate Caleb can be. Amber goes to talk to Caleb about putting her up on the block. Caleb wants to read the bible to Amber, but she didn't want to hear it. Caleb said that Amber is talking to the girls, and that does not fit in with only talking to Beast Mode Cowboy. Caleb stands at the sliding door, staring at Amber. Then he goes and talks to Amber again in the hive room. Caleb tells Amber that everyone in the alliance wanted her on the block. Amber realizes too late that she wasn't thinking of herself. Amber claims that she would never put Caleb on the block.

Caleb then goes to cry to Frankie in the HOH. Frankie tells Caleb that he thought it was a good idea when Caleb came up with it. Frankie lets Caleb continue to believe that it was Caleb's idea. Caleb cries like a baby to Frankie because Caleb does not think Amber belongs on the block. Frankie said that he did not see this much cowboy crying since Brokeback Mountain. Then Zach asks Amber if she likes Caleb. Amber starts to cry, then she leaves the room saying she will be back in a little bit. Christine goes after Amber. Amber says that she does not like Caleb like that, and doesn't like that she is being forced to it. Amber tells Christine that she wants Caleb gone. Christine wants to talk to the guys to keep Amber so she can take out Caleb. Frankie is unsure about getting rid of Amber to Christine, but then Frankie says in DR that this will be the nail in Amber's coffin if they tell Caleb that Amber is after him. Caleb is in HOH saying at the end of the day for the thousandth time. Caleb says that he trusts Amber and wants to keep her. Frankie tells Caleb that Amber is after him because Caleb is ruining her game. Caleb is irate, and he storms out of the room. Caleb flings Amber's bunny slippers off of his feet. Rolling my eyes. Shaking my head!

In the living room, Julie offered condolences to Derrick. Julie asked Zach about his outbursts, and Zach says he hates everyone, and it is what it is. Nicole said that she was not mad at Zach for his Froot Loop dingus comment. Caleb says he's metro because Frankie is rubbing off on him, and that Caleb wore the bunny slippers because they were Amber's, and he was cold. Derrick read the Team America challenge to vote against the house, and then publicly blame two others. Derrick goes to wake up Donny to tell him, then Derrick goes up to tell Frankie. Donny says that this would blow up his game. Donny's not into the calling out part. he's okay with the vote, but the call out can ruin Donny's game. Derrick agrees, but I know from the feeds that Frankie told Derrick he wanted to get rid of Donny because Donny wouldn't do it.

It's time for the live voting to begin. Amber goes first and sounds very emotional. She thanks her family, and says she loves them all. She said that she's a very honest and loyal player. Jocasta praises god and calls out to her family. She wants to fight it out, and says she will continue to pray for them every night. The vote:
Hayden evicts Amber
Victoria evicts Amber
Donny evicts Amber--he tells America that it's sorry about the mission, it's too risky
Derrick evicts Amber--saying Donny made it clear that this mission was too risky for the game
Zach evicts Amber
Caleb evicts Amber
Christine evicts Amber
Cody evicts Amber
Nicole evicts Amber
As is usual anymore, the house votes together, and Amber is out. Amber goes to leave, and she tells everyone she loves them. Amber tells Julie that she was not interested in Caleb, and she was not going to pretend that she was just to win some money. Amber said that she wanted to see this year be the girls rallying against the guys. Amber said that she did not consider blowing up anyone's game, and said that showed how she played her game. Julie asked about Caleb's one sided relationship, and Amber said it affected her game. Amber says that she at least wants her bunny slippers back. Amber said that she thinks Cody betrayed her most because she was like her brother. Zach says that he thought Amber was after him. Christine says that she has been part of the Detonators, and they are after Caleb next. Donny says that Amber reminds him of being home. Amber cries. Caleb says that he is still the king. Amber thinks Zach is the villain of the house, and Donny is running the house. Amber says that she will NOT be Caleb's date to the finale.

Julie mentioned that the videos that the house guests viewed yesterday will be clues to the competition today. Donny notices it first, and then calls everyone over. They laughed at the video loops of the various competitions. Now time for the HOH competition. The game is called Getting Loopy. Julie asks a question about the video, and they have to answer true or false until they crown two new HOHs. First: Paolo had on a blue outfit. True. Everyone got it. Question 2 was true, and Jocasta is first out. The third question was false, and everyone got it. The fourth question was false, and everyone got it. Fifth question was false, and everyone got it. The sixth question was true. Christine, Derrick, and Victoria got it wrong. The seventh question was true. They all got it right. Question eight was false, and they all got it. Question nine was false, and everyone got it right. Question ten was false, and everyone got it right. Question eleven was false, and Cody got it wrong. Question twelve was false, and they all got it right. There is five, and they ran out of time. We go to commercial break with Zach, Nicole, Caleb, Donny, and Hayden still in the running.

Wow! We won't get to see who wins HOH. We'll have to wait to see it on the feeds tonight.

---
Thursday, July 31, 2014 -- Afternoon
Catchup on POV Show
I'm finally getting a chance to catchup on last night's BB show. However, the Team America challenge came through last night, and it's for the Team to vote against the house, but blame it on someone else. When Derrick told Donny, Donny was not interested in doing it. As Donny said, he came to play the game for himself, and not for America. However, Frankie is a money grubbing, self-centered, egotistical schmuck, and he is trying to force Donny into it. I was thinking that I would like Frankie, but in the past week, his ego, and head, have exploded in size. They need to get that kid out now. Frankie says that they can blame Zach and Caleb. Poor Zach is really being thrown under the bus by his chum. If Donny doesn't do it, Frankie told Derrick that they should target Donny next week.

Now onto the show. The show started right after the Battle of the Block, and Frankie says to Zach that two week players are competing for POV. Frankie wants to backdoor Amber, and says that he needs to get Caleb onboard. Zach thinks that he and Frankie are tight (HA), and that Amber has to go. Nicole and Christine celebrate winning the Battle of the Block. Elsewhere, Victoria is crying, and saying how much she hates Jocasta. As Victoria says in DR, it was all Jocasta's fault. Jocasta calls Victoria a toddler, and then tells Victoria that it is all good. That's because Jocasta thinks that Victoria will go out before here. In the HOH room, Zach talks with Cody and Frankie. Zach says that he needs to irritate people, so he plans on going downstairs to eat in front of the have nots, Christine and Nicole. Then Zach asks if they want Starburst or beef jerky. Nicole makes a comment about eating slop, and Zach says, that's what you get for being lazy. Up in HOH, Cody is telling Frankie that Zach put up on of his alliance. Frankie says that if Zach runs around attacking the villagers, they may decide to revolt. Cody thinks Zach will blow up everything.

Frankie tells Zach to calm down so everyone doesn't start asking Frankie to put up Zach. As Frankie says, he wants to get Zach to explode, but at the right time so Frankie gets money from Team America. I really hate that Team America crap. Nicole does a strip tease to get rid of her germitard. It looked very awkward, but Hayden said he wouldn't have it any other way. Hayden says that Victoria is alone in the house. So he goes up to Victoria, and asks if she will pick him for the POV if she gets house guest choice. Nicole sees it going down and thinks that Victoria and Hayden are making out. Hayden sees it as a vote for him and Nicole. Nicole says that she wants to know what is going on because she likes Hayden and wants to know what is going on. Hayden of course tells Nicole that he he kissed Victoria, and Nicole believed it.

Then we found out that Derrick's grandfather died. He came out of DR, gave the others the letter, and then said that he had to go off and be by himself. As Derrick says, getting this news is really difficult. Derrick says that the worst is not being there for the funeral. Derrick goes into the Have Not room to cry by himself. Unlike the Frankie show, Derrick just kept quiet.

Amber is cleaning something in the kitchen, and Caleb goes to talk to her, and Amber ignores him. Caleb doesn't know why Amber is ignoring him because they had a really good date! (HA) Caleb claims that he doesn't care anymore, then BB shows Caleb talking on and on about Amber. Caleb tries to call himself Beast mode Cowboy. Then Frankie and Zach are in the HOH bed, and Zach is giving Frankie a back rub. Zach says that if he was gay, Frankie would be his guy. Frankie says that Zach is petting Frankie to sleep every night. They are a nice couple.

Time to pick for the veto competition. Jocasta wants Donny to play so he can win for her again. Frankie picks Donny. Victoria gets house guest choice, and she picks Hayden. Nicole doesn't like that. Jocasta picks Christine. Christine does not like that the Detonators put her up. Christine plans on winning to show that she can. (HA) Amber tells Frankie that the nominations should stay the same because only Donny can go up, and she doesn't like that idea. Frankie says in DR that Amber should not worry about Donny going up because it will be Amber.

Caleb goes up to the HOH room because Amber isn't talking to him. Frankie says that he'll take care of Caleb. Caleb says no more romantic cowboy in this house.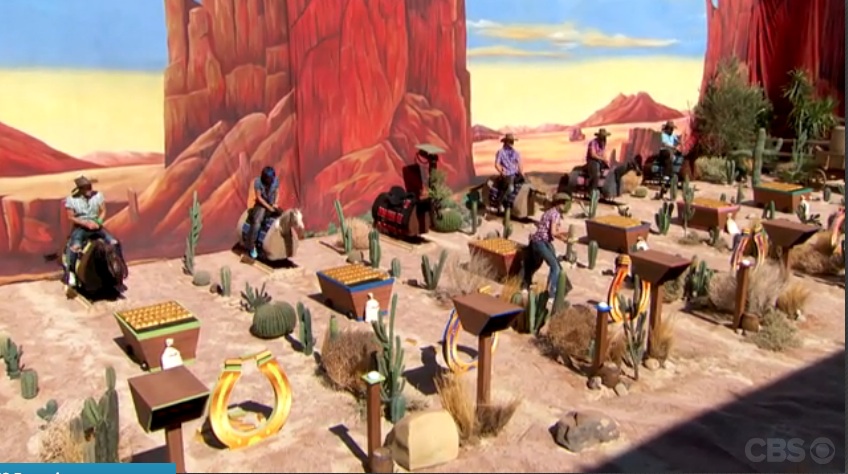 Time for the Veto competition. The backyard is converted into the wild west. Donny really thought it looked realistic. They have to get on a horse, rock it forward and back for 60 rocks, then they have 30 seconds to dismount and stack 50 gold bars on top of their horse shoe. They have to get back on the horse before the 30 seconds times out. If it does, they are out of the game unless they agree to eat slop for a full week. So as the 30 seconds wind down, they can run back, and get 30 more seconds. Victoria claims she won last week instead of Caleb being too stupid to take the veto. Hayden wants to pull it off and win. Christine wants everything to stay the same. Jocasta stacks her blocks stupidly, and half of them fall as she runs to get back on the horse. That girl is a waste of space. Frankie talks about how his nether regions hurt. It seems he rubbed himself raw. As Zach says, Donny was not rocking as hard as the others, and he was hoping that others would win so it would end. Jocasta did not watch the clock and ran out of time so she had to take slop. Frankie had 40 bars up when he knocked them all down. Victoria is not aware that she is in a competition. Jocasta claims that Satan was knocking down her blocks. Christine buzzed in first, but she didn't realize that she left a bunch of bars on the ground. Idiot! So Hayden won. Hayden was excited that he got the job done. Jocasta says that she has to focus now on how to stay in the game. Frankie hopes that Hayden will use the veto on someone so he can backdoor Amber this week.

In the HOH room, the guys ask Hayden about the veto. Hayden says that he is using the veto on Victoria. Frankie says that he has to get Caleb on their side. Hayden doesn't have a problem with it, because it's not one of his folks, like Nicole. Zach says that the showmance that never was is on the rocks. As Zach says, he smells blood in the air. Zach asks Amber why she broke up with Caleb, and she's pissed. Zach runs down and tells Caleb that Amber said Caleb is blowing everything out of proportion. Caleb is feeling pissed off, and he thinks that he has to give Amber a good scare and get her back in line. (HA) As Zach says, it is too easy to get Caleb to agree. Caleb goes up to talk to Frankie, and says that Hayden should use the veto on Jocasta and that this will get Amber back in line. Caleb says that he's running the game, so this will be the opportunity to bring her in line. Frankie doesn't realize who is more clueless, Caleb or Amber. The plan was that if Amber blew them up, they would send her home.

We had a blurb for the Team America vote to either put in votes against the house, or to get people to throw the competition in their favor. As we know, the vote against the house won. I don't think they will be doing it though based on action from the live feeds.

Frankie calls up Derrick and Donny to chat in the HOH. Frankie told the pair that they don't need to have two people have a heated argument. Frankie tells Donny that Amber will be backdoored when Hayden uses the veto, and that Zach will go and attach Amber. Donny asks for no details because he wants to be surprised. As Donny said, it will be very entertaining.

Hayden used the veto to take Victoria off the block after giving them both the chance to talk. Jocasta praised god, and said that Hayden wasn't her target. Victoria says that she showed she is a competitor, who knows how. Frankie claims he didn't know that would happen. Frankie nominated Amber. Zach looks agape. Zach then says he wants to say something really quick. Zach says that he can't be happier that she is on the block. Zach goes into the whole these are all the things that Caleb has been doing for you, like eating the pickle. The mission failed because Amber didn't say anything. Caleb's face was turning red.

---
Monday, July 28, 2014 -- Afternoon
The Zach and Frankie Show
I missed Big Brother last night, but I caught up this afternoon. Nicole couldn't be happier for Frankie, but she's worried about Zach because you don't know what he will do. Derrick reiterates that Zach is a wild card. We get more tender music, and Frankie crying, while people say they had to give him the HOH. Really? They should not allow the outside world to intrude into the game because then crap like this happens. Cody and Zach celebrated in the pantry. Jocasta talks to Donny. Jocasta thinks that she will be put up with Donny. Donny realizes that he can go up there because they seem to be picking him, Victoria, or Jocasta. Frankie celebrates with Zach in the hive room (looks like a honeycomb with seats). Frankie calls them Zankie. Frankie wants Zach to get blood on his hands. Zach doesn't care because he loves the Zach Attack. Zach wants to send Amber home, and get blood on his hands. Zach then talked to Caleb, still looking all made up with his mascara and blush. Yep, he does do that. Caleb does not want Amber to go up. However, Caleb thinks that Amber is getting too big for her britches, and forgetting who is keeping her in the game. Mainly Caleb wants Amber kissing his ass. Caleb tells Amber that Zach thinks that Amber is out to get Zach. Amber tries to pin the blame on Donny and Jocasta, but it wasn't them who told Zach that Amber was out to get him.

Blah! HOH room reveal. Zach shows everyone pictures of his little brother. Then we got to see pictures of Frankie's grandfather. Then Frankie goes crazy over getting Justin Bieber music. Frankie talks to Christine, and they agree that Zach is crazy. Zach tells Christine that he wants to nominate her with Amber and have Christine throw the competition. Christine refuses to throw the competition. As Zach says, Christine brings nothing to the competition, and he's pissed in DR that she does nothing for the alliance.

Now we find out about the pickle thing. Amber was eating a pickle, and Caleb said that you could not pay him to eat a pickle. So Amber said that she would go on a date with him if he ate a pickle. He ate the pickle, calling it the nastiest thing ever in his mouth. Now as Amber says, she doesn't know how to get out of the date, and she wishes that she had kept her mouth shut. Caleb calls himself a helpless romantic. BB makes the date look lame and awkward. Caleb had the guys help him drag chairs near the pool. Then Caleb kept on talking about stuff while Amber was looking over at Cody playing pool. Caleb wants her eyes on him. In DR, Amber says that was her first and last date with Caleb, but that he doesn't realize it. Cody worries that Amber can't be put on the block, and Zach asks why. Cody says because it will blow up the Bomb Squad, and Zach says to who? Victoria? Good one! Cody realizes that Zach is like a lit firecracker. Frankie says that he would put up Donny, but he didn't want to. As Zach says, people who don't pull their own weight should be put on the block. Frankie says that Zach looks like a monster to Frankie. Zach says that he is looking after himself.

Zach really likes Nicole because she is extremely gullible. Zach tells her in a perfect world, he would put up Christine and Amber, and have Christine throw the competition. Zach asks Nicole that he has things he can't tell her. He then starts talking about how much Nicole trusts Christine. Nicole denies that she is in an alliance with Christine, but Nicole gets paranoid and confused, and goes to talk to Christine. Nicole says that she wants to confide in Christine, and Christine tells Nicole that Zach is nuts and claims there is no alliance. Nicole says that her heart would be broken if Christine has been playing her this whole time. NIcole is so gullible!

Derrick and Cody play pool, and talk about what a great game they are playing together. Derrick tells Cody that he whole heartedly believe that he and Cody wil make it to the end. Derrick says that the alliance is too large: Zach unpredictable, Frankie charismatic and sly, and Christine, floating, but methodical. Cody and Derrick try to come up with a name for their alliance of two. Derrick comes up the Hitman. Donny gets the Team America mission of having two house guests have a heated argument at the nomination or veto ceremony, and it has to last 20 seconds. This has since changed as we know on the feeds to just have someone go off for 20 seconds. How lame!!

Zach starts prepping his speech for the nomination ceremony. Zach calls Christine a floater, and Frankie and Derrick see this a way to complete the Team American mission. Amber admits in DR that Zach is her target. Amber goes into the HOH room to talk to Zach. As Zach says in DR, thanks for getting me up at 5 a.m. to discuss this. He says he will backdoor her, which is the plan.

We now get the nominations ceremony. Frankie nominates Jocasta and Victoria. Zach nominates Christine and Nicole. Zach is ready to bathe in blood he says. Frankie says that he did it because it is strategic because by nominating people he already put up, he doesn't get any additional blood on his hands. Zach says that Christine because of her floating. For Nicole, Zach says that Nicole looks looks so cute in her germatard. However, the girls don't argue with Zach, they laugh! Christine says she is pissed off in DR. Nicole is laughing hysterically, and Zach says "no hard feelings I guess." Nicole was surprised to be called a Froot Loop dingus. Nicole says her feelings are hurt. Then after laughing, she starts crying. Amber, Jocasta, and Hayden go to comfort Nicole. Christine talks to Zach about telling Nicole not to trust Christine. Christine says that she is upset only over that. Victoria and Jocasta talk, and Jocasta claims that she is going to win. As Jocasta says, she needs to get Victoria to win the competition. Because Jocasta can't compete.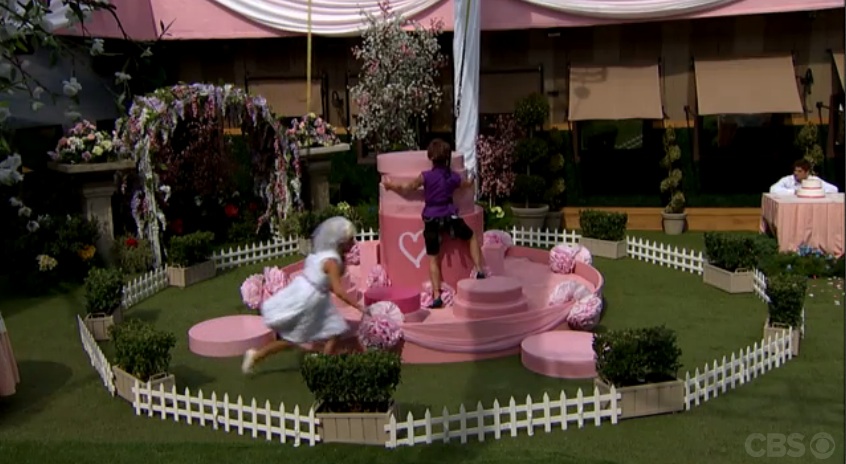 Then Frankie talks to Nicole and Christine, making it about Frankie. Frankie throws Zach under the bus as only a good BB best friend would. Blah!

For the Battle of the Block, the backyard has been made into a wedding celebration. The pairs have to build a giant, stable wedding cake. Then they have to climb it and stand on the top for three seconds. Victoria and Jocasta are doomed! Nicole grabbed the pieces while Christine stacked them. Christine and Nicole seem to be on the same page. Jocasta is upset because she told Victoria they have to alternate hard and soft. Zach is cheering for Victoria. Christine and Nicole start climbing. So do Victoria and Jocasta, but their tower is falling apart, and they fall. Christine and Nicole easily win. Zach says his reign as HOH may be over, but he gets to play next week. Jocasta talks about winning the veto. HAHAHAHAHAHA!

---
Sunday, July 27, 2014 -- Evening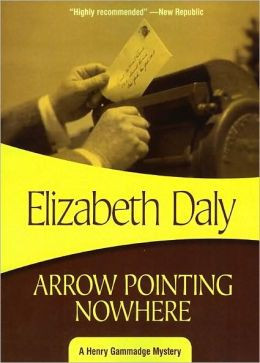 Arrow Pointing Nowhere by Elizabeth Daly
I just finished Arrow Pointing Nowhere by Elizabeth Daly. This was an interesting tale, with Henry Gamadge receiving a coded message delivered in a suspicious way. A crumpled ball of paper was thrown out of the window off the Fenway's house in New York City, and a suspicious mailman who saw a crumpled ball of paper in the same place every day, picked up the paper. After some investigation, Gamadge figured out that someone was in trouble in the Fenway house, but wasn't able to get out to communicate openly with Gamadge. When Gamadge finagles an invitation to the house, he finds the atmosphere thick with tension. Mr. Blake Fenway admits that a shipment of books had arrived from his country estate, sent by Hilda Grove, the niece of a woman who was a companion to Fenway's disabled sister-in-law, Mrs. Fenway. The book had views, or pictures, of estates, and the one of the original Fenway estate, that had been torn down, was missing. As Gamadge goes to leave, Mr. Mott Fenway, secretly talks Gamadge into coming back later in the evening to secretly look for the missing picture. Mott suspects that Mrs. Fenway's son, Alden, suffering from mental retardation, now intellectual disability, ripped out the picture. They fear that Mott and his niece, and Blake Fenway's daughter, Caroline are suspicious that Alden ripped out the picture, and perhaps killed Caroline's pet dog. Of course, they are also suspicious of Craddock, a young male friend of the Groves, who has been injured in the war, and is taking care of Alden. Gamadge agrees to come back, but first, he heads out to the country to talk to Hilda, under an assumed name. When Gamadge returns to town for his rendezvous at the Fenway house, he arrives to find that Mott Fenway had fallen from his attic room window. Gamadge suspects that Hilda Grove might be in danger, and his associate gets into the country house to find a booby trap set to possibly kill Hilda. There is more murder and surprise before the book ends, and I don't want to ruin the mystery by disclosing too much.

I enjoyed reading Arrow Pointing Nowhere, and i thought the mystery was much stronger than Evidence of Things Seen. Arrow Pointing Nowhere was published in 1944, and there are references to WWII and the shortages in gas and other items. I did not figure out the mystery, and I was surprised at the twist at the end. Unfortunately, I might not get much opportunity to read more Elizabeth Daly, but I will keep my eyes open for her books.

---
Thursday, July 24, 2014 -- Evening
Eviction and New HOHs
Time for the eviction and HOH show. The show started with Donny talking about Cody assuring Donny that Donny would not go up. Brittany said that Donny has been by her side this whole time, and she hates knowing she has to campaign against him. Meanwhile, Cody is crying and angry in the HOH room because he put up Donny after promising not to. Also Cody does not believe that Donny should be on the block. Derrick and Frankie tried to tell Cody that this was the best move. Frankie runs over to assure Donny that Donny has Frankie's vote and everyone is out to get rid of Brittany. Then Donny talks to Derrick. Derrick feels terrible about Donny too. Derrick also tells Donny that he is safe. Donny is suspicious that Derrick is the kingpin and behind Donny going up. Cody talks to Donny about the nomination. Donny says that being a Big Brother fan, he knows that pawns go home. Donny tried to fish for information about the bigger alliance with Cody, but could not get information. Then Brittany talks with Caleb about Donny being a bigger threat her. Caleb thinks that keeping Brittany is safer for his game than Donny. Caleb then goes talking to the others about how Brittany should stay because she fought harder. Caleb really campaigns to get rid of Donny. I'm not a fan of Caleb. He's a real jerk and psycho.

We then had a segment about Frankie's grandfather dying. Frankie gets the letter in the DR, then comes out and tells the other, crying. Brittany read Frankie's letter out loud to everyone. Frankie's grandfather, also named Frank, died of cancer. Frankie then told stories about his grandfather, and how his grandfather was the first to accept Frankie being gay. They all gave Frankie a group hug.

They go to the living room to talk to the house guests. Frankie gets condolences from Julie. Caleb said that he needed the money more than the veto. Zach was glad that he got the trip. Cody said that coming up with the replacement nomination was the hardest thing. Then they find out that the have nots are based on lack of activity with the fitness bracelet. They are Nicole, Caleb, Christine, and Derrick.

Then we get a segment on Nicole and Hayden. We got the typical interviews with the family about how wonderful they are. Then we saw some kissing in one of the beds.

Brittany and Donny get to make a speech. Brittany says she's a professional being there three times. Brittany says that she has never given up. Brittany asks for one more chance and acknowledges that Donny stood beside her. Donny thanked God for playing BB, and that he loves his family, and there is a special place in his heart for each and every one of them. Donny also blesses America. Time for the vote:

Jocasta evicts Brittany
Nicole evicts Brittany
Hayden evicts Brittany
Amber evicts Brittany
Derrick evicts Brittany
Caleb evicts Brittany
Christine evicts Brittany
Victoria evicts Brittany
Zach evicts Brittany
Frankie evicts Brittany after thanking Julie Chen for the condolences
Brittany is out. Julie asks about the landslide vote against her. Brittany said that there are a lot of people in there who are just scared, and want to stay in the house. Brittany thought that she was a target three times because it was easier to put up the same people all the time. Time for the good-bye messages. Zach said it was better to get rid of her for his game, and he didn't care if he didn't see her. Jocasta said it was hard for her, but Donny saved her. Hayden said that Brittany is unpredictable. Donny said that he hoped she did get the message because otherwise it would be him. He said he is going to miss their nightly ice cream dates. For a first, CBS brought Brittany's three kids on the stage to say hello.

Time for the HOH competition. It's a two at a time competition based on pervious competitions. They will hear a song, and have to determine if it is about HOH, Battle of the Block, or POV. The person who wins pick the next two to face off, etc. If not one buzzes in, both are out. Christine goes against Hayden and gets HOH for the song, and wins. She picks Donny and Jocasta. Donny got Battle of the Block first. Jocasta is out. He picked Frankie and Caleb to face off. Frankie quickly got Bottle of the Block. Caleb is out. He then picked Amber and Victoria. Amber guessed that it was the POV competition, and got it right. Victoria is out. Amber picked Donny and Derrick. Derrick guessed HOH, and got it. Donny is out. Derrick picked Zach and Nicole because they did not go yet. Zach beat Nicole to the POV competition, and Nicole is out. Zach picks Amber and Christine. Christine picked Battle of the Block, and knocked out Amber. Frankie and Derrick are up next. Derrick asked Frankie if he wanted to see his grandfather, and Derrick did not buzz in. Frankie is the first HOH. Zach and Christine were up next, and Zach got Battle of the Block. Zach is the second HOH.

Derrick said that he gave Frankie the win because some things are bigger than the game, like Frankie seeing a picture of his grandfather. The next task for Team America is to play puppet master and get two house guests to get into an argument at either the nomination or veto ceremony.

---
Thursday, July 24, 2014 -- Afternoon
POV Show
Now for catchup on last night's show. The show started with the post Battle of the Block ceremony. It seems the gibbering that Jocasta was doing was talking in tongues. That woman is a whack job! Cody is hoping that things don't go wrong with the POV. Frankie is glad that Brittany is still on the block and the target. We now see Zach talking to Brittany. Brittany claims that everyone is acting as if she is shunned. Brittany said that she trusted Cody, and that got her on the block. Zach says that there is nothing Brittany or her boobs can do to save her. Brittany says that she is alone. Victoria is telling Hayden the same thing: does not trust and all alone on the game. Victoria doesn't seem to understand that she is on the Big Brother reality show.

Next we see Cody and Brittany together in the HOH room. Meanwhile, Caleb goes around creeping in the hall, crawling so he can be in stealth mode and not seen by the HOH cameras. Caleb hates seeing Cody with his hands on Amber. Caleb leaves pissed, and the others in the HOH room comment on it. Caleb then talks to Zach about how he hates Cody having his hands all over Caleb's woman. Zach says in DR that Amber is not interested in Caleb, and Zach is going to relay the whole conversation back to Cody ASAP. Caleb is out in the backyard being pissed because Amber does not appreciate him. Caleb said that for the past week Amber has been all over Cody. Brittany says that the reason she has not been after Cody is because all the other girls are after him. Caleb says that he is evicting Victoria because she doesn't do anything. Caleb tells Brittany that she can talk to him anytime.

Up in the HOH room, Zach tells Cody that Caleb is upset with him. Cody says that he doesn't care Caleb has been creepily obsessed with Amber. Frankie says that Caleb is alone in the game, so that means it's not that bad. Cody does not like that Caleb is after him.

Time to pick for the POV. Cody picks Zach. Victoria picks Nicole. Brittany picks house guest choice, and she picks Caleb. Cody does not understand why Brittany picked Caleb, and suspects they are working together. Brittany claims it is because Caleb looked yummy in his shirt. Barf! Caleb tells Cody that Brittany picked Caleb because they were talking in the backyard.

Time for the POV Competition. The backyard is setup like a soccer stadium. The house guests got to find out that Germany won the World Cup. In each round, they use a mechanical foot to kick a soccer ball on a numbered grid. The person with the lowest points in the round is out. That person gets to pick a prize. It's the typical the person who gets out after the first one can take any of the previous prizes. The veto is one of the prizes. Cody was the first out with a 4. The sixth place prize is the veto. Brittany doesn't get it on the grid and gets a zero in the second round, so Brittany is eliminated. Brittany gets the fifth prize, which is a penalty kick. She exchanges it with the veto. Now Cody has to give himself ten kicks in the butt with the mechanical foot whenever the whistle goes off. Zach is out next, and his fourth round prize is a trip to Germany. Zach says he'll take Frankie. NIcole is out next, and the third place prize which is to score 2400 soccer goals in 24 hours. If she doesn't do it, she will not be able to compete in the next POV. Nicole trades it for the POV. Final round: Caleb versus Victoria. Victoria misses the grid and gets a zero. Caleb just has to make the grid. He gets the 50. Victoria get the second place prize which $5000. Victoria trades Nicole for the $5000 and gets the veto. Caleb gets the germitard. Caleb trades for the money. When he does that, Nicole says "are you serious?" Donny says to Hayden that Caleb is not a team player and a dumbo. Donny hopes that Cody nominates Caleb to go on the block. Victoria is happy with the veto. Even Brittany can't understand Caleb taking the money. Cody is really mad at Caleb for his stupidity. Cody thinks that Caleb looks good as a replacement.

Frankie goes up to the HOH with Cody and Zach. Cody says that Caleb should go on the block, and he thinks that might be the best for his game. Even though Frankie agrees that Caleb was dumb, he is an ally, and Frankie wants to stick to the plan. Brittany realizes that she is through with the game. Brittany seems to be really bad at making the net, which is really close. Then Cody has to give himself kicks in the butt. Nicole then gets a germitard, which is basically lederhosen. Brittany thinks making little kicks is SOOOO difficult. Baby! Donny talks to Hayden and Zach about putting up Caleb because it would be great to get Caleb out of the house. Zach really likes that because Caleb is a liability.
In 12 hours, Brittany only had 1000 kicks. She was whining that her toes were broken. Donny is trying to comfort Brittany, but she's just whining about how hard is to do this. Donny, NIcole, and Hayden start to cheer Brittany on. They all line up as she makes her 2400 kick.

In the HOH room, Zach tries to talk Cody into putting up Caleb. Derrick says that Caleb would go home if that happens. Derrick says that Donny should go up. Cody says that not putting up Caleb is good for everyone else's game. Cody also says that putting up Donny is good for everyone else. Derrick says that Brittany and Amber forming a girls alliance is more dangerous than Caleb.

Donny and Cody talk. Donny tells Cody to do what is best for Cody's game, not what everyone else wants. Donny says that if he goes up, he won't hold it against Cody, he will hold it against them. Cody said why does Donny have to go on the block when Caleb doesn't care about his game. Cody goes out and tells Frankie, Nicole, and Hayden that he is going to put up Caleb. Frankie says in DR that this is a bad move. Frankie then goes to talk to Derrick in the have not room. Amber comes in, so they leave. Derrick says that he has a matter of minutes to convince Cody to put up Donny. Cody says that he is so pissed he is in this position because of Caleb. Derrick says that Caleb will not put up the guys. Cody is upset that they want him to put up Donny, who has done nothing to deserve it.

Time for the POV ceremony. Will Cody put up Caleb who sold him out for $5000, or Donny and lose Donny's trust? Victoria takes herself off. Cody puts up Donny in Victoria's place. Donny says that he thinks Cody did it because of other people in Cody's ear. Brittany is going to try to campaign against Donny. Frankie says it sucks for Team America, but it will be fine.

---
Wednesday, July 23, 2014 -- Afternoon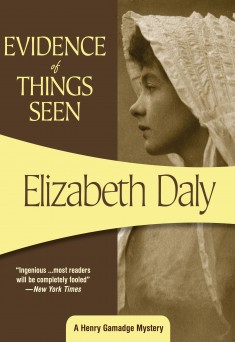 Evidence of Things Seen by Elizabeth Daly
I was reading something on one of the mystery blogs recently, and it mentioned that Agatha Christie liked the writings of Elizabeth Daly. Elizabeth Daly was an American mystery author who was a contemporary of Christie. In recent years, Felony and Mayhem has reissued the Daly mysteries, which feature Henry Gamadge, a gentlemen sleuth. I thought I would check out some of the books at my local library, just to see if I liked the books. After all, I've never read Daly. Well, I found out that it's incredibly difficult to find Daly's books in my library system, which is quite a large one: Carnegie Library of Pittsburgh. I was able to get two of the recent books in reissue. They have a few others in large print, and I think that I might have to resort to those to read more.

Evidence of Things Seen,written in 1943, had an interesting supernatural plot, so I started with it. Henry Gamadge is off working for his country during World War II. His wife, Clara, goes off to spend the summer in a rented cottage with some family friends. Gamadge is to join them when he is done with his work. Well, the friends are delayed, and Clara is alone in the cottage with her help, Maggie. They both start to see a mysterious figure who approaches the house, but never quite comes close enough to talk to. Clara and Maggie start to think that it's the ghost of a woman who died in the cottage a year earlier. What adds to the ghostly feeling is that the woman renting the cottage is the sister of the dead woman, and she appears to be unwilling to enter the house. On the Fourth of July, as the Clara hosts some local neighbors, The sister, Alvira Radford, winds up getting hurt in a carriage accident, when her horse is spooked by what appears to be the ghostly appearance of Alvira's sister. Clara helps get Alvira into the cottage, and calls the doctor. Meanwhile the neighbors, the Hunters, come for dinner. Alvira's ankle is broken, and she can't be taken back home. While Alvira is sleeping due to a morphine shot, Clara and the Hunters take up a watch over her. Fanny Hunter goes first, and Clara replaces her. While Clara is sitting beside Alvira, a previously blocked outside door opens, and the spooky sister seems to appear. Clara keeps her eye on the image and calls for help. When Phin Hunter answers Clara's cries, he says that Alvira is dead! Strangled! Did the ghostly sister somehow kill Alvira, possibly in revenge for Alvira murdering her. The finger of blame seems to point at Clara, and fortunately for her, Gamadge, finishes his job and comes to her aid.

I have to admit that like Gamadge, who admits he knew who the murderer was when he first heard the story, the murderer was quite obvious. Don't get me wrong; the story was entertaining. However, the mystery wasn't very complex. Clara comes across as a weak person who needs her husband to help her. She even seems to be mindless to a degree. When Gamadge suggests going back to the cottage, she says that she will do it if he wants to go there. I'm going to start on the second books Arrow Pointing Nowhere to see if the solution to the mystery is as obvious as it was in Evidence of Things Seen.

---
Monday, July 21, 2014 -- Afternoon
HOH Show
I wasn't at home last night, so I'm just catching up on the latest Big Brother episode on my DVR.

We got to see the HOH competition. Frankie and Cody were into it. Frankie tried to get Amber into getting the HOH room. Donny said that he had to win. Victoria seems to be completely incompetent in the game, and so is Caleb. Caleb claims he has big man hands. Brittany and Jocasta seem to be working well together. Frankie and Cody then decided to put two eggs into play at all times to get caught up because they keep on hearing how good others are going. Victoria keeps on dropping eggs. Donny said that Derrick was coaching Cody and Frankie. Donny wondered where his love was. Victoria was extremely incompetent at the game, and they showed a montage of the house guests making jokes at her expense. Amber did not like that Devin controlled her game last time, and she wants HOH again. Amber and Zach had 11 eggs and were neck and neck with Frankie and Cody. Cody and Frankie just beat out Amber.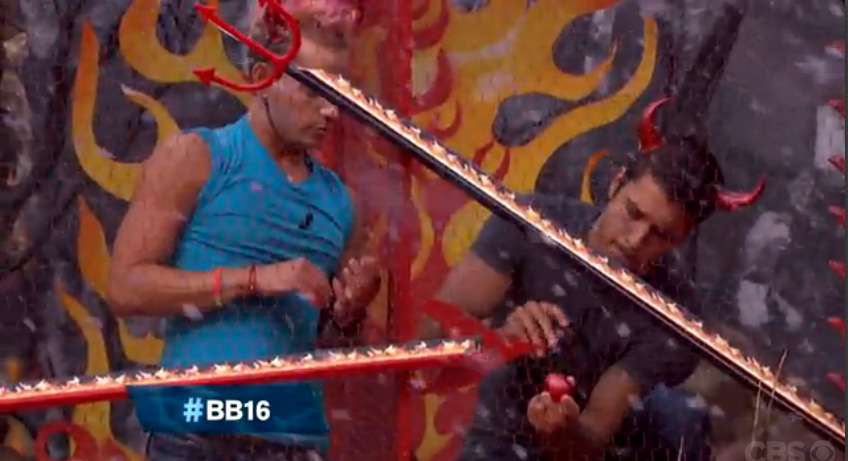 Cody said that he has been catching weird vibes from Caleb, and he doesn't have ta set target this week. Derrick wants to hold on to the numbers that they have. Zach goes to talk to Frankie, and both say they are safe this week. Brittany and Donny talk. Neither feel safe from the block. Brittany believes that she will be up on the block because she is not part of the Bomb Squad. Donny tells her to put his happy face on. Donny said that Frankie is in Team America with him, and Cody is a friend, but that means nothing.

The house guests go to see the HOH room. Frankie was glad that this picture he got had his sister, Ariana Grande as a child with skeleton makeup. Cody heard from his dad. Frankie got a letter from his sister, and he cried. Frankie cries during his letter. Zach, Cody, Derrick, Frankie, and Christine admit that Caleb and Amber are outside of the alliance. They decide that they are the five who will go all the way to the end. They call the alliance the Detonators. Derrick came up with the name. Christine says that she has gotten into two alliances because she just happened to be in the right room at the right time. She's the only girl out of the five, and she'll be the first to go.

Hayden, Zach, and Frankie talk about how Zac Efron is the man. They have a man crush on him. Donny sat there and joined them. Donny seems to barely know who Zac Efron is. Hayden likes Leonardo DiCaprio. In the DR, Frankie gets the Team America mission of getting a physical threat on the block. Frankie says that's going to be hard because Frankie is aligned with every physical threat in the house. They decided it would be Amber because she is the strongest woman. They have to get Donny to agree. Derrick tells Donny that Amber is the strongest physical threat, even though Donny tried to say it should be a guy.

Brittany talks to Frankie about how all the girls are throwing themselves at Cody, and how she is the oldest girl in the house. Brittany goes and tells Cody that Brittany told him that Cody would put her up. Cody is offended that he would make his nominations based on which girls go to his room. He calls it a high school response. Brittany is in the kitchen, and she says that she can't sleep. She says that she's over it. Brittany says that she can't deal with the fakeness and lies. Cody says that he is friends with Brittany, but he's insulted. Brittany doesn't make her case by being bitchy to Cody.

In the HOH room, Frankie is in bed with Caleb while Cody is in bed with Brittany. They had separate bedrooms, and Caleb gets pissed that Amber closes the door to the second HOH room. Cody said tells Amber that Caleb won't like it, and Amber claims that she is not interested in Caleb at all. Frankie asks Caleb how he feels about Frankie putting up Amber. Caleb thinks that Amber is trying to play him.

There are no have nots this week, and no one, but no one as Zach says, wants to sleep with Victoria. Brittany said that Victoria is a ton of work and keeps everyone awake. The problem is that Victoria inappropriately likes to cuddle people. Brittany got offended because Nicole said that it didn't bother her to sleep with Victoria. Victoria seems shocked and she's hurt that no one wants to sleep in a bed with her.

Frankie talks to Amber about going up on the block. Amber said that she doesn't want to be a pawn. Frankie is hoping to tell Amber the truth and get her to be on his side if she comes off the block. Amber asks why a guy can't go up on the block instead of a girl. Exactly! The girls in that house are really stupid.

It's time for the nominations. Cody goes first, and he picks Victoria and Brittany because of all the stuff that has gone on in the house. Frankie goes second, and he picks Jocasta and Amber because Jocasta is fierce and Amber is a strong, physical competitor. HA! Brittany doesn't like being compared to Victoria because Victoria does nothing in the game. Brittany is furious. Victoria is bummed; she thinks it's pathetic. Cody goes to talk to Victoria. She cries. Cody tells Victoria that she is an innocent bystander, and that he doesn't want her to go. Derrick and Frankie celebrate putting Amber on the block and getting $5000 to do it. Meanwhile Amber talks to Christine, and asks why Amber went up. Christine said the guys are trying to play a guys game. Amber really, really trusts Christine. Amber wants ta girls alliance to go after the guys. Brittany is going on about how pissed she is to be compared to Victoria, who is the weakest house guest. Victoria is clueless when she comes into the room to talk to Brittany.

For the Battle of the Block, that backyard is made out like a chess board and pirate ship. Brittany says that she should have taken Donny up on his offer to learn chess. The competitors have to move like a knight. Once they land on a square, that square is out of the competition. The last team with a knight standing, wins. All the girls are each in a corner. Jocasta goes first. Victoria went second. Everyone did the exact same move. As Frankie says, they are either diabolical geniuses, or they just did what the first person did. Frankie is leaning toward the latter. Me too because these girls are dumb! Brittany was trying to tell Victoria what to do. Victoria was totally clueless, as usual. Jocasta was the first person to eliminate herself. Caleb said in DR that he's sure that Amber was hoping Caleb could save her butt. Jocasta is crying and acting like a gibbering idiot. Amber makes the last move, and Victoria had no more moves to make. Jocasta stops gibbering to brag about how she whooped ass. Not! Frankie was dethroned. Cody is HOH, and Brittany and Victoria are still on the block.

---
Thursday, July 17, 2014 -- Evening
See You Later, Devin
Tonight's eviction night in the Big Brother house. Julie Chen started the show by saying that volunteering to go up on the block can be dangerous. Donny said that he thought it was his duty to fight for Jocasta since she couldn't fight for herself. After the POV ceremony, Devin said that he would be a fighter because there are things that Caleb has that can be used against him. In DR, Jocasta cries and says she will do anything for Donny and hopes they are together at the end. Meanwhile Caleb keeps on putting blankets on Amber, and whispers to Hayden about the things he does for Amber and that at the end he wants to win a date with her. In the backyard, Cody and Donny talk about how Caleb wanted to go on the block. Donny said that Caleb was trying to get points with Amber. Donny says they should get Caleb out sooner than later because Caleb is a beast, and Caleb will always back Amber and do whatever she wants.

The funniest scene was Victoria going out in the backyard with a bikini, and Hayden says what's her name. He really meant it too. Then we see Amber and Cody in one of the bedrooms, and Caleb goes walking through the room to check on them. As Cody said, Caleb is always going around looking for Amber. Derrick says that Caleb is playing with his heart instead of his head. Zach says that Amber likes Amber, and Zach doesn't want to lose an alliance member because of a love triangle. On to a romance that's working: Nicole and Hayden. They snuggle together, and Hayden says that Nicole seems to be warming up to him. Nicole asks Hayden if he is a good kisser. Then Hayden starts kissing her on the neck. Victoria comes in and ruins the whole mood.

Cody and Devin are outside talking. Devin is telling Cody about his daughter because that's all Devin talks about. Devin hopes that Cody could be influenced to his view. Cody said that it's a side of Devin that Cody saw at the beginning, but that disappeared for a bit. Cody and Zach are talking about Devin and Caleb, and Zach says that he had a dream that Caleb went home. Cody and Zach both say that they want to send Caleb home. it's strange that they all talk about it, but no one wants to pull the trigger. Zach and Frankie talk in the backyard about getting rid of Caleb. Frankie then goes over to talk to Christine, then Frankie goes to Derrick to talk about the plan. Derrick wonders why Frankie thinks there is a plan to get Caleb out of the house. Derrick said that as long as Devin is in the house, he'll always be a bigger target. In DR, Frankie says that Caleb is so oblivious to what it going on around him that it will get Caleb out of the house.

As a side story, Jeff Schroeder goes to meet Donny's family. Donny's parents say they don't watch Big Brother because it's on too late and they go to sleep. And Donny's dad says that he doesn't like shows like Big Brother. Jeff shows them some clips of Donny on Big Brother. It's funny seeing Donny's family react to the show. They say that Donny doesn't give up. Donny says that he misses his brother who is handicapped, missing one arm and a disfigured arm. Donny's girlfriend looks pretty good.

Back in the BB living room, Jocasta says that she feels great. She again says that Donny giving her the veto was really nice. Zach is asked about what surprises him living with these people. Zach says he doesn't like a lot of people, and the people in the house are extremely annoying. Hayden says there is no worse part to being a have not, and asks if he can be on Survivor. Julie says that this week there will be no have nots, but to expect the unexpected. As Julie says to the audience, over the next week, they will monitor the activity trackers and make the group based on their activity levels.

Caleb is first to talk, and he thanks God. Then Caleb says both are beasts, but that's he not a liar or backstabber. Caleb said that Devin all-in-all is a good guy. Devin says that he had highs and lows, and he would do thinks differently. Devin brings up the Amber bit, and how Caleb would do anything for Amber. Devin said that he doesn't have that alliance. Devin says that Caleb is a beast, but he is a monster, and can take people with him.

Jocasta evicts Devin
Donny evicts Devin
Nicole evicts Devin
Hayden evicts Devin
Zach evicts Devin
Cody evicts Devin
Victoria evicts Devin
Frankie evicts Devin
Amber evicts Devin
Christine evicts Devin
Brittany evicts Devin
Devin is evicted. Everyone wishes him good bye, and then they are all cheering in the house. Brittany gave Devin a aluminum foil heart. Devin said that his mistake was playing too hard too early. Devin said that when he was in the HOH room, he had a lot of paranoia. Devin was worried about the side moves, and thought outing the Bomb Squad would put targets on others instead of him. Devin said he thought he would have integrity, and had to change up his game. Julie asks Donny what Donny is. Julie tells Devin that Donny is a groundskeeper. Jocasta was positive. Caleb said that Caleb just made some errors. Zach said that Devin's social game was god awful. Donny wishes Devin the best of luck. Everyone was told to form teams of two. Victoria and Christine are on the first team. Caleb and Nicole are the second team. Brittany and Jocasta are the third team. Amber and Zach are team number four. Donny and Hayden are team number five. Cody and Frankie are team number six. The winning team will be the two heads of household. And yes, it is an endurance competition!

The competition is called Deviled Eggs. They have to move 12 eggs through the slots to the other side. The first team to get all 12 win. The pair are in separate cages. It's the typical handling an egg through a mesh fence. Frankie is the first to get an egg to Cody.

Team America's next challenge is to get someone who is a physical threat on the block. Good luck with that one! Amber and Zach, and Cody and Frankie have one egg in the slots. Big Brother starts to dump ashes on the house guests.

Touch Not the Cat by Mary Stewart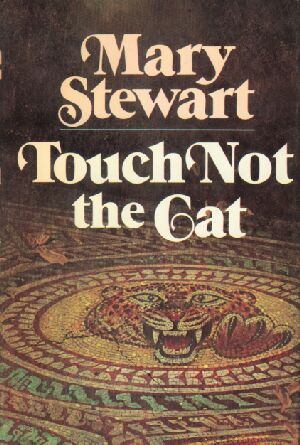 When Mary Stewart died recently, I looked over her bibliography, and I noticed a book that I had never read. It was Touch Not the Cat. The book was published in 1976. Most of her romantic suspense books were written in the 1950s and 60s, and they were the cream of the crop, in my opinion. Touch Not the Cat has a supernatural feel to it, with Byrony Ashley having a telepathic connection to someone that she grows to refer to as her lover. It seems that the Ashleys have a history of family members having a psychic connection to others in the family. So Byrony believes that her lover is one of her three male cousins. The two elder are twins, Emory and James, and the younger is Francis. Byrony isn't sure who she has the connection with, but her lover contacts her one night while she is in Maderia to let her know that her father is in serious trouble. It turns out that he has been hit by a car while at a German convalescent hospital. Before Byrony can reach her father, he has died. He did leave her a cryptic message about William's Brooke, hidden letters, and warning Byrony to beware. With his death, the Ashley estate skips Byrony and passes to the next male heirs, Byrony's ailing uncle and her cousin, Emory. Byrony still has a say, however, because the estate is bound in a trust, which states that all family members must agree to the sale of land or possessions. Byrony's father personally owned a cottage and some land on the estate, and these pass to Byrony. When Byrony goes back to the estate to spread her father's ashes, she notices that some valuable smaller pieces are missing from the estate. Were they taken by tourists on guided tour of the estate, or the rich Underhills who are renting the estate for a year? Or was one of her cousins? And who is her mysterious lover? Byrony's emotions are confused, and she turns to local farm hand Rob, as a listening ear.

The story was interesting, but I found myself wanting to grab Byrony and shake her. She puts herself into dangerous situations because she trusts her relatives too much, even when it seems that they may have criminal intent. Touch Not the Cat is not one of my favorite Stewart novels. It's a decent romantic suspense, but it's not as satisfying as the early Stewart novels.

---
Wednesday, July 16, 2014 -- Evening
POV Show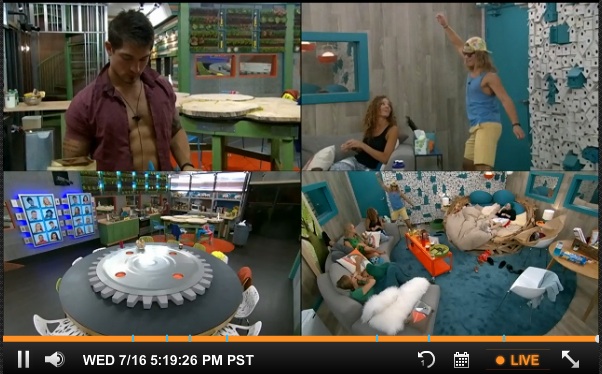 The show started with the usual recap of events. Nicole's frog costume is revealed to everyone. Christine said that if you blur your eyes a little bit, it looks like the frog is throwing up Nicole. Hayden says she's a cute litte frog, and he has to hit on a cute little frog. Derrick is glad that he is HOH, and that they have a chance to backdoor Devin. Even Devin realizes that he will be given the backdoor. Frankie congratulates Donny and Amber because they won. As Amber said, she and Donny were communicating.

Meanwhile, Jocasta is the worse for wear, and she is upchucking in the bathroom. Caleb helped her to the bathroom. Everyone was concerned about Jocasta feeling better. The heat and the lack of drinking really did her in, and she did seem as sick as a dog. That's why she did not play in the POV competition.

Amber and Caleb are talking in the backyard, and Amber does not like that Caleb seems to expect something from her about throwing the competition. Meanwhile, Amber asked Caleb to not throw the competition. Amber says in DR that she isnot changing her mind about dating him. Amber does not like him, and Caleb is really pushing her to date him, and go to the end party with him.

Meanwhile, all the girls are talking to Nicole, and how much they like the frog. Hayden said that usually the princess kisses the frog, but with Nicole looking so adorable, he may need to kiss her. Back to Cody giving Amber a back rub in the living room. Cody says that Caleb is giving him death looks because she is with Cody. Amber tries to explain that she is not interested in Caleb. In DR, Cody admits that it is awkward. Cody said that it looked as if Caleb overheard the conversation with Amber. It can cause problems. Caleb heads up to the HOH room. As Caleb said in DR, Cody is trying to put his hands on Caleb's queen. Caleb and Cody go outside the HOH room to play chess. Cody laughs at Caleb because he noticed that Amber was around Cody a lot. Cody says with Caleb's ego, Caleb will go after Cody because of Amber trying to distance herself from Caleb. Cody is afraid that Caleb will be after him.

Derrick tells Caleb that Caleb cannot be accused of throwing the comp because then people won't trust the group. Derrick asks Cody about Devin getting the POV. Cody says that this will be the number one shot to get rid of a potential problem: Caleb.

Back to Team America. Donny calls Nicole out of the backyard, and he tells Nicole that Zach and Amanda from BB 15 are cousins. He said Paola told him. Nicole gots to talk to Christine and repeats the rumor that Zach is Amanda's cousin. Derrick tells Caleb knowing that Caleb will tell Amber. Done. Derrick tells Zach that Donny told him that Paola said Zach is Amanda's cousin. Zach then goes downstairs to spread the story. Nicole buys it. Frankie's role is the mole, and he hears Zach talking about it. Victoria claims she knew it because Zach and Amanda are Jewish. Everyone does seem to think Zach and Amanda lookalike.

Donny takes Jocasta to bed, and it seems that she is so sick from heat exhaustion. Time to pick players for the competition. Jocasta is not playing because she is ill. Derrick and Caleb will pull chips; Derrick pulling for Jocasta. Derrick pulls Christine. Caleb pulls Devin. Zach is pissed that Devin is playing. Then Derrick pulls Donny for Jocasta. Cody is the host. Devin says that he is going to animal it because he is fighting for his life. Caleb said that Devin better bring his A game. Derrick says that Donny is all over the place. Derrick talks to Donny about trying to get Devin out. Donny says in DR that he won't share his game with Derrick since Derrick didn't share Derrick's game plan with him. Donny asks Derrick what Derrick thinks Donny will do. Donny says that he does not know anything.

Derrick and Caleb put on their game faces, including eye black. Frankie puts John 3:16 on Caleb, and puts Derrick's wife and daughter's initials on Derrick's cheeks. Time for the competition. The backyard is setup like a casino. Hayden says the house wants Devin out, and in Vegas, the house always wins. The competition is a tumbling dice match. They start out in pairs. Cody spins a wheel, and gets a number. They have to come off the block in the cube and then come back with the number on top of the dice that matches the number on the wheel. The order selected is Christine, Derrick, Donny and Caleb. Christine wants to face off against Devin. The first number is four. It's harder than ou think because you have to get the right number on top with the last move. Devin won the first round. Derrick is up next. He chooses Devin. The number is two. Derrick says that the more times he goes, the better he gets. Derrick got distracted being in the dice. Derrick is standing on the two, and doesn't seem to realize it. Everyone is getting frustrated. Devin won the second round. Donny is up next.

Zach says that he will punch himself in the eye if Devin wins. Donny picked Devin. Donny wants to win every competition that he can. Donny wants to make his family proud. Devin still doesn't trust Donny. Donny wants a three, four, or five. The number is a six. Donny has to figure it out as he goes. Nicole says she is sweating. Devin is going hard and fast. Donny got the six first, and everyone on the side lines starts screaming and crying. Devin is out. Devin said that was the saddest moment of the game for Devin. Now it's down to Caleb versus Donny. The number is two. Donny wants to take out both of the big male competitors. Caleb said his mom used to say that he wasn't the brightest crayon in the box, but at least he's in the box. Donny got the two first, and Donny won the POV. Caleb says he's still on the block, but he should be okay if his alliance steps up. Devin can only hope and pray for a miracle. Derrick hopes that Donny uses the veto on Jocasta so he does not blow up Derrick's and Donny's game.

Donny goes into the house and goes to Jocasta and says Jocasta's not going home this week. Jocasta starts sobbing. Frankie and Brittany are there and crying too. Donny says that maybe Jocasta can rest now. As Donny said "a friend in need is a friend indeed." Then Cody goes in and does a semi strip, to which Frankie says "Christmas time early!" Devin goes off by himself. He has his daughter's name on his wrist, and it makes him feel that he let his daughter down. Donny said that the house should know what he is going to do with the veto, but that house is so paranoid.

At the veto meeting, Donny says that he decided to use the veto to save Jocasta. As he said, she was too sick to compete, and he just wants her to get better. Jocasta sobs again. Derrick names Devin as the replacement nominee. Derrick said that his job as HOH is done this week. Caleb said that he would feel stupid if he leaves the house. Devin said that he won't be surprised to be there after the vote. Jocasta sobs hysterically about how she is so used to giving and now she gets to receive. Donny is really a nice guy.

---
Sunday, July 13, 2014 -- Evening
HOH and Battle of the Block Show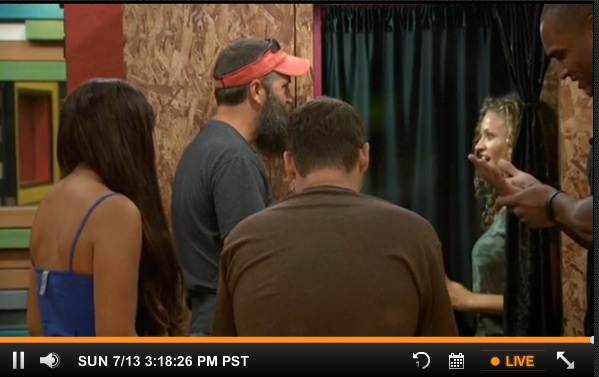 The show started post HOH. Derrick hopes the boys in blue are proud of him. Nicole did not want to be HOH this week. She felt that she wasn't on anyone's radar, and now she's anxious about being on others' radar. Zach is happy becaue the Zach Attack is back, and Devin could be the next one out the door. Devin is hoping that he put some targets on others backs so that he is safe. Jocasta, wrapped up in her hoodie, asked why he is telling them stuff. Brittany can't understand how anyone could make an alliance in the first two days. We then get a rehash of Devin running around and telling everyone about the Bomb Squad.

Derrick and Devin talk about the nominations. Derrick isn't dumb, and as he said, there's no way he is putting Devin on the block and give him two chances to take himself off. Derrick and Caleb talk about trying to get out Devin. Derrick explains why Devin wants to go on the block now. Caleb is stupid and didn't get it at first. Christine talk with Nicole and Hayden because those are the ones she wants to go the farthest with in the game. Christine explains to Nicole that she felt pressured into joining the Bomb Squad. Christine tries to reassure Nicole. Nicole is shocked and hurt, but says at this point in the game, she has to trust Christine.

Time for the HOH room reveal. Hayden loves that Nicole was a basketball player (baller), and says she can ball on him anytime. Derrick has to remind himself that he is there for his family, even though his daughter is growing as he's away. Derrick's daughter is a cute little baby. Zach and Cody cry as Derrick reads his letter from his wife. Derrick says that it's good that he gets to work with Nicole, because Derrick is a super fan, and he hasn't talked game with Nicole. Nicole said that she was worried about confiding in Derrick. They go through the people they do not want to nominate. Derrick said that Nicole can put up Amber because Amber put up Nicole. Derrick explains how Nicole should put up Amber, and Derrick will put up Caleb because that would be a way to get him to play for Amber. They just can't come up with a fourth name.

Hayden and Nicole flirt on the hammock. Nicole does not know what "offic" means when Hayden said they should make it offic for official. Hayden really likes Nicole, but she is not going to make out in the game. Good girl! Derrick tells Caleb that Nicole is putting up Amber. Derrick said that we all want to work together, so Derrick is not going to threaten Nicole. Derrick is a genius, and gets Caleb to ask to be nominated to save Amber. Derrick tells Caleb that he can come across like a knight in shining armor or a jerk. Caleb goes to talk to Amber about how Devin is the target. Caleb tells Amber that Nicole wants to put up Amber because Amber put up Nicole. Caleb tells Amber that he nominated to go up so Derrick remains HOH. Caleb will be on the block. Caleb says that he will do it for her. Amber doesn't want to say "Caleb save me" because she hates Caleb. Nicole tells Donny that she is going to put up Amber. Nicole tells Donny that Derrick is going to put up Caleb. That's shocking to Donny. Donny talks about putting up another girl like Christine. Donny says that Nicole should not have to vote her buddy out, but is her buddy her buddy.

Amber overhears Donny telling people that he heard that Caleb is going to go up and throw the competition. Amber runs up to tell Nicole. Nicole tells Christine that she can't trust Donny because he's causing trouble by talking and that Donny told Nicole to put up Christine.

Time for Derrick and Nicole to make nominations. Nicole gets to go first, and she picks Amber and Donny. Derrick goes second and picks Caleb and Jocasta. Nicole makes her nominations to the group. Jocasta rolls her eyes at being nominated. Derrick says that he wants Jocasta to lose her floater status. Derrick also says that Caleb asked to be nominated. Devin is upset that he didn't get nominated. Duh! Donny is surprised that Nicole put him up. Devin is complaining that the backdoor is the only door. Nicole is sorry that she nominated Donny. Nicole talks to Hayden, and Hayden said that Donny is awesome, but that Donny's head is not always in the game. Zach and Frankie are in HOH talking about Devin with Derrick when Devin comes into the HOH. Devin is hoping that Derrick will keep him in the game. Derrick said that he is going to do what is best for Derrick's game. Derrick says that Devin is definitely his target.

Victoria asks Frankie about his sister, and talks about how she looks. Victoria won't let Frankie go about his sister. But Frankie is determined to keep things about his sister on the down low. Derrick gets Team America's first challenge, to get three people in the house to spread a rumor that someone in the house is related to a former BB house guest. Derrick tells Frankie and Donny. Frankie says that they should say that Paola told Donny before she left that Zach was related to Amanda from last season. Donny thinks they should start with people who will spread the rumor.

Nicole and Donny talk, and Nicole cries about the nomination. Donny tells her that it's okay. Donny starts crying because Nicole is crying. Donny tells her is is just a game, and that he doesn't hold it against her. Nicole told him that others told her that Donny was staying that Caleb would throw the competition. Donny asked Nicole if she asked him not to tell. Nicole thinks about it and admits that she did not. Donny and Nicole agree to work together.

It's time for the Battle of the Block. NIcole thinks that Derrick looks like Harry Potter on steroids. The backyard is setup like Hogwarts. One of the pair has to get puzzle pieces, hand it to the other, and that person goes up by a cable when the runner runs back to create the puzzle. Brittany is the hostess. Donny and Caleb are the ones running with the pieces while Amber and Jocasta put up the pieces. Meanwhile, Donny is giving Amber how to put the puzzle together. Donny loves all sorts of puzzles, and he seems pretty good. Amber is an idiot. Hayden said that Donny and Amber are communicating, but Caleb and Jocasta are not. Donny tells Amber that they are putting together a duck. Caleb and Jocasta look close to it. Caleb siad that Jocasta seems disoriented. Amber and Donny win the Battle, but Jocasta looks out of it. Amber is hugging Donny.

Derrick said that he doesn't want it getting around that Caleb threw the competition. Jocasta said that she wants to throw up, and then she almost does right there. Nicole is not HOH, and Nicole "vanishes." She must have been sent to the diary room to put on her frog costume. We'll find out what happens in the next show.

---
Thursday, July 10, 2014 -- Evening
HOH Practice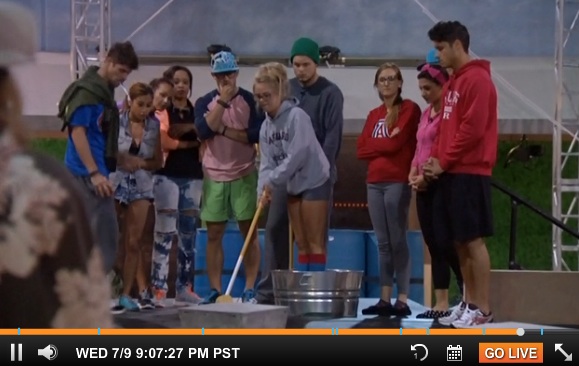 The house guests got a croquet mallet, ball, and obstacle course last night to practice for the HOH. They were allowed outside last night at 9:00 PM BB time (PST). They only had an hour, and everyone was to get three chances to get in a shot. It will be interesting to see how the practice helps them. I know in the past, sometimes the folks who were good in practice sucked when it got to the competition, just because things got tweaked. I hope that the next week is explosive entertainment!
Eviction/HOH Show
I was so looking forward to this show because there was so much drama in the BB house this week. The show started with the fallout from the veto meeting. Brittany asks to say something really fast, and Zach wants to go second. Brittany outed Paola by saying that Paola threw the Battle of the Block competition. Paola said that they all know how Devin is and that she would rather throw her head in the toilet bowl. Donny loved having a front row seat to the drama. Paola said that she did not throw the competition. Then Devin said she did because he offered her the veto. Paola called Devin a liar and said that his daughter was going to be watching Devin lie. Then Zach comes up. Zach sayd that there is not an ounce of truth in Devin's body. Zach said that he wasn't sure who would vote for him, but Devin chances with every blow of the wind. Devin smiles like a puppet. and doesn't say anything. Zach apologized for outing others in the alliance, but he had to out Devin. Cody was really pissed at Devin and said that Devin putting up Zach showed how Devin can't be trusted. Paola doesn't know what will happen. Devin goes upstairs to watch the secret HOH camera. Frankie was upset that Zach outed people. Caleb said he was going to gun for Zach for throwing him under the bus. Frankie is super pissed at Zach because it made everyone think that Frankie can't be trusted. Frankie said it was just terrible what Zach did to him. Frankie said that Zach threw him under the bus. Zach realizes that he took it too far, and he tried to apologize, but it was too late. Frankie said in DR that Zach totally ruined his game.

Paola asked Zach if people would vote for him or her. Zach said that people would vote for him. Zach called Paola a liar. Zach keeps on saying that Paola threw the competition. Paola tried to drag Derrick into it, but Derrick refuses. Derrick says in DR that Zach is making it hard on himself. Devin said that Zach is no longer in the Bomb Squad. Devin tells Caleb that Hayden would be the perfect person to take Zach's spot in the Bomb Squad. Hayden goes to the HOH room, and Devin tells Hayden everything. Hayden turns to Frankie says that this is so fast. But as Hayden says, he is feeling forced into it, and he has no choice. Hayden says in DR that he say yes to the alliance, and then do everything to blow it up.

Derrick tries to get Zach to keep a level head. As Derrick said if he can keep Devin and Zach in the house, they will go after each other, and he will be safe. Derrick tells Zach that he has to go to others and kiss their ass to get them to keep him. Derrick, Frankie, and Donny talk about who to vote for. Donny said that Paola is his best friend in there, but he would vote her out. Donny assures Frankie that he and Derrick have Frankie's back more than Devin. Derrick then talks to Caleb. Caleb says that if they keep Paola, they can use her. Derrick says that Paola would flop. Derrick says that Zach is after Devin, and that Zach is better in the house than Paola. Derrick goes to Frankie and says that Caleb would vote for Zach. Then Frankie goes up to Devin and tells Devin that Zach is staying. Frankie figures that he can tell Devin and use it to his advantage. Devin tells Frankie that Devin is not in the Bomb Squad anymore. Devin keeps on referring to his daughter. Devin tells Frankie that he wants to take every person out one by one.

After commercial break, it's back to the living room. Jocasta used the word crazy to describe the veto meeting. Frankie called it insanity. Devin is asked how to rate his HOH reign. He gave it a 4.5 out of 10. Time for the final speech from Paola and Zach. Paola said that she feels like a winner if she stays or goes. Paola said that Devin has five different personalities that all suck. Paola says that she will never throw anyone under the bus. Zach says he's blessed and thanks his family for how he is, and thanks everyone and says that they should keep him safe because he will go for Devin. Voting time! The votes are:

Jocasta evicts Zach
Brittany evicts Paola
Derrick evicts Paola
Donny evicts Zach
>
Caleb evicts Paola
Amber evicts Paola
Hayden evicts Paola
Cody evicts Paola
Frankie evicts Paola
Nicole evicts Paola
Christine evicts Paola
Victoria evicts Paola
Paola's out with a vote of 10-2. Paola hugs Donny, and then starts hugging the others as she leaves. The house guests gather to see her photo go black and white. Julie outed Paola about throwing the comp because she admitted it in DR. Time for the messages. Zach called Paola a huge liar. Jocasta said that she loves Paola. Devin said that he's so sorry, and that he sorry he didn't keep his word. Donny said that Paola made him laugh and comforted him. Donny said that Paola was his best friend in the house. Paola said that she and Donny don't have anything in common, and he's 42. Who would think they would be best friends?

Time for the HOH competition. The backyard is setup like an ocean floor. One at a time, they get one shot to hit a polo ball down the field. The two with the highest score will be HOH. it you don't get into a slot, you get zero. This is how they did:

Amber got 17
Cody got 17
Caleb got 21
Frankie got 24
Christine got 4
Nicole got 29
Victoria got 12
Brittany got 16
Zach got 8
Donny got 20
Hayden got 17
Jocasta got 22
Derrick got 28
So Derrick and Nicole are the two new HOHs. As they were celebrating in the yard, Julie mentioned that all the house guests have fitness trackers, and we can track them to see how active they are. Somehow she mentions that it may affect the game.

Derrick wants a letter from his wife and daughter. Nicole answered for him. She wanted to get a letter from home and is very excited. Donny said that it's really exciting to be a part of the show.

---
Thursday, July 10, 2014 -- Afternoon
Death of a Hollow Man by Caroline Graham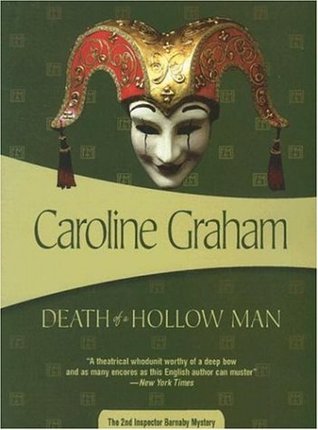 I am a huge fan of the Midsomer Murders television series. I've watched the episode more than once, and I have a deep affection for Tom Barnaby, and now for his cousin John Barnaby. The surprising thing is that I really haven't read the books. I say it that way because I tried to read Death at Badger's Creek, and I just had difficulty getting into it. Because I have been re-watching the series as I exercise every day, i decided to give the books another try. This time, I started with Death of a Hollow Man. This is the second book in the series, and it's also the second episode in the series. The book revolves a production of Amadeus put on by the Causton Amateur Dramatic Society. Of course, Joyce Barnaby is part of the group, and Tom Barnaby gets dragged into helping with scenery. There's only one murder in the book (and TV episode). Esslyn Carmichael, playing Salieri, really does cut his throat with the prop razor. It was supposed to be taped up so Esslyn could safely drag it across his throat, but someone removed the tape. it could have been anyone: his unfaithful wife, her lover, his ex-wife, or any of the others that he bullied or put down on a regular basis. Since Tom Barnaby was in the audience for the show, he jumps right into solving the mystery. I won't give any more details on the plot, but I will say that it closely follows most of the plot points in the TV episode.

I found myself really enjoying the book. Graham did a very nice job with the personalities in the story. I felt that I was really getting a picture in my mind of each of them. The solution to the mystery was not very obvious. The only reason I knew whodunit was because I had watched the episode. I'm not sure if all the clues were there. As I mentioned, I knew who the murderer was so I was looking for the clues to identify the person.

One thing that absolutely shocked me was Gavin Troy. In the book, he's a married redhead! What the heck! That is not Daniel Casey (the actor) by a long shot! However, the personality was similar. I think that Troy in the TV series is more likable than the one in the book. However, it didn't ruin my enjoyment of the book. I had such a fun time reading it that I requested some of the others from the library. Caroline Graham did not write many books, and the ones she did seem to have been turned into episodes on the series. If you love Midsomer Murders, you should definitely give the books a try.

---
Wednesday, July 9, 2014 -- Evening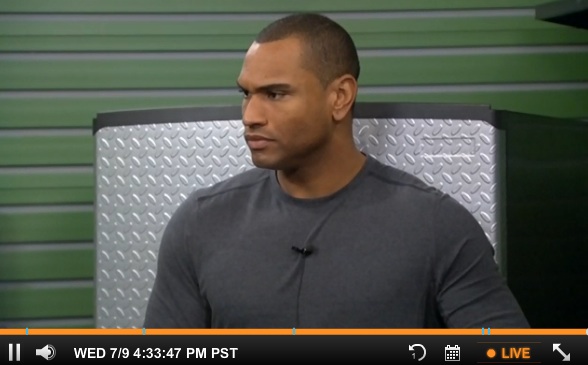 Devin Blows up and Big Brother Show Recap
It seems that every time I go to sleep, the BB house breaks out into real turmoil. Devin AGAIN outed the Bomb Squad, thinking this will be to the detriment of everyone else. However, it seems that he really hurt himself, and he appears to be everyone's target next week, while the rest of the Bomb Squad might become secondary targets. The one thing you don't want to do is make alliances with people in the BB house so quickly. Devin was crazy from the get go, and now his alliance members are suffering from it.

The show started with day 15, and the post Battle of the Block fall out. Devin said that he considers himself the puppet master because he has been pulling so many strings. Meanwhile in the storage room, Nicole, Hayden, and Christine celebrate. Amber hopes that she is safe since she and Devin are part of the Bomb Squad. Brittany tells Paola that she thinks she (Brittany) is going home. However, Brittany plans to fight to stay in the house. Devin apologizes to Hayden, and Paola, who is listening in, claims that she could have dominated in the competition. Devin claims that he is keeping Hayden safe and gave Hayden a creepy man hug (as Hayden called it.) Hayden does not want to be associated with Devin and his creepy evil genius plan. Hayden asks Nicole for a kiss, but she says no. Zach says there are two parts to the Bomb Squad: the supporters of Devin (idiots) and the ones who think that Devin is insane. The last are Zach, Cody, Christine, and Derrick. Zach says that they need to backdoor Devin. Amber, Christine, and Caleb are at the hammock, and Caleb is flirting with Amber. It is so obvious that Caleb is in love with Amber. Devin wants to break up Amber and Caleb. Caleb does not like that Devin won't allow Amber to talk. Derrick and Christine try to talk Amber and Caleb into keeping Brittany. Caleb says that he would protect Amber over Devin any day. It seems that Devin has been treating Amber like dirt and not letting her talk.

Caleb tells Devin that more people want Paola gone than Brittany. Devin starts to go psycho saying that Brittany needs to go home. Devin claims that Caleb is saying this because Caleb talks to Brittany. Caleb said that he was just bringing something to Devin's attention, and all that Devin does is go crazy. Meanwhile, Caleb tries to tell Devin that the girls are afraid of talking to him. Frankie says that he's watching this clash of the not so Titans, and all that is going to happen is that the alliance is going to break up. Devin goes to the HOH room to rant to himself about Caleb. Then Devin goes back out to tell Caleb that Caleb is wrong and there is no more alliance.

CBS then announced that Frankie and Derrick are the other two members of Team America. They will get $5000 for each mission that Team America carries out. They all have to meet at the weight bench at 9:30 that night and use bald eagle and apple pie in a sentence to find out who the other two members are. Derrick knows as soon as he sees Donny come outside that he's a member of Team America. As Frankie says, they have the brains, the beard, and the beauty. Time to choose for the POV competition. Devin chooses Zach. Brittany picks Derrick, and Paola picks Amber. Devin doesn't know if Derrick and Zach will stay loyal to the Bomb Squad. Caleb goes up to the HOH room to apologize to Devin. Devin said that it set him off that Caleb said something about how Devin talks to women. Caleb said that people are telling him that they want to get rid of the floater, Paola. Devin thinks that Caleb is full of crap. Caleb then Devin that Devin that everyone is saying that they need to get rid of Devin. Caleb goes down and collects people. Derrick says "another house meeting, sponsored by Devin." Devin says that they have to keep the floaters and get rid of the strong. Devin says that he guaranteed Paola safety. Amber and Christine would not talk. Zach says that Paola is the biggest floater, and Zach would rather keep Christine. No one else said anything. Devin asked who wants to get rid of him. Zach said that he probably opened his mouth too soon and put a target on his back. Zach then tells Devin that he wanted to get rid of Devin, but that Zach would be loyal.

Time for the veto competition, and Devin turns to Paola and says that if he wins, he will use the veto on her. They go into the backyard that is all setup like a outer space. The six contestants come out looking astronauts. Devin comments in DR about how the planets are named after famous couples. He wants a planet named after him, "Devtopia." The house guests have to balance ten planets on a mobile without having them touch the ground. Zach wanted to win and take the power out of Devin's hands. Devin wants to win, and Derrick says that if he wins, he is keeping the nominations the same, and sending Paola home. Paola is totally hopeless. Paola couldn't get any ball to stay on the mobile, and everyone laughs at her. Zach is rooting for Derrick, and so is Christine. Derrick starts hurrying because he sees that Devin is close. However, Devin wins POV. Brittany has to figure out a way to stay in the house. Paola says that Devin promised to take her off the block, but you can every tell because Devin is like the devil.

Zach goes up to the HOH room to do damage control. Devin asks Zach who he would vote out: Paola or Brittany. Devin tells Zach that he doesn't trust him. Zach realizes that he's screwed. Zach talks to Frankie in the storage room. Frankie asks Zach if he's surprised that Devin is upset with him. Frankie tells Zach the problem is that Zach told the truth. Zach should lie. Frankie, in DR, says that Zach doesn't know how to play the game and might blow up Frankie's game. Frankie says you can't reason with an unstable person (Devin). Brittany goes up to Devin and talks to him about how people want her to stay, and she also brings up the fact that like Devin, she is a parent. Brittany says that it's not worth it to miss everything for her kids to go out so early. Devin says that touches his heart. Devin asks Brittany if she would be loyal to him for the rest of the game. Brittany said that he has her word. Brittany says in DR that she knows it's wrong, but she has to agree with Devin to stay. Devin then tells Brittany that he got Paola to throw the Battle of the Block. Devin goes to the living room to talk to Zach. Zach tells Devin that he admitted to saying things that he didn't mean. Devin says he doesn't want to trust Zach. Zach says if you want to put me up, he can't stop him. Devin claims it wasn't on his mind, but if Zach wants to go home, Devin is putting Zach up. What??? Devin is crazy!

Devin admits that he promised to use the veto on both Paola and Brittany, and that putting up Zach will go against Devin's alliance. Zach says in DR that if Devin puts him on the block, he's taking Devin down. Paola does a stupid move by just posing and pouting when she got the chance to talk about herself. Brittany says that her target is Paola. Devin says he put up Brittany for personal reasons, and he refuses to let a single mother sit on the block. Then Devin puts Zach up in Brittany's place. Then we got a tease that all hell broke loose post veto meeting, but they cut away. I guess it will start tomorrow's show.

---
Sunday, July 6, 2014 -- Evening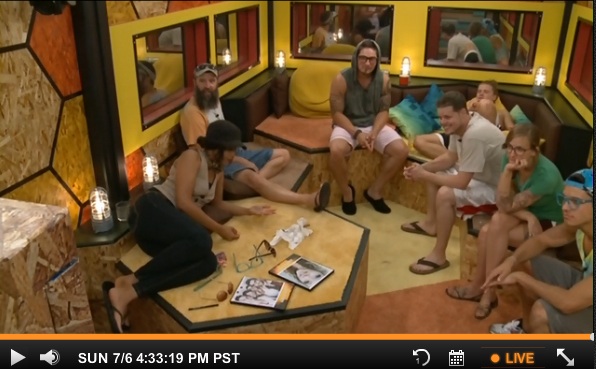 Updates on Feeds
I haven't been watching the feeds as much as I would like in the past week, but Devin is creating a ton of tension in the house. His nominees, Nicole and Hayden, beat out Amber's pair of Paola and Brittany. Then Devin won POV. He's been going around like a crazy person, threatening to out his alliance and giving people who tried to form an alliance the stink eye. All the while that he does this, he proclaims that he is doing things for his daughter. He makes me want to puke. I can only hope that he is evicted soon, although, I guess nut cases like Devin provide the entertainment.
Nomination Show
Tonight's show started right after the revelation that Cody was disqualified from the HOH competition. Cody's heart dropped. Cody's food definitely hit the ground. Devin then started talking about his kid again. "I'm here for my daughter." As Victoria said, it is one week of hell, and Cody hopes that Devin does not go power crazy. Caleb and Frankie celebrate with Devin, but Frankie thinks Devin does crazy shit, and he really doesn't trust Devin. Meanwhile Zach tried to keep Cody's head in the game.

Time for the HOH room. Amber just wanted to see pics of her mom and sister. Devin, of course, wanted to see his daughter. Puke! Caleb looks teary-eyed as Amber reads her letter, and he wants to take her home to his parents. Devin cries because he was thinking about his daughter. So he decides that he has to tell Donny that he didn't trust him. Devin tells Donny that he thought Donny was a threat. And then Devin tells Donny that Devin was responsible for Donny going on the block. Cody is pretending to sleep there, and he hears Devin spill the beans. Donny says in DR that he won't trust Devin. Then Devin feels that he has to tell the whole house. Zach says that whenever anyone calls a house meeting it's bad. Then Devin talks about his daughter (PUKE!). Devin tells everyone that he forced Caleb to nominate Donny. Brittany then wonders if Devin is telling the truth because she thought the nominations were for people who fell off first.

Then Devin asks to talk Caleb who tells Devin that others said that Devin threw him under the bus. As Caleb said, straight up it made him look like a liar. When Devin asks Frankie, Frankie said that yes, Devin made everyone think Caleb was lying. Frankie tries to explain that it is a game, and that he has to watch what he says. Devin thinks that Brittany misconstrued what he said and was after him. Devin thinks that Brittany is the most paranoid paranoid person in the house. No Devin, that would be you!

Hayden and Nicole chat outside, and he admits that he would take Nicole on a date. Nicole admits that she would go out with him. Nicole tells Christine that they should align with him. Christine says that us weirdos need to stick together. When Hayden goes into the storage room,and they are there, Nicole and Christine say they should have a three person alliance. Hayden says that he will save Nicole if she goes on the block. Christine says she is either a genius for being in two alliances or going to get destroyed soon.

Caleb talks to Devin about wanting to cuddle someone. Caleb gets teary-eyed. Devin and Amber meet with the Bomb Squad about to talk about nominations. Devin wants to only put up girls, but Amber isn't happy with that. Derrick says that Hayden would be okay with being nominated. Derrick also says that Nicole is a floater. Caleb says that Jocasta is a floater.

Devin goes around telling people they have to clean the house. Brittany does not like that Devin is telling her to clean house when she has three kids. Devin gets to nominate first. I think that's the problem with the two HOHs discussing nominations together. Devin nominated Paola and Brittany. Amber nominated Hayden and Nicole. Devin goes to Nicole and tells her to go to the HOH room, and he will explain how she is not going home.

Brittany tells Poola that it's not Amber, but Devin who is trying to control things. She also tells Paola that Nicole and Hayden were picked to win the Battle. Up in HOH, Devin is telling Hayden and Nicole that Brittany is his target. Meanwhile, the person who nominated them sits there saying nothing. Hayden says in DR, "duh, you love me so much that you put me up?" Devin tells them and Paola is going to thrown the competition to keep them on the block. What a douche!

Zach says he is not gay, but he feels like he has a boyfriend relationship with Frankie. Frankie says in DR that he does not know what he has in Zach, but it's good for now. Zach does seem to cuddle with Frankie all the time, and Zach says that Frankie is one of the greatest people he ever met.

Devin then talks with Paola about throwing the competition so Brittany goes out. Devin acts like he has all the power in the house, and that he will keep Paola safe. Devin tells Paola that Brittany is the target.

While some of the house guests were sleeping, they were called out into the back yard. Paola doesn't know what she is going to do, but Paola is so stupid that she couldn't win if she were the only person competing. Derrick is the host, and they will see pics of the house guests in various situations. Whoever rings in with the right answer wins a point. The house guests are stupid and can't see worth a darn. If you get it wrong, the other team gets a point. Brittany got the first answer wrong, and the other team got a point. Brittany got the first answer wrong (woo instead of moo) was given beer goggles. Paola got the second answer right (cat under the piano), and gave Hayden a hangover cure. Brittany got the next one wrong (BB Brewer). Brittany had to do a cannon ball. Paola got the next answer wrong, and got a beer helmet. So Nicole and Hayden got their points from Brittany and Paola getting things wrong. Brittany got the next one right, and gave Hayden a swirly (putting his head in a toilet). Hayden got the next question right. So Devin stays as HOH.

---
Thursday, July 3, 2014 -- Evening
First Eviction Night
It's time for the first eviction of the BB season. The big question is whether Joey can save herself. However, it seems that everyone in the house wants her to be gone. Caleb felt that Joey threatening him by saying he made his biggest mistake nominating her was a mistake on Joey's part. Paola plans on laying low so Joey goes home, which is a great strategy. Joey hopes that since she was born on February 7, that 7 is her lucky number, and that she will stay in the house. Brittany likes Joey. Nicole isn't so sure about keeping Joey, but is considering it since Joey doesn't know how to play the game. Devin goes around trying to make sure that everyone votes out Joey. Victoria does not like that Devin is trying to tell everyone to vote out Joey. He wants it to be unanimous vote. Frankie doesn't care if it is unanimous as long as Joey goes home. Devin is threatening other people if they vote for Joey at all. Christine tries to let Joey know that she is the house target. Joey tries to talk to Zach about voting for her. Zach says he wants to vote with the house, and Caleb and Devin are dictating the vote. Joey is going to try to do something, but realizes that the whole house is scared of Devin and Caleb. I don't know why they are afraid of them. Caleb can't be HOH next week. Joey dresses up like a guy, and calls herself Alex. Hayden notices that she has on his clothes. Joey is being funny, but it really doesn't seem to be sinking in. Nicole thinks that the Alex thing is ridiculous, but that Joey makes a good point about sticking together as girls because the boys are running the house. Paola loves the Alex routine because it means Paola is safe. Victoria agrees that everyone should be voting the way they want to vote, not the way the house wants.

We then saw a segment on how Caleb loves Amber. All he does is talk about her, obsessively. Frankie says that the whole Caleb obsession is so eighth grade. Caleb tells Amber that she is looking at him a lot. This is news to Amber. She didn't realize that Caleb was obsessively adoring her. Amber says that she doesn't feel the same for Caleb, and that she doesn't know if she ever will. Caleb, however, is not going to give up.

Time for the live vote. Joey goes first and says that she believes that she is a strong person and should be kept in the house. Paola thanks Joey for saying she sucks at competitions. Paola wants to share her positive energy and still has a lot of fight in her. The votes are:
Crazy Devin evicts Joey
Derrick evicts Joey
Frankie evicts Joey
Cody evicts Joey
Zach evicts Joey
Brittany evicts Joey
Nicole evicts Joey
Christine evicts Joey
Victoria evicts Joey
Jocasta evicts Joey
Hayden evicts Joey
Amber evicts Joey
Donny evicts Joey
Unfortunately, its is a unanimous vote. Joey tells everyone that she loves them, and she heads out the door. Frankie hugs Brittany, who appears to be the only person crying. Joey's talk with Julie Chen was painfully boring. Basically, we found out that it's hard in the BB house because people are quiet and form cliques. Joey wanted the others to have gonads. Then we had the good bye videos. Frankie tells her that they were built from the same cloth. Caleb tells Joey that she was blown up by the Bomb Squad.

The HOH competition is next, and before the commercial, we found out that the teams would be split into men versus women. The comp is called Greek Week. They will both compete in the same comp. When Julie says go, the girls have to cross a balance beam, and then move six kegs to the opposite side. If they fall off, they are out of the competition. The first to move all six keys wins. The guys are on a balcony, and they get to throw frisbees at the girls. Amber is in the early lead, followed by Brittany and Christine. Most had three kegs down before Paola got one. Brittany dropped a keg, and she was out. Amber got all six over, and she was the first HOH. Time for the males to compete.

the men start out, and Frankie flies across the beam. Derrick is out because he drops his keg. Hayden takes the early lead. The guys are really close though. Hayden got his sixth keg, but then he fell on the return to the buzzer and was out. Cody won. However, Julei informed us before the commercial break that there may have been a foul.

Donny was voted as a member of Team America, and finds out that each mission the team completes gathers the team $5000. Donny was emotional and very appreciative.

The review of the tape showed that Cody fouled, and his foot hit the floor before he pressed his button. That made Devin the second HOH. I really hate Devin, so that's not a good thing.

---
Wednesday, July 2, 2014 -- Evening
POV Competition
I did a quick watch of the two BB episodes that I missed, and the two things that I should comment on is that Caleb is a beast. He does not throw a competition, and he is a fierce physical competitor. Devin, on the other hand, is bat-shit crazy. Without talking to the others in his six person Bomb Squad alliance, he told Amber and Christine about the alliance, and invited them into it. Idiot! So now it's time for tonight's episode.

After the usual recap, we saw the celebration after the Battle of the Block competition. Brittany and Victoria celebrated, and Frankie was worried about his back, even though Caleb says he has Frankie's back. Donny thought it stunk that Pao-Pao (Paola) sucked so much in the competition. Pao-Pao admitted that she lost the competition for them. Donny started to cry because it touched his heart to see the young kids caring for his 42-year-old self. Paola said that outside the house she is selfish, but she wants to take are of Donny.

Meanwhile in the HOH room, Caleb, Frankie, and Devin celebrate. Caleb said that Donny was a competitor and a beast in the Battle of the Block competition. It seems Donny was really good at pouring liquid while on his swing. Devin seems really maniac, and says that they should all be in it together. Meanwhile, Devin goes to Donny who is crying. Donny says that he is emotional because of the people in the house who care for him. Donny says it touches his heart. Donny said that they aren't emotional at home, and Donny wants Devin to tell the others why he is crying. Devin has no plans to do it.

Nicole believes that there is ghost in the fire room, and she manages to convince Christine of it too. Christine wants to take Nicole to the final two, but doesn't think that she can if Nicole won't let her drink. Donny talks about having a tall drink of water socks. Caleb tells the others in the HOH room that Donny is ex-military because arm boots rubbed the hair off his legs. Devin thinks Donny is a Navy Seal, and convinced Caleb of that. Frankie thinks it's hysterical that Devin is so sure that Donny is a super military guy.

At night, Devin asks Donny if he is being honest. Devin thinks that Donny is not what he says he is. Devin wants Donny to come clean. Devin tells Donny that he thought Donny was in the military. Donny thinks it's strange because Donny was never in the military. Donny thought Devin trusted him. Donny thought that Devin made him feel like he did something wrong. Donny says that he will continue to trust Devin.

The house guests come into the house, and see slop on the table. Caleb gets to name the four people who will be the Have Nots. Hayden and Joey volunteered. Then Cody and Brittany did too. The new Have Not room is a cold room with icicle beds and an emergency blanket.

Meanwhile, Joey is not pleased with her all girl alliance. Jocasta says that you can't start an all girl alliance with seven other guys. Amber says that there isn't an all girl alliance because she's in it. Amber wants to get rid of Joey because Joey wants to form the all girl alliance. Joey does't realize how girls will get far if they don't stick together. Derrick's cop sixth sense tells him that the girls in the bathroom are up to something. It must be an all girls alliance. Devin, Derrick, can Caleb decide to go after the person starting the alliance. Caleb asks Amber about it, and tries to figure out who was trying to form it. Caleb plans to target Joey because of her plan.

Joey feels like an outsider, and she decides to out the fact that she tried to start an all girls alliance. Joey realizes that Devin is acting weird around her. She goes to talk to him, and admits that she tried to start an all girls alliance. Why she feels she has to tell Devin and apologize, I don't understand.

Time for the POV selection. Caleb picks Victoria. Paola picks Zach, and Donny picks Cody. Caleb thinks there's no possible way that Donny, Paola, or Zach can win POV. Paola cries because she thinks that no one will use the POV on her or Donny. Jocasta said that her destiny is in her hands. Jocasta prays over Paola, and Paola starts to laugh. Paola just feels intimidated by the others. The competition is called Miami Lice. The contestants have to jump into the pool, go under the brush, and find lice, which have letters on them. It's the usual find a letter take it back, and spell the longest word in the shortest time. Paola wants to turn it into beast mode. Victoria says that Miami is not about lice or bugs. Caleb wants to get rid of Donny. As Caleb said, he graduated high school, and he knows how to spell. Donny says that he's not smart. Zach starts hiding letters to make it easy for him to spell words. Caleb wanted to spell "specialize" but there is no p. Donny is going really slow. Christine said that Donny was going so slow, that he didn't know he was fighting for his life. Donny just wanted to be calm, cool, and collected without soap bubble in his eyes. Zach thinks he is going to win because he run in first. Then Donny buzzed in. Only thirty seconds remain, and the others buzz in. Zach spelled "warning," and Frankie made fun of Zach for not adding an S. Cody spells "competively," which is misspelled. Caleb tried to spell specialize, but he could not find a p. Christine said that she wondered why the Bomb Squad wanted a little girl like her, and then she realized, they just wanted someone with a brain. Good one! Victoria tried to spell pharmacist, but there was no c. Paola to spell calculator, but spelled "caltoru." Donny is last, and must correctly spell an eight letter word.

Donny spells "splinters," which is a correctly spelled nine letter word. Donny won the POV. As Donny says, "fear the beard." Caleb has to pick a replacement. Donny said that the competition wore him out. As Donny said, they may think he's a dumbo, but he can spell splinters. Caleb gives cudos to Donny, and says they have to find another target. Caleb tells Joey that she is targeted because it is way to early to form an alliance. Joey thinks she is on Caleb's good side.

As Donny calls them in for the video meeting, it's obvious that Joey will go up. Donny uses the POV on himself. Joey goes up in Donny's place. Joey said that she will try whatever she can to stay in the house. Paola, on the other hand, feels safe.

---