The Daily Bongo
June 2011
Thursday, June 30, 2011
Big Brother Cast and Twist Revealed!
On this morning's Today Show, Julie Chen introduced us all to the Big Brother house guests and this season's twist. Eight house guests were introduced. They seem like the usual lot: four men and four women. "What?" you say. "That doesn't seem like a full house." That's because the twist is the return of a few pairs of "Dynamic Duos." We won't know who they are yet, but CBS has a poll to vote on who the fans think is most likely to get back into the house. The voting pairs are:
Brendon and Rachel
Dr. Will and Mike "Boogie"
Jessie and Natalie
Evil Dick and Daniele
Jeff and Jordan
Hayden and Enzo
My three favorite pairs are leading in the votes (in order of popularity from most to least): Jeff and Jordan, Evil Dick and Daniele, and Dr. Will and Boogie. I really dislike the other three pairs, and I hope and pray that they aren't selected for the show.

---
Wednesday, June 29, 2011 -- Evening
Jagr Watch
Pens fans around the 'Burgh have been on seat's edge all day, waiting to hear whether Jaromir Jagr is going go accept the one year offer made by Ray Shero. Supposedly, Jagr was on the way to New York from Europe/Russia, with his plane landing at 4:00 p.m. However, as of almost 8:00 p.m., there has been no word from Jagr or the Pens. What this means I don't know. I just know that I'm on the edge of my seat waiting and hoping that next year I get to see Jagr and Crosby on the same team.
Big Brother Twist
Things are heating up for the upcoming season of Big Brother. So far, we don't know who the house guests are, but that should be released by the weekend, I would think. In past years, the house guests are usually in the house the weekend before the start of the show. That's how we can see video of events on the first show. Julie Chen mentioned in one of the interviews for the show that:

Dynamic Duos from the past will have a significant role this season.

Does that mean that they are bringing back popular pairs? Or that the pairs somehow have something to do with the competitions? I would love to have an all-star show, if they get some of the better pairs back, like Janelle.

---
Tuesday, June 28, 2011 -- Afternoon
Jaromir Jagr Returns?
The Pittsburgh sports media have been buzzing for weeks about the possibility of Jaromir Jagr returning to the Pens. At first, most people were nay saying the whole discussion. The Pens were just reaching out to Jagr to attend an alumni golf event. Others were saying that Jagr was a cancer for any team, and that he would definitely not fit on the Pens with Sidney Crosby and Evgeni Malkin. Then Jagr was quoted as saying that he loved playing with the Pens and that he wished he could return. Jagr even said that he owed everything he had in hockey to Mario Lemieux, and that for Mario, he would come back to the Pens for a smaller amount of money. Dan Bylsma said that he would love to have Jagr on the team. Then it started to become real. Jagr was planning on returning to the NHL. The Red Wings were interested in him. And the reports of talking to the Pens returned with renewed vigor. Jagr and Mario had a recent phone conversation that "went well." Now the city is abuzz because the Pens appear to be making a serious effort to sign Jagr. All I know is that I have always loved Jagr. I was hurt when he first left, as most Pens fans were. I was amongst those that booed him in the early years to express my displeasure at the way he left. But then the love returned. I was back on the Jagr bandwagon, and I really hope that he returns to the Pens. We should know this week, because Jagr can't sign with a team before July 1.
Moon-Spinners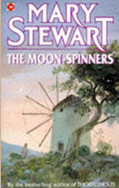 I quickly finished The Moon-Spinners by Mary Stewart. The book is nothing at all like the movie starring Hayley Mills. The book is set in Crete, and Nicola Ferris is headed to a small village, Agios Georgios, to spend the Easter vacation with her older cousin, Francis. On the way to the village, Nicola runs into Lambis, a threatening Greek, and Mark Langley, an injured British tourist. Mark, and his younger brother, 15-year-old Colin, stumbled upon a murder. Mark was shot and left for dead as he fell off a cliff, and Colin was taken away by the bad guys, three men and a woman. Why don't Mark and Lambis go to the village for help? Because they aren't sure who Mark saw, and Colin is basically a hostage of these folks. Nicola helps out the pair and promises not to give them away to the villagers in Agios Georgios. However, she can't help herself for being emotional involved and concerned about Colin, and Mark's, well-being. Nicola begins her search to figure out who the bad guys are and where Colin is. As she begins to suspect the owner of the hotel where she is staying, the hotel manager, and the owner's sister and husband, the suspense and thrills build. This book grabs you and drags you through the suspense of the search and the outcome. Mary Stewart writes a thrilling story, as I mentioned before. Do not expect the book to be like the movie. Even though I love the movie, and Hayley Mills, the book is much better, a more nuanced and exciting story. I would definitely recommend reading the book and wiping all thoughts of The Moon Spinners movie from your mind. I can't wait to continue my journey through Stewart's oeuvre.
Big Brother House
CBS has finally released photos of the Big Brother house. From looking at the house, the rooms seem to be very colorful and youthful. I really liked the design of one of the bedrooms, with candy colored sheets and blankets, stripped walls, and an ice cream cart. I noticed that there are things like a fortune teller machine, ice cream cart, and bicycles. Yes, bicycles, not stationary bikes. i wonder what the theme will be this time around. it does appear to be more youthful. We have nine days to find out! The excitement builds!
---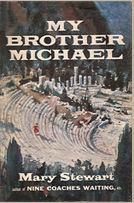 Sunday, June 26, 3011 -- Afternoon
My Brother Michael
I have been doing a ton of reading since i am pretty much immobile in my house. With no weight bearing on one foot, I can get around on crutches, but not that well. I'm not that good on walking around with two feet, let alone on one. So on with the reading. I've been reading some comfort reads and started with Mary Stewart's romantic suspense books. My Brother Michael was first on the list, and it was a very good start as you can tell from my review.

---
Friday, June 24, 2011 -- Late Morning
Update on Lack of Posting
I haven't been online for a while now because I had some foot surgery. It's amazing how much the anesthesia wipes a person out. I know that I spent most of the week recuperating from the anesthesia and the pain pills. I had a chevron bunionectomy. i had the same surgery for my left foot a few years ago, and had the right foot fixed this week. I'm glad that I won't have to do this again because non-weight bearing, pain, and anesthesia really knock one for a loop. So now, it's catch-up time!
Jack Adams
The NHL Hockey Awards were held earlier this week, and Dan Bylsma won the Jack Adams award for best NHL coach. I'm not a fan of his, but I guess that it was warranted based on the team's performance without any of its stars.
NHL Hockey Awards
I slept through most of the NHL awards show, but here's the list of winners for the 2010-2011 season:

CALDER MEMORIAL TROPHY
Award for outstanding rookie
Jeff Skinner, Carolina Hurricanes

FRANK J. SELKE TROPHY
Award for outstanding defensive forward
Ryan Kesler, Vancouver Canucks

HART MEMORIAL TROPHY
Awarded to most valuable player to his team
Corey Perry, Anaheim Ducks

JACK ADAMS AWARD
Award for outstanding coach
Dan Bylsma, Pittsburgh Penguins

JAMES NORRIS MEMORIAL TROPHY
Award for outstanding defenseman
Nicklas Lidstrom, Detroit Red Wings

LADY BYNG MEMORIAL TROPHY
Awarded to player that displays sportsmanship and gentlemanly conduct
Martin St. Louis, Tampa Bay Lightning

TED LINDSAY (formerly LESTER B. PEARSON) AWARD
Awarded to the most outstanding player as voted by fellow NHLPA members
Daniel Sedin, Vancouver Canucks

VEZINA TROPHY
Award for outstanding goaltender
Tim Thomas, Boston Bruins

BILL MASTERTON MEMORIAL TROPHY
Award for the player who exhibits perseverance, sportsmanship and dedication to hockey
Ian Lapierre, Philadelphia Flyers

WILLIAM M. JENNINGS TROPHY
Awarded to the goalkeeper(s) having played a minimum of 25 games for the team with the fewest goals scored against it in the regular season
Roberto Luongo and Cory Schneider, Vancouver Canucks

ART ROSS TROPHY
Awarded to the player who leads the league in total points at the end of the regular season
Daniel Sedin, Vancouver Canucks

MAURICE "ROCKET" RICHARD TROPHY
Awarded to the top goal scorer in the regular season
Corey Perry, Anaheim Ducks

KING CLANCY MEMORIAL TROPHY
Award for player who best exemplifies leadership qualities on and off the ice and who has made a significant humanitarian contribution to his community
Doug Weight, New York Islanders

BRIDGESTONE MESSIER LEADERSHIP AWARD
Awarded to the player who exemplifies great leadership qualities to his team, on and off the ice, during the regular season
Zdeno Chara, Boston Bruins

NHL FOUNDATION AWARD
Award for outstanding goaltender
Dustin Brown, LA Kings

ROGER CROZIER SAVING GRACE AWARD
Award to the goaltender who has played a minimum of 25 games and finished the season with the best save percentage in the National Hockey League
Tim Thomas, Boston Bruins

---
Wednesday, June 15, 2011 -- Afternoon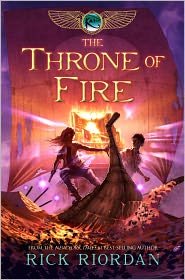 Throne of Fire
I openly admit that I read children's books. Personally, I think that a good story should be ageless. Both children and adults should enjoy the story. One person who knows how to tell an entertaining story is Rich Riordan. Riordan is the author of the Percy Jackson Greek hero stories. Recently, he has started a series featuring the Egyptian gods and goddesses. Throne of Fire is the second book in the series, following The Red Pyramid. Carter and Sadie Kane, a brother and sister pair, are the heroes in the book, and their goal is to prevent the rise of Apophis, lord of Chaos. In order to do this, the Kanes must find Ra, the sun god, and bring him back into action. The Kanes search for the three scrolls that will be needed to resurrect Ra and journey into the Duat, the place where the Egyptian gods exist to find him. The Kanes get help from their friends and from some of the gods, Bast and Bes. You should probably read the first book to find out the back story: how the Egyptian gods were released and what happened to the Kanes' parents. Some of the material is repeated, but it doesn't hurt to start from the beginning. Riordan knows how to tell a thrilling story, giving the heroes only a few days to solve a major problem before the world is destroyed. Riordan also does a service for literacy. By using stories from ancient mythology, he encourages children to "read more about it." I would recommend the book for any who like to read thrilling, fantasy-type tales. I can't wait for the next book in the series. That's the problem with discovering a series at the start. You have to wait for the yearly release.

---
Saturday, June 11, 2011 -- Evening
Boring Belmont
The 143rd running of the Belmont Stakes was a bit of a let down. Granted, the quality of the horses in this three year old crop are nothing to write home about. Heavy rains felt over the day resulting in a sloppy track. The sportscasters were pimping both Animal Kingdom and Shackleford, which makes sense since the Kentucky Derby and Preakness. The sloppy track favored Shackleford because usually the front runners get in the front, and don't have mud thrown all over them. Once out of the gate, Animal Kingdom stumbled after being crowded by Mucho Macho Man on the outside. Shackleford took the early lead, but in the last part of the stretch drive, he collapsed, letting Ruler On Ice, pass him to win the race by 3/4ths of a length. Stay Thirst finished second, and Brilliant Speed was third. The final time as a slow 2:30.88. Complete finish:
| Place | Horse |
| --- | --- |
| 1st | Rule On Ice |
| 2nd | Stay Thirsty |
| 3rd | Brilliant Speed |
| 4th | Nehro |
| 5th | Shackleford |
| 6th | Animal Kingdom |
| 7th | Mucho Macho Man |
| 8th | Santiva |
| 9th | Monzon |
| 10th | Master of Hounds |
| 11th | Prime Cut |
| 12th | Isn't He Perfect |
---
Thursday, June 9, 2011 -- Evening
River Song
I just watched the last episode of Doctor Who before the summer break. This last episode, A Good Man Goes to War, was quite good. The Doctor goes to war to free Amy Pond and her baby from the clutches of Madame Kovarian. Steven Moffat did an excellent job with writing this episode, and we get to see the Doctor call in chits from aliens who owe him. The assorted collection join together to free Amy and baby girl, Melody Pond, but in the end, we find out they failed because Madame Kovarian substituted one of those Flesh people entities for the baby. The baby is already being taken away to turn against the Doctor. River Song was the only person who did not help the Doctor, but she shows up at the end. Why? Because Melody Pond is River Song. We finally find out who River is: Amy and Rory's daughter. River has Time Lord DNA mixed in because she was conceived on the Tardis. Very interesting. Now, who does River kill? It must be the Doctor, and it must tie into the Astronaut killing at the beginning of the season.
Big Brother Starts in July
Season 13 of Big Brother will start on July 7. I am looking forward to the new season. There's something about the show that appeals to the voyeur in me.
GIT Comic Books
I am a huge comic book fan, and I just had a find on Amazon. GIT has electronic versions of the Scooby Doo, Looney Tunes, and Archie comics from the 1970s. I love reading comics, and I love reading the old stuff. GIT did a great job with the comics. They created PDFs of all the issues, and they can easily be read on any platform. It's like a flash back to simpler times to read the comics. The comics are under $10 for 120 comics, which is a great price for such wonderful entertainment!
---
Sunday, June 5, 2011 -- Evening
Nadal Wins
Rafael Nadal managed to come back from an early deficit to take the first and second sets at the French Open this morning. Roger Federer won the third set, but it was too little too late, and Nadal took the fourth set, 6-1 to win his sixth French Open. People were cheering Federer on, but he just seemed like a tired, older play to Nadal. Now it's on to Wimbledon.

---
Friday, June 3, 2011-- Evening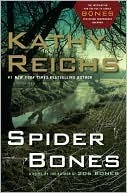 Spider Bones
I finished the last book in Kathy Reichs' Temperance Brennan series, Spider Bones. I had looked at reviews for the book on Amazon, and I have to admit that I'm really surprised at them. As I've mentioned before, Kathy Reichs' books are very similar to each other. After reading the first one, I noticed a common plot theme that ran through all. All the books contain a great deal of detail about the central topic of the book: air crash victim recovery, motorcycle gangs, cults, and in Spider Bones, the recovery and identification of bodies of military service men. Multiple bodies appear, some of them connected, some of them blind alleys that have nothing to do with the current case. This books was no different than the others, and I found it just as enjoyable. I am getting a bit tired of dance between Andrew Ryan and Tempe. I would like to see them get together, to actually talk to each other and bare their souls. They might realize that the both love each other. However, in reading the reviews for Spider Bones, you would not think the reviewers read the earlier books. They claim they did, and they claim that this book is more rambling and disjointed than the others. But that is definitely not the case. I've enjoyed all thirteen of the books, and I already have Flash and Bones on reserve at the library, even though it won't be released until the end of August. The books have enough mystery, action, and science to keep me entertained. As long as that is the case, I will continue to read and enjoy the books.
Djokovic Loses
We knew that it would have to end some day, and that day was today. Novak Djokovic lost to Roger Federer in the French Open semi-final. That was the end of Djokovic's 43 match winning streak. On Sunday, Federer and Rafael Nadal will meet in the final. Yeah, Nadal easily defeated Andy Murray, who has choke-itis when it comes to important matches. I'm rooting for Federer. If Djokovic can't beat Nadal, then I hope that Federer does it. Why am I anti-Nadal? I'm not sure, but there's something about him that just encourages me to root against him.

---
Thursday, June 2, 2011 -- Evening
Mens Draw in French Open The men's draw in the French Open has lived up to expectations. The top four seeds made it into the men's semifinals. Tomorrow, Rafael Nadal and Andy Murray will play in one semifinal while Novak Djokovic and Roger Federer will play in the other. I'm rooting for Nadal and Djokovic to make it to the final. That would be some match, since Djokovic seems to have Nadal's number on clay this season. Nadal has been saying that he hasn't been playing his best. I wonder if that is just some sort of mind game that he's playing to make others think that they could easily get the best of him. Vancouver versus Boston The Stanley Cup final started last night. The game was one of the most boring Stanley Cup finals game that I have seen in a long time. The game was scoreless until the last 19 seconds of the game when the Canucks got one past Tim Thomas to win the game. There were some skirmishes between the Canucks and the Boston Bruins. The most talked about moment was when Vancouver's Alex Burrows bit Patrice Bergeron's gloved finger. Bergeron was making a big deal about it, but I say that if you put your finger in someone's face/mouth, then you deserve to get said finger bitten. I think it should be a rule.

---