The Daily Bongo
June 2012
Tuesday, June 26, 2012 -- Afternoon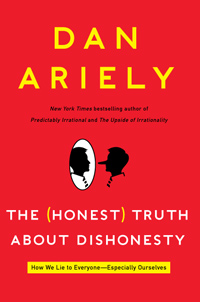 The (Honest) Truth About Dishonesty by Dan Ariely
Do you think that you are an honest person? Well, if you do, you are probably wrong. The lesson that you will learn from Dan Ariely is that all of us are a little bit dishonest. Dan Ariely is a behavioral economist, and his past books have looked at whether people use rational behavior in their interactions. As I found out, I was "predictably irrational." After all, I was just as gullible as everyone else. Wave a "free" sign in front of me, and I will be just as likely to wait in a long line to get my free item. In The (Honest) Truth About Dishonesty, Ariely shows us that people, unless they are monitored by a disinterested third party, are likely to behave just a little bit dishonest. Ariely uses his research to show us how that is the case. In control situations, when people performed a matrix test, finding two numbers in a matrix of nine that add up to 10, most people were able to identify four out of 20 correctly in five minutes. When people could shred their sheet, and just say how many they identified correctly, they would say six. People didn't lie by a lot, but just a little. We tend to have a view of ourselves as honest people, but if you were in that situation, would you lie about the number you solved?

So why are are dishonest? Part of it is that we can rationalize our behavior. We may take a free candy bar from a vending machine because we think of all the quarters we lost in the machine in the past. We may see other people being dishonest. We may have already depleted our willpower because of other things going on in our life. For example, a person having a hard day at the office may bend on a diet in the evening. Creative people tend to be more dishonest, probably because they are used to making up stories and coming up with scenarios that help them to rationalize. So what can keep us on the straight and narrow? Honor pledges (verbal and in signing our name to an honesty statement), moral reminders (signs), and supervision. If you know that someone is watching you, you will be more likely to be honest. However, if you have a social friendship with the watcher, you both may become dishonest because you both want to altruistically help the other.

Ariely knows how to tell a tale, and his books always get me thinking. I strongly recommend The (Honest) Truth About Dishonesty. It can help you understand the underpinnings of the recent banking and financial collapse. It might also make you wonder if you really need that new crown that the dentist wants you to get. The most disheartening thing that I found is that as you have a longer relationship with a service provider, you trust that person more. However, that person also starts to feel more comfortable with recommendations that might not have your best interest (health or financial) in mind. I can't wait to see what Ariely investigates next!

---
Friday, June 22, 2012 -- Evening
Bye-bye Jordan Staal
As I write this, the NHL draft is being held here in PIttsburgh. That leads me to the shocking news that the Pens traded Jordan Staal to the Carolina Hurricanes. The Pens had made a good ten year deal to Staal yesterday, but Staal turned down the offer and said he wanted to go free agent. Well, the Pens decided to trade him to get something at the draft. Supposedly, Staal wanted to go to Carolina so he could play with his brother, Eric, and possibly with his younger brother, Jared, who is a prospect with Carolina. Staal got married today, and supposedly Ray Shero referred to it as a wedding gift. The Pens got the eighth pick, and they chose a defenseman, Derrick Pouilot. The Staal trade isn't such a shock to me. Staal really didn't have a role here, and he probably was getting tired of being on the third line. Also, he was getting as many hours as he wanted.
Malkin's Trophies
Evgeni Malkin made out at the NHL Awards a couple of days ago. He got the Art Ross since he lead the league in scoring. Then he won the Hart Trophy, for the league MVP. The NHLPA members voted Malkin the league's best player, giving him the Ted Lindsay Award. Malkin deserved all the accolades for the great work he did this season.

---
Wednesday, June 20, 2012 -- Afternoon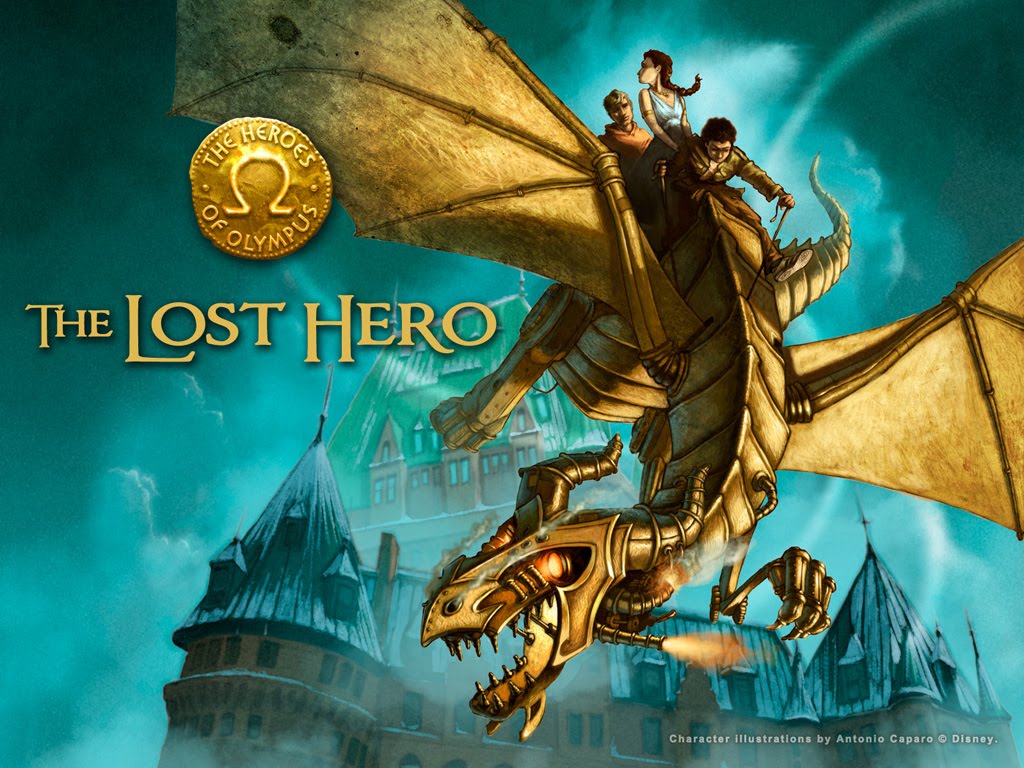 The Lost Hero by Rick Riordan
I recently got a Kindle Touch, and of course, the thing adults do when they have a Kindle is read some kids' books. I had been wanting to read the new Olympians series by Rick Riordan, and my library (Overdrive) finally had The Lost Hero available. This book starts the new Olympian series. Percy Jackson, the hero from the other five books, is missing in this book. Instead, the hero is a young teen named Jason. He has lost his memory and has no clue who he is. Jason tries to cover up his memory loss as he talks to Piper McLean, who says she's his girlfriend, and Leo Valdez, who says he's Jason's best friend. When Leo and Piper are attacked on the field trip to the Grand Canyon, Jason realizes that he has extraordinary skills. He can fly. Coach Hedge turns out to be a satyr, who is supposed to be protecting Piper and Leo. Jason succeeds where Coach Hedge fails in battling the storm spirits. When Annabeth shows up looking for Percy Jackson, who has gone missing, she takes the trio to Camp Half Blood. Zeus claims Jason, Aphrodite claims Piper, and Hephaestus claims Leo. Now, there isn't supposed to be another child of Zeus, and Chiron is taken aback when Jason speaks Latin, but doesn't know Greek. Obviously, Jason is a son of Zeus' Roman aspect, Jupiter. Imagine the shock, when Jason realizes he is Jason Grace, brother of Thalia. Piper has visions of her father being held hostage by an evil being who wants Piper to betray the demigods. Meanwhile, the gods have gone silent, and monsters are quickly reforming when they are killed. Percy Jackson has gone missing, and no one knows what happened to him. Obviously something bad is happening, and when Rachel, the oracle, gives the quest that Jason must go to rescue Hera, Zeus' wife. Piper and Leo join him, and so the frantic action begins. Will Jason regain his memory? Will Piper rescue her father and betray her friends? Will Percy Jackson be found? Will Hera be rescued? Will anyone figure out that there are TWO demigod camps? One for the children of Greek gods and the other for Roman gods.

This book is just as good as the Percy Jackson books. I found myself wondering if the kids would succeed, and I enjoyed every bit of the ride. Gaea, Mother Nature, is the big villain in this series. She is trying to wake up and take over the world again, killing everyone. That means that the earth is not a safe place for the demigods, only the sky and the water. There is no help from the Gods, at least not officially, and it really does look dire for our heroes through most of the book. The next book in the series, The Son of Neptune is already out. Just from the title, I can tell that Percy Jackson must show up. Book three, The Mark of Athena will be out this fall. I'm really curious to see how the series plays out.

Secretariat Gets the Record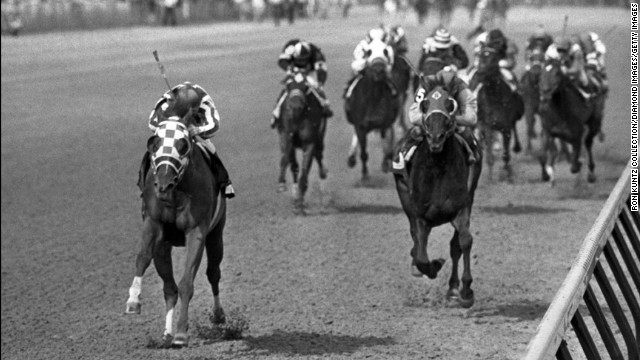 Well, it's almost 30 years, but Secretariat was finally vindicated. Back in 1973 when Secretariat won the Triple Crown, he had track records in the Kentucky Derby (1:59 2/5) and the Belmont Stakes (2:24). There was a problem with the official timer at Pimlico, and it recorded Secretariat's winning time as 1:55. The controversy arose when two clockers from the Daily Racing Form clocked Secretariat at 1:53 2/5. The officials at Pimlico, the Maryland Jockey Club, admitted there was a problem with the clock, and recognized the time as 1:54 2/5. This year, Penny Chenery, Secretariat's owner, asked the Maryland Jockey Club to officially review the time. They did, and after having a few companies independently review the videotapes of the race, the Maryland Jockey Club unanimously voted that Secretariat's time should be officially recognized as 1:53, which is a new stakes record. It would have been a track record, but Farma Way sent that in 1991 in the Pimlico Special (1:52 2/5). At least for the hardcore Secretariat fans that are still out there, it is a victory. Ms. Chenery cheered and clapped at the hearing when the judgement was announced.

---
Sunday, June 17, 2012 -- Evening
Time Warp Trio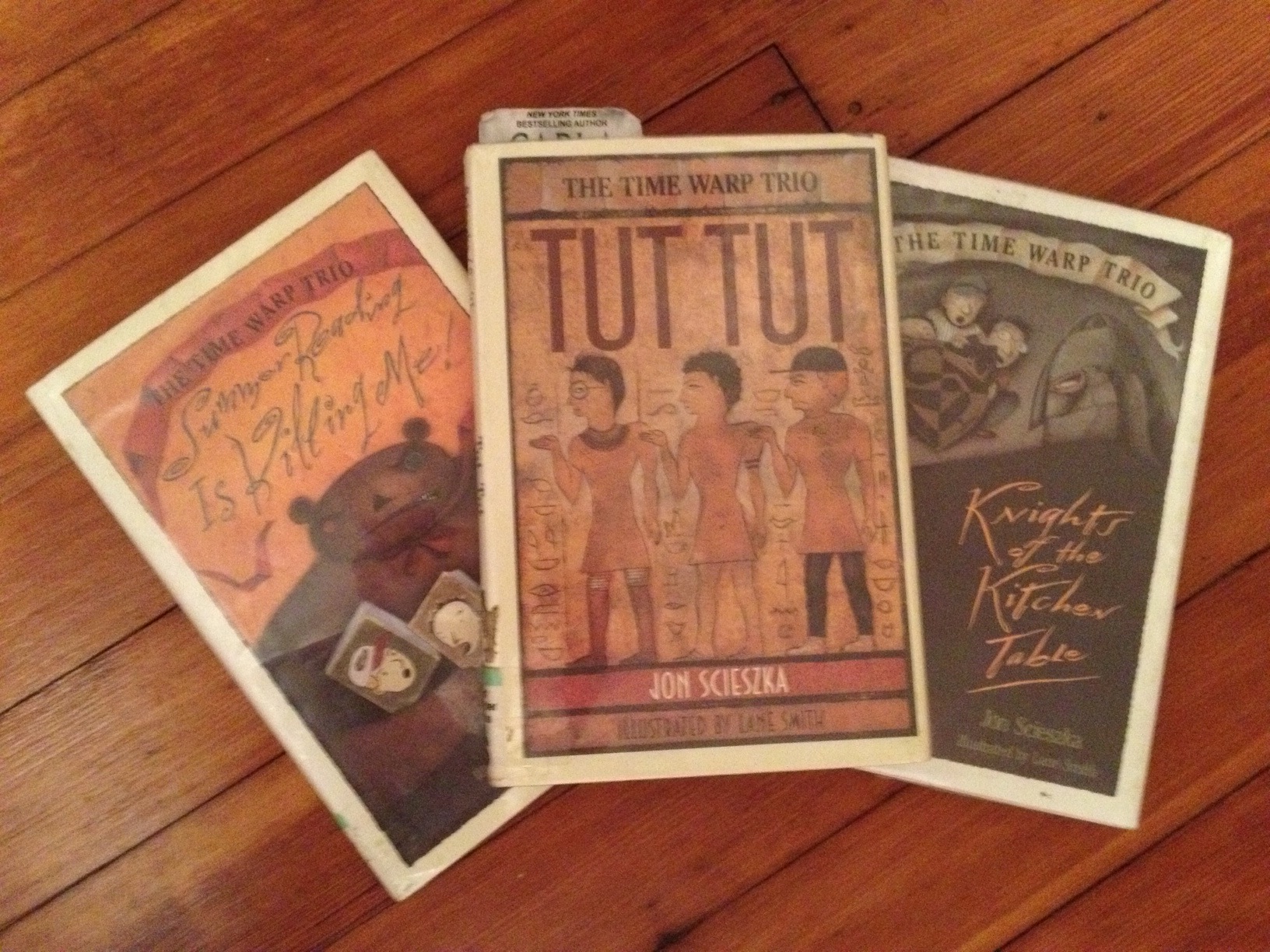 I can't remember how I heard about this Time Warp Trio, but I thought I would check out some of the books. I have a young nephew and niece who will be able to read in the next few years. I figured that I better start to get a handle on some of the books out there for younger readers so I will know what to get them. The Time Warp Trio books are very interesting, and they remind me of the Edward Eager books that I loved as a kid. The books are written by Jon Scieszka and illustrated by Lane Smith. The books were made into a television series. The premise behind the books: Joe Arthur gets a book, known as The Book as a birthday present from his uncle Joe, who is a magician. The book is a time traveling device. Joe and his friends, Sam and Fred, get sucked in time traveling adventures when they open The Book. It seems that through the series, the kids try to figure out how to use the book. What I like about the books is that it introduces young readers to various historical or fictional characters. Since the books are so short, I was able to read three of them in one sitting. I didn't get the books in chronological order since I got them from the library. I read:

Knights of the Kitchen Table
This is the first book in the series. Joe, Sam, and Fred find themselves back in King Arthur's time. They go to Camelot and help King Arthur get rid of a giant and a dragon that threaten the city.

Tut Tut
This is the sixth book in the series, and Joe, Sam, Fred, Joe's sister, Anna, and Anna's cat, Cleo, journey back to Ancient Egypt. Joe argues with Anna that there were only male pharaohs. Anna insists that she saw a female pharaoh, and opens The Book to show them. Joe, Sam, and Fred think they traveled back to the time of King Tut. Instead, Hatshepsut, the first female pharaoh, and Thuthmose III are in charge. Hatshepsut was regent for Thuthmose, but continued to be in charge even after Thuthmose came of age. Joe, Sam, Fred, and Anna manage to escape back to modern times with the help of Isis.

Summer Reading Is Killing Me
Joe, Sam, and Fred have a summer reading list, and they don't want to read it. Unfortunately, the summer reading list is put in The Book in this seventh book of the series. Now all the characters from the reading list, Frog and Toad, Hoboken Chicken, Peter Rabbit, and many others are all in the same timeline. Before anything permanent happens to the characters, (meaning anything bad or hurtful) Joe, Sam, and Fred have to find The Book and return to their own time and remove the summer reading list from The Book. Watch out for the Teddy Bear!

The books were fun reading. I'm sure that as my nephew and niece get older, they will really enjoy the books. Reading them in the series order would probably be the best thing so you understand how The Book works as the boys figure it out. Now I want to check out the television series.

---
Monday, June 11, 2012 -- Afternoon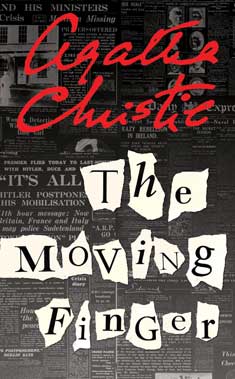 The Moving Finger by Agatha Christie
I read one more Miss Marple mystery, The Moving Finger this weekend. Agatha Christie wrote this one in early 1940s with publication in 1942. This is one of my favorite of the Marple books. The story is narrated by Jerry Burton. He and his sister Joanna go to stay in Lymstock while he recovers from a bad play crash. Jerry and Joanna rent Miss Emily Barton's house, and they prepare to settle in to boring village life. Of course, we all know that it won't be boring for long. Anonymous letters are making the rounds in Lymstock, and Jerry and Joanna aren't excluded from those who receive them. Of course, everyone knows that something bad will come from it all, and it does when Mrs. Symmington winds up dead, supposedly at her own hand. Of course, Jerry takes Mrs. Symmington's elder daughter Megan under his wing. Her step-father doesn't have time for her. Within a week, Scotland Yard is hard at work in the village when Agnes, the Symmington's maid turned up murdered, after telling the Burtons' housekeeper, Partridge, that she, Agnes, was confused over something. The police are baffled until Elsie Holland, the stunningly beautiful but personality-less governess, receives her first anonymous letter. Eventually, the murder is captured, and true love blooms for Jerry and Joanna.

The interesting thing about this book is that Miss Marple only appears in the last quarter of the book. Although Jerry's subconscious figures out the mystery, it takes Miss Marple, with the help of Megan to solve the crime. Miss Marple explains it all. Christie populated the book with some interesting characters. Megan is one of my favorites. She lives in her own world, and doesn't give in to the conventions of others who want her to take up some sort of work. As Megan says, she really doesn't like people, and she doesn't go out of her way to befriend them. Mrs. Dane Calthrop is the minister's wife, and it's through her intervention that Miss Marple gets involved in the case. Mrs. Dane Calthrop is horribly offended at the evil of the murderer of Agnes and says that she will get an expert in murder and crime on the case. The 1940s were supposed to be the apex of Christie's books, and The Moving Finger is a good representation of Christie's best.

---
Saturday, June 9, 2012 -- Evening
Union Rags Wins Belmont
Although there was no Triple Crown, I thought that today's 144th Belmont was an exciting race. Union Rags finally lived up to the hype and won the race by a head. Paynter, trained by Bob Baffert and ridden by Mike Smith, lead most of the way and kept the pace relatively slow. The final time for the mile and a half was 2:30.42. Unfortunately for Baffert and Smith who were the team for Bodemeister (who was also second in both the Derby and Preakness), Smith allowed Paynter to move away from the rail, making room for Union Rags to sneak through. Smith blamed himself, but I think that he did a great job in all three Triple Crown races. Atigun finished third. I was happy for Union Rags, who was my favorite for the Derby, because it gave Michael Matz, Barbaro's trainer, another Triple Crown win. Yeah, it was a let down to not have a Triple Crown, but hope always springs eternal in the breast of the horse racing fan. Maybe next year!

---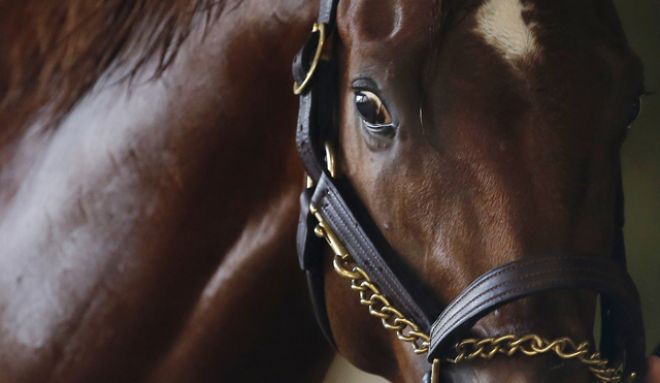 Friday, June 8, 2012 -- Early Evening
I Won't Have Another
Really disappointing news for all horse racing fans. The folks behind I'll Have Another, owner J. Paul Reddam and trainer Doug O'Neill, announced that the colt would be scratched from tomorrow's Belmont Stakes. It seems that I'll Have Another had a problem with some swelling in his left front leg. To prevent any future problems, or a possible breakdown in the race, they decided to pull the horse out of the race and retire him. This is such bad news for the sport and the race because now there is no interest in the Belmont, and it's a huge letdown for any who hoped for another Triple Crown win. I don't know. I've been hearing folks say that the Triple Crown races are too hard for horses. Weird, because it has been this way since the races started. Maybe breeders aren't trying to get physical characteristics that don't fit in with endurance and physical strength. I know that I'm really disappointed.

---
Thursday, June 7, 2012 -- Evening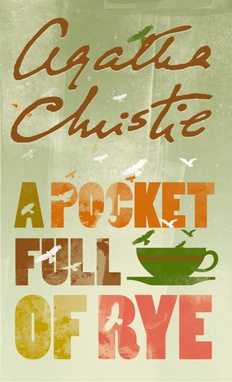 A Pocket Full of Rye by Agatha Christie
I've been in the mood to read some Miss Marple mysteries, and I started the second in my group of library books: A Pocket Full of Rye by Agatha Christie. This book fell in the collection of Christie books that used a nursery rhyme in the plot of the book. In this case it was Sing a Song of Sixpence. Rex Fortescue died in his office at drinking tea, and when the police checked things out, they found loose grain, rye, in his pocket. This puzzled the police, and since Rex died from taxine poisoning (from yew trees), they took the investigation to Rex's estate, Yew Tree Lodge. Rex had a much younger wife, an adult son and daughter, and an estranged son in Africa. Could it be the wife? Nope, because she died a few days later at tea. Then the maid, Gladys, was found dead near the clothesline with a clothes pin on her nose. The last really irritated Miss Marple, who trained the maid in St. Mary Mead. Of course, Miss Marple recognized the situation for what it was, a devious twist to the nursery rhyme:

The king was in his counting house,
Counting out his money;
The queen was in the parlour,
Eating bread and honey.

The maid was in the garden,
Hanging out the clothes;
When down came a dickey bird
And pecked off her nose.

Of course, Miss Marple made the trip to Yew Tree Lodge and figured out whodunit, shifting through the distraction of dead blackbirds put in a pie and on Rex Fortescue's desk a few months before the killings. She pointed Inspector Neele in the right direction, just when he was thinking Miss Marple might be a bit past it.

A Pocket Full of Rye was published in 1953, and the mystery and writing are great! I really enjoyed the book. Miss Marple got involved in just the right amount, and the mystery was a puzzler. Since this was not the first time that I read it, I knew what to look out for, and found all the clues pointing to the murderer. Sometimes people claimed that Christie hid the clues, and then threw out the solution at the end. I can assure you that was not the case with A Pocket Full of Rye. The book was a great read, and if you pay attention, you can figure out the murderer when you read it!

---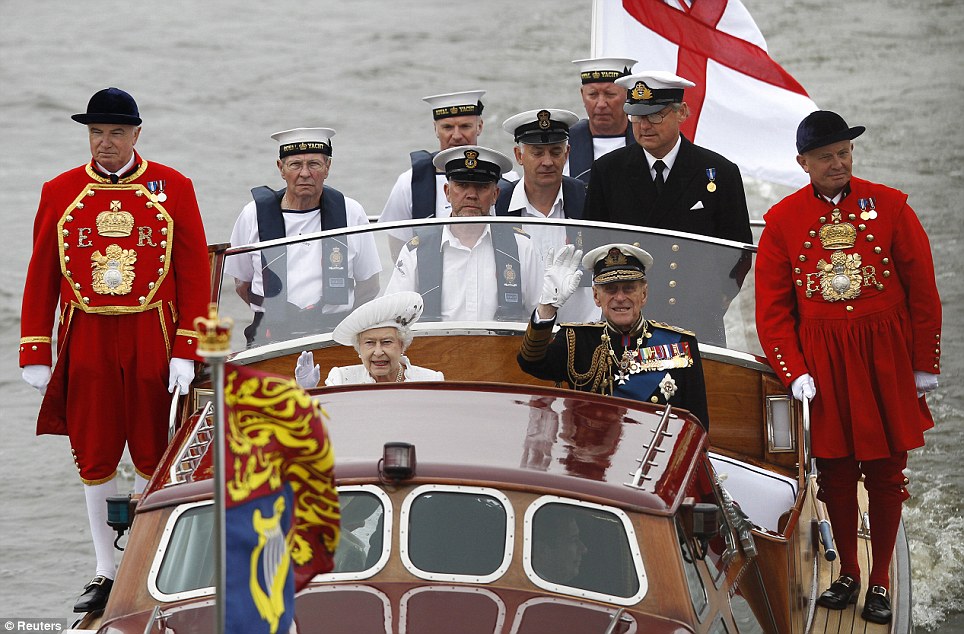 Sunday, June 3, 2012 -- Morning
Diamond Jubilee Flotilla
I have been watching the Diamond Jubilee Flotilla on BBC America. This weekend, Queen Elizabeth II has been celebrating the 60th year of her reign. There have been a ton of documentaries on TV about the Queen, and I have been gobbling them up. I admit that I am a huge fan of the British royalty. There's something so moving about the pomp and circumstance that the Brits put on for a royal show. A ton of work went into the event. It is quite spectacular to watch. The Queen looks quite lovely in her white dress coat and hat. The Duchess of Cambridge (Kate) has on a nice bright red dress with hat. Yesterday, the Queen was at the Epson Derby. There are events over a four day period, with a concert tomorrow night, and a thanksgiving ceremony on Tuesday morning. The flotilla will take several hours to make their way down a few miles of the Thames, with all sorts participating, including the big sail boats.

The Mirror Crack'd from Side to Side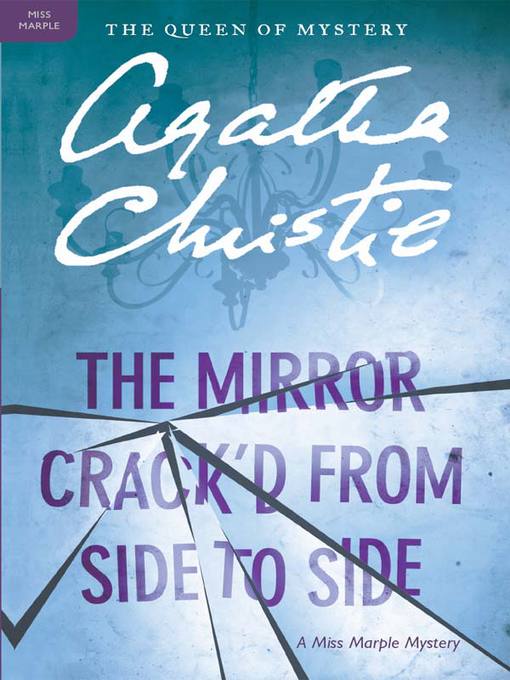 I have finally managed to finish reading a book! It seems like it's been a long time since I read through a book. I was in the mood for some of Agatha Christie's Miss Marple and read The Mirror Crack'd from Side to Side. The book was published in 1962, and Christie dedicated it to Margaret Rutherford. Today, some people claim that Christie would be irritated with the liberties that the television producers have taken with Miss Marple. All I have to say is that if she dedicated a book to Margaret Rutherford, who was an extremely a typical Marple, she would be perfectly okay with the new Marple. After all, it introduces her characters and novels to a whole new generation.

In The Mirror Crack'd, Christie seemed more aware of the aging, both her own and Miss Marple's. Miss Marple was stuck with a live-in companion, Miss Knight, an extremely irritating woman who wanted to coddle and baby Miss Marple. But Miss Marple didn't want all that coddling, and she rebelled, taking a walk on her own, falling, and being helped by Heather Badcock. Miss Marple's body may be frail, but her mind was still as sharp as a tack, and she realized that Heather Badcock was one of those characters who was just asking for someone to kill her. When Marina Gregg, famous movie actress, bought the Bantry estate, the whole town was thrilled and couldn't wait to see what changes were made to the house. Mrs. Bantry went to a fete at the house and was there when Heather Badcock was poisoned. Of course, Mrs. Bantry reported to Miss Marple, and on the advice of Doctor Haddock, Miss Marple began to unravel the murder to discover the murderer. Unfortunately, two more die before Miss Marple discovered the murder, but she figured it out!

I enjoyed this book. The book was written and published in the questionable era, when Christie's plots and writing seemed to disintegrate a bit. However, I thought the book was very entertaining and fast paced. As I mentioned, Christie seemed very aware of the changing times. Miss Marple was laid low with a bad case of bronchitis, and even had to realize that she couldn't continue living alone in St. Mary Mead. The town itself was changing. A housing development was built in the town, and the people living there have a different character. The young people, like Cherry, who cleaned for Miss Marple, have a different attitude. As Miss Marple commented, Cherry used a vacuum cleaner where others in the past would use a broom and dustpan. Times were changing, and Miss Marple, and I think Agatha Christie, felt out of place. The title of the book, The Mirror Crack'd from Side to Side, came from the poem, The Lady of Shalott by Alfred, Lord Tennyson. The look of doom overcame the face of Marina Gregg, and ultimately led to the death of Heather Badcock. The book was a good Miss Marple mystery, and I would strongly recommend it!

---