The Daily Bongo
March 2013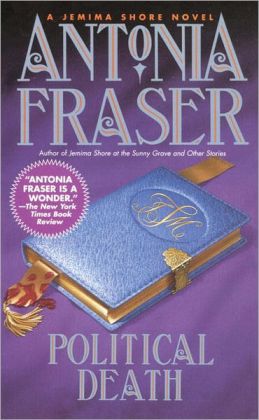 Political Death by Antonia Fraser
I felt in the mood for something completely different. Well, not so completely different that it wasn't a mystery. I picked up Political Death by Antonia Fraser. Political Death was the last book in the Jemima Shore mystery series. Fraser usually wrote historical non-fiction, but for a span of time, she wrote ten mystery books that featured Jemima Shore, investigator reporter. Jemima was one of those strong, modern women who had a life style free of attachments. It's not that Jemima didn't want the man, but just that she seemed to get involved with married men or men who were wedded to their careers. In Political Death, Jemima was just starting research on a project when she met Lady Imogen Swain. Lady Imogen had memories of an incident, but couldn't seem to get the memories verbalized. Lady Imogen had had an affair with Burgo Smyth, a married man who was now Foreign Secretary in Britain. Lady Imogen, in moments of senility, seemed to think she was still in the past, and started to dredge up memories of her time with Smyth and his involvement in the Franklyn Faber affair. Faber had stolen government papers from Smyth, and then during his trial, Faber went missing, presumed to have committed suicide. Both of Lady Imogen's daughters, Olga (married to Holy Harry an ineffectual politician) and Millie (actress in a Shakespeare play with Randall Birley, hunk) tried to control their mother, but things were getting out of hand. When Lady Imogen threw herself from a high balcony at her home after meeting with Jemima and offering Jemima a plethora of diaries, Jemima turned her hand at investigating the death and the old Faber affair.

The Jemima Shore mysteries are light entertaining mysteries, and Political Death is no different. I was surprised at the twist in the story, and I must admit that I did not see the solution to the Faber disappearance or the death of Lady Imogen. Political Death was written in 1995, and there has not been another Jemima Shore since then. I wish that Fraser wrote more of the stories, but I suppose that I have to be satisfied with the ten that exist. I have some of the past volumes on my to-be-read pile, and I hope to get to them soon!

---
Sunday, March 17, 2013 -- Evening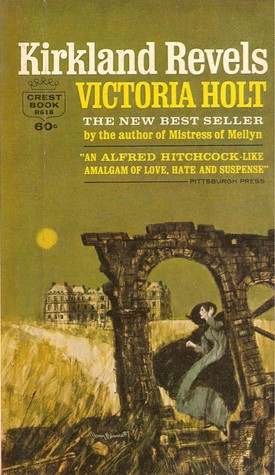 Kirkland Revels by Victoria Holt
Wow! That's what I have to say after reading Kirkland Revels by Victoria Holt. The story was a traditional gothic romantic suspense book. The heroine, Catherine lived on the moors in a dark house with her father. She had just returned from her education in France, and she was desolate at not having any prospects for the future. One day on the moors, she found a gypsy woman with an abused and hungry dog. Catherine tried to buy the dog from the woman, but found she didn't have money. That's where Gabriel Rockwell came into the picture. He was passing by, and Catherine asked for help with buying the dog. That was the start of Gabriel and Catherine's whirlwind relationship. Within weeks, the pair was married, even though Catherine felt that there was much about Gabriel that she didn't know. Catherine and Gabriel returned to his family home, Kirkland Revels. The house is as dark and brooding as Gabriel's inner thoughts. Within days of getting to the house, Friday, the dog went missing, and Gabriel, the heir to Kirkland Revels, threw himself from a third floor parapet. Catherine went back to her father's house, but soon found out that she was pregnant. Of course, the Rockwell family insisted that Catherine come back to Kirkland Revels to have the baby. That's when Catherine started to be terrorized by a phantom monk. Was she crazy, or was someone trying to harm Catherine and her unborn baby to gain control of the baby's rights to Kirkland Revels.

The book was great! The atmosphere was great. Victoria Holt created a perfect rendition of the traditional gothic romantic suspense. The heroine was being haunted by evil, but there was romance in the background with the cousin, Simon Redvers. I was so engrossed in the book that I couldn't put it down. It was one of the best Victoria Holt books that I read recently. Now to read more of some of the earlier books.

---
Thursday, March 14, 2013 -- Afternoon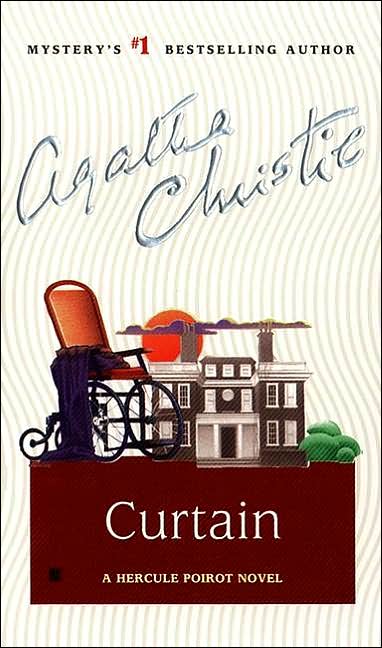 Curtain by Agatha Christie
I've been a fan of Agatha Christie since I was a teenager. I remember getting Curtain as a Christmas present one year. It was the only time I read the book, and I remember that I was quite shattered by the book. Obviously, I don't want to give any spoilers to someone who hasn't read the book, but it is Hercule Poirot's last case. Agatha Christie originally wrote the book in the early 1940s in case she was killed in one of those bombing raids on London. Her thought was that the Poirot and a Miss Marple, Sleeping Murder, would help support her daughter and grandson in her absence.It was locked away until the 1970s when it became obvious that Christie would not be able to write another book. Curtain was published shortly before Christie's death. Sleeping Murder was published after Christie's death.

Curtain, as I mentioned, was Poirot's last case. He and Hastings returned to the site of their first case, the country house named Styles. Hastings was a recent widow, and he was quite disturbed to find Poirot in a much weakened physical state. Poirot was after X, a person who was responsible for several deaths that had been done by others. For example, in one case, the daughter murdered her repressive father, and then went to the police to turn herself in. Another time, a husband murdered his wife. Poirot knew that X was at Styles, which has been turned into a boarding house, and that murder was soon to follow. Also at Styles were Hastings daughter, Judith, who is working with a research doctor, Dr. Franklin. Dr. Franklin was unhappily married to woman who claimed to have poor health. Mrs. Franklin's old beau was there, Mr. Norton, a bird watcher, and Elizabeth Cole, who was the sister of the woman who murdered the repressive father. It became obvious that there was tension in the air. Even the new owners, Colonel and Mrs. Luttrell showed signs of cracking under the strain. After the Colonel accidentally shot his wife, who was not badly injured, Hastings was on the watch. But could he stop the next murder? With concern over his daughter Judith, Hastings himself almost stooped to murdering a man Hastings thought was going to use his daughter in a nasty affair.

The story was very gripping, and I enjoyed reading the book more this time the first. Knowing how the story ended, I was on the lookout for all the potential clues, and they were all there. The book was a very fitting end to both Christie's and Poirot's careers. I would recommend the book to any mystery lover. Just keep in mind that the ending might be a bit of a shock. I'm glad that I finally got over my negative feelings about the book and reread it. Agatha Christie is one of those authors who should be read and reread many times!

---
Sunday, March 3, 2013 -- Evening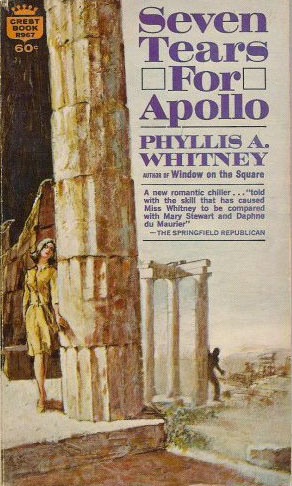 Seven Tears for Apollo by Phyllis Whitney
When I was a teenager, I used to love Phyllis Whitney's books. They were one of my first introductions to romantic suspense, and I remember devouring the books during lazy summer afternoons. I have not read a Phyllis Whitney since then, but since I had luck revisiting the books of Victoria Holt and Mary Stewart, I thought what the heck. I chose Seven Tears for Apollo because it sounded like it would be fun. The book was set in Greece in the early 1960s. Dorcas Brandt was married to Gino at a young age. Gino seemed like a really romantic guy, but he turned out to be a sadistic evil person. He prevented Dorcas from running away from his abuse, and when she tried to get help from an old family friend, Mr. Dimitrious, that friend was run over and murdered by Gino. Dorcas was hospitalized in a mental health institution. Gino died in an airplane crash, and Fernanda, his surrogate American mother, took over caring for Dorcas, and Dorcas' daughter with Gino, Beth. Fernanda takes Dorcas to the island of Rhodes. Dorcas goes along because Dorcas wanted to talk to Mrs. Dimitrious who had returned to Greece. There's a mystery about a missing 2000 year old statue head of the crying boy and Gino's involvement in the theft. There's also Johnny Orion, a possible love interest for Dorcas.

So what did I think of the book? It was awful! I just wanted to reach into the pages of the book, grasp Dorcas by her neck, and shake the living daylights out of her. The girl was whiny, and she left Fernanda bully her and make decisions for herself and her child. Dorcas went around acting like an unstable, annoying woman who would be a trial to anyone. Dorcas wouldn't stand up for herself; she let Fernanda make all the decisions, and just cried and moaned about her pitiful existence. I wound up not caring what would happen to Dorcas. I did want to know what happened to the stolen head, and that was the only reason I continued to read the book. I like my heroines strong and resilient, not weak and emotional wrecks. Maybe it was just this one book, so I might try another Whitney. Maybe my tastes changed from my teenage years.

---