The Daily Bongo
May 2013
Wednesday, May 22, 2013 -- Evening
Your Royal Hostage by Antonia Fraser
I am catching up on my huge pile of library books, and Your Royal Hostage by Antonia Fraser was one of them. It's one of the last Jemima Shore mysteries. In this one, Jemima has been fired from Megalith because she was supporting Cy Fredericks' efforts there. Unfortunately, Cy was on his way out. So Jemima finds herself without a job, but not for long. Instead, Jemima found herself working for an American television show covering the upcoming royal nuptials of Princess Amy of Cumberland to Prince Ferdinand. Unfortunately. a group of animal rights activists, Innoright, have planned to disrupt the wedding and kidnap Princess Amy to promote their animal rights agenda.

Unfortunately, although the book was a quick read, it wasn't really up to the standards that I had come to expect of Antonia Fraser. The mystery, if there really is one, was not that exciting. I kept on waiting for the story to pick up and become exciting. However, it never really did pick up. Jemima seemed to have been just a very minor character in the story, and she really didn't play an active role in the book at all. It was rather a disappointing story. Next on my list is The Cavalier Case by Fraser. It has to be better than Your Royal Hostage. Anything would be better!

---
Saturday, May 18, 2013 -- Evening
Calumet is Back!
Orb was the favorite for today's 138th running of the Preakness Stakes. He seemed to have a good recovery from the Kentucky Derby, but we all know how successful horses have been in the Triple Crown bid. When he got the rail post for the start, I thought it might be problematic because horses who come from behind can get trapped in traffic. Well, it seems that Orb doesn't like being in traffic, and he wound up finishing fourth in the race today. Gary Stevens, who had retired and then come back to race again, rode Oxbow to a wire-to-wire win in 1:57.54. Itsmylucky Day was second, and Mylute was third. Oxbow ran for Calumet Farm, just like earlier Triple Crown runners, Whirlaway and Citation. So there is no Triple Crown winner again this year.

---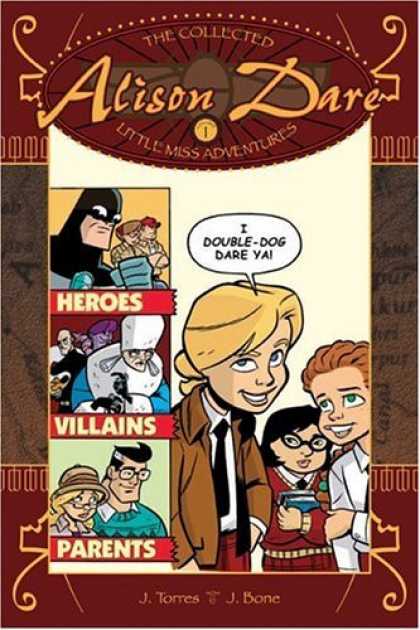 Thursday, May 16, 2013 -- Afternoon
Alison Dare, Little Miss Adventures
On Free Comic Book day, my local comic book store, Phantom of the Attic, in the Oakland area of Pittsburgh, had a sale on comics that were stored in long boxes. One of the comics that I picked up was an Alison Dare, Little Miss Adventures. The comic was just a short glimpse into the Alison Dare world, so I looked up the title in my local library. They had two volumes of the collected Alison Dare comics. I quickly read the two books, which were just so much fun!

Alison Dare is the daughter of an female archaeologist and a male librarian. Her father has an alter ego, the Blue Scarab, a super hero who fights evil. There's also Uncle Johnny, who is a super spy, disguising himself as a variety of characters. Alison goes to a convent school with her two best friends, Wendy and Dot. Alison gets the trio into a variety of misadventures, usually centering around her mother's archaeological adventures. Unfortunately, there aren't many adventures in print. I wish that J. Torres and J. Bone would do more Alison Dare.

---
Wednesday, May 15, 2013 -- Afternoon
Menfreya in the Morning by Victoria Holt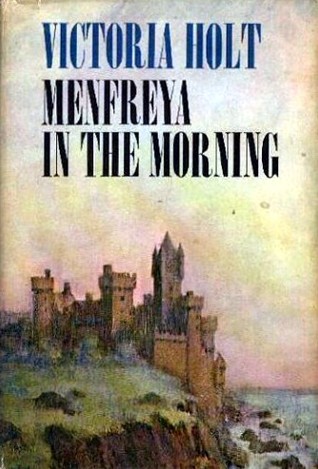 Nobody today writes romantic suspense/gothic romances like they used to. At least, that's what I think after reading Menfreya in the Morning by Victoria Holt. As you can probably tell by the plethora of romantic suspense books in my reviews, I love a good romantic suspense. What makes a romantic suspense book good? Well, you have to have a heroine that you like, and she has to fall in love with a guy that is a handsome rake. Then you have to throw in some conflict that comes between them. Perhaps the heroine doubts the motives of the hero. Is he really in love with her? Has he married her for her money? Is there another woman? Then you have to have some mysterious circumstances, like threats to the life of the heroine. Is it coming from the hero, or from some other outside source? I want some romantic scenes, but I don't want graphic or explicit sex. Leave it to my imagination, because I can make it better than the author in most cases.

So how does Menfreya in the Morning compare to that ideal? It compares very well! Harriet Delvaney is the heroine: the only daughter of a wealthy member of Parliament. She falls in love with the Menfreya family because she doesn't really have love or attention at home. Gwennan, the younger Menfreya, becomes Harriet's BFF. Bevil, the elder son, of course, becomes Harriet's romantic interest. The Menfreyas are an interesting bunch. Women are attracted to the Menfreya men like moths to a flame, and the same goes for the women. Plain Harriet can't compare to the beautiful women and girls who fling themselves at Bevil's feet. Not only that, but the poor girl is also gimpy! Yes, she has a limp that becomes worse whenever she is trying to impress others. Harriet does not have an easy life at home, even though she is a (or will be) a wealthy heiress. Her mother died giving birth to Harriet, and her father blames Harriet for it. He can't stand the sight of Harriet, and because she knows it, she tends to be truculent when around him. When Harriet does achieve her dream of marriage to Bevil, she is still bedeviled about Bevil's motives. Did he marry her for money or love? To add to the gothic chills, there's a clock that signals the death of a Menfreya when it stops, and yep, it stops. Does that signal Harriet's possible doom? Does Bevil want to murder her to be with the governess that he might have impregnated?

All in all, I was extremely satisfied with the story and the suspense. The book was published in 1966, which makes it one of the earlier Holt books. She kept the story moving, and I think she did a great job with character and plot development. I really enjoyed reading Menfreya in the Morning, and I'm sure you will too.

---
Thursday, May 9, 2013 -- Afternoon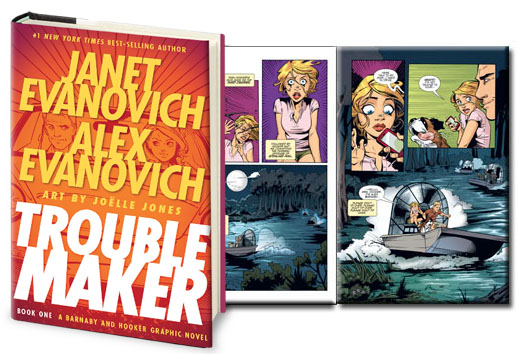 Troublemaker by Janet Evanovich
I haven't read any of Janet Evanovich's books, even though I love mysteries. When I was in the library recently, I was scanning the graphic novels when I saw two volumes of Traublemaker by Evanovich. Evanovich wrote the graphic novel with her daughter, Alex, and illustrator, Joelle Jones. I gather that the graphic novel is based on Evanovich's novels, which I think I will now have to check out. Alex Barnaby, auto mechanic, and Sam Hooker, race car driver, are in Miami when they get involved in a friend's kidnapping. Before you know it, Alex (who is a woman, by the way) and Sam are tracking down the kidnapper, and get involved in voodoo and cult gangs. The story is entertaining, and the art adds to the fun of the story. If you haven't read a graphic novel, but you like mysteries/thrillers or Evanovich, you should try out Troublemaker. The graphic novel is split into two books: Traublemaker 1 and Traublemaker 2.

---
Wednesday, May 8, 2013 -- Evening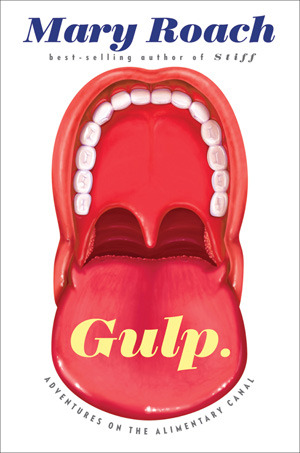 Gulp by Mary Roach
Mary Roach is one of my favorite non-fiction writers. Roach looks at her subjects with a scientific researcher's outlook. You will get tons of details with lots of references to read more about it. Roach's past books have looked at death, ghosts, sex, and travel to Mars. All the books were highly entertaining because Roach not only take a scientific approach to the topics, but she also looks at them humorously. Her latest book Gulp: Adventures of the Alimentary Canal looks at the digestive tract. Roach tackles all the topics that we don't like to talk about in polite society: spit (meaning saliva), farts (especially the stinky kind), and constipation. I would imagine that my mother would have publicly poo-pooed the idea of reading a book like this while devouring it in the privacy of her bedroom/bathroom. Yep, I would say that Gulp would make interesting bathroom reading. If you find yourself scheduled for a colonoscopy cleansing, which would result in an extended bathroom stay, take Gulp with you.

A few of the more interesting things I learned from Gulp:
Cats and dogs don't like variety. The human owner likes variety in diet, but as Roach said, a cat is either a mouser or a birder.
Laundry stain removers contain enzymes found in saliva: amylase for starches, protease for proteins, and lipase for grease.
People find spit disgusting, even their own spit. So if you spit in a glass, you would be too disgusted to re-ingest it.
Prisoners refer to the rectum as the "prison wallet" because of the number and variety of objects smuggled into the jail via the anus
Doctors have you thoroughly clean out the colon for a colonoscopy to make sure that all the methane and hydrogen in your colon is cleared out. If they didn't, they might ignite a pocket of gas while using a cauterizer to remove polyps. That's also why they blow air into the colon. With the air, doctors can maneuver better in the colon and dilute any flammable gas.
Hydrogen sulfide, the rotten egg smell in farts, can be deadly in large enough concentrations. People who work in manure pits could die if they didn't wear breathing apparatus.
Of course, this list is by no means comprehensive, and Roach's writing style is entertaining and accessible. That means that you don't have to worry about being bogged down in boring, clinical language. Roach talks to the reader in plain, old regular English, with a good sprinkling of slang. I love reading anything written by Roach because I know that I will get a thorough education on the topic, and the questions that I would ask are the ones she answers. Read Gulp. You'll enjoy it!

---
Sunday, May 5, 2013 -- Evening
Thunderhead by Douglas Preston and Lincoln Child
I have read some of the Pendergast books written by Douglas Preston and Lincoln Child, and I have read the pair's standalone thrillers. However, I thought it was time to I read some of the standalone books that the pair wrote together. I started with Thunderhead. The novel was about Nora Kelly, archaeologist, whose father vanished when she was a child. Recently, her mom had died, and she and her brother, Skip, still had the family ranch home, which was now abandoned. When Nora got a call that there were kids using the house as a meeting place, she went to investigate, and instead was attacked by two half man, half wolf beings who asked where the letter was. Nora didn't know what they were talking, but fortunately, she was rescued by neighbor, Theresa, who scared off the creatures with a rifle. As Nora was rushing from the house, she knocked over a set of old mailboxes, and found an old letter from her father, dated 16 years before. That started Nora the search for Quivira, a lost city of the Anasazi that was rumored to full of gold. Nora managed to convince the head of her university, Ernest Goddard, to sponsor her search for the city. With a small group that included Goddard's daughter, Sloane, and Bill Smithback, from the Pendergast novels. Will the group find the lost city? Or will they be overtaken by the skinwalkers, the evil beings that attacked Nora in her family ranch house?

I really got engrossed in the story, and couldn't put down the book. Preston and Child have a way of getting the reader on the edge of his or her seat, wondering how the group will get out of the current predicament. Nora Kelly was a likable character, and I found myself rooting for a relationship to develop between her and Smithback. The tension really started to roll in the last third of the book, and it didn't look as if Nora and Smithback would survive the skinwalkers' attack. I definitely recommend the book, and I cannot wait to read more Preston and Child.

Big Brother to Return
Big Brother 15 is going to return to CBS almost two weeks earlier than its usual post July 4 date. And because the show will be starting early, Julie Chen says that there should be "more houseguests than ever." I love Big Brother, so I am quite excited about the news. I can't wait for the new season. How about you?

---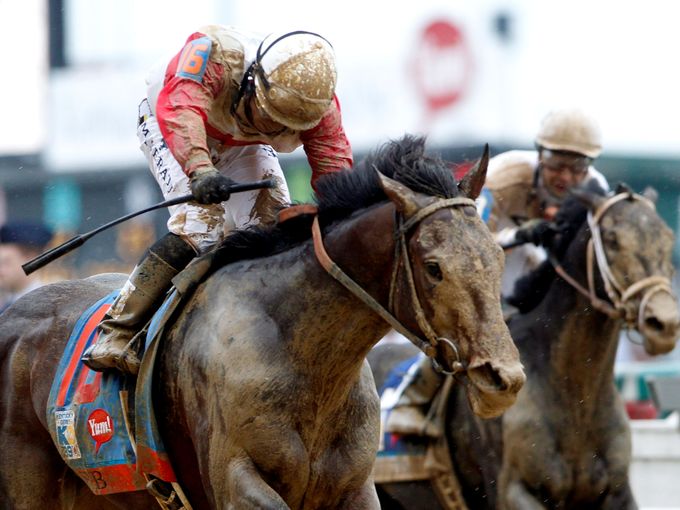 Saturday, May 4, 2013 -- Evening
139th Kentucky Derby
I haven't been watching much horse racing this year, but I have been following some of the stories, so before this year's Kentucky Derby, I was favoring Orb, especially since some of the other front runners were out due to injuries. The race was a muddy one because there had been rain on and off all day. Orb was the favorite amongst the bettors, and my favorite. Orb had won his last four races, with his last win being in the Florida Derby. When the race started today, Orb was all the way at the back of the pack. It seemed like he might have been out of it, but Palace Malice set a fairly face pace (for a muddy track) before finally giving up the lead on the turn into the home stretch. Orb started his run right before the turn for home, and jockey, Joel Rosario, brought the horse up on the outside. Orb finished in a time of 2.02.89. Golden Soul finished second, and Revolutionary was third. This was the first win in seven tries for trainer Shug McGaughey. Now the question is how will Orb do in the Preakness? Is this the year we finally get another Triple Crown winner?

---