The Daily Bongo
October 2013
Friday, October 11, 2013 -- Evening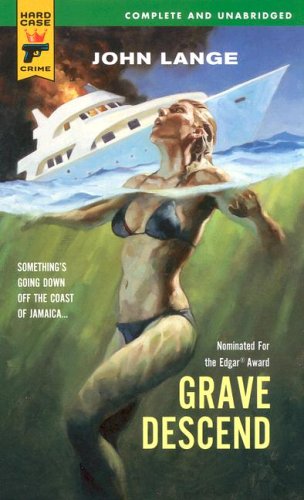 Grave Descend by John Lange
I really miss new books by Michael Crichton. Crichton wrote the type of book that I love to read: scientific thriller. It was so obvious that the man was highly intelligent because he was able to discourse on any topic, especially the scientific ones, and make you think he was an expert on the topic. Crichton did his research. I loved listening to some of his talks after he wrote State of Fear. Crichton was telling people to doubt the science of climate change. Crichton was saying that we need to read about the topic and not trust to politicians to have the best solution to any problem. In fact, we should all see that politicians always have an agenda. Science based on politics and fear was not the science that Crichton thought we should subscribe to.

Now none of that has anything to do with Grave Descend. Well, not exactly. Imagine my excitement when I learned recently that Michael Crichton had written books under the pseudonym John Lange in the 1970s. Hard Case Crime recently republished the books, and of course, I had to check it out. Grave Descend is a very short, fast-paced read. James McGregor is a professional diver, who is called to for a salvage project on a boat, The Grave Descend, that sank in the waters of Jamaica due to an explosion. McGregor immediately questions the story because the parts just don't add up. He goes to check out the location of the wreck, and surprise, surprise, the Grave Descend is anchored there. Within minutes, McGregor sees someone fiddling with a remote, and boom! Down goes the Grave Descend. McGregor finds himself embroiled with money launderers, the Sicilian Mafia, and the police, as he tries to piece together what happened to the Grave Descend.

The book wasn't like a typical Crichton story, but it did have a hard-boiled, edgy feel with taut, fast-paced action. After reading Grave Descend, I started looking for other John Lange books at the library, and I will definitely have to loosen the purse strings to buy some of the Kindle editions. If you have a spare evening, I strongly recommend Grave Descend. You won't regret it!

---
Wednesday, October 2, 2013 -- Evening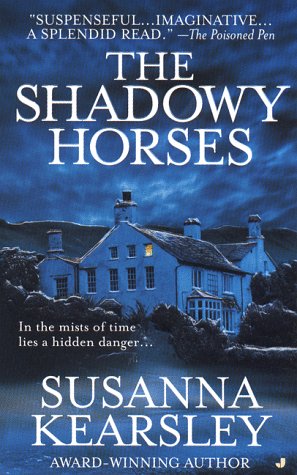 The Shadowy Horses by Susanna Kearsley
I have been looking for some new writers who write in the style of Barbara Mertz, and I found Susanna Kearsley, whose The Shadowy Horses said it was in the tradition of Barbara Michaels. So, of course, I was expecting some good woo-woo with romance and history. I was not disappointed. Verity Grey is an archaeologist who gets a job with Peter Quinell looking for the Roman Ninth Legion around Quinell's house in Scotland. Quinell is sure that the Ninth Legion, whose final resting place was missing, was to be found in Scotland because of the second sight of a little boy, Robbie. When Verity joins Quinell and her former boyfriend, Adrian, she finds herself captivated by fellow archaeologist, David Fortune. Unfortunately, Verity gets an eerie feeling that there is something supernatural going on. When Robbie tells her that the Sentinel, the Sentinel of the Ninth Legion, has become captivated by Verity because she reminds him of his sister, Verity really feels a chill down her spine. Will Verity help Quinell find the Ninth Legion? Why is the Sentinel watching over her? And will Verity and David find true love?

As I mentioned, I really did enjoy The Shadowy Horses. Kearsley's plot reminded me strongly of Michaels' books. There was a good deal of eeriness with the wandering of the Sentinel, the sound of galloping horses, and the mystery of objects going missing. Of course, I knew that Verity would find love, because that's what always happens in these types of books. I found myself caring about the characters because Kearsley did such a good job of making them human. I'm going to have to look for other Kearsley titles to see if they are as enjoyable.

---