The Daily Bongo
Pittsburgh Penguins 2008-2009 Season
2008-2009 Stanley Cup Champions
2008-2009 Eastern Conference Champions
2008-2009 Stanley Cup
Game
Date
Matchup/Result
Winner
Score
1
Saturday, May 30, 8:00pm et
Pittsburgh Penguins @ Detroit Red Wings
DET
1-3
2
Sunday, May 31, 8:00pm et
Pittsburgh Penguins @ Detroit Red Wings
DET
1-3
3
Tuesday, June 3, 8:00pm et
Detroit Red Wings @ Pittsburgh Penguins
PIT
2-4
4
Thursday, June 4, 8:00pm et
Detroit Red Wings @ Pittsburgh Penguins
PIT
2-4
5
Saturday, June 6, 8:00pm et
Pittsburgh Penguins @ Detroit Red Wings
DET
0-5
6
Tuesday, June 9, 8:00pm et
Detroit Red Wings @ Pittsburgh Penguins
PIT
1-2
7
Friday, June 12, 8:00pm et
Pittsburgh Penguins @ Detroit Red Wings
PIT
2-1
2008-2009 Eastern Conference Final Matchup
Game
Date
Matchup/Result
Winner
Score
1
Monday, May 18, 7:30pm et
Carolina Hurricanes @ Pittsburgh Penguins
PIT
2-3
2
Thursday, May 21, 7:30pm et
Carolina Hurricanes @ Pittsburgh Penguins
PIT
4-7
3
Saturday, May 23, 7:30pm et
Pittsburgh Penguins @ Carolina Hurricanes
PIT
6-2
4
Tuesday, May 26, 7:30pm et
Pittsburgh Penguins @ Carolina Hurricanes
PIT
4-1
2008-2009 Eastern Conference Semi-final Matchup
Game
Date
Matchup/Result
Winner
Score
1
Saturday, May 2, 1pm et
Pittsburgh Penguins @ Washington Capitals
WSH
2-3
2
Monday, May 4, 7pm et
Pittsburgh Penguins @ Washington Capitals
WSH
3-4
3
Wednesday, May 6, 7pm et
Washington Capitals @ Pittsburgh Penguins
PIT
2-3
4
Friday, May 8, 7pm et
Washington Capitals @ Pittsburgh Penguins
PIT
3-5
5
Saturday, May 9, 7pm et
Pittsburgh Penguins @ Washington Capitals
PIT
4-3
6
Monday, May 11, 7pm et
Washington Capitals @ Pittsburgh Penguins
WSH
5-4
7
Wednesday, May 13, 7pm et
Pittsburgh Penguins @ Washington Capitals
PIT
6-2
2008-2009 First Round Playoff Matchup
Game
Date
Matchup/Result
Winner
Score
1
Wednesday, April 15, 7pm et
Philadelphia Flyers @ Pittsburgh Penguins
PIT
1-4
2
Friday, April 17, 7pm et
Philadelphia Flyers @ Pittsburgh Penguins
PIT
2-3
3
Sunday, April 19, 3pm et
Pittsburgh Penguins @ Philadelphia Flyers
PHI
3-6
4
Tuesday, April 21, 7pm et
Pittsburgh Penguins @ Philadelphia Flyers
PIT
3-1
5
Thursday, April 23, 7pm et
Philadelphia Flyers @ Pittsburgh Penguins
PHI
3-0
6
Saturday, April 25, 3pm et
Pittsburgh Penguins @ Philadelphia Flyers
PIT
5-3
2008-2009 Atlantic division
Team
GP
W
L
OT
PTS
Home
Away
Div
L10
New Jersey
82
51
27
4
106
28-12-1
23-15-3
13-10-1
4-5-1
PITTSBURGH
82
45
28
9
99
25-13-3
20-15-6
15-4-5
7-2-1
Philadelphia
82
44
27
11
99
24-13-4
20-14-7
13-7-4
4-5-1
NY Rangers
82
43
30
9
95
26-11-4
17-19-5
15-9-0
5-4-1
NY Islanders
82
26
47
9
61
17-18-6
9-29-3
4-17-3
2-7-1
---
Thursday, June 18, 2009 -- Evening
NHL Awards Ceremony
Tonight was the NHL Awards Ceremony. It started with Evgeni Malkin, Max Talbot, and Dan Bylsma bringing the Stanley Cup onto the stage. The Cup was displayed on the stage for the entire ceremony. Boy, does that cup get around. Unfortunately, Alexander Ovechkin won the Lester B. Pearson Award for the league MVP. Surprisingly, Ovechkin didn't seem as verbally smooth as usual. He congratulated Malkin and Pavel Datsyuk. Of course, one award that we know the result of is the Art Ross Trophy, for the player with the most points in the season. That's Evgeni Malkin. There was a small tribute from Ben Roethlisberger, congratulating all the winners and nominees at the NHL awards. That was a very nice touch. Roethlisberger was filmed with the crowd at the Mellon Arena behind him. One of the funniest moments: when Tim Thomas and Manny Fernandez received the William M. Jennings, for goalie or goalie team who had the lowest points against for the year. Tim talked first, and as he finished, he turned to Manny and asked if he should thank Manny's wife for him. Datsyuk was much better when he got the Lady Bing. He was very nervous when he got the Selke Trophy, but was more glib for the Lady Bing. One thing that I noticed throughout the ceremony was that the applause was very weak. I'm not sure if it was because there weren't that many people there, or if it was something else. I did notice alot of empty seats in the fan section. Ovechkin won the Maurice "Rocket" Richard Award, and he spoke after Malkin did for the Art Ross. Ovechkin made a job about Malkin speaking English better than Datyskuk. Datsyuk did not laugh. Unfortunately, Ovechkin won the Hart Trophy too. How annoying for Pens fans.

Here are the list of winners for the 2008-2009 season:

CALDER MEMORIAL TROPHY
Award for outstanding rookie
Steve Mason, Columbus Blue Jackets

FRANK J. SELKE TROPHY
Award for outstanding defensive forward
Pavel Datsyuk, Detroit Red Wings

HART MEMORIAL TROPHY
Awarded to most valuable player to his team
Alexander Ovechkin, Washington Capitals

JACK ADAMS AWARD
Award for outstanding coach
Claude Julien, Boston Bruins

JAMES NORRIS MEMORIAL TROPHY
Award for outstanding defenseman
Zdeno Chara, Boston Bruins

LADY BYNG MEMORIAL TROPHY
Awarded to player that displays sportsmanship and gentlemanly conduct
Pavel Datsyuk, Detroit Red Wings

LESTER B. PEARSON AWARD
Awarded to the most outstanding player as voted by fellow NHLPA members
Alexander Ovechkin, Washington Capitals

VEZINA TROPHY
Award for outstanding goaltender
Tim Thomas, Boston Bruins

MASTERTON TROPHY
Award for the player who exhibits perseverance, sportsmanship and dedication to hockey
Steve Sullivan, Nashville Predators

WILLIAM M. JENNINGS TROPHY
Awarded to the goalkeeper(s) having played a minimum of 25 games for the team with the fewest goals scored against it in the regular season
Tim Thomas and Manny Fernandez, Boston Bruins

ART ROSS TROPHY
Awarded to the player who leads the league in total points at the end of the regular season
Evgeni Malkin, Pittsburgh Penguins

MAURICE "ROCKET" RICHARD TROPHY
Awarded to the top goal scorer in the regular season
Alexander Ovechkin, Washington Capitals

KING CLANCY MEMORIAL TROPHY
Award for player who best exemplifies leadership qualities on and off the ice and who has made a significant humanitarian contribution to his community
Ethan Moreau, Edmonton Oilers

MARK MESSIER LEADERSHIP AWARD
Awarded to the player who exemplifies great leadership qualities to his team, on and off the ice, during the regular season
Jerome Iginla, Calgary Flames

NHL LIFETIME ACHIEVEMENT AWARD
Awarded to a National Hockey League veteran in recognition of their contributions to the league
Jean Beliveau

SCOTTIABANK FAN FAV AWARD
Awarded to a National Hockey League player based on fan voting
Roberto Luongo, Vancouver Canucks

---
Tuesday, June 16, 2009 -- Evening
Rumors are flying that both Petr Sykora and Miroslav Satan may have offers from the Russian league. Sykora had played for Metallurg Magnitogorsk during the NHL lockout, and he may have a offer from them for the coming season. However, Stan Savran, who mentioned the offers, said that both Sykora and Satan are considering their options.

One of my favorite videos is the CBC Stanley Cup 2009 Tribute. It played right after the CBC broadcast of game 7. The clip is a montage of video images from the entire playoff series, culminating in the Pens winning the Stanley Cup. I just love the clips that were used, and they really fit into the music. The music was also great. The song is Sleeping Sickness by a Canadian band, City and Colour. Great clip!

---
Monday, June 15, 2009 -- Late Evening
I forgot to mention the big controversy over Sidney Crosby and game 7 of the Stanley Cup. Chris Draper was making a big deal about Crosby being disrespectful to the Red Wings because he didn't get into the hand shake line early enough. Draper said that Nikolas Lindstrom waited for Crosby and eventually left the ice without getting a handshake. It seemed like a big to-do over nothing. Crosby did get into line. Unfortunately, he took longer at getting into the line because he was busy celebrating. As Ron Cook of the Post Gazette said that Crosby will have to realize that certain things are expected of him, and in future, he should cut the celebration with his own team to a minimum until after the handshake. I think it was just plain sour grapes though. In fact, there was video evidence of Draper going up to Crosby in the line. It looked like a confrontation that left Crosby looking confused. Basically though, it is Draper making a mountain out of a molehill.

---
Monday, June 15, 2009 -- Evening
Today was a gorgeous day in Pittsburgh, made all the more so by the city's celebration of the Pens' Stanley Cup win. There have been sightings of the Cup all over the city this weekend. In the wee hours Saturday night, the Cup was dangled out of the second floor of a restaurant/bar located on the South Side. It took the police a few hours to clear the crowd of 500 fans from the streets after that one. Then on Sunday afternoon, a large group of the Pens, including Sidney Crosby, Jordan Staal, and Max Talbot took the cup to the Pirates' game. Billy Guerin got to throw out the first pitch at the game and took the Cup to the announcers' booth. Then today was the official city parade. It went the same route as the Steeler parade. 375,000 fans attended, 25,000 more than for the Steeler parade. It was probably because the weather was so gorgeous: sunny, warm, not humid. The parade went by far too quickly. Mario Lemieux was one of the first to go by, followed by Ken Sawyer, Ray Shero, Eddie Johnston, the various announcers, and finally the players. The trucks that the players were on zoomed by my vantage point, but I did manage to get some good photos. Evgeni Malkin had his parents on the truck with him and the Conn Smythe Trophy. At the end of the parade route, the players talked to the fans, thanking them for all their support. All in all, it was a good day.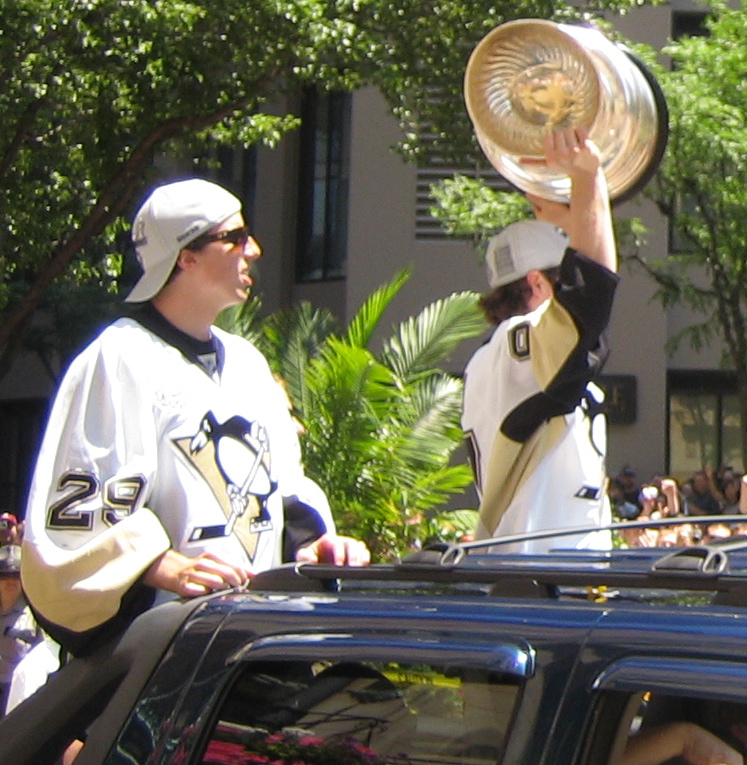 It was announced today that Sergei Gonchar was more serious injured than we were told when he had the knee on knee with Alexander Ovechkin. It seems that he has a partially torn ACL, something that usually puts players out of action for weeks. Yet Gonchar was back within a week. Granted, he may not have been at his best, but I think just having Gonchar on the ice did something with the chemistry for the Pens. Hopefully Gonchar will recover over his very short summer. He was not at the parade today. Crosby also will be okay with his knee injury from game 7. It was just banged up, and the doctors didn't even think he needed an MRI. Easy to believe watching Crosby running around without a limp while he hoists the Stanley Cup all over town.

---
Thursday, May 28, 2009 -- Evening
The Detroit Red Wings wno last night in overtime against the Chicago Blackhawks to win the Western Conference. So this year's Stanley Cup matchup will be the same as it was last year. Now this is some drama, at least for the fans. Marian Hossa battling against the Pens. It would be really cool if the Pens won the Stanley Cup so they could skate around with the Cup while Hossa has to watch, full of regret at his decision to take the one year deal with the Red Wings. The first game is this Saturday in Detroit, with a second game on Sunday. Then the Pens will be back in the 'Burgh on Tuesday and Thursday. Tickets go on sale tomorrow for games 3 and 4 here at Mellon Arena. Exciting times!

---
Tuesday, May 26, 2009 -- Evening
There was a ton of controversy here in Pittsburgh, because Bill Cowher, former Steeler coach, was working the hurricane siren before tonight's game. People were ready to lynch Cowher, calling him a trader. Bull! The guy lives in Carolina now, and as he told the Versus announcer, he got into the Hurricanes through Ron Francis (former Pen, current Hurricanes GM/assistant coach). Also Cowher said that Matt Cullen, of the Hurricanes, lives on the same street. What I was impressed with was how happy Cowher looked. Let him have his fun! It really means nothing. Cowher did say that he stopped to say hello to Mario Lemieux, and he also said that he would root for the Pens against the Red Wings or the Blackhawks. People in Pittsburgh need to take a chill pill

---
Friday, May 15, 2009 -- Early Morning
The Pens will be playing the Carolina Hurricanes in the Eastern Conference Finals. The Hurricanes beat the Boston Bruins in an overtime game 7 last night. So that means that one of the Staal brothers will play in the Stanley Cup, since Eric Staal is on the Hurricanes. The first game is this coming Monday. That doesn't give us alot of time sell our tickets, but we will give it a try.

---
Wednesdday, April 29, 2009 -- Evening
Versus sucks as the distributor of televised hockey in this country. Why you say? Because last night, two game seven games were played: between the Rangers / Capitals and the Devils / Hurricanes. Versus only had the rights for the Rangers/Caps game. They couldn't show the last period of the Devils/Hurricane game which was quite exciting. The Hurricanes scored in the final minutes to tie things up, then Eric Staal gave the Canes the win in the last minute of the game. So that means that the Pens will play the Capitals, and the Hurricanes will play the Bruins. The first game of the round for the Pens will be in Washington on Saturday. It will be televised on NBC at 1:00 p.m.

---
Tuesday, April 28, 2009 -- Evening
The Pens removed the interim portion from Dan Bylsma's title and have signed him to a long term contract. I really don't know if I buy into George McFly being the savior of the Pens. I think that Ray Shero made some decent trade deadline deals, and that the Pens would be in the same shape today with Michel Therrien as a coach. I mean, the guy got them to the Stanley Cup last year. Maybe it is just bitter grapes on my part, but I'm not a huge McFly fan.

---
Sunday, April 12, 2009 -- Evening
The Philadelphia Flyers lost to the New York Rangers today. That means that the Pens will finish in fourth place and have home ice advantage. (We have more wins that the Flyers so even though we have the same number of points, we finish ahead of them.) The playoffs should start here in Pittsburgh on Wednesday or Thursday, and we should know for sure when the NHL announces the playoff schedule later tonight.

---
Saturday, April 11, 2009 -- Evening
Before the game ended tonight, we found out that Alexander Ovechkin only got two points in the Washington Capitals game, so Evgeni Malkin is the scoring champ and Art Ross Trophy winner for the season.

---
Saturday, March 21, 2009 -- Late Evening
News about Evgeni Malkin this evening. In last night's game, Malkin hit Wayne Simmonds in the final minute of the game. The NHL investigated the play with a disciplinary hearing today with Malkin. The hearing was by phone, and it is expected that the decision would be made before tomorrow's Pens versus Flyers game tomorrow at 12:30 p.m. If Malkin is suspended, it will be the first game that Malkin has missed this season.

---
Wednesday, March 4, 2009 -- Afternoon
As the trade deadline ticked down to the final minutes, the Pens traded a conditional draft pick to the New York Islanders for Bill Guerin. If the Pens don't make the playoffs, the Islanders get a fifth draft round pick. If the Pens make the playoffs, it's upped to a fourth round pick. Winning the Stanley Cup ups the ante to a third round pick. I'm not very enthusiastic about this deal. Even though Guerin was the captain of the Islanders, his stats are on a par of Miroslav Satan. And the Pens are trying to dump Satan, only there aren't any takers. Guerin is 38 years old and has two -15 seasons. I don't know if Guerin is the sort of winger that will play well with Sidney Crosby because I really wonder who will be a good fit for Crosby. Crosby isn't one of those players who makes others around him good. You have to be good, and then you have to jell with Crosby's playing style. All I have to say is good luck with that. However, I was down on Chris Kunitz, and I think that the Pens would have lost yesterday's game if it weren't for Kunitz. So I have to give him some props. 27 more minutes before the trade deadline. Oh, I almost forgot that the Pens also picked up right winger Craig Adams off of waivers. Adams was playing for the Chicago Blackhawks. Why not pick up another team's loser?

---
Tuesday, March 3, 2009 -- Afternoon
The Pens have put Miroslav Satan on waivers. Satan has been an under-performer all season, and obviously the Pens can't trade him to another team, so they put him on waivers as the trade deadline looms. Gary Roberts was also placed on waivers by the Tampa Bay LIghtning. Unlike Satan, there might be some interest in Roberts, especially from the Calgary Flames. More Pens news: Sidney Crosby is going to miss tonight's game against the Lightning because of the sore groin problem that he has had for the past week or so.

---
Thursday, February 26, 2009 -- Evening
Surprise, surprise! The Pens traded Ryan Whitney to the Anaheim Ducks for left winger Chris Kunitz and Eric Tangradi, who is in the Junior Majors. So the question is how good of a deal is this? I don't see what it really brings to the Pens because the costs of both players are the same, so it isn't a salary dump. And Kunitz seems to have the same point average as Whitney, 35 points in 62 games compared to Whitney's 13 points in 28 games. Granted, Kunitz has more goals. Also Kunitz isn't a skirt-wearing, purse carrier. Yep, that means he's not afraid to hit somebody. I guess we will have to see how this works out over the span of away games that the Pens have over the next two weeks. The big question is whether Ray Shero will make any other trades before the deadline on Wednesday, March 4.

---
Wednesday, February 25, 2009 -- Afternoon
Sidney Crosby is going to be sitting out tonight's Pens vs. Islanders game with a groin injury. Kris Letang will be back on the ice after being a healthy scratch for the past three games. Everyone has been talking about how McFly has been having a young, energetic player like Letang sitting on the sidelines while crappy Ryan Whitney plays. I think that Letang is getting his chance tonight because Whitney won't be playing due to family issues.

---
Tuesday, February 17, 2009 -- Morning
Fans still have issues understanding Ray Shero's firing of Michel Therrien. While I was watching one of the local sports shows, one commentator said that it would have made more sense to try for a trade first. It's obvious to most that the problem wasn't Therrien, but the motley collection of players that Shero threw together. I understand that Shero couldn't fire himself for his incompetence, but why not try a trade first? The thing that struck me the most was Shero's comment about Therrien: "He was very loyal to me. When we got together three years ago, I don't think a lot of people thought that was possible." How does Shero repay loyalty? By a blindside firing. All I have to say is that if you are associated with Shero, you probably shouldn't turn your back on him or you might find a knive between your shoulder blades.

---
Monday, February 16, 2009 -- Afternoon
Michel Therrien is a class act. While he was cleaning out his office this morning, he said that he thought there were good things ahead for the Pens and that he was sure that they would make the playoffs. I'm not as positive because I think that the problem wasn't Therrien but the group of players that Ray Shero threw together. Sidney Crosby also said that he was surprised at the firing. However, as everyone will admit, the team isn't performing up to expectations, and Shero isn't about to fire himself. An informal analysis of comments made on fan sites and local call-in shows, show that 90% of the fans don't think that Therrien was the problem. I'm really not sure about this Dan Bylsma. He looks like someone straight out of the 1950s, and when you are 38 and look that way, there's something wrong with you. He doesn't look like he has a great deal of backbone, sort of like Marty McFly's dad in Back to the Future. I guess that it matters how good a coach he is, but since he's 38 and has little experience in the NHL, I don't have alot of hope. So can you tell which is George McFly or Dan Bylsma?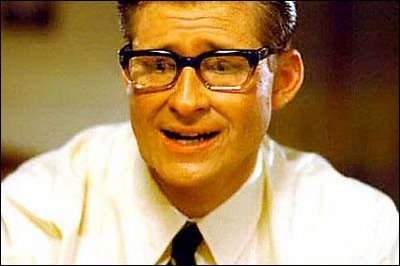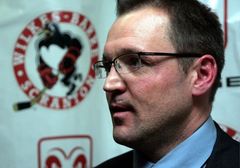 ---
Sunday, February 15, 2009 -- Evening
Shocking news released by the Pens just a few minutes ago at 8:40 p.m. Michel Therrien has been fired as head coach! I knew that something was probably going to happen and yesterday's abysmal loss to the Toronto Maple Leafs last night was the final straw. Unfortunately, I don't think that Therrien is the problem. Since he has been coach, the team has been over-performing, at least until this season. I think the biggest problem with this season are the loser deals that Ray Shero made that left the team with a bunch of under producing losers, like Miroslav Satan. The Pens are bringing up Dan Bylsma from the Baby Pens. That's where they got Therrien from a few years ago. Andre Savard is being moved elsewhere within the organization, but Michel Yeo and Gilles Meloche will remain in their current positions.

---
Saturday, February 14, 2009 -- Late Afternoon
Sergei Gonchar has been cleared to play for the Pens and may play in tonight's game against the Toronto Maple Leafs. There has been some controversy over the situation because Gonchar appears to be reluctance to play. Although he is physically able to play, Gonchar doesn't think that he is where he wants to be to contribute at a high level. Also there are huge expectations on his shoulders. Everyone seems to think that with Gonchar back, the Pens will go on a winning streak and make the playoffs. That's alot of pressure on Gonchar's 34 year-old injured shoulder. It's easy to understand his reluctance. The Pens are currently in 10th place, tied at 59 points with the Florida Panthers who are in 9th. 8th place Buffalo Sabres has 64 points.

---
Tuesday, February 3, 2009 -- Early Evening
Tyler Kennedy was suspended for one game because of his fight the other night when the Pens played the Toronto Maple Leafs. He was suspended because he came off the bench to engage in the fight. Other news for the Pens is that Sergei Gonchar did some contact practice. So he should be coming back sooner rather than later. Also, Ruslan Fedotenko might be back by next week.

---
Sunday, January 25, 2009 -- Evening
This weekend was NHL All-Star weekend. Yesterday was the Special Skills competition. Evgeni Malkin won the accuracy competition by hitting seven of eight targets. The most surprising thing was when Malkin helped out Alexander Ovechkin in the breakaway competition. Malkin brought out a straw hat and big sunglasses for Ovechkin and helped him put on the gear. Then Malkin squirted gatorade into Ovechkin's mouth, and then Malkin handed his stick to Ovechkin. Ovechkin used both sticks until he got to the goalie, then he just used Malkin's stick and scored on the rebound. There was a story on the Internet that Ilya Kovalchuk orchestrated the reconciliation between Ovechkin and Malkin. The All-Star game was this evening, and although Sidney Crosby didn't play, he appeared in a dress suit on the ice when the line up was announced. Crosby also spent some time in the announcer's box with the Versus announcers. The East took an early lead, but the West fought back. The game was tied through an overtime, and it went to a shootout. Alex Kovalev got the winning goal for the East to get the win with a final score of 12-11.

---
Thursday, January 22, 2009 -- Evening
Sidney Crosby is going to miss this year's NHL All-Star game. Crosby was saying that he was going to play, which everyone hoped from the player with the most votes in All-Star history. However, he hurt his knee in the January 14 game against the Washington Capitals. He missed a game but came back. Ray Shero and the team's doctors felt that Crosby should skip the game. So Crosby's hands were tied, and he had to take one for the team. It's extremely disappointing. I think that there should be some sort of way that injuried players can still participate at the All-Star game. Maybe have the injured players at the event signing autographs, or walking out on carpeting at a start of the game. This is the second game in a row that Crosby missed, and that is a huge disappointment to the fans.

---
Monday, January 19, 2009 -- Afternoon
Mike Zigomanis, of the Pens, had shoulder surgery on January 14, and will be out for the rest of the season. Zigomanis hurt his shoulder in the Dec. 3 game against the a href="http://rangers.nhl.com" target="_blank">New York Rangers. Dr. James Andrews, a renown orthopedic surgeon who has worked on many athletes, performed the surgery.

---
Sunday, January 18, 2009 -- Late Evening
Marc-Andre Fleury got the first star of the game in the Pens 3-0 shutout over the New York Rangers. He came out with a Terrible Towel and Steelers' helmet.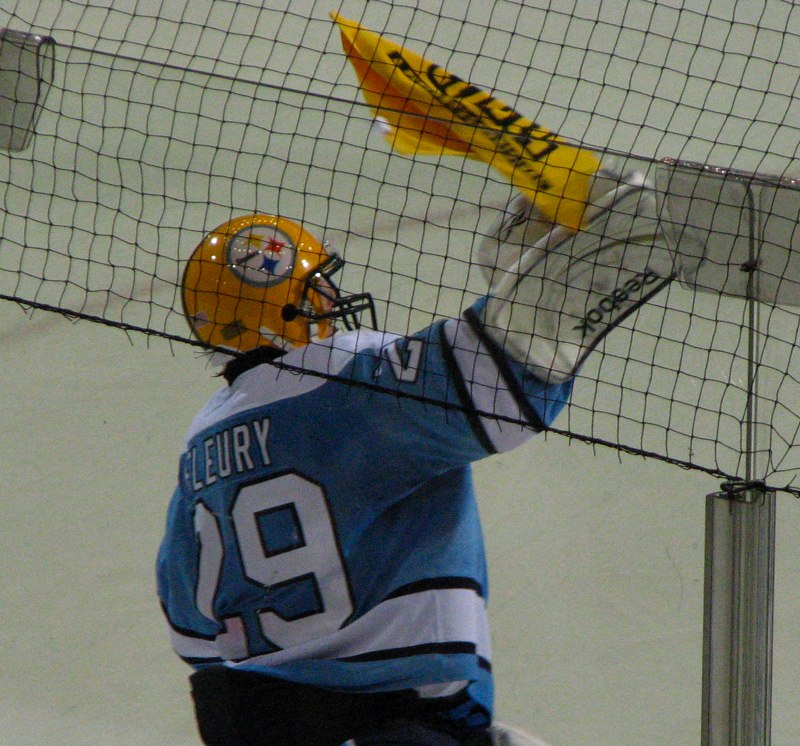 ---
Saturday, January 17, 2009 -- Afternoon
Okay, I admit it! I don't understand Ray Shero's logic at all. So many people in this city think that Michel Therrien needs to go. However, I think that Ray Shero isn't his dad. Today, Shero made a deal, trading Dany Sabourin, Ryan Stone (Baby Pens winger), and a fourth round pick in 2011 for Edmonton Oilers' goalie, Mathieu Garon. No one either here or in Edmonton can understand the deal. Edmonton has an issue because they had three goalies, and getting rid of their goalie for a goalie still leaves them in the same situation. The stats for both Garon and Sabourin are statistically the same. But there's a problem. Garon's salary is $1,100,000 while Sabourin only makes $500,000. So what Shero did was trade away some of the cap that could have gone toward a scoring winger, which the team desperately needs. What is Shero thinking? This is the second like for like trade he made this season. We don't need what we already have. We need the Marian Hossa that we lost.

---
Sunday, January 11, 2009 -- Late Evening
I hear this was mentioned during yesterday's Pens game. Jaromir Jagr has expressed an interest in returning to PIttsburgh. As Jagr said, "I would just go there and play for them for the minimum salary," Jagr said. "I owe Mario so much because he taught me how to play hockey. If he would want me to, I would come back for the minimum and try to help him. But he doesn't need me. He has good players there." Even though there was bad blood with some fans over Jagr leaving the team, I've always been a Jagr fan. He left because he knew the team couldn't afford him, and they were decimating the team because they couldn't afford to keep anyone. Now I wonder if Ray Shero or Mario Lemieux will talk to Jagr and make it happen.

---
Friday, January 9, 2009 -- Late Afternoon
We finally have word on Ruslan Fedotenko of the Pens. Fedotenko broke his right hand in the fight with Colby Armstrong and will be out for 4 to 6 weeks. Chris Minard is going to come up from the Baby Pens to fill in for Fedotenko.

---
Thursday, January 8, 2009 -- Evening
Other news for the Pens. Jordan Staal signed a 4 year, $16 million contract extension. The contract will go in effect next year when his current contract runs out. I wonder how those who keep on saying that the Pens are using Staal as trade bait take this news. For the past two years, tons of fans have theorized about the Pens using Staal in a trade for a winger for Sidney Crosby. I don't know if Ray Shero has given this any thought, but the fans and the rumor mills have constantly beating the "Trade Staal" drum.

Sidney Crosby and Evgeni Malkin will be in the starting lineup for the East in the January 25th NHL All-Star Game. Although Marc-Andre Fleury received alot of votes, he won't be part of the East team. The rest of the starting lineup are Montreal Canadiens players, since the game is in Montreal.

---
Thursday, January 1, 2009 -- Afternoon
The Pens named Petr Sykora and Ryan Whitney as alternate captains today. The Pens have been naming differnt alternate captains every month this season.

---
Tuesday, December 30, 2008 -- Afternoon
The Pens are playing the Boston Bruins this evening at Mellon Arena. Hal Gill is expected to be in the lineup this evening. Gill has missed the past 10 games with a shoulder injury. Jordan Staal will also be playing his 200th game tonight. Staal will be the youngest person, at 20 years and 111 days, to ever play 200 games. Obviously, the Pens will be doing something this evening to honor Staal's accomplishment.

---
Tuesday, December 23, 2008 -- Morning
Good news from the Pens front office this morning. Unlike the other sports team in town, the Pens will not be charging a seat license in the new arena. Both the Steelers and the Pirates charge a license for seats. This is separate from the ticket price. So in order to buy season tickets to the games, you have to first buy a seat. In my opinion, it is a scam so they could charge twice for the same thing. Granted, the license fee is supposed to be a one time deal, but please! Let's be serious about it. I want to buy season tickets, and I might want to change my seat after the first year because I don't like the section or the view. That would mean having to buy another seat license. David Morehouse, the Pens President, said that both Mario Lemieux and Ron Burkle, the owners, were against the seat license, especially in the current economic times. A letter was sent to all season ticket holders yesterday. I just didn't get mine because I didn't stop at the post office to collect my mail.

---
Monday, December 22, 2008 -- Evening
Sidney Crosby is leading all forwards/centers in the NHL All-Star balloting with over 1 million votes, followed closely by Evgeni Malkin. In fact, yesterday, Crosby set the record for number of votes cast for a player in the All-Star balloting, surpassing the record set by votes for Jaromir Jagr in 2000 of 1,020,736 votes. Malkin is also expected to surpass the Jagr record in the next few days. You can vote for your favorite player until January 2. The All-Star game will be held in Montreal on January 25.

---
Tuesday, December 16, 2008 -- Late Afternoon
Consol Energy made a 21 year deal with the Pens yesterday for naming rights for the new arena. The arena will be called the Consol Energy Center. In other Pens news, Petr Sykora was named the number two NHL star of the week. Sidney Crosby and Evgeni Malkin are leading the NHL ballot for the All-Star game. They are both one and two, respectively. Crosby has 793,995 votes, and Malkin has 715,663.

---
Friday, December 12, 2008 -- Late Afternoon
Finally, Marc-Andre Fleury will be back in the Pens lineup tomorrow. There is no word whether he would play or just back up Dany Sabourin. This is a change from the reports that I was hearing yesterday that Fleury would be back at the earliest as next week. It will be good to get Fleury back in goal.

---
Monday, December 1, 2008 -- Evening
Sidney Crosby was named NHL Player of the Week for last week. Crosby really stepped up his play last week and well deserves the award.

---
Sunday, November 16, 2008 -- Late Evening
The Pens traded Darryl Sydor to the Dallas Stars for Philippe Boucher. It's a curious move because this is really a trade of like for like. Both are 35 year old defensemen who have the same sort of stats. Both also make $2.5 milllion and are unrestricted free agents in the summer. I wonder if it was a personal request by Sydor who played for the Stars before coming to Pittsburgh. Anyway, it is a very curious trade.

---
Friday, October 31, 2008 -- Early Morning
The bad news from last night's game was that Sidney Crosby left early in the second period with an undisclosed injury. One of the Phoenix TV stations was saying that it was due to a jab in the ribs. However, the Pens aren't saying anything, and all Crosby will say is that it's a day to day thing.

---
Thursday, Octover 30, 2008 -- Evening
The Pens are playing the Phoenix Coyotes later this evening in the second game of the Western trip. There have been rumors about the Pens and the Atlanta Thrashers. Supposedly there is going to be a huge trade between the two teams, but I can't think of anyone other than Ilya Kovalchuk who would be worth a trade, and I can't think of anyone that I would want to give away for him. It seems that some think it will be Kovalchuk and Colby Armstrong for Jordan Staal, Kris Letang, and Miroslav Satan. That sounds like a real loser trade, and I can't imagine that the Pens would do that just to find another scorer for a year. I mean, they already did this with Marian Hossa last year. After one year, he was gone. I don't think the Pens can afford to make another trade like that.

---
Saturday, October 11, 2008 -- Late Evening
The Eastern Conference and Atlantic Division banners were already hanging when we got to the arena. The Pens decided to not raise the banners in a ceremony before the game. I thought that sort of sucked because it would have been nice to celebrate the great season last year. Of course, they didn't win the Stanley Cup so there wasn't much to celebrate there. Unfortunately, my camera batteries died right at the start of the game, so i wasn't able to get any photos during the game. I did get a picture of the banners and video of the player introduction.


---
Tuesday, September 30, 2008 -- Afternoon
Bad news for the Pens. Sergei Gonchar is going to need arthroscopic surgery on his dislocated left shoulder and will be out for four to six months. The surgery will take place this Thursday. The rest of the Pens are in Stockholm for their season opening games this weekend.

---
Thursday, September 25, 2008 -- Afternoon
The Pens have been doing well in the past few pre-season games. They beat the Tampa Bay Lightning in Florida, and then returned home to beat the Toronto Maple Leafs. There has been one problem though. Sergei Gonchar dislocated his left shoulder in this past Saturday's game against the Lightning. Gonchar was the victim of a cheap hit (well, at least some were calling it a cheap hit) by David Koci in the first period of Saturday's game. Gonchar is out indefinitely because they are unsure how long his recovery will be. He is definitely out for the season opener next weekend in Stockholm, Sweden.

---
Saturday, September 20, 2008 -- Late Evening
I went to the Penguins pre-season game against the Tampa Bay Lightning this evening. I didn't stay for the whole game since it was a pre-season game and really didn't count for anything. There were quite a few empty seats, but the Pens were playing as if it was the regular season. There were a couple of fights as players tried to prove that they belonged on the regular team. Not all the players were on the ice this evening. Basically the first two lines were playing for the Pens, and we got to see Sidney Crosby play with Miroslav Satan and Evgeni Malkin played with Petr Sykora and Jordan Staal. The Pens wound up losing in a shootout with a final score of 4-5. As I said, it really doesn't count, so it's okay that they lost. They need to feel out how everyone is going to play together. I have a page of pictures of the first two periods and the two fights.

On Thursday, the Pens had an open house, and Evgeni Malkin was one of the players to appear. He spoke English at the event, just a little. It was heavily accented, but he obvious could understand the questions without a problem, and spoke very well. The event is on Pens TV along with several other interesting clips.

---
Saturday, August 16, 2008 -- Early Evening
News from the Pens. It seems that Ryan Whitney has had a chronic problem with his left foot. The thing that I think is interesting about this is that we haven't heard about this chronic condition before. The even more surprising bit of the news is that instead of having surgery right after the Stanley Cup finals, Whitney chose to wait now to have surgery to correct the problem. He is expected to miss the beginning of the season and to be out for three to five months. As I said, this is an interesting turn of events considering we haven't heard of this chronic problem in the past. I wonder if it's bunions.

---
Wednesday, August 6, 2008 -- Evening
The groundbreaking for the Pens' new arena should happen next week. The event will be at 11 a.m. on Thursday, August 14.

---
Friday, July 18, 2008 -- Afternoon
Ray Shero obviously appreciates Michel Therrien more than some of the fans do. Therrien signed a three year deal to continue as the coach for the Pens for the next three years. Shero said that the team could have just offered an extension to Therrien, but they decided to reward him for his hard work with a new contract. I've been a fan of Therrien's since he started coaching the Pens. Sure he is opinionated and a whip cracker. Who says that the players have to love the coach? (Rumor has it that some aren't fans of Therrien.) What the coach has to do is get the best out of the team, and Therrien has done that.

---
Thursday, July 17, 2008 -- Afternoon
The Pens announced their schedule for the upcoming season. It starts off against the Ottawa Senators in Stockholm, Sweden on October 4 and 5. The games can be seen here in PIttsburgh at 2:30 p.m. The home opener will be a week later on October 11 when the Pens play the New Jersey Devils. Here's the complete schedule.

---
Wednesday, July 16, 2008 -- Evening
The Pens' front office announced the first home game of the coming season. It will be on Saturday, October 11 against the New Jersey Devils. The complete regular season schedule will be released tomorrow.

---
Tuesday, July 15, 2008 -- Afternoon
The Pens sent out a text alert this afternoon to say that they resigned Kris Beech to a one year contract. Beech has been a real disappointment, who hasn't lived up to expectations. I guess that they need someone in case of injuries, but Beech is just a loser in my opinion.

---
Thursday, July 3, 2008 -- Evening
Finally, Marc-Andre Fleury signed a deal with the Pens. It's a $35 million deal for seven years. That comes out to $5 million a year which is not a bad price. It's nice to know that the core guys are going to be staying here, like Fleury, Malkin, and Crosby. Fleury said after the signing, "That's where I want to be. I love this city, the organization, the guys on the team." The Pens also signed two other free agents, Miroslav Satan and Ruslan Fedotenko, both former New York Islanders. Both have one year deals: Satan for $3.5 million and Fedotenko for $2.5 million. As for Jaromir Jagr, his agent said that he is taking his time to consider his options. Georges Laraque said that he could understand that the Pens couldn't keep him, and he actually went home to the Montreal Canadiens. His deal is for 3 years and worth $4.5 million. Laraque also got a partial no-trade clause. Since Laraque was born and raised in Montreal, this must be a dream come true.

---
Wednesday, July 2, 2008 -- Evening
Shocker for the Pens today. Marian Hossa signed a one year deal with the Detroit Red Wings for $7.4 million. That's not anywhere near as good a deal as the Pens offered. Ray Shero, Pens' general manager, seemed abit shocked that Hossa took a deal that was only for one year. The Pens were offering him a multi-year deal for the same amount. However, a comment was made that Hossa wanted to be on a team with "better players." Hmm, interesting comment! So there was some good news. Evgeni Malkin officially signed an extension with the Pens. He signed a Sidney Crosby like deal. It's a five year extension for $43.5 million. Malkin did indeed give the Pens a hometown deal, because he could have made alot more elsewhere. Brooks Orpik also signed with a six year deal with the Pens. He's only going to get $3.75 million a year, which was less than he was being offered by others. I think that the Pens were waiting for the Hossa decision because as soon as they came out, they announced the Malkin and Orpik deal. Another player who will be missed is Jarkko Ruutu who signed with the Ottawa Senators. Still no word on Jaromir Jagr and Marcus Nasland. Nasland, who used to be with the Pens, is supposedly being serious courted.

---
Tuesday, July 1, 2008 -- Late Evening
One of the local sports announcers just said that he had a report that the Pens had offered Jaromir Jagr a two year, $10 million deal. Obviously more news tomorrow. It's 11 p.m. now so i don't think there will be anything else this evening. I am really getting excited because I do like Jagr. I know, I know! So many fans are cringing. The sports guys have been saying all afternoon that Jagr is awful in the locker room and will bring down morale. Fooey on that! Let's see what happens!

---
Tuesday, July 1, 2008 -- Late Afternoon
Today was the first day of NHL free agency, and there was alot of movement. The Pens resigned Mark Eaton for two years for $2 million. I suppose that Eaton is a good player, but I have to admit that I feel ambivalent about this one. After all, for the past two years, Eaton has spent most of his time on the injury list. Pascal Dupuis also resigned for three years. Ty Conklin was picked up by the Detroit Red Wings, and Tampa Bay has been busily signing a slew of free agents including Adam Hall. There are still reports that Evgeni Malkin has a deal, but nothing official yet. At least, there hasn't been anything that has resulted in an official report from the Pens. The biggest story though, in my opinion, are the rumors surrounding Jaromir Jagr. Jagr is a free agent, and supposedly, he would like to stay with the New York Rangers. However, rumors are swirling that the Pens may have approached Jagr to find out how interested he might be in coming back to Pittsburgh. Personally, I would love it. I have always been a huge fan of Jagr's, and I really don't care if he has the pouty, whiny baby image. He's a good player who loves to have the puck fed to him, and loves to score. What more could one ask for? The story is that since Marian Hossa is probably going to leave, the Pens would need someone of Jagr's abilities. Also, Jagr has made it clear that he doesn't want a deal longer than two years. It would really be interesting if Jagr came back.

---
Monday, June 30, 2008 -- Evening
Ryan Malone and Gary Roberts have both signed contracts with the Tampa Bay LIghtning. Ryan Malone's deal is for seven years and will net Malone $31.5 million. That's alot for someone of Malone's caliber who only had one good season out of the four he's been in the NHL. Meanwhile, Gary Roberts signed a one year deal for $1.25 million. At his age and production, he really couldn't expect more. The local sports guys are saying that Evgeni Malkin is close to signing a deal with the Pens.

---
Saturday, June 28, 2008 -- Early Evening
I was napping this afternoon when I got a Pens text alert. The Pens traded the negotiating rights for Ryna Malone and Gary Roberts to the Tampa Bay LIghtning for a fourth round draft pick. If Malone signs with Tampa Bay, the draft pick will become a third round pick. I can understand why the Pens did it. Malone wasn't going to sign with the Pens and at least now they get a draft round pick out of it. Also Roberts made it very clear that he wasn't going to stay here either. Also, yesterday Brooks Orpik turned down a contract offer from the Pens. If the Pens don't sweeten the deal with Orpik by Tuesday, he also could be leaving the team. The Pens have $56.7 million to spend on players this coming season.

---
Wednesday, June 25, 2008 -- Evening
Gary Roberts has said that he will not be returning to the Pens next season. Roberts' agent said that Roberts understands that the Pens have other priorities and that he undstands that. Roberts isn't leaving with bad feelings though, and he will see where free agency takes him.

---
Tuesday, June 24, 2008 -- Morning
The Pens are having an equipment sale this Friday from 4 p.m. till 8 p.m at the Marriot City Center. They will be selling both new and game used equipment. This will be your chance to get something used by a player during a game.

The Wall Street Journal has come up with a list of the top 10 athletes. They based their analysis on six criteria: speed; vision and reflex; stamina and recovery; coordination and flexibility; power, strength and size; and success and competitiveness. I mention this because Sidney Crosby showed up as number six on the list. Crosby spends a good deal of time getting into shape and deserves the designation. Here's the complete list.

---
Sunday, June 22, 2008 -- Evening
Marian Hossa has told the Pens that he would like to try his hand at free agency come July 1. This does not mean that he won't sign with the Pens. The story is that the Pens made him an offer, and he wants to see how it compares to other offers that he might receive. At this point, it sounds me as if Hossa will not be a Pen after all.

---
Friday, June 20, 2008 -- Evening
More rumors today. This time, Evgeni Malkin was supposedly considering a deal to go to Russia and be one of the higest pay hockey players in the world. The offer was coming from a new hockey league in Russia. The problem is that Malkin has a deal with the NHL, and there were going to be repercussions if the Russian league tried to lure Malkin back to Russia. Well, Malkin's agent finally spoke out this evening, and said that Malkin is interested in staying in Pittsburgh and playing for the Pens.

The NHL draft is going on right now. Unfortunately, the Pens have given up all their earlier picks to get players though the year, like Marian Hossa so it will be a long while before we know who the Pens pick.

---
Thursday, June 19, 2008 -- Evening
Rumors have been flying around town that the Pens want to trade Evgeni Malkin so they can keep Marian Hossa a little bit longer. Sometimes I wonder where these stories come from. I would think that the Pens would be rather foolish to trade Malkin, especially for one of the supposed offers of the second pick in this year's draft and some third rate player from the LA Kings. So the LA Kings said that they have had offers for their second pick in the draft (picking second) but decided to stay with their committment to youth. Well, that would seem to eliminate Malkin as an offer since 21 is definitely youth, and that's how old Malkin is. I place little credence in hockey rumors because I have been burned too many times in the past. After the hockey lockout where there were rumors the entire year that "next week" hockey would be back, I know that the rumors are just that: rumors. Tomorrow is the first day of the draft, so if any trades are going to be done, they will have to be completed by tomorrow. Meanwhile Ryan Malone has negated any trade rumors about himself by announcing that he is waiting for free agency to start on July 1. The Pens would have preferred to trade Malone, but since he isn't willing to talk to other teams, they are stymied.

---
Sunday, June 15, 2008 -- Late Morning
There is some news on the Pens front. The big question on everyone's mind is which players will the Pens be able to sign up to contracts over the summer. After the NHL awards show on Thursday, Evgeni Malkin quoted as saying that he would love to stay in Pittsburgh, and that he wants to extend his contract for a few years. Malkin said, "I'm thinking maybe five or six years. I'm an easy guy to deal with. I'd love to stay in Pittsburgh." Meanwhile, yesterday, the Pens filed for arbitration with Marc-Andre Fleury. This gives the team until the end of July to come up with a deal with Fleury. If they hadn't filed for arbitration, Fleury would have become a restricted free agent on July 1. As a restricted free agent, other teams could have made an offer to Fleury which the Pens would have to match. The big news is that the Pens are supposedly seeking to make a deal with Marian Hossa. Supposedly, the offer doesn't give Hossa a yearly increase, and he would probably remain around $7 million. However, it would be a long term deal that would keep Hossa in Pittsburgh for seven years. Do the math. It would be a $50 million contract over that span of time. Again, the Pens are supposedly hoping to announce the deal this weekend. Note all the supposedlys. When and if the deal is made, I'll post it.

---