The Daily Bongo
Pittsburgh Penguins 2009-2010 Season
2009-2010 Eastern Conference Semifinal Matchup
Game
Date
Matchup/Result
Winner
Score
1
Friday, April 30, 7pm et
Montreal Canadiens @ Pittsburgh Penguins
PIT
3-6
2
Sunday, May 2, 2pm et
Montreal Canadiens @ Pittsburgh Penguins
MTl/font>
1-3
3
Tuesday, May 4, 7pm et
Pittsburgh Penguins @ Montreal Canadiens
PIT
2-0
4
Thursday, May 6, 7pm et
Pittsburgh Penguins @ Montreal Canadiens
MTL
2-3
5
Saturday, May 8, 7pm et
Montreal Canadiens @ Pittsburgh Penguins
PIT
1-2
6
Monday, May 10, 7pm et
Pittsburgh Penguins @ Montreal Canadiens
MTL
3-4
7
Wednesday, May 12, 7pm et
Montreal Canadiens @ Pittsburgh Penguins
MTL
5-2
2009-2010 Eastern Conference Quarterfinal Matchup
Game
Date
Matchup/Result
Winner
Score
1
Wednesday, April 14, 7pm et
Ottawa Senators @ Pittsburgh Penguins
OTT
5-4
2
Friday, April 16, 7pm et
Ottawa Senators @ Pittsburgh Penguins
PIT
1-2
3
Sunday, April 18, 6:30pm et
Pittsburgh Penguins @ Ottawa Senators
PIT
4-2
4
Tuesday, April 20, 7pm et
Pittsburgh Penguins @ Ottawa Senators
PIT
7-4
5
Thursday, April 22, 7pm et
Ottawa Senators @ Pittsburgh Penguins
OTT
4-3
6
Saturday, April 24, 7pm et
Pittsburgh Penguins @ Ottawa Senators
PIT
4-3
2009-2010 Atlantic division
Team
GP
W
L
OT
PTS
Home
Away
Div
L10
New Jersey
82
48
27
7
103
27-10-4
21-17-3
14-8-2
5-2-3
PITTSBURGH
82
47
28
7
101
25-12-4
22-16-3
15-8-1
5-4-1
Philadelphia
82
41
35
6
88
24-14-3
17-21-3
14-9-1
4-5-1
NY Rangers
82
38
33
11
87
18-17-6
20-16-5
10-10-4
7-1-2
NY Islanders
82
34
37
11
79
23-14-4
11-23-7
7-15-2
5-4-1
---
Wednesday, June 2, 2010 -- Evening
Crosby Nominated for Messier Leadership Award
Sidney Crosby was nominated for the Mark Messier Leadership Award today. The award goes to a player who is a superior leader in hockey and involved in the community. The award recognizes the individual who is a positive influence both an and off the ice: motivating the team and contributing to charities. Also up for the award is the Phoenix Coyotes' Shane Doan, and the Buffalo Sabres' Ryan Miller. The winner will be announced at the NHL Awards show on June 23.

---
Tuesday, June 1, 2010 -- Evening
Flush It Down the Drain
One of the coolest contests that I've heard of recently comes from the Pens. They are looking for 250 students to help them with a flush test at the new arena. Several years ago, there was a problem with the water system at a stadium because they didn't do a flush test, have all the toilets flushed simultaneously. To avoid any problems in the bathroom, the Pens have opened up a contest to find the students who will help them with the June 10 event, titled "Student Flush." (A play on words for the Student Rush campaign where students get cheap seats to games.)

---
Friday, May 28, 2010 -- Evening
Winter Classic
The big news in the city is that the Pens have been awarded the Winter Classic this coming season. They will be playing the Washington Capitals and play in Heinz Field. I'm not sure how I feel about an outdoor game in Pittsburgh. We don't consistently have really cold temperatures, even around New Year's Day. It might be cold, or it might be warm. I would have much rather have had the All-Star game.

---
Saturday, May 1, 2010 -- Evening
Staal to Miss First Game?
Jordan Staal severed a tendon in his right foot from the skate of P.K. Subban in the second period yesterday. He had surgery to repair the tendon today and is on a day-to-day basis. I wouldn't imagine that he would come back quickly, but the Pens say that he may be back for the next series. I think Staal is a hardy player, and if he came back with what looked like a broken nose, in the same game that it was injured, I don't see him taking long for a severed tendon.

---
Monday, April 12, 2010 -- Afternoon
Crosby: NHL Star of the Week
Sidney Crosby was named the NHL's first star of the week for the last regular season game. Eric Staal was the second star, and Nikolas Backstrom was the third star. Over the past week, Crosby scored 12 points in the last four regular season games to win up in second place, tied with Alexander Ovechkin, in the points race.
First Round of the NHL Playoff
The Pens start the first round of the playoffs against the Ottawa Senators on Wednesday. The first two games will be played in Pittsburgh on Wednesday and Friday at 7:00 p.m. From listening to the sports analysts, it seems that everyone thinks that the Pens should win the series, but that the games should be interesting and deliver some entertainment bang for your buck.

---
Wednesday, March 31, 2010 -- Evening
Letang Signs Four Year Deal
Kris Letang signed a four year, $14 million deal with the Pens yesterday. It's a good thing that Ray Shero is locking down his young talent, but it does make some wonder if this means that Sergei Gonchar might not have a role with the Pens in the future. It's hard to tell. I think that it's a good thing that Letang is staying with the Pens. He hasn't been scoring much, but he has improved in his defensive skills.

---
Thursday, March 11, 2010 -- Evening
Sidney Crosby Show
Sidney Crosby was in the news this week because he turned down an offer to go on the David Letterman show. This happened last week when the Pens were playing the Rangers in NY City. Crosby said that he had to pay attention to the games, and he was supported by Pens' GM, Ray Shero. However, it seems that the NHL powers that be were not pleased because they thought it would be a good opportunity to promote the NHL. Well, Crosby has to put winning first, not being on some stupid show. At least Crosby isn't making the news like Ben Roethlisberger, who is accused of sexually assaulting a girl in Georgia. Also, Crosby's gloves and stick from the gold medal hockey game were found. They had mistakenly been packed in with other players gear. One glove and the stick were in the Russian equipment shipment, and the other glove was in with Patrice Bergeron's gear.

---
Thursday, March 4, 2010 -- Evening
Where Did It Go?
Sidney Crosby came back to Pittsburgh without the stick and gloves that he used to score the game winning goal in the gold medal game. Also, the puck that made the goal is also missing. Supposedly, someone found one of Crosby's gloves and is returning it. The problem was that Crosby flunk his stick and gloves into teh air, and when all the gear was collected up, only Crosby's gear was missing. As people are saying, we will probably see the items on E-Bay sometime.

---
Friday, January 15, 2010 -- Evening
Fleury's Broken Finger
Marc-Andre Fleury fractured his left ring finger in yesterday's game against the Oilers. It seemed that he noticed the pain sometime in the second period. I wonder if it was when he was run over by Rober Nilisson. Since Brent Johnson injured himself a few days ago, and is listed as day to day, John Curry, who was called up from the Baby Pens, will probably be in goal for tomorrow's game against the Vancouver Canucks. The Pens are going to have to come up with some sort of backup solution, just in case both Fleury and Johnson aren't able to play.

---
Tuesday, January 12, 2010 -- Evening
Integrity is Paramount
I am so glad to hear that there is still integrity. FSN Pittsburgh has integrity. In last Thursday's game between the Pens and the Flyers, the Flyers scored, but there wasn't conclusive evidence, at least we all didn't see the video that showed the goal until after the Toronto decision that it was no goal. Well, FSN Pittsburgh had the video that proved it was a goal, but one of the employees did not send that video to Toronto. I was incensed that FSN Pittsburgh had played fast and loose with the rules. If you have the video, send it to Toronto. It would have sucked if the Flyers lost because of that one goal. Well, FSN Pittsburgh suspended the employee who did not forward the film to Toronto. Even though I wasn't rooting for the Flyers, I think cheating is wrong, and that was cheating. I would hate it if the broadcasters in another city held back video that helped the Pens just because they were supporting their home team. I agree with the Pens' comment: "We fully support FSN Pittsburgh in its reaction to this issue. The integrity of the game is paramount."

---
Tuesday, January 5, 2010 -- Afternoon
Pens' Injury Update
Chris Kunitz is going to be out for four to six weeks to recuperate from surgery to repair a torn abdominal muscle. It seems that Kunitz has been bothered by the problem for awhile now, and finally decided to get something done about it. Meanwhile, Mike Yeo is still in the hospital in Tampa Bay. They are still running tests on him. The Pens aren't disclosing the injury, but it does sound like he might be having some sort of heart or stress issue. i say stress because that can cause problems like shortness of breath, dizziness, or chest pains. I'm assuming that must be Yeo's issue because they called the paramedics in, and said earlier that tests were "normal." Of course, this is all speculation on my part, but that's what one does when an organization doesn't communicate. Let's hope that Yeo gets better soon and is back behind the bench.

---
Friday, January 1, 2010 -- Early Evening
Ryan Malone and Brooks Orpik Make USA Hockey Team
Ryan Malone, Pittsburgher, former Pen, and current Lightning, has been named to the USA Hockey team for the coming Olympics. Also named to the team is current Pens' defenseman, Brooks Oprik. As we all thought, Ryan Miller and Tim Thomas were bath put in the goalie spot, along with Jonathan Quick from the LA Kings.

---
Wednesday, December 30, 2009 -- Evening
Crosby and Fleury: Olympians
The Canadian Olympic hockey team members were named today, and both Sidney Crosby and Marc-Andre Fleury made the cut. The Vancouver Olympics will be from February 12 through February 28. Martin Brodeur and Roberto Luengo are the other goalies who will be on the team. Crosby will be an alternate capital. Scott Niedermayer is the captain, and Chris Pronger and Jarome Iginla are the other alternates.

---
Monday, November 9, 2009 -- Evening
Letang and Morehouse
Kris Letang left the San Jose Sharks game in the first period after falling and hurting his shoulder. The Pens says that Letang will be out for around two weeks with a shoulder contussion. Meanwhile, Pens' President, David Morehouse had a heart attack as the Pens were preparing to leave San Jose. Morehouse remained in San Jose and had a stint place in one of his arteries. He's expected to make a full recovery.

---
Thursday, October 29, 2009 -- Evening
Malkin Injured
Evgeni Malkin will be out for the nxt two or three weeks with a strained right shoulder. I noticed that Malkin really didn't appear to be playing well recently, and it seems that the problem was due to Malkin trying to play his way through the injury. Dan Bylsma put at end to that though and benched Malkin. Malkin will be watching the game from the stands with Sergei Gonchar and Tyler Kennedy.

---
Tuesday, October 27, 2009 -- Afternoon
Olympic Honor for Crosby
Sidney Crosby will carry the Olympic torch in a relay across Canada. On Nov. 18, Crosby will carry the torch in Halifax, Nova Scotia. The Winter Olympics will be held in February 2010 in Vancouver.

---
Wednesday, October 21, 2009 -- Early Evening
Gonchar injured
Sergei Gonchar of the Pens injured his wrist when he took a spill in the middle of the second period of last night's game. The injury is expected to keep Gonchar out for the next six weeks. It will be interesting to see if the Pens keep up their winning ways without him. On a side note, Max Talbot has been doing some skating with the team, but he's still not ready to come back.

---
Wednesday, September 30, 2009 -- Late Afternoon
We Got Bling!
The Pens received their Stanley Cup rings yesterday, and I'm surprised that they didn't get sprained wrists trying to sport the darned things! Each ring has 167 diamonds with the player's name and images of the Stanley Cup and Pens' logo. The players had a private ceremony last night where the rings were distributed. Afterwards, Sidney Crosby came out to show the press the ring, and it filled the space between the knuckle and the first joint on the ring finger. Obviously, this ring is meant to be displayed and not worn.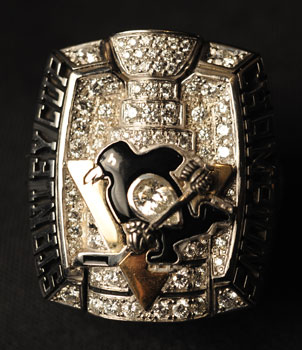 The Pens' home opener is this Friday. They will be playing the New York Rangers. Before the game, there is going to be a ceremony raising the Stanley Cup banner. This weekend, the Pens giving season ticket holders the opportunity to take a picture with the Cup.

---
Friday, September 25, 2009 -- Evening
Crosby's Groin Injury
Sidney Crosby left the Pens pre-season game against the Columbus Blue Jackets last night with a groin injury. So far, it is supposed to be only minor, but Crosby has had groin injuries before.

---
Tuesday, September 15, 2009 -- Evening
First Pre-Season Pens Game
The Pens played the Columbus Blue Jackets this evening here at Mellon Arena. I didn't stay for the whole game, only the first period. I am really not a huge fan of pre-season games because only a few players play, and the team as a whole is just trying to find its way. From what I saw, Eric Tangradi seemed impressive, putting a nice hit on a Columbus player. All in all, pre-season sucks because the food stands don't have their act together. The announcer for the game was also pretty annoying. I miss the old announcer, who may have retired. I don't know who won, and it really doesn't matter anyway.

---
Thursday, September 10, 2009 -- Late Evening
Pens at the White House
The Pens were invited to the White House to celebrate their Stanley Cup win. Of course, they took the Stanley Cup, and President Obama held it.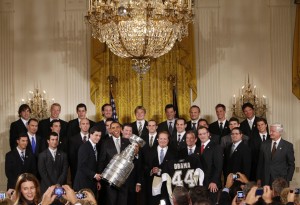 ---
Thursday, July 16, 2009 -- Late Afternoon
Crosby Espy Winner
Sidney Crosby won the ESPY as Best NHL Player last night. Dan Bylsma was nominated as Best Coach and the Pens were nominated as Best Team. Obviously, Bylsma and the Pens didn't win those awards. The ESPYs will be broadcast on ESPN this Sunday.

---
Wednesday, July 15, 2009 -- Evening
Pens' 2009-2010 Schedule Released
The Pens have released their 2009-2010 schedule. None of the games leap out at me as one I must attend. This season, I'm going to share the tickets with another couple. The costs keep going up every year, and this just makes it affordable.

---
Tuesday, July 7, 2009 -- Afternoon
Max Talbot Shoulder Surgery
Max Talbot had shoulder surgery today for a problem that has been bothering him for awhile. The surgery was on his left shoulder and repaired a torn labrum, which circles the socket where the arm connects to the shoulder and provides more support. Talbot is expected to be out for four to five months, so that means he will miss the beginning of the regular season.

Pens' Stanley Cup DVD
The Pens released a DVD of their 2008-2009 Stanley Cup run. Last night, Kris Letang and Tyler Kennedy joined a lucky group who got a special screening of the DVD at a local theater, the Lowes at the Waterfront. The DVD costs $24.98. I'm waiting until Thursday to order mine from Barnes and Noble online because I have a coupon that will give me an additional discount on top of my member discount.

---
Friday, July 3, 2009 -- Evening
Fedotenko returns
Ruslan Fedotenko signed a one year, $1.8 million deal with the Pens today. Fedotenko did a good job last year, and it really was a shame that he broke his hand in that fight with Colby Armstrong. Fedotenko was on a good run at that point, and it took him awhile to get back into the groove when he came back. No word yet on Petr Sykora, but Ray Shero seems to think that he can just let Sykora sit around because no one else will want him.

---
Thursday, July 2, 2009 -- Afternoon
Will They Stay or Will They Go? They Go...
Rob Scuderi and Hal Gill will not be Pens next season. Hal Gill will be going to the Montreal Canadiens for $4.5 million over two years. Rob Scuderi will be going to the LA Kings. So far, the only thing that I have heard there is that the signing happened. One of the local sports reporters, Rob Rossi, who reports for the Pittsburgh Tribune Review, said that he got a confirmation text from Scuderi. TSN finally posted the details for Scuderi. He'll get a total of $13.6 million for four years. Also leaving the Pens is Mathieu Garon. He's heading to the Columbus Blue Jackets for a total of $2.4 million over two years.

Canadian Hockey Team
Sidney Crosby, Marc-Andre Fleury, and Jordan Staal were invitees to Canada's 2010 Olympic hockey team. This does not mean that they will be on the team, but they have a shot to make the roster. All in all, 46 players were invited.

---
Monday, June 29, 2009 -- Evening
Guerin and Adams stay with Pens
Both Craig Adams and Billy Guerin have agreed to contracts to remain with the Pens. Craig Adams took a pay cut to stay, taking only $500,000 a year for a two year deal, which is less than last year's $600,000. The Guerin deal was just made public at 8 p.m. this evening. Guerin's deal is a $2 million contract for one year. It will be interesting to see what happens with the other free agents: Ruslan Fedotenko, Petr Sykora, Miroslav Satan, Rob Scuderi, Hal Gill, Philippe Boucher and Mathieu Garon.

---
Friday, June 27, 2009 -- Late Evening
2009 NHL Draft
This evening was the first round of the NHL Draft. Because the Pens won the Stanley Cup, there were the last to pick. They chose Simon Despres, a defenseman. The pick made sense because we have some aging defenseman, and Rob Scuderi might not be around next season because he is a free agent. Weird to think of that because the next season is just a little over three months away.

---