The Daily Bongo
Pittsburgh Penguins 2010-2011 Season
2010-2011 Eastern Conference Quarterfinal Matchup
Game
Date
Matchup/Result
Winner
Score
1
Wednesday, April 13, 7pm et
Tampa Bay Lightning @ Pittsburgh Penguins
PIT
0-3
2
Friday, April 15, 7pm et
Tampa Bay Lightning @ Pittsburgh Penguins
TB
5-1
3
Monday, April 18, 7pm et
Pittsburgh Penguins @ Tampa Bay Lightning
PIT
3-2
4
Wednesday, April 20, 7:30pm et
Pittsburgh Penguins @ Tampa Bay Lightning
PIT
3-2
5
Saturday, April 23, 12:00pm et
Tampa Bay Lightning @ Pittsburgh Penguins
TB
8-2
6
Monday, April 25, 7:00pm et
Pittsburgh Penguins @ Tampa Bay Lightning
TB
2-4
7
Wednesday, April 27, 8:00pm et
Tampa Bay Lightning @ Pittsburgh Penguins
TB
1-0
2010-2011 Atlantic division
Team
GP
W
L
OT
PTS
Div
Philadelphia
82
47
23
12
106
17-4-3
PITTSBURGH
82
49
25
8
106
12-9-3
NY Rangers
82
44
33
5
93
14-9-1
New Jersey
82
38
39
5
81
11-12-1
NY Islanders
82
30
39
13
73
6-13-5
---
Friday, June 24, 2011 -- Late Morning
Jack Adams
The NHL Hockey Awards were held earlier this week, and Dan Bylsma won the Jack Adams award for best NHL coach. I'm not a fan of his, but I guess that it was warranted based on the team's performance without any of its stars.

---
Sunday, March 27, 2011 -- Late Afternoon
Pens' Awards
The Pens handed out the team awards before this afternoon's game against the Florida Panthers. The awards were:

Baz Bastien Memorial "Good Guy" Award
Presented by the Pittsburgh Chapter of the Professional Hockey Writers Association to the player who the local media of the PHWA want to acknowledge for his cooperation throughout the year.
Mike Rupp

NHL Masterton Nominee
Each NHL team selects a Masterton candidate from which the overall winner is chosen.
Deryk Engelland

A.T. Caggiano Memorial Booster Club Cup
Presented in memory of A.T. Caggiano, long-time Penguins' locker room attendant & Booster Club supporter, the award is presented by Penguins Booster Club members, who vote for the three stars after every home game and tally votes at the end of the regular season.
Marc-Andre Fleury

Rookie of the Year Award
Mark Letestu

Players' Player Award
The players hold a vote at the end of the season for the player they feel exemplifies leadership for the team, both on and off the ice, a player dedicated to teamwork.
Brooks Orpik

Edward J. DeBartolo "Community Service" Award
The award recognizes the player who has donated a tremendous amount of time and effort during the season working on community and charity projects.
Max Talbot and Mike Rupp

Defensive Player of the Year
This award honors the defensive skills of an individual player on the team.
Brooks Orpik

Most Valuable Player Award
Based on the overall contribution the player makes to the team.
Marc-Andre Fleury

---
Monday, March 21, 2011 -- Evening
Cooke Out for the Season
The NHL cracked down on Matt Cooke today. For the elbow to Ryan McDonagh's face, Cooke will be suspended for the rest of the season and the first round of the playoffs. That means that Cooke will miss a minimum of 14 games (more if the Pens play more than four games in the first round). This was a bad situation for the Pens because now they will be one man down. It's also a bad situation for Mario Lemieux and Ray Shero because they have been very vocal against head shots. It seems the Pens have been trying to work with Cooke to get him to change his behavior, but it hasn't been working. After the ruling, Shero said:

The suspension is warranted because that's exactly the kind of hit we're trying to get out of the game. Head shots have no place in hockey. We've told Matt in no uncertain terms that this kind of action on the ice is unacceptable and cannot happen. Head shots must be dealt with severely, and the Pittsburgh Penguins support the NHL in sending this very strong message.
---
Tuesday, March 15, 2011 -- Evening
Crosby Skates, Again
Sidney Crosby skated again today. That's a good sign because it means that he was able to participate in physical activity two days in a row. It's all about the baby steps though. I don't think that anyone wants Crosby to rush and perhaps cause greater damage to his brain cells.

---
Monday, March 14, 2011 -- Afternoon
Crosby Skates
Sidney Crosby skated for the first time since January 5. Now, don't get too excited! Crosby only skated for 15 minutes with full gear, but it was a promising sign. It will probably take a few weeks before Crosby joins the team and plays a game. Over the past few days, the rumors have been buzzing. In fact, there was a report in Toronto that Crosby's parents were trying to talk him into an early retirement to prevent any future problems. I think they have seen the reports on long term concussion, and they are concerned. However, those reports are far from true. It's good to see Crosby back and to hear that he has been symptom free for a few days.

---
Wednesday, March 2, 2011 -- Evening
Crosby Still Not Symptom Free
Dan Bylsma said today that Sidney Crosby is still not symptom free from his concussion. The Pens are hoping that Crosby will return this spring, but at this point, they have no clue of when Crosby will be better. The rumors just might be true, and Crosby might just be out for the rest of the season.

---
Friday, February 25, 2011 -- Evening
Kovalev Back With the Pens; Orpik Out
Alexi Kovalev is back with the Pens, after his lack of performance and general locker room cancer antics, lead to the Ottawa Senators dumping him on the Pens. For some reason, fans appear to be happy that Kovalev is back with the Pens, however, I don't think it's such a great deal. Kovalev has not been performing and is probably not likely to do perform well for the Pens. Because Craig Adams has Kovalev's old number, 27, Kovalev will wear 72 this time around. Adams made the offer to give up the number, but Kovalev said no. Meanwhile, Brooks Orpik is out for four weeks with a broken finger. The poor Pens have really been burdened with injuries this year.

---
Sunday, February 13, 2011 -- Early Evening
Suspensions Levied, and Mario Speaks
The NHL levied suspensions and fines against the NY Islanders late last night. Trevor Gillies was suspended for nine games, and Matt Martin was suspended for four games. The Islanders were fined $100,000. Basically Colin Campbell acknowledged that the Islanders were the ones who started the goon show on Friday. About Gillies and Martin, Campbell said:

"The actions by the Islanders' Gillies and Martin were deliberate attempts to injure by delivering blows to the head of players who were unsuspecting and unable to defend themselves. The message should be clear to all players: targeting the head of an opponent by whatever means will be dealt with by suspension."

Eric Godard of the Pens received a 10 game suspension for leaving the bench to go to the aid of Brent Johnson when Micheal Haley tried to fight Johnson. It's never fair when a real hockey fighter wants to take on a goalie.

Mario Lemieux responded to the situation today, and said:

"Hockey is a tough, physical game, and it always should be. But what happened Friday night on Long Island wasn't hockey. It was a travesty. It was painful to watch the game I love turn into a sideshow like that.

"The NHL had a chance to send a clear and strong message that those kinds of actions are unacceptable and embarrassing to the sport. It failed.

"We, as a league, must do a better job of protecting the integrity of the game and the safety of our players. We must make it clear that those kinds of actions will not be tolerated and will be met with meaningful disciplinary action.

"If the events relating to Friday night reflect the state of the league, I need to re-think whether I want to be a part of it."
---
Wednesday, February 9, 2011 -- Evening
Cooke Gets His Just Dues
Matt Cooke of the Pens was given a four game suspension for boarding Fedor Tyutin in last night's game against the Columbus Blue Jackets. I missed the play last night, but Cooke and Dan Bylsma, loser, claim that Tyutin looked and saw Cooke flying at him. Well, it was a textbook case of boarding. Tyutin was by the boards, in the corner, and Cooke charged him, shoving Tyutin into the glass. The thing is that Cooke does this all the time. What really irritates me is that Pens fans support Cooke's dirty antics because he's on the team. i hate fans who do that sort of thing. If the same thing happened to Sidney Crosby, we would be up in arms. Because it was against the opposing team, it's okay. Bull!
Crosby Still Out
Speaking of Crosby, he is still out. Supposedly, he is with his parents in a warm climate location, trying to relax and get over the concussion symptoms. This all sounds really bad, and it has been a hot item on the sports talk shows. Obviously the problem was exacerbated by Pens playing Crosby AFTER he had the concussive hit in the Winter Classic. If Crosby didn't play, and didn't get the second hit, he might be playing right now. Players, coaches, and fans have to understand that head injuries are serious business and treat them accordingly.

---
Saturday, February 5, 2011 -- Evening
Bad News for Malkin and the Pens
Pens fans got bad news earlier this afternoon when the MRI came back showing that Evgeni Malkin had torn his anterior cruciate ligament and medial collateral ligament in his knee. It sounds he will need season ending surgery. When you combine this with Sidney Crosby's concussion and Mark Letestu's arthroscopic knee surgery that has him out for four to six weeks, things are not looking good for the Pens. Fortunately, the rest of the team is rallying to win games.

---
Tuesday, February 1, 2011 -- Evening
NHL All-Star Game
Marc-Andre Fleury and Kris Letang were the only Pens who made it to the NHL All-Star Game this past weekend. Sidney Crosby only got cleared for light workouts this past weekend, and Evgeni Malkin supposedly had knee problems and a sinus infection. Fleury really seemed to be enjoying himself at the All-Star game. He was the goalie for Team Lindstrom in the breakaway competition. Fleury did a slew of things to entertain the audience and the shooters. He did jumping jacks, push-ups, the wrong end of his stick, and various poses to distract the shooter. In the draft on Friday, Letang was selected for Team Staal, so he and Fleury were on competing teams. Letang did his job, scoring two goals and wracking up 18 minutes of playing time. Team Lindstrom won the game.

---
Saturday, January 8, 2011 -- Evening
Crosby Has Concussion
The sports shows have been abuzz with talk about Sidney Crosby. It appears his "upper body injury" was a mild concussion. The Pens tried to make it sound as it he got the concussion from a hit in the Tampa Bay game. However, we all saw Crosby get his clock cleaned in the Winter Classic. Most of the NHL analysts have been aghast that the Pens allowed Crosby to play with a concussion. The team, and Crosby, are trying to say that he was cleared by doctors to play and that he didn't have symptoms. Crosby admits that he wasn't feeling right in the Tampa Bay game, and it seems that he probably did have a headache with some neck pain. Obviously we teach kids to play injured at a young age. You just hate to see it in someone like Crosby because you don't want such a valuable resource, both to the Pens and the NHL, to suffer debilitation. I say that should give even more weight to penalties against those who perform head hits. In Crosby's case, the Caps David Steckel seemed to go for Crosby's head even though Crosby did not have the puck. Of course, there was no penalty. And there was no penalty when Crosby was shoved into the boards from behind in the Tampa Bay game. Crosby should be out for at least a week.

---
Wednesday, November 10, 2010 -- Evening
Crosby Defends Fleury
Interesting story from the Pens today. Sidney Crosby spoke out in support of Marc-Andre Fleury. Dan Bylsma, aka George McFly, has been making comments that Fleury doesn't have confidence and also has "unsatisfactory practice habits and focus." Crosby's comments:
"He (Fleury)'s going to have good games. It's not like he can change overnight. He's going to put strings of games together, and he can't do that with one game. So, you've got to be patient, too, and let him get back there. With a goalie, you've got to give him time. He's got to play four or five games maybe to prove that, but to sit here and question his psyche doesn't really give him a chance."
This is the first time that Crosby has spoken out against a coach, and I'm sure that it doesn't look very promising for McFly if the Pens don't start performing up to snuff.
---
Thursday, October 7, 2010 -- Evening
Here We Go Again
Finally, it's that time of the year. The start of the Pens season. Many think that they will do well this season, especially since they had a good pre-season, winning five of the six games. It will be an interesting season since we won't have Sergei Gonchar, and we picked up Mike Comrie, who is married to Hillary Duff.

---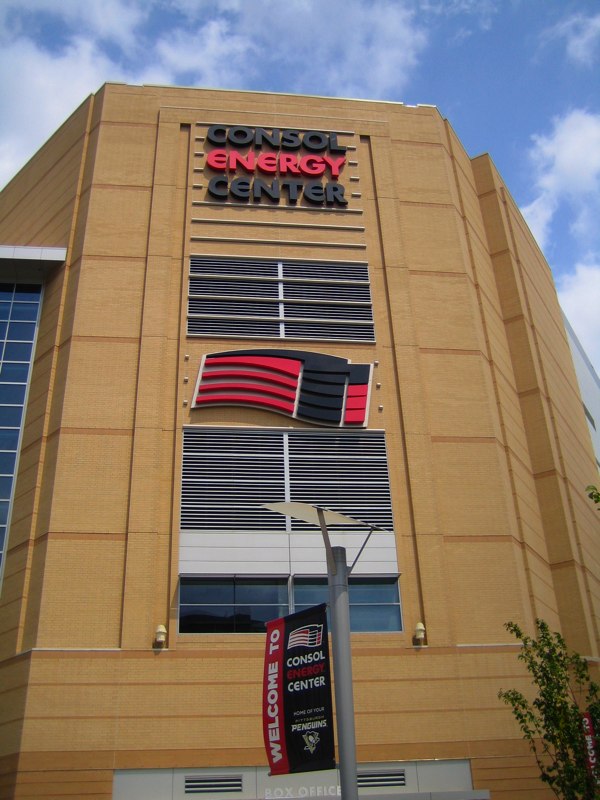 Sunday, August 15, 2010 -- Evening
Console Energy Center
The Pens had an Open House event this weekend at the new Console Energy Center. I went yesterday afternoon, and I have to admit that I fell in love with the building. The first thing that struck me is that it will be so easy to get into the building. Since it is right on Fifth Ave, and the bus stops right in front of the building, I can just get off the bus, and go into the building. Our seats are on the opposite side of the building, as it turns out, but it will be nice to quickly get out of the rain or cold. At the Centre Ave. entranace, people can enter the building, shop in the Pens' store, and then pass through the ticket portal. So that means no more waiting outside the building for the doors to open an hour before the game. It also means that the store is accessible outside of game hours! The biggest surprise was finding that our seats, which were originally maybe 25 rows from the ice, are now 11 rows from the ice. We have a great view. The seats in the second level give me vertigo though because they are very steeply arranged. We got to check out the luxury suites. Gorgeous, with refrigerators and hot dishes. The whole building seemed spacious. I would say the only thing that did't seem comfortable were the luxury suite seats. Even though they were well cushioned, they were too upright. The seats just felt too upright and too uncomfortable. Another low point, was the woman who was yelling at her husband who was handicapped and in a wheelchair. She had spilled a drink because he must have been behind her and nudged her with the chair, causing her to spill the drink. She was berating him about it, and I felt so bad for him. He looked like his heart had been full of joy, looking at the gorgeous area, then one accident, and the termagant who is his wife, turned on him. I just wanted to berate the woman myself, and tell her that she should stop berating the guy. He's in a wheelchair! It's only an easily cleaned spill! And yes, drinks are damned expensive, but the poor guy is in a wheelchair! Give him a fricking break! Okay, enough of my rant. Check out my pics.

---
Tuesday, July 6, 2010 -- Evening
Gonchar Goes to Ottawa
Big news that I missed last week was Sergei Gonchar leaving the Pens for the Ottawa Senators. The Pens tried to shore up defense with Zbynek Michalek, who is a defensive defenseman. Also added was Paul Martin on defense. Gonchar will be a loss because he was well-liked, and could be good offensively. However, the Pens have been suffering from a weaker defense. This should help Marc-Andre Fleury get into the groove, and hopefully, have a better season than this last one.
---