The Daily Bongo
September 2014
Thursday, September 25, 2014 -- Afternoon
Derrick is BB Champ
I probably won't get a chance to watch the show until this weekend, but I wanted to give a quick update on Big Brother. Cody won the final HOH, and he took Derrick. Derrick won, with only Jocasta and Donny voting for Cody. Donny won America's Favorite Player.

---
Monday, September 22, 2014 -- Evening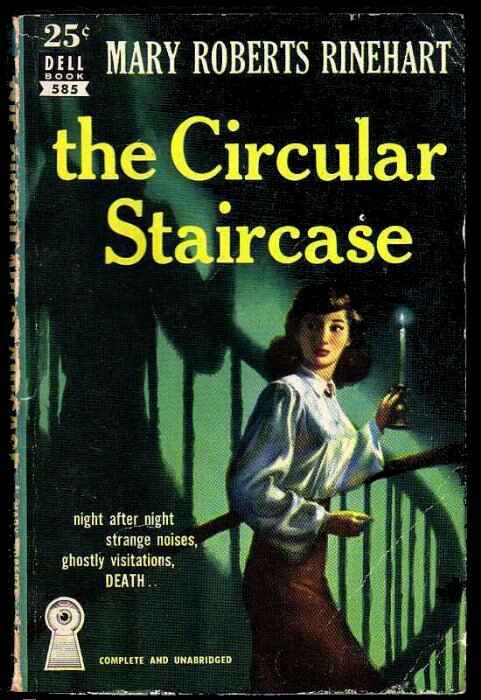 The Circular Staircase by Mary Roberts Rinehart
Had I but known how good a Mary Roberts Rinehart story was, I would have read one sooner. At least, that would probably be the logic of a Rinehart heroine. Rinehart came from Pittsburgh, and her mysteries fall in the category of the "have I but known" plot that Elizabeth Peter used to such good effect in her Amelia Peabody mysteries. I downloaded The Circular Staircase onto my Kindle and had an enjoyable read.

The Circular Staircase was one of Rinehart's first books, written in 1908. Rachel, a spinster, raised her nephew and niece, making sure to safeguard the siblings money. As they got older, they started to live lives away from Rachel, so as one of the last flings for the family, Rachel rented a house from the Armstrongs in the country for the summer while her house in the city was being renovated. That's when things take a turn for the eerie. Rachel starts to hear knocking noises, and she thinks that she sees people hanging out, maybe trying to get into the house. When Rachel's charges, Halsey and Gertrude show up, things take a turn for the worse. The son of the man who owns the house gets shot entering the house. Halsey and his friend, who left earlier in the evening, are suspects, and the friend, Jack Bailey, gets arrested when the bank that the Bailey worked at had funds stolen from it. Bailey is suspected, but so is Paul Armstrong, who owned the house that Rachel rented. Armstrong is now in California, but he turns up dead. The incursions into the house seem to be ongoing, and the mystery around the Armstrongs, the house, and the missing money deepens.

I really enjoyed reading The Circular Staircase. Humor abounded. My favorite interactions were being Rachel and her life-long maid, Liddy, were constantly bickering with Liddy threatening to quit while Rachel threatens to fire her. The mystery is a puzzle, and I have to admit that there were several times I wanted to shake Rachel and say "don't keep quiet about what you just learned." all in all, the book was very enjoyable, and I look forward to reading more Rinehart.

---
Sunday, September 21, 2014 -- Evening
Final HOH Competition
I finally got around to watching Friday's episode of Big Brother. I wasn't keen on watching the episode because it was basically a recap episode of things that happened over the past year. Victoria says that she has been working with Derrick since the start of the game. Victoria doesn't seem to get that Cody and Derrick had a final two since the second day in the house. Victoria thinks that she will be sitting beside Derrick. Derrick tells her that they are brother and sister.

CBS then showed the past takes of the show. Derrick, Cody, and Victoria talked about the events before they were shown.

The last four minutes of the show dealt with the first part of the last HOH competition. It was an endurance with the house guests having to hang off a hang glider. Victoria was the first out, and Cody won. Of course, we just saw the beginning. But from the feeds, I know that Cody won with Derrick taking the second HOH competition. The question is whether Derrick will let Cody win the final HOH so Derrick doesn't have to choose between the two remaining.

---
Friday, September 19, 2014 -- Evening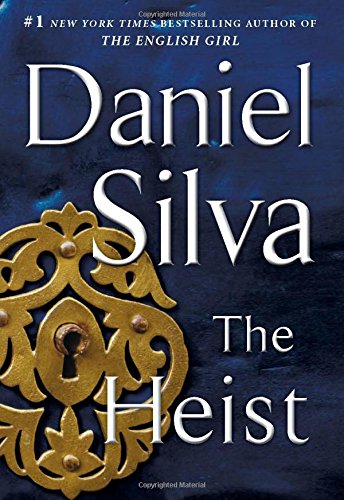 The Heist by Daniel Silva
The latest Gabriel Allon, The Heist by Daniel Silva, was released in July, but I was just able to get it from the library this week. I've enjoyed the Gabriel Allon series, although I have to admit I was starting to get tired of Allon getting into near death situations in every book. Yes, I understand that he is a spy and risking his life, but having it happen in every book was straining credulity.

The Heist is different from some of the other Allons is that there isn't a terror attack behind the action in the book. Instead, Allon is pulled into an investigation of a former diplomat's death because Allon's friend, Julian Isherwood finds the body. The diplomat turned out to be a former spy, turned rogue, who was now in the business of selling stolen masterpieces. Allon's role is to find the Caravaggio that was rumored to be in the possession of the dead man. What Allon finds is that the man was onto the Syrian president hiding away funds for his future use. Allon is determined to track down the funds and remove them. Also, he wants to find the Caravaggio. In order to gain access to the money, Allon recruits a girl who works for the investment officer who is hiding the fund for the Syrian president. The girl is a Syrian whose family was massacred in Hama as threats to the president of Syria.

As I mentioned, this book is different from the others because Allon isn't being tortured to near death. At times though, the story just seemed to drag along. The overall plot was interesting, but I think there could have been more action and less repetition. I think Silva needs to take a break from Allon, especially since Allon is moving into more of a managerial role in the Israeli secret services. Perhaps, he can revisit the Michael Osbourne character.

---
Thursday, September 18, 2014 -- Afternoon
Caleb Leaves
On last night's Big Brother show, we saw the conversation between Frankie, Caleb, Cody, and Derrick in the HOH room. Frankie said that evicting him will reconnect him with his millions of followers and the members of the jury. Frankie claims that he will single-handedly decide who wins the game in that situation. I'm not sure that's true, but that's Frankie all over. Cody tells Frankie that Frankie isn't Jesus, and Caleb says that if Frankie were in the final two, Caleb would smoke him. Derrick sits quietly, and finally says that he respects Frankie and the others as players.

Derrick talks to each house guest alone. Derrick has a final two with all three. Derrick tells Victoria that she has to go up, but he wants her to stay. Cody says that he doesn't want to go on the block. Derrick says he won't put up Cody. Then Derrick manages to talk Caleb into volunteering to go on the block. As Derrick tells them all, it doesn't matter who he puts up, but it does matter who wins POV, because that person is going to decide who is evicted.

Victoria has been doing a great job of pretending that she and Derrick are at odds when they are really working together. We see a segment on Caleb and his family. Caleb seems to think that he has some sort of movie deal in the offing. We see a ton of clips of Caleb going on and on about how wonderful he is.

The final veto competition pimped a new CBS TV show called Stalker. The competition is the same, match a house guest to a set of clues that describes the house guest. It's funny to see clips of Victoria, Cody, and Caleb saying that they know Derrick has their back. As we already know, Cody won the veto.

Cody evicted Caleb, and Caleb was hurt by the event. Caleb said that he was hurt by Derrick because he thought they had a close bond.

---
Wednesday, September 17, 2014 -- Afternoon
Final Four
My schedule has been extremely busy with my classes this term, and I finally got a chance to catch up on Big Brother. Yesterday's show started after the nomination ceremony with Frankie and Victoria on the block. Caleb tells Frankie that Caleb did not want to put Derrick up because he did not compete in the past two HOHs. Caleb also tells Frankie that Frankie might want to take Victoria off if Frankie won the POV. Frankie can't believe that the other three guys are still conspiring against him. Cody comes out as Caleb is talking to Frankie. Cody cannot believe that Caleb is telling Frankie this stuff. Frankie says that he has done nothing but prove his loyalty throughout the game.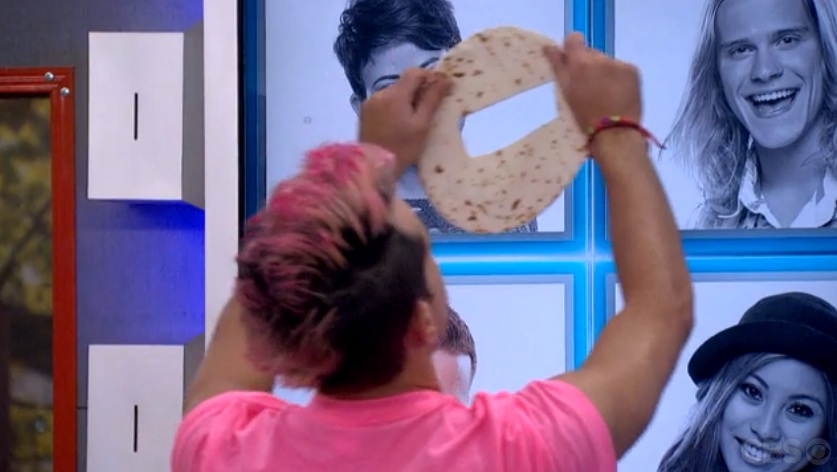 Frankie is studying for the POV, saying he blew them out of the water last time, and he will do better this time. Cody says it won't happen again. Cody is wearing his glasses as he studies. Meanwhile Victoria is just studying the back of a bag of pita.

We see a segment on Team America because if a member of Team America wins, he gets an extra $50,000.

Cody was up first in the POV. We find out that this time, the first place sets the time to beat, and the others have to beat it to win. Cody whips through the competition and gets a tie of 2:21. Caleb is next, and screws up because he didn't turn off the lights for the first set, which eats up his time. Victoria is next. Victoria seems to be whizzing through them, until she got stuck on the fourth one, and lost. Then Frankie is up next, and he's stuck on the second face. He's out on the third face. Caleb and Cody start to celebrate. Derrick assumes that the time is Frankie's. Derrick is good, and he is on the last one, and just misses out on getting the POV. Derrick was sure that it was Frankie's time and that Derrick was going home.

Frankie tells Cody that he should use the POV because Derrick has never been on the block, and he should be. Frankie is frustrated. Frankie tries to convince Cody and Derrick that he is after Caleb.

It's eviction time. Victoria says she fought hard to get to that point, and the audience laughs. Frankie pimps Ariana Grande. Blah! Frankie says "go Grande, or go home." Bye!

Cody evicts Frankie
Derrick evicts Frankie
Frankie is out. Frankie tells Victoria to please try to win something. Frankie runs out squealing and throwing confetti, telling Julie that he loves her. Frankie says that he and Cody had a bumpy road. Frankie feels that Cody has been playing him for a while. Frankie also tells Julie that he can't go into a competition and just not win things. Frankie says that he doesn't regret turning on the guys last week. Frankie also said that he knew Derrick would turn on him because of how Derrick turned on Donny.

Time for the HOH competition, and it's a before or after competition. Everyone got a point on the first and second question. Victoria and Cody got the third question. They all got the fourth question. Derrick and Cody got the next one. Cody leads with 5 points. Derrick and Cody got the next one. The last question only Derrick gets right. There is a tie breaker question. How many seconds long was the luxury competition from the official start until Hayden eliminated Nicole. Derrick said 420, Cody said 680, and it was 460. Derrick is the new HOH.

Remember to vote for your favorite house guest!

---
Thursday, September 11, 2014 -- Afternoon
Rewind Episode
I watched the Rewind Episode, but there wasn't much point in it because everything was undone. We see how Derrick and Victoria hatched a plan for Victoria to convince Frankie that she is really pissed at Derrick for not voting for her. Victoria does an extremely good acting job, crying and saying that she has been betrayed by Derrick.

I watched specifically to see the jury house. The first bit of the jury house had Zach get a pink hat for his birthday. Hayden did not want to see Nicole come back, but she did. They could not wait to see who was evicted in the second eviction. Zach thinks that Derrick played a great game and wants to see him at the end. Everyone wants to see Christine in the house because no one wants her to win. Christine walks in, and everyone was ignoring her because they were just saying that they were hoping it was Christine. Everyone was ripping on and laughing at Christine. Hayden asked her if she had a thing for dinosaurs now since Cody had the dinosaur outfit. Then Donny asked if she had an attorney, hinting at a divorce. Christine also told them that she got the loudest boo, and Hayden thinks that it was because of her interactions with Cody. Everyone in the jury house agrees that Derrick is the person who was pulling the strings. Donny commented on how Frankie won so many competitions and had a good social game.

Cody gave his exit speech, and then Victoria gave hers. When it was time for the vote, Derrick could not get into the room, and Julie left them to stew over what would happen. Frankie was really freaking out. Julie tells them that they have to repeat all of the events of the past week. It will be the same HOH and same veto competition. Everyone, except Derrick, competes. Cody has to put the dinosaur costume back after the HOH competition.

From watching the feeds, I know that Caleb won the HOH. Nominations should be sometime today.

---
Sunday, September 7, 2014 -- Afternoon
Big Brother Pointless Show
The Sunday Big Brother show is basically pointless. Everything will be reset on Wednesday, so this is just stupid filler. If you are interested, you might want to watch to see Jeff ask Jordan to marry him. Of course, she said yes. The whole thing went down in the BB backyard with the remaining house guests. I might fast forward through to see it, but really tonight's show holds no interest for me.

---
Saturday, September 6, 2014 -- Afternoon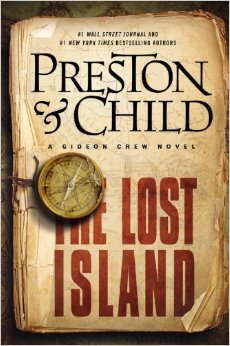 The Lost Island by Preston & Child
I have enjoyed the books by Douglas Preston and Lincoln Child, both together and separately. However, I haven't had a chance yet to read anything in their Gideon Crew series. This is a new series that just started a few years ago. Well, when I went into the library the other day, I saw their latest book, The Lost Island on the new books shelf. I figured that I would give the book a try, and boy, am I glad that I did.

Gideon Crew is a master thief, who is also a physicist. He also has a medical condition, tangled blood vessels in his brain, that leaves him with only ten months to live. Preston and Child love to have characters appear in multiple series, and it's no different here. Eli Glinn, who is the person behind EES, Effective Engineering Solutions, appears in The Lost Island. Glinn's EES was the group behind the meteorite recovery in The Ice Limit.

Glinn asks Gideon Crew to steal a page from the Book of Kells while it is on tour in New York City. The task appears to be an impossible one because the security is so high, but we are talking about Gideon Crew, and he manages to come up with a way to steal the page. Imagine Gideon's shock when Glinn takes the beautiful illuminated page and removes the paint! But there is a reason. Hidden under the illumination is an ancient map. This map shows the route to the lotus, which can cure bodily ills and injuries, and give the consumer of it longer life. Glinn has a mysterious client who wants the plant because it would be an amazing discovery that could cure so many illnesses. Why, it might even cure Gideon's problem! The map appears to led to the Caribbean, where the ancient Irish monks were the first to reach the Americas. Glinn partners Gideon with Amy, who is an expert in classical languages and boating. Of course, the voyage is more difficult that Gideon imagines, and what they find is beyond his wildest imagination.

The Lost Island is a thrilling adventure story. Preston and Child throw in some Greek history, and the Odyssey. Is it believable? Well, of course it is. Preston and Child do such a great job of weaving high adventure into a fast moving plot that you find yourself caught up in the action. I really enjoyed this book so much that I have to get the two earlier Gideon Crews!

---
Thursday, September 4, 2014 -- Evening
Double Eviction Night
I really hope that the double eviction tonight spices things up. The Big Brother house guests have been extremely boring. There's supposed to be some sort of twist with a golden button. We'll have to see if it really is an exciting twist.

Julie Chen called this the most twist summer ever. Bah! Jeff and Jordan are going to be in the BB house on Sunday with a surprise. Bah! Probably that they are going to get married in the house.

Nicole complained about how Frankie and Caleb were arguing over eating chicken or fish for dinner. Nicole and Victoria talked about how Caleb was a wimp for not putting up Frankie. Caleb does tell Frankie that he was thinking of putting Frankie up. Caleb told Frankie that it was Cody's idea. Frankie tells Caleb that Frankie is Caleb's biggest ally. Then Frankie tells Derrick that he knows about the plan to put up Frankie. Derrick blamed it on Caleb. Frankie says he's not stupid, and he realizes that Caleb was serious.

Julie breaks the news about the double eviction, even though everyone knew about it. They've been talking about it on the feeds. Nicole gives a quick speech saying stop playing Big Baby and play Big Brother. Victoria had on a slutty pink dress, and really didn't say much. Time for the vote.

Christine evicts Nicole
Derrick evicts Nicole
Frankie evicts Nicole
Cody evicts Nicole
Nicole gave a very boring interview. She really didn't have anything new to say. Time for the HOH competition. They will see a video of an evicted house guest with a bleeped out word. They have to guess the bleeped out word. Donny was first. Was the bleeped out word massages? Everyone except Derrick said true, but it was kisses. So Derrick is HOH. Of course, afterwards, Frankie was claiming he KNEW it was kisses. Idiot!

Derrick met individually with everyone. Christine and Victoria are going up, but the plan is to get rid of Christine or Frankie. Veto competition is next. They have to navigate a ball through three crop circle mazes. It could be anyone's game, and it could take some time. Frankie made the second maze first, then Christine, Caleb, Victoria, Cody, and Derrick. Frankie made it to the third maze first. Frankie won with Caleb a close second.

Frankie just looks like an idiot with his spinning and smiling. Christine says that she did not expect Frankie to use the veto. Victoria said that she did try, and understands if he doesn't use it. Frankie does not use the veto. Christine whines and says she wants to be the last girl standing. Well, she won't be. Time for the vote.

Frankie evicts Christine
Caleb evicts Christine
Cody evicts Christine
Christine does not hug anyone, and just goes right out the door. Someone was booing really loud, and they heard it in the house. Julie asked Christine about not saying good bye to anyone. Christine says that she got involved in a boys' club. Julie asks since she is out in sixth place if she regrets her decision. Christine said that the guys knew they could beat Victoria, which is why they kept her. Christine understands being voted out. The boos had to affect her.
It seems that the golden button will be a rewind button. If it is used, then the nominees come off the block, and they start all over again. Since CBS has football on Thursdays, the BB show will be on Tuesdays and Wednesdays: both are class evenings for me. As the show ends, the house guests can see the golden button, but they don't know what it is.

---
Wednesday, September 3, 2014 -- Evening
Big Brother Update
I haven't been watching the Big Brother show very much lately because I have been busy, and because the show has basically been either boring or irritating, with Frankie being the Prima Donna. I'm watching tonight's show late, and it was pretty much the same old same old.

Derrick comforted Nicole and told her to win the POV. Derrick also said that if Nicole pulled herself off the block, he would like to see Christine go out the door. Christine is disgusted with the guys, and they see her as expendable. In the POV, Caleb picked house guest's choice, and he chose Cody. Nicole picked Derrick, and Christine picked Victoria. That meant that Frankie couldn't play. So Caleb, Derrick, and Cody talked about how Frankie is at the bottom of their list. In the POV competition, the house guest have to defuse bombs by watching a video, then to cut the appropriate wire to defuse the bomb. The first person out has to wear a dinosaur costume. That was Cody. Everyone gets the second round. The competition is really lame. Caleb was out second, then Victoria was out. Nicole and Derrick went out together, so Christine won.

Caleb is a bit upset that Frankie ran right up to Christine and started chirping in her ear. Caleb wants to know what Frankie was saying to Christine, and that's when Caleb starts talking about putting up Frankie because Frankie can beat them in competitions. Christine says that Frankie told her that he would have won that competition, because everything is about Frankie. Cody doesn't like Frankie is undermining him and Caleb. Cody just looks stupid in the dinosaur outfit.

Tons of talk about how Frankie is a threat and how they should put up Frankie. However, that doesn't happen. Derrick was panicked because Nicole said that Derrick was like Dan Gheesling. Christine comes off the block, and Victoria goes up in her place. As Nicole said, the Detonators have been voting as a group. However, all five can't win first place.

---
Tuesday, September 2, 2014 -- Evening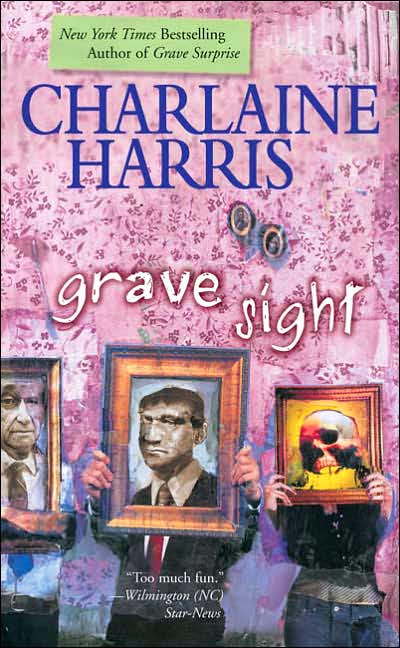 Grave Sight by Charlaine Harris
I happened to be shelf browsing at the library, and I saw the Harper Connelly series by Charlaine Harris. I liked the earlier Sookie Stackhouse books, so I thought I would give this series a try. Harper was struck by lightning as a teen, and this has given her the ability to find dead bodies and to see the person's final moments. She uses this talent to find missing people who are dead, as long as she knows the general location of the body. Also, she can see what the person experiences in the last moments, so she can explain the death. If it was murder, she can't see the murderer, but she knows the person was murdered. Harper's step-brother Tolliver Lang, acts as manager/bodyguard when Harper does her work for money. It seems that people don't like that Harper can find the dead, even though it helps them find the missing loved one. People tend to want to hurt her.

Grave Sight is the first book in the series, and Harper is called in to find a missing teenage girl, named Teenie, in Sarne, Arkansas. It seems that everyone in power in the town is related to everyone else, and after Harper finds the body, and discovers that not only was the girl murdered, but her boyfriend, who was found dead in the general area of supposed suicide, was also murdered. This doesn't go down well with the townsfolk, who make Harper's life miserable. Then Harper discovers that the Teenie's sister was murdered earlier. Then after Teenie's mom talks to Harper, she winds up dead. Obviously something is going on, and Harper and Tolliver are stuck in the town. Harper decides that while she is stuck there, she might as well figure out why everyone in Teenie's family was murdered. However, someone in the town is determined to stop Harper at any cost.

The plot was interesting. I mean who would think of a person being struck by lightning then being able to discover dead bodies. Harris does come up with some interesting ideas, but she really does need to work on her mechanics. First, her grammar is atrocious. This is an example of one of her poorly written sentences from page 10: "The waitress filled my coffee cup and taken my first swallow before the sheriff spoke." Wow! So the waitress took the sip for Harper. With the number of grammar errors, it's obvious that Harris isn't an English major, and it's also obvious that her editor sucks. Then there's the matter of common sense and research. On page 46, Harris talks about an approaching thunderstorm: "A boom of thunder was followed by a brilliant bolt of lightning." Anyone who has any common sense, or lived, knows that light travels faster than sound, and that you see the lightning and then hear the thunder. The errors in the book really detracted from my enjoyment of the story.

The book was okay. Harper is a stupid and sloppy detective. Harper finds out from Hollis, cop and former husband of Sally, Teenie's murdered sister, that right before her death, Sally had been cleaning the house of Dick Teaque, father of Teenie's boyfriend, after Dick died. She then came home in a bemused mood and looked through one of her high school textbooks. Well, Harper lumbers in, grabs the biology textbook, and shakes a paper out. Duh! Idiot! She should have flipped through so she could see where the paper was placed because that would have been a clue. However, Harper ain't known for her smarts. She can just find dead people. I may give the second book a chance just to see if Grave Sight was an aberration. It it's not better, I would suggest skipping the series because the first book is not that good.

---