The Daily Bongo
Who's Who in Endurance




Endurance 1 Endurance 2 Endurance: Hawaii (3) Endurance: Tehachapi (4)
Endurance: High Sierras (5) Endurance: Fiji (6) Who's Who in Endurance



For fans of Endurance, here is a quick listing of the shows contestants and any information that I could find out about them. All information and pictures are obtained from Discovery Kids or other web resources. The Discovery Kids web site has a Where are they Now? page with some of the past Endurance competitors.



Endurance 1 / Endurance 2 / Endurance: Hawaii / Endurance: Tehachapi


Endurance: Season One
Blue Team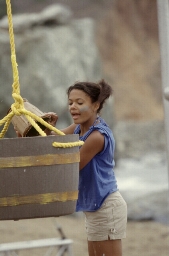 Jonna Mannion: Jonna was the brains of the Blue Team and was the key to the team winning many of the puzzle competitions. Jonna wants to be an actress and lives in Tempe, Arizona.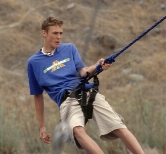 Aaron Thornburg: Birthday June 12, 1986. Aaron was the brawn behind the Blue Team. Aaron is a hunter, fisherman, and all-around outdoorsman. His biggest claim to fame after winning the first season of Endurance is that he can catch 300 snakes in one day. Aaron is a senior at Bozeman High School in Bozeman, Montana. Aaron was naive enough to believe Sabrina's lies, but eventual saw the light.

Yellow Team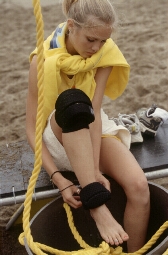 Sabrina Lloyd: Sabrina was the evil, manipulative schemer on the Yellow team. She played mind games with Aaron Thornburg to get him to believe that she liked him so she could remain safe in the competition. Sabrina's plan did work because it did get her to the finals. Sabrina comes from Texas. She graduated from high school in 2006, and was accepted to college, but is going to take a year off to do modeling in Tokyo, Japan. Sabrina's modeling career took off after her appearance on Endurance.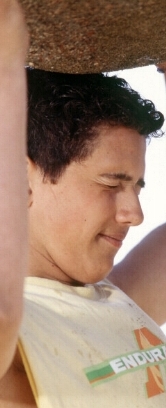 Jon Crocilla: Jon was the complete opposite of Sabrina. He was the moral compass for the team, and would frequently have looks of disbelief on his face as some of the things that Sabrina plotted. Jon dated Ashley Gudzak after the show, and they broke up before the Endurance Reunion show. My question was if Jon and Sabrina also had something going on betweeen them. Jon comes from Inverness, IL. and is now in college.

Red Team
Ashley Gudzak: Birthday February 2, 1989. Ashley was best friends with Sabrina in the show. Ashley seemed like a very nice girl, and the Red team was basically carried by their friendship with the more powerful Yellow and Blue teams. In real life, Ashley is into sports and was captain of her school soccer team. Ashley will be graduating from high school (May 2006) in Florida.

Christian Justice: Birthday November 4, 1988. Christian was the surfer dude on Endurance, and was at one point ranked #1 for his age with the US Surfing Federation. Christian was mellow and got far in the game because of his very close friendship with Aaron from the Blue team.

Green Team
Lana Neiman: Lana is one of triplets. She didn't get along with her partner, Trevor. Somehow though, they managed to get far. Lana comes from Chicago, Illinois.
Trevor Wilkins

Orange Team
Chelsea Myers: Chelsea was a quiet girl. She became fast friends with Layla and had a crush on Max.
Skyler Russell: Skyler is the typical geeky guy. Not only was he in the Scientific Olympiad and his school's Scholastic Bowl, but he also fences.

Purple Team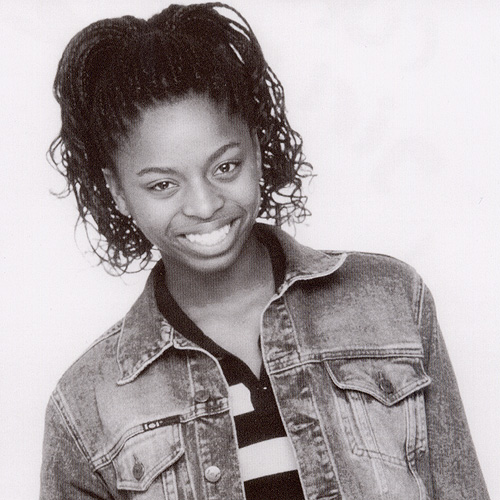 Layla Brisco: Birthday May 22, 1987. Layla was friends with Chelsea, and they maintained their friendship after Endurance. Layla also does modeling.
Brandon Cameron Hendrix

Grey Team
Jenna Jimenez: Jenna comes from Chicago, IL. The grey team were the sacrificial lambs who were sent to the Temple of Fate with the Green team. Jonna, from the Blue Team, wanted the Green team gone, and thought that the one way to do it would be to send Grey. Unfortunately the plan backfired. Jenna is an easy, free-spirited girl with lots of athletic abilities.
Max Deleo: Max comes from California. He purposefully screwed up the partner pairings at the begining of the first season because he thought that the premise was silly.

---
Endurance: Season Two
Brown Team
Jenna Jimenez: Jenna was lucky enough to get enough votes to come back to play in Season Two. Most of the contestants from the first season felt bad about the way things went for Jenna and Max. Jenna was able to overcoming Max's scheming to make it to the finals, which the Brown team won.
Max Deleo: Max returned with Jenna to the second season due to votes from his fellow Endurance 1 contestants. Max schemed and plotted throughout the second season. His many plots and agreements were almost the undoing of the Brown team.
Green Team
Keetin Marchi: Keetin had no regrets before the final two, but Keetin did regret that she and Mike lost in the final luck competition.
Mike Lavigne: Mike is excited about going to college and is thinking of majoring in political science so he can go to law school.
Orange Team
Michelle Durand: Michelle came from a poor family, and she tried hard to win Endurance so she could take her mom on a vacation. Unfortunately, Michele didn't win, but she won over Tyler and other fans of the show.
Tyler Burkhalter: Tyler was 14 at the time of his Endurance appearance. He comes from Florida, and was diagnosed with juvenile diabetes when he was 10 years old. Tyler spent most of the beginning of the second season complaining about being homesick. He did not get along with his partner, Michelle. However, as time passed, Tyler grew to admire Michelle's qualities, and wanted to win so she could take her mom on a vacation. Tyler removed the Samadhi from the competition when he won the power to give it because he wanted Green to win and send Purple and Brown to Temple. What he ultimately wanted were the pieces that Purple and Brown had, so he couldn't tick them off by giving them the Samadhi, and didn't want to penalize Green because they needed to win. Tyler's strategy worked.
Purple Team
Annie Kim: Annie was a tomboyish sort of girl who didn't care that she rubbed the girls the wrong way. She was there to win the game. Unfortunately, Annie wasn't able to get to the end. She was friendly with Michelle, and the Purple Team gave all its pieces to Orange.
Jeff Phillips: He was a California guy who embodied the spirit of the state. He was laid back, but a solid competitor.
Yellow Team
Calley Payne: Calley had alot of trouble adapting to life in Endurance. She did not get along very well with Annie, and cried many a tear over the treatment that she got from Annie. Calley wasn't the strongest player, and this frurstrated Shep alot.
Shep Allen: Shep was the cute boy. Unfortunately, he was stuck with Calley as a partner. The insecure Calley wasn't up to the physical part of the competitions, and this didn't go over well in the long run with Shep. He never took out his frustrations on his partner, however.
Blue Team
Christa Scholtz: Christa comes from Austin, Texas. Christa was liked by the others, but was unfortunately stuck with Scooter who irritated most of the others, especially the Brown, Purple, Green, and Yellow teams.
Cameron "Scooter" Magruder: Scooter comes from Orlando, Florida. His biggest mistake was in targeting the Purple and Brown teams for elimination. Unfortunately, Purple and Brown were in an alliance of sorts, and they along with Green and Yellow targeted the Blue team for elimination.
Red Team
Jacquelynn Pointer: Jacquelynn was the beautiful girl in the second season that every boy wanted as a partner. Phil was lucky to win her as a partner, and the two had a special bond.
Phil Morelli: Phil's story was that he was head over heels in like with Jacquelynn. He was totally overcome with her beauty, and this probably affected his game.
Grey Team
Maryelle DeVitto: Maryelle was born in 1988 and her father was a drummer for Billy Joel. She was a quiet girl. Unfortunately, she had a weak partner. We didn't get to know Maryelle because her stay wasn't a long one.
Wayne Williams: Wayne was a weak player which targeted him and Maryelle.

---
Endurance: Hawaii
Grey Team

Lindi Oest: Lindi comes from Dover, FL. Lindi, Sarah, and Nicole were the clique of girls who did not like Bryanah. The feelings were mutual when Lindi picked Chris as a partner and ousted Bryanah. Lindi was a hard competitor and formed a good bond with her partner Chris. Lindi is an athletic girl who can throw a 60 mph fast pitch softball Lindi thinks that Endurance changed her because it taught her how to get along with other kids, and gave her confidence in herself. She learned that anything was possible if she put her mind to it.
Chris Vanderweir: Chris comes from St. Augustine, FL. Chris and Reece were pals during the show, and their two teams were powerhouses in the competitions. Bryanah had a crush on Chris. Chris wasn't always the nicest person because he targeted the Yellow team while making them feel guilty for going after him. Chris did play the game with honesty though and had great teamwork with Lindi. Chris pulled the big dishonest moment of the season, when he led Bryanah to think he wanted her for a partner while planning with Lindi to be partners. Chris let Demian get the ball in the partner game before him so he could fall behind Lindi in the selection process.
Orange Team
Nicole Clark: Nicole comes from Las Angeles, CA, and was the wicked witch of Endurance. She played the game with a mean streak, and no one thought that Orange should win because of Nicole. She would frequently out her own partner's plans, and only worried about her mean, negative streak when it was time to go home because her mom was going to yell at her.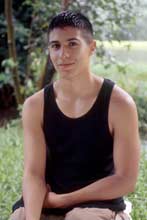 Demian Martinez: Demian was stuck with the partner from heck. Nicole was mean to him and to Bryanah. Demian resides in Las Vegas, but it seems that there may be a problem with deportation ahead for Demian. It appears that his mother came to the country illegally in 1990. This article has more information about Demian and the finale
Yellow Team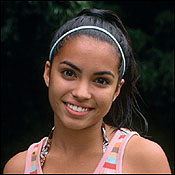 Bryanah Bascon: Bryanah comes from Stoughton, MASS, and pretended to drink a raw egg during her audition tape for the show. She was caught in the cheat by JD Roth when he went to her house to let her know that she was on the show. Bryanah was a tomboy, and the clique of Lindi, Sarah, and Nicole did not like her because Bryanah hung out with the guys. Bryanah admitted that she had stereotyped Monroe at the beginning of the competition, and did not want him as a partner. She later learned that Monroe was a faithful and strong partner. Although I wasn't a huge fan of Bryanah at first, I became a cheerleader for her and Monroe.
Monroe Gierl: Monroe comes from Glendale, Wisc. Monroe was a huge Endurance fan who lucked out by being selected to be on the show. Monroe was thought of as a weak nerd, but he was able to show his strength in several of the competitions. Unfortunately, the Yellow team was targeted by most of the teams during the season because of Bryanah, but Monroe and Bryanah never gave up. They were my favorite team, and made it to the final three. Outside of the tv world, Monroe is a competitive swimmer who describes himself as not athletic. Monroe hopes to audition for MTV's Real World when he turns 18. Monroe's proudest moment in Endurance was when he won the Out on a Limb competition because he beat all the boys in a strength competition, and broke up the Red, Purple, Orange, and Grey alliance.
Purple Team
Sarah Baker: Sarah was really into makeup and looking just right when she came to the the Hawaiian jungles, but she learned to get down and dirty like the others. Sarah, Lindi, and Nicole formed an alliance of dislike and hate towards Bryanah.
Reece Bors
Brown Team
Tom Maden: Tom was born in Coppell, Texas. Tom was a hippy boy, with a very strong neck. He was eliminated in the first round, but got a second chance. He won the second change competition, but he didn't stand much of a chance when he had to compete on his own when Vanetta left the competition with an injured knee.
Vanetta Smith: Vanetta was a Hollywood girl and athletic. She didn't make it past the first elimination, but got a second chance. Tom picked her as a partner because she lasted the longest in the second chance competition. Vanetta injured her knee when she tripped coming out of the hut and had to leave the competition to get stitches. Vanetta has appeared in episodes of Judging Amy and The Shield. She also appears in a movie that will be released in 2007 called Freedom Writers.
Red Team
Rachel Lofton: Rachel comes from Poway, California. Her father was a former wide receiver in the NFL, James Lofton. Rachel was quiet and would have been better with a stronger player than Kareem. She was in an alliance with Grey, Purple, and Orange. However, the Red team was considered the most expendable of the group.
Kareem Nugent: Kareem came from the Bronx and wasn't the strongest player. He picked Rachel as a partner, and she didn't seem as pleased but made the best of it.
Green Team
Alex Reid: Alex comes from Plano, Texas. She was a loyal friend to Bryanah.
Bjorn Leum: Bjorn comes from Montana. He lost his right ring finger when he was a littly boy, but it didn't stop him from being a strong competitor. Bjorn was one of the stronger boys in this season's competition.
Blue Team


Willa Zhou: Willa comes from Seattle, but she came across like a spoiled brat in the show. She wasn't nice to Antonio and threw many a temper tantrum because she never told Antonio that she didn't want him as a partner.
Antonio Iannicelli: Antonio comes from Boston and participated in alot of sports. Antonio is one of those cool guys who is open to all different sorts of people and experiences. He was far too nice of a guy for Willa. Because of the way Willa acted, Antonio was the first group targeted for the Temple of Fate.

---
Endurance: Tehachapi
Red Team
Erika Cook: Erika comes from Lake Forest, California and is a surfer dude and the strongest of all the girls AND boys on this season's Endurance. She is the reason that the red team won.
Franke Sisto: Franke is the comedian of the season. He comes from Sewell, New Jersey. Franke knew that he was lucky to have Erika as a partner and credited her with their win.
Purple Team
Daniela Bustamante: Daniela comes from Boca Raton, Florida. She had a crush on Michael and was really sadden when Chris didn't put together the pair as a team. Daniela was lucky because Michael was an obnoxious jerk who was disliked for his double dealing.
Jonathan Lebowitz: Jonathan comes from New York City. He was good friends with Isaac, and that got the Purple team far in the competiton. The team was also able to win comeptitions at key points.
Green Team
Jeszie Geronimo: Jeszie comes from Boston. She was an outspoken girl, and she fought for herself when she disagreed with Isaac. They were a strong team, but unfortunately lost some key competitions at the end of the game. Jeszie comes from a large family with eight siblings.
Isaac Hainley: Isaac comes from Portland, Oregon. Isaac was the leader of the season, and it looked like he would definitely get to the final two. However, he couldn't hold on with extra weight that penalized him in the final three competition.
Blue Team
Amelia Land: Amelia comes from Macon, Georgia. She was a cheerleader at high school, and excelled at sports. She and Isaac got along very well.
Shea Thomas: Shea comes from Douglasville, Georgia. He made the mistake of making his alliance with the Grey team at the very beginning. This frightened the others, and Blue and Grey teams were the first to go to Temple.
Orange Team
Kylie Glessman: Kylie comes from Simpsonville, North Carolina. She was another person to be unlucky in her partner selection. Kylie is a competitive horseback rider and debater.
Michael Delvecchio: Michael comes from Bailey, Colorado. Michael was the shortest guy from the season, and he wasn't liked by the others because he wasn't as honest with his fellow players. The Orange team was targeted because the other players didn't like Michael.
Yellow Team



Callie Simpkins: Callie comes from Frederick, Maryland. Callie is really into sports and competes on several different sports teams, although soccer is her favorite. She was selected for the Olympic state soccer team in Maryland.



Christopher Tavarez: Christopher comes from Atlanta, Georgia, and was the youngest competition on Endurance. He was 12 and showed alot of strength and maturity in competiting against the other teams. Christopher also has a part in the movie Big Momma's House 2.

Grey Team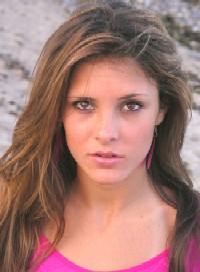 Julie Dubela: Julie comes from Stratham, New Hampshire. Julie is a professional singer, and actually sang the National Anthem before 100s of sporting events in the Boston area.




John Kardian: John comes from Hawethorne, NY. Unfortunately, he and Shea made the mistake of letting the others know of their alliance and plans to send the others to the Temple of Fate. Because of this the Blue and Grey teams were targetted for elimination in the first competition and Temple game.