The Daily Bongo
Books
Tuesday, June 21, 2016 -- Evening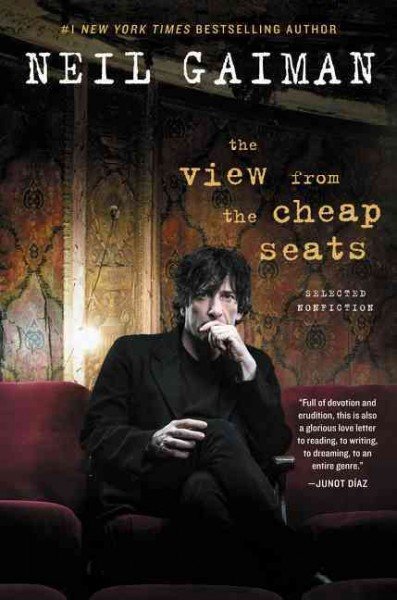 the view from the cheap seats by Neil Gaiman
I picked up the view from the cheap seats by Neil Gaiman when I saw it on the New Book table at the local library. Gaiman has always struck me as an interesting person. I loved the movie version of Coraline, and I liked the episode of Doctor Who that Gaiman wrote (The Doctor's Wife). the view from the cheap seats is a collection of non-fiction that Gaiman has written over the years. Some of the pieces are articles, others are speeches, and still others are introductions to books. Reading the pieces was like getting a glimpse into Gaiman's head, and it was a wondrous place. I realized that Gaiman and I had a good deal in common. He was an avid reader at a young age. Throughout the collection of pieces, Gaiman makes recommendations on various authors and books, and I added all of them to my reading list. I haven't read Stephen King in a while, but I will have to do that soon. Also, I have not read Diana Wynne Jones, but I have added her to my list. Although Gaiman likes horror, he also loves fantasy and fairy tales. Heck, he just loves a well-crafted story. And that's the genius of it all, because he's also an excellent story teller himself. If you like Neil Gaiman, you should read this book. If you don't think you like Neil Gaiman, you should read this book. Even if his fiction isn't your cup of tea, his insightful commentaries will win you over.

---
Monday, May 23, 2016 -- Afternoon
Seven Brief Lessons on Physics by Carlo Rovelli
It's not often that a physics book makes the best seller lists, but Seven Brief Lessons on Physics by Carlo Rovelli made the list. The book is a compilation of articles that Rovelli wrote these articles for the Sunday supplement of an Italian newspaper. An interesting fact about Rovelli is that he is one of the founders of loop quantum gravity theory. Basically, loop quantum gravity tries to explain how quanta interact in a curved space-time. Every kid who has been to a science center has seen the spiral tube that illustrates how gravity works on a moving body. Kids toss a coin in, and the coin rotates around slowly sinking in to the tube. That curved space-time implies that a sheet-like effect. The mass of the Sun curves space around it. However, quantum theory also shows us that things also act like singular drops. Loop quantum gravity tries to explain both of these effects.

Seven Brief Lessons on Physics is exactly that: very short explanations of the elements that we understand about the general relativity, quantum mechanics and the Standard model. The lessons are very easy for the layperson to understand, and the 84 page book can easily be read in a few hours. There's not a lot of meat on the bone, but reading the book does whet your appetite to read more about loop quantum theory. I think that every person should broaden his or her mind by reading Seven Brief Lessons on Physics.

---
Saturday, May 14, 2016 -- Evening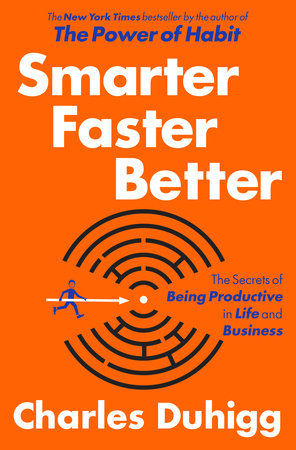 Smarter Faster Better by Charles Duhigg
I have to admit that I have been very busy with my new job and my online class. When you throw in taking my nephew to reading tutoring every Saturday, you will see that I really have very limited time to do anything. Cleaning and yard maintenance have also suffered. The only thing that I kept up with was walking, and that was basically because i love to eat, and eating leads to weight gain! I have been doing some reading, mostly magazines and Philippa Carr. i am working my way through her series. I would write more about them, but the books are really very similar.

I did however, finally read a book. I found out about Smarter Faster Better: The Secrets of Being Productive in Life and Business by Charles Duhigg. The author and book were highlighted on a recent episode of episode of Freakonomics on How to be Productive. I know that it's a question that I hear from a lot of friends, who think that I'm productive. They ask me how I got to be that way. I don't think Smarter Faster Better is really about being productive as much as it attempts to show you the qualities that will make you successful, and perhaps a better boss. I know as I read through it my prominent thought was that some of my former bosses who were really good at demoralizing and demotivating the workforce should read the book. However, that would probably be a lost cost. Bad bosses never see their own incompetence, and they do have a habit of misconstruing what they read to believe it is a validation of their incompetence.

When Duhigg surveyed productive people and teams, he found that there were eight factors that seemed to be consistence across all the people. These eight were items that no one disagreed on. So it wasn't that it worked for one and didn't work for another. They worked for all. The factors are:

motivation with the locus of control being internal rather than external to the individual
psychological safety in teams
focus and how cognitive tunneling can be destructive
goal setting with SMART goals and stretch goals
managing others with agile thinking and a culture of trust
decision making by forecasting the future and Bayesian psychology
innovation through creative desperation
absorbing data by turning information into knowledge
Duhigg provides some good case studies to prove the point that he makes. For instance, he uses the story about how the production crew behind Frozen changed Elsa from evil to misunderstood. I know that I when I deal with my nephew and niece, I will try to change them feel that their successes were due to an internal as opposed to external locus of control. If you want to be a better worker or manager, or just read an interesting book, you should try Smarter Faster Better.

---
Sunday, February 14, 2016 -- Evening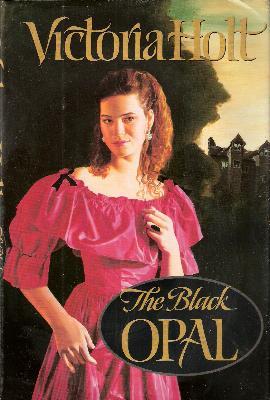 The Black Opal by Victoria Holt
Boy, has my reading been slow lately! I have been in a weird mood, so I have been returning to the authors that are comfort reads. This time, I was looking for some Victoria Holt books that I have no memory of reading. I settled on The Black Opal, and it was a winner.

This book is different than some of the others because the love interest really doesn't make itself known until the last third of the book. Also, it's not one of those torrid affairs, but one of those gentle realizations. Carmel March is found under a bush at the Commonwood House, and is taken in my Dr. Marlaine and his shrew of a wife. It seems that the wife would rather send the baby to the orphanage, but Dr. Marlaine stands his ground and has Carmel raised with his own children. Carmel shares everything, but the Marlaine kids make her realize that she is not really one of them; all except for Adeline, who is not really all there mentally. However, when Uncle Toby visits, he makes Carmel his special favorite. Also, Lucien the eldest son at the near-door manor, The Grange, shows a fondness for Carmel. When Miss Carson comes to tutor the children, things change. She forms a relationship with Dr. Marlaine, and when Mrs. Marlaine dies, and Miss Carson is pregnant with the Dr. Marlaine's baby, Uncle Toby sweeps up to take Carmel to Australia. It turns out that Carmel is really his daughter with a local gypsy girl. Of course, there are adventures in Australia and the return of Carmel to England, with lots of suitors making themselves available.

All in all, the story is an enjoyable read. Carmel is not the usual strong heroine of the Holt books, but she doesn't wimp out either. She makes her final decision on a husband based on love, and the husband (no spoilers) is the strong, womanizer that is usual in Holt's books. There is a mystery, and everything is nicely wrapped up in the last 20 pages. As I said, it was an enjoyable read.

---
Saturday, January 23, 2016 -- Evening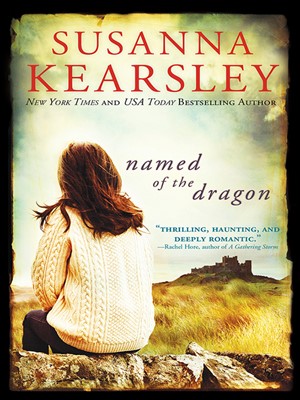 Named of the Dragon by Susanna Kearsley
I have really been busy over the past few months with work and teaching, and I have not been able to finish a book. Of course, I think I was also running into a problem with finding something that I wanted to read. I would start some books, and then find myself losing interest. I wouldn't say that the books were bad. Let's just say that my personal mojo just wasn't finding a twin in the books. It's happened to me before: I would read a book and think blah. Then a year or more later, I would go back and love the book.

So enough rambling. The book that caught my interest was named of the dragon by Susanna Kearsley. As you might have noticed from some of the other books that I've read, I do have a thing for romantic suspense, especially when it has a woo-woo gothic factor. I LOVE Victoria Holt, Barbara Michaels, Philippa Carr, and Mary Stewart, but those authors haven't published much lately (and in fact, all are, unfortunately, dead.) I've looked around for a currently publishing author who fits that romantic suspense mold, and I found it in Susanna Kearsley. One of her newest releases, which was originally published in 1998. I noticed that Kearsley's most recent books appear to be re-releases of earlier books, and I'm not sure what that is about.

named of the dragon takes place in Wales around Christmas time. Lyn Ravenshaw is a literary agent who lost her husband and her baby five years early. Lyn's current authors, Bridget, invites Lyn to go with Bridget for the holidays. Bridget plans on spending time with her current love, while also trying to seduce a new man, Gareth, who is a moody playwright. Well, Lyn has been having problems accepting her baby's death, feeling at fault because Lyn continued to compete in dressage events. Lyn has been haunted by dreams, trying to get to her crying baby, and she thinks that going to Wales might be better than spending time with family who want to take care of her. When Lyn and Bridget arrive at James Swift house, they find more than they bargain for. a woman, Elen, in the shared half of the house has recently lost her husband and is afraid that dragons are after her baby. When Lyn starts to have dreams about a woman asking Lyn to protect the woman's baby, Lyn starts to wonder if she is having a psychic experience. Will Lyn be Elen's baby's savior?

I've read seen reviews that commented on the slow pace of the book, and it does slowly build the tension. It does remind me of some of Mary Stewart's books because Kearsley spends a good portion of the plot on describing the environment and the characters. Even with that, I didn't feel that I got a good view of the characters, except possibly for Lyn and Gareth. That said, I really did enjoy the book. I was curious about where the book was headed, and the occult element was nicely done. At the end, you can say that it could all be explained by subconsciously noticing things...or you could agree with the psychic notifications. All in all, I enjoyed the book, and I need to read more of Susanne Kearsley's books.

---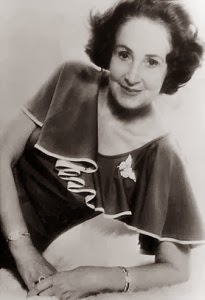 Tuesday, November 3, 2015 -- Evening
Philippa Carr's Daughters of England
I have not had much time to read because things have been busy at work and with my classes. However, I am working my way through the Philippa Carr Daughters of England series. I just finished The Lion Triumphant, and am now starting the third book in the series, The Witch from the Sea. Both book are some what similar. Basically, the leading men are chauvinistic cads, who don't blink an eye at rape, womanizing, and misogyny. The women are supposedly strong, but at the same time, they seem to be very accepting of the treatment of the men. In The Witch from the Sea, Linnet falls in love with her rapist. I would imagine that Carr is just writing characteristics and situations that would be common at the time the novels are set: the early 1600s. The plots of both books have been engrossing, and I have been enjoying the adventures of Cat (in The Lion Triumphant) and Linnet (In The Witch from the Sea).

As I mentioned, Philippa Carr is the author of the series, and that is a pseudonym for Eleanor Hibbert. Hibbert was quite a prolific writer, using different pseudonyms for different genres. She wrote romantic suspense as Victoria Holt, historical novels as Jean Plaidy, and the romantic, suspenseful, historical Daughters of England series as Philippa Carr. I haven't read any Plaidy, but I am a huge fan of the Victoria Holt books. I have found the Daughters of England series to be equally entertaining. It's always good to have an author you love who is also prolific.

---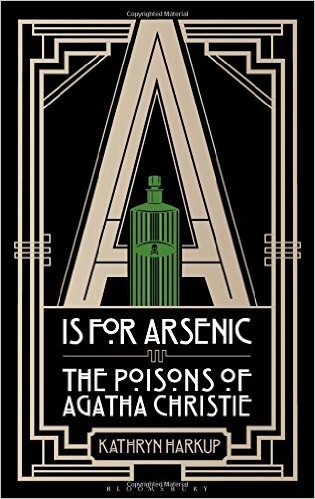 Sunday, October 4, 2015 -- Evening
A is for Arsenic
A is for Arsenic: The Poisons of Agatha Christie by Kathryn Markup is a good Christie reference book. Ms. Markup covers the poisons that Christie used when she wrote her mysteries. As you may know if you have read anything about the biography of Christie, she started out during World War I by working in a pharmacy. She learned the chemical reactions of drugs and also learned something about how dangerous some poisons are. A is for Arsenic is not really about the books themselves, but about the poisons. For example, we learn how arsenic acts, and how is it used. We get some information about the mystery (or mysteries) where Christie used the poisons, but the poisons themselves are the stars of this book.

A is for Arsenic is an interesting ready, but I have to admit that I found myself skimming the book. Instead of reading this book as you would a typical fiction book, I think it would be great as a resource for the dedicated Christie fan, who could consult the book as he or she reads the mystery.

---
Monday, September 28, 2015 -- Afternoon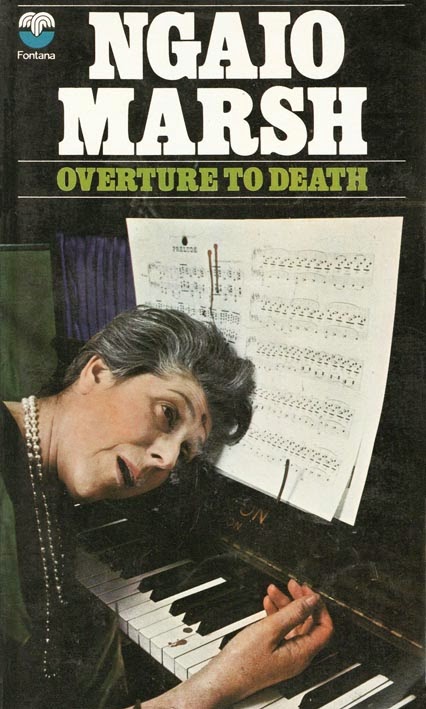 Overture to Death by Ngaio Marsh
I have been busy with other things, but somehow I managed to finish two books at around the same time. How did I do that, you ask? It's because one was on Kindle and the other was in print from the library. Overture to Death was the print book, and it was a re-read of one of Ngaio Marsh's novels. I've been feeling in the mood for some good classic mysteries and Ngaio Marsh never disappoints. Overture to Death was the eighth Roderick Alleyn book, and it was published in 1939. The plot centers around a small village of Chipping, where two elderly, and by elderly I mean early fifties, women want to make the local rector her own. Eleanor Prentice is the maiden aunt who lives with the local squire and his son, Henry. Henry has his eye on the rector's daughter, Dinah, and Eleanor is apposed to it. Idris Campanula is the other spinster. The local group, with the local doctor and the Mrs Ross, a beautiful newcomer to town, decide to put on a play to pay for a replacement piano. When Idris replaces Eleanor at the piano the night of the play, she is shot in the head by a booby trap in the piano. Alleyn is called in to solve the murder, and there are a tangle of clues to make things even more muddled. This is one of the earlier Alleyn's, so Nigel Bathgate makes an appearance.

Overall, the mystery was not easy to solve, and there were red herrings to wiggle around. My favorite part of any of Marsh's novels is the depiction of the characters. I felt that I could really visualize the characters, and I found myself drawn into the plot. All in all, it was a very enjoyable mystery.

As a note, I loved the cover of the book. Yes, it is rather graphic, but I think that it's eye catching. Don't you just want to read a book with a picture of a dead body sprawled on a piano?

The Miracle at St. Bruno's by Philippa Carr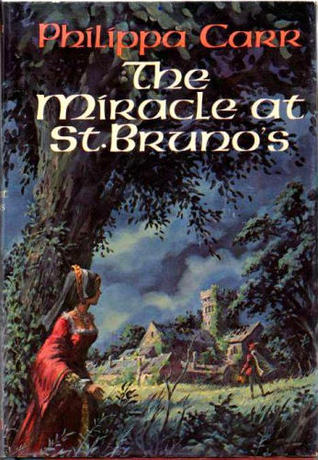 When I was a teenager, I loved to read Victoria Holt, Phyliss Whitney, and Mary Stewart. Because I wanted to read more of the genre that I loved, gothic suspense, I checked out other books written by Holt. Victoria Holt's real name was Eleanor HIbbert, and she was quite prolific, writing under several different names. I really got into one of the pseudonyms, Philippa Carr. These books weren't really suspense, although at times, there were suspenseful moments. The Carr books follow the family line through a succession of females from the time of Henry VIII to World War II. There are only 19 books in the series, and I think I only read a handful of the later ones. They are available on Kindle for a reasonable price, so over time, I got all 19 books. I started reading the first in the series The Miracle at St. Bruno's, and it reminded me of the others that I read.

Damask Farland is the heroine of the book, and obviously the start of the line of strong women who get involved with strong men. The miracle in the title is the baby who is found in the crib at the local abbey altar at Christmas one year. The boy is named Bruno, and he is raised by the monks. However, in the time of Henry VIII, there is a good deal of religious upheaval. Henry basically got rid of the church because he wanted to divorce Catherine of Aragon and marry Anne Boleyn. The reader learns about all the things going on in Henry's court and the country through mostly secondhand stories told by Damask and her cousin Kate. Anyway, the abbey is dismantled, and Bruno is exposed as love child between a Damask's female servant and a monk. Bruno vanishes one day shortly after the abbey is emptied, and he is gone for a few years. Kate marries a lord and quickly has a boy. Damask's father is imprisoned and beheaded for harboring a former monk. When Bruno comes back, he marries Damask, and surprises of surprises, he has enough money to restore the abbey. There is a lot of tension between Damask, her step-father, Simon Caseman (who betrayed Damask's father to get her father's lands), and Bruno. Things also don't go well when Damask is only able to produce a female child.

All in all, the book is a classic start to the stories that were published in the Philippa Carr name. There is some romance, some intrigue, some happiness, and some depression. If you like historical novels with strong female characters, you should give the Carr books a try. You will not be disappointed.

---
Sunday, July 26, 2015 -- Afternoon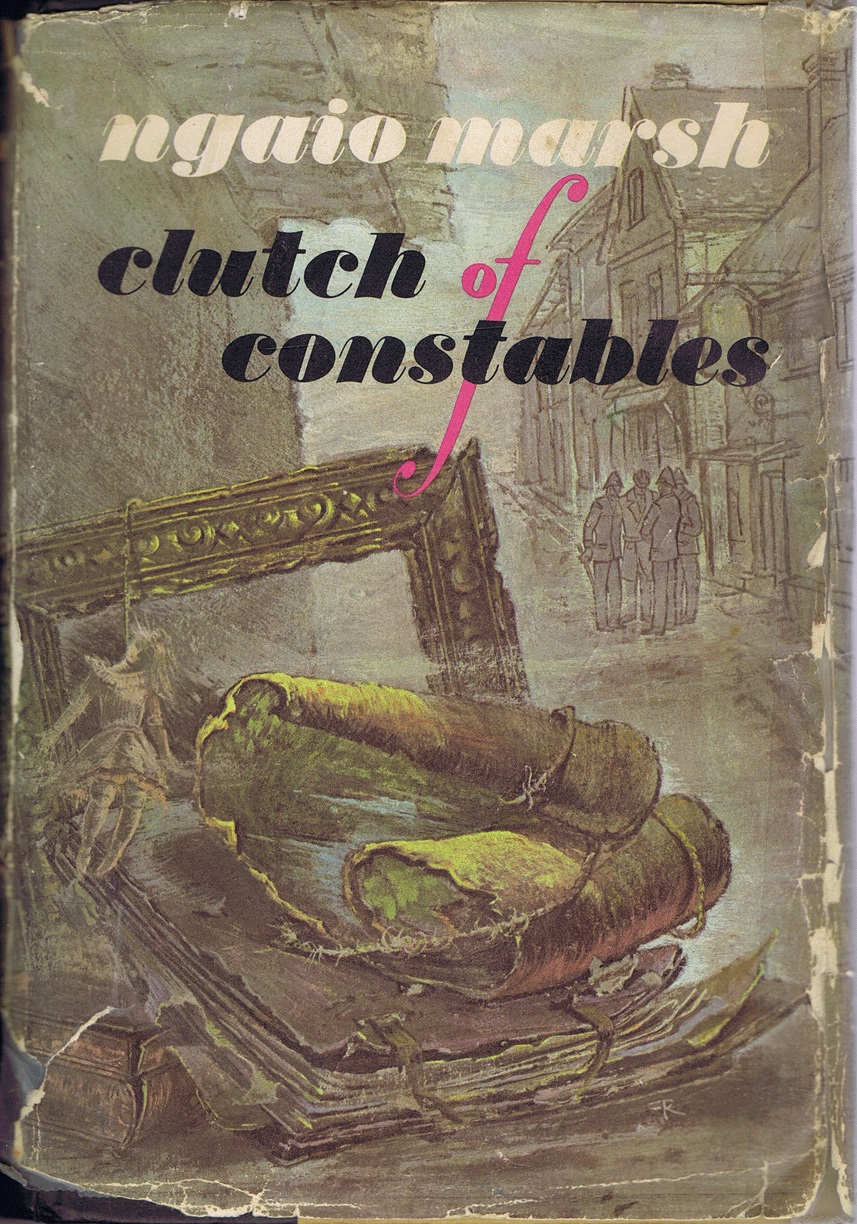 Clutch of Constables by Ngaio Marsh
One of my favorite mystery authors is Ngaio Marsh. I've read all of her books, some more than once, and I've enjoyed all of them immensely. Although Christie's later books weren't as good as the earlier ones, all of Marsh's books were equally good. I decided that I wanted to re-read some of her books, so I went to the local library, and I found Clutch of Constables. This was one of the later books, written in 1968. Agatha Troy was older, with a son who was touring in Europe, and a husband, Roderick Alleyn, who was in America, tracking down the Jampot. The Jampot was a master criminal who dealt in art forgeries. However, it was not Roderick Alleyn who came into contact with the Jampot, it was Troy. She joined a river cruise that traveled through the countryside that John Constable commemorated in paintings. Troy felt that something was not right with the others on the cruise. Troy wrote to her husband expressing her concerns. When a possible Constable was found by a pair of the passengers in a junk yard, Alleyn hurried back, sure that the Jampot was within grasp and on that boat. Unfortunately, he didn't get back in time to prevent one of the other boat passengers from dying.

Marsh did a masterful job in plotting out this mystery. You can feel the tension build. I know that I started to suspect several of the passengers, and I wasn't sure if I was really onto the Jampot until the very end. Fortunately for me, even though I had read the book before, I couldn't remember the murderer. All of Marsh's mysteries have an erudite air about them, and there is always a lesson to be learned about art, literature, or classical theater. I am a fan of Roderick Alleyn and Agatha Troy, and it was very enjoyable to revisit them in Clutch of Constables.

---
Saturday, June 27, 2015 -- Evening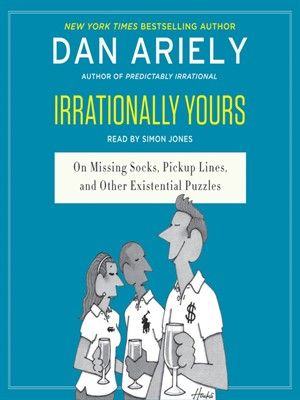 I subscribe to Dan Ariely's weekly email of answers to questions people send him via the Wall Street Journal. People ask Ariely a variety of questions on topics that involve life, work, and behavior. Ariely, knowing a good opportunity when he sees one, collected the questions and answers into his newest book, Irrationally Yours: On Missing Socks, Pickup Lines, and Other Existential Puzzles. The book is a short, fast, highly entertaining read, and it will definitely getting you thinking about your decisions and behavior.

As an example of a question, someone mentioned that he and his wife were wondering if they should start a family. Ariel's advice was to stay with a family for a week and observe the interactions. Then the couple should offer to watch the kids for a whole week. As Ariely said, if you thought his suggestions were asking too much, maybe you shouldn't have kids of your own. Ariely provides logical, rational insight into the dilemmas and questions that people have. One that particularly caught my attention was the letter from someone who hated his job of eight years and wondered if he should get a new job. Ariely suggested that the person take a long vacation (three weeks) and volunteer at the place that he thought he might like to work. He could then decide if the grass was greener elsewhere. If the guy wasn't interested in trying out the volunteer job, Ariely suggested that maybe the guy's dissatisfaction with the job wasn't that great, and the guy should just stay where he was and stop complaining.

I love to read Ariely's insights into behavior. Since I subscribe to the newsletter, I read (and remembered) the majority of letters. What made the book new and interesting for me were the cartoons by William Haefeli. They did a great job of illustrating, in a comic way, Ariely's feedback. If you haven't read anything by Ariely, you should definitely read this book. It will give you a taste of rational thinking, and it will make you want to read more of Ariely's writing.

---
Tuesday, June 23, 2015 -- Evening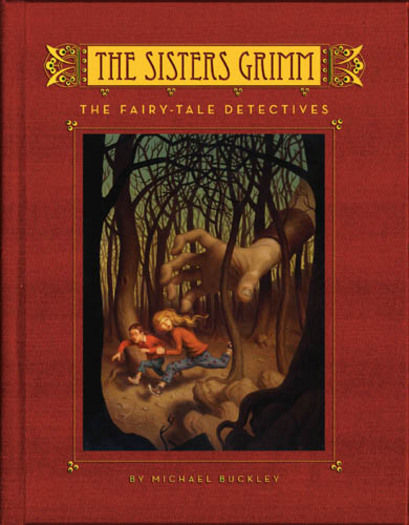 The Fairy-Tale Detectives by Michael Buckley
I enjoy reading a good children's book, and when I heard about The Sisters Grimm series, I knew I would have to check it out. I got the first book in the series from the library, The Fairy-Tale Detectives. Sabrina Grimm, an eleven-year-old, and her sister, Daphne, seven-years-old, are abandoned by their parents. Well, at least, the parents leave the house one day to never return. The girls are bounced around from a variety of crappy foster homes, until they learn that their grandmother has come forward to claim them. The problem is that their father had always told them that their grandmother was dead. The grandmother turns out to be a thoroughly weird character, who makes really weird looking and tasting food. Daphne, of course, loves her new grandmother, but Sabrina distrusts the woman. When weird things start to happen, like a giant footprint that seems to encircle a crushed farm house, Granny Relda explains that they are the family Grimm. The stories told by the Brothers Grimm were true, and the Grimms have gone through life dealing with the problems that the fairy tale characters, called Everafters, cause. Sabrina doesn't believe Granny Relda, and tries to run away. However, Granny Relda is captured by a huge giant right in front of Sabrina's and Daphne's eyes, Sabrina finally believes Granny Relda. Sabrina and Daphne think that Prince Charming, who is Mayor of Ferryport Landing, New York, where Granny Relda and the Everafters live. Granny Relda's friend, Mr. Canis, turns out to be the Big Bad Wolf. Puck and Jack, of Jack and the Beanstalk, also make appearances with one being the villain while the other is the hero, and I'm going to leave it to you to read the book to figure out which is which.

The Fairy-Tale Detectives is a entertaining take on the modern fairy tale, and I really enjoyed reading it. There seven other books in the series, and I know that I want to find out what happens to Sabrina and Daphne, and to see if they find their parents, who may have been kidnapped by some Everafters who want the Grimm family dead. If the last Grimm dies, the spell that binds the Everafters to Ferryport Landing will be broken, and the Everafters can be free to roam the world again. Not only will the youngster in your life enjoy the story, but you will too.

---
Saturday, June 13, 2015 -- Evening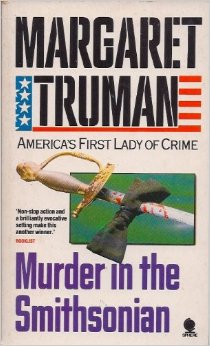 Murder at the Smithsonian by Margaret Truman
Who would think that a former president's daughter could write an interesting mystery? Well, I've read that Margaret Truman did just that, although I believe there were rumors that her books had ghost writers. There are so many authors out that that I haven't read, and Truman was one of them. Amazon had some of her books on sale for the Kindle, and I took the opportunity to read Murder at the Smithsonian. It's not the first book that she wrote, but the books aren't series books, so i figured it would be okay to read them out of order. Plus I had a hankering for a mystery set in a museum.

Dr. Lewis Tunney is a friend of the vice president, and it seems he also has some secret information about goings on at the Smithsonian. At a gala at the museum, Tunney winds up getting killed with Jefferson's sword, and at the same time, the Legion of Harsa medal goes missing. The murderer has to be one of the guests at the gala, but who could it be. When Mac Hanrahan investigates, he finds his way blocked by everyone. The Vice President is not being very helpful, and the employees at the museum seem to act pretty suspiciously. When Tunney's fiancee, Heather McBea shows up, the investigation becomes even more cloudy. Heather's uncle was the one who donated the Harsa to the museum. The uncle also supposedly committed suicide, which Heather doesn't believe he would do. Then Heather starts to be the victim of some mysterious doings, such as a mugging, room ransack, and bombing. Can Mac Hanrahan figure out what's going on before Heather turns up dead.

The mystery in the book was a good one. However, I did have a problem with Heather. Every time she has information, that she should have shared with Mac if she really wanted Tunney's murder to be solved, she would keep it to herself. Then she would find herself in a threatening situation, and she would STILL keep her mouth shut. I found myself yelling at the book in frustration because Heather was so stupid and has such a lack of self preservation. I seem to be running into that a lot with mysteries lately, and I had the same complaint about Miss Seeton. I guess it's supposed to add to the suspense, but it doesn't work for me. I will continue to read Truman because I have a few more on my Kindle.

---
Sunday, May 31, 2015 -- Evening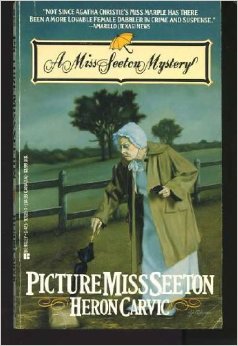 Picture Miss Seeton by Heron Carvic
I have been having problems getting into a book lately, so I made a switch over to something light and frothy. I had heard about the Miss Seeton books, and always meant to try one, so i picked up the first in the series, Picture Miss Seeton by Heron Carvic. In this book, we are introduced to Miss Seeton, elderly art teacher, who happens upon a fight between a woman and her boyfriend in a dark alley. Miss Seeton pokes the man with her umbrella, gets knocked down, and finds that the woman/girlfriend has been stabbed to death. That starts the whole craziness where Miss Seeton becomes the center of violent attacks by the drug ring that the boyfriend is part of. Miss Seeton goes to stay in the small village of Plummergen, where her godmother had left her cottage to Miss Seeton. Miss Seeton gets into various escapades, but manages to pull out of all of them with a poke of the umbrella.

I'm not sure if I like Miss Seeton. She seems like a bit of an idiot. Someone tries to kidnap her, but she thinks that it's really just a lark by a youngster. I found myself shaking my head at her several times. It was really annoying when she would keep important facts from the police because she didn't think that it was really important or criminal activity. I will be reading more because they are light, frothy reads. However, if Miss Seeton continues being such an annoying idiot, I might have to change my mind!

---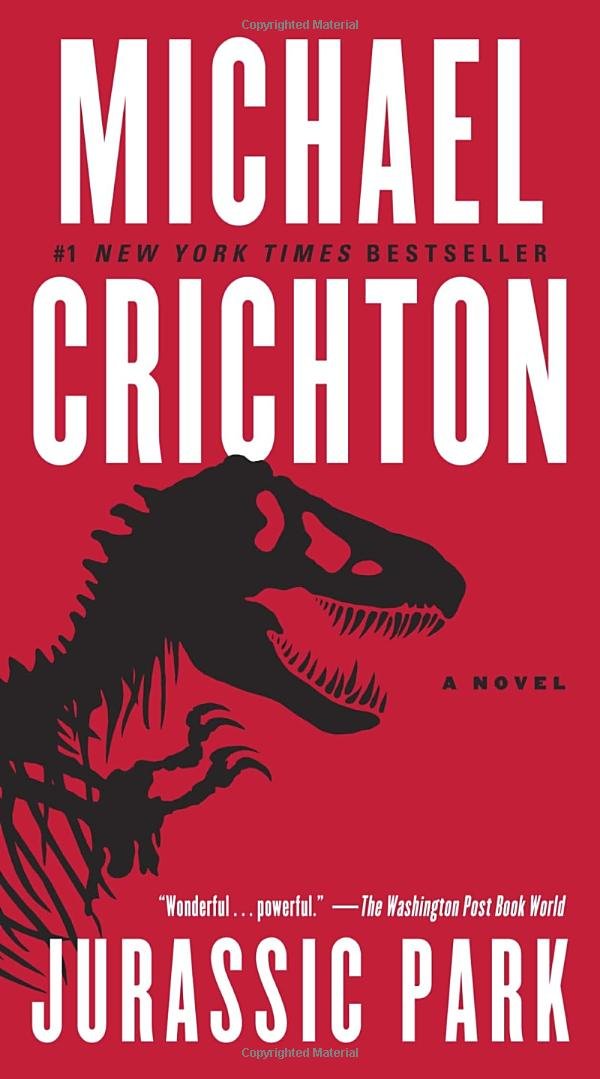 Tuesday, May 12, 2015 -- Evening
Jurassic Park by Michael Crichton
It's been a long time since I read Jurassic Park by Michael Crichton. My only memory of the book is what I saw in the movie. So I thought that I would re-read the book, and refresh my memory. I'm glad that I did. The plot of the book is very similar to the movie. Obviously, the main plot, that John Hammond built a park with dinosaurs in Costa Rica. The dinosaurs came from the DNA of mosquitos caught in amber millions of years ago. Alan Grant, Ellie Sattler, and Ian Malcolm are the main protagonists, and Dennis Nedry attempts to steal the dinosaur embryos. The book, though, has more detail, and some slight divergences. There are more people on the island. Some of the people who live in the book, die in the movie and vice versa. And the kids: Timmy is the older one, and Lex is young one.

Crichton's story is quite enjoyable, and you can see Crichton's personal quirks showing up in Ian Malcolm. Grant and the kids have a much more tense time getting back from the outage that leaves them stranded in the park, and the whole group are attacked much more frequently than in the movie. I really miss Crichton's writing, and I'll probably be re-reading more in the future. Next up will be The Lost World.

---
Tuesday, May 5, 2015 -- Evening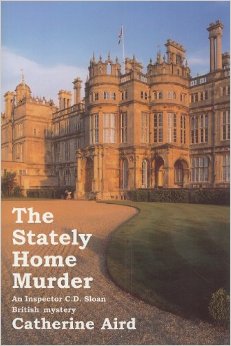 Skulduggery by Carolyn Hart
I didn't realize that Carolyn Hart wrote books before her Death on Demand series. Boy, was I wrong! One of my favorite books when I was a preteen was Dangerous Summer, which I reread last February 26. I've been reading some of the other vintage Harts and enjoying them. When I saw Skulduggery, the description really attracted me. The story was written in the 1980s, and the main protagonist is Ellen Christie. She is an anthropologist who has gotten some notoriety for identifying bones. One evening, Jimmy Lee shows up at her door with a strange request. He wants her to identify some bones. Ellen decides to be adventurous and goes with Jimmy into San Francisco's Chinatown to check out the bones. Jimmy shows her a skull, which Ellen thinks may be the missing Peking Man (an ancient Chinese skeleton that vanished during World War II). While Ellen is examining the skull, Jimmy's brother, Dan, shows up, shortly followed by some gangsters, probably hoping to grab Peking Man. Jimmy escapes, and Dan and Ellen are left behind to figure out what is going on--and how to find Jimmy and Peking Man.

Doesn't that sound like a fun story? The book wasn't very long, but after the attack where Jimmy vanishes, the book began to drag for me. I started to skim the book because Hart just went on and on about the awful life that Chinese immigrants had in the US. They were poor and lived in squalor. Families fought for a chance to educate their children, to make life better for the children. Old people died alone and destitute. This dialog didn't really move the story any further, and I started to skim the pages to get to the action. Eventually, there is some more at the end, and Ellen and Dan find romance. However, I found the book to be a more tiresome read, and I did not enjoy it as much as I have the other vintage Harts that I've read. If you read it, I hope that your experience is different.

---
Tuesday, April 21, 2015 -- Evening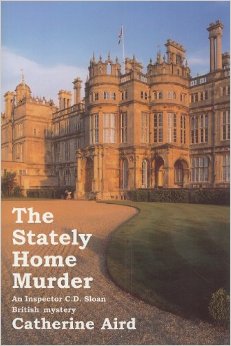 The Stately Home Murder by Catherine Aird
Unfortunately, my local library system does not have Heinretta Who by Catherine Aird, so I skipped over that to the third Detective Inspector C. D. Sloan mystery, The Stately Home Murder. The murder takes place in a stately home, owned by the Earl of Ornum. The family is the typical scatterbrained characters that we sometimes associate with nobility and English stately homes, and Aird does a great job of drawing the characters. The family librarian and archivist is found murdered in a suit of armor after making a claim that the he might have found paperwork saying that the Earl was not the legitimate heir to the earldom. Sloan is called on the case, and receives heaps of abuse from his superior, Superintendent Leeyes and little help from his assistant, Detective Constable Crosby. There's stories about a family ghost making an appearance, which signals an upcoming death in the family, and when a hanger-on relative winds up dead, it seems to jive with the ghostly appearance. However, Sloan knows that there must be a connection between the two murders. It's just a matter of figuring out who in the small group of suspects could have performed the murder, and why the crime was done.

I enjoyed this story. The story is a quick read, and I have to admit that I didn't suspect the murderer or the reason for the crime. Up until the last 15 pages or so, I was as bamboozled as most other readers are, I suspect. There is some humor in the dry, British humor sort of way. The story has the feel of a golden age detective novel, and I am looking forward to reading more Detective Inspector Sloan mysteries.

---
Wednesday, April 8, 2015 -- Evening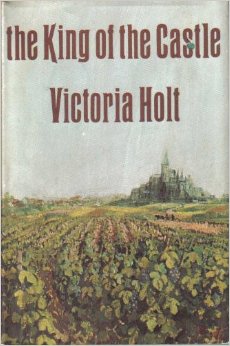 The King of the Castle by Victoria Holt
It's been a while since I read a Victoria Holt, and since things were stressful at work, both full-time and teaching, I thought that a comfort book would be a good idea. i couldn't remember reading The King of the Castle, so I got it from the library. As I started to read, the story started to ring a bell, and I think I may have read it fairly recently.

The King of the Castle tells the story of Dallas Lawson, an English woman whose father has recently died. She worked with him restoring paintings. When the Comte de la Talle requests Dallas' father to come to restore the Comte's collection, Dallas goes instead. Imagine the consternation of the Comte's staff when a woman shows up instead of a man. However, the Comte, a womanizer, gives Dallas a chance. The Comte seems to show an interest in Dallas, and Dallas has an interest in the Comte, the Comte's young daughter, the castle, the paintings, and the surrounding land and people. Yep, Dallas is hooked. Of course, there is a problem other than the Comte being a womanizer. There's also a rumor that he murdered his wife by giving her a sleeping draught. Of course, Dallas gets involved in all that is going on, and she restores a painting showing some beautiful emeralds that have been missing for years. There's lots of tension about whether the Comte is really interested in Dallas, and if Dallas should leave the castle before it's too late. She doesn't, or we wouldn't have much of a story.

I liked the book. I think that some women would have problems with the fact that Dallas is so accepting of the Comte's bad behavior and womanizing. Dallas even says that if he would cheat on her, she would still not leave her. Actually, I think the Comte is willing to give up his womanizing ways for the woman he loves. All in all, the Comte is not as bad as he is made out to be. As usual with Holt, the book was an enjoyable read.

---
Sunday, March 22, 2015 -- Evening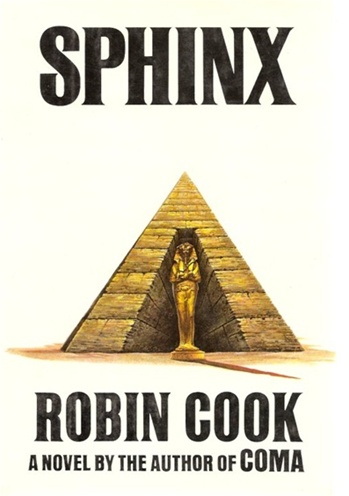 Sphinx by Robin Cook
I have only read one Robin Cook book, and that was his most recent Cell. He's has written a plethora of books, and I thought I should give some of them a chance. His earliest stuff was supposed to be really good, so I thought I would start there. I just finished reading Sphinx, which was written in 1979, and it was made into a movie starring Lesley Anne Down and Frank Langella. The plot covers the trouble that Erica Barton gets herself into when she decides to travel to Egypt on her own. Erica is an Egyptologist by training, and she wants to escape from a boyfriend who wants to marry her. Erica is a big foolish, and she finds herself in a precarious situation because she does really dumb things, like going off on her own to look for Egyptian artifacts and trusting good looking men.

The book is a product of its time, with Erica acting like many women in the 1970s who wanted to break free from male bonds that kept the women in demeaning roles. There were some action scenes and thrills, however, compared to the fast-paced thrillers of today, Sphinx seems a bit on the tame and lame side. I kept on waiting for something really exciting to happen, and I had to wait until the last 30 pages of the book. Even then the tension was quickly resolved. Cook did some research on Egyptology, but overall, I found the book to be unsatisfying. I think that's why it took me so long to drag through the book.

---
Sunday, March 1, 2015 -- Evening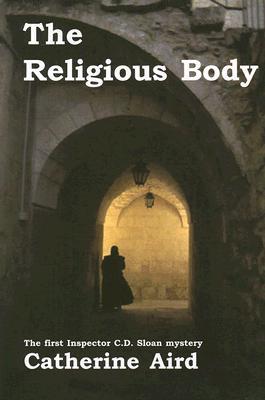 The Religious Body by Catherine Aird
I am not very familiar with Catherine Aird, but I heard about some of her mysteries, especially The Stately Home Murder. It's supposed to be a must-read in the mystery genre. Since I never read any Aird, I thought I would start with the first book in the Detective Sloan series, The Religious Body. Inspector Sloan is called in to check on the death of a nun. The local doctor who was called in to check the body realized that the nun did not die from an accidental fall down the cellar steps; she was bashed in the head with a heavy object. Inspector Sloan starts his investigation, and he finds out that the nun's cousin is in the local area. The nun's death is to the benefit of the cousin who's chemical company can now go public to great financial benefit to the cousin. Things are looking dire for the cousin, and when a guy is burned at the local farmer's institute in the habit of a nun, with the dead Sister Anne's glasses, the case becomes muddier. How did the students get the habit and the glasses? Then one of the students, the one who got the habit from the convent. What did the student see that resulted in his murder?

Although the book is not long, Aird provides a fairly complex mystery. It wasn't clear at all who the murder was. In fact, I was quite shocked at the end when all was revealed. I already got the two of the next three books in the series. The third Henriette Who is not available from my library. However, the fourth Inspector Sloan book is the classic The Stately Home Murder, and I am really looking forward to reading it.

---
Tuesday, February 17, 2015 -- Evening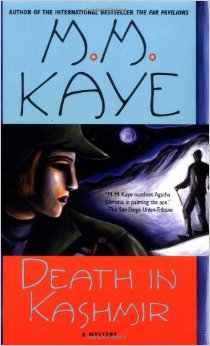 Death in Kashmir by M.M. Kaye
I just finished my last M.M. Kaye mystery Death in Kashmir. In this book, Sarah Parrish gets involved with Janet Rushton, who turns out to be a spy for the British government at the time that the Raj was handing over India to self rule. Sarah is on a ski vacation, and she doesn't want to take the situation seriously until Janet turns up dead. Sarah knows it is murder, but the others in the ski party think that it was an accident on the slopes. However, Sarah knew that Janet was waiting to transfer important information to her superiors, and it did not seem that had happened. A few months later, Sarah gets a letter from Janet's solicitors that Janet had left her boat rental in Kashmir to Sarah. Sarah knows she should just ignore it and go back home to England. However, she can't get over a feeling of obligation to help Janet since Janet took trust in Sarah. Of course, this leads to Sarah being the object of unwanted attention from the person that killed Janet. Can Sarah find the information that Janet left behind and get it to the proper authorities?

As with the other Kaye mysteries, the heroine is some backbone, but lacks in common sense because she gets herself into trouble, which could have been avoided if only the heroine thought about it. Death in Kashmir is a good thriller, and Kaye did keep my guessing about who was the bad guy. Kaye did a great job describing the situation in India in the late 1940s. In the Author's Note, Kaye mentions that the literary agent who was assigned to her was Paul Scott, who went on to write the Raj QuartetDeath in Kashmir.

It's a shame that Kaye only wrote six mysteries. I'll have to check out Far Pavilions and The Ordinary Princess.

---
Tuesday, February 10, 2015 -- Evening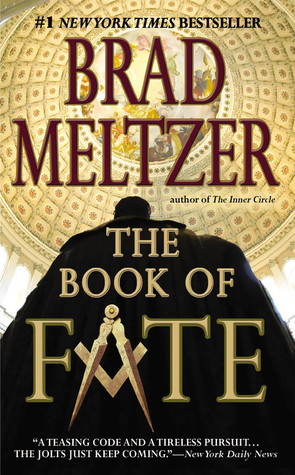 Book of Fate by Brad Meltzer
I love Brad Meltzer. Not only is he really into history and conspiracies, but he writes a darn good thriller. I recently got Book of Fate out from Overdrive, and I found myself engrossed in the story to the point where I could not put it down. i found myself taking reading breaks throughout the day and missing my stop on the bus ride to work and home because I was too engrossed in the story. Wes, the president's aide, is there at the NASCAR racetrack when Nico seemingly attempts to assassinate President Manning. Life changed forever for Wes, who suffered an injury to his cheek that left him scarred and bitter. Even worse, Wes felt responsible for the death of the President's friend, Ron Boyle, who was killed in the attempt. Manning lost the election because he came across as the Cowardly Lion during the assassination attempt, and eight years later, when Manning travels as former President to Malaysia, with Wes still an aide, and a shell of himself, something happens. Wes thinks he sees Boyle. A Boyle with plastic surgery, but Boyle nonetheless. When Wes returns to Palm Beach with Manning, he begins a search to find out the truth. Is Boyle alive? Did Manning know? How could Manning lie to Wes? Wes' life is endangered when the Three, a secret group possibly behind the assassination, start trailing Wes. Then Nico, the assassin, escapes from mental hospital to get Wes and Boyle.

Meltzer twists the plot and tension around. I never suspected the truth behind the Three, and the tension was constant with Wes trying to figure out what the heck was going on and Nico trying to track down Wes and Boyle. The story moved around from the viewpoints of Wes, his friend Rogo, and intrepid gossip reporter Lisbeth. I was reminded of The Fifth Assassin, another Meltzer book. I think that Meltzer sticks to a genre that he knows and does well. I enjoyed the book, and I just wish that Meltzer wrote more books.

---
Wednesday, February 4, 2015 -- Evening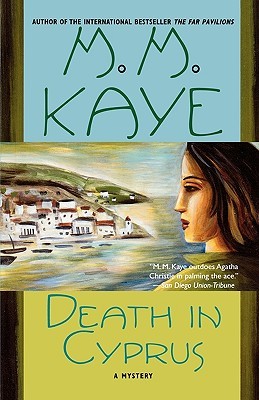 Death in Cyprus by M.M. Kaye
I just finished Death in Cyprus by M.M. Kaye. I've been reading through her mysteries, and I only have one more left to read. Death in Cyprus was originally published in 1956 as Death Walked in Cyprus It tells the story of twenty-year-old Amanda Derington, who is breaking out from under her guardian uncle's thumb by traveling first to Egypt to visit with an aunt, and then to Cyprus. Uncle Oswin is not keen on Amanda's rebellion, but he makes plans for her to stay with the manager of his winery business in Cyprus. On the ship from Egypt to Cyprus, Julia Blaine drinks a poisoned glass of lemon water and dies. The problem is that Amanda had just switched cabins with Julia, and Amanda thinks the water was meant for Julie. Steve Howard, a handsome, artist type that Amanda thinks is very attractive, comes to Amanda's rescue when Julia collapses, and he shows great interest in what happened. When the ship gets into Cyprus, the killing doesn't stop. Amanda feels a threat to her safety, but every time, Steve happens to be there to save her. Will Amanda figure out what is happening, and what will happen with Steve Howard?

I really enjoyed this book. The action was fast paced and thrilling. I have to admit that I couldn't figure out who the murderer was or why the murders were happening. The clues are all there, but Kaye does a good job of keeping the reader guessing. What I like the most about Kaye's mystery books is the romantic element. The heroine is always getting herself into trouble, and the hero is always the strong, omniscient, silent type. The heroine doesn't know if the hero suspects her of murder, and the pair of them tend to be at odds because they can't realize that they are in love. Of course, all works out well in the end, which is why I loves these books. Unlike the real world, everything works out for the best. Death in Cyprus is a winner.

---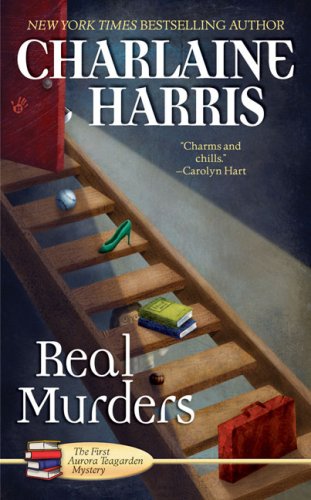 Wednesday, January 28, 2015 -- Evening
Real Murders by Charlaine Harris
I had heard that Hallmark Movies and Mysteries Channel was going to made movies out of Charlaine Harris' Aurora Teagarden books. I've read the Sookie Stackhause books, and enjoyed them except for the last two, so I decided to give Aurora a try. The first book in the series is Real Murders, which is not being made into a movie by Hallmark. Aurora Teagarden is a librarian and also a member of the Real Murders group. The group researches real murders and discusses them. In some cases, the murders are unsolved, or there is a question about the guilt of the murderer. The group meets once a month, and at a meeting where Aurora Teagarden is to present information on a murder, she finds one of the other members with her head bashed in and arranged like the woman in the murder that Aurora was going to discuss. It seems like one of the Real Murders members did the murder, and when more murders happen, setup to look like other famous murder cases. Everywhere Aurora goes, murder seems to follow, which makes her a bit of a suspect, and it also means that Aurora starts to worry that the murderer might be closer to her than she would like. The ending of the book was quite unexpected and disturbing.

Real Murders was a real page-turner. I found myself reading the book every spare moment, walking up the steps, eating lunch, riding on the bus, etc. Aurora is a likable character, and I will definitely be checking out the second book in the series when it's available for Kindle loan from Overdrive. I'm also looking forward to the Hallmark Channel movies. Candace Cameron Bure will be playing Aurora when the movie comes out in April.

---
Tuesday, January 20, 2015 -- Evening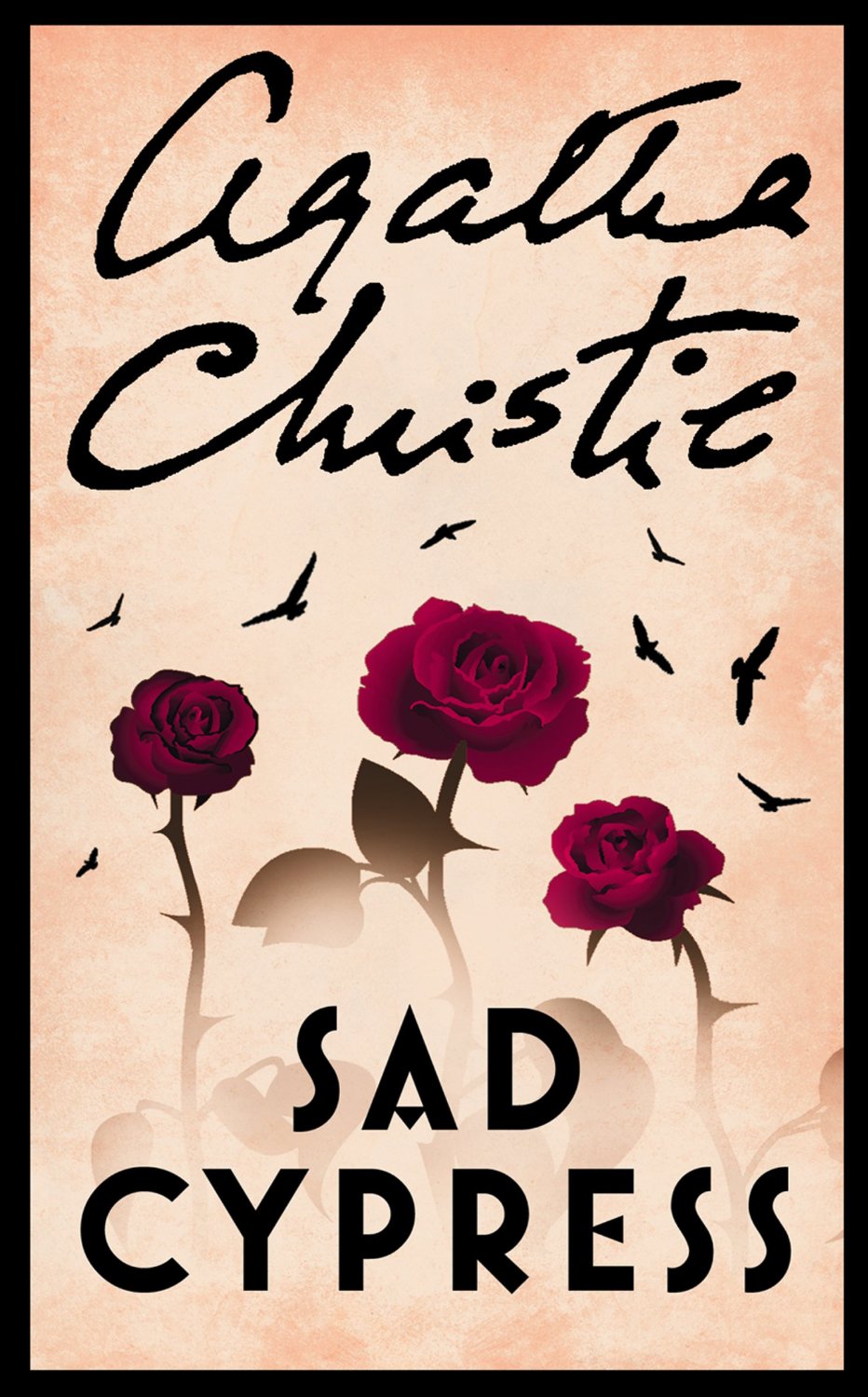 Sad Cypress by Agatha Christie
I like to listen to podcasts of old time radio shows. Sometimes, instead of old time radio, the podcasts will have fairly recent British radio show offerings. My favorites are when they offer a radio play based on one of Agatha Christie's novels. Recently Boxcars711 had a rendition of Sad Cypress. Unfortunately, they only had two of the three parts, so I was quite interested in reading the book to find out if I had figured out whodunit.

Sad Cypress is an Hercule Poirot mystery. Elinor Carlisle is accused of murdering Mary Gerrard, a young woman who had been a protege of Elinor's aunt. When Elinor and her fiance, Roddy Winter, who is also a relation by Elinor's aunt's marriage to Roddy's uncle, get an anonymous letter about Mary Gerrard cozying up to the sick aunt, they go to visit the aunt to see what's going on. Roddy winds up falling for Mary, and when the aunt dies suddenly after a second debilitating stroke, Elinor is the sole heir. The aunt died without a will, but she did express an interest in taking care of Mary Gerrard. Elinor breaks off her engagement because Roddy is in love with Mary, and Roddy also seems upset that Elinor has all the money. Roddy is rebuffed by Mary, and Elinor encourages Roddy to go to Europe. When Elinor goes down to sell her aunt's house and invites Mary and Nurse Hopkins to lunch, Mary winds up dead. Elinor is instantly suspected because of jealousy over the loss of Roddy. The local doctor, who is smitten with Elinor, enlists the help of Poirot to prove Elinor is innocent. Can Poirot do it? More importantly, is Elinor innocent?

Sad Cypress was an enjoyable mystery. The clues are all there, and when Poirot gives the recap at the end, it makes perfect sense. I know that I found myself smacking my palm to my forehead over clues that I overlooked, or didn't even realize were clues. Christie was the master of weaving a great mystery, and in this case, she created some believable characters. Elinor may not always seem very likable, but I did feel sympathy for her. Not only that, but I could see myself have the same reaction to losing my fiance. All in all, Sad Cypress was a thoroughly enjoyable mystery that I would recommend to any who haven't experienced Christie or Poirot.

---
Sunday, January 18, 2015 -- Afternoon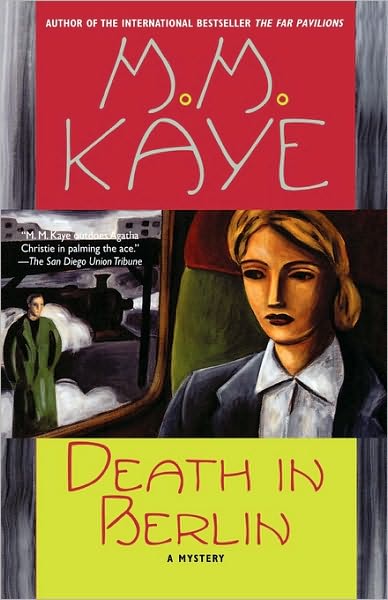 Death in Berlin by M.M. Kaye
I just finished Death in Berlin by M.M. Kaye. This was originally published in 1955 as Death Walked in Berlin. Miranda Brand was on a month-long vacation with her cousin, his wife, their daughter (Lottie), and Mademoiselle (the nanny) in Berlin. As you can tell from the original publication date, the story was set in the time after World War II when the Russians and British/Americans were in Berlin, but before the Wall went up. Miranda's cousin, Robert Melville was in the British military, and his wife, Stella, was older, and a bit concerned about losing Robert to someone younger. While on their way to Berlin, Miranda and the Melvilles joined up with others heading to the city, such as Sally and Andy Page, the Leslies, and the Marsons. While at dinner the night before the group arrived in Berlin, the Melvilles dined with Brigadier Brindley, who told a story about a German SS officer named Riddler who had gotten a fortune in diamonds to only disappear with his wife. The story was that they killer their man-servant and his wife, and escaped. Brindley mentioned that they had a daughter, and a girl had escaped to Britain with a doll full of Riddler's wife's jewelry. Imagine the shock when Miranda said that she was that girl, and that she wore the ankh that was found in the doll. Things took a turn for the worse when on the train to Berlin, Miranda couldn't sleep, went to took for the coachman, and then accidentally walked into Brigadier Brindley's cabin to find him stabbed to death. Fortunately for Miranda, Simon Lang was also on the train, and he investigated the death. More deaths followed, making Miranda appear either responsible or the intended victim. Lots of thrills ensued until the mystery was solved.

I have to admit that Death in Berlin in Berlin is my favorite of the Death in ... series of Kaye's. The mystery is not obvious, and the tension and suspense build as the story continues. Miranda is a very likable character, and I found myself rooting for more action between her and Simon Lang. If anything, the romance part of the story is a tad underdone, but that means that most of the concentration was on the action and the suspense. All in all, this was an an enjoyable and entertaining read.

---
Sunday, January 4, 2015 -- Evening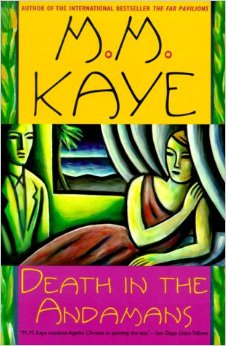 Death in the Andamans by M.M. Kaye
I have been laid up with a bad back for the past week, but it did give me a chance to catch up on some reading. I have had an urge to read some M.M. Kaye, not the Indian saga, but the mystery books. I just finished Death in the Andamans. This book was originally planned with Kaye and a childhood friend that she was visiting in the Andamans over the winter holidays. A hurricane struck the area, and Kaye and her friend were holed up over Christmas until the storm abated and things returned to normal. The pair plotted out the story of a murder, and years later, Kaye put it to use in this book. The plot is similar to the real situation: with a hurricane that hits the area on Christmas Eve. Copper Randal is visiting with her friend, Valerie Masson, whose step-father is the commissioner of the islands. After a picnic party, a slew of celebrants are headed back to the main island when the hurricane strikes. All except one makes it back safely to the main island, but Ferrars Shilto doesn't make it back. Since a trio of boats, on which Ferrars was traveling, capsized, it is assumed that Ferrars drowned due to the storm. However, one of the guests, who is also a doctor, thinks otherwise, and he turns up murdered after checking out Ferrars' body. Another murder happens before Copper and Val, with their boyfriends, Charles and Nick, figure out whodunit.

I really enjoyed reading the story, and it was an added touch that it happened during the Christmas holidays. The plot was just convoluted enough to keep it interesting and to prevent me from figuring out who done it. It should have been as clear as the nose on my face, but Kaye did an excellent job of keeping the reader guessing. Next up is Death in Berlin.

---
Friday, December 26, 2014 -- Evening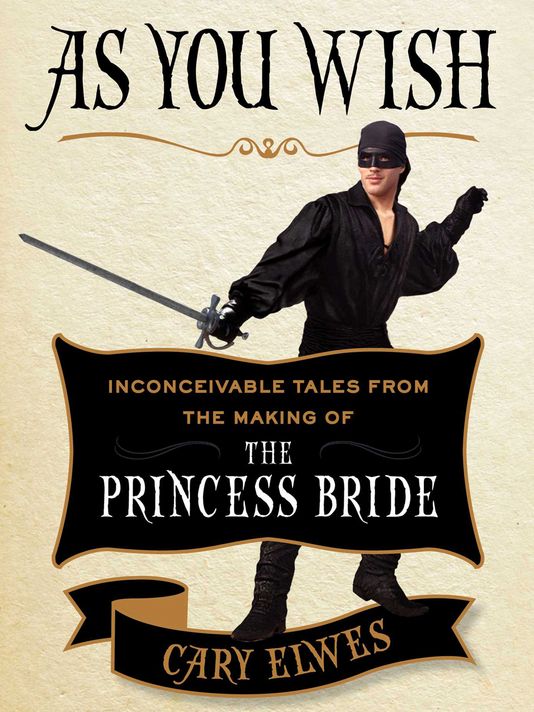 As You Wish by Cary Elwes
I have several movies that I love and that I have referred to as "my favorite." One of them is The Princess Bride. I love the movie from beginning to end. I love Peter Falk, as the caring grandfather who reads the fairy tale to his sick grandson. I love Fred Savage as the grandson. I love the beautiful tale of Wesley and Buttercup, the Dread Pirate Roberts, Inigo Montoya, Fezzik. I love every second of the movie. As you can imagine, I was very excited to see that Cary Elwes wrote, As You Wish: Inconceivable Tales from the Making of the Princess Bride, commemorating the making of the movie over 25 years ago.

The book is mostly told from Elwes' viewpoint, with sidebar comments from the others involved in the making of the movie. It was interesting to hear some of the stories, and it was especially interesting to see the pictures from the making of the movie. There wasn't anything heavy or earth shattering about the stories. Instead, it was a pleasant walk through the memories of an assorted band of creative people brought together through the luck of fate. I can't imagine the movie without the actors in it. I loved the movie so much that i read the book by William Goldman several years ago.

If you love the movie, Elwes' book will be a pleasant jaunt down memory lane.

---
Saturday, December 13, 3014 -- Evening
Book Catch-up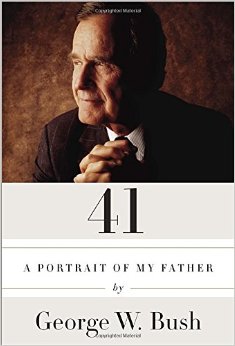 I haven't had much time to read in the past few months. My schedule has been crazy with a full-time job and adjunct faculty work on three courses. That means that I've barely had time to keep my head above water. Fortunately, the term ends this week, and winter recess is fast approaching. i should have more time for readings.

I did have time to skim a couple of books. The first was 41: a Portrait of My Father by George W. Bush. I liked George W. Bush as a president, and in his post president years, he has come across as a much more amiable, fun person than I imagined. In 41, George W. gives us a personal picture of his father through his son's eyes. Of course, 41 represents George Bush (the father) who was the 41st president. George W. said that he wrote the book because David McCullogh's daughter had talked to George W. about how McCullogh was disappointed that John Quincy never wrote anything about his father. George W. does not give a political view of his gather, but he does provide a personal view of the man. We learn about the type of man that George Bush is (and was). Of course, the picture is painted through the jaundiced eyes of the son, but it is touching to see the great love that George W. has for his father.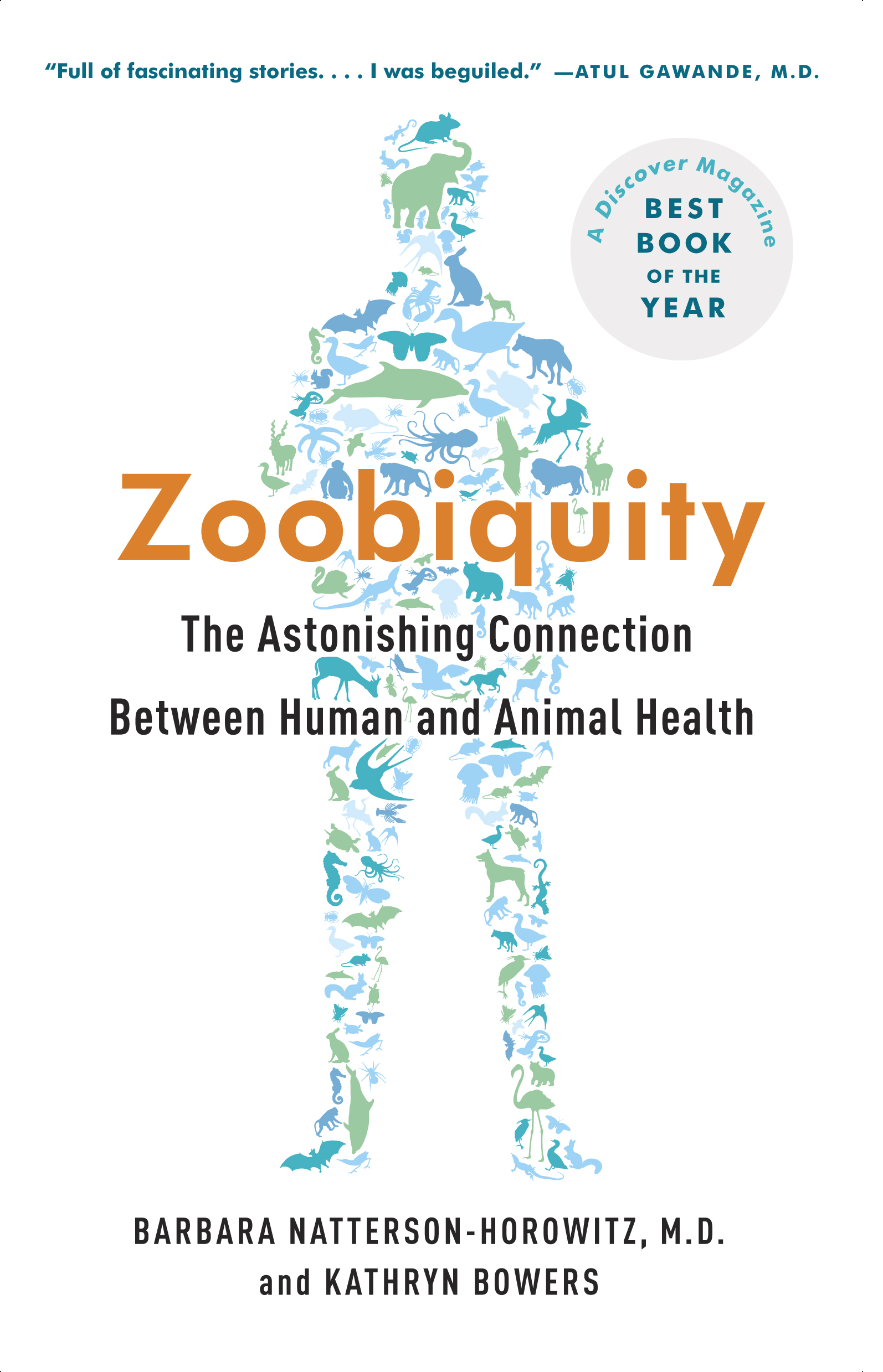 My impression of George Bush changed after reading the book. I gained respect for George Bush because he seems to have lived his life with honor and respect for others.

The other book that I skimmed through was Zoobiquity: the Astonishing Connection Between Human and Animal Health by Barbara Watterson-Horowitz, M.D. and Kathryn Bowers. I got the book because I saw the TED Talk that Watterson-Horowitz gave on the connections she has made between animals and humans. It in that past, animals and humans were treated by the same doctor. However, as we moved away from a farming society, dependent on horses for transportation, the separation between doctors and vets began. Watterson-Horowitz, a cardiologist, was called in to help treat primates at the Los Angeles zoo with potential heart problems. She found that health problems seemed to cross species. As an example, the recent discovery that the human heart can suffer from emotional distress. Well, vets have known for years that animals can die from fright at capture. As Watterson-Horowitz continued to research the connections between animal and human health, she discovered that doctors could learn a lot from vets. Vets routinely read human research journals, while doctors wouldn't even consider looking at veterinary medicine research. That elitist attitude is ridiculous because it's harder to get into vet school than it is to get into medical school. Zoobiquity has plenty of stories to show the connections between humans and animals. You can enjoy the stories Watterson-Horowitz tells of her animal encounters without having a medical degree. Zoobiquity is a fun, thought-provoking book.

---
Monday, November 24, 3014 -- Evening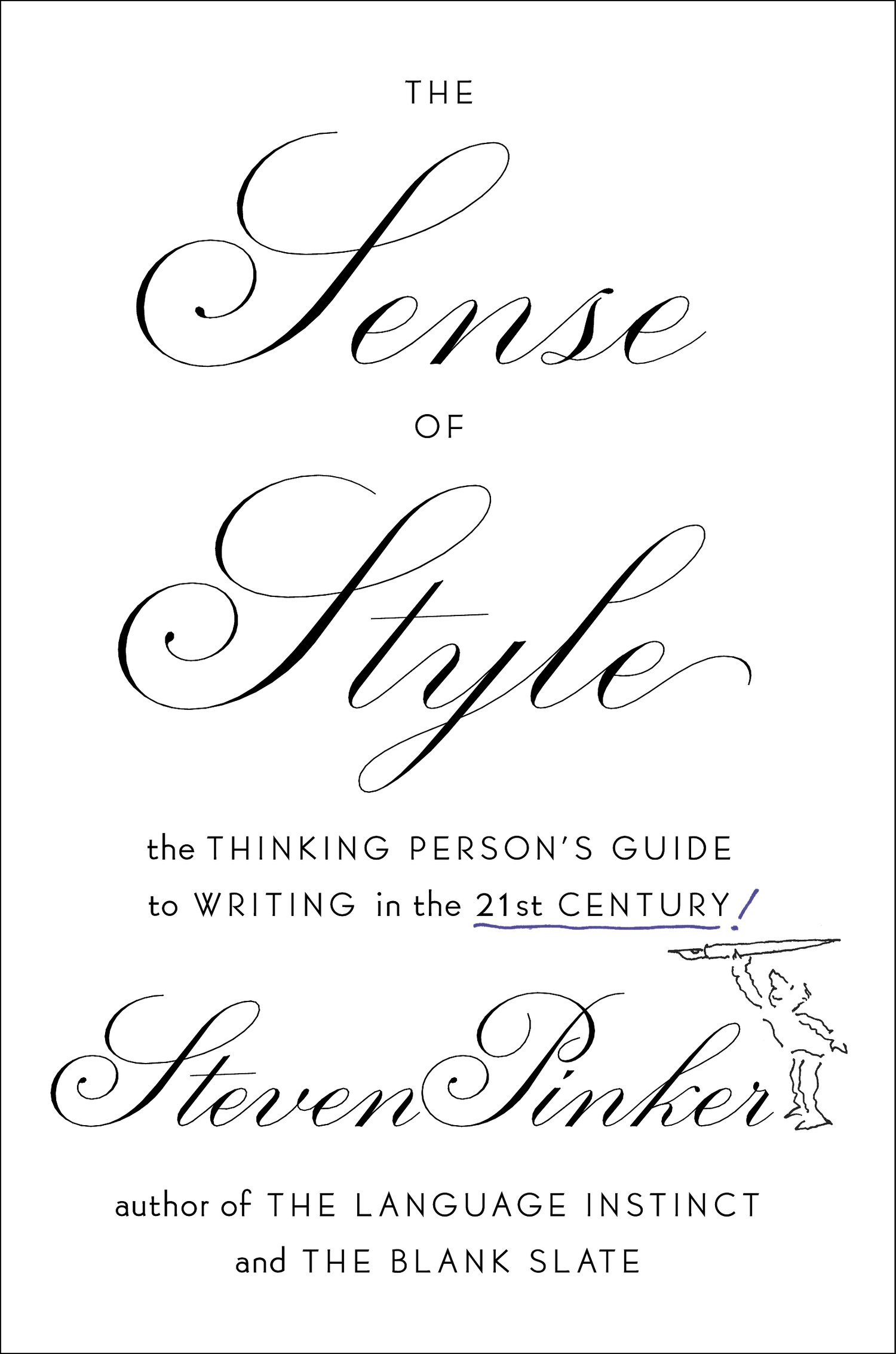 Sense of Style by Steven Pinker
I have been too busy with teaching and my new full-time job. Over the past month, I have not been able to finish reading one book. I did start a few, but I won't mention them because they didn't click with me at that time. Sometimes that happens. It's not that the book isn't good, but that you just aren't in the mood for that book at that time. However, I did get one book that I enjoyed so much that I bought the book. I had requested The Sense of Style: the Thinking Person's Guide to Writing in the 21st Century by Steven Pinker. Pinker is an interesting guy, specializing in language acquisition. He also wrote The Blank Slate, where Pinker proposed that we aren't blank slates for our environment to write on. We have innate characteristics that may be shaped by our environment, but that aren't created by our environment. That's a story for another day.

I loved The Sense of Style because Pinker says many of the things that I tell my students. Audience is key, and it's important to understand why certain stylistic concepts are prized. For example, passive voice is a big no-no. I used it in the previous sentence. When someone says to use active voice, it's usually because active voice can be more clear and concise than passive voice. The subject is performing the action of the verb. However, there are times when the subject is more important, even if he/she is not performing the action. "Mr. Jones was taken to the emergency room." It's not important to know who took Mr. Jones there; it's important that he went. To blindly follow rules without understanding why is just plain dumb.

Pinker gives examples of good and bad writing. When it's good, he explains why. When it's bad, he gives examples on how to make it better. As I said, I got the book from the library. I was curious about how good it was. I found myself stopping to read aloud sections to my husband. That's when I knew I had to add it to my collection. If you want to know more about writing and style, and you think those skills are vanishing in the 21st century, you should get Pinker's The Sense of Style. You will find that our concerns about the loss of writing skill is overblown.

---
Friday, October 17, 2014 -- Evening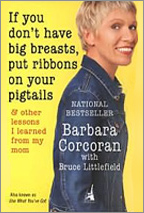 If You Don't Have Big Breasts, Put Ribbons on Your PIgtails by Barbara Corcoran
I have been a fan of Shark Tank for some time. What interests me most about the show are the sharks. Barbara Corcoran is one of my favorites, so I looked to see if she had any books. She does. If You Don't Have Big Breasts, Put Ribbons on Your Pigtails is a compilation of business advice from Barbara. What I like the most about the book is that each pearl of wisdom that Barbara bestows on the reader comes from her upbringing in New Jersey. Most of the tales revolve around her mother, who appears to be a really interesting person. I was surprised to learn that Barbara came from a huge family. She has nine brothers and sisters, and her family was blue collar. Barbara got into real estate because of a boyfriend that she met when she was fresh out of high school. However, her real estate business took off AFTER her boyfriend tossed her out to marry a secretary from their office. Barbara went all out to become a wealthy entrepreneur. One of my favorite stories is one of the first: Barbara didn't have large breasts, but another waitress at the restaurant she worked at did. Every guy wanted to be seated at the counter for the big breasted girl. Barbara's mother advised Barbara to play up her strengths, personality and great smile. Put pigtails in your hair, push your strengths, and you will be able to compete against big breasts.

If you are interested in starting your own business, Barbara has good advice. If you don't want to start a business, you will still enjoy the warm, family stories. I have no interest in business, but I really enjoyed getting a glimpse at the woman behind the shark.

---
Saturday, October 4, 2014 -- Evening
Quirkology by Richard Wiseman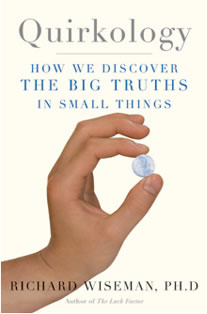 I enjoy watching those brain shows that have popped up on TV lately. Brain Games has had multiple seasons, but I also watched Your Bleeped Up Brain. The shows talk about how the brain works, and how it tries to make sense of things. When we think that the brain is trying to fool us, it's basically trying to make sense of the information it is getting. Richard Wiseman, with a PhD in Psychology, was one of the guest scientists on Your Bleeped Up Brain, and he has also written a few books. I finally managed to locate one in my local library. Quirkology: How We Discover the Big Truths in Small Things. In the book, Wiseman investigates and explains such things as:

if being born on a certain date has any affect on your life (which it might with seasonal effects)
if your name can say something about the person you will become
if you can tell if someone if lying by looking at them (no, but talking to them might expose a lie)
if ghosts exist (nope, but there might be other things that cause the eerie feelings)
if you pick your president or decide guilt based on looks (and it seems that we do)
what we find funny and why we find it funny
how honesty are we
Of course, this list just breaks the surface of the information in the book. Wiseman talks about his own research and the research of others in the field.

I really enjoyed reading the book. As I was reading, I found myself stopping to re-read sections to my husband. I thought that he would find the section on beards interesting since he has one. It seems that in a study Wiseman did, people thought men without hair on their faces were more honest. Face hair might mean maturity, but it also meant that others might think the man with the beard was sinister. As Wiseman noted, there has not been a US president with face hair since 1910.

If you are interested in the why people do the things they do, and what it means when they do them, Quirkology is for you.

---
Monday, September 22, 2014 -- Evening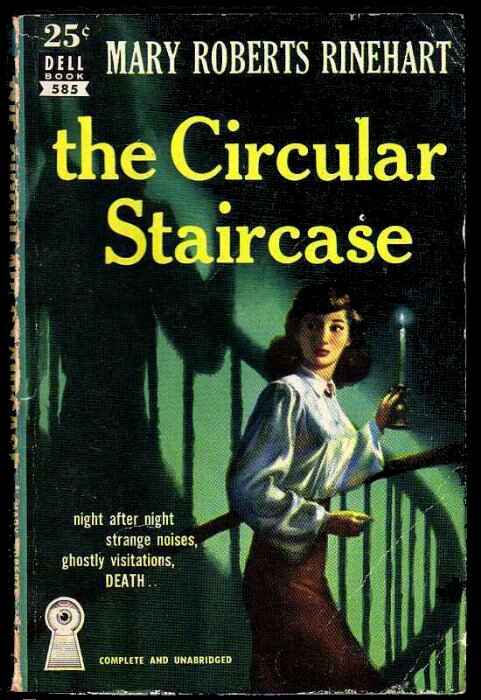 The Circular Staircase by Mary Roberts Rinehart
Had I but known how good a Mary Roberts Rinehart story was, I would have read one sooner. At least, that would probably be the logic of a Rinehart heroine. Rinehart came from Pittsburgh, and her mysteries fall in the category of the "have I but known" plot that Elizabeth Peter used to such good effect in her Amelia Peabody mysteries. I downloaded The Circular Staircase onto my Kindle and had an enjoyable read.

The Circular Staircase was one of Rinehart's first books, written in 1908. Rachel, a spinster, raised her nephew and niece, making sure to safeguard the siblings money. As they got older, they started to live lives away from Rachel, so as one of the last flings for the family, Rachel rented a house from the Armstrongs in the country for the summer while her house in the city was being renovated. That's when things take a turn for the eerie. Rachel starts to hear knocking noises, and she thinks that she sees people hanging out, maybe trying to get into the house. When Rachel's charges, Halsey and Gertrude show up, things take a turn for the worse. The son of the man who owns the house gets shot entering the house. Halsey and his friend, who left earlier in the evening, are suspects, and the friend, Jack Bailey, gets arrested when the bank that the Bailey worked at had funds stolen from it. Bailey is suspected, but so is Paul Armstrong, who owned the house that Rachel rented. Armstrong is now in California, but he turns up dead. The incursions into the house seem to be ongoing, and the mystery around the Armstrongs, the house, and the missing money deepens.

I really enjoyed reading The Circular Staircase. Humor abounded. My favorite interactions were being Rachel and her life-long maid, Liddy, were constantly bickering with Liddy threatening to quit while Rachel threatens to fire her. The mystery is a puzzle, and I have to admit that there were several times I wanted to shake Rachel and say "don't keep quiet about what you just learned." all in all, the book was very enjoyable, and I look forward to reading more Rinehart.

---
Friday, September 19, 2014 -- Evening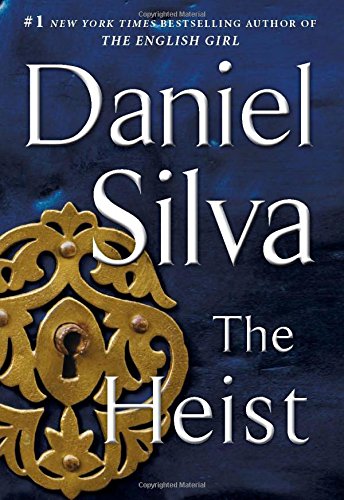 The Heist by Daniel Silva
The latest Gabriel Allon, The Heist by Daniel Silva, was released in July, but I was just able to get it from the library this week. I've enjoyed the Gabriel Allon series, although I have to admit I was starting to get tired of Allon getting into near death situations in every book. Yes, I understand that he is a spy and risking his life, but having it happen in every book was straining credulity.

The Heist is different from some of the other Allons is that there isn't a terror attack behind the action in the book. Instead, Allon is pulled into an investigation of a former diplomat's death because Allon's friend, Julian Isherwood finds the body. The diplomat turned out to be a former spy, turned rogue, who was now in the business of selling stolen masterpieces. Allon's role is to find the Caravaggio that was rumored to be in the possession of the dead man. What Allon finds is that the man was onto the Syrian president hiding away funds for his future use. Allon is determined to track down the funds and remove them. Also, he wants to find the Caravaggio. In order to gain access to the money, Allon recruits a girl who works for the investment officer who is hiding the fund for the Syrian president. The girl is a Syrian whose family was massacred in Hama as threats to the president of Syria.

As I mentioned, this book is different from the others because Allon isn't being tortured to near death. At times though, the story just seemed to drag along. The overall plot was interesting, but I think there could have been more action and less repetition. I think Silva needs to take a break from Allon, especially since Allon is moving into more of a managerial role in the Israeli secret services. Perhaps, he can revisit the Michael Osbourne character.

---
Saturday, September 6, 2014 -- Afternoon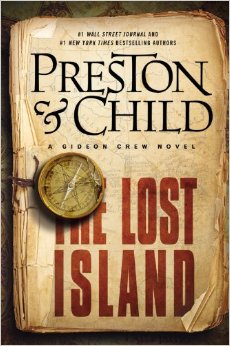 The Lost Island by Preston & Child
I have enjoyed the books by Douglas Preston and Lincoln Child, both together and separately. However, I haven't had a chance yet to read anything in their Gideon Crew series. This is a new series that just started a few years ago. Well, when I went into the library the other day, I saw their latest book, The Lost Island on the new books shelf. I figured that I would give the book a try, and boy, am I glad that I did.

Gideon Crew is a master thief, who is also a physicist. He also has a medical condition, tangled blood vessels in his brain, that leaves him with only ten months to live. Preston and Child love to have characters appear in multiple series, and it's no different here. Eli Glinn, who is the person behind EES, Effective Engineering Solutions, appears in The Lost Island. Glinn's EES was the group behind the meteorite recovery in The Ice Limit.

Glinn asks Gideon Crew to steal a page from the Book of Kells while it is on tour in New York City. The task appears to be an impossible one because the security is so high, but we are talking about Gideon Crew, and he manages to come up with a way to steal the page. Imagine Gideon's shock when Glinn takes the beautiful illuminated page and removes the paint! But there is a reason. Hidden under the illumination is an ancient map. This map shows the route to the lotus, which can cure bodily ills and injuries, and give the consumer of it longer life. Glinn has a mysterious client who wants the plant because it would be an amazing discovery that could cure so many illnesses. Why, it might even cure Gideon's problem! The map appears to led to the Caribbean, where the ancient Irish monks were the first to reach the Americas. Glinn partners Gideon with Amy, who is an expert in classical languages and boating. Of course, the voyage is more difficult that Gideon imagines, and what they find is beyond his wildest imagination.

The Lost Island is a thrilling adventure story. Preston and Child throw in some Greek history, and the Odyssey. Is it believable? Well, of course it is. Preston and Child do such a great job of weaving high adventure into a fast moving plot that you find yourself caught up in the action. I really enjoyed this book so much that I have to get the two earlier Gideon Crews!

---
Tuesday, September 2, 2014 -- Evening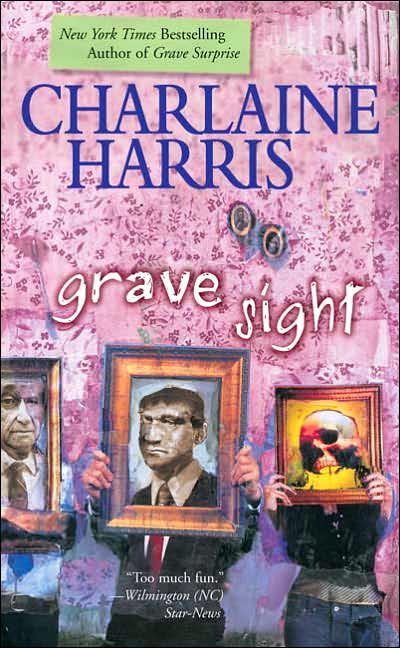 Grave Sight by Charlaine Harris
I happened to be shelf browsing at the library, and I saw the Harper Connelly series by Charlaine Harris. I liked the earlier Sookie Stackhouse books, so I thought I would give this series a try. Harper was struck by lightning as a teen, and this has given her the ability to find dead bodies and to see the person's final moments. She uses this talent to find missing people who are dead, as long as she knows the general location of the body. Also, she can see what the person experiences in the last moments, so she can explain the death. If it was murder, she can't see the murderer, but she knows the person was murdered. Harper's step-brother Tolliver Lang, acts as manager/bodyguard when Harper does her work for money. It seems that people don't like that Harper can find the dead, even though it helps them find the missing loved one. People tend to want to hurt her.

Grave Sight is the first book in the series, and Harper is called in to find a missing teenage girl, named Teenie, in Sarne, Arkansas. It seems that everyone in power in the town is related to everyone else, and after Harper finds the body, and discovers that not only was the girl murdered, but her boyfriend, who was found dead in the general area of supposed suicide, was also murdered. This doesn't go down well with the townsfolk, who make Harper's life miserable. Then Harper discovers that the Teenie's sister was murdered earlier. Then after Teenie's mom talks to Harper, she winds up dead. Obviously something is going on, and Harper and Tolliver are stuck in the town. Harper decides that while she is stuck there, she might as well figure out why everyone in Teenie's family was murdered. However, someone in the town is determined to stop Harper at any cost.

The plot was interesting. I mean who would think of a person being struck by lightning then being able to discover dead bodies. Harris does come up with some interesting ideas, but she really does need to work on her mechanics. First, her grammar is atrocious. This is an example of one of her poorly written sentences from page 10: "The waitress filled my coffee cup and taken my first swallow before the sheriff spoke." Wow! So the waitress took the sip for Harper. With the number of grammar errors, it's obvious that Harris isn't an English major, and it's also obvious that her editor sucks. Then there's the matter of common sense and research. On page 46, Harris talks about an approaching thunderstorm: "A boom of thunder was followed by a brilliant bolt of lightning." Anyone who has any common sense, or lived, knows that light travels faster than sound, and that you see the lightning and then hear the thunder. The errors in the book really detracted from my enjoyment of the story.

The book was okay. Harper is a stupid and sloppy detective. Harper finds out from Hollis, cop and former husband of Sally, Teenie's murdered sister, that right before her death, Sally had been cleaning the house of Dick Teaque, father of Teenie's boyfriend, after Dick died. She then came home in a bemused mood and looked through one of her high school textbooks. Well, Harper lumbers in, grabs the biology textbook, and shakes a paper out. Duh! Idiot! She should have flipped through so she could see where the paper was placed because that would have been a clue. However, Harper ain't known for her smarts. She can just find dead people. I may give the second book a chance just to see if Grave Sight was an aberration. It it's not better, I would suggest skipping the series because the first book is not that good.

---
Sunday, August 24, 2014 -- Evening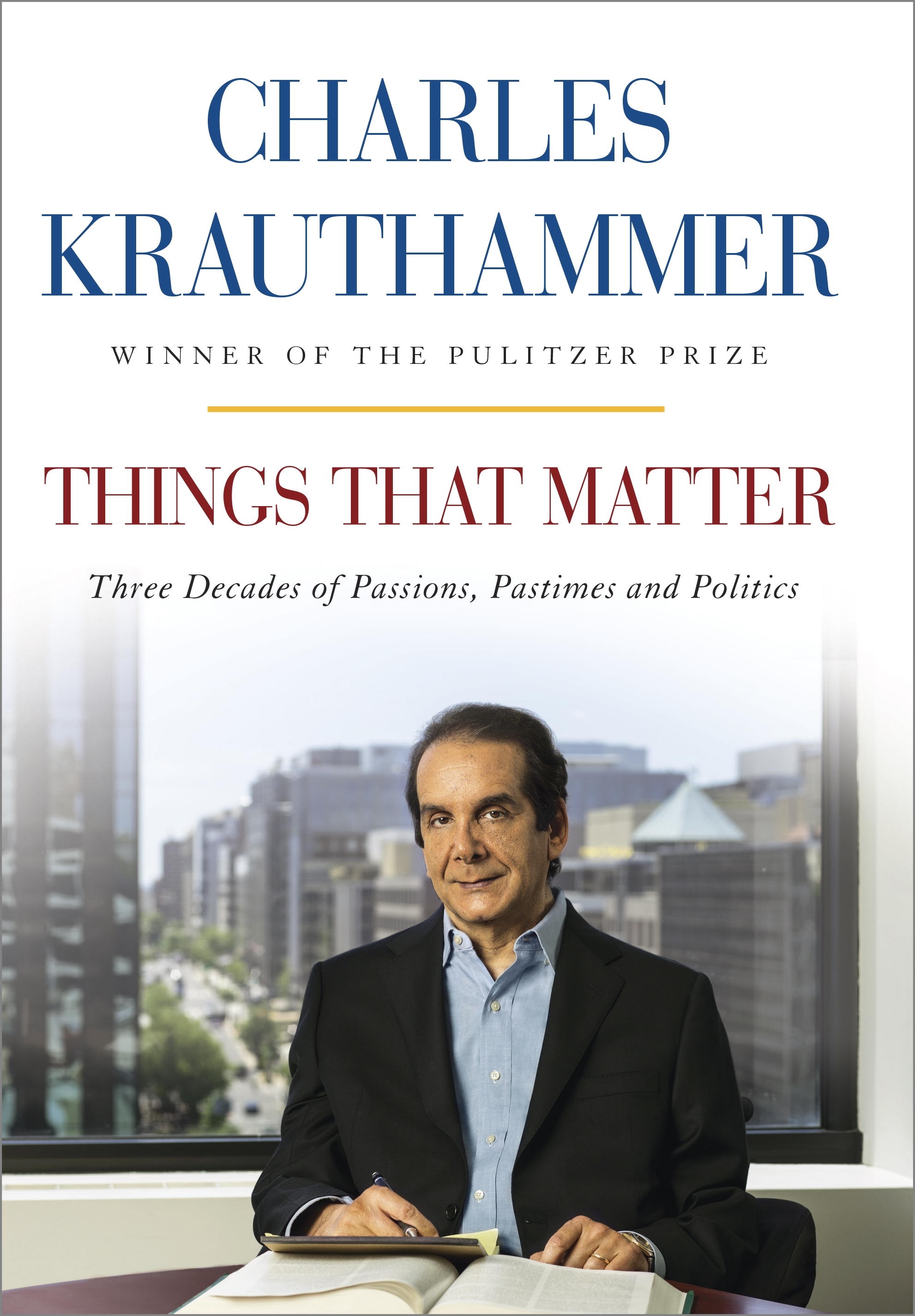 Things That Matter by Charles Krauthammer
Although I love to read fiction, especially mysteries, that doesn't mean I don't like to read other things. I've noticed that others seem to think that people can only read one type of book, but I would think that would be a boring and bland diet. I just finished one of those non-mysteries today: Things That Matter: Three Decades of Passions, Pastimes and Politics by Charles Krauthammer. Krauthammer writes a weekly column for the Washington Post, and he's a frequent commentator on Fox News. I've seen him a few times with Bill O'Reilly. Things That Matter is a collection of short essays that Krauthammer has written over the past thirty years for the Post and Time.

I learned some things about Krauthammer that I didn't know before I read the book are that Krauthammer was paralyzed in swimming accident when he started medical student, that he was a practicing psychiatrist, and that he used to be a Democrat and a speech writer for then vice president Walter Mondale! I have to admit that I was struck because Krauthammer is the voice of conservatism. I know that I've often thought that liberalism is for the young and naive, because they have such a rose-colored vision of what the world could be. As you age, at least, as I aged, I found that my views became much more conservative. I think that with age comes wisdom and a greater understanding of how the world works. Basically, as I started to make money, I wanted to keep my money. Also, I learned that issues may not always be as black and white as I originally thought.

Krauthammer's essays are very well written and thought provoking. He broke the books into sections:
Personal
Political
Historical
In those essays, he talked about a wide variety of topics, contemporary and long past. Krauthammer's parents were Orthodox Jews, and he went to a Hebrew Day School, and I think that makes his voice even more poignant as he mentions the Jewish/Israeli situation in the world. Although Krauthammer is a passionate about his views, he also writes with a sane, calm voice. I think it would be sad if you passed up Things That Matter. I know that I read works by both liberals and conservatives because I want to get the full picture. I know that personal bias and viewpoints color a writer's work, sometimes even unintentionally. I found myself as I finished the book, admiring Krauthammer, and having a more enlightened view on some of the topics he mentions. Give his essays a try. Just read a few, and I think before you know it, you'll be reading the whole book.

---
Tuesday, August 12, 2014 -- Evening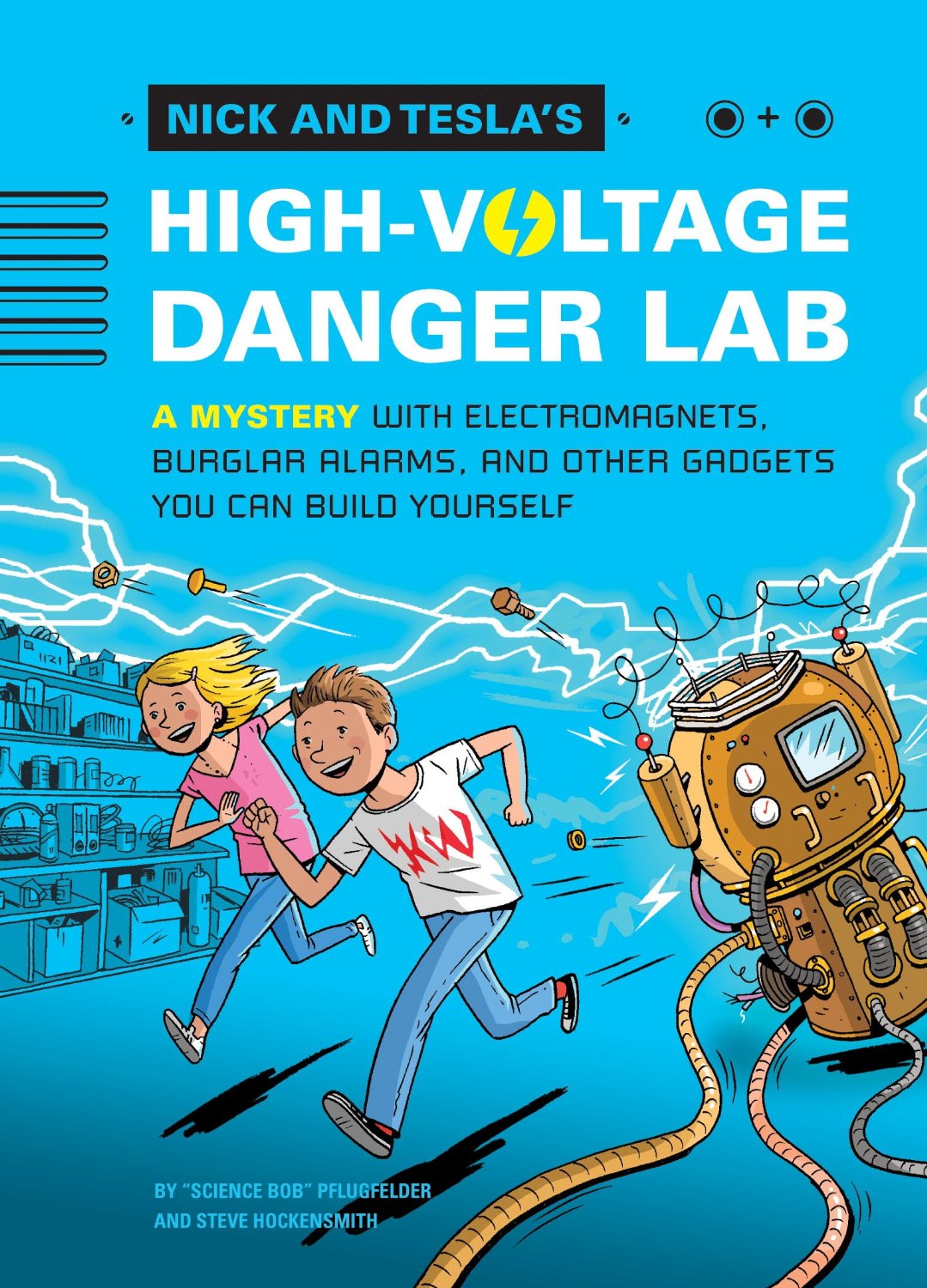 Nick and Tesla's High Voltage Danger Lab
When I was a kid, I used to love books with mystery, magic, and adventure. i would browse the shelves of the children's section of my local library, looking for titles or covers that would catch my eye. Yeah, yeah, you can't judge a book by its cover, but you don't know until you read the inside. Anyway, as I was in the library with my nephew, I started browsing the shelves. The nephew has no interest in reading, so I was just amusing myself. That's how I noticed the Nick and Tesla adventures. So far, there are three that are available and all are newly published. I started with the first book in the series, Nick and Tesla's High-Voltage Danger Lab. Nick and Tesla are 11-year-old twins, who have been sent to spend the summer with their Uncle Newt, who lives in California, while their parents go go Uzbekistan to study soy beans. Uncle Newt is a weird, mad scientist, who seems like the last person who should be watching children for the summer. But Uncle Newt has a lab, and he tells Nick and Tesla that they can use it all they want. After making a bottle rocket, the pair set it off, where it lands in the yard of a haunted looking mansion. The mansion may be haunted, but it isn't empty. There are two men there who are supposedly doing construction work on the house, two very nasty Rottweilers, and a little ghostly girl who warns Nick and Tesla away. As Nick and Tesla try unsuccessfully to recover the rocket and Tesla's pendant that can off as the rocket whizzed by, they become embroiled in the mystery of the house.

The reason this book series caught my eye is because of the bright, colorful covers. What is really cool about the books is that they contain instructions on how to build the gadgets used in the books. In Nick and Tesla's High-Voltage Danger Lab, the reader can learn how to make:
a low-tech bottle rocket and launcher
a mints-and-soda fueled robocat dog distractor
a semi-invisible nighttime van tracker
a Christmas-is-over intruder alert system
a Do-it-yourself electromagnet and picker-upper
The instructions are easy to follow, although they will require some help from an adult. In fact, I know that I want to try some of them with the nephew to see if i can encourage an interest in science and reading. The authors are "Science Bob" Pflugfelder and Steve Hockensmith, and they do an excellent job of melding mystery with science. The series also has a website, where Science Bob demonstrates the projects in the books. The website and the books are really cool, and I highly recommend them for the budding scientist in your household. I wish that there were books like this when I was a kid!

Other titles in the series are:
Book 2: Nick and Tesla's Robot Army Rampage
Book 3: Nick and Tesla's Secret Agent Gadget Battle
Book 4: Nick and Tesla's Super Cyborg Gadget Glove--available October 7, 2014
---
Saturday August 9, 2014 -- Evening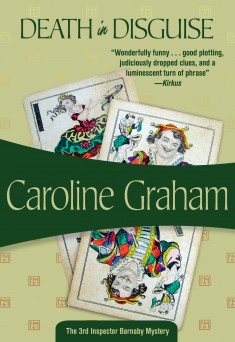 Death in Disguise by Caroline Graham
I read the third book in the Inspector Barnaby series, Death in Disguise. The book starts with an inquest into the accidental death of William Carter. He died while falling down the stairs at a local commune, with a bunch of folks practicing various New Age beliefs. They are lead by Ian Craigie, the Master. Months later, Sylvie Gamelin, is a member of the group, and she is going to turn 21 and come into her trust fund. Sylvie now goes by the name, Suhami, and she has decided that she will give her trust fund to the Master and the commune. The Master has invited Suhami's parents down to the commune, and Sylvie's father, a rich, powerful, jerk of a man named Guy, decides that the Master is a fraud. When the Master is stabbed to death in a darkened room where the whole commune, and Guy Gamelin and his wife, Felicity, have gathered to watch May Cuttle have a regression to a previous life. Of course, Barnaby and Troy are called in to solve the case.

This was an enjoyable book. The story was somewhat similar to the series depiction. There were some added characters in the book, and two of the later deaths in the book were different in the show. Gavin Troy is extremely different between book and television series. As I mentioned, he's married in the book, and in this one, he is a new father to a baby girl. Also, Troy is definitely not PC in the book. Graham has Troy express rather negative and outdated views about women, homosexuals, and people with mental disabilities. I can understand why the TV Troy is so different. The character's view in the book would never be okay with the viewing public. Even though I knew whodunit and why, I still enjoyed the book. Graham does a great job with giving the reader insight into how her characters think and feel, and she throws in some unexpected humor by making fun of the characters. All in all, Death in Disguise is an entertaining mystery.

---
Sunday, July 27, 2014 -- Evening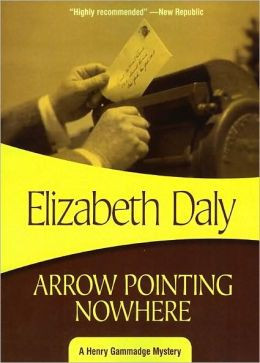 Arrow Pointing Nowhere by Elizabeth Daly
I just finished Arrow Pointing Nowhere by Elizabeth Daly. This was an interesting tale, with Henry Gamadge receiving a coded message delivered in a suspicious way. A crumpled ball of paper was thrown out of the window off the Fenway's house in New York City, and a suspicious mailman who saw a crumpled ball of paper in the same place every day, picked up the paper. After some investigation, Gamadge figured out that someone was in trouble in the Fenway house, but wasn't able to get out to communicate openly with Gamadge. When Gamadge finagles an invitation to the house, he finds the atmosphere thick with tension. Mr. Blake Fenway admits that a shipment of books had arrived from his country estate, sent by Hilda Grove, the niece of a woman who was a companion to Fenway's disabled sister-in-law, Mrs. Fenway. The book had views, or pictures, of estates, and the one of the original Fenway estate, that had been torn down, was missing. As Gamadge goes to leave, Mr. Mott Fenway, secretly talks Gamadge into coming back later in the evening to secretly look for the missing picture. Mott suspects that Mrs. Fenway's son, Alden, suffering from mental retardation, now intellectual disability, ripped out the picture. They fear that Mott and his niece, and Blake Fenway's daughter, Caroline are suspicious that Alden ripped out the picture, and perhaps killed Caroline's pet dog. Of course, they are also suspicious of Craddock, a young male friend of the Groves, who has been injured in the war, and is taking care of Alden. Gamadge agrees to come back, but first, he heads out to the country to talk to Hilda, under an assumed name. When Gamadge returns to town for his rendezvous at the Fenway house, he arrives to find that Mott Fenway had fallen from his attic room window. Gamadge suspects that Hilda Grove might be in danger, and his associate gets into the country house to find a booby trap set to possibly kill Hilda. There is more murder and surprise before the book ends, and I don't want to ruin the mystery by disclosing too much.

I enjoyed reading Arrow Pointing Nowhere, and i thought the mystery was much stronger than Evidence of Things Seen. Arrow Pointing Nowhere was published in 1944, and there are references to WWII and the shortages in gas and other items. I did not figure out the mystery, and I was surprised at the twist at the end. Unfortunately, I might not get much opportunity to read more Elizabeth Daly, but I will keep my eyes open for her books.

---
Wednesday, July 23, 2014 -- Afternoon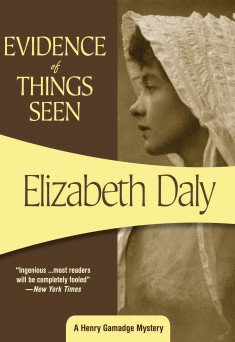 Evidence of Things Seen by Elizabeth Daly
I was reading something on one of the mystery blogs recently, and it mentioned that Agatha Christie liked the writings of Elizabeth Daly. Elizabeth Daly was an American mystery author who was a contemporary of Christie. In recent years, Felony and Mayhem has reissued the Daly mysteries, which feature Henry Gamadge, a gentlemen sleuth. I thought I would check out some of the books at my local library, just to see if I liked the books. After all, I've never read Daly. Well, I found out that it's incredibly difficult to find Daly's books in my library system, which is quite a large one: Carnegie Library of Pittsburgh. I was able to get two of the recent books in reissue. They have a few others in large print, and I think that I might have to resort to those to read more.

Evidence of Things Seen,written in 1943, had an interesting supernatural plot, so I started with it. Henry Gamadge is off working for his country during World War II. His wife, Clara, goes off to spend the summer in a rented cottage with some family friends. Gamadge is to join them when he is done with his work. Well, the friends are delayed, and Clara is alone in the cottage with her help, Maggie. They both start to see a mysterious figure who approaches the house, but never quite comes close enough to talk to. Clara and Maggie start to think that it's the ghost of a woman who died in the cottage a year earlier. What adds to the ghostly feeling is that the woman renting the cottage is the sister of the dead woman, and she appears to be unwilling to enter the house. On the Fourth of July, as the Clara hosts some local neighbors, The sister, Alvira Radford, winds up getting hurt in a carriage accident, when her horse is spooked by what appears to be the ghostly appearance of Alvira's sister. Clara helps get Alvira into the cottage, and calls the doctor. Meanwhile the neighbors, the Hunters, come for dinner. Alvira's ankle is broken, and she can't be taken back home. While Alvira is sleeping due to a morphine shot, Clara and the Hunters take up a watch over her. Fanny Hunter goes first, and Clara replaces her. While Clara is sitting beside Alvira, a previously blocked outside door opens, and the spooky sister seems to appear. Clara keeps her eye on the image and calls for help. When Phin Hunter answers Clara's cries, he says that Alvira is dead! Strangled! Did the ghostly sister somehow kill Alvira, possibly in revenge for Alvira murdering her. The finger of blame seems to point at Clara, and fortunately for her, Gamadge, finishes his job and comes to her aid.

I have to admit that like Gamadge, who admits he knew who the murderer was when he first heard the story, the murderer was quite obvious. Don't get me wrong; the story was entertaining. However, the mystery wasn't very complex. Clara comes across as a weak person who needs her husband to help her. She even seems to be mindless to a degree. When Gamadge suggests going back to the cottage, she says that she will do it if he wants to go there. I'm going to start on the second books Arrow Pointing Nowhere to see if the solution to the mystery is as obvious as it was in Evidence of Things Seen.

---
Thursday, July 17, 2014 -- Evening
Touch Not the Cat by Mary Stewart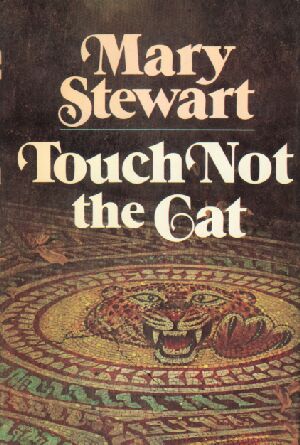 When Mary Stewart died recently, I looked over her bibliography, and I noticed a book that I had never read. It was Touch Not the Cat. The book was published in 1976. Most of her romantic suspense books were written in the 1950s and 60s, and they were the cream of the crop, in my opinion. Touch Not the Cat has a supernatural feel to it, with Byrony Ashley having a telepathic connection to someone that she grows to refer to as her lover. It seems that the Ashleys have a history of family members having a psychic connection to others in the family. So Byrony believes that her lover is one of her three male cousins. The two elder are twins, Emory and James, and the younger is Francis. Byrony isn't sure who she has the connection with, but her lover contacts her one night while she is in Maderia to let her know that her father is in serious trouble. It turns out that he has been hit by a car while at a German convalescent hospital. Before Byrony can reach her father, he has died. He did leave her a cryptic message about William's Brooke, hidden letters, and warning Byrony to beware. With his death, the Ashley estate skips Byrony and passes to the next male heirs, Byrony's ailing uncle and her cousin, Emory. Byrony still has a say, however, because the estate is bound in a trust, which states that all family members must agree to the sale of land or possessions. Byrony's father personally owned a cottage and some land on the estate, and these pass to Byrony. When Byrony goes back to the estate to spread her father's ashes, she notices that some valuable smaller pieces are missing from the estate. Were they taken by tourists on guided tour of the estate, or the rich Underhills who are renting the estate for a year? Or was one of her cousins? And who is her mysterious lover? Byrony's emotions are confused, and she turns to local farm hand Rob, as a listening ear.

The story was interesting, but I found myself wanting to grab Byrony and shake her. She puts herself into dangerous situations because she trusts her relatives too much, even when it seems that they may have criminal intent. Touch Not the Cat is not one of my favorite Stewart novels. It's a decent romantic suspense, but it's not as satisfying as the early Stewart novels.

---
Thursday, July 10, 2014 -- Afternoon
Death of a Hollow Man by Caroline Graham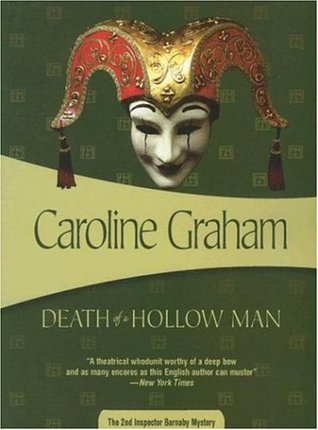 I am a huge fan of the Midsomer Murders television series. I've watched the episode more than once, and I have a deep affection for Tom Barnaby, and now for his cousin John Barnaby. The surprising thing is that I really haven't read the books. I say it that way because I tried to read Death at Badger's Creek, and I just had difficulty getting into it. Because I have been re-watching the series as I exercise every day, i decided to give the books another try. This time, I started with Death of a Hollow Man. This is the second book in the series, and it's also the second episode in the series. The book revolves a production of Amadeus put on by the Causton Amateur Dramatic Society. Of course, Joyce Barnaby is part of the group, and Tom Barnaby gets dragged into helping with scenery. There's only one murder in the book (and TV episode). Esslyn Carmichael, playing Salieri, really does cut his throat with the prop razor. It was supposed to be taped up so Esslyn could safely drag it across his throat, but someone removed the tape. it could have been anyone: his unfaithful wife, her lover, his ex-wife, or any of the others that he bullied or put down on a regular basis. Since Tom Barnaby was in the audience for the show, he jumps right into solving the mystery. I won't give any more details on the plot, but I will say that it closely follows most of the plot points in the TV episode.

I found myself really enjoying the book. Graham did a very nice job with the personalities in the story. I felt that I was really getting a picture in my mind of each of them. The solution to the mystery was not very obvious. The only reason I knew whodunit was because I had watched the episode. I'm not sure if all the clues were there. As I mentioned, I knew who the murderer was so I was looking for the clues to identify the person.

One thing that absolutely shocked me was Gavin Troy. In the book, he's a married redhead! What the heck! That is not Daniel Casey (the actor) by a long shot! However, the personality was similar. I think that Troy in the TV series is more likable than the one in the book. However, it didn't ruin my enjoyment of the book. I had such a fun time reading it that I requested some of the others from the library. Caroline Graham did not write many books, and the ones she did seem to have been turned into episodes on the series. If you love Midsomer Murders, you should definitely give the books a try.

---
Tuesday, June 24, 2014 -- Evening
The Road to Paradise Island by Victoria Holt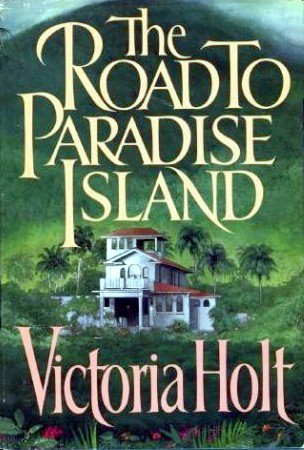 I've read a good number of Victoria Holt books, but when I saw the description of The Road to Paradise Island, I could not recall ever reading the book. So of course, I requested the book from the library. I just finished reading it, and I was very impressed with the story and the characters. The story's first female protagonist is Annalice Mallory. She comes from a long line of map makers, and she and her brother Philip are raised by their grandmother after Annalice's mother died when Annalice was born. Annalice's father left the country and the business to marry again in Denmark. That's the back story, but the story that influences the whole book is when Annalice finds first a grave site for an Ann Alice and then a journal and map in a walled off room. No one realized the room was there until a bad thunderstorm damages the building to show that a room is there. Ann Alice, whose name is so close to Annalice died a hundred years earlier, and Annalice's grandmother had never heard of her. When Annalice finds the journal, she reads it, and the journal takes up almost 100 pages of the book. Ann Alice tells the story of her father and her new stepmother. She also details the eeriness of Desmond Featherstone, a "friend" of her stepmother, who may be the illicit sexual partner of the stepmother. Ann Alice meets a Magnus Perrensen, whom she falls in love with. Magnus had been shipwrecked, and he had a map that showed the location of the island, which was very rich in gold. Ann Alice appears to be murdered by her stepmother and Desmond when Ann Alice finds out about their affair after Ann Alice's father dies.

Annalice is very much moved by the story, and she feels that she is connected to Ann Alice because of the similarity of their names and ages. Philip goes off to Australia in search of the island and disappears. Annalice is obsessed with her brother. In the hopes of getting their minds off of Philip, the grandmother suggests she and Annalice go to a map conference in London, where Annalice meets Raymond. She is shocked when she discovers that his grandfather was Freddie, the son of Ann Alice's stepmother and Desmond. Although Annalice has feelings for Raymond, and he asks her to marry him, she remains under certain. Raymond arranges for Annalice to accompany a family friend, Felicity, to Australia, where Felcity is to marry. Annalice jumps at the chance to find her brother. On the ship to Australia, Annalice meets Milton Harrington, the typical strong, arrogant, male protagonist in a Holt book. Of course, sparks fly between Annalice and Milton. When Felcity's new husband proves to be a brute, Annalice can't leave Felcity to her fate. When Felcity's husband is killed, Annalice and Felcity go to Cariba, the island where Philip was last seen, and where Milton Harrington has his sugar plantation. I've left some of the action out as Annalice goes to Cariba because I think that would spoil the reader's enjoyment of the story.

I know that it seems that I always give the Victoria Holt books a good rating, but this one was particularly enjoyable. I loved all of the characters strewn throughout the book, and I absolutely loved the plot. If you don't enjoy this Holt, you won't enjoy any romantic suspense books!

---
Thursday, June 12, 2014 -- Afternoon
The Chinese Shawl by Patricia Wentworth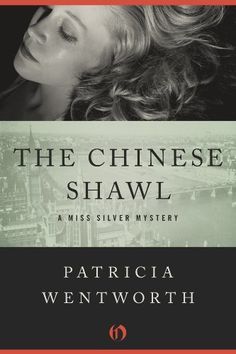 I haven't been reading on my Kindle much lately. Usually, I read it while I'm teaching. So it took me a while to finish The Chinese Shawl by Patricia Wentworth. This book was published in 1943, and the War is present in the book. Blackout curtains are drawn at night, and Casey Desborough, one of the leading characters in the book was a pilot in the war. Laura Fane has just come of age, twenty-one, and she goes to London to talk to her solicitor. She has had an offer from an Aunt Agnes to buy the Priory, which Laura has inherited from her father. It seems that Agnes was once supposed to marry Laura's father, but he dumps Agnes and runs off to marry Laura's mother. Unfortunately, they are both killed in an accident. Agnes had been leasing the Priory for a long time, and now she wants to buy it. While in London, Laura meets her cousin, and Agnes' ward, Tanis Lyle, who is one of those woman who draw men to her like metal to a magnet. One of the men is Casey Desborough, but when Casey meets Laura, it is love at first sight for both of them. Laura is invited to spend the weekend at the Priory with a slew of others, including Casey. Agnes still thinks Casey is Tanis' fiancee, and of course, that puts Laura in a bad light. Is she stealing Casey from Tanis just as her mother stole her father away from Agnes? Of course, Tanis is playing fast and loose with other of the male guests and a married man who lives near the Priory. Then Tanis' ex-husband shows up and threatens her with a gun. When Tanis is murdered, the finger of suspicion points in many directions, especially at Laura and Casey. However, Miss Silver is also a house guest. She used to be a governess, but is now a private detective. Miss Silver and Randal March, her former charge and now Chief Constable, work together to figure out who murdered Tanis Lyle.

Although it took me a while to finish this book, it was not because I didn't enjoy the book. I thought this was one of the better Miss Silver books that I've read. Miss Silver is like a more active Miss Marple. They both knit, and they both have a keen sense of observation. One of the things that I like about the Miss Silver mysteries is the romantic overtones to the story. You know that there will be at least one couple in love, who has to fight through the stigma of accusation. The puzzle in The Chinese Shawl is a good one. I started to figure out the twist around the middle of the book, but that didn't ruin my enjoyment of the story. I have a few other Miss Silver mysteries on my Kindle that I hope to read soon. If you haven't read any of the Miss Silver books, you should definitely remedy the situation!

---
Wednesday, June 11, 2014 -- Afternoon
One, Two, Buckle My Shoe by Agatha Christie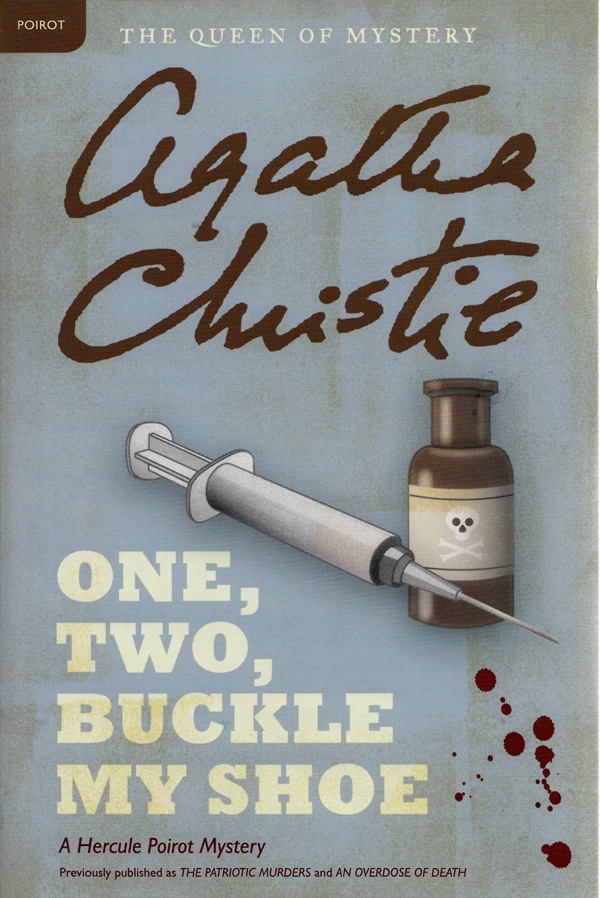 One, Two, Buckle My Shoe is an Hercule Poirot book from 1940. Originally, it was called The Patriotic Murders when it was released in the US, and the title was later changed to An Overdose of Death. That's the tricky thing about Christie's novels. You may think you are getting a new book, when you are actually getting one that you already read. IN One, Two, Buckle My Shoe, Poirot has his regularly scheduled dental appointment with his dentist, Mr. Morley. Later that day, Morley is found dead in his office with a gun shot to the head. It looks like suicide, but Poirot cannot believe it because Morley seemed the same as usual. There was no depression or sadness in the dentist's demeanor. Instead, Poirot wonders if it was murder, but then why was the dentist murdered? When a patient, Mr. Amberiotis, who saw the dentist just a few hours later than Poirot, turns up dead from an overdose of anesthetic, Inspector Japp thinks that Morley committed suicide because of the accidental overdoes. However, Poirot isn't satisfied. Could the target have been financier, Alistair Blunt, who is so very important to Britain in the early days of World War II? Could Mabelle Sainsbury Seale have seen something? She had originally caught Poirot's eye when a buckle fell off of her new shoe as she could out of the car in front of the dentist. Could it be Howard Raikes, boyfriend of Mr. Blunt's niece, Jane Olivera? Or could it be the disreputable boyfriend, Frank Cater, of Gladys, Morley's dental assistant? When Mr. Barnes, another patient of Morley and a former member of the Home Office, meets with Poirot, and he mentions that he thinks there is a plot afoot. Something seems wrong to Barnes, and Poirot agrees that something is just not right about the whole situation. When Mabelle Sainsbury Seale turns up missing and then is found dead with her face smashed in, even Japp starts to get suspicious. However, it isn't until two attempts are made on Blunt's life, and the gun in the one of the attempts turns out to be a twin on the gun that killed Morley that Japp agrees that Morley did not commit suicide. Can Poirot connect all the disjointed pieces of this puzzle?

One, Two, Buckle My Shoe reminds me very much of the espionage stories that Christie writes. However, at times, Christie seems to loose her path in those books, and in this novel in particular, the plot did not seem as tight as it could be. At times, things seemed to drag, and I was hoping that something would happen to help me make sense of the mystery. However, when Poirot unravels the mystery at the end, I had to admit that it was very ingenious. I'm not a huge fan of Poirot's, and this is one of my least favorite of his mysteries. Of course, with that said, I would prefer even the weakest of the Christies over other books!

As with a few other of her stories, Christie uses a nursery rhyme to title the chapters and tie into the plot. I marvel at the creativity of Christie in coming up with ways to present her mysteries. I think my favorites of the nursery rhyme mysteries are A Pocket Full of Rye and Ten Little Indians.

---
Tuesday, June 3, 2014 -- Evening
The Future of the Mind by Michio Kaku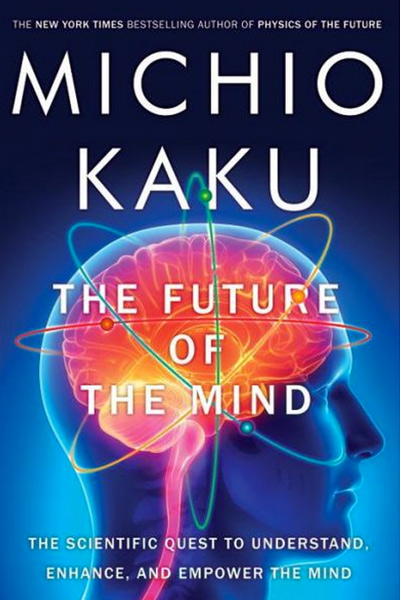 I love science, and although it seems that I read a ton of fiction, I also sprinkle in some science. Earlier this year, Michio Kaku came out with his latest popular science book, The Future of the Mind: The Scientific Quest to Understand, Enhance, and Empower the Mind. Although Kaku is a physicist, he takes an interesting look at the mind and recent research and development on the mind. Some of the topics that Kaku discusses that I found most interesting:

Consciousness: what is in and how do we understand it
Telepathy: is is possible to read the mind
Telekinesis: can the mind move objects (in this case, Kaku looks at cases where people are paralyzed and can use the mind to move the body with technology)
Memories: what are the problems of memory lose and retention (looking at amnesia, Alzheimer's, and photographic memory)
Intelligence: how it can be defined, tested, and possibly increased
Dreams: how they work and what they mean
Artificial intelligence: can we really build computers with intelligence, and what is the future for robots
Alien minds: what would alien life be like, how would they think, and why would they want to have anything to do with us
Overall, I found the book to be an enjoyable read. I like the way Kaku tells the story in the various chapters. He has a varied life experience, and he's talked to a large number of experts in the field of the mind. As a technical writing instructor, I give Kaku kudos. He knows his audience. That means he knows what sorts of thing someone reading a popular science book on the brain/mind would want to know. The language that he uses is accessible to a less scientifically trained audience. Kaku gives the reader enough information to inform and entertain. I found myself wanting to read some more books on the specific topics that intrigued me. Michio Kaku is greatly entertaining science writer! You should read this book so you can learn more about how your brain works.

---
Tuesday, May 27, 2014 -- Evening
The Demon Lover by Victoria Holt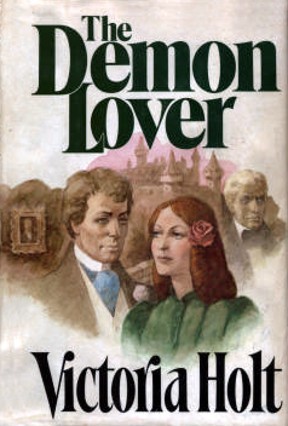 I made a switch of genres, and just finished reading The Demon Lover by Victoria Holt. I don't remember ever reading this book in my younger days, and I'm sure that if I did, I would have remembered. The heroine in this book is Kate Collison. She comes from a long line of renown portrait painter, specializing in miniatures. Kate's father is Kendall, and he fallows the family tradition of having the KC initials when he names Kate. As Kate becomes a young adult, she learns that her father is losing his eyesight to cataracts. The time is around 1865, and cataract surgery at that point is not every advanced at all. Pretty much, Kate's father is doomed to blindness. This is a problem for someone who paints miniatures, but Kate is equally as good at painting, and her father hatches a scheme for Kate to accompany him when he goes to paint Baron Rollo de Centerville. Kate will sit in on the the Baron's sittings, and then she will try to work on the miniature after the sitting. Again, since this is 1865, the Collisons go to France to stay with the Baron to do the painting. Of course, Kate develops some fondness for the Baron's poor relation, Bertrand de Mortemer. The Baron figures out that Kate has been doing the painting, and even though he is a reprehensible person, he starts to promote Kate and her painting ability. Kate goes to Paris to paint the Baron's young, virginal fiancee, Marie-Claude. Of course, Kate feels sorry for the girl being engaged to such a monster. Meanwhile Bertrand fights with the Baron because Bertrand refuses to marry the Baron's mistress, Nicole. In retaliation, the Baron kidnaps Kate and rapes her. Then he brings Bertrand to the house where Kate is held captive to show that the Baron had sex with her. The relationship between Kate and Bertrand ends, and Kate finds herself pregnant. Nicole, the Baron's former mistress befriends Kate, and provides a house for Kate to use as a home and a studio. Kate's father is back in England, going blind, and marrying a distant relative. Paris around 1870 is a dangerous place, and Nicole is killed in the Prussian bombardment of Paris during the Franco Prussian war in 1870/1871. Kate, her son, Kendall, and the Baron become trapped in Paris during the siege. Eventually, they get out of Paris and return to the Baron's castle in Centerville, where the Baron's wife, Marie-Claude, is with a child she conceived with someone else prior to her wedding to the Baron. Of course, now the Baron realizes that he loves Kate, and she is starting to think she loves him. When Marie-Claude dies, Kate suspects the Baron had a hand in it.

Now the above description may sound confusing, but Holt tells the story well, and I found myself captivated with the story and unable to put the book down. The one huge complaint is one that any woman would have reading the book. The Baron rapes Kate, and although he did it for reprehensible reasons, to ruin Bertrand's relationship, he late couches the event in terms of love. Even Kate, who at first is horrified, starts to have feelings of lust as she recounts the story later. She admits that she may want to go back to being a willing captive of the Baron's. Throughout, even when Kate abhors the Baron and his act, Nicole tries to say that the Baron isn't such a bad person. That really irks me, and I think it really left a bad taste in my mouth at the end of the book when Kate started to change her tune about the Baron. So I am really conflicted about this one. I really was captivated by the story, and It was one of the better Victoria Holt books that I read. I think that's the negative rap on some of the romance books. Rape and consensual sex are confused in these books and it's not a positive image for women.

---
Thursday, May 22, 2014 -- Evening
The Revenge of the Wizard's Ghost by John Bellairs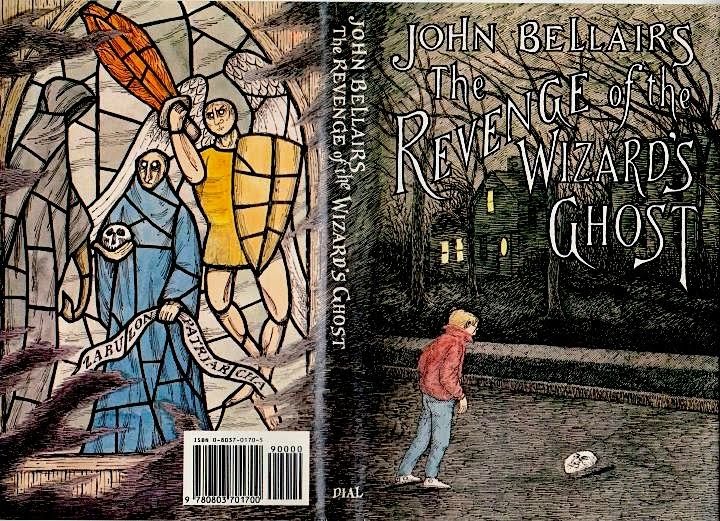 Somehow I got the Johnny Dixon books out of order, so I read The Eyes of the Killer Robot before the next book in the series, which was The Revenge of the Wizard's Ghost. This book picks up shortly after the The Spell of the Sorcerer's Skull. Warren Windrow, the evil sorcerer who was trying to kill Professor Childermass, comes back as a ghost who possesses Johnny Dixon. The ghost threatens to kill Johnny to get back at them all for thwarting his efforts in the previous book. So it is up to Professor Childermass and Fergie to exorcise the evil spirit from Johnny. Professor Coote, a friend of Professor Childermass who specializes in magic and folklore, does some research on the Windrow family, and figures out that they must have had the Urim and Thummim, which are highly religious objects from ancient Jewish history. Professor Coote believes that the objects are hidden away in a tomb for Ensign French, who married into the Windrow family, and the tomb is at the old Windrow estate.

This book is shorter than the others and a very quick read. Johnny Dixon really doesn't feature in the book, other than as a possessed body lying in the hospital at the brink of death. Fergie, after all the evil and magical things that have happened to him, is a skeptic, and just thinks that there is nothing mysterious or evil going on. Both Johnny's grandparents and Fergie's parents seem cool with their children hanging out with a nutty old professor, and Fergie's parents let him go on an weekend excursion up the Hudson River with the Professor. Of course, there are lots of chills, and the evil spirit of Warren Windrow is exorcised. As with the other books, Edward Gorey did the cover art, which you can see here. Gorey's art does a great job of capturing the spirit of the story. So far, although this book has some weak spots, I found it the most enjoyable of the Johnny Dixons that I have read.

---
Tuesday, May 20, 2014 -- Evening
The Eyes of the Killer Robot by John Bellairs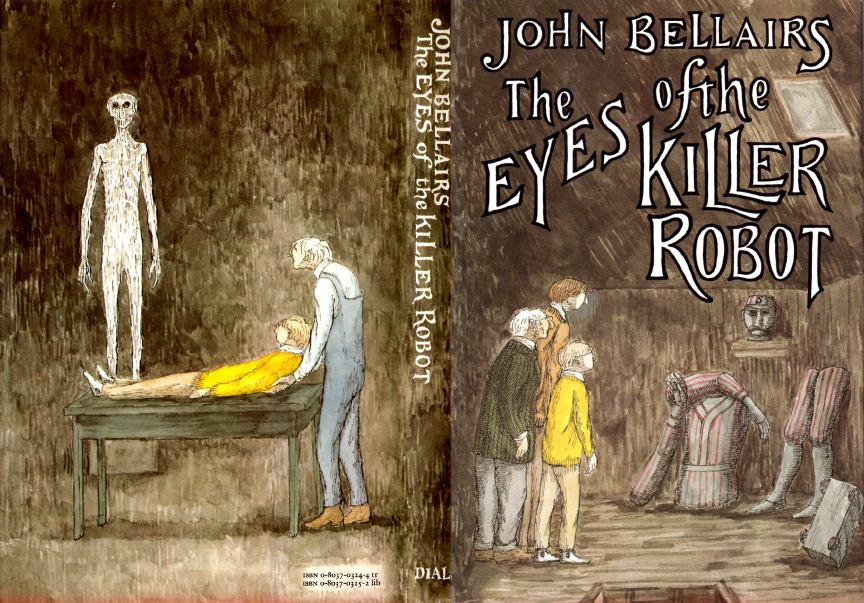 On to another Johnny Dixon mystery, The Eyes of the Killer Robot by John Bellairs. Johnny is again in danger, this time from a mad scientist who has built a killer robot. Well, truth be told, the robot wasn't intended to be a killer, but to be a baseball pitching whiz. However, fifty years early, when the scientist, Evaristus Sloane brought the robot to the Duston Height Spiders, Johnny's grandfather was a nay-sayer. When Sloane leaves, he threatens to get back at Johnny's grandfather. A ghost tries to contact Johnny, and leaves messages for him about the ghost's eyes being taken. The ghost also leaves a snuff box with a pawn ticket in it that leads Johnny, the professor, and Fergie to a cane with a hidden sword. By the end of the story, the cane holds an important role in the battle against evil when Sloane returns with his robot to claim a $10,000 prize for striking out a famous Yankee hitter.

As I mentioned, the Johnny Dixon books are very similar in plot. Johnny finds himself in danger of losing his life to evil forces. The professor has to battle to free Johnny from the evil. In The Eyes of the Killer Robot, Johnny is physically kidnapped instead of being spiritually hijacked, and this time the threat is much more dangerous. Not only is the plot good, but the cover art by Edward Gorey is amazing. It really captures the thrill of the moments when Johnny, Fergie, and the professor find the pitching robot, and the moment when the evil Evaristus Sloane tries to steal Johnny's eyes for a new robot. The Johnny Dixon books are good summer vacation reading for the kids and for the adults with a child's enthusiasm.

---
Friday, May 16, 2014 -- Afternoon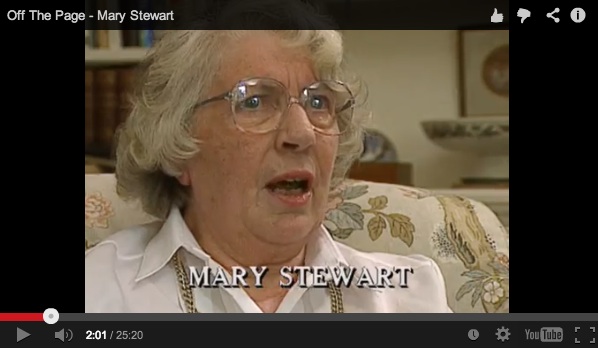 Mary Stewart
I was sad to hear that Mary Stewart died earlier this week on May 9. She was 97 years old, and she was one of my favorite romantic suspense authors. If you haven't read her books, you should give them a try. Some of my favorites were The Moon Spinners, The Ivy Tree, Wildfire at Midnight, and My Brother, Michael. I first started reading Mary Stewart after watching Hayley Mills in The Moon Spinners. The movie is not like the book, but it got me reading and enjoying Mary Stewart and the romantic suspense genre, in general. Mary Stewart also wrote the Merlin trilogy: The Crystal Cave, The Hollow Hills, and The Last Enchantment. I haven't read those books, but I will have to try to wedge them in. I found a video Interview with Mary Stewart on YouTube that gave some nice insight into Stewart. I must admit I was surprised at how Mary Stewart looked in the video because the only picture I ever saw was the one on her books from the 1950s. She looks just like someone's lovable grandmother. RIP, Mary Stewart!

---
Thursday, May 15, 2014 -- Evening
The Spell of the Sorcerer's Skull by John Bellairs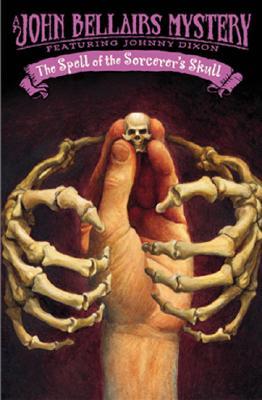 Onto the third Johnny Dixon mystery, The Spell of the Sorcerer's Skull by John Bellairs. One of the things that I find interesting is that so far, none of the Johnny Dixon mysteries refer back to previous evil adventures that Johnny has had. It's amazing to me that the kid doesn't really seem to learn from his past errors of judgment. He just keeps on repeating the errors. In The Spell of the Sorcerer's Skull, Johnny and Professor Childermass go on a weekend trip to view the New Hampshire countryside. The professor's car breaks down, and he and Johnny stay in a nice inn. When the inn owner finds out the professor's name, he says that the inn has a haunted clock from the Childermass family. It seems the clock was stolen from the professor's family home, and it was left on the inn porch. The professor's dad made it in memory of his great-uncle who mysteriously died. The clock has a detailed reproduction of the room where the great-uncle died. The inn owner won't say how the clock is haunted,but Johnny discovers the secret when he wakes up in the middle of the night and is drawn to the clock. As Johnny opens the door to the room, it looks as if he is in the room, and he sees the great-uncle getting suffocated by a dark shape. When Johnny tries to leave the room, a small skull in the house rolls out, and Johnny picks it up. Of course as soon as he does it, he finds that he is under the skull's spell. He puts the skull in his pocket and takes it home, and the skull seems to be able to prevent Johnny from telling anyone what he saw in the room with the clock.

That's when things heat up at the professor's house. A mysterious Jack-O-Lantern appears in an upper window, and then the professor disappears. Johnny sees an image of the professor in a mirror asking for help, but of course, the image vanishes. Johnny tries to get his best pal, Fergie, to believe him, but Fergie wants proof, which Johnny can't provide. Johnny finds an unexpected ally in local priest, Father Higgins, who was also a great friend of the professor. Johnny spilled his guts to Father Higgins, except for the vision of the great-uncle's death and Johnny keeping the small skull. Father Higgins suggests a ritual request to Saint Anthony, saint of lost things, to find out where the professor is. Surprises of surprises, when three days after the ceremony, Father Higgins and Johnny receive an answer that sends them to an island in Maine. The interesting thing is that when Father Higgins checked on the clock, he found out that it was sold to someone on the island. Father Higgins travels to Maine with Johnny and Fergie to find and rescue the professor.

Even though Johnny doesn't seem to learn from past mistakes, I have to admit that I found The Spell of the Sorcerer's Skull to be a very enjoyable and thrilling read. It has just enough spookiness to keep the reader on the edge of the seat. An interesting commentary on the time. The book is set in 1952. When Father Higgins goes to the Gramma and Granpa to ask if Johnny can go away with him for the weekend, they are agreeable and honored that the Father would take Johnny. Now in the light of all the Catholic priest abuse scandals, I don't think parents would be willing to allow a child to go away for the weekend with a priest.

Edward Gorey did the frontispiece for the book. It's a drawing of the Childermass clock. He seems to have had a good working relationship with Bellairs. I would have liked to have seen more illustrations throughout the book. Drawings of the skull and other eerie events would have added to the tension in my opinion. The Spell of the Sorcerer's Skull is an good entry in the Johnny Dixon mysteries. What are you waiting for? Give one of them a try.

---
Wednesday, May 7, 2014 -- Evening
The Mummy, the Will, and the Crypt by John Bellairs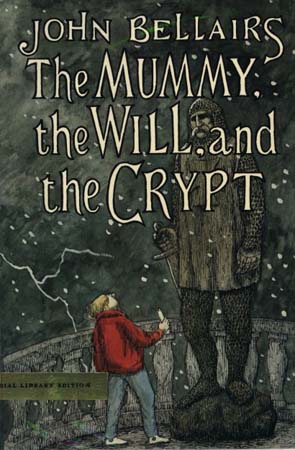 Book number two in the Johnny Dixon series is The Mummy, the Will, and the Crypt. Overall, the book has a darkness about it. Johnny's Gramma has a brain tumor, and this illness really freaks Johnny out because he is afraid that she will die. Although the professor recognizes the symptoms of the brain tumor and gets Gramma to the hospital, she still needs surgery and a long recovery period that might not be successful. More disaster is on the way when Johnny's father, flying a fighter jet in the Korean War, goes missing after his plane is shot down. Johnny fears that his father is dead, that Gramma will die, and that Grampa will waste away without Gramma. Of course, the Professor will not want to adopt him, so Johnny gets himself in a gloomy frame of mind. That's why he goes in search of the Glomus Will. At the start of the book, the Professor and Johnny went on a road trip and visited the Glomus mansion. Johnny finds out about the lost will of H. Bagwell Glomus. Glomus had left behind some clues to the location of the will when he died, but no one had been able to figure it out. There was a reward of $10,000 if someone did find the will, and because Johnny decides that his Gramma is going to have a tumor relapse, he decides to find the will and get the money to hire the best brain surgeon for Gramma. Johnny runs away from home, with the threat of the winter's worse blizzard on the way, and makes his way to one of the houses that Glomus owned near a Boy Scout camp where Johnny had stayed. While Johnny was at the Boy Scout camp, he met up with another Duston Heights boy named Byron Ferguson, aka Fergie. When Johnny goes missing, the Professor gets Fergie, and they go off to find Johnny. Before the story is resolved and the will found, Johnny, the Professor, and Fergie have to ward off an evil witch. All is resolved by the end of the book.

The Mummy, the Will, and the Crypt was a very enjoyable read. The magic elements were well-done: scary and not overdone. The puzzle of the will was thorny, and obvious, once it was explained. I still like Johnny. As Bellairs says in the book, "Johnny was a pretty strong boy, in spite of his timidity." Johnny has determination, and although he is not the best athlete, he never comes across as wimpy as Lewis Barnavelt. I love the addition of Fergie. He's smart just like Johnny, and they get into a trivia dual when they first meet. Fergie is also athletic and brave. I can't wait for the further adventures of Johnny, Fergie, and Professor Childermass.

Edward Gorey did a frontispiece and maps for the book. The Johnny Dixon series doesn't have many illustrations, but Gorey did a great job of conveying mood and plot through the few illustrations.

---
Wednesday, May 7, 2014 -- Evening
The Curse of the Blue Figurine by John Bellairs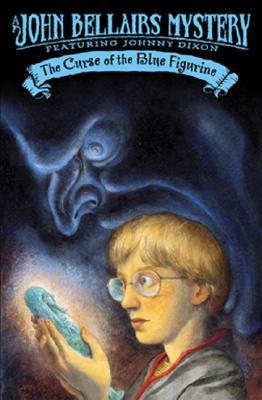 As you have probably noticed, I am on a John Bellairs readathon. After reading a few Lewis Barnavelts, I thought that I should make a switch. If you look back at some of my comments about Lewis, his wishy-washy, crybaby antics can get on my nerves. I hope that Lewis grows a pair and starts to stand up for himself a bit more. A good change seemed to be the Johnny Dixon mysteries, and the first in that series is The Curse of the Blue Figurine. As with Lewis, Johnny is sort of an orphan. I say sort of because Johnny's mom recently died from cancer, and his father has gone off to be a fighter pilot in the Korean War. As Bellairs comments at the beginning of the story, Johnny's dad could have had a compassionate release from the war, but he really wanted to fly a fighter jet. Well, that's just wonderful for him, but how about his poor son? So that part obviously rubbed me the wrong way.

Johnny goes off to live with his grandparents, and he unfortunately displays some of the characteristics of Lewis. He is new to the town and school (a Catholic school), and therefore, he has no friends. Johnny also becomes a target for the local bully, Eddie Tompke. Johnny does make friends with his grandparents friend and across the street neighbor, Professor Roderick Childermass. The professor is a learned man, and he befriends Johnny, playing chess with him and plying him with chocolate cake. The professor also tells the tale of Father Baart, local parson who supposedly was given a magic talisman in the late 1800s. Father Baart was rumored to have done some sort of magic to result in the deaths of two local villagers that he hated. Then Father Baart disappeared, never to be seen again. Every now and again, someone sees Father Baart's ghost, but there's no real clue as to what happened to Father Baart. One day, when Johnny was trying to avoid Eddie, he ran into the church attached to Johnny's school. While inside, Johnny explores the basement and finds a hollowed out book with a blue ushabti, an Egyptian statue included in the tombs of the wealthy. The ushabti would perform work for the deceased in the underworld. A note warning that the figure must not be removed from the church is also included. Johnny, of course, takes the book and the ushabti home, and that's when the adventure starts to begin. Johnny asks the professor if the ushabti is real, and if it might be magical. The professor sees that it is just an old souvenir from Cairo, Illinois. However, one evening while Johnny is hanging out in the church because he felt something pulling him there, Johnny meets Mr. Beard. Mr. Beard gives Johnny a ring to wear and tells Johnny to say a daily prayer over the ushabti. The next thing you know, Johnny is being controlled by the ring and scares off Eddie with a gust of strong wind. When Johnny finally realizes that Mr. Beard is really the evil Father Baart in disguise, and that Johnny's soul is at stake, Johnny feels helpless. The professor tries to help, but Johnny won't say anything until he is taken to a psychiatrist who uses Sodium Pentothal to get the truth from Johnny. There is a terrifying showdown between Johnny, the professor, and Father Baard, and I won't ruin the story by saying how that turns out.

Maybe because I so recently finished The Figure in the Shadows, I recognized all the similarities. Both Lewis and Johnny have problems with bullies. Both wind up wearing something (Lewis wears a necklace, and Johnny wear a ring) that negatively controls their behavior and that fights removal. Both of the evil characters are nebulous, hovering, dark forms. Even with all the similarities, I found myself liking Johnny. Also, the professor is a much more realistic and interesting character than Uncle Jonathan. The Figure in the Shadows came first in 1975, while The Curse of the Blue Figurine was published in 1983. The other books in the Johnny Dixon series sound fun, so I'll continue reading them.

---
Monday, May 5, 2014 -- Evening
The Letter, the Witch, and the Ring by John Bellairs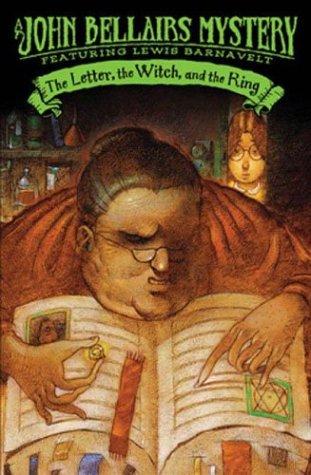 The Letter, the Witch, and the Ring by John Bellairs is the third book in the Lewis Barnavelt trilogy. At least, the three books were considered a trilogy at first. At any rate, they are the three books in The Best of John Bellairs compilation. Although this is book is part of the Lewis Barnavelt series, the book features Rose Rita and Mrs. Zimmermann. Lewis is off at Boy Scout Camp for the summer. He wants to be able to play more sports with Rose Rita and not be such a loser. Rose Rita, in the meantime, is having teenage woes. Rose Rita is 13, and she's starting to realize that things are going to change in life. At least, her mom is constantly reminding her of it. With the teenage years comes going to dances, dressing up, and being interested in boys. The way Rose Rita's mom talks, Lewis will become Rose Rita's boyfriend. The problem? Rose Rita really doesn't want things to change. She wants everything to stay as it is. She just wants to be friends with Lewis, and she doesn't want to go to dances and be all girly. Well, Mrs. Zimmermann takes pity on Rose Rita, and she invites Rose Rita on a trip to Mrs. Zimmermann's uncle's farm. Mrs. Zimmermann had received a letter from her uncle talking about a magic ring he found, and in the letter, the uncle says that he's probably going to die soon due to an illness he has. Well, the uncle, Oley, has died. Mrs. Zimmermann plans on going to the farm to settle things, then taking a road trip. Mrs. Zimmermann invites Rose Rita to join her. On the way to the farm, Mrs. Zimmermann's car ran out of gas, and she and Rose Rita walk to the grocery store near the farm to get gas. Well, the store is run by a Mrs. Gert Biggers, an ugly, old woman who hates Mrs. Zimmermann because Mrs. Biggers blames Mrs. Zimmermann for stealing Mrs. Biggers' boyfriend when they were young adults.

At the farm, there is no magic ring, but there are signs that the house was broken into and searched. Mrs. Zimmermann and Rose Rita continue on their road trip, but things start going horribly wrong. Mrs. Zimmermann lost her magical wand in The Figure in the Shadows, and now she seems to be a victim of black magic. Mrs. Zimmermann almost dies of mysterious stomach pains, and Rose Rita crashed the car, Bessie, while trying to drive Mrs. Zimmermann to a doctor. Mrs. Zimmermann and Rose Rita return to the farm after Mrs. Zimmermann starts to realize that someone is trying to use black magic against her. Back at the farm, Mrs. Zimmermann mysteriously vanishes, and it's up to Rose Rita to solve the mystery of Mrs. Zimmermann's disappearance. Will Rose Rita save Mrs. Zimmermann?

I could feel a strong connection to Rose Rita. Growing up is a hard thing to do, especially when you realize that the growing up might involve some major changes on your part. It's even harder when those changes are really not wanted, such as Rose Rita wanting to continue to be a tomboy instead of a girly girl. The situation became quite tense, and there were some especially harrowing moments towards the end of the book. Will Rose Rita change, and will she be happy with the change? Who knows? As Mrs. Zimmermann says Rose Rita will just have to wait and see how her life turns out. That's all any of us can do.

---
Tuesday, April 29, 2014 -- Afternoon
The Figure in the Shadows by John Bellairs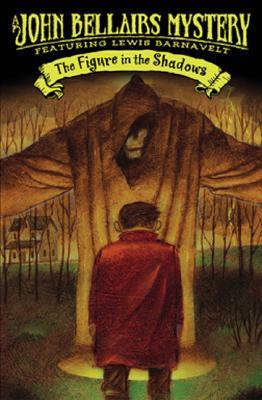 The John Bellairs gothic horror books are not very lengthy. I started The Figure in the Shadows yesterday and finished it today. This book is the second in the Lewis Barnavelt books, and it continues with the same characters: Lewis, Uncle Jonathan, and Mrs. Zimmermann. Rose Rita is introduced as Lewis' best friend. Now, Rose Rita is a girl after my own heart. She's a tomboy who doesn't take any sass from any boy. Lewis featured even more in this book than in The House with a Clock in Its Walls. At the beginning of The Figure in the Shadows, Lewis is crying over being bullied by the other kids. It's pretty much a repeat of the bullying about Lewis being fat and lacking athletic ability. To cheer him up, Uncle Jonathan lets the gang (him. Lewis, Mrs. Zimmermann, and Rose Rita) look through Uncle Jonathan's grandfather's trunk. Lewis finds an amulet, which he thinks is magical, but Mrs. Zimmermann tests it and says it is non-magical. Lewis thinks it is, and he finds a book Mrs. Zimmermann wrote about amulets, and he performs a test to see if it s rare, magical amulet. It turns out that the amulet is one of those rare, magical amulets that doesn't seem seem magical with normal tests. Lewis starts wearing it around his neck, and he finds that the amulet seems to be affecting him. For one thing, Lewis starts receiving weird, disappearing postcards and letters that say Venio, Latin for "I'm coming." Who is coming? Is it something evil? Lewis finds that he has some ability to stand up to local bully, Woody, punching Woody in the nose. The problem is that Lewis did not want to punch Woody, but something, the amulet, maybe, seemed to control his fist and make him punch Woody. Lewis becomes so frightened that he finally tells Rose Rita what has been going on with the amulet, and they fight when she tries to get it off of him. The problem is what to do with the amulet, and who is coming?

The Figure in the Shadows is an enjoyable book. The tension builds nicely and draws the reader into the action. The only thing that annoyed me is Lewis' extreme crybaby routine. I found myself wishing that Uncle Jonathan would tell Lewis to stop being such a wuss and stand up for himself. Rose Rita does effectively stand up for herself, and the contrast between her and wussy Lewis is striking. On to The Letter, the Witch, and the Ring. That book will feature Rose Rita, and I am looking forward to it.

---
Monday, April 28, 2014 -- Afternoon
The House with a Clock in Its Walls by John Bellairs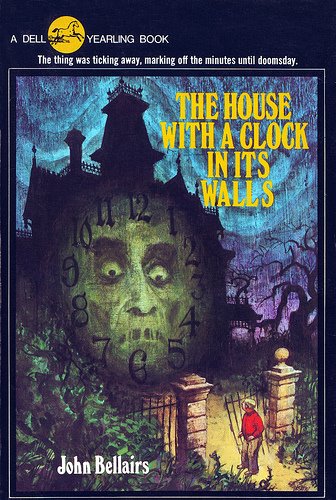 When I was a child, one of my favorite authors was Edward Eager. I read his few books over and over again. I loved the magic and wonder, and I was always on the lookout for anything similar. However, somehow, I missed John Bellairs. I was surfing the Internet recent and came across something talking about his books. I did some investigation, and I found that his books, especially the Lewis Barnavelt books, dealt with magic and mystery. Of course, I had to check it out, and got The Best of John Bellairs, which has the first three novels in the Lewis Barnavelt series. I just finished the first book, The House with a Clock in Its Walls.

Lewis Barnavelt is a 10-year-old orphan who goes to live with his Uncle Jonathan after the death of Lewis' parents. Uncle Jonathan lives in a interesting old house in New Zebedee, Michigan, and he's a wizard. Uncle Jonathan's next door name is Mrs. Zimmermann, who seems to barge into the house at any time. Oh, Mrs. Zimmermann is a witch. Uncle Jonathan acts weird at times, wandering around the house, and listening at the walls. Lewis spies on his uncle, and finally, he learns that it's because there is the sound a ticking clock in the house that is worrying Uncle Jonathan. Yep, it's the clock in the title of the first book The House with a Clock in Its Walls. Uncle Jonathan fears that it might be some evil magic from the former owner, Isaac Izard. Uncle Jonathan bought the house after Izard's death.

Lewis makes attempts to fit into his new home and with the new school kids. However Lewis is on the tubby side, and he's not very good at sports. The kids all make fun of him, but Lewis thinks he made a friend in Tarby, a popular, athletic boy. But Tarby starts to join in on the mocking. Lewis decides to wow Tarby with stories about Uncle Jonathan's wizard abilities by eclipsing the moon. Tarby seems impressed, but then Tarby says that Uncle Jonathan must have hypnotized him. Lewis then says he can bring a dead person back to life. Well, Tarby calls Lewis on it, and the pair meet up in the cemetery. Unfortunately, Lewis performs some magic from his uncle's books, and he appears to raise Isaac Izard's wife, Selenna. Everything heats up then. An evil presence (could it be the dead Mrs. Izard) moves into the house across the street, Tarby is more mean than ever to Lewis, and Uncle Jonathan is getting more antsy about the ticking clock in the walls. is it a Dooms Day machine? Can Lewis, Uncle Jonathan, and Mrs. Zimmermann return Mrs. Izard to the dead and stop the ticking clock?

The story was a quick read, and I found myself rooting for Lewis. The action moved fast and furious at the end, and I just know that there will be more exciting adventures for Lewis and company. The most interesting thing is that Edward Gorey illustrated the book, and his illustrations really add to the eerie atmosphere. Because I am such a read-aholic, I got several John Bellairs books from the library. Now, I'm hoping for a nice, good thunderstorm tonight!

---
Thursday, April 24, 2014 -- Afternoon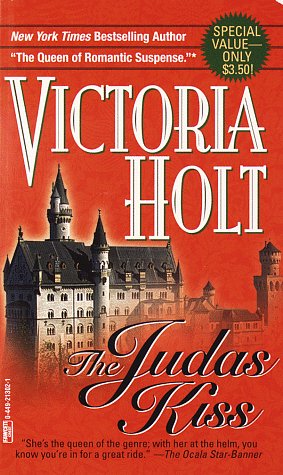 The Judas Kiss by Victoria Holt
When you are in the mood for romantic suspense, you can't go wrong with Victoria Holt. I had just finished one book, and I was eager for more. You know how you get that feeling that you don't want the book to end. Well, in the case of folks who continue to publish several books in a genre, you have that opportunity. This time, I read The Judas Kiss. I don't remember reading it before, so I knew nothing of the plot.

The heroine of The Judas Kiss is Philippa, aka Pippa, Ewell, the younger sister of Francine, who is a gorgeous and charming young woman. Unfortunately, the Ewell sisters lose both parents within a short time of each other. The father had run away to the island of Calypse to be an artist and marry the woman he loved, leaving behind a repressive live on his father's country estate. With their parents dead, Francine and Pippa's grandfather brings them back to England to raise them. The grandfather is an malicious person, hiding mean spiritness behind religious zeal. He makes the girls' life miserable, and the only good thing is that they have each other and their kindly grandmother. When foreigners from the Bavarian Alps visit the next-door estate, Francine and Pippa sneak in with the aid of their maid and the foreigner's houseboy. When Francine catches the eye of Baron Rudolph, heir to the kingdom of Bruxenstein, who is visiting, it seems like an answer to a prayer. The grandfather wants Francine to marry Cousin Arthur, who is just like the grandfather. Well, Francine runs off with the Baron, and they marry. Francine keeps Pippa updated with a few letters, and then Pippa finds out that her sister has been murdered in a hunting lodge with Rudolph. The newspapers refer to Francine as Rudolph's mistress, and they don't mention the little boy that Francine told Pippa she had. Well, Pippa is shocked. As she goes every day to the empty house where the foreigners lived, she meets a handsome man that she thinks is an equerry to Count who owns the house. They go to look at the church registry that Pippa had seen with Francine's wedding signature, but it no longer exists. Thinking that Conrad, the equerry will marry her, Pippa sleeps with him. She can't believe it when he says that he can't marry her, but he can make Pippa his mistress. Pippa couldn't bring herself to leave with him.Then when the grandfather tries to get Pippa to marry Cousin Arthur, Pippa rebels. The grandfather dies in a fire, and some think that Pippa killed him because he was going to throw Pippa out of the house. However, the fire is deemed an accident, and Pippa, with inheritance money from her grandmother's estate, travels to the Bavarian Alps to find out what happened to Francine. There she finds that Conrad is really Baron Signmund, next in line to rule the kingdom of Bruxenstein. Pippa is in Bruxenstein under an assumed name, and acting as a companion to Countess Freya, who is supposed to marry Sigmund/Conrad.

As you can tell, there is a lot of intrigue going on and a rather complex plot. Does Pippa figure out who killed Francine and Rudolph? Can she prove the pair was married and had a child? If she can, she might be able to free Sigmund/Conrad from his marital obligation to Freya. Of course, all is resolved in the end. I grew to like Pippa. She gave in to human emotion and lust, and she had a relationship with Conrad, even though she knew it wasn't really right, and that Freya, whom she grew to love, would be hurt.

All in all, The Judas Kiss was another satisfying read. I found myself engrossed in the mystery, and I have to admit that I didn't figure out who the evil person was in the plot until the very end. I do have to recommend The Judas Kiss, and I will be adding it to my favorite Victoria Holt books.

---
Wednesday, April 16, 2014 -- Evening
The Devil on Horseback by Victoria Holt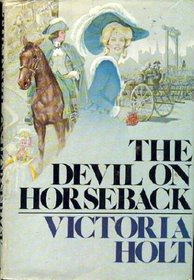 I've mentioned before that Victoria Holt was one of my favorite authors. I discovered her when I was a teen, and I devoured her romantic suspense books. I've read most of the Victoria Holt books and a good number of the Philippa Carr, her other pseudonym. One of my favorite of the Victoria Holt books was The Devil on Horseback. When you read something as a teen, and then reread it as an older adult, you sometimes wonder what you ever saw in the book you loved. So I have been hesitant to read some of favorites over again.

This time, I saw The Devil on Horseback on the local library shelf, and I decided that read it again. The heroine of the story is Minella Maddox, an English girl who helps her mother run a girls' school in England. The local lord of the Derringham Manor sends his daughters to the school, and he encourages his friends to do the same. When the Comte Fontaine Delibes comes with his wife and daughter to the Derringham estate, he sends his daughter, Margot, to the school. Minella, or Minelle as Margot calls her, and Margot become friends. When Minella goes to the manor house to take tea with the Derringham girls and Margot, Minella wanders into the Comte's bedroom as she secretly wanders during a game of hide and seek. The Comte is instantly fascinated. Also fascinated by Minella is the only Derringham son, Joel. Minella's mother dies, Joel is sent to Europe before he could commit to a relationship with Minella, and Margot runs off with a stable boy. Margot is brought back, but is found to be pregnant. The Comte has an idea of how to solve the problem of Margot and how to get closer to Minella. Minella will act as a cousin to Margot. The pair would go off to a distant town in France for Margot to have her baby, and then Minella would go with Margot as a companion and cousin, back to the Comte's estate in France. Of course, Minella has been raised to behave properly, and she does not succumb to the Comte's overtures. Intrigue follows Minella as the Comte's past peccadillos are revealed to her. He has an invalid wife, an illegitimate son (Etienne), Etienne's mother (the former mistress), and the surviving twin of a child that the Comte killed in a riding accident (Leon). The Comte's wife dies from an overdose; was it suicide or murder? Margot is blackmailed over her illegitimate child. Minella is a target of murder attempts, and the whole of France is an an uproar with the approach of the French Revolution.

The story is well-written, and I found myself on the edge of my seat for the last quarter or so of the book. There were a variety of twists to the plot, and it looked like things would end poorly for the Comte. He's the Devil on Horseback of the title. The book has the perfect blend of romance and suspense. I found myself becoming very attached to the characters, and I was anxious that all would turn out well for them. The Devil on Horseback lived up to my fond memories, and I would have to say that it is still one of my favorite of the Holt books.

---
Wednesday, April 9. 2014 -- Evening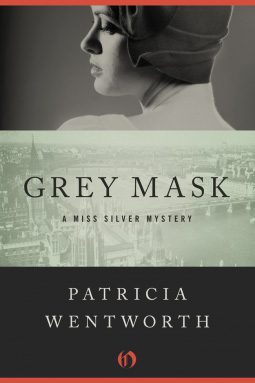 Grey Mask by Patricia Wentworth
I read both print and Kindle books, and Grey Mask by Patricia Wentworth was my recent Kindle read. Grey Mask was the first in the Miss Silver mysteries that Wentworth wrote. Even though the book was written in 1928, it's still an interesting and thrilling read. Grey Mask is the name of a master criminal who is running a crime ring out of Charles Moray's house. Charles has been out of the country for several years after his broken engagement, and returns just in time to spy on a meeting of the gang. Charles is ready to bust the ring when he is shocked to see his former fiancee, Margaret Langton participating. As Charles listens, he cannot determine Margaret's involvement, but he does learn of a heinous plot against a young 18-year-old heiress, Margot Standing, whose father, Edward Standing, was recently swept overboard on his yacht in the Caribbean. Pushed overboard is actually what happened. Standing was murdered so his nephew, Egbert would collect the large inheritance. The gang plans on destroying all evidence that Margot is the legitimate daughter of Edward Standing and on destroying the will. Instead of going to the police, because of Margaret's involvement with the gang, Charles goes to Miss Silver, who has built quite a reputation in the wealthier classes as a private investigator. Miss Silver is knows to intelligently and discretely handle sensitive matters. Not only does Miss Silver accept Charles' case, but she seems to have a greater understanding of the Grey Mask gang. That's the surprising thing about Miss Silver. She looks very unassuming, and she's always knitting something or other, but she is lightening quick in figuring out what the heck is going on. Also, Miss Silver, unlike Agatha Christie's Miss Marple, actively investigates crimes, even trailing suspects to learn more about their evil doings. Meanwhile, Charles and Margaret come upon Margot, who escaped from her cousin, Egbert, after overhearing his plot to murder her. Charles tries to keep Margot safe from the gang, while he also questions Margaret's true involvement in the situation. Can Charles trust Margaret? Can they keep Margot safe from the Grey Mask? Who is Grey Mask?

Boy, did I enjoy reading Grey Mask! It was thrilling and exciting. The plot was convoluted enough to keep the reader guessing what was going to happen next. I have to admit that I did not foresee one of the twists in the end. I did figure who Grey Mask was, but there was a lot more going on than I figured out. One of the things that I love about Wentworth's Miss Silver books is that there is always a romantic relationship developing throughout the story. In Grey Mask, it is the relationship between Charles and Margaret, the former engaged couple. Then there is the budding relationship between Margot and Archie Manning, Charles' buddy, who helps him with the threat against Margot. In the end, everything is satisfactorily tied up. I like happy endings, and Grey Mask's ending was very satisfying!

---
Sunday, April 6, 2014 -- Evening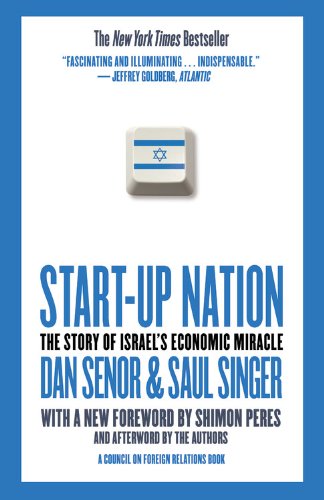 Start-up Nation: the Story of Israel's Economic Miracle by Dan Senor and Saul Singer
Why do some companies succeed over others? Why do some people seem to have everything they touch turn to gold? in Start-up Nation: the Story of Israel's Economic Miracle, Dan Senor and Saul Singer attempt to answer that question by looking at the success that start-ups and entrepreneurs, in general, have had in Israel. You may not realize it, but several of the technology companies, like Intel, Microsoft, and Google have a presence in Israel. Why has a country that is so small and in such a potentially unstable area of the Middle East. Senor and Singer have some suggestions. Part of the reason may be that Israelis are more accepting of failure. When you fail in the US, you aren't necessarily given a second chance because you have the loser taint attached to you. But in Israel, failure is seen as a learning experience. You figure out what went wrong, and you move on to the next challenge. A second factor is that in Israel, every citizen goes into the military. The most intelligent and gifted are chosen for elite operative forces that tend to encourage innovative thinking.

Israel is also a land of immigrants. Some have had to make a livelihood from nothing. The emigrants from other Middle Eastern countries, such as Iraq and Iran, had to leave all their possessions behind, escaping for their lives. These people have had to pull themselves up from their bootstraps, and they did a pretty good job of it.

I found the book informative and entertaining. Senor and Singer talked to a large number of entrepreneurs and politicians. They managed to get time from a variety of interesting folks, including Shimon Peres, who could explain how things were developing in the beginning of the birth of the country through to the modern day. The cool thing about Start-up Nation: the Story of Israel's Economic Miracle is that it does a good job of explaining the Israeli personality and the state of business in Israel. If you are interested in starting up your own business, you can leave some tips from the book, but in general, the goal is to explain a country-wide phenomenon.

---
Saturday, March 29, 2014 -- Evening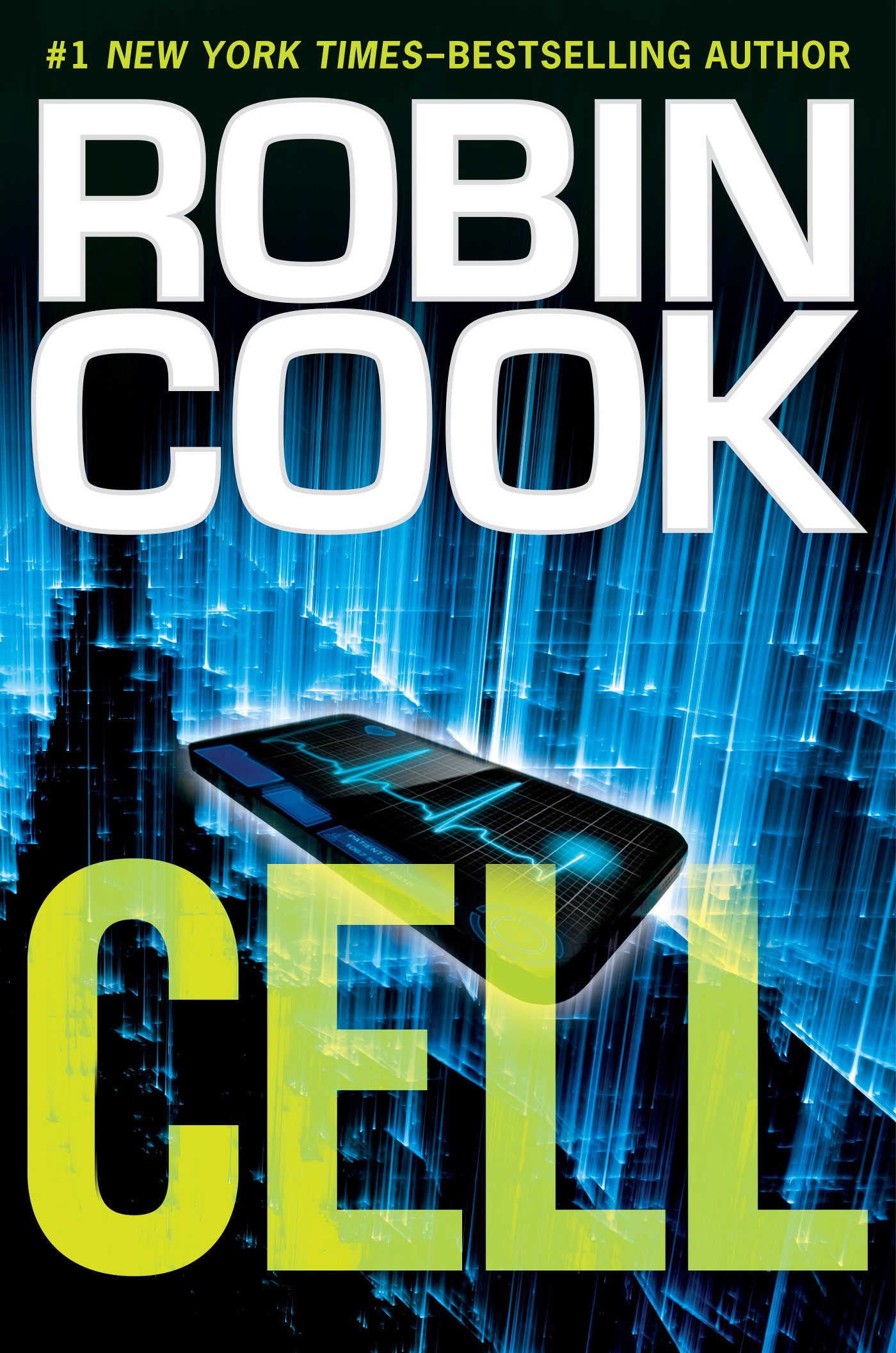 Cell by Robin Cook
Part of the problem with the current view about health care is that it is care for people are healthy. When you become ill, that's when the problems arise. When Obamacare was first introduced, people talked about death panels, people who would decide that your loved one had a terminal illness that would cost too much to treat. That meant that the loved one would be doomed to die. Some are naive enough to think that politicians and insurance companies care about people think that death panels would never happen. Robin Cook doesn't appear to be one of them. In his latest book, Cell, Cook discusses the future of medicine as imagined with digital and cellular technology. Amalgamated Healthcare has released a cell phone app called iDoc. iDoc takes the patient/doctor relationship in a new direction. iDoc is programmed to answer the patient's every question. It collects all data on the patient, makes recommendations for visits and tests, and can help the patient control diabetes by releasing insulin from an implanted reservoir and releases the amount needed based on the patient's vital signs. iDoc can track all the patient's vital with screen technology that allows the program to test blood droplets. The concept is an interesting one, and it's one that four-year radiology resident, George Wilson, first suggested to Paula Stonebrenner when they were both in medical school. Paula took the idea to Amalgamated, which jumped on implementing the idea. George is impressed with the technology and a bit envious because of the success that Paula has made from his idea.

As the talk progresses about iDoc, George realizes that his fiancee, Kasey, may have been an iDoc beta tester. Kasey died in bed beside George, and he has mourned her loss for the past three months, but George starts to believe that death is shadowing him when he learns of the death of two patients with recent radiological studies that revealed terminal forms of cancer. The crazy thing is that the patients died within 24 hours of the radiology tests. When George's neighbor dies in a violent car crash, George starts to worry because he was realizing that all the deaths also seemed to have been with iDoc beta testers. When George starts to investigate, he finds that he seems to have unleashed some dangerous characters who will stop at nothing to silence George. Is it the federal government, who wants to save healthcare costs by implementing iDoc with Medicare patients, or is it Amalgamated, who wants to save profits?

Robin Cook does a thrilling job of showing us how technology can run amok and produce unexpected results. The plot was realistic, in my opinion, and very pertinent to possible future applications. Sometimes we put too much faith in technology, thinking that it will solve our problems. Instead, new ones are created that we cannot anticipate. In the case of iDoc, the heuristic nature programmed into the application allowed it to believe that it was reasonable and cost efficient to eliminate terminally ill people immediately. After reading Cell, I'll think of the proliferation of technology into our lives in a new light. Cell was the first Robin Cook book that I've read, but I plan on going back to read more!

---
Wednesday, March 19, 2014 -- Evening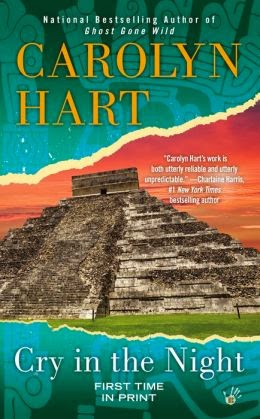 Cry in the NIght by Carolyn Hart
Since I purchased my Kindle, I have been reading two books at the same time. I have my ebook, and then I have the print book that I got from the library. Tonight, I just finished reading my ebook. Carolyn Hart had released some of her earlier book in electronic format. As I already mentioned, I really enjoyed reading Dangerous Summer, so I moved onto Cry in the Night. Cry in the Night in the night is from 1982, but it's not obvious from the plot. Sheila Ramsey is an Egyptologist working in a New York City museum. She goes to a conference in Washington, DC, and runs into, literally, one of the speakers who was against museums buying stolen artifacts. Jerry Elliot strongly expresses his opinion, and although Sheila is repulsed, she is also attracted. After knocking Sheila over and picking her up, Jerry spends the afternoon with Sheila. Unfortunately, she has to return to NYC that evening. Sheila becomes obsessed about meeting up again with Jerry, but he works in a museum in Mexico City, and there's no way they will meet. No way, until Sheila answers a posting in the museum looking for a courier to take an important manuscript to its owners in Mexico City. Sheila applies and hopes for the best since it's for the Latin American section. Surprises of surprises, when Sheila is selected to be the courier. She will take the manuscript to the Ortega family< and then staying with them for a short visit. When Sheila arrives in the Mexico City airport, a little boy passes a note to her from a stranger. The note is a warning for Sheila to return to America. At the Ortega house, Sheila doesn't get much of a reception, and when she hears a cry in the night, she goes to investigate, and finally meets a member of the family, the oldest son, Tony. Of course, Sheila is still fixated with Jerry, and when she goes to the museum to see him, she is shocked at the rude, abrasive, even threatening confrontation with Jerry, who threatens her if she continues to stay in Mexico. Sheila runs from the museum crying, and she is ready to leave Mexico when someone starts to shoot at her! Sheila decides that she is not going to run with her tail between her legs, and she decides to figure out the mystery. Also, she finds that she is starting to develop feelings for Tony.

The book is a very enjoyable read, and there's lots of talk about Aztec treasure and description of Mexican sights. The mystery was a good one, and I did not figure out what was going on until it was revealed at the end. Carolyn Hart did a great job with the earlier books, and if you have the chance, you should run, not walk, to the closest bookstore for the print version or Amazon for the Kindle version. You won't be disappointed.

---
Sunday, March 16,2014 -- Evening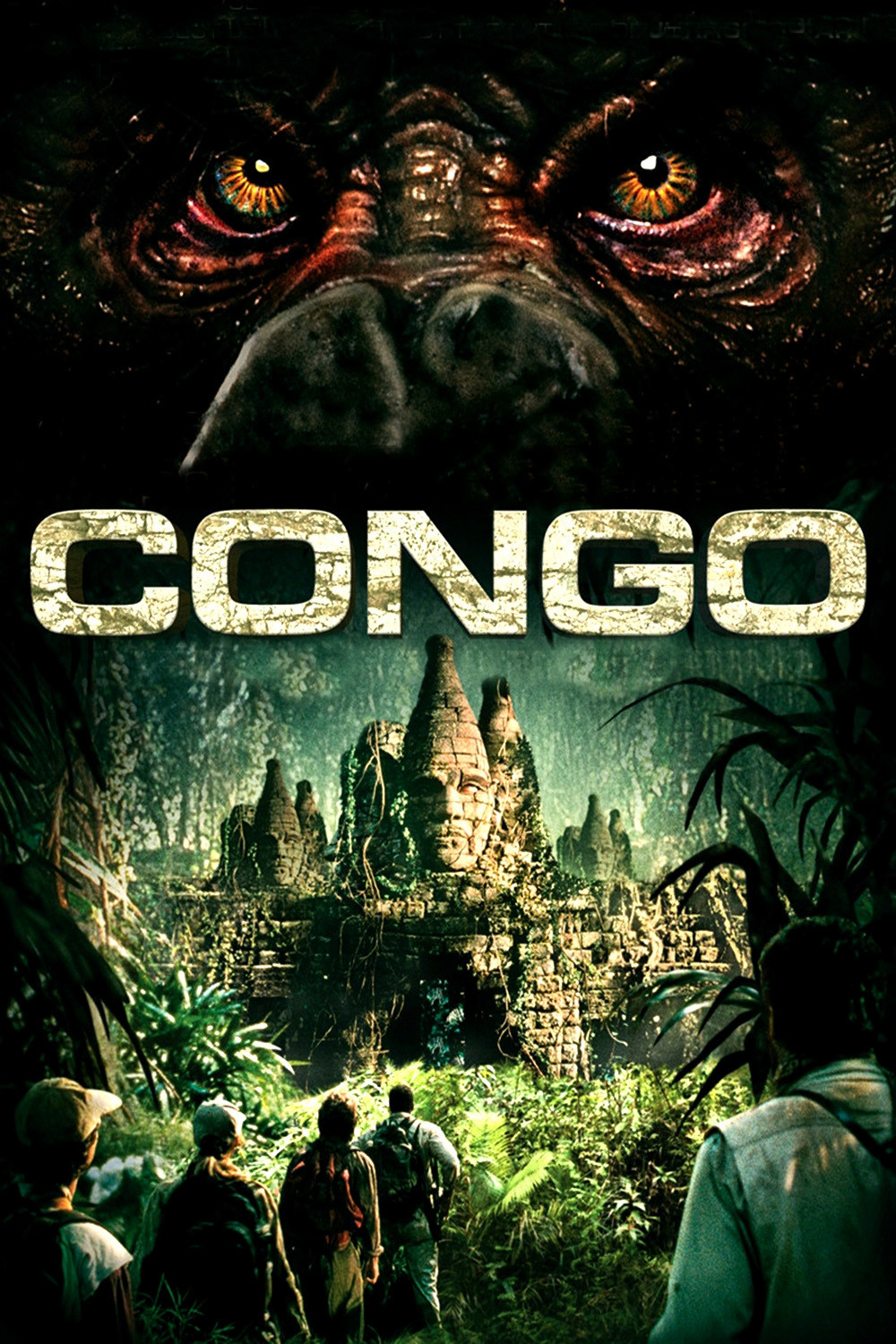 Congo by Michael Crichton
I thought I had read all of Michael Crichton's books, but I realized as I was looking through his list of books that I had missed Congo. Congo was one of the earlier books, published in 1980. A scientific expedition from Earth Resource Technology Services Inc. (ERTS) to the Congo went awry in a horrible way. The entire team was killed. When the video transmission connected for the daily morning update, the home team in Houston find the Congo team dead, with their heads smashed in. Who could have done it? From a brief glimpse in the video, Karen Ross was chosen to take a team to the Congo when she realized that one of the creatures caught on the video image might be a gorilla. But gorillas aren't supposed to violent. Ross enlisted the aid of Peter Elliot, who had been working with Amy, a gorilla that has learned American Sign Language to communicate with her human handlers. Elliot agreed to go to the Congo with Amy to help Ross find out what happened to the first team. In Africa, the ERST team connected with a white African mercenary, Munro, who agreed to take the team into the Congo to the lost city of Zinj.

As is usual with Crichton books, he went into detail about the travails of experimentation in teaching language to gorillas, and he also examined the interactions of tamed gorillas with their wild counterparts. Are gorillas behind the attacks and murders in the Congo? It seemed to point that way until Elliot realized that there was a separate race of gorilla, previously unknown to man, who had been trained in the earlier development of the lost city of Zinj to act as security guards. How does the team protect themselves from the gorillas, and does the team find the valuable blue diamonds that ERTS, along with other competitors, wanted so desperately to find? The story is very fast paced, and I found myself feeling more of a connection with Amy the gorilla. Crichton did an excellent job of making Amy a compassionate character.

I understand that there was a film version of the book, that came after the success of the movie version of Jurassic Park. I have never seen it, and I don't think that a movie could do the book justice. If you haven't read Congo, you should give it a try. It's a good example of Crichton's brand of science fiction thriller.

---
Wednesday, February 26,2014 -- Evening
Dangerous Summer by Carolyn G. Hart
When I was a tween, I read a book that had a huge impact on me. I loved it, and I read it every summer. The paperback book had a picture of a modish, 60s girl on the cover. The girl found herself involved in a kidnap plot with the CIA and Russian agents involved. I loved it because there was an Atlantic cruise and a European tour with a bunch of teens. Whenever I read the book, I would imagine myself on a ship crossing the Atlantic. I can remember the heat of a summer night while I was engrossed in the book. The problem is that as I got older, the book got packed away, and I could not remember the name of the book or the author. Well, imagine my surprise when I heard that Carolyn Hart, one of my favorite mystery writers, who wrote the Annie Darling and Henry O. books was releasing some of her early books in electronic format. As I looked at the descriptions of the books, I found the beloved book of my childhood: Dangerous Summer. Yep! I quickly purchased the book and started to read.

I had some trepidations. When you like a book as a kid, you find that your tastes change as an adult. Books that were real page-turners turn into poorly written pieces of trash. Boy, Dangerous Summer and Carolyn Hart did not let me down. The story was just as gripping and thrilling as I remembered. Nan Russell's parents are going to South Africa to do some geological work for an energy company. While they are gone, they plan on sending Nan to spend the upcoming school term with her grandmother in Scotland. Instead of sending Nan directly to Scotland, they plan an Atlantic cruise and European tour with other teens. Nan travels to New York meet up with the tour. Of course, she goes to a museum to pass a few hours, and notices a woman and a man behaving strangely. The woman acts like she doesn't know the man, but then picks up a brochure the man leaves behind. Imagine Nan's shock when one of the tour guides mysteriously drops out, and the woman from the museum takes her place. Nan is suspicious and keeps an eye on the woman. When Nan hears the woman talking with the other tour guide, Dr. Yates, and telling him that there is a kidnap plot, Nan, and her friends Leslie and Jack decide to keep an eye on the situation. There is a kidnapping, and not what was expected, an escape, and a plot to unveil the hidden agent.

All in all, I loved the book. I am so glad that I found the it, and that it turned out as good, if not better, than I remembered. I know plan on reading more of the early Hart books because I am sure there are some other real gems hidden there.

---
Tuesday, February 25, 2014 -- Evening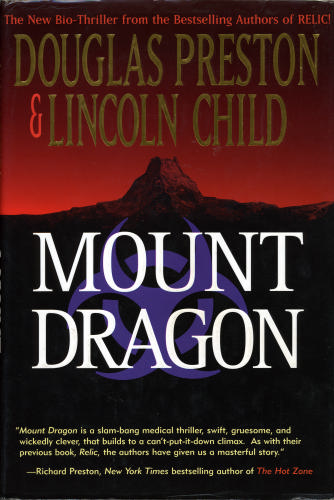 Mount Dragon by Douglas Preston and Lincoln Child
I don't know how I missed it, but when I was reading through the Douglas Preston and Lincoln Child thrillers, both individual and as a team, I somehow missed an early offering of theirs, Mount Dragon. The book was the second book the team wrote, and it is definitely in the manner of Michael Crichton. Mount Dragon is a biological thriller with the title referencing the location of GeneDyne's desert facility for genetic testing. The scientists there are doing advanced work, but Frank Burt, Nobel winner, turns out to have some weird medical problem that has left him on the verge of insanity. Burt's hospitalization leads to the transfer of Guy Carson to the facility. Once there, Carson learns that he will be working on something called X-FLU. X_FLU is a mutation of a chimp gene that prevents chimps from catching the flu. Brent Scopes, the owner of GeneDyne, wants to create a vaccine of X-FLU that will genetically change people to never catch the flu. Of course, Scopes and GeneDyne have success with PurBlood, a soon to be released artificial blood product. However, there are problems. Charles Levine, Harvard professor who opposes genetic engineering, is a constant antagonist of Scopes. Also, Burt and Carson are having issues making a version of X-FLU that isn't an even worse version of the flu. Imagine exploding cranial cavities, and you get one of the side effects of X-FLU. In addition, it is deadly in a short time. The person exposed to X-FLU may die within hours! Carson eventually figures out what the problem is, but that doesn't mean that he and lab assistant, Susanna de Vaca, are lauded. Instead, they are under physical threat from others at Mount Dragon.

The book is a real page turner, and the twists and turns were unexpected and well-done. I found myself wanted to read ahead to see how things were going to end. The book is a great addition to the biological/scientific thrillers that I love to read. I just wish that Preston and Child would write more in this vein both together and individually. They don't churn out enough books in my opinion. If you haven't tried Preston and Child, what area you waiting for? Go to the library or Amazon right now, and start with a copy of Mount Dragon. You won't be disappointed.

---
Sunday, February 16, 2014 -- Evening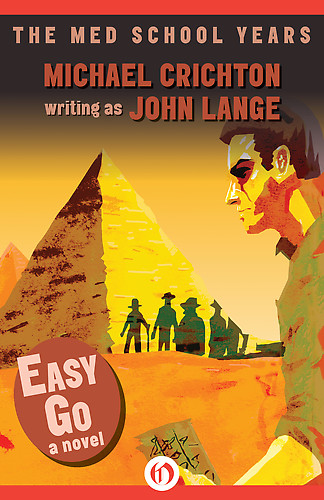 Easy Go by John Lange
As I've mentioned before, I love Michael Crichton. It's such a shame that there will be no more new books by Crichton, and that means that I've been looking for authors with a similar style to get a good thriller fix. So, as you might have imagined, i was happy to find out about the John Lange books, which are being re-released in e-book format. That's the pseudonym that Crichton wrote under while he was in medical school. Recently, I read Easy Go, which has a hunt for ancient Egyptian treasure as a theme. The gist of the plot has a group lead by an Harold Barnaby, an Egyptologist who translated hieroglyphics that show where an undiscovered tomb can be found. He enlists the help of writer Robert Pierce, who comes up with an ingenious plan to fund the search for the tomb, AND to make money off the deal. The plan is to find the treasure, then send pictures of the trove to the Egyptian authorities to extract a generous ransom before turning over the items. The book covers the build up to the search and then the search itself.

The story is thrilling. I found myself really liking Pierce, who was the hero of the story, and wishing that things would work out so he could win out in the end. Things look bleak, and then ending has a very interesting twist. So far, I think that it is my favorite of the John Lange books that I have read in recent months. The characters are well drawn, and the plot moves along at a fairly good pace.

---
Friday, February 7, 2014 -- Evening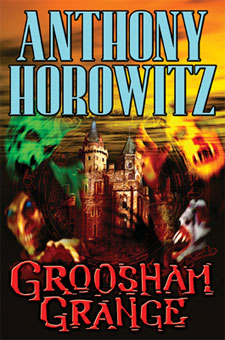 Groosham Grange by Anthony Horowitz
I'm always looking for new books, even when they aren't necessarily newly published. That's how I happened to come across Groosham Grange by Anthony Horowitz. I know Horowitz as the creator and screenwriter of Foyle's War. He's also written episodes for other television series, such as Midsomer Murders. I know that Horowitz also did the Alex Rider series of spy books for kids that I have on my TBR pile. So when I saw Groosham Grange on the shelves at the local library, I picked it up.

As I started to read the book, I was overwhelmed with the feeling that the book was eerily similar to the Harry Potter stories. Instead of being an orphan, David Eliot is the seventh son of a seventh son. HIs parents make the Dursleys look like ideal parents. As David is expelled from his most recent boarding school, his parents receive an offer from Groosham Grange to take on David. David is quickly bundled off to the school, which is reached by a train ride, and the school itself is on a secluded island. The students and teachers at the school are strange, and as David nears his thirteenth birthday, he feels the tension pick up.

Notice any similarities yet? Yep, it was very like the Potter books in spirit. It turns out that Groosham Grange is a school for wizards and witches. The teachers include a werewolf (named Leloup, French for wolf, like Lupin) and a ghost. Hold on a minute! I went to look at the publication date, and (strong>Groosham Grange came out in 1988. Harry Potter and the Philosopher's Stone came out in 1997. Horowitz didn't go to the lawyers and sue. Instead, he just thanked J.K. Rowling for contributing to young adult fiction in the UK. How do you like them grapes?

Groosham Grange is a good read. It's much shorter than any of the Potter books and much darker in tone. Read the book yourself, and see what you think. All the Potter readers should give Groosham Grange a try. You will not be disappointed.

---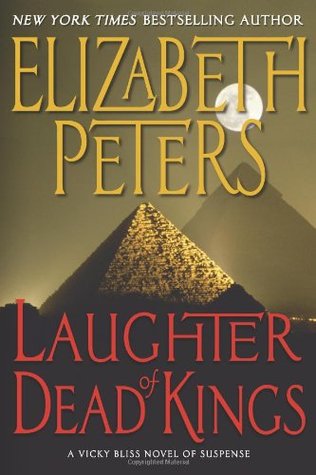 Thursday, January 23, 2014 -- Evening
Laughter of Dead Kings by Elizabeth Peters
Everyone who has read the Vicky Bliss books always wondered if, and what, the connection was between Sir John Tregarth and the Emerson clan of the Amelia Peabody Emerson books. Before Laughter of Dead Kings came out, there were many rumors that this book would answer all the questions.

The adventure started out with the theft of King Tutankhamen from his tomb in the Valley of the Kings. Feisel, from Night Train to Memphis, contacted Sir John because who else would ever think of stealing Tut? Well, obviously, Sir John would never do such a dirty deed to his friend, So Vicky and Sir John decided that they would have to investigate the crime to help Feisel and clear Sir John's name. Of course, Schmidt got involved. At first, Schmidt was going to spy on Sir John for Schmidt's new amour, Suzi, who believed that Sir John was guilty. Schmidt joined forces with Sir John and Vicky, and before you know it, the trio was on the scene in Egypt to find Tut. There's lot so action, twists, and turns before the mystery was solved, and the entire ride was great fun! It was fun to look for hints about the Emersons in the book, and a few things showed up. First was the compound that the Emersons lived in while on their archaeology trips, the home after the river boat. Then a character that can only be Elizabeth Peters herself showed up. The author admitted to buying some manuscripts from the Tregarths and of stealing others from the family estate's attics.

What I loved about the book was the ending. We do find out that Sir John is connected to the Emerson family, through the youngest granddaughter. As Sir John said, although Ramses was an only son, with three children, those children bred like rabbits. And we get the ending we all wanted since Vicky met John: the marriage proposal. I was left with a warm glow. It's sad that we won't have any more Vicky Bliss or Amelia Peabody Emerson books. I suppose we will all just have to continue the adventures in our imagination.

---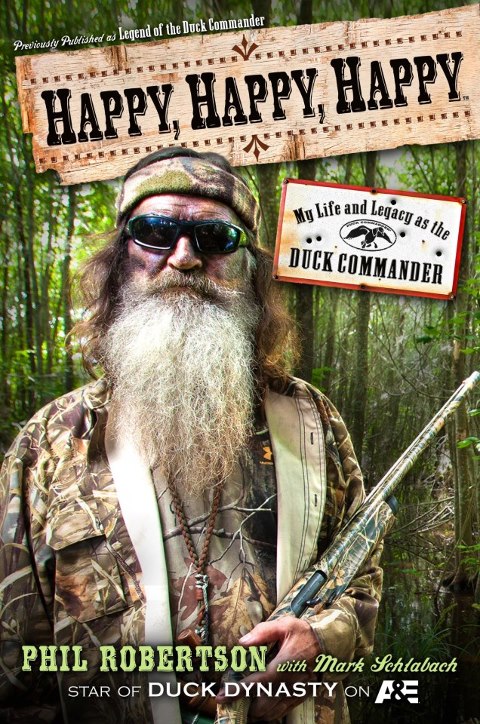 Sunday, January 19, 2014 -- Afternoon
Happy, Happy, Happy by Phil Robertson
Lately, the Robertson family, of Duck Dynasty fame, has raised strong feelings amongst people. If you say you like the family, or support them, then you are labelled racist and homophobic. What bothers me is that some of the discourse seems hateful, and that is strongest on the side that is trying to silence the Robertsons. Personally, I am atheist, but that doesn't prevent me from appreciating the strong family values that the family has. I thing Duck Dynasty is a funny show, and I like how tight and supportive the Robertsons are of their extended clan. The Robertsons make it obvious, mostly with the dinner prayer at the end of each show, that they have strong religious beliefs. If you don't like it, don't watch it.

I wanted to learn more about Phil Robertson, so I got his book, Happy, Happy, Happy. Robertson comes across in the book, just as he does on the show, a man of strong belief and few words. Robertson wasn't always a good family man, and he detailed his past troubles with alcohol and family absence. However, he eventually turned his life around, and that was mostly due to finding religion. After reading the book, I have a much stronger admiration for Phil's wife, Kay. She put up with a lot of bullshit from Phil in the early years of their marriage, and yet somehow, she managed to provide a stable atmosphere for her boys.

Say what you will about the Robertsons, but one thing you can't say is that Phil Robertson isn't honest about his flaws and his beliefs. After reading the book, I have a clearer picture of the person Phil Robertson is. He says some things that I roll my eyes at because his views can be naive and simplistic. I found it hard to believe that PHil had a Master's in Education, but obviously, the image of an uneducated redneck we see now is a well-crafted persona. Love him or hate him; Phil Robertson is indeed an interesting character.

---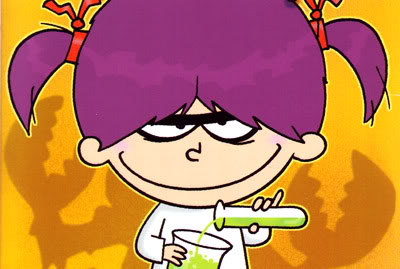 Wednesday, January 1, 2014 -- Afternoon
Franny K. Stein, Neil Flambe, and Amulet
Since the end of term, I have been catching up on the stacks and stacks of magazines that had been piling up. I read old celebrity news, old science news, and a plethora of fitness articles. The most entertaining part of the catch-up was seeing how the celebrity news was reported when I knew the outcome because it was so old. Jennifer Aniston pregnant! No way Jose, if you saw her recent bikini pictures in Mexico.

Because I was reading so many magazines, I wasn't really reading books. I am still working on Laughter of Dead Kings on the Kindle, and I have been reading some kids' books in print format. My nephew will be turning six in a few weeks, and I have been trying to improve my literacy in the type of books that might appeal to him. One of the book series that had caught his attention is the Franny K. Stein books. Franny is mad scientist kid, modeled on the concept of Frankenstein. Remember, Frankenstein was the name of the scientist, NOT the monster! The Franny K. Stein books, of which there are seven so far, revolve around Franny's misadventures with science.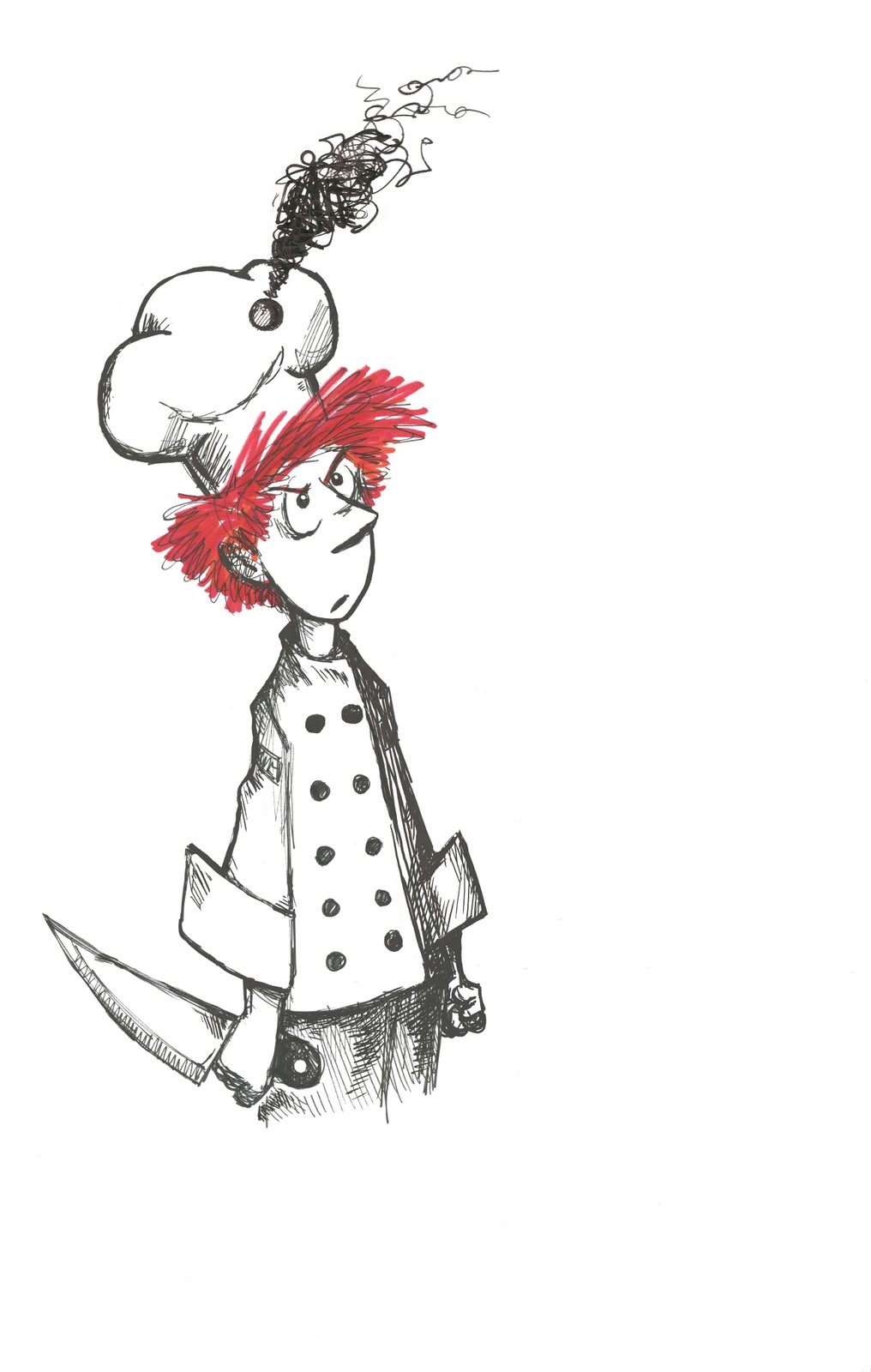 Franny loves science, and she thinks that all the kids in her grade school should love science. However, they are interested in other things, like making cookies or collecting stamps. Franny creates a lunchmeat monster to save her teacher from the garbage can creature concocted from Franny's fermenting lunch (Lunch Walks Among Us). Franny creates a Dooms Day device, but then her lab assistant, a mixed breed mutt called Igor, accidentally eats the device, and in the process, activates it. Franny has to shrink herself to journey into Igor's stomach to deactivate and retrieve the device. (Frantastic Voyage) The books are first chapter books, and my nephew loves the books so much that he keeps on looking for new Franny books. I think the books are fun and perfect for a boy, or girl, who loves mad science.

The other kids series character that I have been reading is Neil Flambe. He is a creation of Canadian author, Kevin Sylvester. Neil Flambe is a 14-year-old master chef.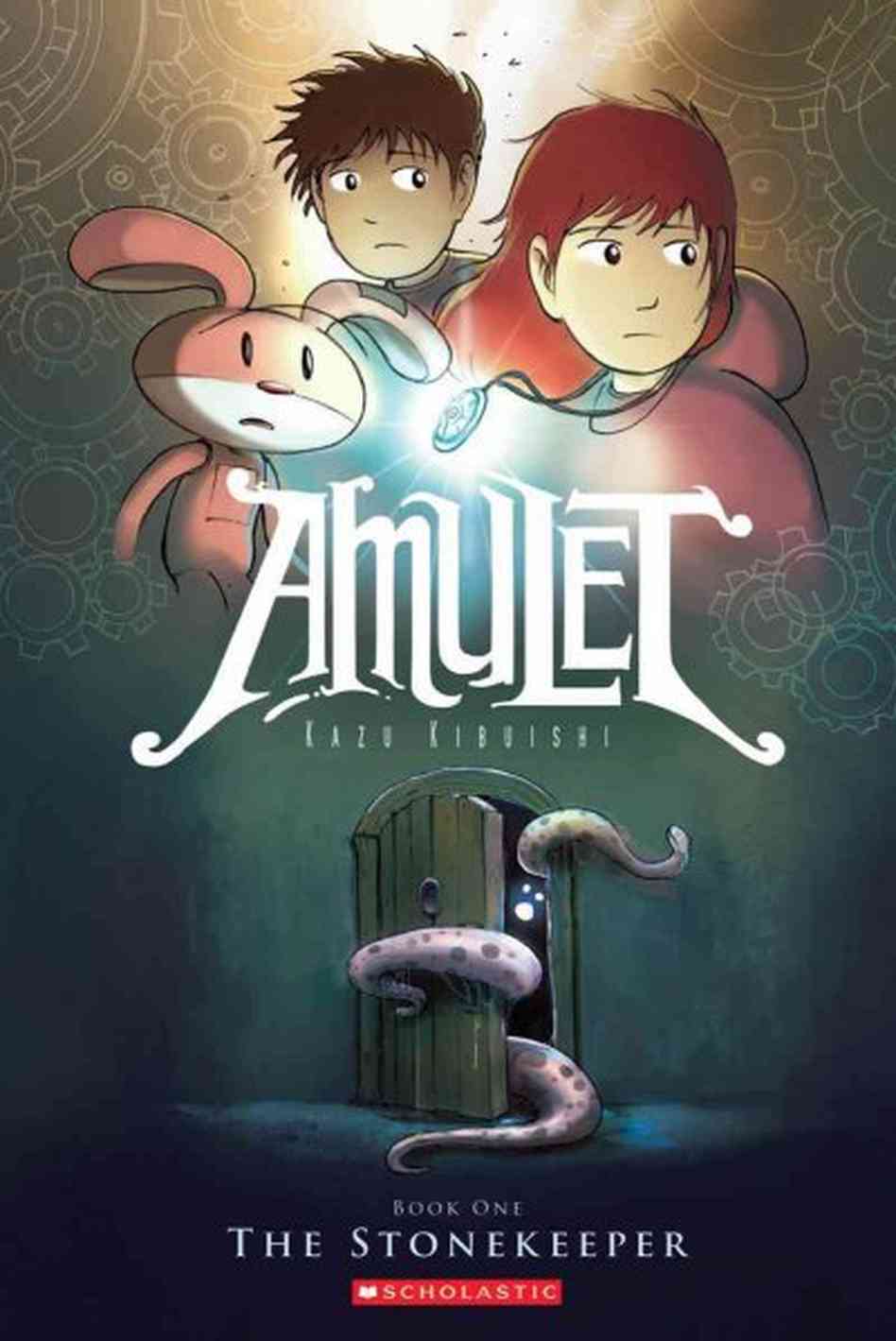 Neil Flambe can cook anything, and he also has a powerful nose for odors. Because of his powerful nose that can pick out the slightest smell and identify it, Neil gets involved with the local police, namely Sean Nakamura, Police Inspector. Neil helps Nakamura solve mysteries, and in the first book, Neil Flambe and the Marco Polo Murders, Neil helps Nakamura find the person who is murdering the best chefs in the area. Of course, the clues all point to Neil being the culprit, so he has to clear his name. The back story revolves around the journeys of Marco Polo, and a deadly poison that Polo discovered on his journeys. Neil gets help from his older cousin, Larry Flambe, and Neil's girl friend, Isabella. There are only four books in this series, and the books are geared toward the older reader, maybe fifth to sixth grade. My nephew will have a bit of time to grow into the Neil Flambe series, but I hope that he does give them a try.

I've also been reading graphic novels, and the Amulet series by Kazu Kibuishi has been entertaining. The story revolves around Emily Hayes, who becomes a stonekeeper. She, her mother, and Emily's brother, Navin, go to live in Emily's great-grandfather's house after Emily's father's death in a car accident. Of course, Emily has to save her mother, who is captured by an arachnopod. Emily and Navin have to journey to another world to save their mom, and then they have to stay there to save the world. This is another short series. There are five books out, with a sixth expected in September 2014.

The world of kids' literature is booming, so my nephew should have plenty of books to catch his attention. Let's hope that he gives the books a chance. You know how it is with kids. Right now, he is in a "I don't want to read because books are dumb." We'll have to hope that he sees the joy in reading before too much time passes.

---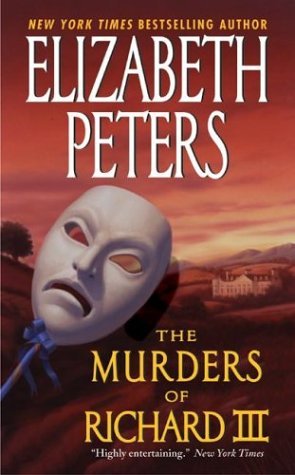 Saturday, December 7, 2013 -- Evening
The Murders of Richard III by Elizabeth Peters
I have always liked the Jacqueline Kirby books, written by Elizabeth Peters, and I thought that I would re-read one of the earlier ones, The Murders of Richard III. The book was written in 1974 and was told from the viewpoint of Thomas Carter. He was in London and a member of the Ricardian Society. This group of folks believed that Richard III was not the murderous villain as portrayed by William Shakespeare and some historians. Thomas takes Jacqueline (Jake) to a meeting at the estate of Richard Weldon. Weldon claimed to have a letter that would prove that Richard III did not murder his nephews. When the gathering at Weldon's estate became disrupted by pranks that duplicate the murders associated with Richard III, Jake started to suspect that there was more than meets the eye, and that something must be done before the pranks become deadly.

Jacqueline Kirby is my kind of woman. She's intelligent, spirited, and up to any challenge. She's always able to see through the clouds of confusion to figure out whodunit. In The Murders of Richard III, Jake takes an active role in this mystery, at one point tackling the villain with her weaponized purse. I call it weaponized because it's one of those big ass purses, and when Jake puts a heavy statue in it, it can be deadly. Peters knows how to interject humor into her books, and The Murders of Richard III is full of humor, action, and mystery. Of course, there's also a tinge of romance. I really loved The Murders of Richard III, and I would highly recommend it, even if you haven't read an Elizabeth Peters before.

---
Friday, November 22, 2013 -- Evening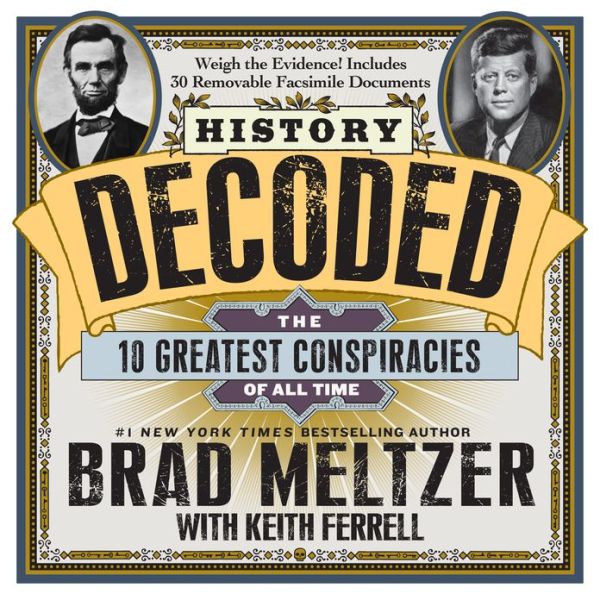 History Decoded by Brad Meltzer
A year or so ago, I was scanning the TV list for a new interesting show. I found it when I saw the description for Decoded. The series, which so far ran for two seasons, was the brainchild of Brad Meltzer, and it fit into my interests like a hand in a glove. The show featured Scott Rolle, Christine McKinley, and Buddy Levy who would investigate historical controversies for Meltzer. The show looked at a variety of difference historical topics, such as the White House cornerstone, secret Presidential codes, the Statue of Liberty, and Secret Societies. The show was fascinating, and the team took a very rational view of things. They researched the conspiracies and controversies, and they formed rational responses. Loved the show! I wish that it had a third season.

Fortunately, Meltzer collected the ten greatest conspiracies of all time in a new book History Decoded. Of course, I got the book, and it was just awesome. Each chapter had supplemental materials that illustrated the conspiracies, held in an envelope at the start of each chapter. Each section was short, but full of information. The countdown to the top ten:

John Wilkes Booth
Confederate Gold
Georgia Guidestones
D. B. Cooper
White House Cornerstone
Spear of Destiny
Leonardo DaVinci
Fort Knox Gold
UFOs
JFK Assassination
As I mentioned, conspiracies intrigue me, and the book did not disappoint. Meltzer, and co-author Keith Ferrell, did a great job of collecting and presenting the information. If you love history, and especially if you love conspiracies, you will want to read History Decoded. The only problem that I have with the book is that I want more.

---
Saturday, November 2, 2013 -- Evening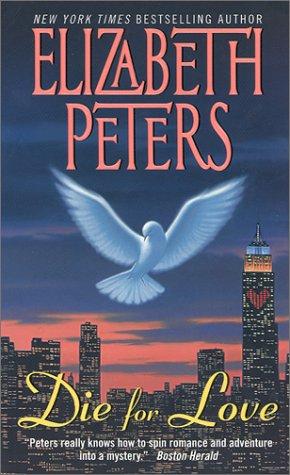 Die for Love by Elizabeth Peters
I have not been reading much lately. I have been very busy teaching three classes, and it hasn't left much time for anything else. I did manage to get some reading done. Since Elizabeth Peters died a few months ago, I have wanted to read some of the books that I haven't read for a while. I went back to the Jacqueline Kirby books, and read the third book in the series, Die for Love. This book is classic, hilarious Peters with satire of a romance writers conference.

Jacqueline Kirby wanted a vacation away from her Nebraska university, and while she was looking for a conference to attend, she found one in New York City for romance writers. Of course, Jacqueline had never read a romance novel. After reading one on the flight to New York, she realized that she could easily try her hand at writing one. The conference is the epitome of cartoon romance. Hattie Foster, Aunt Hattie, was one of those unscrupulous agents who used blackmail to keep her stable of writers working for her for mere peanuts. Hattie had all the big name authors, all the Valentines (writers with some form of Valentine in the name). Dubretta Dubrenstein, a sharp tongued reporter for the Daily Blank made it her job to expose Hattie, and when she had a heart attack and died at one of the conference soirees, Jacqueline immediately knew it was murder. With the a next to no help from flame, and fellow professor, James Whittier, Jacqueline set out to solve the mystery. When it became obvious that someone was out to get Dubretta's notebook, which Jacqueline has, and when Laurie, a romance conference hanger-on, got murdered, Jacqueline knew she had to stop the killer before she was next.

Elizabeth Peters did an excellent job with ribbing romance writers and romance writer conferences. Peter has both Vicky Bliss and Jacqueline attempting to write romance novels. The prose would just fly off their pens, and Peters gave us glimpses of the over the top dialog. Peters was an excellent writer, and in Die for Love, she gave a great mix of humor and mystery. I enjoyed the book a good deal, and I would highly recommend it to anyone who wants some laughs with a mystery.

---
Friday, October 11, 2013 -- Evening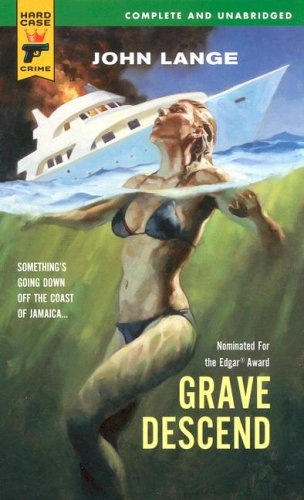 Grave Descend by John Lange
I really miss new books by Michael Crichton. Crichton wrote the type of book that I love to read: scientific thriller. It was so obvious that the man was highly intelligent because he was able to discourse on any topic, especially the scientific ones, and make you think he was an expert on the topic. Crichton did his research. I loved listening to some of his talks after he wrote State of Fear. Crichton was telling people to doubt the science of climate change. Crichton was saying that we need to read about the topic and not trust to politicians to have the best solution to any problem. In fact, we should all see that politicians always have an agenda. Science based on politics and fear was not the science that Crichton thought we should subscribe to.

Now none of that has anything to do with Grave Descend. Well, not exactly. Imagine my excitement when I learned recently that Michael Crichton had written books under the pseudonym John Lange in the 1970s. Hard Case Crime recently republished the books, and of course, I had to check it out. Grave Descend is a very short, fast-paced read. James McGregor is a professional diver, who is called to for a salvage project on a boat, The Grave Descend, that sank in the waters of Jamaica due to an explosion. McGregor immediately questions the story because the parts just don't add up. He goes to check out the location of the wreck, and surprise, surprise, the Grave Descend is anchored there. Within minutes, McGregor sees someone fiddling with a remote, and boom! Down goes the Grave Descend. McGregor finds himself embroiled with money launderers, the Sicilian Mafia, and the police, as he tries to piece together what happened to the Grave Descend.

The book wasn't like a typical Crichton story, but it did have a hard-boiled, edgy feel with taut, fast-paced action. After reading Grave Descend, I started looking for other John Lange books at the library, and I will definitely have to loosen the purse strings to buy some of the Kindle editions. If you have a spare evening, I strongly recommend Grave Descend. You won't regret it!

---
Wednesday, October 2, 2013 -- Evening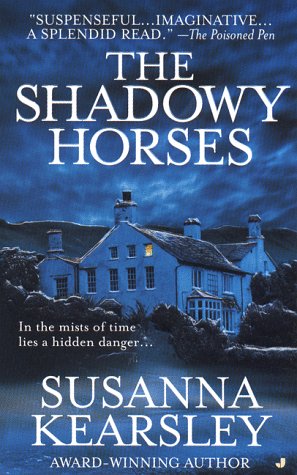 The Shadowy Horses by Susanna Kearsley
I have been looking for some new writers who write in the style of Barbara Mertz, and I found Susanna Kearsley, whose The Shadowy Horses said it was in the tradition of Barbara Michaels. So, of course, I was expecting some good woo-woo with romance and history. I was not disappointed. Verity Grey is an archaeologist who gets a job with Peter Quinell looking for the Roman Ninth Legion around Quinell's house in Scotland. Quinell is sure that the Ninth Legion, whose final resting place was missing, was to be found in Scotland because of the second sight of a little boy, Robbie. When Verity joins Quinell and her former boyfriend, Adrian, she finds herself captivated by fellow archaeologist, David Fortune. Unfortunately, Verity gets an eerie feeling that there is something supernatural going on. When Robbie tells her that the Sentinel, the Sentinel of the Ninth Legion, has become captivated by Verity because she reminds him of his sister, Verity really feels a chill down her spine. Will Verity help Quinell find the Ninth Legion? Why is the Sentinel watching over her? And will Verity and David find true love?

As I mentioned, I really did enjoy The Shadowy Horses. Kearsley's plot reminded me strongly of Michaels' books. There was a good deal of eeriness with the wandering of the Sentinel, the sound of galloping horses, and the mystery of objects going missing. Of course, I knew that Verity would find love, because that's what always happens in these types of books. I found myself caring about the characters because Kearsley did such a good job of making them human. I'm going to have to look for other Kearsley titles to see if they are as enjoyable.

---
Wednesday, September 25, 2013 -- Afternoon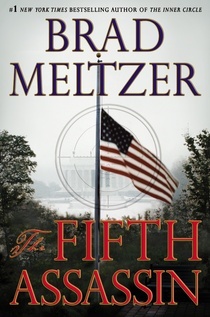 The Fifth Assassin by Brad Meltzer
I have been busy this month with the Jewish holidays and with teaching three writing courses this term. So needless to say, I haven't had much time for pleasure reading. It took me a month of bus time reading to finish The Fifth Assassin by Brad Meltzer. I caught a few of the Decoded shows on the History Channel, and I enjoyed watching Brad Meltzer and his assistants investigate various historical claims. Shows looked at DB Cooper, John Wilkes Booth, UFOs, the Alaska Triangle, the Culper Ring, and similar stuff. It's all interesting, and it got me to check out Meltzer as an author. I noticed that The Fifth Assassin was on sale for Kindle when the paperback version came out, so I got it.

Beecher White is the hero of the book, and he works as an archivist and for the modern day Culper Ring. Someone is killing pastors in the DC area, mimicking the assassins of the Presidents. The weird thing is that the assassin in wearing a plaster cast of Abraham Lincoln's face, which were made in Lincoln's lifetime. An acquaintance from Beecher's childhood, Marshall, may be involved, and Beecher also thinks that Beecher's former girlfriend, Clementine might be involved. The characters were a bit confusing for me because it seems that the story started with The Inner Circle. So we have Clementine's father, Nico, who tried to kill the current president, President Wallace. Wallace also has a back story with Beecher, who knows that Wallace killed someone in the past. Can Beecher figure out who is killing the pastors before that someone kills Wallace? And does Beecher want to prevent Wallace's assassination?

Even with all the confusion of jumping into what appeared to be the middle of the story, I really enjoyed The Fifth Assassin. I could hear Meltzer narrating Beecher's internal dialog, and I found myself racing through the pages whenever I did have a chance to read. I was sitting on the edge of my seat, when the end of the book came too soon. The book ends in a cliff hanger that really did leave me yearning for a quick release of the next book in the series. Meltzer has an informal, quick-paced writing style, and it added to the book's action scenes. I have The Inner Circle on hold at the library, and I hope to catch up on Beecher's backstory. I plan on reading a lot more Meltzer in the future.

---
Friday, August 23, 2013 -- Afternoon
Inferno by Dan Brown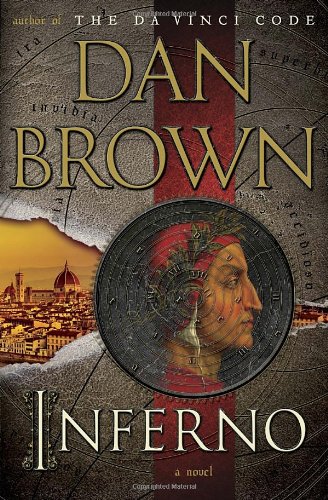 Dan Brown: the mere mention of his name can turn some people into raving lunatics. Brown can't write. His stories are contrived. His plots are thin and poorly imagined. His grammar and language suck. His research is superficial. I could go on and on with the rantings of these folks. What I don't understand is why these folks feel compelled to read Brown's books? If the books irk you so much, save your money and your time. Walk by the book display. I think that some folks just love to complain, and I think that others like to believe that they are part of the intelligentsia that only reads literature. Others may be suffering from petty jealousy because they would love to be a best selling author. Let me just say that i am not part of the attacking hoards. I like Dan Brown's books. Heck, I even loved some of the them.

Inferno came out in May, but I didn't get a chance to read it until my vacation last week. I wasn't a huge fan of Lost Symbol, but the concept of Inferno seemed to return to Brown's earlier themes of symbology in classical works. In this case, the classical work is Dante's Divine Comedy. Robert Langdon awakens in a hospital in Florence, realizing that he lost two days. He can't remember how he got from his class at Harvard to a hospital in Florence. As he tries to figure out what happened, with the help of young, super-intelligent, Sienna Brooks, Langdon realizes that he needs to look at Dante's journey through Hell (Inferno), Purgatory, and Heaven to find a biological threat to civilization. As Langdon races through Florence to recover his lost 48 hours and to discover the secret of Inferno, he is hunted by mysterious police officials dressed in black. Langdon races through Florence and Venice trying to escape deadly assassins. That's enough to be said about the plot.

Inferno is full of the fast-paced thrills and puzzles that Brown gave us in The DaVinci Code. I thought it was a much more entertaining read than Lost Symbol, which I guess is a recommendation. The ending was a bit of a disappointment, and it just seemed to be more like the balloon deflating from a slow leak than the heart stopping pop that I was hoping for. I like the earlier Brown books much better. I think that the more time he puts into the books, the more confusion he adds to the mix. That said, I'm still looking forward to the next Dan Brown book. The only problem is that it will probably be years from now before it will be published.

---
Thursday, August 8, 2013 -- Evening RIP Barbara Mertz My favorite author died today. Barbara Mertz, who wrote as Elizabeth Peters and Barbara Michaels, died today at the age of 85. She had not published anything in recent years, but I have many, many hours of enjoyment reading her books. I also read, and loved, her non-fiction books on Ancient Egypt, written under her real name of Mertz. Here's the news release from her publisher. This is very sad news because it's the end of the story for Amelia Peabody and Vicky Bliss.


---

Wednesday, August 7, 2013 -- Afternoon N or M? by Agatha Christie Although Agatha Christie is mostly known for her murder mysteries, mostly starring Hercule Poirot and Miss Marple, she was also a very good espionage writer. Those books are few in number, but one of my favorites is N or M?, which features Tommy and Tuppence Beresford. Tommy and Tuppence were only in a handful of Christie books: The Secret Adversary, Partners in Crime, N or M?, By the Pricking of My Thumbs, and Postern of Fate, which was the last book that Christie wrote. Tommy and Tuppence start out as young people fresh from World War I with no prospects. They get involved in a spy case, looking for the mysterious Jane Finn. They open a detective agency in Partners in Crime, which is a collection of short stories with an overall unifying theme of working for Mr. Carter and looking for a man known as No. 16. For each case in the book, Tommy and Tuppence took on the personality of a well-known (in 1929) fictional detectives. With N or M?, Tommy and Tuppence are now middle aged. World War II is in full force, and the Berefords want to get in on the act of helping their country, but they are dismissed as being "past it." War is for the young, like Tommy and Tuppence's twins, Derek and Deborah.

N or M? starts with both Tommy and Tuppence down in the dumps because they don't have a role in the war. When someone comes knocking at their door, we all know that it is adventure. This time, it's in the shape of Mr. Grant, who has been sent to solicit the services of Tommy for a boring desk job in Scotland. When Tuppence gets called away to tend to a sick friend, Mr. Grant lets Tommy know that Scotland is a rouse. He's really going to a boarding house in Leahampton called Sans Souci to look for a Nazi spy. The spy can be one of two main people known as N and M. N is a male, while M is a female. Tommy is not to tell Tuppence a thing, and a few days later, he goes off to "Scotland." Imagine Tommy's surprise when he arrives at Sans Souci, as Mr. Meadowes, to find Tuppence already in residence as Mrs. Blenkensop, Tommy is elated. Tuppence figured out that Mr. Grant didn't want to talk in front of her, so she plotted the phone call with a next door neighbor. As Tommy and Tuppence investigate the inhabitants of Sans Souci, they realize that people are not as they appear. Just as Tommy and Tuppence are playing a role, any of the other house guests could be someone else. The only one who seems above suspicion is Mrs. Sprot with her two-year-old daughter, Betty. Christie cunningly hides the identities of N and M, and I was greatly surprised by both reveals. There are no murders in the book, but there is lots of adventure.

I loved N or M?, and it makes me want to re-read the first two Tommy and Tuppence books. The latter two are not very good, so I'll just avoid them for now. As Christie would say, you are not past it until you are dead, and you should never believe everything people tell you.

Keep your eyes open for the part where Christie has a character talk about amnesia that is brought on by the stress of life. This is obviously an reference to the amnesia adventure that Christie had. She rather famously went missing in 1926 when her husband Archie Christie was divorcing her. The claim was that Christie suffered amnesia from the stress of the divorce. You can read more about that here.


---

Thursday, August 1, 2013 -- Afternoon The Dancing Floor by Barbara Michaels I was randomly reading the books by Barbara Michaels; but there are only a few left on the list that I haven't read, so I put them on the back burner. However, the local library had a copy of The Dancing Floor. The Dancing Floor is one of the last books that Michaels wrote under that pseudonym. The book was published in 1997, and only Other Worlds was published after it. Other Worlds doesn't really count, because it's not Michaels' typical romantic suspense book.

In The Dancing Floor, Heather Tradescant goes to England in memory of her father. He had recently died, and he and Heather had always planned to tour the gardens in England that were designed by a famous British gardener of the name Tradescant. Heather is at a loss, and she really wants to see Troyton House. However, Frank Karim, the rich owner is reclusive, and it doesn't look like Heather will get a chance to see the gardens. However, she finds her way into an old, thorny-hedge covered maze at the back of the house, and in a fright at one of the statues hidden in the maze, barrels out onto the lawns of Troyton. Frank is quite taken with Heather's last name, and thinks it's a sign that she should help him in the restoration of the garden. However, there is a force that seems to be trying to hurt Heather. Could it be because of the Witches of Pendle? Frank's son, Jordan, doesn't seem happy to have Heather around, and the security guard, Sean, also seems suspicious of her, although that doesn't stop his womanizing ways. Then there's the neighbor, Giles, who used to own Troyton, and is having issues with his troublesome wife and his hooligan young son, Bobby. As accidents happen to Heather, she starts to wonder if they are natural or supernatural.

Some of the later Barbara Michaels books were disappointing, but I found enjoyed reading The Dancing Floor. It reminded me more of some of the earlier romantic suspense books that Michaels/Peters wrote, only without a really strong occult feel to it. I'm really glad that I picked up the book at the library because it was a very enjoyable read.


---

Tuesday, July 23, 2013 -- Evening Andy Roddick Beat Me With a Frying Pan by Todd Gallagher I just finished reading the sport book, Andy Roddick Beat Me With a Frying Pan by Todd Gallagher, and I really enjoyed it. Read my review.


---

Saturday, June 29, 2013 -- Evening I Watch, Therefore I Am by Gregory Bergman and Peter Archer When I was in college, one of my favorite courses was on the philosophy of ethics. Since then, I have always found the topic of ethics and philosophy interesting. In my writing courses, I devote a class to professional ethics. So when I saw I Watch, Therefore I Am by Gregory Bergman and Peter Archer in the library, I was very excited. Who wouldn't want to see the connection between philosophical principles and television? Whenever I watched Star Trek: The Next Generation, I would pay special attention to the ethical issues that would confront the crew of the Enterprise. I thought that's what I Watch, Therefore I Am would do, talk about the philosophical issues presented in series television.

Imagine then, my disappointment when I discovered that the book gave a very quick and superficial overview of different philosophical ideologies while making a rather lame connection to some television show. I think in most cases the connections between the philosophical principle and the show was rather tenuous. For example, the authors made a connection between All in the Family and faith and reason. I was hard pressed to see the connection or to see how the example dialog illustrated anything about faith. The book is extremely quick and easy to read because there isn't much depth, and there are blank pages between most of the chapters. If you are looking for something entertaining or that looks at the philosophical elements in a particular show, you will probably be disappointed with I Watch, Therefore I Am. I know that I was.


---

Monday, June 24, 2013 -- Evening Night Train to Memphis All I have to say is "wow!" I just finished reading the fifth book in the Vicky Bliss series, Night Train to Memphis by Elizabeth Peters. I really liked the first two books in the series: Borrower of the Night and Street of Five Moons, and Night Train to Memphis rivals them for my favorite of the batch. This one started with Vicky wondering what the heck was going on with Sir John Smythe. He had been incommunicado for around six weeks, and she was sure that something was up. When she was approached by the Munich police asking her to go on a cruise because she might be able to identify a criminal, she knew that it had to be Sir John. The Munich police try to get her boss, Herr Schmidt, out of the picture on a trumped up museum purchase, and Vicky went off to Cairo to be a Egyptian art expert on a Nile cruise for wealthy tourists. Imagine Vicky's shock when Sir John was on the cruise with...his wife! The twists and turns that follow as Vicky tried to figure out what was going on, and who was threatening her and Schmidt. Peters has always been great with all Egyptian plots, and Night Train to Memphis has tons of excitement and chase scenes as Vicky and John try to escape from the baddies.

There were so many things that I loved about this book. First, we found out that Sir John's real name was John Tregarth. Then, if you do a careful reading of the book, you find tons of references to the Tregarth history. Peters always alluded to the connection between John and the Emersons (of the Amelia Peabody Emerson mysteries). It's easier to pick up the clues when you know to look for them. If you haven't read any of the Vicky Bliss books, you really need to get cracking!


---

Saturday, June 15, 2013 -- Evening I read A Wrinkle in Time by Madeleine L'Engle for the first time. The book is a child's classic that was written in 1962, and surprisingly, this is the first time that I read the book. I'm not sure if I tried to read the book as a child, but I'm sure that if I did, I would have been confused and probably stopped reading the book. The story is about the Murry family, especially, Meg and Charles Wallace. Their father went off on a secret assignment for the government, and wound up going missing. Mr. Murry is a physicist, and Mrs. Murry is also a scientist. Although everyone in the town thinks that Mr. Murray left his family for another woman. However, the family knows he's out there. Charles Wallace, five-years-old, doesn't talk much, and others think he is an idiot. However, when he talks to his family, he has a much more advanced vocabulary and intellect. Charles Wallace mets some strange women in the woods near his house: Mrs. Whatsit, Mrs. Which, and Mrs. Who. Of course, the three women turn out to be from another realm, and they help Charles Wallace, Meg, and new family friend, Calvin O'Keefe, find and rescue Mr. Murry. Of course, there is lots of talk about time and distance travel via a tesseract, or a wrinkle in time/space. The three kids eventually find Mr. Murry, but run into the evil IT, the darkness that takes over planets and life on those planets.

As I said, the book is very confusing at the beginning. It's hard to figure out what is going on. I could imagine that some kids might just give up with the confusion. Also, there are definite religious overtones throughout the book with the fight between good and evil, and supreme goodness and supreme evil. There is also some discussion of mathematics and science. The tesseract is a product of the fifth dimension. The book is a quick read, and I really enjoyed the book. The key message to remember is that love wins out over evil. I can imagine that several readings would needed to pick up all the details in the book. Wrinkle in Time is indeed a very thought provoking story.


---

Friday, June 14, 2013 -- Evening Split Second by David Baldacci I love to find new-to-me authors with a batch of books that I can read. David Baldacci fits that description. Yes, I heard of him before; that is how Baldacci got on my to-be-read list in the first place. I would see his books on the New Books tables. Since the books appear to be thrillers, I thought they would be right up my alley, and I was right. I started with the King and Maxwell series. The first book is Split Second starts with Michelle Maxwell, Secret Service agent, losing the presidential candidate that she was watching. John Bruno was kidnapped from a funeral home while the Secret Service agents waited outside the viewing room for him. This, of course, leads into the last time the Secret Service lost a presidential candidate when Clyde Ritter was assassinated on Sean King's watch eight years earlier. King was distracted by something, and did not see Arnold Ramsey shoot Ritter. However, King responded and killed Ramsey. What's the tie between the two cases? Will King and Maxwell join forces and catch the psychotic mind behind the events?

I loved the book! The action was constant. Every few pages, someone was threatened or killed. There were a ton of lose ends, and it didn't seem to me to make any sense about how the two events were connected. I did manage to figure out the twist with one of the people involved in the mystery. However, there were so many loose ends that I didn't think Baldacci would be able to tie them up. But Baldacci did a great job doing just that. I'm looking forward to reading more in this series and the Camel Club books (the other series Baldacci writes). As I was reading the book one evening, I noticed that TNT has a new television series based on the books called, what for it, King and Maxwell. I'm not sure if I'll watch the series, but I will definitely be reading the books.


---

Tuesday, June 4, 2013 -- Evening The Ice Limit by Douglas Preston and Lincoln Child The Ice Limit is a standalone book written by Douglas Preston and Lincoln Child. This book does not have any connection to the Pendergast books. In The Ice Limit, Sam McFarlane is a meteorite hunter. He used to be a partner with Nestor Masangkay, and when Masangkay turns up dead, after finding what may be the biggest meteorite ever found, McFarlane finds himself a wanted man, wanted by Palmer Lloyd, one of the richest men in the world. Lloyd wants to get the meteorite for his museum. So Lloyd hires McFarlane, and then hires Eli Glinn, head of Effective Engineering Solutions, Inc. (EES), to get the meteorite from a deserted island off the coast of Chile. Stuff gets tricky when Lloyd wants the meteorite yesterday, which means that the EES and McFarlane have to go around Cape Horn in July, which is the winter in the southern hemisphere. EES converts a tanker into this high-tech vehicle. The tanker has been made to look like a crappy tanker that won't arouse the suspicions of the Chileans. The ship's captain is a woman who had lost her ship's command by grounding the ship while drunk. However, she is extremely competent, and now no longer drinks. There is lots of talk about the Ice Limit, which is the area around Cape Horn where the ocean is so close to Antarctic that is full of icebergs and dangerous waters. The group is determined to get the meteorite out of the ground even with all the obstacles. The meteorite turns out to be much heavier and dangerous than they originally thought. The meteorite seems to fit into McFarlane's pet theory that there might be meteorites that came from outside of our Solar System. As McFarlane and Rachel Amira try to figure out what the meteorite is, while Glinn tries to get the meteorite into the tanker's hold before Commandante Vallenar of the Chilean navy shoots the tanker out of the water.

The Ice Limit is a typical Preston and Child thriller. At times, as I was reading it, I was strongly reminded of Michael Crichton. I spend most of the book on the edge of my seat, just knowing that something awful was going to happen and that none of them were going to get back to New York. I read the Kindle version of the book, and it contained the epilogue that Preston and Child had on their website. The epilogue contained a variety of news articles about the incidents in the book after the fact. There are some rumors that Preston and Child will write a sequel to The Ice Limit. Since The Ice Limit came out in 2000, I'm afraid that means there won't be a sequel. Come on, Preston and Child! I want to more! Max Finder Mystery I love a good graphic novel, and my favorite type is the mystery/adventure type. One of my favorites is the Case Closed manga, and recently I found Alison Dare. Right after I finished the Alison Dare stories, I went to the local library to scan the shelves for more entertaining graphic novels. I came across Max Finder Mysteries by Liam O'Donnell and Michael Cho, and I got the first three volumes of the collected cases. The books are a collection of short stories and puzzles, sort of in the same vein as Encyclopedia Brown. The stories are four pages each. At the end of the story, you get the chance to play detective and see if you can figure it out. The answers are included at the end of the book. Between each story is a one page puzzle. Each puzzle is different, ans are things like cracking the code, tracking the footprints, and completing sentences.

How do the stories compare to Encyclopedia Brown? Well, the Encyclopedia Brown stories are much more clever. However, I really enjoyed Max Finder. The cast of characters is small, and everyone makes nicey-nicey at the end. I liked Max Finder, and I plan on looking for volumes 4 through 6. Next up on the graphic novel list is Leave it to Chance.


---

Wednesday, May 22, 2013 -- Evening Your Royal Hostage by Antonia Fraser I am catching up on my huge pile of library books, and Your Royal Hostage by Antonia Fraser was one of them. It's one of the last Jemima Shore mysteries. In this one, Jemima has been fired from Megalith because she was supporting Cy Fredericks' efforts there. Unfortunately, Cy was on his way out. So Jemima finds herself without a job, but not for long. Instead, Jemima found herself working for an American television show covering the upcoming royal nuptials of Princess Amy of Cumberland to Prince Ferdinand. Unfortunately. a group of animal rights activists, Innoright, have planned to disrupt the wedding and kidnap Princess Amy to promote their animal rights agenda.

Unfortunately, although the book was a quick read, it wasn't really up to the standards that I had come to expect of Antonia Fraser. The mystery, if there really is one, was not that exciting. I kept on waiting for the story to pick up and become exciting. However, it never really did pick up. Jemima seemed to have been just a very minor character in the story, and she really didn't play an active role in the book at all. It was rather a disappointing story. Next on my list is The Cavalier Case by Fraser. It has to be better than Your Royal Hostage. Anything would be better!


---

Thursday, May 16, 2013 -- Afternoon Alison Dare, Little Miss Adventures On Free Comic Book day, my local comic book store, Phantom of the Attic, in the Oakland area of Pittsburgh, had a sale on comics that were stored in long boxes. One of the comics that I picked up was an Alison Dare, Little Miss Adventures. The comic was just a short glimpse into the Alison Dare world, so I looked up the title in my local library. They had two volumes of the collected Alison Dare comics. I quickly read the two books, which were just so much fun!

Alison Dare is the daughter of an female archaeologist and a male librarian. Her father has an alter ego, the Blue Scarab, a super hero who fights evil. There's also Uncle Johnny, who is a super spy, disguising himself as a variety of characters. Alison goes to a convent school with her two best friends, Wendy and Dot. Alison gets the trio into a variety of misadventures, usually centering around her mother's archaeological adventures. Unfortunately, there aren't many adventures in print. I wish that J. Torres and J. Bone would do more Alison Dare.


---

Wednesday, May 15, 2013 -- Afternoon Menfreya in the Morning by Victoria Holt Nobody today writes romantic suspense/gothic romances like they used to. At least, that's what I think after reading Menfreya in the Morning by Victoria Holt. As you can probably tell by the plethora of romantic suspense books in my reviews, I love a good romantic suspense. What makes a romantic suspense book good? Well, you have to have a heroine that you like, and she has to fall in love with a guy that is a handsome rake. Then you have to throw in some conflict that comes between them. Perhaps the heroine doubts the motives of the hero. Is he really in love with her? Has he married her for her money? Is there another woman? Then you have to have some mysterious circumstances, like threats to the life of the heroine. Is it coming from the hero, or from some other outside source? I want some romantic scenes, but I don't want graphic or explicit sex. Leave it to my imagination, because I can make it better than the author in most cases.

So how does Menfreya in the Morning compare to that ideal? It compares very well! Harriet Delvaney is the heroine: the only daughter of a wealthy member of Parliament. She falls in love with the Menfreya family because she doesn't really have love or attention at home. Gwennan, the younger Menfreya, becomes Harriet's BFF. Bevil, the elder son, of course, becomes Harriet's romantic interest. The Menfreyas are an interesting bunch. Women are attracted to the Menfreya men like moths to a flame, and the same goes for the women. Plain Harriet can't compare to the beautiful women and girls who fling themselves at Bevil's feet. Not only that, but the poor girl is also gimpy! Yes, she has a limp that becomes worse whenever she is trying to impress others. Harriet does not have an easy life at home, even though she is a (or will be) a wealthy heiress. Her mother died giving birth to Harriet, and her father blames Harriet for it. He can't stand the sight of Harriet, and because she knows it, she tends to be truculent when around him. When Harriet does achieve her dream of marriage to Bevil, she is still bedeviled about Bevil's motives. Did he marry her for money or love? To add to the gothic chills, there's a clock that signals the death of a Menfreya when it stops, and yep, it stops. Does that signal Harriet's possible doom? Does Bevil want to murder her to be with the governess that he might have impregnated?

All in all, I was extremely satisfied with the story and the suspense. The book was published in 1966, which makes it one of the earlier Holt books. She kept the story moving, and I think she did a great job with character and plot development. I really enjoyed reading Menfreya in the Morning, and I'm sure you will too.


---

Thursday, May 9, 2013 -- Afternoon Troublemaker by Janet Evanovich I haven't read any of Janet Evanovich's books, even though I love mysteries. When I was in the library recently, I was scanning the graphic novels when I saw two volumes of Traublemaker by Evanovich. Evanovich wrote the graphic novel with her daughter, Alex, and illustrator, Joelle Jones. I gather that the graphic novel is based on Evanovich's novels, which I think I will now have to check out. Alex Barnaby, auto mechanic, and Sam Hooker, race car driver, are in Miami when they get involved in a friend's kidnapping. Before you know it, Alex (who is a woman, by the way) and Sam are tracking down the kidnapper, and get involved in voodoo and cult gangs. The story is entertaining, and the art adds to the fun of the story. If you haven't read a graphic novel, but you like mysteries/thrillers or Evanovich, you should try out Troublemaker. The graphic novel is split into two books: Traublemaker 1 and Traublemaker 2.


---

Wednesday, May 8, 2013 -- Evening Gulp by Mary Roach Mary Roach is one of my favorite non-fiction writers. Roach looks at her subjects with a scientific researcher's outlook. You will get tons of details with lots of references to read more about it. Roach's past books have looked at death, ghosts, sex, and travel to Mars. All the books were highly entertaining because Roach not only take a scientific approach to the topics, but she also looks at them humorously. Her latest book Gulp: Adventures of the Alimentary Canal looks at the digestive tract. Roach tackles all the topics that we don't like to talk about in polite society: spit (meaning saliva), farts (especially the stinky kind), and constipation. I would imagine that my mother would have publicly poo-pooed the idea of reading a book like this while devouring it in the privacy of her bedroom/bathroom. Yep, I would say that Gulp would make interesting bathroom reading. If you find yourself scheduled for a colonoscopy cleansing, which would result in an extended bathroom stay, take Gulp with you.

A few of the more interesting things I learned from Gulp:

Cats and dogs don't like variety. The human owner likes variety in diet, but as Roach said, a cat is either a mouser or a birder.
Laundry stain removers contain enzymes found in saliva: amylase for starches, protease for proteins, and lipase for grease.
People find spit disgusting, even their own spit. So if you spit in a glass, you would be too disgusted to re-ingest it.
Prisoners refer to the rectum as the "prison wallet" because of the number and variety of objects smuggled into the jail via the anus
Doctors have you thoroughly clean out the colon for a colonoscopy to make sure that all the methane and hydrogen in your colon is cleared out. If they didn't, they might ignite a pocket of gas while using a cauterizer to remove polyps. That's also why they blow air into the colon. With the air, doctors can maneuver better in the colon and dilute any flammable gas.
Hydrogen sulfide, the rotten egg smell in farts, can be deadly in large enough concentrations. People who work in manure pits could die if they didn't wear breathing apparatus.

Of course, this list is by no means comprehensive, and Roach's writing style is entertaining and accessible. That means that you don't have to worry about being bogged down in boring, clinical language. Roach talks to the reader in plain, old regular English, with a good sprinkling of slang. I love reading anything written by Roach because I know that I will get a thorough education on the topic, and the questions that I would ask are the ones she answers. Read Gulp. You'll enjoy it!


---

Sunday, May 5, 2013 -- Evening Thunderhead by Douglas Preston and Lincoln Child I have read some of the Pendergast books written by Douglas Preston and Lincoln Child, and I have read the pair's standalone thrillers. However, I thought it was time to I read some of the standalone books that the pair wrote together. I started with Thunderhead. The novel was about Nora Kelly, archaeologist, whose father vanished when she was a child. Recently, her mom had died, and she and her brother, Skip, still had the family ranch home, which was now abandoned. When Nora got a call that there were kids using the house as a meeting place, she went to investigate, and instead was attacked by two half man, half wolf beings who asked where the letter was. Nora didn't know what they were talking, but fortunately, she was rescued by neighbor, Theresa, who scared off the creatures with a rifle. As Nora was rushing from the house, she knocked over a set of old mailboxes, and found an old letter from her father, dated 16 years before. That started Nora the search for Quivira, a lost city of the Anasazi that was rumored to full of gold. Nora managed to convince the head of her university, Ernest Goddard, to sponsor her search for the city. With a small group that included Goddard's daughter, Sloane, and Bill Smithback, from the Pendergast novels. Will the group find the lost city? Or will they be overtaken by the skinwalkers, the evil beings that attacked Nora in her family ranch house?

I really got engrossed in the story, and couldn't put down the book. Preston and Child have a way of getting the reader on the edge of his or her seat, wondering how the group will get out of the current predicament. Nora Kelly was a likable character, and I found myself rooting for a relationship to develop between her and Smithback. The tension really started to roll in the last third of the book, and it didn't look as if Nora and Smithback would survive the skinwalkers' attack. I definitely recommend the book, and I cannot wait to read more Preston and Child.


---

Monday, April 29, 2013 -- Afternoon Trojan Gold by Elizabeth Peters There aren't many books in the Vicky Bliss series, and I finally got around to number four: Trojan Gold by Elizabeth Peters. At the end of the previous book in the series, Silhouette in Scarlet, Sir John Smythe was presumed dead. At the beginning of Trojan Gold, Sir John was still among the missing, and Vicky was wondering if she would ever see him again. When a mysterious photo of a woman wearing the missing golden jewelry from Troy came in the mail for Vicky, she immediately suspected Sir John. However, Vicky noticed that the woman in the photo was Sophia Schliemann. Instead it was the wife of an innkeeper that Vicky had met the previous year. Vicky went in search of Herr Hoffman and found out that Hoffman and his wife were both dead. It was obviously that something was wrong. When Sir John finally appeared, Vicky was sure that some how he was involved in the missing Trojan gold. The others who has vacationed with Vicky also started showing up, making the hunt for the Trojan gold even more pressing. Of course, Schmidt (Vicky's boss), Vicky, and Sir John got deeply involved in the hunt for the gold, and it became urgent for them to find it ASAP as dead bodies started to pile up.

I really enjoyed Trojan Gold. The story was fast paced, and I loved the return of Sir John and the growing romance between him and Vicky. The criminal was definitely not the person I thought it would be. My only problem with the book was that the loose ends weren't all tied up in the end. I won't give away the details, but there are still some unanswered questions. I love Elizabeth Peters' heroines. Vicky is a strong, smart female. Unfortunately, she is quick to rush into danger because she doesn't think everything through. Trojan Gold was a fun read, and I am already requesting the next in the series Night Train to Memphis from the local library.


---

Monday, April 15, 2013 -- Afternoon Lord of the Far Island by Victoria Holt I love a good gothic romantic suspense book, and Lord of the Far Island by Victoria Holt was a good one! Lord of the Far Island was written in 1975, and Holt was obviously doing a great job of honing the tools of her craft. Ellen Kellaway was the typical Holt heroine: strong-willed, rambunctious, not easily contained by social protocol. Unfortunately for Ellen, she was the Poor Relation in the family. Her mother had run away from her husband when Ellen was three, and then had the nerve to die when Ellen was five. That left Ellen at the mercy of Cousin Agatha. Well, with Ellen's personality, Cousin Agatha was at Ellen's mercy. Agatha never let Ellen forget that Ellen was a Poor Relation. All the attention was to go to Agatha's daughter, Esmeralda. Esmeralda was a submissive girl, and she quickly formed a bond of friendship with Ellen. Ellen would get the pair into trouble, for which Ellen would have to do lines or tapestry as punishment. Imagine the horror that Agatha felt when the younger son of the wealthy and powerful Carrington family, Phillip, asked Ellen to marry him instead of Esmeralda. It was an escape from the threat of being governess to a miserable woman, but Ellen started to have doubts about her love for Phillip as the wedding drew near. Especially troubling was the mysterious stranger who shows up in the house that Ellen and Phillip are planning to buy. Less than a week before the wedding, Phillip was dead, supposedly a suicide. Everyone looked at Ellen for an answer, but she had none, other than the suspicion that Phillip would not kill himself. Ellen then had a near miss with a fall off the Dead Man's Leap when a railing gave way. What was going on? Since the wedding was off, Agatha tried to send Ellen off as a governess, but a letter from Ellen's father's family gave Ellen a welcome release. She was off to the Far Island to meet her guardian, Jago Kellaway, who turned out to be the mysterious stranger! Ellen was in danger, but she didn't know from which direction. She was falling in love with Jago, and he seemed to love her, or did her really just want the Far Island, to which she was the heiress? Or was there someone else who was out to end Ellen's life?

Sometimes readers say that Holt could tend to spend too much time on the back story of the heroine, and that it would ultimately lead nowhere. However, I thought Lord of the Far Island was nicely paced. The story quickly moved along, and there was just the right amount of tension through the book to keep me engrossed in the story. It didn't take me a long time to read because I didn't want to put the book down. Ellen had tons of gumption, which got her into trouble, but in the end, there is happineess and love for Ellen. It was a very enjoyable and satisfying read. Lord of the Far Island would be a good start to introduce someone to the worlds that Victoria Holt created. I would say the book is definitely at the top of my list of the best of her books.


---

Saturday, April 13, 2013 -- Afternoon Strangled Prose by Joan Hess I do like mysteries, and one of my favorite authors, Elizabeth Peters had commented once that she enjoyed the mysteries of Joan Hess. Why? Because they have the touch of humor that Peters herself puts into her books. I had only read one of the Hess books that was set in Egypt, but I thought I would give the Claire Malloy series a try. What better place to start than the beginning of a series? That means that I got Strangled Prose on my Kindle, and gave it a go. I was not disappointed. Claire Malloy, book store owner, with teenaged daughter, Caron, was introduced in the story. Claire was coerced into giving a book signing party for her friend, Mildred Twiller, who wrote smutty romance books under the pseudonym Azalea Twilight. When the contents of the book were revealed at the signing, and a few faculty, including Claire's deceased husband, were revealed as offensive characters in the book, Claire was understandably angered. Claire didn't think anyone knew that her husband was involved in a tragic car accident while on his way to a motel with one of his students. When Mildred was strangled after the party, Claire was one of the key suspects. Will Lieutenant Pete Rosen arrest Claire, or will they work together to discover the murderer and the mystery behind the book?

I really did enjoy the book. There were several laugh out loud moments in the book, and the mystery was nicely plotted and revealed. i did guess that whodunit, but I didn't get the whole story behind why before it was revealed. The characters were interesting, and I found myself rooting for Claire and her daughter, Caron. Also, since I did read one of the more recent books in the series, I did know that Pete Rosen would play a huge part in Claire's life. The book was a winner, and I'm excited to know there are 17 more in the series. Plus Joan Hess wrote the Maggody series, and I'll have to give those a try too.

I do have some additional comments about the book in Kindle format. I would imagine that the original digital content may have been lost, if it ever existed. The book was published in 1986, so the publisher may have scanned print content. Because of that, there were several instances of misspelled words throughout the book. Granted, it was easy to figure out the correct word from the context, but it just showed a sloppy disregard for the transfer of the book into digital format. I expect much better from current publishers.


---

Monday, April 8, 2013 -- Afternoon Death in Zanzibar by M.M. Kaye M.M. Kaye was probably best known for her epic novel, The Far Pavilions set in British ruled India. What Kaye wasn't as well-known for were her mystery books. She wrote six of them in the last 1950s that were later published as The Death in... series. I just finished Death in Zanzibar, which was originally published as The House of Shade in 1959. The story was a combination of mystery and thriller. Dany Ashton was to go to visit her mother and step-father in Zanzibar. While she was in London, the step-father, Tyson Frost, asked her to stop at the family lawyer's house to pick up a letter. Dany rescheduled the meeting with the lawyer, got the letter, and later, was shocked to discover that the lawyer had been brutally murdered. The finger of suspicion pointed at Dany. Her room was searched, her passport stolen, and the murder weapon was found in her room. Fortunately, while the room was searched, Dany was locked outside of it in the hallway where she met Lash Holden, son of Frost's best friend. Lash came up with his scheme to get Dany to her the Frost estate in Zanzibar by having her pretend to be his secretary, who had come down with the mumps. More deaths followed, and the letter was a treasure map leading to $3 million dollars! Will Dany figure out who was looking for the letter and committing the murders?

Kaye did a great job describing the scenery in Zanzibar and the atmosphere of tension that surrounded the characters in the story. The mystery was decent. I enjoyed reading the story, and I found myself engrossed in it. I'm going to try some more of the The Death in... series, and I hope they are as enjoyable as Death in Zanzibar.


---

Thursday, April 4, 2013 -- Afternoon The Murder of Roger Ackroyd by Agatha Christie If you are a mystery fan, you have heard of The Murder of Roger Ackroyd by Agatha Christie. The book has generated a good deal of interest and critique over the years since it was published in 1926. The story was narrated by Dr. James Sheppard, who played a key role in the story. The book opens with the death of a Mrs. Ferrars. Her husband had died a year before, and her death was a suicide. Her friend, that many thought she would marry, Roger Ackroyd, asked to talk with Dr. Sheppard about the death. Dr. Sheppard went to dinner at Ackroyd's estate with Ackroyd's sister-in-law, niece (Flora), friend (Major Blunt), and secretary, Geoffrey Raymond. Other key suspects in the story are the housekeeper, Mrs. Russell, Ackroyd's stepson, Ralph Patton (who was recently engaged to Flora), the butler, Parker, and the parlor maid, Ursula Bourne. Ackroyd was found murdered in his study later that night when Dr. Sheppard got a suspicious call that Ackroyd was dead. The finger of suspicion pointed to each of the characters in turn, and it was up to the newly retired Hercule Poirot to figure it out. Poor Poirot! He retired to grow vegetable marrows and wound up getting pulled in to a murder investigation.

Christie caused a ton of controversy with the book because of the plot twist she employed. I won't say what it is here, but some people thought it was a cheat. Since I read the book before, and I knew whodunit, I was looking for all the clues that point to the murderer. They are indeed there! Christie's mantra throughout all of her books was that you can't believe what people tell you. You should only believe the things that you know that you can absolutely verify that isn't based on X told me. Even as a kid, I was one of the "show me" types. I don't know if I ever took it to the level of Christie's detectives, but I do appreciate the philosophy. I found The Murder of Roger Ackroyd to be extremely well-written and highly entertaining. Christie knew how to weave a pleasing and entertaining puzzle, and I highly recommend The Murder of Roger Ackroyd to anyone who loves a good book!


---

Sunday, March 17, 2013 -- Evening Kirkland Revels by Victoria Holt Wow! That's what I have to say after reading Kirkland Revels by Victoria Holt. The story was a traditional gothic romantic suspense book. The heroine, Catherine lived on the moors in a dark house with her father. She had just returned from her education in France, and she was desolate at not having any prospects for the future. One day on the moors, she found a gypsy woman with an abused and hungry dog. Catherine tried to buy the dog from the woman, but found she didn't have money. That's where Gabriel Rockwell came into the picture. He was passing by, and Catherine asked for help with buying the dog. That was the start of Gabriel and Catherine's whirlwind relationship. Within weeks, the pair was married, even though Catherine felt that there was much about Gabriel that she didn't know. Catherine and Gabriel returned to his family home, Kirkland Revels. The house is as dark and brooding as Gabriel's inner thoughts. Within days of getting to the house, Friday, the dog went missing, and Gabriel, the heir to Kirkland Revels, threw himself from a third floor parapet. Catherine went back to her father's house, but soon found out that she was pregnant. Of course, the Rockwell family insisted that Catherine come back to Kirkland Revels to have the baby. That's when Catherine started to be terrorized by a phantom monk. Was she crazy, or was someone trying to harm Catherine and her unborn baby to gain control of the baby's rights to Kirkland Revels.

The book was great! The atmosphere was great. Victoria Holt created a perfect rendition of the traditional gothic romantic suspense. The heroine was being haunted by evil, but there was romance in the background with the cousin, Simon Redvers. I was so engrossed in the book that I couldn't put it down. It was one of the best Victoria Holt books that I read recently. Now to read more of some of the earlier books.


---

Thursday, March 14, 2013 -- Afternoon Curtain by Agatha Christie I've been a fan of Agatha Christie since I was a teenager. I remember getting Curtain as a Christmas present one year. It was the only time I read the book, and I remember that I was quite shattered by the book. Obviously, I don't want to give any spoilers to someone who hasn't read the book, but it is Hercule Poirot's last case. Agatha Christie originally wrote the book in the early 1940s in case she was killed in one of those bombing raids on London. Her thought was that the Poirot and a Miss Marple, Sleeping Murder, would help support her daughter and grandson in her absence.It was locked away until the 1970s when it became obvious that Christie would not be able to write another book. Curtain was published shortly before Christie's death. Sleeping Murder was published after Christie's death.

Curtain, as I mentioned, was Poirot's last case. He and Hastings returned to the site of their first case, the country house named Styles. Hastings was a recent widow, and he was quite disturbed to find Poirot in a much weakened physical state. Poirot was after X, a person who was responsible for several deaths that had been done by others. For example, in one case, the daughter murdered her repressive father, and then went to the police to turn herself in. Another time, a husband murdered his wife. Poirot knew that X was at Styles, which has been turned into a boarding house, and that murder was soon to follow. Also at Styles were Hastings daughter, Judith, who is working with a research doctor, Dr. Franklin. Dr. Franklin was unhappily married to woman who claimed to have poor health. Mrs. Franklin's old beau was there, Mr. Norton, a bird watcher, and Elizabeth Cole, who was the sister of the woman who murdered the repressive father. It became obvious that there was tension in the air. Even the new owners, Colonel and Mrs. Luttrell showed signs of cracking under the strain. After the Colonel accidentally shot his wife, who was not badly injured, Hastings was on the watch. But could he stop the next murder? With concern over his daughter Judith, Hastings himself almost stooped to murdering a man Hastings thought was going to use his daughter in a nasty affair.

The story was very gripping, and I enjoyed reading the book more this time the first. Knowing how the story ended, I was on the lookout for all the potential clues, and they were all there. The book was a very fitting end to both Christie's and Poirot's careers. I would recommend the book to any mystery lover. Just keep in mind that the ending might be a bit of a shock. I'm glad that I finally got over my negative feelings about the book and reread it. Agatha Christie is one of those authors who should be read and reread many times!


---

Sunday, March 3, 2013 -- Evening Seven Tears for Apollo by Phyllis Whitney When I was a teenager, I used to love Phyllis Whitney's books. They were one of my first introductions to romantic suspense, and I remember devouring the books during lazy summer afternoons. I have not read a Phyllis Whitney since then, but since I had luck revisiting the books of Victoria Holt and Mary Stewart, I thought what the heck. I chose Seven Tears for Apollo because it sounded like it would be fun. The book was set in Greece in the early 1960s. Dorcas Brandt was married to Gino at a young age. Gino seemed like a really romantic guy, but he turned out to be a sadistic evil person. He prevented Dorcas from running away from his abuse, and when she tried to get help from an old family friend, Mr. Dimitrious, that friend was run over and murdered by Gino. Dorcas was hospitalized in a mental health institution. Gino died in an airplane crash, and Fernanda, his surrogate American mother, took over caring for Dorcas, and Dorcas' daughter with Gino, Beth. Fernanda takes Dorcas to the island of Rhodes. Dorcas goes along because Dorcas wanted to talk to Mrs. Dimitrious who had returned to Greece. There's a mystery about a missing 2000 year old statue head of the crying boy and Gino's involvement in the theft. There's also Johnny Orion, a possible love interest for Dorcas.

So what did I think of the book? It was awful! I just wanted to reach into the pages of the book, grasp Dorcas by her neck, and shake the living daylights out of her. The girl was whiny, and she left Fernanda bully her and make decisions for herself and her child. Dorcas went around acting like an unstable, annoying woman who would be a trial to anyone. Dorcas wouldn't stand up for herself; she let Fernanda make all the decisions, and just cried and moaned about her pitiful existence. I wound up not caring what would happen to Dorcas. I did want to know what happened to the stolen head, and that was the only reason I continued to read the book. I like my heroines strong and resilient, not weak and emotional wrecks. Maybe it was just this one book, so I might try another Whitney. Maybe my tastes changed from my teenage years.


---

Sunday, February 17, 2013 -- Evening The House of a Thousand Lanterns by Victoria Holt I have definitely been in a mood for comfort reads. To me that means classic mysteries and gothic romantic suspense. I was looking through the numerous titles that Eleanor Hibbert (aka Victoria Holt, Philippa Carr, and Jean Plaidy), and I saw a few Holt titles that I don't remember reading. I started with The House of a Thousand Lanterns. This one caught my eye because of the exotic setting: Hong Kong/China in the late 1800s.

The story revolves around Jane Lindsay. When she was a child, her father died. Her mother got a job as a housekeeper in a place that would allow her to bring Jane with her for vacations. Jane's mother was set and determined to send Jane to school just as others had in Jane's father's family. The family had disinherited the dad when he married Jame's mother. Anyway, Jane's mom finds the perfect job at Roland's Croft, which is owned by Sylvester Milner. Sylvester made his living buying and selling Chinese art. He was quite skilled at his job, and there is some mystery about his treasure room, which is always locked. After Jane was caught sneaking into the room, Sylvester kept his eye on her and offered her a job as his assistant when Jane graduated from school. Soon after Jane started working for him, she met his nephew Joliffe. Of course, they both fall in love, and after a whirlwind romance, Jane and Joliffe get married. Within months, Jane found out that Joliffe had another wife. Joliffe thought the first wife had died in a train accident, but she didn't. Jane returned to Roland Croft, found out she was pregnant, and wound up marrying Sylvester to give the baby a name. Of course this caused quite a bit of controversy with Joliffe who just wanted to run off with Jane. The title of the book comes from the house that Sylvester owned in Hong Kong, where the action in the last half of the book takes place. Sylvester died, Jane (after a year) remarries Joliffe, whose first wife finally died, and both Jane and her six-year-old son, Jason, both find their life threatened. Of course, most of the drama is caused by Jane not knowing if she could trust Joliffe even though she loves him so much.

As is typical of Holt's books, this one has a very long middle section that sets up a lot of the history and personal interactions between the characters. I would have loved to smack Jane. She married someone, but then never communicates her concerns or questions Joliffe about his actions. If only she were open with him, she would never have found herself in dire straits. Of course, there would not have been any story, but the way Jane goes on and on about it was just so irritating. That said, I did enjoy the book. It was a typical Holt with a strong female character and a questionable, but really okay, male character. The mystery was decent. All in all, it was a good read to take my mind off of the troubles of life.


---

Thursday, February 7, 2013 -- Evening Chitty Chitty Bang Bang by Ian Fleming Somehow in my life, I had not watched the movie, Chitty Chitty Bang Bang. Recently, I tried to watch the movie. Note the word tried. It was not a good experience. I got halfway through the movie and stopped. Dick Van Dyke just annoyed me, and the story seemed a bit disjointed to me. So I gave up on it. However, my husband said that the movie was one of his favorites as a child, and he said that he particularly loved the book. Well, I was hesitant to read the book because of the movie, but he assured me that the book, in his memory, was much better than the movie. I broke down and got the book from the local library. I had, of course, read the James Bond books, but I wondered how Ian Fleming would do with a children's book.

Chitty Chitty Bang Bang, the book, was very good. It was not at all like the movie. Well, I supposed I shouldn't say that because the basic premise of the magic car is in the book and the movie. In the book, the Potts were a family with father, mother, and two children. The father was Commander Caractacus Pott, the mother was Mimsie, and the twins were Jeremy and Jemima. Commander Pott was an inventor and explorer, and he developed the whistling candy, and the recipe was sold to a candy maker so the family could buy a car. The family fell in love with Chitty Chitty Bang Bang. Commander Pott rebuilt her, and the family went on adventures with the car. Chitty Chitty Bang Bang could fly and sail on the water.

I loved the book! The adventures were fun, and I found myself falling in love with the characters and the car. I was sad to finish the book, because I knew that Fleming died shortly after the book was published, so there could be no further stories of Chitty Chitty Bang Bang. Of course, I did look, and others have continued stories with the characters, but I'm sure that it would just not be the same. My recommendation: pass up the movie, read the book, and sing the Chitty Chitty Bang Bang song as you read.


---

Tuesday, February 5, 2013 -- Evening Evil Under the Sun by Agatha Christie I was in the mood for an Hercule Poirot mystery, so I got Evil Under the Sun by Agatha Christie. It's one of the earlier Christies, written in 1941. Poirot is on vacation and before you know it, he finds himself in the middle of a murder. Arlena Stuart is strangled, and the husband, Kenneth Marshall, looks like a good suspect. He could see that Arlena was flirting with Patrick Redfern, and everyone is sure that the romance has to be getting under Marshall's skin. However, Marshall appears to have an alibi. Redfern also has an alibi. Redfern's wife, Christina, also has an alibi because she is with Marshall's teenage daughter, Linda. Linda is acting guilty, probably because she hated her step-mother. But could a young girl strangle a grown woman? It looks as if the only person who could have committed the crime is a mentally troubled priest or an anonymous drug dealer.

I really enjoyed the book. Unlike some of the other Christie mysteries, there is only one murder. If you pay close attention, all the clues to the murder are there. This book was also made into a movie, starting Peter Ustinov as Poirot. The movie also stars Diana Rigg as Arlena Stuart. The book was a quick and enjoyable read, and I found it to be a pleasant way to spend a snowy weekend.


---

Monday, January 28, 2013 -- Afternoon The Shivering Sands by Victoria Holt I was feeling in the mood for a gothic romance, and I remembered that I used to love Victoria Holt. I haven't read anything of hers since I was a teenager, so I thought I would give one of her books a try. I picked up The Shivering Sands from the library. This book was just like the typical Holt that I remember from my childhood. The book was set in the late 1800s, and the heroine had a service role in the household with the dark, brooding hero. The heroine, Caroline Verlaine, was a woman in her late 20s who was a widow. Her husband was a famous pianist, Pietro Verlaine. Caroline had given up any notion of becoming a concert pianist in her own right when she married Pietro. Caroline also lived in the shadow of her parents and sister who were renown archaeologists. Caroline's parents were killed together in a train accident, and then Roma, the sister, mysteriously disappeared shortly after Pietro's death of heart attack. Boy, talk about tragedies! Caroline went to Lovat Stacey, where Roma had been investigating Roman remains, as a replacement for her former music teacher. The position got Caroline into the house, and introduced her to the family. Caroline's wards were Edith (the recently wedded wife to Napier Stacy, the dark brooding hero), Allegra (illegitimate daughter of Napier), Alice (the housekeeper's daughter), and Shelia (the pastor's daughter). Caroline found that she was getting heavily involved in the family's affairs, and in fact, that she was falling in love with Napier. Napier had a cloud of murder over his head, having accidentally shot his wonderful, older brother, Beau when they were teens. Beau died, Beau's mom killed herself, and Napier found himself banished to Australian. Eventually, Napier was brought back home to marry Edith. When Edith disappeared, just like Roma, fingers started to point at Napier. Can Caroline solve the mysterious disappearance and clear Napier? Or will she find out that Napier is the guilty party?

Of course, Holt introduced a second love interest: Godfrey. Godfrey was the total opposite of Napier, and of course, Godfrey appeared to be in love with Caroline. Holt loved having her heroines not only facing danger, but she loved to give them the choice between two polar opposites. One was always the safe, sensible choice (Godfrey), while the other was sure to make the heroine's life a roller coaster of danger and emotional upheaval (Napier).

The Shivering Sands lived up to my expectations. I got the dark brooding hero. The hero fell deeply in love with the heroine with very little contact or conversation. There was a ton of smouldering looks and touches. The book was really enjoyable, and a great choice for the recent cold and blustery days here in Pittsburgh. If you like the more typical gothic romantic suspense, give the The Shivering Sands a try. You won't be sorry!


---

Saturday, January 19, 2013 -- Evening Silhouette in Scarlet by Elizabeth Peters Vicky Bliss is one of my favorite fictional heroines. Why? Because she's not like the typical romantic suspense heroine. She's not the little dainty girl who can't take care of herself. She's not in her early twenties, and although she attracts the men, she doesn't always end up with the hero in the end. Of course, Vicky's flaw is that she does tend to jump into things without thinking, which is a typical "had I but known" reaction of heroines. In Silhouette in Scarlet, Vicky is in prime form. She receives a letter and reference to Karlsholm. Of course, she knows that the message is from John Smythe, her romantic counterpart in the Street of the Five Moons. A year earlier, Vicky met up with Smythe in Paris, where she was left facing the police when Smythe skipped out of the hotel room. When Vicky goes to Sweden, Smythe tries to avoid her. It seems he is being chased by some criminals, and Vicky is totally in the dark about what is going on. She meets up with Leif, a tall (taller than tall Vicky), muscular, Swedish type. Vicky also gets contacted by Gus, who thinks he's her long lost, much removed cousin. Smythe is behind making Gus think that Vicky a relation because Smythe is trying to get Gus to let him dig in Gus' estate pasture to look for Roman gold. Of course, the other gang members get involved, and before you know it, Vicky, Gus, and Smythe are imprisoned and in danger.

I don't remember reading this book in the past (although I must have because I'm sure I read the whole series), and I really enjoyed the story this time. Would Vicky figure out what was going on? Would Smythe receive his just desserts from the criminals? Would they all escape to live happily ever after? I admit that I was surprised at the reveal of the criminal at the end. i didn't suspect it although I suppose I should have. The clues were all there. What I love the most about Peters' Vicky Bliss stories is the humor that's mixed in with the suspense. When you read Peters, you know that you are going to go on a amusement park ride. It will be fun and thrilling, and when you finish the book, you are going to be gasping with pleasure.


---

Wednesday, January 9, 2013 -- Afternoon Bond on Bond by Roger Moore People say that your favorite actor in role played by many actors is the first actor you saw in the role. I would say that is true. My favorite Doctor Who is Tom Baker, and my favorite James Bond is Roger Moore. Of course, the first time I saw Roger Moore was as the Saint. The first Bond movie that I saw was Live and Let Die. Since then, I have seen every Bond movie and read a few of the books. With this past year being the 50th anniversary of Bond, I celebrated by reading Bond on Bond: Reflections of 50 Years of James Bond Movies by Roger Moore. The book is like getting double the bang for my buck. I get to read about the highlights of the past 50 years, all from the perspective of my favorite Bond!

Roger Moore dishes on a variety of Bond topics: cars, gadgets, girls, villains, locations, and other Bonds. Of course, all are discussed from Roger's point of view. There isn't much that is new or earth-shattering, but then would you really expect there to be? The book is full of beautiful photos, and it's a quick read. Bond on Bond isn't meant to be a comprehensive analysis of the Bond movies. Note that the subtitle contains the word reflections. It's meant to be a reflection by Roger on the phenomenon that is James Bond. Some people complained that there wasn't much new here. That was fine with me. The book gave me what I wanted: a coffee table piece written by my favorite Bond. Maybe I'm biased, but I loved the book. I would recommend it for the movie fan, the Bond fan, or just the Roger Moore fan.


---

Monday, January 7, 2013 -- Afternoon A Caribbean Mystery by Agatha Christie As some of you may remember, Miss Marple is one of my favorite fictional detectives. I love reading Agatha Christie, in general, but for some reason, I find Miss Marple more entertaining that Hercule Poirot. I think that part of it may be because Miss Marple is more self-effacing. Others toot her horn more than Miss Marple does. I've randomly read her novels over the years, and it's been quite some time since I read A Caribbean Mystery. This is one of the later books of the twelve Marple novels, published in 1964. The book was made into a movie with Helen Hayes, which is also very enjoyable.

In A Caribbean Mystery, Miss Marple was vacationing in the Caribbean as a treat from her nephew, Raymond West. Miss Marple had been feeling poorly, and a vacation in a tropic area was just the ticket for recovery. Miss Marple found herself involved in murder when a fellow guest, Major Palgrave was murdered after offering to show Miss Marple the photograph of a man who had murdered a couple of wives. Of course, Christie explained to the reader that people just don't listen to the repetitive stories of the elderly. As Miss Marple tried to get a glimpse of the photo and get the authorities to confirm if Major Palgrave died due to natural causes, another housemaid turned up dead. An investigation showed the Major Palgrave was poisoned, and the housemaid must have known who did it. Miss Marple knew that the way to catch the murderer was to figure out who was the murderer in the photograph. As Miss Marple explained to the rich, crotchety Mr. Rafiel, the person in the photo must have been planning another murder! There were plenty of suspects, but with the help of Mr. Rafiel and his manservant, Jackson, Miss Marple saved the day.

Although this book is one of the later books, the story wasn't as rambling as some of the other books. We did get to see things more from Miss Marple's perspective than we have in other novels. Usually, the teller of the story was someone else, and Miss Marple was a supplemental character. I think that having the story from Miss Marple's viewpoint allowed Christie to give some perspective on old age. Miss Marple realized that she wasn't as mobile as she was. Christie also complained about the eagerness of doctors in prescribing medications and finding health problems with people. We have that same problem today. Doctors are quick to prescribe antibiotics for colds and a variety of pills for the most routine ailments.

Of course, the most interesting interaction was between Mr. Rafiel and Miss Marple. Miss Marple took the role of Nemesis. Hence the title for the succeeding book Nemesis, where Miss Marple looked into a mystery for Mr. Rafiel as a request from his will. I really enjoyed reading A Caribbean Mystery. It wasn't the best of the Christies, but it had a good mystery and interesting characters. As Mr. Rafiel said to Miss Marple at the end, "Ave Caesar, nos morituri te salutamus." Christie, I salute you!


---

Monday, December 31, 2012 -- Evening The Son of Neptune by Rick Riordan I spent a good portion of the University winter break reading The Son of Neptune by Rick Riordan. It is the second book in the Heroes of Olympus. The Percy Jackson & the Olympians told the story of the Greek demigods of Camp Half-Blood. This current series has a mix of Greek and Roman demigods. In the first book, The Lost Hero, Annabeth and Camp Half-Blood was looking for Percy Jackson who had gone missing. Jason Grace showed up, with a case of amnesia, and after Jason and Annabeth, Piper, and Leo from Camp Half-Blood freed Juno, Jason realized he was a Roman. In The Son of Neptune, Percy came back into the story. He had been missing for eight months. Juno had blocked his memory of who he was. Percy found himself making his way to Camp Jupiter. Percy had to prove himself to the Romans of Camp Jupiter, and of course, he does. Mars, aka Ares, appeared at camp, claimed Frank Zhang as his offspring, and told Frank that three of them would have to journey to Alaska to free Thanatos, the god of Death, who was imprisoned in Alaska. In order to free Thanatos, Because Thanatos was captured, people can't die. In particular, monsters can't die. Frank, Hazel Hazel Levesque, and Percy Jackson will have to kill the giant, Alcyoneus. We learned the back story of Frank, who was a mix of Roman and Chinese god, and would die when a particular piece of kindling he has burns out. Hazel died in the 1940s trying to prevent the rebirth of Alcyoneus. She was a daughter of Pluto, and was brought back by her half brother Nico di Angelo to right her wrongs.

As with the other books that Riordan wrote, this book had lots of good action and lots of mystery about what the future would bring. Would Frank die? What is his mystery? Will Hazel stay alive and right her wrongs? Would Percy get his memory back and rejoin Annabeth? Some of the questions were answered; others weren't. Ever more questions were brought up before the book ends. Will Percy, Frank, Hazel, Jason, Annabeth, Leo, and Piper succeed in the Prophecy of the Seven? We'll just have to read the other books to find that out. This book was a great example of Riordan's action adventure for kids that even adults could enjoy. If you haven't read Riordan, start with The Lightning Thief, and enjoy the journey!


---

Friday, December 21, 2012 -- Afternoon Street of the Five Moons by Elizabeth Peters I have been busy with the end of term, and the best remedy for the stress is a good, ripping yarn! So, of course, I turned to Elizabeth Peters. Peters knows how to write a funny, entertaining story, with a bit of thrills and suspense. Since it's been a while since I've read one of her Vicky Bliss novels, I chose the second one in the series, Street of the Five Moons.

Vicky Bliss is not your typical romantic suspense heroine. She is tall, blond, beautiful, smart, and able to take care of herself. Well, she has to take care of herself because she's always getting herself into jams because she doesn't stop to think about what she is doing. Street of the Five Moons is one of my favorites because it is the book that introduces Sir John Smythe, who we later learn is really John Tregarth. In Street of the Five Moons, the story begins with a dead man who has a fake copy of the Charlemagne necklace sewn into his clothes. This is brought to the attention of Vicky's boss, Herr Professor Anton Z. Schmidt, who is the head of the museum that houses the Charlemagne necklace. Schmidt finds out that the necklace in the museum is really the real one, but he sends Vicky off to investigate the mystery. She talks to the police and figures out for a cryptic note in the dead man's pocket that 37 Street of the Five Moons is the source of the necklace. Of course, she realizes that this is a street in Rome. Schmidt gives her the time off to investigate, and off goes Vicky. Of course, when she breaks into the antique store at that location, Vicky finds a list of names and a hungry Doberman. Vicky, although smart, isn't sensible, and she goes back to the store the next day. She meets Smythe, and later winds up getting kidnapped. Smythe, although one of the bad guys, rescues her and tells her to get the heck out of Rome. Does our Vicky listen? No, of course not! Instead, she has figured out where she was taken while kidnapped. And of course, she manages to finagle an invitation to meet the people she thinks are the masterminds behind the crime. What else would she want to do? Well, before you know it, Vicky and Smythe are running of their lives, and murder is on the horizon.

The story is quite entertaining, and once I started reading, I didn't want to put the book down. Peters knows how to write repartee, and Vicky and Smythe are quite likeable. Eventually, Peters tied in Smythe's history to the Emersons, of the Amelia Peabody Emerson line. The youngest daughter of Ramses and Nefret is Smythe's grandmother. The whole series is fun and entertaining. Smythe is an entertaining answer to other British criminals, like Raffles. I have the next book, Silhouette in Scarlet on my TBR pile from the library. If you haven't read a Vicky Bliss, get Street of the Five Moons now. Read it; you'll love it!


---

Tuesday, November 20, 2012 -- Afternoon Trouble in the Brasses by Alisa Craig I think that I have reached the saturation point with the Madoc and Janet Rhys mysteries. I just finished the fourth in the series, Trouble in the Brasses, written by Alisa Craig (aka Charlotte MacLeod). This one was really confusing for me, and definitely not my favorite. Madoc was called in to investigate trouble in the brass section of the orchestra that his father, Sir Emrys, was conducting. The book started with Madoc arriving at the concert. One of the guys in the brass section, Wilhelm Ochs, became ill and wound up dead right after the concert. Then a select few of the orchestra, singers, Sir Emrys, Lady Rhys, and Madoc go onto their next destination by private plane. Unfortunately the plane has an emergency landing in a secluded area. The story trundled on about the characters on the plane, how they were lost, how Janet must be thinking they are all dead, etc. Another murder, and plane-loads of news crews, but no rescue later, Madoc finally figured everything out just in time to hand off the murder to the local police.

As you might be able to tell from my description, I became disgusted with the book shortly into it, and it was quite a chore to get through the book. I found that it was taking forever to get through the book, which was surprising considering how short the book was (190 pages). The first thing that got to me was the even though Madoc was called in by his parents because of trouble in the brasses (hence the title), they seemed to be clueless that there was actually trouble. The characters all seemed rather two dimensional to me, and Janet Rhys only made an off-stage appearance at the end. That means that a message from Janet is relayed from Madoc to his parents. There's only one more book in the series, but I just can't bring myself to even be interested in wanting to read it. I think that if I continue with any other books written by Charlotte MacLeod, I'll try another series. The Madoc and Janet Rhys series is as weak as skim milk. Okay, but not really filling.


---

Monday, November 12, 2012 -- Afternoon 4:50 from Paddington by Agatha Christie I have a long review of one of my favorite Marples, 4:50 from Paddington by Agatha Christie. I loved the book and the many movie interpretations.


---

Sunday, November 4, 2012 -- Afternoon A Dismal Thing to Do by Alisa Craig I've been slowly working my way through the few Alisa Craig books for Madoc Rhys and his new wife, Janet (nee Wadman). The third book in the series was A Dismal Thing to Do. In this one started out with Janet in danger. She was going to check out an old wooden washstand, and found herself stranded behind a crashed truck. Things got worse when Janet found herself trapped in a crashed barn, and later found out that the guy who crashed the barn claimed to have killed her. Fortunately, Janet's car was stolen, and found by the RMPC. Madoc tracked down the directions Janet was following to the washstand and found Janet, relatively unscathed. Janet recognized the accent of the miscreants, AND she recognized the same accent in the mysterious Mr. X who was investigating the incident. It seemed that both the investigator and the perpetrator came from the same family, who just happened to live near Janet's old homestead. Janet and Madoc go to stay with Janet's brother, Bert, and his wife, Annabelle, to investigate, and with the help of the local residents, Madoc solved the the crime.

As with the other two in the series, A Dismal Thing to Do was a short book. There were several characters in the story, and at times, I found myself trying to write down who was who and how they were connected. I enjoyed the story, and I'll probably continue with the last two in the series. I have found that I feel a connection to Madoc and Janet, and I wonder what will happen next.


---

Murder Goes Mumming by Alisa Craig The second book in the Madoc Rhys/Janet Wadman series was Murder Goes Mumming. Alisa Craig (aka Charlotte Macleod) set the book at Christmas time, hence the mumming part of the title. Madoc Rhys and his new fiance, Janet (pronounced Jennet), are invited to Graylings, a huge estate in the north of Canada. The Condrycke family was interested in Madoc because his father was a famous conductor, and his brother and sister were famous operatic singers. Donald Condrycke, who was on the board of the company where Janet worked, didn't know that Madoc was just a lowly Mountie. When the family matriarch and her sister wound up dead, Madoc started his investigation. Well, he had to because the family was snowbound due to a blizzard. Of course, no one seemed to realize that Grannie Rosa was murdered, but Madoc guessed it. Then It looked like Cyril Condrycke killed his Aunt Adelaide while high on speed. Madoc, of course, figured out the murder, and had ample aid from his Janet.

The book was a nice pleasant read. I will admit that I was confused with all the characters. I was having trouble keeping all the brothers, sisters, and married partners straight. The Condrycke family was not very likable, so it didn't matter that one of them was murdering the others. After the murderer was announced, it did make sense, but I was just confused trying to keep them all straight. I'll continue on with the series because it is pleasant enough, and there are so few books in the total.


---

Friday, October 12, 2012 -- Evening A Pint of Murder by Alisa Craig I came down with a touch of flu, and I really couldn't seem to wrap my mind around anything. This was a problem because I had to grade proposals from my technical writing class. I put that off though, and I read A Pint of Murder by Alisa Craig. Alisa Craig was a pseudonym for Charlotte MacLeod, a prolific mystery writer, who wrote several series, including the Sarah Kelling/Max Bittersohn mysteries that I loved when I was younger. It's been ages since I read any of MacLeod's work, and I wanted to start with something that was brand new to me. The Madoc and Janet Rhys series was new to me, and A Pint of Murder was the first in the short series.

Madoc was a Mountie, a member of the Royal Canadian Mounted Police. He got called into a the suspicious deaths that happened next door to Janet (pronounced Jennet) Wadman. Janet had a bad experience with a jerk of a boyfriend, and she went to her brother's farm to recuperate from an appendectomy. The woman next door died from botulism from a jar of home canned green beans. Janet thought it might be murder, and when she found a jar with cut beans instead of cracked beans, she wanted to take it to the doctor (and family member) of the murdered woman. When Janet arrived at the doctor's home office with the beans, she found the doctor dead from a head injury. It looked as if the doctor had slipped on a rug while his wife was upstairs getting ready for an afternoon tea. Janet was sure both cases were murder, and she finally convinced the local marshal to call in the Mounties. Madoc appeared on the scene, fell in love with Janet, and found another murdered person. Madoc caught the murder, and paved the way for a future relationship with Janet.

The book was a very quick and easy read, and Janet and Madoc were very pleasant characters. A Pint of Murder was perfect for some light mystery reading while sick with flu. It was so good in fact, that I already started the second in the series, Murder Goes Mumming.


---

Sunday, October 7, 2012 -- Evening Relic by Douglas Preston and Lincoln Child I've read their individual novels, but I never read one by both Douglas Preston and Lincoln Child. They have been writing the FBI Agent Pendergast series. Well, the best place to start a series is at the beginning so I got Relic from the local library. The book was written in 1995, and told the story of the Museum Beast. The Beast lived in the sub-basement of New York City Museum of Natural History. As the museum was setting up its Superstition exhibit, looking at various religious superstitions throughout history, two children visiting the museum are found disemboweled and headless. Agent Pendergast had investigated a similar killing in New Orleans, and he came to NY to help NY Police Lieutenant D'Agosta with the investigation. Dr. Flock, one of the museum associate directors, and his graduate student, Margo Green, found themselves investigating the murders and the possible Beast. Of course, political pressure in the Museum came to bear on Pendergast, D'Agosta, Flock, and Margo, but they steadfastly continued their investigation. When the jerk FBI agent, Coffey, allowed the Superstition exhibit to open with fanfare, I just knew that the shit was going to hit the fan. It did.

I found myself engrossed in the book. Yes, there was a good deal of gory description, but the thrills and excitement of the investigation and the horror of the Beast, kept me turning the pages. I was barely a quarter of the way through the book before I requested the next in the series, Reliquary. The gore didn't bother me as much because it was supernatural gore. This wasn't the horror of a human serial killer; it was the horror of a Beast, the Beast who hides in the dark down the hall and the dark corners of all of our minds. The end was especially good. Preston and Child gave a twist that left me gasping in wonder. Relic is a great suspenseful thriller, and I highly recommend it.


---

Saturday, September 29, 2012 -- Evening The Grey Beginning by Barbara Michaels The Grey Beginning by Babara Michaels is a good, old fashioned gothic mystery. Kathy Malone is devastated by the death of her young husband, Bart Morandini. After seeking help from psychiatrists, she finally decides that she should go to Italy to make contact with Bart's grandmother, the Contessa Morandini. The Contessa hasn't replied to Kathy's letters, and Kathy wants closure. When Kathy finally makes it to Tuscany and gets to the Morandini estate, she finds herself getting sucked into life there. The Contessa misinterprets Kathy's stomach emptying with morning sickness and assumes that Kathy is pregnant. Kathy discovers that a ten-year-old child, Pietro, or Pete, is living a strange existence there. Pete is locked in his room and kept under close supervision. Pete lost his father and mother in a plane crash and was recently ripped from his home in the US. Kathy is concerned about Pete, and she becomes even more concerned when she hears that Pete has been trying to harm himself. Is it hereditary mental illness as the Contessa insists, or is it something else? Throw in the mean, hulking caretaker, Alberto, his sneaking wife, Emilia, the professor looking for letters from Browning, and the lunatic assistant gardener, and Kathy is up to her elbows in a sinister, gothic environment. Can Kathy resolve her issues over her husband's death? Can she figure out what is going on with Pete, and possibly rescue him?

By the end of the book, all the loose strings are wrapped up. Although this book was published in 1984 and has a contemporary setting, the book is a great example of a classic gothic. Lurking evil, a huge house, and a feeling af entrapment permeate the book. I found myself getting caught up in the story and rooting for Kathy to figure out what the heck was going on. Of course, this wouldn't be a romantic suspense gothic without romance, and Kathy has two potential suitors: Pete's psychiatrist and the academic professor, David Brown. I thought the book was great, and I enjoyed reading it. I wish that Michaels/Peters/Mertz wrote more books in the genre.


---

Sunday, September 16, 2012 -- Evening The Fallen Angel by Daniel Silva I have been a fan of Daniel Silva's Gabriel Allon for years. Every summer, I look forward to the latest installment. I do admit that I was starting to get slightly tired of Allon being beaten to near death, so I was really looking forward to The Fallen Angel.

The Fallen Angel had Allon back in Rome, restoring a Caravaggio for the Vatican. Pope Paul VII and his right hand man, Monsignor Luigi Donati returned as main characters in the story. I liked the other book that involved the Vatican, Pope Paul VII, and Donati, The Messenger. Allon was asked to investigate the possible suicide of a young woman who worked in the Vatican unit that investigated the ownership of Vatican relics. Her job was to determine if other countries might have a claim to the relics. Allon determined that the suicide was really a murder, and it lead him on a long, twisted journey into stolen antiquities and plots against the Pope and the Jews. The Arab terrorist groups weren't happy with the Pope supporting the Jewish people. Allon raced against time to keep the Pope and the state of Israel safe.

I really enjoyed The Fallen Angel. I liked that Allon wasn't at death's door or that Chiara, Allon's wife, wasn't being terrorized. The action was well paced, and I found myself engrossed in the story. Silva told a great story, and he put in all the news about the region, with references to the Arab Spring and Muslim Brotherhood. If you haven't read a Daniel Silva, you can start with The Fallen Angel. Although the characters have a back story from the other books, Silva recounts enough of it so the reader can enjoy the current book without reading the others. I would strongly recommend The Fallen Angel to anyone who loves contemporary action thrillers.


---

Sunday, September 2, 2012 -- Afternoon Appointment with Death by Agatha Christie This is the final book in the Poirot in the Orient collection. I hate the character of Mrs. Boynton, who eventually is murdered, and I admit that I look forward to her murder. In the book, Mrs. Boynton rules her step-children and own child with an iron fist, causing them all much mental anguish. Lennox, Raymond, Carole, and Ginevra (Mrs. Boynton's biological daughter) all suffer mental torment at Mrs. Boynton's hand. They are captives, unable to escape. The only person not affected by Mrs. Boynton is Lennox's wife, Nadine, but Nadine is troubled because she loves Lennox and can't get him to escape. Mrs. Boyton usually keeps the family at home, but she decides to take a trip to the Middle East. The trip gives her a chance to test and strengthen her hold on the family. However, revolt is in the air, and Hercule Poirot overhears Richard and Carole talk about how they must murder Mrs Boynton in order to escape. When Mrs. Boynton dies on a trip to Petra, the local authority, Colonel Carbury calls in Poirot to find out what really happened. Additional characters in the book are:

Sarah King, a young doctor who has fallen in love with Richard (and vice versa)
Dr. Gerald, a French psychologist who is fascinated by the relationships in the family and troubled by the anxiety he sees
Jefferson Cope, a family friend who is in love with Nadine
Lady Westholme, a member of Parliament, who just happens to be on the trip
Miss Pierce, an older woman who also just happens to be be on the trip

I have to admit that this is not the first time I read the book. I knew who the murderer was, but I have to admit that I remember from the first that I was truly surprised at whodunit. Christie knows how to present the psychology of the various characters. Mrs. Boynton oozes evil. You want someone to kill her and to make her suffer the way she made others suffer. But as Poirot says, murder is murder. The murderer should not be allowed to walk free just because the person deserves to die. Of course, Nadine Boynton brings up the case on the Orient Express, but Poirot dismisses that as an aberration in his usual technique. If you haven't read it, you should. See if you can figure out the murderer. The clues are there, and Christie tries to get the reader to see it by calling out the significant points. All I know is that Appointment with Death is an enjoyable and satisfying mystery. Terminal Freeze by Lincoln Child I read Terminal Freeze by Lincoln Child on my Kindle. So, I'll give some feedback on that experience with this particular book. Terminal Freeze is very much a thriller on the order of Michael Crichton. The book is set in the Arctic Circle region of Alaska. A group of scientists are working from the military's Fear Base to study global warming. There are only a few military personnel still on the base because it has been closed down. The scientists are alarmed at the rapid thawing of glaciers in the area, and they start to notice a really distinctive blood red aurora, around the time they find a prehistoric creature, believed to be a saber-toothed tiger, encased in ice within a cave in one of the glaciers. The local Indian tribe, Tunit, leader journeys to the base to warm the scientists to cease and desist. However, the cogs are the wheel are already in motion. The scientists are there thanks to a grant from a media corporation, who sends out a team of film production people to make a documentary. The producer, Emilio Conte, digs up the chunk of ice enclosing the creature and takes it to the base to thaw an expose on a live broadcast. However, as soon as the thawing process starts, the creature disappears. The production folks believe the creature was stolen, but the scientists start to believe that the creature was flash frozen alive, and that when the ice was thawed, the creature came to life. Well, it turns out he scientists are right, and the creature, much larger and deadlier than a saber-tooth starts to prey on the people at Fear. A blizzard keeps the people at Fear, and it becomes a race to see if the creature can be stopped.

I really enjoyed the thrills of the story. Some of the descriptions of the creatures ripping apart of the people it hunts down can be a bit gruesome, but it's not so bad that I couldn't finish reading the book. I didn't feel that Lincoln Child had such a tight grip on the characters. i wasn't sure if he planned on featuring Evan Marshall, one of the scientists originally at Fear, or Jeremy Logan, a historian/enigmalogist who is the main character in Third Gate, the new Lincoln Child book. Although the story is formulaic, I still enjoyed it.

My only problem was with the Kindle format. It seems that when the Kindle copy was created, from a print version. At least I assume that because some of the words have hyphens in the middle of sentences, as if the word was originally hyphenated at the end of a sentence. It was consistent throughout the Kindle version, and it really started to irritate me.


---

Sunday, August 26, 2012 -- Afternoon Death on the Nile by Agatha Christie I've been reading Poirot in the Orient, which is a three novel collection that features Hercule Poirot on trips in the Middle East. The first was Murder in Mesopotamia. I just finished the second in the collection, Death on the Nile. I've read this one a few times, and, of course, I watched the movie with Peter Ustinov as Poirot. The movie is somewhat faithful to the book, with some minor changes in the amount of characters. In Death on the NIle, we have some buildup before the story moves to Egypt. Linnet Ridgeway is a young, wealthy girl. She always gets what she wants, and what she wants is her friend's fiance. Jacqueline de Bellefort winds up losing Simon Doyle to Linnet, and that's when the problems start. Jackie starts to follow Linnet and Simon their honeymoon, trying to make them feel miserable. The honeymoon winds up in Egypt, where the Doyles, Jackie, Poirot, and a cast of others start to sail down the Nile. The others include an American lawyer who is embezzling Linnet's fortune, a jewel thief, a kleptomaniac, and a person with drinking problems. These people add a wealth of potential murderers, and it's only because of Poirot that the murder is solved. Colonel Race also makes an appearance in the book, and he aids Poirot in the investigation.

Because I was so familiar with the story, I read it with an eye to see if the clues add up. One of the raps against Christie is that she makes up things at the end to tie all the clues together. However, on the close reading of Death on the Nile, all the clues were there, and in fact, they seemed quite obvious. Christie did a great job with the mystery in this book. It ranks, in my mind, in the top ten of her books. The book was originally published in 1937, which is right before the golden era of Christie. Most seem to think that the books published from the late 1930s to 1940s are the best of the bunch. If you have only seen the movie, you should definitely read the book. I believe that you will enjoy the book and appreciate the movie even more.

The last in the collection is Appointment with Death. I just started reading that one today.


---

Friday, August 17, 2012 -- Evening Murder in Mesopotamia by Agatha Christie Murder in Mesopotamia is one of the early Agatha Christie mysteries. It stars Hercule Poirot, and it's part of the Poirot in the Orient set that I'm reading. The novel was published in the summer of 1936, and it's perfect for summertime reading. The narrator of the story is Ann Leatheran, a nurse called in to help with a woman, Louisa Leidner, who seems to be having issues with fear. As Nurse Leatheran finds out, Mrs. Leidner is receiving threatening letters from her first husband, who was supposed to have died in a train wreck while trying to escape from execution for treason. When Mrs. Leidner found out about her husband's treason, she turned him in to her father, who was in the US defense office. Every time Mrs. Leidner was close to a man, she would receive a threatening letter that would cause her to drop the man. She did not receive a threatening letter when she married Dr. Erich Leidner, an archaeologist. However, after the marriage the letters started up again. When Nurse Leatheran appears on the scene, the Leidners are in Iraq on an archaeological dig. Shortly after Nurse Leatheran starts on the job, Mrs. Leidner is murdered. Hercule Poirot happens to be passing through on his way from Baghdad, and the local police call him in to assist with the mystery.

I really loved the book. Although I read the book several times, I would have to admit that it's not obvious who the murderer is and how the murder was committed, Even the second murder of Dr. Leidner's assistant, Miss Anne Johnson, wasn't an obvious one. Christie did a great job in telling the story through Nurse Leatheran's eyes. She gives her opinion of Poirot, not impressed at first, but then seeing him as the skilled surgeon that she was assisting. Of course, at the end, Poirot gathers everyone together, and after explaining how everyone could have done the deed, he finally explains how it really happened. This is a great Christie story, and I would highly recommend it.


---

Monday, August 13, 2012 -- Evening Wait for What Will Come by Barbara Michaels Yep, I read another Barbara Michaels. I'm starting to narrow down the list with only a few left unread. This time I read Wait for What Would Come. The premise behind this book is that Carla Tregallas is the only known heir to a Cornish estate. Her many times great uncle Walter Tregallas died without children, and in his will, he left everything to any heir that carries the name of Tregallas. Carla is the only one left, and instead of selling the estate unseen, she decides to go to England. When she gets there, she finds a run-down estate and a mysterious threat. It seems that every two hundred years on Midsummer's Eve, a young female Tregallas falls victim to a merman, who comes out of the sea to claim his bride. Carla is the intended victim, and she has the added burden of looking just like the last victim, Lady Caroline Tregallas. Carla falls in love with the house and wants to stay, even though everyone seems bound and determined to get rid of her. Mrs. Pendennis, the elderly housekeeper, seems the most bothered by the legend. Her grandson, Michael, doesn't buy the legend, but he is worried about his grandmother. Others involved in the mystery are the doctor, Simon Tremuan, the lawyer, Alan Fairman, the lawyer's sister, Elizabeth, and the parson, John. Will Carla be the next victim of the merman, or will she continue to live happily in Cornwall?

I enjoyed the story. There was just the right amount of suspense. I wondered if Carla would figure out who was behind the mysterious happenings that made it look like a merman was after her. There was a real build up of the tension, and the end was spooky. All the men appear to be after Carla, but are they really, or are they just trying to get something from Carla, like the estate? Wait for What Will Come had me on the edge of my seat.

Charles Geer illustrated the cover of the book, and it gives a great representation of the story. Geer does a great illustration, and it conveys the mood of the story.


---

Sunday, August 5, 2012 -- Evening The Dark on the Other Side Barbara Michaels' The Dark on the Other Side is an interesting book. The story is told by two narrators. At times, we hear from Linda Randolph, wife of the charismatic Gordon Randolph, and at others, we hear for Michael Collins, who is to write a book about Gordon. Linda Randolph is troubled, alcoholic, and a potential danger to herself and her husband. Why? It seems that Linda is troubled by visions of a black dog, and that the visions are making her want to murder her husband. As Michael starts to research Gordon's past, he finds that Gordon is a bit of an enigma. Gordon has had great success in writing (only one critically acclaimed book) and politics. Even though Michael's father taught Gordon at college, Michael can't remember his father showing great interest in Gordon. After traveling to the college where Gordon taught, and married Linda, Michael starts to notice that there seems to be a trail of people in Gordon's wake who either committed suicide or fell into serious issues with drug abuse. Could Gordon have somehow influenced the people in a negative way? What is the meaning of the black dog that Linda sees? Is there some supernatural element at hand, or is it just the psychotic delusions of an alcoholic?

I have to admit that the switch in voices threw me at the beginning of the book. I was trying to figure out what was going on, and who was the main protagonist of the book. Well, there isn't one protagonist; there are two. Michaels turns from ghosts to a different type of woo-woo: demonic powers. As I was reading, I started to agree with the protagonists that Gordon is a demonic force, but then the voice of reason, in Galen Rosenberg, made me wonder if it was just a collective hallucination brought on my psychosis. The end of the book is satisfying. Good triumphs over evil. The end was especially satisfying because I read it while a strong thunderstorm was providing suitable background music. The book isn't the strongest of the Michaels' books, but I enjoyed it.


---

Wednesday, August 1, 2012 -- Late Evening Murder, She Wrote: The Queen's Jewels I was looking for something light to read on my Kindle while I wait for Harry Potter and Lincoln Child books to be available on my library's Overdrive site. Murder, She Wrote seemed like a good choice, and the library had only one book available for Kindle. I've never read a Murder, She Wrote book, but I did like the series, so I thought I would give it a try. The book was Murder, She Wrote: the Queen's Jewels, which is rather misleading. The story isn't about the Queen's jewels, but about diamond thefts that happen in London. One is a huge blue diamond called the Heart of India. The owner of the diamond was murdered during the robbery. Jessica Fletcher went to London and was planning to return to the US by crossing the Atlantic on the Queen Mary 2. The authorities thought that the Heart of Indian and the diamond from various jewelry thefts in London are onboard the ship. Joining Jessica onboard are Michael Haggerty (retired MI6 spy from the TV show) and Dennis Stanton (retired thief, working insurance fraud investigator from the TV show). Both used aliases to hide their identity. Of course, with the help of Jessica Fletcher, the theft and murder were solved.

The book was a quick read. it was very much like the show, although I found the mystery to be a bit of a disappointment. The murderer/thief was obvious from the beginning. In fact, I was disappointed with the solution of the mystery because it just seemed anticlimactic. I did have some tears at the end because of the death of one of the characters. I'm going to give some of the other books a try because it was like watching the TV series, but don't expect anything more than a light, uncomplicated mystery.


---

Thursday, July 26, 2012 -- Late Afternoon Death Match by Lincoln Child Death Match by Lincoln Child really grabbed my interest. The premise was super couples, matched by a dating/partner matching service called Eden, were committing suicide. Super couples have a 100 percent match in compatibility. The genius behind Eden is Richard Silver, a computing genius who created a system called Liza. Well, you could say that Liza is the genius behind the matches. Silver made Liza self-aware, and with Liza, Eden was able to quickly match up perfect couples. With Eden, you found your soul mate. Christopher Lash, former FBI profiler, was called in to help Eden solve the mystery of why the couples are committing suicide. Lash was troubled by the suicides because the couples were happy, and they definitely didn't fit the profile of someone who would commit suicide. As Lash continued his probe, he became more sure that the the couples were murdered. The more he researched, the more his own life seemed to unravel. Was there a connection between his research and the problems?

Death Match was a great read. Of the three Lincoln Child books that I read recently, I enjoyed Death Match the most. I suspected who the murderer was midway through the book, but that didn't ruin the story or the suspense for me. I was wondering how things would progress, and Child kept the suspense on the high burner. I wound up returning to work late because I became engrossed in the story over lunch. I am so glad that I found Child, and I cannot wait to read more!


---

Wednesday, July 18, 2012 -- Early Evening Deep Storm by Lincoln Child I now have two reading piles. One is of physical books; the other is on my Kindle. I just finished reading Deep Storm by Lincoln Child on the Kindle. As I mentioned earlier, I love Michael Crichton thrillers, and Lincoln Child writes his thrillers with a scientific bent, just as Crichton did. Deep Storm is about a US government search for something buried deep within the planet. During an oil drilling test, the workers noticed some unusual signals. Saying that they are looking for the Atlantis. However, there is something else, something buried, perhaps by an alien race. The US government sends down scientists and military to the deep ocean floor in a secured facility that is only accessible by mini sub once a day. Things get tricky when some of the folks in the facility start to show signs of illness. The problem is that the illnesses don't have a common thread. To help them explain the problem, Dr. Peter Crane is called in to investigate. Crane quickly figures out that the Atlantis story isn't right. Can Crane find out what is causing the illness, and can he answer troubling questions over the signals being received from the thing beneath the Earth's crust?

One thing that I noticed right away is that the action in Deep Storm is very similar to The Third Gate. The hero is kept in the dark about what is going on, has to figure out a complex problem, and then finds himself in life-threatening situation. Oh, and not only is he in the life-threatening situation, all the others on the expedition are also in trouble. So many authors who write in a particular genre follow a formula or template. Child obviously does that, unless I just happened to read the two books that were eerily similar. Does that mean that I didn't like Deep Storm? Nope! I loved the book. I found myself unable to put it down. I really didn't figure out who the saboteur was, although in hindsight, I think I should have figured it out. A good thriller, and I recommend Child if you want an action filled page-turner.


---

Wednesday, July 18, 2012 -- Afternoon Matilda by Roald Dahl There are many childhood classics that I somehow missed reading during my childhood. It's easy to understand because I didn't have anyone to help guide and nurture my reading. Of course, I have no problem with reading children's books as an adult, so I am always quick to remedy the situation. Matilda is one of those books that I haven't read. Yes, I saw and LOVED the movie, but I never thought of the book. Well, I saw the movie again a few weeks ago. I got the book from the library and started to read. Roald Dahl's story is very heartwarming. Matilda is a little girl who really doesn't fit into her family. She is very smart. Matilda loves to read. Her family loves to watch mindless television. Matilda doesn't like it when her father or mother do things to demean her, so Matilda gets back by pulling pranks, like putting hair bleach in her father's hair tonic and hiding a talking parrot in the chimney so her parents think the house is haunted. When Matilda goes to school, she meets a kindred spirit in Miss Honey, but she also meets her arch-enemy, Miss Trunchbull. Miss Honey realizes that Matilda is something special,and she tries to get others to see Matilda's worth. Instead, Miss Honey runs into roadblocks. Matilda's biggest problem is the Trunchbull, who terrorizes all the children. When the Trunchbull starts to terrorize the kids in Matilda's class, Matilda finds out that she has the power to make a glass of water tip over with energy from her eyes. She tells Miss Honey about her powers, and Miss Honey tells Matilda how her mother's sister cheated Miss Honey out of her home and money, and possibly even murdered her father. Well, Matilda practices her powers, and when the Trunchbull shows up to terrorize the class, Matilda is ready for her. The story has a great ending with Matilda and MIss Honey living happily ever after. It is such a heart warming story!

I really loved reading the book, and I could see some of my childhood experiences in the book. My parents and brother did not read. They didn't understand how I loved to read. The difference is that my parents took me to the library, and even though they didn't understand it, they let me read. When I was six, my father gave me a dictionary so I could understand all the words in Tom Sawyer. If you ever feel a bit down in the dumps, or needing some cheering up, I would strong recommend reading Matilda. Timeless, classic stories aren't defined by the age of the reader; they are defined by the experience the reader gets from the story.


---

Monday, July 16, 2012 -- Afternoon The Third Gate by Lincoln Child Since Michael Crichton died, I've been looking for an author that would give me a thriller with some science thrown in. I tried Lincoln Child, starting with his brand new book, The Third Gate, and I was not disappointed. The Third Gate only has a hint of a science background. The protagonist in this story is Jeremy Logan. Logan investigates the paranormal or unusual claim. Logan has been to Loch Ness, and he's investigated haunted houses. In this case, Porter Stone, a famous explorer and archaeologist, gets Logan to investigate abnormal happenings on one of his digs. Stone has gone to the swamps of the Sudd to search for Narmer's tomb. Narmer is the pharaoh who united North and South Egypt into one. Stone believes that Flinders Petrie had discovered the location of Narmer's tomb and the royal white and red unification crown, but that Petrie wasn't able to get the funds to start the search before Petrie died. Weird sightings have been seen in the state of the art facility, and the people are starting to get jumpy. Logan travels to the area with Ethan Rush, a former ER doctor, who investigates NDE (near death events) since his wife, Jennifer, experienced her own NDE. Well, things get really crazy when Rush starts having Jennifer try to channel Narmer so the team can locate the tomb AND bypass the warnings and threats if someone tries to cross the three gates to Narmer's tomb. They do locate the tomb, and they also locate evil that can sabotage the whole mission.

The Third Gate was a great thriller. I found myself engrossed in the story, and read it quickly over the past weekend. Child gave just the right blend of information with thrills. Of course, you do have to suspend some sense of reality with the possession aspect with NDE, but the story moved quickly. Yes, there was a woman archaeologist who at first was an antagonist, and later an aide in solving the mystery. All around, I was satisfied with the thriller aspect of the book, and I look forward to reading other of Lincoln Child stand-alone books. Child also writes with Douglas Preston, and Preston & Child have a whole slew of books with FBI Special Agent Pendergast. I haven't read any of those books, so I have a lot of books to add to my to-be-read piles.


---

Sunday, July 8, 2012 -- Evening Witch by Barbara Michaels I'm slowly making my way through Barbara Michaels' books, and I just finished Witch. This is another of the earlier books that I think are far superior to the books from the 1990s and later. Witch has another one of those atypical Michaels heroines. Ellen March is divorced and in her later thirties. She has been taking care of her sister's kids, three boys, after the sister's death. Ellen and her daughter, Penny moved in with Jack and his sons, and although Ellen felt love for Jack, she kept the feelings to herself. As the boy all go over to college, and Penny, at the age of 16, is headed to a trip to Europe for the summer before heading to boarding prep school, Ellen decides to look for a house of her own. Jack, a career diplomat with foreign services, is headed to Europe, so it's the best time for Ellen to look for her own house. After looking around, Ellen found the perfect house, off in the woods. Ed Salling, sales the house to Ellen, but warns her to keep away from the folks in the village. As Ellen learns more about the house, which used to belong to the local witch in the 1700s. The witch was the wife of a wealthy landowner, probably Spanish, who was also probably Roman Catholic. Ellen doesn't learn much about the witch, other her love of animals and her death by hanging. Was is suicide or murder? Is the white cat that Ellen sees around her house, a ghost of the witch's cat. What's the shadow that haunts Ellen at night in her bedroom? Ellen becomes involved with her neighbor Norman and his nephew, Tim. Tim seems to be a troubled boy, and Ellen tries to get his uncle to help him. It also doesn't help when the narrow-minded, extreme religious sect in the town starts to think Ellen is a witch.

The story really kept me on the edge of my seat. I found that I couldn't put the book down, and I was eager to see what would happen with Ellen and Tim, and if Jack would ever realize that he and Ellen were the perfect couple. Everything works out in the end, but the book is one heck of a thrill ride. I would definitely recommend the book. There's not that much woo-woo, but there is the haunted overtone. I wish Michaels would have written more books, or could still churn them out as she did in the 1960s through 1980s.


---

Sunday, July 1, 2012 -- Evening Here I Stay by Barbara Michaels I just finished reading Barbara Michaels Here I Stay, and I have to admit that I feel emotionally drained. The tracks of the tears that I shed over the last 30 pages are still moist on my cheeks. Here I Stay was about Andrea Torgeson, who inherited a huge house from her cousin Bertha. Andrea's brother, Jim, was in a bad auto accident, that almost killed him and took his leg. Andrea thought that opening the house as a hotel might be just the thing that both she and Jim need to get them both on their feet. Of course, there was a sense of a presence in the house. It was warm and welcoming to some, like Martin Greenspan, who came to hotel for an extended stay while writing his book. Martin fell in love with Andrea, who was too closed off to live and emotion to see how she was short changing both herself and Jim. There was a presence. Andrea felt it as beating wings. Another house guest felt it too, but Reba, the local restaurant owner and friend to both Andrea and Martin, felt it the most. The presence was so strong that Reba became physically ill in the house.

This book was a slow mover at first. Michaels set the scene and got the reader interested in the characters hopes and fears. There wasn't a strong woo-woo effect in this book, but it was slowly and strongly growing. As I said, I became engrossed in the final third of the book, unable to put it down. I could just feel the impending doom, and when it finally came, I admit that it hit me hard, hence the tears. I thought that the book was one of Michaels' best. I don't know if others might give it the time that it deserves since the tension slowly builds. The book meandered just as life does. Not much seems to happen, but when you look back, you realize that so much has passed unnoticed. If you read the book, give it a chance to pull you in. You won't regret it.


---

Tuesday, June 26, 2012 -- Afternoon The (Honest) Truth About Dishonesty by Dan Ariely Do you think that you are an honest person? Well, if you do, you are probably wrong. The lesson that you will learn from Dan Ariely is that all of us are a little bit dishonest. Dan Ariely is a behavioral economist, and his past books have looked at whether people use rational behavior in their interactions. As I found out, I was "predictably irrational." After all, I was just as gullible as everyone else. Wave a "free" sign in front of me, and I will be just as likely to wait in a long line to get my free item. In The (Honest) Truth About Dishonesty, Ariely shows us that people, unless they are monitored by a disinterested third party, are likely to behave just a little bit dishonest. Ariely uses his research to show us how that is the case. In control situations, when people performed a matrix test, finding two numbers in a matrix of nine that add up to 10, most people were able to identify four out of 20 correctly in five minutes. When people could shred their sheet, and just say how many they identified correctly, they would say six. People didn't lie by a lot, but just a little. We tend to have a view of ourselves as honest people, but if you were in that situation, would you lie about the number you solved?

So why are are dishonest? Part of it is that we can rationalize our behavior. We may take a free candy bar from a vending machine because we think of all the quarters we lost in the machine in the past. We may see other people being dishonest. We may have already depleted our willpower because of other things going on in our life. For example, a person having a hard day at the office may bend on a diet in the evening. Creative people tend to be more dishonest, probably because they are used to making up stories and coming up with scenarios that help them to rationalize. So what can keep us on the straight and narrow? Honor pledges (verbal and in signing our name to an honesty statement), moral reminders (signs), and supervision. If you know that someone is watching you, you will be more likely to be honest. However, if you have a social friendship with the watcher, you both may become dishonest because you both want to altruistically help the other.

Ariely knows how to tell a tale, and his books always get me thinking. I strongly recommend The (Honest) Truth About Dishonesty. It can help you understand the underpinnings of the recent banking and financial collapse. It might also make you wonder if you really need that new crown that the dentist wants you to get. The most disheartening thing that I found is that as you have a longer relationship with a service provider, you trust that person more. However, that person also starts to feel more comfortable with recommendations that might not have your best interest (health or financial) in mind. I can't wait to see what Ariely investigates next!


---

Wednesday, June 20, 2012 -- Afternoon The Lost Hero by Rick Riordan I recently got a Kindle Touch, and of course, the thing adults do when they have a Kindle is read some kids' books. I had been wanting to read the new Olympians series by Rick Riordan, and my library (Overdrive) finally had The Lost Hero available. This book starts the new Olympian series. Percy Jackson, the hero from the other five books, is missing in this book. Instead, the hero is a young teen named Jason. He has lost his memory and has no clue who he is. Jason tries to cover up his memory loss as he talks to Piper McLean, who says she's his girlfriend, and Leo Valdez, who says he's Jason's best friend. When Leo and Piper are attacked on the field trip to the Grand Canyon, Jason realizes that he has extraordinary skills. He can fly. Coach Hedge turns out to be a satyr, who is supposed to be protecting Piper and Leo. Jason succeeds where Coach Hedge fails in battling the storm spirits. When Annabeth shows up looking for Percy Jackson, who has gone missing, she takes the trio to Camp Half Blood. Zeus claims Jason, Aphrodite claims Piper, and Hephaestus claims Leo. Now, there isn't supposed to be another child of Zeus, and Chiron is taken aback when Jason speaks Latin, but doesn't know Greek. Obviously, Jason is a son of Zeus' Roman aspect, Jupiter. Imagine the shock, when Jason realizes he is Jason Grace, brother of Thalia. Piper has visions of her father being held hostage by an evil being who wants Piper to betray the demigods. Meanwhile, the gods have gone silent, and monsters are quickly reforming when they are killed. Percy Jackson has gone missing, and no one knows what happened to him. Obviously something bad is happening, and when Rachel, the oracle, gives the quest that Jason must go to rescue Hera, Zeus' wife. Piper and Leo join him, and so the frantic action begins. Will Jason regain his memory? Will Piper rescue her father and betray her friends? Will Percy Jackson be found? Will Hera be rescued? Will anyone figure out that there are TWO demigod camps? One for the children of Greek gods and the other for Roman gods.

This book is just as good as the Percy Jackson books. I found myself wondering if the kids would succeed, and I enjoyed every bit of the ride. Gaea, Mother Nature, is the big villain in this series. She is trying to wake up and take over the world again, killing everyone. That means that the earth is not a safe place for the demigods, only the sky and the water. There is no help from the Gods, at least not officially, and it really does look dire for our heroes through most of the book. The next book in the series, The Son of Neptune is already out. Just from the title, I can tell that Percy Jackson must show up. Book three, The Mark of Athena will be out this fall. I'm really curious to see how the series plays out.


---

Sunday, June 17, 2012 -- Evening Time Warp Trio I can't remember how I heard about this Time Warp Trio, but I thought I would check out some of the books. I have a young nephew and niece who will be able to read in the next few years. I figured that I better start to get a handle on some of the books out there for younger readers so I will know what to get them. The Time Warp Trio books are very interesting, and they remind me of the Edward Eager books that I loved as a kid. The books are written by Jon Scieszka and illustrated by Lane Smith. The books were made into a television series. The premise behind the books: Joe Arthur gets a book, known as The Book as a birthday present from his uncle Joe, who is a magician. The book is a time traveling device. Joe and his friends, Sam and Fred, get sucked in time traveling adventures when they open The Book. It seems that through the series, the kids try to figure out how to use the book. What I like about the books is that it introduces young readers to various historical or fictional characters. Since the books are so short, I was able to read three of them in one sitting. I didn't get the books in chronological order since I got them from the library. I read:

Knights of the Kitchen Table
This is the first book in the series. Joe, Sam, and Fred find themselves back in King Arthur's time. They go to Camelot and help King Arthur get rid of a giant and a dragon that threaten the city.

Tut Tut
This is the sixth book in the series, and Joe, Sam, Fred, Joe's sister, Anna, and Anna's cat, Cleo, journey back to Ancient Egypt. Joe argues with Anna that there were only male pharaohs. Anna insists that she saw a female pharaoh, and opens The Book to show them. Joe, Sam, and Fred think they traveled back to the time of King Tut. Instead, Hatshepsut, the first female pharaoh, and Thuthmose III are in charge. Hatshepsut was regent for Thuthmose, but continued to be in charge even after Thuthmose came of age. Joe, Sam, Fred, and Anna manage to escape back to modern times with the help of Isis.

Summer Reading Is Killing Me
Joe, Sam, and Fred have a summer reading list, and they don't want to read it. Unfortunately, the summer reading list is put in The Book in this seventh book of the series. Now all the characters from the reading list, Frog and Toad, Hoboken Chicken, Peter Rabbit, and many others are all in the same timeline. Before anything permanent happens to the characters, (meaning anything bad or hurtful) Joe, Sam, and Fred have to find The Book and return to their own time and remove the summer reading list from The Book. Watch out for the Teddy Bear!

The books were fun reading. I'm sure that as my nephew and niece get older, they will really enjoy the books. Reading them in the series order would probably be the best thing so you understand how The Book works as the boys figure it out. Now I want to check out the television series.


---

Monday, June 11, 2012 -- Afternoon The Moving Finger by Agatha Christie I read one more Miss Marple mystery, The Moving Finger this weekend. Agatha Christie wrote this one in early 1940s with publication in 1942. This is one of my favorite of the Marple books. The story is narrated by Jerry Burton. He and his sister Joanna go to stay in Lymstock while he recovers from a bad play crash. Jerry and Joanna rent Miss Emily Barton's house, and they prepare to settle in to boring village life. Of course, we all know that it won't be boring for long. Anonymous letters are making the rounds in Lymstock, and Jerry and Joanna aren't excluded from those who receive them. Of course, everyone knows that something bad will come from it all, and it does when Mrs. Symmington winds up dead, supposedly at her own hand. Of course, Jerry takes Mrs. Symmington's elder daughter Megan under his wing. Her step-father doesn't have time for her. Within a week, Scotland Yard is hard at work in the village when Agnes, the Symmington's maid turned up murdered, after telling the Burtons' housekeeper, Partridge, that she, Agnes, was confused over something. The police are baffled until Elsie Holland, the stunningly beautiful but personality-less governess, receives her first anonymous letter. Eventually, the murder is captured, and true love blooms for Jerry and Joanna.

The interesting thing about this book is that Miss Marple only appears in the last quarter of the book. Although Jerry's subconscious figures out the mystery, it takes Miss Marple, with the help of Megan to solve the crime. Miss Marple explains it all. Christie populated the book with some interesting characters. Megan is one of my favorites. She lives in her own world, and doesn't give in to the conventions of others who want her to take up some sort of work. As Megan says, she really doesn't like people, and she doesn't go out of her way to befriend them. Mrs. Dane Calthrop is the minister's wife, and it's through her intervention that Miss Marple gets involved in the case. Mrs. Dane Calthrop is horribly offended at the evil of the murderer of Agnes and says that she will get an expert in murder and crime on the case. The 1940s were supposed to be the apex of Christie's books, and The Moving Finger is a good representation of Christie's best.


---

Thursday, June 7, 2012 -- Evening A Pocket Full of Rye by Agatha Christie I've been in the mood to read some Miss Marple mysteries, and I started the second in my group of library books: A Pocket Full of Rye by Agatha Christie. This book fell in the collection of Christie books that used a nursery rhyme in the plot of the book. In this case it was Sing a Song of Sixpence. Rex Fortescue died in his office at drinking tea, and when the police checked things out, they found loose grain, rye, in his pocket. This puzzled the police, and since Rex died from taxine poisoning (from yew trees), they took the investigation to Rex's estate, Yew Tree Lodge. Rex had a much younger wife, an adult son and daughter, and an estranged son in Africa. Could it be the wife? Nope, because she died a few days later at tea. Then the maid, Gladys, was found dead near the clothesline with a clothes pin on her nose. The last really irritated Miss Marple, who trained the maid in St. Mary Mead. Of course, Miss Marple recognized the situation for what it was, a devious twist to the nursery rhyme:

The king was in his counting house,
Counting out his money;
The queen was in the parlour,
Eating bread and honey.

The maid was in the garden,
Hanging out the clothes;
When down came a dickey bird
And pecked off her nose.

Of course, Miss Marple made the trip to Yew Tree Lodge and figured out whodunit, shifting through the distraction of dead blackbirds put in a pie and on Rex Fortescue's desk a few months before the killings. She pointed Inspector Neele in the right direction, just when he was thinking Miss Marple might be a bit past it.

A Pocket Full of Rye was published in 1953, and the mystery and writing are great! I really enjoyed the book. Miss Marple got involved in just the right amount, and the mystery was a puzzler. Since this was not the first time that I read it, I knew what to look out for, and found all the clues pointing to the murderer. Sometimes people claimed that Christie hid the clues, and then threw out the solution at the end. I can assure you that was not the case with A Pocket Full of Rye. The book was a great read, and if you pay attention, you can figure out the murderer when you read it!


---

Sunday, June 3, 2012 -- Morning The Mirror Crack'd from Side to Side I have finally managed to finish reading a book! It seems like it's been a long time since I read through a book. I was in the mood for some of Agatha Christie's Miss Marple and read The Mirror Crack'd from Side to Side. The book was published in 1962, and Christie dedicated it to Margaret Rutherford. Today, some people claim that Christie would be irritated with the liberties that the television producers have taken with Miss Marple. All I have to say is that if she dedicated a book to Margaret Rutherford, who was an extremely a typical Marple, she would be perfectly okay with the new Marple. After all, it introduces her characters and novels to a whole new generation.

In The Mirror Crack'd, Christie seemed more aware of the aging, both her own and Miss Marple's. Miss Marple was stuck with a live-in companion, Miss Knight, an extremely irritating woman who wanted to coddle and baby Miss Marple. But Miss Marple didn't want all that coddling, and she rebelled, taking a walk on her own, falling, and being helped by Heather Badcock. Miss Marple's body may be frail, but her mind was still as sharp as a tack, and she realized that Heather Badcock was one of those characters who was just asking for someone to kill her. When Marina Gregg, famous movie actress, bought the Bantry estate, the whole town was thrilled and couldn't wait to see what changes were made to the house. Mrs. Bantry went to a fete at the house and was there when Heather Badcock was poisoned. Of course, Mrs. Bantry reported to Miss Marple, and on the advice of Doctor Haddock, Miss Marple began to unravel the murder to discover the murderer. Unfortunately, two more die before Miss Marple discovered the murder, but she figured it out!

I enjoyed this book. The book was written and published in the questionable era, when Christie's plots and writing seemed to disintegrate a bit. However, I thought the book was very entertaining and fast paced. As I mentioned, Christie seemed very aware of the changing times. Miss Marple was laid low with a bad case of bronchitis, and even had to realize that she couldn't continue living alone in St. Mary Mead. The town itself was changing. A housing development was built in the town, and the people living there have a different character. The young people, like Cherry, who cleaned for Miss Marple, have a different attitude. As Miss Marple commented, Cherry used a vacuum cleaner where others in the past would use a broom and dustpan. Times were changing, and Miss Marple, and I think Agatha Christie, felt out of place. The title of the book, The Mirror Crack'd from Side to Side, came from the poem, The Lady of Shalott by Alfred, Lord Tennyson. The look of doom overcame the face of Marina Gregg, and ultimately led to the death of Heather Badcock. The book was a good Miss Marple mystery, and I would strongly recommend it!


---

Thursday, May 30, 2012 -- Evening The Doctor Meets Data I am a huge comic book fan, especially of Archie, Scooby Doo, Star Trek, and Doctor Who. Imagine my happiness a few months ago when I heard that IDW would be releasing a crossover between Star Trek: The Next Generation and Doctor Who in an eight part series titled Assimilation². The first issue starts with an attack on a planet by a combination of the Borg (ST:TNG) and the Cybermen (Doctor Who). That's going to be a killer combination, and of course, will require the intervention of both the folks from the Enterprise and the Doctor and the Ponds. The Doctor captures an alien criminal, and the issue has a cliffhanger ending with the Tardis landing on the holodeck of the Enterprise, with Data and Commander Riker in 1940s San Francisco.

The series has an interesting look with the characters having a very realistic, almost photographic look in places. Of course, the main characters haven't had a chance yet to realize that they are going to be on the trail of the Borg and Cybermen. I can't wait to see how the rest of the series plays out.


---

Wednesday, May 16, 2012 -- Afternoon Patriot's Dream by Barbara Michaels I've been reading through Barbara Michaels' books, but not in any order. I did try to read the books that have been identified as the "Georgetown series" together. Those books span over 20 years, and include Ammie Come Home (1968), Shattered Silk (1986), and Stitches in Time (1995). I was thinking that I liked the earlier books, but after reading Patriot's Dream, published in 1976, I think that I've changed my mind. I had a lot of difficulty in getting into Patriot's Dream. The book goes back and forth between present day Williamsburg (1976) and Williamsburg in the 1770/1780 time period. Chapters altered between one reality and the next. Yes, Michaels has had visitors from the past appear in the story, but it was a ghostly appearance in the modern world. This back and forth transition was very disconcerting to me and made it more difficult for me to follow the story.

Jan Wilde is the heroine in the modern world of 1976. She goes to Williamsburg to spend her summer vacation with her elderly aunt and uncle, to help them out with daily living. Of course, all the men are after Jan. Aunt Camilla likes Richard, who works in a Williamsburg violin shop, and comes across as a namby-pamby to me. The uncle likes the more manly, arrogant, Alan, the family lawyer. Charles Wilde, his family, their slaves, and Charles' cousin, Jonathan are the characters in revolutionary Williamsburg. Jan views incidents in the life of Charles and Jonathan as she dreams. The pair have roles in the revolution. Charles is on the side of the revolution, and Jonathan, a Mennonite, is on the side of peace and on freedom for slavery. Jonathan seems to play both sides of the game, and he's the one that Jan falls in love with. As Jan tries to find a way to communicate with Jonathan to warn him of the future, the experience drains her. Others are starting to notice that something is wrong, and of course, Jan has to decide which guy is the right one for her.

I hesitate to say anything bad about any Barbara Michaels book, but I have to admit that this one is at the bottom of the list for me. I found myself skimming over the revolutionary times pages, just to get the gist. I wasn't pleased or displeased with the ending; I was just glad that the book was in the finished pile. I have a vague memory of reading this book when I was a teen and liking it. I can't imagine why that was the case.


---

Sunday, April 29, 2012 -- Evening The Lightning Thief I read The Lightning Thief by Rick Riordan around two years ago. Today, I read the graphic novel adaptation of the book. The graphic novel stuck to the highlights of the book. There were missing sections, like Medusa and Auntie Em's Garden Gnome Emporium. Of course, a graphic novel is limited in the amount of pages it has. The basic plot remains: Percy Jackson finds out he is a half-blood and, in fact, a son of Poseidon. When Zeus' lightning bolt is stolen, Poseidon is blamed, and Percy goes on a quest to recover the lightning bolt with buddies Grover and Annabeth. The graphics in the novel are great. They add to the story, and I'm sure that they help a person who cannot visualize the story in their mind. It's a good introduction to the story, and I hope that a child who reads the graphic novel goes in search of the novel to get enjoy even more of the story.

Graphic novels have their place. They give the reader a quick, visual of the highlights of a story. The Lightning Thief graphic novel does a great job in introducing people to Rick Riordan's Percy Jackson and the Olympians.


---

Sunday, April 29, 2012 -- Early Evening The Jerusalem Inn by Martha Grimes I've been behind in my reading. There are many excuses: grading papers for 28 students for the end of term, watching playoff hockey, and more things to do at my full-time job. However, I am in catch-up mode now, and just finished reading The Jerusalem Inn by Martha Grimes.

The Jerusalem Inn is the fifth in the Richard Jury/Melrose Plant series, and it was more of the same as the earlier books. Jury meets Helen Minton at the beginning of the book, and after a brief tea, he makes dinner plans with her. Since it's only a few days till Christmas, they both see this opportunity as a way to have some holiday cheer. Unfortunately, when Jury goes to meet her, he finds the local police in residence. Helen is dead, assumed to be dead due to natural causes. Jury is suspicious, and rightfully so, when it turns out the Helen was poisoned. As Jury tries to find out why someone would want to kill Helen, he learns more about her life with her cousin, and that Helen may have had a child with her cousin. Tracking down the cousin, artist, Edward Parmenger, Jury travels to a snowbound mansion where Plant, his annoying in-law, Agatha, and Vivian Rivington are gathered to celebrate Christmas with the Seainghams, Parmenger, and other assorted characters. As Jury arrives, one of the guests turns up murdered.

Although it took a while for me to read the book, it wasn't because the book was bad or boring. The story was pretty much the same as the others in the series. I think that I am getting a bit tired of the fact that Jury seems to be relegated to a lonely life without love. Yeah, I get it that he is incredibly handsome. Why can't he find love in his life? It's the same with Melrose Plant. There are precocious children in this one, as with the others. This time, it's little Chrissie in Jerusalem Inn. She says something that makes Jury realize the answer to the mystery. Then there's Tommy, the young Marquis. He's 16 and a champion snooker play. Now you might think from some of the comments that I didn't like the book, but I did like it. And I was not able to guess the murderer. I guess that I should have, but it was a surprise to me. I'll read more of the series. I just hope that Jury and Plant find some love and happiness in life.


---

Wednesday, April 4, 2012 -- Afternoon True Blood: Tainted Love I love to read, and I'm not one of those readers who snubs her nose at any sort of reading material. I say that because I love to read comic books, graphic novels, and manga. This past weekend, I saw a brand new True Blood comic book at the library. I snapped it up, and happily read it. The volume I found was volume 2, titled Tainted Love. The comic book is based on the HBO series, which is rather loosely based on the Charlaine Harris Sookie Stackhouse mysteries. I'm not a huge fan of the HBO series; yeah, I know that makes me an anomaly. In the comic book, someone has tainted Tru Blood, the synthetic blood for vampires. The poison gives the vampire who drinks it a lust for killing and drinking human blood. Usually after going on a rampage, the vampire winds up killing him or herself. When Jessica, the young girl that Bill Comptom was forced to turn into a vampire, drinks the tainted Tru Blood and goes berserk, it's up to Sookie, Bill, Eric, and Sam to figure out what's going on. Although vampires take credit for the tainted Tru Blood, it's really a plot by the Empire of the Sun.

The nice thing about comic books and graphic novels is that it shows you the pictures and the action. Some people may not like that because they want their own imagination to supply the pictures. I enjoyed reading Tainted Love. The plot was good. There was action from beginning to end, and it kept me turning the pages. I don't think the HBO characters jive with the characters from the books, but at least with this comic, I wasn't pulling out my hair with irritation. If you like the HBO series or the books, I think you'll like the comic book.


---

Monday, April 2, 2012 -- Afternoon Cards on the Table by Agatha Christie I just finished re-reading an Agatha Christie novel, Cards on the Table. I love Agatha Christie's works, and Cards on the Table is from the strong 1930s/1940s material.


---

Thursday, March 29, 2012 -- Afternoon The Maltese Falcon by Dashiell Hammett Even though I'm a huge fan of mysteries, I've managed to miss some of the classics. For example, I've never read anything by Dashiell Hammett. Yes, I did watch The Maltese Falcon with Humphrey Bogart, which is a very good movie. When I think of Sam Spade, I think of Bogart. Imagine my surprise when I read the book! It seems that Spade is tall. Now that's not something that I associate with Bogart. Except for the height and size issue, whenever Spade would talk, I could hear Bogart's voice. Bogart definitely captured the character of Sam Spade.

So what is the book like? It is very much like the movie. The plot is a tad convoluted. A woman shows up at Spade's and Miles Archer's detective agency, asking for them to follow someone for her, Floyd Thursby. The woman, calling herself Miss Wonderly, claims that her sister left with Thursby, and the woman wants to get her sister to come back home. When Archer turns up shot dead, and Thursby is found dead, Spade finds himself in it thick. The police wonder if Spade had something to do with Archer's murder because Spade has been having an affair with Archer's wife, Iva. Spade tracks down Miss Wonderly, who Spade finds out is really Brigid O'Shaughnessy. Spade can't get a straight story out of O'Shaughnessy, and finds himself getting threatened by Joe Cairo, a partner of O'Shaughnessy, and then Casper Gutman and Gutman's henchman, Wilmer Cook. There are lots of twists and turns while Spade tries to track down the Maltese Falcon, and in the end, all becomes clear. The only thing I was left wondering about is whether the Maltese Falcon might have been real, or if it was always a piece of lead. The Maltese Falcon could be anything that people become obsessed with.

I really enjoyed reading the book. Even with limited evening hours to read, I quickly finished the book. I've only seen the movie two times at the most, and that was a while ago. I couldn't remember much to spoil the story. Although now that I've finished the book, I want to re-watch the movie to see if it really matches up as much as I think it does. I loved Hammett's writing style so much that I've put The Thin Man on hold at the library, and I think I need to read the Continental Op stories too. I can understand how The Maltese Falcon ranked number 56 in the Modern Library 100 best novels.


---

Monday, March 26, 2012 -- Afternoon Search the Shadows by Barbara Michaels It was back to Barbara Michaels' books for me over the weekend. This time it was Search the Shadows, which is about Haskell Maloney looking for her father. Haskell's mom died when she was a baby, and Haskell was raised by her aunt Jessie. For most of her life, Haskell thought that she knew who her father was: Kevin Maloney, who died in Vietnam. When Haskell goes for a blood test before marrying her lawyer fiancee, Jon, she finds out that she is a carrier of Tays-Sachs. Since that is something that would come from an Eastern European Ashkenazi or someone from Nova Scotia, Haskell realizes that her "father" wasn't her father. Of course, Haskell has a breakdown, breaks off her engagement until she can "find herself," and fights with Aunt Jessie, who should have known and didn't tell Haskell. Jessie, however, is just as shocked, and Haskell decided that she has to go in search of her father. Haskell decides to go to the Oriental Institute in Chicago, where her mother went to school and met her father. Haskell decides that one of the guys in her mother's photo album must be the father. One of them is Stephen Nazarian, who blew himself up in with a group of Vietnam War revolutionaries. Stephen's father, Victor Nazarian, is a wealthy, powerful, elderly man, and Haskell determines to volunteer to work for his museum organization, because who can turn away a volunteer. The next thing we know, Haskell is on the Nazarian grounds and in danger.

This book has no woo-woo elements. There are no ghosts or spirits haunting Haskell, well, except for the spirit of her mother. I have to admit that Search the Shadows is one of those Barbara Michaels books that I'm not very fond of. Yes, I read through the book quickly, and I enjoyed it to a degree. I love Michaels' writing. The Egyptology bit struck a chord with me. Haskell was plain annoying though. I mean, really! So you find out that you are a carrier of Tays-Sachs, and the first thing you do is dump the guy you are going to marry? That just didn't make sense to me. It's as if Haskell (or maybe Michaels) was looking for a way out from the beginning. The romance part of it was shallow. Haskell winds up with a guy at the end, but it's really not the guy that you would think. We really don't get a build up of the romance. I figured out who the dad was, but it's really not that obvious. So what did I think? Enjoyable, but flawed, book. I think that if you love Michaels, you'll think this one is okay. Not the best, but by far, not the worst.


---

Monday, March 19, 2012 -- Afternoon The Clairvoyant Countess by Dorothy Gilman I just finished reading my second stand-alone Dorothy Gilman, The Clairvoyant Countess. This book was really a collection of stories about Madame Karitska and her policeman friend, Detective-Lieutenant Pruden. Madame Karitska meets Pruden when he comes calling to find out why her address was in a murdered girl's house. The girl has come to visit Madame Karitska earlier in the week and left in a huff when Karitska told the girl not to trust the person the girl trusted the most. As a spoiler, that "trusted" person wound up murdering the girl, and Karitska helped out Pruden by giving him information on what she picked up about the girl. Other cases include robberies at a boarding school, a man dying of a voodoo curse, a woman accused of being a witch, and a missing girl, who was first believed to be dead. The stories are quick, and the same characters weave in and out of the stories. The book is a short one, but a very enjoyable read. I found myself rooting for Madame Karitska. I think that Dorothy Gilman must have had some interesting experiences with spiritualism because both this and A Nun in the Closet have elements that encourage the characters, and the reader, to investigate how the brain and the soul work. Madame Karistka uses psychometry, touching objects owned or worn by someone, to get information about the person's past and future. There was a later sequel, published in 2002, called Kaleidoscope. I'll give that one a try too, but I've read that it is not up to par with The Clairvoyant Countess. I wonder if Ms. Gilman was already experiencing some Alzheimer problems, which crept into her work. The disease is a sad one because it robs the person of himself/herself.


---

Friday, March 16, 2012 -- Afternoon A Nun in the Closet by Dorothy Gilman February 2nd was a sad day for Mrs. Pollifax fans. Dorothy Gilman died at 88 years of age from Alzheimer's disease complications. I've read most, if not all, of the Mrs. Pollifax books. However, I never read any of the standalone books that Ms. Gilman wrote. I decided in her honor that I would rectify that lapse, and finally got around to A Nun in the Closet. The nun in the closet isn't a real nun. It's "Sister Ursula," a seriously injured man found by two Benedictine nuns in a house the abbey inherited. Sister Ursula wasn't the only things that Sisters John and Hyacinthe found on the property. They also found a suitcase with over $400,000 hidden in a well and 50 pounds of cocaine hidden in sugar jars. Since the book was published in 1975, Gilman sprinkled in some hippies, and Sister John had a militant awakening. Before the book ended, the Mafia and the FBI made appearances.

The book reminded me of the Pollifax books. Good won out in the end, and no likable character died. Sister John was the most interesting of the bunch because she had an awakening from her cloistered existence. The book was a nice, light, enjoyable read. Nothing substantial, but that's not what I expect from some books. A Nun in the Closet is a book that should be read on a nice spring day, while you sit outside on a swing, sipping a cold drink, and nibbling on cookies.


---

Sunday, March 11, 2012 -- Evening Someone in the House by Barbara Michaels I just finished another of Barbara Michaels' books. Someone in the House has all the woo-woo elements that anyone would want: a huge mansion, eerie noses in the night, and ghostly visions. This time, Anne goes to Grayhaven Manor in Pennsylvania. The plan is for her and her buddy, Kevin, to spend the summer writing an English textbook. Anne's boyfriend, Joe, is off to on a research project in Europe, and Anne is left on her own. The problem is the house. First, Bea, Kevin's aunt, comments on noises coming from Kevin's room. Bea assumes that is it Kevin and Anne making out. Of course, Bea is somewhat offended. The book was written in 1980/1981, and older folks weren't as accommodating to unmarried sex. However, it isn't Anne, but a ghostly visitor that Kevin is getting busy with. Bea, Bea's new paramour, Roger, and Anne try to figure out what the cause is behind the ghostly visits. Father Steven, the local priest is also called into action.

This book was quite eerie, and it didn't follow the usual Michaels formula. As a spoiler, Anne and Kevin do not find romantic happiness in the end. In fact, there really isn't a good resolution to the mystery of the ghostly visits at all, other than Anne's thesis that the house wants to make all of its inhabitants happy. The following book, Black Rainbow tells the earlier story of the Mandevilles in the house, but that book doesn't have anything more than some vague comments about Megan feeling very content in the house. Anyway, Someone in the House was a great page-turner, and I found myself enjoying it. Even though there wasn't romance at the end, I rooted for Anne and her decision. I can't wait to read more of Michaels' books in the near future.


---

Sunday, March 4, 2012 -- Afternoon Black Rainbow by Barbara Michaels My recent Barbara Michaels read is Black Rainbow. This book is more typical of a traditional gothic. Read the complete review.


---

Tuesday, February 28, 2012 -- Afternoon Archie Gets Married I'm behind the times. The Archie Wedding comic came out in 2010, but I just had a chance to read it this week. The story starts with the high school graduation of the Riverdale kids. Now we know that this will be a traumatic event because the comics have always covered the kids as teens in high school. What would happen if the teens actually became adults? Well, we get to find that out in Archie Wedding. Before the high school graduation ceremony, Archie goes for a walk, and he comes upon Memory Lane. In the past, Archie always walked down Memory Lane, which is the phrase people use when they remember the past. This time, Archie decides to walk up Memory Lane. As he walks, he comes upon a fork in the road. Archie takes one branch and finds himself in the future at his high school graduation. In this future, Archie marries Veronica, and Betty becomes a fashion seller in New York City. Mr. Lodge gives Archie a job at Lodge Enterprises, and Archie and Veronica have twins. Then one night, Archie goes for another walk, finds himself at Memory Lane, and this time he takes the other fork in the road. Archie's back at his college graduation, and this time, he marries Betty. You get the feeling that Archie would have preferred to marry Veronica, but he realizes that he really doesn't fit into her life style. Betty gets a job in New York, and she and Archie move there. That doesn't work out, and they find themselves back in Riverdale, with both Betty and Archie teaching at Riverdale High. Archie is the music teacher. In this reality, Jughead marries Midge, Moose is into anger management, and Reggie is a car salesman. Archie and Betty have twins in this reality; the writer must have a thing about Archie having twins even though twins don't seem to run in his, Veronica's, or Betty's families. Veronica winds up marrying Reggie. This time, when Archie goes for a late night walk, he walks down Memory Lane and returns to his current life. Archie has some memories of marrying Betty and Veronica, but no one believes his story about the future. Meanwhile, life is pretty much as always, with Archie getting into by arranging dates with Betty and Veronica on the same night. We do hear that Dilton Doyle, Riverdale's resident genius, is missing after discovering parallel universes. That ties into the Life with Archie comics that play out the two future realities with this evil character who is trying to manipulate things for his own gain.

I'm not sure how I feel about looking at Archie's future. I'm perfectly happy with the comic book life cycle. Archie has been a teen since the 1940s, and as far as I'm concerned, he can stay there. I don't want my comic book characters to grow up and have real life experiences. The thing I love about comics is that I can use them as an escape from the realism of real life. If I had to choose, which girl would I have Archie marry? Well, I think that I would bring in a third girl. That would create some tension and cause Betty and Veronica to team up against the third girl. Would Archie marry her? Maybe. I just think real life situations would intrude on the fun too much.

Who do I like better? Betty or Veronica? Both of them annoy me for different reasons. Betty is just too wishy-washy, and Veronica is too spoiled. If I had to choose, I guess I would say that Jughead is my favorite character. There are hidden depths to Juggie.


---

Sunday, February 26, 2012 -- Evening Archie: Best of the Fifties Not only do I love mysteries, but I love comics. One of my favorite comics from when I was a kid to today is Archie comics. Even today, I'll still pick up Archie comics from the comic book store or library. In the past few years, the Archie comics folks released a series of books that look at Archie over the decades. The series is called the Archie Americana Series. Since Archie has been around since the 1940s, they had a few volumes in the series. I just finished reading the Best of the Fifties. The characters in this volume look a lot more like the characters that I'm used to. There have been changes over the years, and I have to admit that I didn't really recognize the 1940s Archie. Archie is that same as ever, stringing along both Betty and Veronica. Jughead, although appearing to be a slow-witted clod, really has much more on the ball than the other kids. What I loved about the book the most is that it reminded me of the simplicity of my childhood. Even though I wasn't around in the 50s, I felt that I could understand the time just from reading the comics. Which character do I like the best? I think Betty is my favorite, and Reggie is my least favorite. I can't think of a better way to spend a slow moving afternoon than with an Archie comic. Some people may think that comics are only for kids, but in my opinion, if it has a good story and if it entertains me, that's all I want. The Archie Americana Series series does that and gives us an historical look at teen society from the 1940s to the present day.


---

Friday, February 24, 2012 -- Afternoon The Dirty Duck by Martha Grimes The Dirty Duck is Martha Grimes' fourth entry in the Richard Jury series. I've been trying to read the series in order, and as I finish up a pair, I order replacements from the library. I'm very lucky to have such a good library system, the Carnegie Library of Pittsburgh. In The Dirty Duck, Richard Jury is on vacation in Stratford-upon-Avon. Jury is hoping that he can meet Lady Jenny Kennington, whom he met in The Anodyne Necklace. Lady Kennington moved to Stratford-upon-Avon at the end of the last book. Melrose Plant is there too, with his Aunt Agatha and her American relations. There are also some other American tourists in Stratford-upon-Avon, touring with the Honeycut Tours. Of course, where Jury and Plant are, murder follows. First, Gwendolyn Bracegirdle gets herself slashed and stashed in a public toilet. She's found with a few lines of poetry written on a Shakespeare playbill. But it doesn't stop there. Little Jimmy Carlton goes missing. Then his step-sister is murdered, and as the tour moves to London, his step-mother is murdered in the same grizzly fashion. Both also have additional lines from the same stanza of poetry that's found on Ms. Bracegirdle. Is there a psycho killing folks, or is there a connection to the Honeycut Tours? Where's little Jimmy? Can Jury and Plant find the killer before anyone else is murdered?

So far, as I've been reading through the series, I find myself like the latest book better than the ones that preceded it. The Dirty Duck is the best of the four so far. Granted, the murders are fairly horrifying. The victims have their throats slit, and then are slit open to the waist. Of course, Grimes doesn't go into gross detail, but it's enough to set up some mental pictures. Again, we have the strong child character. This time, it's Jimmy, who finds himself kidnapped and not knowing what is going on. Of course, I don't want to give away the ending, but Jimmy shows a great deal of resourcefulness for a nine-year old. The only negative comment I have to make is that Jury and Plant have the worst luck of any characters I know in mystery literature. Lady Kennington, Jenny, leaves Stratford-upon-Avon before Jury can start a relationship with her, and Vivian Rivington, Plant's Ardry End neighbor, comes back from an extended stay in Italy with an Italian fiancé. Of course, she just happens to show up in Stratford-upon-Avon. Jury and Plant are in their 40s, attractive, and unable to get women? Really? Of course, they get the ones they don't want. Jury likes Vivian who likes Plant. What a tangled web! I am enjoying the Jury/Plant series, and if you like mysteries, you should definitely give them a try. I think they should be read in order because the characters and relationships appear to develop over the books.


---

Monday, February 20, 2012 -- Afternoon The Anodyne Necklace by Martha Grimes Everyone needs a break, and I'm mixing in some mysteries with the romantic suspense. One author that I haven't read before is Martha Grimes. Grimes is an American who writes British mysteries, and if there's one thing I like, it's the classic British mystery. So I've been working my way through her Inspector Jury/Melrose Plant series. Inspector Jury is from Scotland Yard, and finds himself getting called in to investigate various murders around the country. Melrose Plant is a Lord who gave up his title because he wasn't interested in the whole aristocracy/House of Lords bit. In the first book in the series, The Man with a Load of Mischief a murder happens near Plant's family home, and Jury is called in to investigate. The pair become buddies, and as Jury goes to investigate other murders, Plant motors out to help his pal. I just finished reading the third book in the series, The Anodyne Necklace. In this book, Jury is called out to investigate the murder of young woman in the Horndean Woods in the little village of Littlebourne. The woman is a stranger to the village and was found with the fingers of one hand chopped off. Jury has to figure out who the woman is and if the murder ties in with the other disparate things that seem to be going on: a young girl from the village who had her head bashed in while busking in the Underground in London, a jewelry robbery from one of the local landed gentry, and the accidental death of the person suspected of committing the robbery. Of course, Jury ties up all the loose ends and finds the murderer.

The book was a good deal of fun. I read through it very quickly, but I did have some problems with it. In The Anodyne Necklace, as well as with the second book in the series, The Old Fox Deceiv'd, an independent child has a key role in the mystery and the solution. The child in question this time is a girl, Emily Louise Perk. I don't know about you, but I don't know that many 10-year-old kids who are as enterprising and self-reliant as the kids in Grimes' books. Emily Louise's mother is nowhere to be found. The girl totally controls the whole village with her strong personality. No one from child services shows up to wonder what the girl is doing working or wandering the town late at night. The situations and characters are starting to feel very formulaic. I would hope that Grimes finds some way to change things up. The mystery is a good one. At first, I couldn't think of any way Jury could tie all the crimes together, but he did. This book had a decidedly dark element with the attack on young Katie O'Brien, who was left in a life threatening coma, and a threat to Emily Louise. The characters in the village are interesting, especially Polly Praed, a mystery writer who plots the murders of the annoying Bodenheim family, the leading family of Littlebourne. I did sort of suspect whodunit, but started to doubt myself as the story continued. I've just started the next book in the series, The Dirty Duck, so the formulaic bits of Grimes' style aren't annoying me yet!


---

Wednesday, February 15, 2012 -- Afternoon Houses of Stone by Barbara Michaels As I continue my journal through the works of Barbara Michaels, I admit that I haven't been taking a systematic journal. I didn't start at the first book and continue through in order of publication. I wonder if doing that would have changed my experience. I just finished Houses of Stone, which was published in 1993. Barbara Mertz started publishing the books with the Barbara Michaels pseudonym in 1966. That's when the more woo-woo of the books came out. Ammie Come Home was published in 1968. The Sea King's Daughter, another of my recent reads, was published in 1975. I really liked The Sea King's Daughter. I'm a bit more ambivalent about Houses of Stone, and I do wonder if Michaels started to change her style as time went on. It's something that I'll have to look out for with future books.

Houses of Stone tells us the story of Karen Holloway, an English literature professor, who found some fame in publishing a poem by an unknown author named Ismene. Karen found the poem in a tattered, old publication, and she got it republished with commentary. You know, the sort of thing that professors specializing in literature do. Karen suspects that Ismene was a woman writing in the late 1700s/early 1800s, and when Karen hears from her friend Simon, a book seller, that he found an unpublished manuscript that Simon thinks was written by Ismene. Karen agrees, and the battle for the manuscript and publication begins. The manuscript isn't complete; the first few pages are missing. Simon offers the manuscript to the highest bidder, but gives Karen the option of preferred bidder. That means that Karen gets the option to outbid the highest bidder. With the financial help of her friend and colleague, Peggy, Karen is able to obtain the manuscript. The action begins then. Karen wants to figure out who Ismene really is. If she can give her a name, it would make the manuscript that much more valuable, financially and academically. Karen finds out that Cameron Cartwright sold the manuscript to Simon, as part of the estate of his uncle. Karen goes to the Virginia backwater town to investigate the family home/location to see if she can figure out if Ismene is part of the distant family tree. Peggy goes along to provide historical research. Meanwhile, rivals Bill and Dorothea also show up to try to beat Karen to the punch, and perhaps to steal the manuscript. Even though Karen is working from a copy, if the copy is stolen, Bill or Dorothea could beat Karen to publication. Karen's apartment is broken into, and the manuscript is almost stolen from her by the burglar. Then Karen is almost run over by a car, and rescued at the last minute by Bill. Then a fire breaks out in the garage under Karen's apartment. Karen narrowly escapes. Meanwhile, when Karen investigates Ismene's house and grounds, she experiences cold waves, feels evil, and hears ghostly screams. There are so many questions: who is Ismene? Is the gothic manuscript autobiographical? Who is trying to hurt Karen? Who is the romantic interest: Bill or Cameron? What the heck is going on?

The story was okay. I enjoyed the book, and I read it quickly. I suppose those are good things. However, I just felt that the story was dragging at points. I was expecting more build-up with the romance angle, but it just sort of happens at the end. All the loose ends get tied up, but I'm not sure that the journey was as much fun as it was in the older books. As with other Michaels books, Karen is a feminist. She gets herself into and out scrapes. However, there's still the element of the strong man in the background who really helps out. I would recommend the book, but with reservations that I don't think that it's the best of Michaels' work.


---

Friday, February 10, 2012 -- Afternoon The Sea King's Daughter by Barbara Michaels I have been in the mood for romantic suspense for the past few months now, and in particular, I have been focusing on Barbara Michaels. I haven't read her books in a long time, and I thought I would re-read them to see if they were as good as I remember. So far, I haven't been disappointed! I just finished reading The Sea King's Daughter, which is slightly different than the other woo-woo books published under the Michaels pseudonym.

The Sea King's Daughter is more in the style of Elizabeth Peters. Sandy Bishop is the heroine. She lives with her mother and step-father and really has no interaction with or knowledge of her father. Once as a younger child, she received a package addressed to Ariadne Frederick, Sandy's birth name, with a ancient Greek statue of Ariadne. Frederick is the last name of Sandy's biological father, an archaeologist. Sandy's mom left him when Sandy was a baby because Frederick loved his job more than his family. When the story really starts, Sandy is trying to figure out what to do with herself because she hasn't excelled in academics, but has excelled in athletics, especially swimming. Sandy wants the excitement that she had the previous summer when she and her step-dad found a submerged galleon off the Florida coast. The find got Sandy in National Geographic, and it caught Frederick's eye. Frederick comes to Florida to convince Sandy to help him search for submerged treasure in Greece. Sandy takes little convincing, and after her graduation from university, Sandy tells her parents that she is going to tour Europe. Yep, Sandy lies. Once Sandy gets to Greece, she starts to experience some feelings of deja vu, wondering if the feeling has some tie to her name Ariadne. Things don't start out well for Sandy on the island of Thera where Frederick is doing his archaeological work. Frederick is distant and uncaring. No one should swim or dive alone, and he leaves her un-watched as she swims. Sandy is starting to rethink her decision when she meets Jim in the village. Of course, the pair fall in love. Things get complicated when Jim's boss, Sir Christopher turns out to be a former cohort of Frederick's. Then Keller, a former German WW II officer, and his mistress, Kore, turn out to be living in a villa on the island. The foursome have a past history with Jim's uncle, who was killed during WWII. Earthquakes, volcanic action, and female deity worship add more spice to the story.

I really did enjoy the story. If you read Peters and Michaels, both pseudonyms for Barbara Mertz, you know that the books have a very similar feel to them. The Sea King's Daughter provided plenty of thrills, archaeology, and mystery for me. Yes, I guess you could say that the relationship between Sandy and Jim seems rushed, but it's fiction, people! The book gave me what I wanted: some romance, some suspense, and a break from the harsh reality of the real world. I was on the edge of my seat wondering how Sandy and Jim would untangle all the clues and figure out who the bad guy was. As Sandy mentions in the end, she learns that no one is all good or all bad. Definitely a winner!


---

Sunday, February 5, 2012 -- Evening RIP Dorothy Gilman Dorothy Gilman, the author of the Mrs. Pollifax series, died yesterday from the complications of Alzheimer's Disease. I read the Mrs. Pollifax books as a teenager, and I loved them. You would think that a senior citizen who volunteers to work for the CIA as spy would not be an appealing character to a teen. However, Ms. Gilman knew how to write a compelling character and story. I'm going to have to add either a Mrs. Pollifax or stand-alone book to my TBR pile. The NY Times has posted an obituary.


---

Sunday, February 5, 2012 -- Late Morning Walker in Shadows I love a good romantic suspense book, especially if there are some gothic elements thrown in for good luck. That's one of the reasons why I love the Barbara Michaels' books. She writes the type of books that I love to read, and if I were an author, the type of books that I would want to write. Last night, I finished Walker in Shadows, one of Michaels' best woo-woo books. In this book, we have Pat Robbins, recently widowed mother of 19 year-old Mark. She lives in one of those huge, gothic type houses that you just know would be haunted. Next-door is a mirror image house. The pair of houses was built in the 1800s for a pair of twin sisters. Well, Josef Fredericks, recently divorced, moves into the next-door house with his 17 year-old daughter, Kathy. Tensions develop between the families when Mark falls for Kathy, who is forbidden to see Mark by her dad. Then Josef makes a remark about Pat that comes off as making her sound as if Pat is out to hook him. One night, when Pat is coming home from an evening out with a friend, she hears screams from the Fredericks' house. When she gets there, she finds Josef struggling with his screaming daughter. Nope, Josef isn't an abusive dad. A ghost in the house has traumatized Kathy. Pat and Mark get sucked into the horror because the entity is in search of Kathy, even if it means finding her in the Robbins' house. Of course, by the end, the problems are resolved, because that's what people want in their romantic suspense, a happy conclusion.

One of the things that I loved about the book was the absence of a typical gothic heroine. Pat Robbins is in her forties, a working mom, widowed, and not your typical beauty. As I get older, I love to see characters that are more realistic as the main character of books. Michaels is great at putting atypical people into romantic leads. Walker in Shadows kept me on the edge of my seat and turning the pages of the book late into the night. Not only did I want to know what was behind all of the horrifying situations, but I also wanted to know what would happen with Pat and Josef. I have to admit that I thought the romance bit happened a bit quickly between the two of them. It seemed forced, but it was still enjoyable. I have more of Michaels on my TBR list, and if they are as good as Walker in Shadows, I'll be happy.


---

Thursday, February 2, 2012 -- Afternoon The Old Fox Deceiv'd I just finished reading The Old Fox Deceiv'd by Martha Grimes. The book is the second in the Richard Jury series, and as with the other books in the series, the title comes from the name of a pub that slightly features in the book. In fact, in this book, the action is very slight indeed. CID Inspector, Richard Jury is called up to a small town in the North of England to investigate the murder of Gemma Temple, murdered in costume on Twelfth Night. The question, though, was if Gemma Temple was in fact Dillys March, long-lost ward of Sir Titus Crael, wealthy, local landowner. Melrose Plant, wealthy former Lord Ardry, is visiting the Craels and gets to join in the detection fun as he did in the first book. It would seem to me that as the series progresses, it will become more difficult to get Plant involved in Jury's investigations, but that's how fictional mysteries are.

The mystery in this book was a good one, and I enjoyed figuring out whodunit (and no, I didn't guess it this time). My favorite character was a young boy, Bertie Makepeace who has been left to fend for himself by a mother who is more interested in herself. Fortunately, Bertie has a level head on his shoulders, and a super-intelligent dog named Arnold. Jury and Plant travel to London to gather information on Gemma Temple, and in the search, find out something about Sir Titus' family, deceased Lady Margaret and the deceased elder son Rolfe, and younger son, Julian. The Crael family has many hidden skeletons in the closet, and all comes out under Jury's investigation. We learn that Julian''s adamant hatred of Dillys would be more aptly described as great love.

The book was an entertaining read. I like the interactions between Plant and Jury. The human side of both come out in the case of Bertie Makepeace. The mystery was a good one. I do wonder if I just happened to miss the piece that lead to the solution. I think that I might have read it, but not picked up on it. There were suggestions throughout the book, but because I missed the initial puzzle piece, the suggestions did nothing for me. Overall, the book is a good read, and I have plans to read more in the series.


---

Wednesday, January 18, 2012 -- Evening Big Four I'm a huge fan of Agatha Christie, and I've read almost all of her books more than once. I love Miss Marple and Tommy and Tuppence. Hercule Poirot is okay, but he can be annoying. I say that I've read almost all of her books because I don't remember reading The Big Four. This is a book copyrighted from 1927, but it's actually a collection of 12 short stories that were published in The Sketch magazine. Hercule Poirot learns of a criminal organization called the Big Four. The four are a Chinese man, a French scientist, an American millionaire, and a mysterious British man. Hercule Poirot figures out who the first three members of the Big Four are and spends most of the book trying to figure out who is the mysterious fourth member. Of course, the Big Four do everything they can to remove Poirot from their trail.

So what did I think of the book? It was interesting. Agatha Christie was good at making a connection between a collection of short stories. She did it with The Thirteen Problems, The Labors of Hercules, and Partners in Crime. The individual mysterious were intriguing and quite puzzling. Captain Hastings is back to help Poirot with the mystery. The book is a very quick, short read, although it wasn't very easy to find. My library only had a few copies; so if you can find it, give it a try.


---

Monday, January 16, 2012 -- Afternoon Richard Castle's Deadly Storm Ever since I was a kid, I've loved comic books. With the emergence of graphic novels, I get more opportunity to satisfy that habit. With Richard Castle's Deadly Storm, I combined the love of comics with my love of mysteries. Just this season, I've started to watch the Castle television series, and I've enjoyed the interaction between the characters. The show's premise is that an author, Richard Castle, follows the police around, basing his novels on the cases that the police, in particular detective Kate Beckett, work on. Romantic tension and mystery are all on the menu. Because Richard Castle is an author, the creators of the series decided to capitalize on the popularity by releasing novels "written" by Richard Castle. Richard Castle's Deadly Storm is a graphic take off of the concept. In the comic, Derrick Storm is a detective who is hired by a woman to follow her husband. Storm finds the guy with another woman, but there is a twist. The woman who hired Storm was not the guy's wife, and after the woman the guy was bedding winds up dead, Storm is arrested as the murderer. Enter Alice Strike, CIA operative, to complicate the story. The story was well-told, and I loved all the plot twists. Obviously, with the end of the comic, the writers were setting up the reader for more adventures. I know that I was craving more when I finished the comic. So far, this is the only graphic novel available, but if it's successful, I'm sure that more will follow.


---

Sunday, January 15, 2012 -- Evening The Marching Season I just finished reading The Marching Season by Daniel Silva. It's the second, and unfortunately last, book in the Michael Osbourne series. Silva is known for his spy books, especially the Gabriel Allon series. Allon is the Israeli spy who keeps Israel and the world safe by killing terrorists. Michael Osbourne is a different kettle of fish. He's a CIA operative, and definitely doesn't feel easy about killing others. The action preys on his soul. The first book in the Osbourne series was The Mark of the Assassin. In that book, we are introduced to a secret organization that is trying to influence events in the world by creating terror. In that book, an airliner is blown out of the sky so a US businessman can sell his Star Wars type security system to the US people and government. The assassin is a man code-named October, Jean Paul Delaroche, who killed Osbourne's love many years ago. In Mark of the Assassin, October came after Osbourne and his wife Elizabeth.

In The Marching Season, we join Osbourne a year after Mark of the Assassin. Osbourne is now retired from the CIA, and he and Elizabeth are the happy parent of twins. Osbourne is feeling the strain of retirement and isn't as happy as he was when he worked for the CIA. But things are about to change! Elizabeth's father, former Senator Douglas Cannon, is offered the post of US ambassador to England after a series of terrorist acts in the UK, which were meant to spoil the peace in Northern Ireland. Considering that the book was published in 1999, it's not such an unlikely scenario. Osbourne gets pulled back into the CIA to protect his father-in-law from possible assassination, and October gets pulled back into his role as assassin by the Society, who believes that killing Osbourne and his father-in-law would really disrupt peace, and eliminate Osbourne, who has become a real pain in the neck.

It's so obvious that Silva used the Osbourne books as a springboard for the Allon books. Adrian Carter, Graham Seymour, and Shamron are cross-over characters in both series. Delaroche/October has some of the physical and personality characteristics of Gabriel Allon, including being an artist. The Marching Season is a very good book, full of thrills. I found myself quickly moving through the pages when I had time to read, which wasn't much over the past week or so. Silva made Delaroche/October into a sympathetic character. Although I didn't want him to succeed in killing Osbourne, I did want Delaroche to survive and some how find happiness. In The Marching Season, I did get the sense of closure for both Osbourne and Delaroche, and I was very happy. I wish that there were more Michael Osbourne books, but I guess that I will just have to satisfy myself with the Gabriel Allon series.


---

Sunday, January 1, 2012 -- Evening Be Buried in the Rain If there's one thing I love, it's snuggling up in a warm robe with cookies and a hot drink while I read a romantic suspense book. One of my favorite authors is Barbara Mertz, whether she is writing as Elizabeth Peters or Barbara Michaels. When Mertz writes as Michaels, she includes a supernatural element. There's a mystery to solve, which the heroine does with the help of some ghostly guidance. I've been in the mood for something woo-wooish, so I've started to work my way through the Michaels books. This evening, I finished reading Be Buried in the Rain.

Julie Newcomb is a medical student whose grandmother has suffered a stroke. The relationship between Julie and her grandmother has been strained, basically because the grandmother, Martha, is a mean, old woman. What you might call a real bitch. Julie spent a few years of her childhood with her grandmother when Julie's mother was trying to get herself on her feet. The story starts with the discovery of some bones on a back road running by Martha's land. The discovery leads to Martha having a stroke. Now that Martha is incapacitated because of the stroke, cousin Matt talks Julie into spending the summer taking care of her grandmother. Of course, Martha lives in a huge old plantation style house in Virginia, so there's lots of room for action. Another wrench in the works is the inclusion of Alan, a former flame of Julie's who is doing some archaeological investigations on Martha's land. In the past, Martha caused a break-up between Alan and Julie, to give us the romantic tension in the book. So we have the perfect setup for some woo-woo thrills: the discovery of bones, a big, mysterious house, and romantic tension between the protagonists. Whose bones were in the road? Was it the mythical Lady Jocelyn, virginal maiden from the 1700s, or is it someone from more recent times?

The tension builds as Julie tries to figure out what is going on in the house and with Martha. The evil Joe Danner, resident handyman, and his down-trodden wife, Rosie, are suspects, especially after Rosie tries to poison Julie's adopted stray dog. Who can Julie trust? Cousin Matt, Alan? Is one of them trying to hurt her?

Michaels does an excellent job of building the tension, both mysterious and romantic. Of course, in the end, Julie solves it all with some psychic and romantic help. I really enjoyed the mystery and the romance in the book. I would highly recommend Be Buried in the Rain to anyone who likes a little bit of woo-woo and romance in their mystery.


---

Sunday, October 9, 2011 -- Evening Click I read Click: The Magic of Instant Connections by Ori and Rom Brafman this weekend. The book explains how people click with each other. The authors explain that sharing vulnerabilities, being in the same proximity as others, sharing similarities (names, birthdays, hometowns, etc), and being a person who mimics the emotions and interests of others around them can click. That's rather a simplistic view of the book, but it gives you an idea of what the book is about. A few cases that the authors use to illustrate the concept of clicking are interesting. The four players on the University of Florida basketball team that won the NCAA National Championship two years in a row is a good illustration of the many of the concepts. The four players, Corey Brewer, Taurean Green, Al Horford, and Joakim Noah, were placed in the same dorm room as freshman. They played together all the time. Not only did they practice with the team, but they went to the park and played in pickup games together, always on the same team. They shared the usual experiences that roommates share in addition to basketball. When the players as sophomores became starters, they went on a winning streak that culminated in the National Championship. Instead of leaving for the NBA, the players remained at the University of Florida. They went on to win another National Championship. Not only did the players click, but they also had a synergy with each other that wasn't replicated in their NBA careers. Also, the University of Florida team was okay both before and after the foursome played, but didn't achieve the same level of success. The book gives tips on how a person can do things that will encourage a "click" relationship: show vulnerability to other and concentrate on similarities. The book was a very quick and entertaining read, and I'm going to try to incorporate some of their suggestions when I am involved in team projects. After all, every little bit can help to make the project a success.


---

Friday, September 30, 2011 -- Evening Ammie Come Home I love romantic suspense books, and through that love, I discovered Barbara Michaels. Barbara Michaels is the pseudonym that Barbara Mertz used to write woo-hoo books. Woo-hoo books have a supernatural element, and in Mertz's case, she adds some romance. Mertz also writes under the pseudonym of Elizabeth Peters. I thought that best start through Michaels' oeuvre was by starting with Ammie Come Home. Ammie Come Home is the first in the Georgetown trilogy, set in a house in the Georgetown area of Washington, D.C. The heroine of the book is Ruth Bennett, a slightly older than usual heroine. Ruth is in her 40s, and she inherited the Georgetown house from an elder, maiden aunt. Ruth's niece, Sara, comes to stay with her while Sara attends university. Sara brings her Professor, Pat McDougal, to visit, an obvious attempt by Sara to get something going between Ruth and Pat. Ruth and Pat go to a dinner party at Pat's mom's house where a séance is held. Before you know, Ruth agrees to hold a séance at her house, inviting Pat's mom, and Sara's boyfriend, Bruce. Unfortunately, the séance awakens spirits in Ruth's house. Sara seems to be targeted for possession, and Ruth, Bruce, and Pat fight to save Sara's sanity and to discover what evil haunts the house. The title gives a clue to one of the haunting spirits, Ammmie. Sara and Ruth both hear cries at night, "Ammie, come home."

I couldn't stop reading the book. Fortunately, my house doesn't have a spooky atmosphere because I know that as I was reading, I was hearing noises and feeling shivers running up and down my spine. Michaels really knows how to create a spooky atmosphere, and she adds just the right bit of romance, so it adds to the plot instead of distracting from it. I can't wait to read the rest of the books. I have found memories of being scared out of my wits while reading The Crying Child, which I think will be my next read. If you haven't read any of Michaels' books, you should definitely start with Ammie Come Home.

By the way, the illustrator for the cover of the book I read is Charles Geer. The house on the cover exudes the spookiness that you'll find within the book.


---

Monday, September 12, 2011 -- Afternoon Flash and Bones I just finished reading the latest Kathy Reichs book, Flash and Bones. The book just came out at the end of August, so I was very lucky to get this one from the library as soon as I did. This book is set in Charlotte, North Caroline, and the bodies and plot revolve around NASCAR. Tempe finds a body in a barrel right outside the race track. Is it the body of a teen missing since 1998, Cindi Gamble, or her boyfriend, Cale Lovette, or is it someone else? Someone recently dead? As with every Reichs' book, this one has a few subplots. The FBI is very interested in the body in the barrel and the Gamble/Lovette disappearance. When the files from the 1998 disappearance and the body go missing, Tempe is sure there is some sort of connection. As she teams up with Erskine, Skinny, Slidell, and former cop/current NASCAR security guard, Cotton Galimore, Tempe finds herself pulled even deeper into the mystery. Did the body in the barrel die from ricin poisoning? When Wayne Gamble gets involved in the search, and then winds up horribly dead, with abrin (a ricin-like poison) in his system, Tempe isn't sure who to trust. Cotton stirs her libido with his good looks, but Skinny and others says that Cotton isn't to be trusted. Cotton is accused of obstructing the 1998 investigation. As usual, Tempe finds her life in danger by the end of the book.

Although the story follows a similar plot to the other books, I found myself devouring the book. Reichs knows how to up the tension in her books, and she does a skillful job with the mystery. I figured out whodunit before Tempe, but that's the whole joy of reading a mystery, figuring it out and trying to yell the answer to the detective. Andrew Ryan does not make more than a brief appearance in the book. He's still involved with daughter, Lily, and her drug/personal problems. I really didn't miss the Ryan interaction. It was good to see Tempe being strong on her own. I would definitely recommend this book, even to those who have yet to read a Reichs mystery.


---

Monday, September 5, 2011 -- Evening Portrait of a Spy I just finished reading the latest Daniel Silva, Portrait of a Spy. Although the book came out at the end of July, it took forever to get it through my local library. It was well worth the wait. Just when Gabriel Allon thinks that he and his wife, Chiara, might be out of the spy business, and safely ensconced in Cornwall, restoring paintings, terrorism strikes. Allon and Chiara go to London to see Julian Isherwood. Allon to see a Titian that needs restoration, and Chiara to see if she can convince Allon to take over Julian's art studio. Suicide bombers strike in Paris and Copenhagen. Allon sees a person that he knows is a suicide bomber enter Covent Garden. Before Allon can shoot him, the police bring Allon down, allowing the bomber to set off his bomb. Before you know it, Allon is working with Graham Seymour and Adrian Carter to infiltrate the terrorist network with the financial help of Nadia al-Bakari, daughter of a terrorist funder, Zizi al-Bakari. Allon killed Zizi in The Messenger. Silva ties in elements of the current upheaval in the "Arab Spring." The president in the book is an obvious reference to Barak Obama and his unrealistic opinion of how to handle the terrorist threat. The book is very entertaining and quite a page turner. I really enjoy the Silva's books because he knows how to bring the reader to the edge of his or her seat. Of course, you could say that the books in the series are very similar. Well, what else would you expect from any series? I think that we have expectations from an author, and we don't want him or her to deviate too much from the formula. All in all, Daniel Silva does a great job with his Gabriel Allon series, and I highly recommend it.


---

Friday, August 26, 2011 -- Morning Summer of the Dragon I've been devouring books this summer. Part of the reason is because I haven't been as mobile since I had foot surgery at the end of June. I've been reading romantic suspense books, and who better to read than Elizabeth Peters. Ms. Peters is the author of the Amelia Peabody mystery series. Summer of the Dragon is one of the few standalone mysteries that Peters wrote earlier in her career. I love the heroines in Peters' romantic suspense books. They tend to be very atypical. In this case, DJ Abbott is outspoken, a hardy eater, and more than capable of taking care of herself. When DJ goes to Arizona to work with Hank Hunnicutt, she finds herself surrounded by some of the scientific lunatic fringe. Hank is one of those rich philanthropists who funded psychic research, reincarnation, treasure hunters, and alien searchers. And when I say alien, I don't mean illegal aliens, but outer space aliens. The dialog in the book is fast paced and hilarious. There are two handsome men vying for DJ's attentions, to a degree. Tom comes across as hostile and arrogant. That's a sure sign in a Peters book that he's the real hero. I love the character interactions. The mystery might be a bit light. I figured out who the bad guy was fairly early in the book, but it might be because I'm familiar with the types of villians Peters likes. Summer of the Dragon is an entertaining book, and a perfect read for a summer afternoon on the beach or on the porch swing.


---

Saturday, August 6, 2011 -- Evening Airs Above the Ground I just finished reading Mary Stewart's Airs Above the Ground. The story was one of her better thrillers. Vanessa March is the heroine. She's married to Lewis March. They have an argument about his business trip, which resulted in a postponement of their summer vacation. Although Lewis was supposed to be in Stockholm, Sweden, Vanessa learns through a cinema news clip that Lewis is actually in Austria and somehow involved in a fire at a traveling circus. Vanessa offers to chaperone 17-year-old Tim to Austria and plans on tracking down her husband. Stewart does a great job in getting the reader involved in Vanessa's affairs, and wondering what is going on with Lewis, who is masquerading as Lee Elliot. Obviously Lewis is working undercover, and Vanessa and Tim get involved in the mystery, and solve one of their own, discovering an old Lipizzaner stallion at the circus. It seems that one of the old hands, who was killed in the blaze that brought Lewis to the circus had stolen the horse from the Lipizzaner stables. I enjoyed the story immensely, and couldn't put the book down. Airs Above the Ground is a thrilling story that I highly recommend as a start to the Mary Stewart romantic suspense oeuvre.


---

Monday, August 1, 2011 -- Afternoon Thunder on the Right I have been reading through Mary Stewart's romantic suspense books, and just finished Thunder on the Right. I had never read the book before. Back in my teens when I first read the books, this one was not available in the library. As it is now, this was the only copy in the whole library system. I imagine it's because Thunder on the Right is not one of Stewart's best books. The book follows Jenny Silver to France, where she is going to meet her cousin, Gillian, at a convent. Jenny wants to know why her cousin wants to join the convent, but when Jenny gets there, she finds out that her cousin is dead. Jenny is shocked, and becomes suspicious about whether the dead girl was her cousin. As she was dying, the dead girl did not mention Jenny or show any signs of being colorblind to yellows and blues. When Jenny hears that the dying woman's favorite flower was blue, Jenny is sure that her cousin did not die. Dona Francisca, a hanger-on at the convent, adds an air of evil by hovering over the drama. Dona Francisca was the only person, beside young Camille, an orphan at the convent, who spent time with Gillian. Also in the village is Jenny's erstwhile boyfriend, Stephen. The poor guy is in love with Jenny, but she sees him as her older brother, someone to turn to when she gets into trouble. The story was good, and I enjoyed reading Jenny's attempts to locate and save her cousin. However, the book was tedious to read. The descriptions were a tad overboard, and paragraphs were spent on describing the flowers and scenery in great detail. This is the only of Mary Stewart's romantic suspense novels that is written in the third person, and most readers find it to be the most mundane of her books. Mary Stewart said in Contemporary Authors, v. 1, 1967 that Thunder on the Right was her least favorite book:

I detest that book. I'm ashamed of it, and I'd like to see it drowned beyond recovery. It's overwritten. It was actually the second book I wrote, and for some strange reason I went overboard, splurged with adjectives, all colored purple.

I don't think that I would go as far as Stewart has in her comments. However, I can understand how she would feel about the book. Thunder on the Right won't be the first on my list to re-read.


---

Monday, July 25, 2011 -- Afternoon Passenger to Frankfurt I tried! I really did! I am a huge fan of Agatha Christie, but I realized recently that I didn't remember reading the later books. Granted, I started reading the books when I was a teenager, and got through most of them then. And I've reread several of the books. But some of them don't ring a bell. Now most will tell you that the later Christies aren't really that good. There are rumors that Christie was on the decline mentally, and some have done research on the decline in her later novels, attributing it to Alzheimer's disease. I would hope that wasn't the case and thought I would just give one of the later books a chance. I chose Passenger to Frankfurt. Passenger to Frankfurt was Christie's eightieth book (counting her compliations of short stories in the US and UK) and was released in 1970. Considering that Christie died in 1976, Passenger to Frankfurt definitely falls in the later period. Well, I got maybe halfway through the book, and I don't think that I can stomach to continue. The story is rather rambling, and it's not clear where it is going or if there really is a plot. The action is practically non-existent, and there is a great deal of dialogue about how the youth is in 1970, how Sir Stafford Nye wonders what is going on, and Sir Stafford's aunt comments on how old people are still useful and in the know. The book is a 180 from the quality of the earlier Christies. I think that I started to notice a dip in quality with At Bertram's Hotel, published in 1965. My recommendation would be to read Christie prior to 1965, and just pass over the later books. Remember that Sleeping Murder and Curtain do NOT fall in that category because they were both written in the 1940s and published towards the end of Christie's life. Both were written as potential money makers for Christie's daughter and grandson during the London bombing phase of World War II. Christie thought that if something would happen to her, her daughter would get financial support from the books. Sleeping Murder is the last Jane Marple, and Curtain is the last Hercule Poirot.


---

Friday, July 1, 2011 -- Afternoon Nine Coaches Waiting I just finished Nine Coaches Waiting by Mar Stewart, and I really enjoyed the book. The book was published in 1959, so the story seems a bit dated for the time frame in which it is placed. Linda Martin, the heroine of the book returns to France as a governess of a young, French boy, Comte Philippe de Valmy. She keeps her French roots, and fluency in the French language, a secret from the woman, Philippe's aunt, Heloise de Valmy. It seems that Philippe, like Linda, was orphaned when his parents' died in a plane crash. Linda picks up on the fact that Heloise wants someone who can not speak French, and when she gets to the house, Linda feels that there is an undercurrent of tension. Why would Philippe's uncle and aunt be so insistent on having someone who does not speak French? Philippe's uncle, Leon, is an imposing figure, even though he is wheelchair bound. Philippe starts to have some life threatening accidents, and Linda falls in love with Philippe's cousin, Raoul. Tensions build until Linda finds out through the girl friend of one of the hired hands that Philippe's uncle wants to murder Philippe so he can get inherit the estate. The maid, Berthe, learns this from the drunken ramblings of the hired hand. Raoul is implicated by the hired man. Linda doesn't want to believe it, but she has to get Philippe out of the house before something happens. Does she succeed in getting Philippe to his beloved uncle, Hippolyte? Is Raoul involved in the murder scheme? The book reads as one of those typic gothic romances that we all know and love. Parts of the story reminded me strongly of Jane Eyre, such as Linda being the orphan working as governess, and the way that Linda mets Raoul (almost being run down by him because she was in the middle of the road). All in all, the story was very good and thrilling. It keep me turning the pages when I should have been going to sleep because I had to know how it ended. It's such a shame that Mary Stewart wrote so few books.


---

Tuesday, June 28, 2011 -- Afternoon Moon-Spinners I quickly finished The Moon-Spinners by Mary Stewart. The book is nothing at all like the movie starring Hayley Mills. The book is set in Crete, and Nicola Ferris is headed to a small village, Agios Georgios, to spend the Easter vacation with her older cousin, Francis. On the way to the village, Nicola runs into Lambis, a threatening Greek, and Mark Langley, an injured British tourist. Mark, and his younger brother, 15-year-old Colin, stumbled upon a murder. Mark was shot and left for dead as he fell off a cliff, and Colin was taken away by the bad guys, three men and a woman. Why don't Mark and Lambis go to the village for help? Because they aren't sure who Mark saw, and Colin is basically a hostage of these folks. Nicola helps out the pair and promises not to give them away to the villagers in Agios Georgios. However, she can't help herself for being emotional involved and concerned about Colin, and Mark's, well-being. Nicola begins her search to figure out who the bad guys are and where Colin is. As she begins to suspect the owner of the hotel where she is staying, the hotel manager, and the owner's sister and husband, the suspense and thrills build. This book grabs you and drags you through the suspense of the search and the outcome. Mary Stewart writes a thrilling story, as I mentioned before. Do not expect the book to be like the movie. Even though I love the movie, and Hayley Mills, the book is much better, a more nuanced and exciting story. I would definitely recommend reading the book and wiping all thoughts of The Moon Spinners movie from your mind. I can't wait to continue my journey through Stewart's oeuvre.


---

Sunday, June 26, 3011 -- Afternoon My Brother Michael I have been doing a ton of reading since i am pretty much immobile in my house. With no weight bearing on one foot, I can get around on crutches, but not that well. I'm not that good on walking around with two feet, let alone on one. So on with the reading. I've been reading some comfort reads and started with Mary Stewart's romantic suspense books. My Brother Michael was first on the list, and it was a very good start as you can tell from my review.


---

Wednesday, June 15, 2011 -- Afternoon Throne of Fire I openly admit that I read children's books. Personally, I think that a good story should be ageless. Both children and adults should enjoy the story. One person who knows how to tell an entertaining story is Rich Riordan. Riordan is the author of the Percy Jackson Greek hero stories. Recently, he has started a series featuring the Egyptian gods and goddesses. Throne of Fire is the second book in the series, following The Red Pyramid. Carter and Sadie Kane, a brother and sister pair, are the heroes in the book, and their goal is to prevent the rise of Apophis, lord of Chaos. In order to do this, the Kanes must find Ra, the sun god, and bring him back into action. The Kanes search for the three scrolls that will be needed to resurrect Ra and journey into the Duat, the place where the Egyptian gods exist to find him. The Kanes get help from their friends and from some of the gods, Bast and Bes. You should probably read the first book to find out the back story: how the Egyptian gods were released and what happened to the Kanes' parents. Some of the material is repeated, but it doesn't hurt to start from the beginning. Riordan knows how to tell a thrilling story, giving the heroes only a few days to solve a major problem before the world is destroyed. Riordan also does a service for literacy. By using stories from ancient mythology, he encourages children to "read more about it." I would recommend the book for any who like to read thrilling, fantasy-type tales. I can't wait for the next book in the series. That's the problem with discovering a series at the start. You have to wait for the yearly release.


---

Thursday, June 9, 2011 -- Evening GIT Comic Books I am a huge comic book fan, and I just had a find on Amazon. GIT has electronic versions of the Scooby Doo, Looney Tunes, and Archie comics from the 1970s. I love reading comics, and I love reading the old stuff. GIT did a great job with the comics. They created PDFs of all the issues, and they can easily be read on any platform. It's like a flash back to simpler times to read the comics. The comics are under $10 for 120 comics, which is a great price for such wonderful entertainment!

---

Friday, June 3, 2011-- Evening Spider Bones I finished the last book in Kathy Reichs' Temperance Brennan series, Spider Bones. I had looked at reviews for the book on Amazon, and I have to admit that I'm really surprised at them. As I've mentioned before, Kathy Reichs' books are very similar to each other. After reading the first one, I noticed a common plot theme that ran through all. All the books contain a great deal of detail about the central topic of the book: air crash victim recovery, motorcycle gangs, cults, and in Spider Bones, the recovery and identification of bodies of military service men. Multiple bodies appear, some of them connected, some of them blind alleys that have nothing to do with the current case. This books was no different than the others, and I found it just as enjoyable. I am getting a bit tired of dance between Andrew Ryan and Tempe. I would like to see them get together, to actually talk to each other and bare their souls. They might realize that the both love each other. However, in reading the reviews for Spider Bones, you would not think the reviewers read the earlier books. They claim they did, and they claim that this book is more rambling and disjointed than the others. But that is definitely not the case. I've enjoyed all thirteen of the books, and I already have Flash and Bones on reserve at the library, even though it won't be released until the end of August. The books have enough mystery, action, and science to keep me entertained. As long as that is the case, I will continue to read and enjoy the books.


---

Saturday, May 28, 2011 -- Evening Virals I finished reading the teen book, Virals by Kathy Reichs. It was an okay read, but I wasn't a huge fan. The story has a sci-fi element to it that should go over well with the readers of the Twilight series. Well, the teen characters don't turn out to be vampires, but they do gain super human powers (strength and sharing of thoughts) after being exposed to an experimental Parvo virus. As I said, it wasn't a bad book, I just wasn't that thrilled with it. Reichs is going to release the second book in the series this coming fall, so fans can get more of Tory Brennan and her gang.


---

Tuesday, May 24, 2011 -- Afternoon 206 Bones I have almost worked my way through Kathy Reichs' books, and just finished 206 Bones. You would think that I would be getting tired of the books, but I really enjoyed this one. This time, an inept co-worker is out to sabotage Tempe by making it look like Tempe is incompetent. This time, the book starts out with Tempe in a life-threatening situation. The italicized chapters are the ones in which Tempe is trying to escape her tomb, and they continue through the book. As I said, I really enjoyed the book. I knew right away who the guilty party was. The mystery wasn't a surprise, but I like the characters and the overall story. I only have one more of the Tempe mysteries to read, but before I read it, I'm going to read Virals. Virals is written for teens, and features Tempe's niece, Tory. I'll have more on that when I finish it.


---

Wednesday, May 11, 2011 -- Afternoon Boring Sookie I was hoping that I would read the latest Charlaine Harris book, Dead Reckoning. That won't be happening though. Why? Because after I got a third of the way through the book, I was noticing that it was the same sort of drivel as the last book. I really don't have the time or interest to read a book that doesn't really go anywhere. I gather that there is some action someplace in the book. Sookie breaks her blood bond with Eric, which I didn't think was possible, and conspires with Eric and Pam to get rid of the new king of the area. Yeah, that sounds like it might have been interesting, but the thing is that I found I really didn't care. The last book was extremely boring, and I kept with it till the end because I kept on thinking that something exciting was just about to happen. It never did. I was getting the same feel from this book. I was getting a good deal of disjointed ramblings about Sookie's life, and just didn't care. It seems that Sam may be getting setup for a romantic role in Sookie's life, but guess what? Yep, you guessed it; I just don't care. Since I didn't care, I just stopped reading and returned the book to the library. Perhaps someone who does care will be excited to read it. For some reason, I doubt it.


---

Monday, May 9, 2011 -- Afternoon Kathy Reichs' Books I am still working my way through Kathy Reichs' oeuvre. Over the past two weeks, I read both Break No Bones and Bones to Ashes. The relationship between Tempe and Andrew Ryan starts to unravel in these books. In Break No Bones, Ryan finds Tempe being consoled by her husband and takes it the wrong way. As the story progresses, Pete, Tempe's husband, gets shot, and Tempe goes all gooey over him. This, of course, gets Ryan into questioning their relationship. That questioning comes to an end in Bones to Ashes when Ryan tells Tempe that he is getting back with a old flame, the mother of his early 20s daughter, Lily. Lily has major problems with heroin, and Ryan thinks that he can getting back with her mother will give Lily a stable family life. How stupid! It definitely seems that the Ryan/Tempe relationship is truly kaput, but I'll know more as I finish off the series.

The mystery in both books is good. Reichs always tries to lead us the wrong way to the solution so she can give us the gotcha at the end. The gotcha was stronger in Bones to Ashes. Tempe really does seem to heading to a crash, and from the reviews, it seems that the next book, Devil Bones, may be the bottom point. I really find myself liking Tempe's chararcter in the books, and I know that I will read through to the most current book, Spider Bones, to see what happiness life can bring to Tempe.


---

Tuesday, April 26, 2011 -- Evening Dead by Midnight I started to read the latest Carolyn Hart book, Dead by Midnight. I was 70 pages into the 282 page book, and I was realizing that I wasn't enjoying the story or the characters. In the 70 pages, nothing much had happened. One character was dead, but it wasn't really clear what was going on. Even worse was the fact that I found myself not caring and slightly irritated by the characters. Annie Darling's mother-in-law was selling cat pictures with sayings. In every other paragraph, Hart would describe another cat, and giving a lame, puerile saying. It was starting to make me barf, and resulted in me closing the book at page 70. The book will be returned to the library tomorrow. I would recommend passing the book up unless you want to drench yourself in pointless treacle.


---

Sunday, April 24, 2011 -- Afternoon Kathy Reichs Channels Dan Brown All righty! This time, Cross Bones, book number eight in the Temperance Brennan oeuvre is nothing like the other books. This book was right up my alley, though. Tempe and Andrew Ryan, who shockingly are a pair AND getting along quite well, thank you, are searching for the killer of Avram Ferris, Orthodox Jew, who deals in antiquities. The mystery starts when one of the observers at the autopsy, slips a picture of a complete human skeleton from Yigael Yadin's Masada dig. Whose bones are they? Tempe calls in Jake Drum, biblical archaelogist, to help her decipher the clues. He thinks that it might be Jesus. As Tempe finds the bones in a monastery, and then journeys with to Israel, we all start to wonder who is Masada Max (Ryan's name for the skeleton). More bones in a shroud are found, more die, others are threatened, Tempe goes off without calling Ryan. Tempe's life is slightly threatened, in no way to the degree as in the other books, and the whole feel is much lighter and happier. No, we never do find out who Masada Max is and the bones in the shroud are burned to bits in the thrilling action packed chase at the end of the book. All in all, it was quite a thrilling book, and very derivative of Dan Brown's DaVinci Code, which was out at that time. Reichs even mentions the book in her story. This was the best book of the series, in my opinion, and I hope that Reichs continues in this vein, but I don't think she does. I would highly recommend this book to any reader. I don't know if I would recommend that someone read this without reading the other books. I think if Cross Bones was the first book read in the series, the rest of the books would wane in comparison. So be forewarned, but please do read this one!


---

Monday, April 18, 2011 -- Evening Monday Mourning My journey through Kathy Reichs' oeuvre continues. I just finished Monday Mourning this evening. As I've already stated, the books are extremely formulaic. I can see where it might be difficult to know if you already read one of the books because they are so extremely similar that it's hard to distinguish them. I know that when it got to the end of the book, and Tempe was doing her usual stupid trick of trudging into a dangerous situation without calling the cops, I was yelling at the book in exasperation. You would think that Tempe would have figured out that she's unable to judge the situation. You would think that Tempe would learn from numerous past mistakes. But then, you would be thinking wrong. The story this time revolved around girls that were held hostage and tortured for years as sexual slaves. Tempe stumbles onto the case when she is called in to help identify bones found in the basement crawl space of a pizza parlor. The gruesome details in the last 100 pages of the book were sickening. This was one story where I could have used less descriptions of the horror. Also, the relationship between Tempe and Andrew Ryan is still not clarified throughout most of the book. Tempe doesn't know if she can trust Ryan. Do the two of them ever talk about their inner thoughts and emotions? Nope. That would make the situation so much easier. Instead, neither of them talks to the other, and they stumble around mistrusting each other and not communicating. The girl that Tempe thinks is Ryan's new lover turns out to his illegitimate daughter. Things seem to end with an offer from Ryan for the two to live together. Will it happen? Probably not. You are probably thinking that I'm ready to toss the series aside, and never read another page. Again, you would be wrong. I'm starting Cross Bones right now. This one takes the action to Israel, and I can't wait to see how Tempe gets herself almost killed.


---

Monday, April 11 2011 -- Afternoon The Upside of Irrationality I just finished the second book by Dan Ariely that examines irrationality, The Upside of Irrationality. I am so glad that I found Mr. Ariely's material because it has gotten me to think about some of the decisions that I make in life. This particular book covers more of the personal, daily interactios that have an irrational side. For example, employers feel that giving employees more money will make them more likely to perform quality work. However, there is a limit to bonuses. Bonuses of a lower amount can inspire the employee to work harder. When bonuses become too large, the stress of knowing you must perform well to get the bonus tends to make people fail at any work that requires intellectual or creative effort. Physical work, however, can still be done for higher bonuses. Ariely also looks at whether there is such a thing as clutch, and in more cases, there isn't. Basketball players who are identfied as clutch shoot at the same percentage of success. They just tend to take more shots at the end of the game when it counts. They don't make more of those shots though. Online dating sites, procrastination, and adaptation are also evaluated.

One of my favorite pieces was an examination of the IKEA effect. When people find their work devalued by their employer, they lose all interest in performing for the employer. I know that experience first hand. I've written documentation at work that fell into a black hole. It wasn't used and seemed to be all for naught because it was basically thrown away. Ariely refers to it as contrafreeloading. In research studies, scientists have found that animals will not go for freely accessible food if they also have a mechanism to work for food. It might be because of the intellectual challenge of getting your own food. It's extremely boring to just get your food for free. The only animal that would take free food is the cat. Cats are very rational creatures. The rest of us look for the irrational creative challenge. It was a huge relief to find that although I'm irrational in wanting to have intellectually challenging work, I'm not alone. It's not fun to sit at work with nothing to do, and know that the few things you do will just fall into a black hole.

One of my favorite stories from the book comes at the end when Ariely talks about the damage done to his right arm in the explosion that injured him in his teens. The doctors wanted to amputate his arm, but Ariely refused. As he said, he didn't know if he could imagine using an artificial arm. As Ariely admits now, 20 years later, when his arm is barely usable and constantly painful, his discussion was irrational. He overvalued his arm and suffered from loss aversion. He wanted to maintain what he had; he didn't want to lose his arm. The decision to amputate his arm was irreversible. All these things lead him to make what 20 years later seems irrational and a poor choice. It was a very touching story.

Ariely is an extremely entertaining researcher and writer. He knows how to weave his own personal stories into the mix. I would highly recommend both of Ariely's books, The Upside of Irrationality and Predictably Irrational. It can be a life changing experience. You will start to think of why you are making those decisions in your life, and maybe, just maybe, you will start to act more rationally.


---

Tuesday, April 5 2011 -- Afternoon Bare Bones Yes, I have still been reading through Kathy Reichs' Temperance Brennan books. This time, it was number five in the series, Bare Bones. This book was more of the same. I would say that Reichs clearly has a plot template. She plops in the location, characters, family members under threat, pets, and scenario, and off she goes. Even though the books are extremely formulaic, I have been enjoying them. In fact, I find myself getting caught up in the story and flying through the pages. Reichs obviously does something right to maintain my interest and reading enthusiasm. I can understand the criticism from other readers though. In Bare Bones, Reichs and her daughter, Katy, are under threat of the Grim Reaper. There are several disparities that somehow wind up getting wrapped into one neat little ball: bear bones, a baby burned in a wood stove, drug dealing, animal dealing (exotic and for medicinal purposes), stray bones, and missing park rangers. Of course, Tempe winds up in danger, beaten up by the bad guy and threatened with death, before she is rescued by the cops. You would think that Tempe would learn that she should not just go running off to do the cops job, but then I guess we wouldn't have Tempe in danger. Andrew Ryan and Tempe finally get down to action when they attempt a vacation together (interrupted by found bones and a private plane crash). Ryan and Tempe wind up taking the plunge into a sexual relationship. But knowing Reichs, Tempe won't have an easy personal life. Things will get screwed up, and Ryan and Tempe will be separated yet again. I will be reading book number six, Monday Mourning as soon as I finish The Upside of Irrationality by Dan Ariely.


---

Wednesday, March 30, 2011 -- Afternoon How Irrational Are You? See my review of Dan Ariely's book, Predictabley Irrational. I really enjoyed the book and would highly recommend it for all.


---

Monday, March 21, 2011 -- Afternoon Fatal Voyage I have been enjoying Kathy Reichs' Temperance Brennan series, and this morning, I just finised reading Fatal Voyage, the fourth book in the series. This book has a rather somber plot. A plane crashes in the mountains of North Carolina. Tempe is on her to way to speaking engagement when she gets the call to lend a helping hand with the identification process. The plane had a slew of young students of the University of Georgia soccer team on board and Andrew Ryan's partner, Jean Bertrand. Of course, this brings Andrew Ryan onto the scene, and we get to view more of the conflict that Tempe has with letting Ryan into her heart and bed. Things take a turn for the worse when Tempe finds a foot with a pack of coyotes. After fighting off the coyotes to regain the foot, Tempe finds herself questioning the existence of the foot. It seems to be from an older black or Native American. However, no one fitting that description is on the plane's roster. Also, the decomposition of the foot leads Tempe to believe that it occurred before the crash. As press rumors circulate that an explosion caused the plane crash, Tempe finds herself being unfairly accused by the state lieutent governer of obstruction of the process and possible collusion with Ryan and Bertrand in the plane's explosion. Tempe finds herself banned from the crash site and morgue and battling for her reputation. The mystery of the foot must explain it all, and Tempe finds herself in a race against a killer to find out the who, how, and what of the foot and the allegations.

Did I enjoy this book? You betcha. It's more of the same. As I commented with some of the earlier books, Reichs has a formula, and she brings it out for every book. Tempe finds herself battling against those in charge of the situation or case to prove a point. In this case, she is trying to prove 1) that the foot did not belong to the crash, 2) that something funky is going on in the hunting lodge that no one seemed to realize existed, and 3) that she is innnocent of any allegations of wrongdoing. Family and friends come into play too with Tempe being concerned that her daughter is on the plane, then finding out that Jean Bertrand was on the plane. A new addition to the action is Boyd, the chow that Tempe has to watch for her erstwhile husband, Pete. Boyd finds himself in the thick of the action since it appears he knows how to sniff out dead things.

I can understand some of the complaints that I've seen from reviewers on Amazon about this book and others in the series. Reichs goes into excruciating detail about numerous aspects of her work. In this book, we learn everything we would need to know about plane crash explosions and reconstructions. Reichs seems to love to expand on her knowledge of forensics, and I guess, assumes that we all want the nitty gritty of every little aspect of her job. It can make for tedious reading. In Fatal Voyage, it was noticeable enough to make me want to skim over the facts to get to the story. I suppose that it doesn't bother me as much as others, but I will readily admit that out of the 363 pages of this book, maybe 163 were devoted to this type of minutia.

I've already started book five, Grave Secrets. This one is set in Guatemala, and I'm going to be interested to see how Reichs works in Andrew Ryan and "family member in danger."

---

Thursday, March 18, 2011 -- Evening Deadly Decisions As I was reading the third Kathy Reichs book, Deadly Decision, in a week, I noticed a definite trend. This book dealt with a outlaw motorcycle gang, think Hell's Angels, war that tied in with both Montreal and Charlotte. Tempe was called in to help with the identification of twin brothers who were killed in a bombing. Then Tempe learned that a 9 year-old girl was killed in a retalitory drive-by shooting, Tempe volunteered to be a member of Carcajou, a police team formed to deal with the motorcycle gangs. As a member of the team, Tempe investigated the murder of two gang members several years earlier. When Tempe and company dug up the bodies, they found another set of unidentified bones, skull and leg bones. What did Tempe do? She tried to figure out who the other set of bones belonged to. She found a connection between the bones and a missing girl cold case from Charlotte. Of course, the bones were found in Montreal were found to belong to the girl from Charlotte. How improbable was that?! More murders happened; Tempe was threatened; action intensifed toward the end; and things were somewhat wrapped up. The only thing left hanging was Andrew Ryan. Ryan was found to be dealing drugs and thrown off the force. Well, that was just a cover to allow Ryan to infiltrate the gang. At the end of the book, when Ryan helped Tempe avoid death, did he blow his cover? We don't know, and are left hanging on that point.

So what was the trend that I noticed? In every book, Tempe gets emotionally involved in a case. Detective Claudel thinks that Tempe is a loose cannon and a thorn in his side. They work against each other by not sharing information. A family member is in danger. (In this case, it's Tempe's nephew, Kit, who starts to hang out with the motorcycle gangs.) Only Tempe can save her family member.

What did I think of the book as a whole? Reichs definitely knows how to weave a story, and getst the reader involved and caring about the characters. I want Tempe to figure out the mystery, save the world (and family member), and find love with Andrew Ryan. As an aside, when I picture Andrew Ryan in my mind, I see a Seely Booth. The formula doesn't detract from the story, even though I know where things are going. The books, so far, are a thrill ride and great page-turners. I've already started number four, Fatal Voyage. I would recommend Deadly Decisions, and I would recommend reading the books in order. I find myself wanting to know what will happen next in Tempe's world, and I will definitely keep on devouring the books.

---

Monday, March 14, 2011 -- Afternoon Death du Jour I mentioned earlier that I was going to have a reading marathon, and this past weekend, it started with Death du Jour by Kathy Reichs. Reichs wrote Death du Jour as the second book in the Temperance Brennan series. This book was very much like the first in the fact that it presented a mystery that Tempe had to piece together just as she pieced the bodies together. The action switched between Montreal and Charlotte, North Carolina as Tempe investigated the deaths from a house fire. The house showed distinct signs of arson, and two babies, twin boys aged four months, were among the dead. As Tempe examined the bodies, she discovered that the hearts had been removed from both babies when they were still alive. Disgusted and sickened by the violence of the crime, Tempe put her efforts into solving the mystery. As the investigation continued, Tempe started to think that a cult, with members in both Charlotte and Montreal are involved in the house fire deaths and some other unexplained deaths. Things became personal when Tempe's younger sister, Harry, got involved with a group that may be tied to the cult. I really enjoyed reading this book. The thrills, action, and plot twists were great. I read through the book in less than a day because I couldn't put it down. Reichs knows how to write a page-turner! My favorite part of the book was the make-out session between Tempe and hot police officer, Andrew Ryan. I'm not one for unrequited love, and even though Tempe has some misgivings, she became an active participant on the couch with Ryan. I just started the third book, Deadly Decisions, this morning, and it looks like another winner. I would definitely recommend the book to any lover of mysteries.


---

Saturday, March 12, 2011 -- Evening Déjà Dead I finally finished reading Déjà Dead by Kathy Reichs late last night. Déjà Dead was the first book in the Temperance Brennan series, and it won the 1998 Arthur Ellis award for Best First Novel. The award was well-deserved. The book was a page turner, but don't expect it to be a written version of the Bones TV series. This Temperance is older, divorced, and has a college-aged daughter. The book is set in Montreal, where Temperance (and Kathy Reichs) spends time as a forensic anthropologist. As in Ms. Reichs real life, Temperance splits her time between Montreal and North Carolina. At the start of Déjà Dead, Temperance is examining bones from a body that was chopped into pieces, and left in garbage bags in a vacant lot. Temperance is troubled by the similarities between this discovery and the body of a young girl found several months earlier. As Temperance began tying together the pieces that show a serial killer is in action, she found opposition for Detective Claudel and a possible connection with Detective Ryan. Would Temperance find prove that a serial killer is in action before it leads to her possible death when the serial killer starts to stalk her? The book was fast paced, thrilling, and a real page turner. I found myself sneaking in pages at work because I couldn't wait till lunch or the bus ride home to find out what was going to happen next. Shortly after I started the book, I requested the next four in the series from the library. I can't wait for the reading marathon!


---

Wednesday, September 29, 2010 -- Evening Packing for Mars I finished reading Mary Roach's Packing for Mars. The book was great, and I highly recommend it. Read my full review.


---

Saturday, September 25, 2010 -- Evening Reading I feel bad as I look at the The Daily Bongo. I haven't posted anything since the last episode of Big Brother a week and a half ago. I supposed I don't have much of an excuse but the full time and part time jobs have been keeping me hopping. Even with that, I have been doing some reading. Most of my reading has been re-reads of Agatha Christie books. Over the past few months, I have been looking for fun, comfort reads. Those are books that you read just for the enjoyment factor. When the rest of life has you down and out, or highly stressed, a comfort read is like returning home, kicking off the shoes, and putting on ragged, old, comfy slippers. I have been enjoying the Agatha Christies, because even when I remember whodunit, I still enjoy the story. I read through all the Ngaio Marshes earlier in the year, and those were equally enjoyable. I need to start blogging about more of the books that I've read. Right now, I am reading and loving Packing for Mars by Mary Roach. The book is a look at humans in space with the typical Mary Roach viewpoint, which is a mix of providing all sorts of esoteric details with a pinch of humor. I promise that I will write more about the book when I finish it.


---

Sunday, August 8, 2010 -- Evening The Rembrandt Affair It's obvious that I love Daniel Silva's Gabriel Allon series. At least it should be obvious, because I've read every book in the series to date. What would July be without a new Silva on the TBR pile? With The Rembrandt Affair, we find Gabriel Allon and his wife, Chiara, recouperating from the action in the last book, The Defector. I was hoping that Gabriel and Chiara would not get tortured too much in The Rembrandt Affair because he had more than a person could bear in the last book. So I was quite pleased when the book started off with Gabriel's return to the Corrnwall coast, where he has spent many months restoring masterpieces in his cover as an art restorer. Before long, Julian Isherwood, London art dealer, shows up on Allon's doorstep, hoping that Gabriel can find a stolen painting and solve the murder of the restorer. The painting is a lost Rembrandt that was being restored by a former classmate of Gabriel's when he studied in Vienna. Before you know it, Gabriel has tracked down some of the history of the painting, finding out that it was taken from a Jewish family in Amsterdam at the start of World War II. Kurt Voss, a Nazi general said that he would give safety to the two daughters in the family if the father signed over the painting to Voss. The father does it, and then Voss changes his mind, and only lets one daughter, the blonde, go to safety. As Gabriel continues his search, he learns that Voss made it to Argentina, but left all his ill-gotten gains in Switzerland banks. The banker, Walter Landesmann, pulls a fast one, and keeps the money, telling Voss that the accounts are gone when Voss tries to get the money back. The money funds Landesmann's son's financial empire and good works that lead to the son having the nickname, Saint Martin. However, Martin is far from a saint, and Gabriel learns that Martin is selling centrifuges to Iran so it can develop nuclear weapons. Will Gabriel find the stolen painting and stop the delivery of the centifuges while keeping his team safe? The Rembrandt Affair is a strong entry in the Gabriel Allon series, and the reader will not be disappointed. I loved the book, quickly read it, and recommend it to all lovers of thrillers.


---

Monday, July 19, 2010 -- Evening To Kill a Mockingbird As I mentioned early, I thought that I would spend this summer trying to catch up on classics, either that I read so long ago that I cannot remember them or that I never read. To Kill a Mockingbird falls in the latter category. I don't know how I missed reading the Harper Lee classic. It was never an assigned reading in high school, although that doesn't mean much considering I came from a school district that didn't care much about academic achievement. I've never seen the movie with Gregory Peck either. So I was really in the dark about the story. Yes, I did know that it was about a lawyer, Atticus Finch, and his defense of a black man charged with the rape of a white woman. I knew that somehow his children, Scout and Jem, figured into the story, but I really didn't know how. After reading the book over the past few days, I am really sorry that I didn't read it earlier. Harper Lee really knew how to get someone enthralled in a story, and it's a real shame that she didn't publish anything else. Scout shows us her small town through her six year old to eight year old eyes. It's the mid 1930s, and blacks are not treated with equality. In fact, there is a definite class system with whites who have a long upper class lineage outranking up and coming whites outranking white trash outranking blacks. As the blurb on the cover proclaims, through her experiences with family, neighbors, teachers, and other townspeople, Scout experiences a loss of innocence. There are tons of websites that go into a detailed description of the plot: Jem and Scout hanging out with Dill, who comes to spend summers with his aunt; their fixation on Boo Radley, the reclusive, troubled next-door neighbor; Tom Robinson's trial for rape based on the false accusations of Bob Ewell and his daughter, Mayellla. So there's no need for me to go into exhaustive detail on plot. The book did not concentrate as much on the trial as I thought it would, and I think that made for a much more engaging story. I was living Scout's life, seeing her world, and seeing the trial, and all of life's other unfairness, through her eyes. One of the most captivating moments for me was when Scout's third grade teacher was incensed over the treatment that the Jews were suffering at the hands of Hitler. The teacher says that in America they have democracy and equality and fair treatment for all. Meanwhile, Tom Robinson has been convicted of a crime that he didn't commit because he was black. Scout couldn't understand how someone could be such a hypocrite, how someone could not see that treating blacks the way they did was just as bad as Hitler killing Jews. As Miss Maudie says at one point, there may be many others in the town who quietly support Atticus Finch in his defense of Tom, and his exposure of the unfairness of racially motivated decisions. But it's a quiet support, an invisible support.

To Kill a Mockingbird should be read by everyone. It is one of those books that stirs your emotions while you read it, and stays in your thoughts for a long time after. I'm glad that I finally got around to it. In fact, I think that I may need to re-read it again, soon, to pick up on all the other little nuances that I missed the first time around.


---

Tuesday, July 13, 2010 -- Evening Fahrenheit 451 Somehow, I did not read Fahrenheit 451 by Ray Bradbury. I don't know how I missed it in my reading lifetime, but I did. The book is set in the future where owning books (and indeed even having questioning, inquiring thought) is banned. If books are found in your house, the fireman come to burn them and your house down. The main character of the book is Guy Montag, a fireman, who begins to question who he is, what he is, and what society has become. The questions are precipitated because of a chance meeting with young Clarisse McClellan. Clarisse is not like anyone Montag knows. She asks Montag why things are the way they are. Clarisse's appearance in the book is brief, and is the catalyst for Montag's change. The interesting part of the book is that even though it was written over 50 years ago, I could see signs of an impending apocalypse in our current day. Don't ban the books, just make them subject to mockery. Diminish what books give to people. Come up with substitutes to fill the time and minds of the gullible. Before you know it, the plodding, gullible non-thinker dominates the society, and books and any intellectual thought are gone. Montag's wife, Mildred (Millie) is a semi-sympathetic character. At the start of the book, she has overdosed on sleeping tablets and has to have her stomach pumped: a common enough occurrence in this brave new world. However, you lose sympathy for her as the story progresses and she turns in Montag for having books. Montag's boss, Captain Beatty, is an intriguing character. You know that he has had exposure to books, because he quotes them in an attempt to show Montag the stupidity of books. It all collapses in the end. Mildred turns in Montag, and Montag is forced by his boss to burn down Montag's house with the books in it. However, Montag doesn't stop there. He also kills Beatty, becomes a fugitive, and sees the destruction of the city and society. Will things become better with the rise of the new phoenix from the ashes, or is society doomed to repeat its mistakes because it is unwilling to learn from them. I really enjoyed Fahrenheit 451, and I'm glad that I finally did read it. It does make me think what society will make of itself in the future as we become addicted to mindless video, either on TV or streaming on our computers. Definitely a book that everyone should read, think about, and discuss.


---

Monday, May 31, 2010 -- Early Morning Dead in the Family Charlaine Harris's latest book in the Sookie Stackhouse series came out earlier this month. The book is Dead in the Family. In the last book, Dead and Gone, we saw the destruction of the Fairy War. Sookie had been captured and tortured to the point of death, Bill Compton had been bitten by a fairy with silver teeth during Sookie's rescue, fairy godmother, Claudine, was killed, and there was more death among other minor characters. The very last act of the book had Sookie's great grandfather, Niall, took over the fairy leadership and closed the entrance to the Fairy's world. I know that I had many questions about what would happen. Would Bill Compton survive? What would happen next to Sookie? Read my review.





---

Tuesday, April 27, 2010 -- Evening Laughed 'Til He Died Carolyn Hart recently released her latest book in the Death on Demand series, Laughed 'Til He Died. The book is the twentieth book in the series, and although I thought that the series might have taken a turn for the mundane, this book was quite enjoyable. It may not be as good as the earlier books, but it was an improvement on Dare to Die. Annie Darling, sleuth and mystery bookstore owner, and her confidential inquiries husband, Max, get involved in the mystery this time when Jean Hughes, director at the local youth center, comes to Max for help. Booth Wagner, retired business tycoon, was threatening to get Jean removed from the position that he gave to her a year earlier. Why? Jean had outlived her usefulness in irritating the other board members of the youth center. Booth was one of those people who was just asking to be killed with his obnoxious behavior. His former wife wants to kill him for renewing her life. His current wife wants to leave him, but still needs money to pay for her son's surgeries. Booth's stepson wants revenge for the injuries Booth caused by forcing the 13 year old to drive too fast in an ATV. A former partner wants to kill Booth for selling him a fake stamp. Who would have thought that one man could inspire such hate? Booth's death is preceded by the death of a computer whiz, who may have unwittingly had a hand in Booth's death. Even though the clues and puzzle seemed to scatter in many directions, I guessed whodunit rather early in the book. It seemed pretty obvious, but I read some other reviews were people were perplexed by the puzzle. All in all, it was a quick, enjoyable, confection of a mystery, definitely matching the quality of others in the series.


---

Friday, February 26, 2010 -- Evening Paris Vendetta I have been doing some reading while I have been watching the Olympics. After all, there are always commercials. Since I love thrillers, I decided to try a book by Steve Berry. His latest book, Paris Vendetta was sitting on the new books shelf at the library, and I thought I would give it a try. Whenever you look for books by authors like Dan Brown, Steve Berry's name comes up, so I thought that it would be a good choice. Berry writes in a very similar style to Dan Brown. However, I think that the comparison ends there. I have a complete review, but the quick analysis is that I was not very impressed with the book. I did read the entire book, and I did get the first book in the series to see if the reason the Paris Vendetta was so confusing was because I didn't know the characters and their history. I'll see if that is the case, or if Berry is just a poor story teller.



---

Thursday, January 28, 2010 -- Evening RIP Holden Caulfield J. D. Salinger, author of Catcher in the Rye died today at the age of 91 of natural causes, ie, old age. I think that most people were surprised to hear that Salinger was still alive. He had lead a reclusive live since 1965. It would be interesting to know what Salinger thought during this period, just because he had such an influence with his books, and then just walked away from it all. It seems that Salinger wrote for himself after 1965, and kept all the work. I'm betting that we are going to start seeing tons of new Salinger publications now that he is dead.


---

Wednesday, January 20, 2010 -- Evening Douglas Preston's Impact I have been on a reading rampage of late, trying to get in as much reading as I can before I start my new full-time job in February. Over the past two days, I have been reading Impact by Douglas Preston. Douglas Preston is part of the writing team of Preston and Lincoln Child. They write books together and as solo artists. Impact is a solo effort on the part of Preston. The book brings back one of the characters from earlier books, Wyman Ford, a former CIA operative. The beginning of the book ties in three seemingly disparate stories. Abbey Straw sees a meteor streak across the skies in Maine. She assumes that it has landed on an island off the coast because there wasn't a tidal affect by it. She takes her friend Jackie on a hunting trip for the meteorite. Then we have Mark Curso from the NPF, a government agency monitoring the Martian orbiters, who receives a strange package with a stolen, classified hard drive, sent by his boss and mentor Jason Freeman, who was recently fired from NPF and then murdered. Freeman was looking at gamma ray data from Mars, which shouldn't be a source of gamma rays. Finally, we have Ford, who is sent by the government to check out a stash of radioactive stones that have started to appear around the world and are suspected to have originated from a mine in Cambodia. How are these three stories tied? Well, they are tied together by an alien device on Mars' moon, Deimos, which is emitting gamma rays, hurtling a missile at Earth (the meteor), and slicing through Earth, entering near Maine, and exiting in Cambodia. The book becomes a race to decipher the information, escape the hit man sent to collect the hard drive, and stop the alien machine from destroying Earth. Yes, the premise behind the book begs for the reader to suspend belief. All the same, I thought that the action was fast paced, and I kept on wondering what would happen next, and how the book would end. it was a good, entertaining, fun read. I would recommend it to anyone who is interested in a fast-paced, science fiction type thriller with loads of action.


---

Sunday, January 17, 2010 -- Evening Crichton's Sphere I found another Michael Crichton book that I hadn't read. This one was Sphere, the story of a group of scientists who are sent by the Navy to examine a crashed ship located in the South Pacific Ocean. Norman Johnson, a psychologist who usually works on plane crashes, is called in to the investigation, but given very little information about what is going on. When he arrives in at the location in the Pacific Ocean, he learns that the investigation is for a possible spacecraft found 1000 feet down in the ocean. Johnson had worked on a plan for the US government on how to deal with alien life, and he finds the team that he had recommended in the report are gathered to assist the Navy. The team, mathematician Harry Adams, biologist Beth Halpern, and astrophysicist Ted Fielding, join the Navy personnel in the deep sea habitat to investigate the craft. With the examination, they find that the craft probably got there from America's future by traveling through a black hole. When they enter the craft, they find a sphere. Is it alien? What is its purpose? It has a door, but how does one open the door? Harry eventually finds a way into the sphere, and after that, the scientist start to communicate with the being. It is friendly or not? As strange things happen, and the ship comes under attack from a giant squid, it becomes obvious that there is danger. As with other Crichton books, the plot takes use of science and action. I found myself devouring the book quickly, eager to find out what was going on, and how it would resolve. There was a movie made from the book, and supposedly, I went to see it when it first came out. The film made no impression on me whatsoever. Surprisingly, my boyfriend remembers when we went, and said that the movie was awful, and he could only remember one scene with Harry, played by Samuel Jackson. I really enjoyed the book and would highly recommend it. Crichton has a way with making science fiction interesting and exciting. Whenever I read a book by Crichton, I find myself so absorbed in the story that I don't notice passing time. Crichton's books are great escapist reads. Unfortunately, there won't be any more new ones, except for Pirate Latitudes, which sucked, and the unfinished book. In the meantime, we have to satisfy ourselves with rereading the old books.


---

Sunday, January 10, 2010 -- Evening Talking About a Little Bit of Detective Fiction I read the short book that P. D. James wrote for the Bodlein LIbrary at Oxford to help raise funds for the library. The book is titled Talking About Detective Fiction. i was interested in reading the book because I wanted to see what James, a best selling mystery novelist in her own right, has to say about mysteries. Well, I was disappointed. I have never read a book by James. I think I tried one a few years ago, but it was incredibly boring so I gave it up. I think that part of the problem is that James loves to sound intellectual, so she frequently uses multi-syllabic words and sentences that can contain well over 50 words. The most disappointing aspect of the book is that she only concentrates on a very few writers and gives a very simplistic view of the history of the genre. From reading the book, I know the few authors that James has read, and that she seems to have a rather negative view of Agatha Christie. I suppose James wonders how someone can use accessible language and short sentences and sell a book. It's called telling a story. I don't want to be overwhelmed with the author trying to impress me with his or her literary style. i want a plot, a puzzle, and a murderer brought to justice. It won't take long to read the James' book. It's 198 pages, with an extremely short line length, and large leading (the space between the lines on the page) of the 5 x 7 inch book. In fact, it will probably be even quicker to read when you start to skim when you reach the mid point of the book. The highlight of the book were the cartoons dealing with mysteries that are scattered throughout the book.


---

Saturday, January 9, 2010 -- Evening Crichton's Prey I just finished reading Prey by Michael Crichton today. I don't know how I missed reading this book when it first came out, but somehow I did. Boy, was I glad that I finally got around to reading it! The plot follows the typical Crichton theme, technology gone awry because of stupid human ego and lack of consideration for the implications of their work. When you look at Crichton's website, you see many references to chaos theory and complexity theory. In the book, the narrator's wife is involved in a company that is trying to create nanoparticles to perform camera duties. The technology shows the particles in action with benign implications for medical imaging. However, the military would like the particles to create a military camera, to observe the enemy. Well, of course, things go awry. Jack Forman, the narrator, notices that his wife, Julia, who is a VP at Xymos, the company manufacturing the nanoparticles has started to behave differently. She is staying at work later, distancing herself from her family, and Jack starts to wonder if Julia is having an affair. When eight month old baby, Amanda, becomes ill with a strange skin reaction, Jack is the one who shows enough concern to take the baby to the emergency room. Their two older children also feel a distance from their mother. It is just the stress of promoting new technology that has Julia acting so strange, or is it an affair. Jack soon finds out when is he called in to troubleshoot his predator/prey software program that Xymos bought to automate the particles. I love how Crichton weaves science and suspense, and this book is quite a page turner. I know that some folks have problems with Crichton because they claim his books are exactly scientifically accurate, and they make derogatory remarks about his writing style. Personally, I always think those comments are made by writers who can't tell a story, or people who are unable to tell the difference between fiction and non-fiction. I loved the story and would highly recommend the book to anyone who wants a thrill a minute story.


---

Saturday, October 31, 2009 -- Evening Lost Symbol

I finally got around to reading Dan Brown's Lost Symbol. It has been in my TBR pile since I got it in September, but I had other books in the queue. I have conflicted feelings about the book. Read my review for more information.


---

Thursday, August 20, 2009 -- Evening The Defector I just finished reading the brand new Daniel Silva book, The Defector. It's a good book that I would definitely recommend. I do have a full review of the book.




---

Thursday, June 26, 2009 -- Afternoon Shojo Beat Canceled

I just found out some bad news today. Shojo Beat magazine has been discontinued. Because I am behind in my reading of Shojo Beat, I didn't notice that the July 2009 issue, on the newsstands on June 16, was the last issue. Subscribers can either get a refund of their money, or complete their subscription with Shonen Jump. The problem that I have that is that Shonen Jump is not shojo manga. If I like shojo manga, which is targeted towards young females, then I'm not going to be a huge fan of shonen manga, which is targeted towards males. I guess what it comes down to is that males, and probably young teenage boys in general, are more likely to buy comics and manga. At least that is the lesson that I take away.

---

Thursday, June 11, 2009 -- Evening Dead and Gone Review
I just finished reading Charlaine Harris' latest Sookie Stackhouse mystery, Dead and Gone. I had read a few reviews before I read the book, and they spanned the gamut from great to disappointing read. Those who said that it was disappointing commented on how the plot didn't seem to advance the general Sookie storyline and how Ms. Harris seemed confused and inconsistent about Sookie's past. Some even said that they thought the book, which was released just a few weeks ago, was meant to promote the new season of True Blood more than to continue the characters in the book. (Who can blame them when there is a blurb for the new season on the front cover of the book?) So what did I think of the book? I liked it. I think that Ms. Harris has had problems with consistency in following the plot in previous books in the series. In fact, I think in the foreward to one of the books, she mentioned that she has someone who is supposed to keep an eye out for such problems because she admits that's not her strong point. I admit that whenever I come across one of the inconsistences, like Eric not being aware that Sookie never got her money for her work in Chicago for Sophie Anne Leclerq, when Sookie harassed the Eric about the money several times in the previous book, I just roll my eyes, and continue on. In Dead and Gone, I think the story takes a turn for the dark side, and it really tumbles Sookie's world ass over tea kettle. Some major deaths happen, and the book ends with an air of uncertainty. What direction will the books take next because I believe that a major change happens in Dead and Gone. Most important of all is Sookie's relationship with Bill and Eric. From the way the book ended, I would think that there would have to be a change there. In the last few books, more has been made of Sookie's blood bond with Eric (even though I think she may have shared blood with Bill three times, which should mean she is blood bonded to her.) I have to admit that I'm not as keen on the Eric relationship. I prefer Bill, even though I know that he done our Sookie wrong when she found out that he started a relationship with her at the beheast of Sophie Anne. The next book, due out next year, should further advance the story and maybe take us down another route which will open more avenues for stories. At least, I hope that is the case because Dead and Gone closed quite a few. All in all, if you read the other Sookie Stackhouse books, you'll like this one.


---

Sunday, May 31, 2009 -- Evening I have been rereading Elizabeth Peters' books. I really don't remember the earlier books in the Amelia Peabody series, and I can't remember if I read the standalones or not. Some of them I have memories of, but others I can't recall at all. I'm one of those people who don't mind rereading a good story, so I don't have a problem with reading something that I read years ago. This afternoon, I just finished a standalone, The Jackal's Head. It's Althea Tomlinson, nicknamed Tommy, who returns to Egypt in response to a note sent to her by an old Egyptian, Abdelal, who knew her father. Tommy has to confront her past from 10 years earlier when her father left Egypt in disgrace for trying to sell a fake statue. Shortly after leaving Egypt, he died, to leave 15 year old Tommy on her own. In Egypt, Tommy has to confront John and Mike, forner collegues of her father's. Abdelal died before Tommy made it to Egypt, but she finds that he was going to tell her about a location of an undiscovered tomb that he and her father found. The fake was actually the real deal. The interesting thing about the book are the characters. The book was published in 1968, and Tommy and John are very obviously early versions of Peabody and Emerson. John, especially! He has the gruff manner of Emerson, and strides about yelling, wearing no hat. Strong featured. I guess Elizabeth Peters tried out the character, and his persona must have stuck with her. She wanted to reuse him so she made some modifications (John has silver hair where Emerson has black) and went from there. The Jackel's Head is a good book, and I sped through it with enjoyment. If you get a chance to read it, you should. Very good story. Now I'm on to book four in the Amelia Peabody series, The Lion in the Valley.


---

Friday, May 15, 2009 -- Afternoon With the release of the Angels and Demons movie this weekend and The Lost Symbol in September, people have been getting on Dan Brown's case again. "He can't write" is the mantra constantly proclaimed by the elitist group that probably buys and devours his book in secret. What the heck are they talking about? The guy can write, and he can tell a darned good story, keeping the reader ingrossed in the novel until late at night. To me, that's the sign of a good writer. I have read all four of his books and enjoyed every one of them. It irks me no end to hear people trashing Brown just because his books are popular. There was also a story in the news today about one of the actors in the movie, Stellan Skarsgard, saying that he thinks Brown is an awful writer, and the only reason he accepted the role was because the script was so good. I'd say it's because he wanted the money, but is too elitist to admit it. My favorite quote of Skarsgard's was ""It's like eating peanuts at a bar. You don't like them, but you keep on eating them anyway." Please, if I don't like something, I don't eat it or read it. I like both peanuts and Dan Brown, and I can't wait to read The Lost Symbol.


---

Tuesday, April 7, 2009 -- Late Afternoon I just finished reading Tyrannosaur Canyon by Douglas Preston this afternoon. It was an excellent thrill ride of a book, and one that I strongly recommend. Read my review of the book.


---

Sunday, March 1, 2009 -- Late Afternoon I just finished reading Dead Until Dark by Charlaine Harris. Read my review of the book.


---

Saturday, November 8, 2008 -- Late Afternoon There was sad news earlier this week. Michael Crichton, writer of some of my favorite fiction, died from cancer. He didn't make a public statement of his illnes, and the public didn't know about it until his death. I loved his books because they had a scientific bend and were written by a questioning mind. Crichton made it plain to all that he thought any inquiring and intelligent mind could understand scientific matters. Instead of accepting scientific claims, it is up to the person to read more about it and make a decision on whether the science held to scientfic standards or was just a way to sell a product. In State of Fear, Crichton questioned whether scientists really understood the cause and cure for global warming, and whether the change in climate was as dramatic as some claimed AND caused by man. Even if we did have a hand in causing a change in climate, could man fix it? I think these are legitimate quesitons. However, those in charge of pushing a certain agenda don't want questioning minds. They want blind faith. I'm going to miss MIchael Crichton. I'm going to miss the intellectual challenges and the entertainment that he provided.


---

Tuesday, December 25, 2007 -- Evening I have been reading a wonderful series of mystery novels over the past few days. The books are written by Joseph Telushkin. Telushkin is a rabbi who is known for the books that he has written about the Jewish faith. Telushkin wrote only three Rabbi Daniel Winter mysteries, The Unorthodox Murder of Rabbi Wahl, The Final Analysis of Dr. Stark, and An Eye for an Eye. The books could fall in the category of cozy because the mystery is solved by an amateur detective, Rabbi Winter. The books also contain a good smattering of explanations of the Jewish faith. So how do the mysteries compare to books written by authors who focus only on fiction and mysteries? They are very good. The mysteries were good puzzles, and the characters were well written. I found myself empathizing with many of them. The books also contain some degree of moralizing which doesn't detract from the story. The first novel in the trilogy, The Unorthodox Murder of Rabbi Wahl presents the story of women in religion. The Rabbi Wahl of the title is Myrna Wahl, a female rabbi, who unfortunately is not portrayed in the most positive light before her murder. The second book, The Final Analysis of Dr. Stark deals with the issue of gossip and how distructive it is to life. Gossip is considered a serious sin in Judaism. This started from earlier times when gossiping or tattling on someone could lead to their death. This was especially true when one ratted out on a friend or neighbor to the Nazis in an attempt to save one's own skin. Some think of gossiping or being a stooly as a victimless crime. However that is far from true because the person who is gossiped about often suffers the repercussions of the tattler. The third book, An Eye for an Eye, deals with the justice system. A doctor's young daughter is murdered by her obsessive boyfriend. The boyfriend is defended by a lawyer who assassinates the character of the woman, making it seem that she gave the boyfriend just cause to kill her. When the boyfriend is given a light three year sentence for the murder, the father murders the boyfriend: an eye for an eye. Rabbi Winter speaks at the father's bail hearing to denounce the light sentences of the judical system. Although what the father did was not right, Rabbi Winter explains that it is understandable. The daughter's life was worth more than only three years of jail time. When the boyfriend's lawyer is later murdered, the question becomes did the father kill again to avenge his daughter. The stories are well written, the mysteries are clever, and the characters are likeable. I found myself wishing that I could spend more time with Rabbi Winter. However, Telushkin only wrote three Rabbi Winter novels. So I will have to satisfy myself by reading some of Telushkin's books on Judaism. I would strongly recommend the Rabbi Winter books to any lover of mysteries or books with a Jewish theme.


---

Wednesday, August 15, 2007 -- Evening I just finished reading the new Daniel Silva book, Secret Servant. The book just came out in July, and I got it from the local library. Gabriel Allon makes his latest appearance when Elizabeth Halton, the daughter of the American Ambassador to Great Britain, is kidnapped. The guard that was jogging with her in Hyde Park, and Allon arrives only in time to kill a few of the terrorists. Allon and the Israeli contingent join forces with the American and British secret services to hunt down the Sword of Allah and rescue Elizabeth Halton. The book is the usual thrill ride that is expected from a Silva book. Allon doesn't come out of things cleanly in this book, and I was wondering if Allon and Elizabeth Halton would make it. It isn't necessary to have read the earlier books to get wrapped up in the action in this book. I highly recommend the series to any lover of action and intrique. If you are like me, you will have difficulty putting down the book as you get wrapped up in the plot.


---

Saturday, July 28, 2007 -- Evening I have finally finished by review of Harry Potter. I loved the book, and I have to admit that the story has been preying on my mind since I started reading the book.


---

Monday, July 23, 2007 -- Afternoon I am still reading Harry Potter and the Deathly Hallows. I think that I should be done with it sometime this evening. Right now, I have around 300 pages left to read, and the action has really started to build. I really wonder where thing are going to go, and how things are resolved. It sucked to leave the book behind at home while I came to work. I know if I brought it to work, I would try to read it--especially since I was just getting to a very tense moment. I hope to have more information on the book tomorrow.


---

Saturday, July 21, 2007 -- Evening I was one of those people who queued up at midnight to buy the latest Harry Potter book, Harry Potter and the Deathly Hallows. By the time I got home, I was feeling tired from having allergy problems for the past few days, and only read a few pages. I've been doing some reading today, but haven't had alot of reading opportunities. Now it is later in the evening, and i hope to get a good bit of reading done tonight. So far, I'm abit over 100 pages into the book, and really enjoying it. The action has been great. I have this feeling of anticipation, wondering what will happen. How will Harry win in the end, and which two characters will die (as publicized by J.K. Rowling befor the book's publication). I've been trying to avoid any sites that might give too much information, because I don't want to ruin all of the suspense. Hopefully, I will have more to say about the book soon.


---

Wednesday, June 20, 2007 -- Afternoon I have been started something new. I have started to review mystery manga for Gumshoe. I still have a couple of manga to work on, but I did post one review for Kamen Tantei 2, and you can check it out here.


---

Wednesday, June 6, 2007 -- Evening I have really been enjoying my manga breaks. I've been trying to get in as much studying as possible over the past few weeks because my GRE is fast approaching---less than three weeks. As I get ready for bed, I read some manga. Right now, I am working on the InuYasha series. I noticed that Cartoon Network has some anime on late at night, so I have been recording the InuYasha series and Shin Chan. Because of this recent manga/anime addiction, I'm going to start studying Japanese with my boyfriend. You have to use your brain to keep in nimble!


---

Tuesday, May 29, 2007 -- Evening So even though I should have been studying yesterday, I took out some time to read some manga. I'm reading InuYasha: a Feudal Fairy Tale by Rumiko Takahashi. The story is very entertaining. The main character is a girl named Kagome, who is pulled into a well by a centipede createure at the Temple where she lives with her grandfather, mother, and brother. The creature is after the Jewel of Four Souls which is inside of Kagome. When Kagome climbs out of the well, instead of being in the current day (1997), she is back in the Sengoku Period (which is around 1478 to 1605). There Kagome finds that she is the spitting image of Kikyo, a brave teenager who died while "killing" InuYasha, a half human, half demon character. InuYasha is left dead, caught by an arrow against a tree. In the battle with the centipede creature over the Jewel of Four Souls, Kagome frees InuYasha, who now lives. They overpower the centipede creature, and Kagome finds that she has power of InuYasha, and he has to obey her "sit" command. Other demons in the area want the Jewel of Four Souls, and during one of the battles the jewel is broken into bits. Hence the start of the lengthy serial detailing the attempts by Kagome and InuYasha to recover the bits of the jewel. Between fights with demons, Kagome goes back and forth between the village inhabited by the elderly brother of Kikyo and the current time. the various adventures fly by, and we begin to learn more of the character of Kagome and InuYasha. This is a very good manga series and one that I would highly recommend. There's alot of action, good plot, characters with depth, and not too much martial arts.


---

Saturday, May 12, 2007 -- Evening This evening, I went to see Benjamin Orbach speak at the local Joseph Beth's bookstore. Benjamin was there to promote his book, Live From Jordan. The book is a compliation of letters written to his parents and gives his impression of life in the Middle East, especially Jordan, Syria, and Egypt. Benjamin did a great job with the talk and showed his stories were from a personal nature. It was very interesting to hear the perspective of an American who shows us that Arabs in the area are human with the same desires and wishes that we have in America. Granted there are cultural and religious differences, but the base stories are the same: going out to party as a youngster, getting a job, getting married, and having children. I just bought the book this evening, so I haven't had a chance to read it, but I am excited at reading it to see if Benjamin brings the same humorous and thoughtful perspectice to his writing as he did with his talk.


---

Monday, May 7, 2007 -- Evening I have become addicted to a new passion over the past couple of weeks. Yes, I have started to read manga. Manga is Japanese for comics, and usually refers to comics that were originally printed in Japan. Of course, there are tons of books out there telling folks how to draw comics in manga style. I'm not so keen on the action items. I prefer the human drama/comedy manga. My favorite so far has been Maison Ikkoku. It's a comic by Rumiko Takahashi and covers the antics of the inhabitants of Maison Ikkoku, a boarding house. The people are wild, partying characters, and the story mostly focuses on the romantic foibles of Yusaku Godai and Kyoko Otonashi. Their relationship is mangled by a numerous misunderstands, and the fact that they don't talk about their feelings to each other. Yusaku is a loser who was a fail-out on his college exams. He eventually passes, and the books follow him through college and his job search. Koyoko is a young widow who comes to Maison Ikkoku as the manager. An anime was made of the series, and I am renting it from Netflix to see how it is. I read most of the series, and just missed two middle books that I've just gotten out of the library today. I really want to read more of Rumiko's mangas.

The other manga that I am reading is the Kindaichi Case Files. This is a mystery series with Hajime Kindaichi who is a slacker with an extremely high IQ (180). He goes to Fudo High School, and he solves the mysteries with the assistance of Miyuki Nanase and sometimes with Detective Kenmochi. It's amazing how many people, especially young teens, wind up gorily and graphically murdered in the manga. That's the one thing that is interesting about manga. There is alot of nudity and adult type themes. The audience is targetted for young teens, but sometimes it just seems pretty graphic for a teen. There's alot of sexual content too--Hajime, Miyuki, and another kid are climbing with the aid of chairs. They fall at one point, and Hajime has his face under Miyuki's skirt looking at her underwear. The other kid is beneath Hajime and yells at him to move because something hard is poking him in the face--meaning Hajime's penis. The manga are fun, and as I said, I'm an addict. They are such quick reads so I keep on going to the library to get more!


---

Monday, March 26, 2007 -- Late Afternoon I was hugely disappointed in a book this weekend. I got the latest Rita Mae Brown book, Puss 'n Cahoots. Now the past few books have been really going downhill for Ms. Brown, but I thought since she was moving away from Harry Hairsteen's hometown that she would drop some of the topics that saturated the past books and return to the mystery. Yes, I was getting tired of hearing of Boom-Boom's outlook on lesbian relationships. Give me a mystery in my mystery book! Well, Puss 'n Cahoots was such a huge disappointment that I couldn't get more than 30 pages into the book. The writing was poor, and it just seemed to me as if Ms. Brown actually did let the cat write the book this time. I just found myself not carrying about any of them and wishing that whoever was the murderer would become a successful serial killer and kill this series. If you want to read the best of the books, read the first few in the series. There are fifteen books in the series, but stop before you get to the teens. The earlier books concentrate more on the mystery, and less on the philosophical viewpoints of the characters. And from the looks of this last one, have better writing!


---

Thursday, March 15, 2007 -- Evening I have just finished reading a very interesting book. It is Bad Astronomy: Misconceptions and Misuses Revealed, from Astrology to the Moon Landing "Hoax" by Philip Plait. The book covers various topics that people think they understand but usually get wrong. In the book we find out why the sky is blue, why we have seasons, what the role of the moon is, the Moon landing hoax (there are people who think that the Moon landing was faked and filmed in the US deserts), and examples of "bad astronomy" in movies. The last are things that are misrepresented in movies. Our society really doesn't appreciate or understand science, and think that it is hard just because they haven't taken the time to actually do some reading. The book is quite interesting and a quick and easy read. This book would be very good for someone who believes he or she is scientifically illiterate.


---

Monday, March 12, 2007 -- Evening A survey was taken in Britain to find out which books people start reading, but don't finish. I have to admit that I was very surprised to find Harry Potter and the Goblet of Fire amongst the books listed because although the book is a long one, it isn't a difficult read. By that, I mean that the story flows and the language is easy to understand. Also, I think that I have to agree with someone who posted a rebuttal to the list on the BBC page that Goblet of Fire is one of the best of the books! One of the books that I have tried to read, but failed at finishing was the Lord of the Rings trilogy. I have tried twice to finish the books. The first time, I got bogged down in the Return of the King and the second time, I couldn't even get through The Two Towers. Yes, I skipped over the nauseautingly boring poems and songs, but that didn't ease the overall sophoric nature of the stories for me. In fact, I thought that maybe the films would help and I would be able to finally find out how it ended. Well, I found the second movie to just as boring as the book. I couldn't bring myself to even go to see the third one. So again, boredom overcame me. I can't even bring myself to be interested enough to sample the DVD in small doses. I know that this is sacrilege to fans of the books, but I think that it just comes down to personal tastes and interests.


---

Tuesday, February 13, 2007 -- Afternoon I did manage to finish reading Gordan Ramsay's new autobiography Roasting in Hell's Kitchen: Temper Tantrums, F Words, and the Pursuit of Perfection. The book is as most of these celebrity biographies are: short, big font, and not alot of bang for the buck. There are some nice color photos, and I did find out some things that I didn't know before. Ramsay did not have an easy childhood, and had a father who was abusive to his mother and the kids. It seems that Ramsay has alot of his qualities today in retaliation to his father. I find that I like Ramsay even more than before because of his honesty. Ramsay is how he appears, and doesn't try to make himself out to be a saint. In some respects he reminds me of my boyfriend who will say things to get a rise out of people. The book was a quick and interesting read.


---

Friday, February, 2, 2007 -- Late Afternoon The last Harry Potter is scheduled for release on July 21. The book is titled Harry Potter and the Deathly Hallows. There hasn't been alot of information about the book at this time, but the cost is $35.95, and the implication is that the book must have more pages than the last one. Supposedly, a record number of people, 1.5 million, have pre-ordered the book from Amazon. I'm not shopping at Amazon as I used to because when you do choose the free shipping option, they purposefully hold up your shipment. Other online stories don't pull shennigans like that, so I'm not shopping from Amazon. However, I will probably stop at the local Barnes and Noble. That would be alot more fun because there will be festivities at the store.


---

Friday, January 26, 2007 -- Evening I finished reading Richard Dawkins' latest book The God Delusion this weekend. Dawkins is an atheist, and the book is an analysis of religious belief. Dawkins covers topics such as why people believe, and how religious belief has not been good for society. It challenges science and evolution, and many acts of war and terrorism have been carried out in the name of God. Read my review of the book for more details.


---

Monday, January 8, 2007 -- Late Afternoon I have been late in finding out about this comic, but I have become a huge fan of FoxTrot by Bill Amend. He just recently decided to take a break from the daily comic grind and is only going to release a Sunday comic. The comics are funny, and I like the nerdy, scientific bend of young, child genius, Jason Fox. He's also one of those troublemakers that I aspired to become as a child. I have been requesting the books from the library to catch up, but I might need to buy a few to support Mr. Amend. After all, what could be better than a person who has a degree in physics, but writes comics for a living?


---

Wednesday, December 20, 2006 -- Late Morning I just finished reading Michael Crichton's latest book, Next this week, and I enjoyed it. It wasn't as good as some of the others that he has written, but it wasn't bad either. Read my review for more details.


---

Monday, October 2, 2006 -- Evening Because it was Yom Kippur, I had plenty of free time on my hands to read, and I wound up reading two books in the past 25 hours. First up was Daniel Silva's book, A Death in Vienna. This was the fourth Gabriel Allon book and the third in the series within a series that dealt with matters pertaining to World War II. In this novel, Eli Lavon is the head of the Wartime Claims and Inquires office stationed in Vienna, Austria. A bombing in the office kills Lavon's two assistants and severely wounds Lavon. Ari Shamron sets Gabriel on the track of the killer. The path takes Allon on a search for an SS officier, Erich Radek, who was responsible for hiding the evidence of the Holocaust. Radek's speciality was engineering, and he came up with a way to dispose of the dead bodies, while also lending his hand to mass murder. Radek's path intertwines with that of Gabriel's mother, Irene, who spent time in Auschwitz and was a member of the Death March. The guilt that Irene experienced is transferred to her son, and he makes it a personal quest to bring Radek to justice. Along the way, the way in which those who perpetrated the Holocaust were able to escape justice is brought to light with the Vatician again playing a role in how it would assist with money and transportation out of the country. Would Radek escape his final justice? The book flows from one event to the next. I found myself so engrossed in the book that I had trouble putting it down. Silva does a great job of making the reader feel an investment in the story. The characters come alive, and you feel the pain of those who suffered at the hands of Radek and his ilk. A great book, entertaining, exciting, abit of history, and a satisfying finish. I did feel some disappointment at the end because I have no new Gabriel Allon adventures to read and will have to wait for the author to release a new one, hopefully next year.

The other book that I read was a very quick read. This one was the five people you meet in heaven. It's written by Mitch Albom. I just find it amazing that Albom writes the books that he does because I always think of his as the guy with the funny haircut and humungous ears from the ESPN's Sports Reporters. The book is a short one, 196 pages, and it is the story of a old man, Eddie, who is the maintenance man at a small amusement park called Ruby Pier. Eddie is killed at the beginning of the book saving the life of a little girl from a falling amusement ride. Eddie then goes to heaven where he learns that he will meet five people who have either influenced or been influenced by his life. My boyfriend suggested that I read the book because he heard about it from his boss' wife, and I have to admit that it was a very moving experience. Life is what you make of it, and sometimes the most important lesson that can be learned is that sometimes something bad may happen to a person which is actually for the best or in the best interests of another person. Life is a balance sheet where loss of life for one person might mean the extension of life for someone else. The book has really made me think, and I think that I need more time to actually absorb the story so I can comment on it more fully. I would definitely recommend the book, and am going to look up the others that Albom wrote: Tuesdays with Morrie and the newest that just came out in the past week, for one more day.


---

Tuesday, September 26, 2006 -- Evening I read another Daniel Silva book. This one was The Confessor. This is the third in the Gabriel Allon series and the second in a three book set that the author wrote to address issues from World War II that linger to the current day. The first of the triology is The English Assassin which dealt with the role that the the Swiss government and banks played in the Nazis' ability to obtain money and art from Jewish citizens. The Confessor looks at the role that the Vatician played in the atrocities against the Jews. Pope Pius XII kept silent about the Holocaust and did not speak out to condemn the actions of the Nazis and nothing to encourage the Catholic Church to assist the Jews in escaping the fate of the concentration camps. In the book, which is a fictionalized account, the Church is even see as condoning the actions of the Nazis due to anti-Semetic feelings and that fear that the establishment of a Jewish state would give the Jews an equal footing with the Catholic church in world wide politics. Benjamin Stern, a member of the Mossad who worked with Gabriel Allon in the search and killing of the Munich terrorists in the 1970s, is writing a book about the actions of the Catholic Church when he is murdered in his apartment in Munich. Gabriel Allon, in the midst of a restoration on a Bellini in Venice, is set on the trail of the killer and finds that the path leads him into the inner sanctum of the Vatican and Crux Vera, a secret society that holds much power in the Vatican. In additional, the fictional pope in the book, Paul VII, is trying to have the secret archive of materials from WWII made public. Crux Vera opposes the release, and wants to stop the Pope from making a public apology for the Church's inaction at the Rome synagogue. As is usual with the Silva books, there is alot of tension as Gabriel hunts down the shadowy assassin, the Leopard, while he himself is hunted by Crux Vera and the Leopard. What is the secret about the Church that Ben Stern discovered? Will Gabriel discover the killer of Stern, and will he be able to save the Pope from assassination? Daniel Silva is an enthralling story teller who moves the reader from one high speed chase to the next. Silva does a great job of blending in information about the historic wrongs committed against the Jews with current investigations. The characters in the book are complex with Allon tortured by past actions and the attack that took the life of his young son and the soul from his wife. Silva also gives some insight to the villians of the piece. There aren't any cardboard figures here. Great book that I highly recommend. I can't wait to read the final book in the trilogy, Death in Vienna.


---

Tuesday, September 5, 2006 -- Afternoon Google Books is now up in its beta format. The site contains a slew of public domain books that searchers can browse or download. I looked for some titles, and I have to admit that I think that I prefer Project Gutenberg. The difference is that with Google you see the scanned pages, while Gutenberg gives you a text version. Yes, it might be prettier to "flip" through the pages on Google, but I'd rather have the whole book available for reading, even it is in text format.


---

Sunday, September 3, 2006 -- Evening I finished reading The English Assassin by Daniel Silva this weekend. If there is one thing that Daniel Silva can do, it's writing spy novels. The English Assassin is different from some of the other Silva novels that I have read because it doesn't have a terrorist as a bad guy. The bad guy in this instance are the powers in Switzerland who want to keep the country's deeds during Second World War undercovers. Not only that, but the powers that be want to keep the wealth that it has accummulated from dealing with the Nazis and cheating the Jews. This particular book is the second in the Gabriel Allon series, and he enters the story because of his work as an art restorer. Instead, Allon finds himself alone in a house with a dead body of a reculsive multimillionaire, Augustus Rolfe and the Swiss police on his tail. In the process of trying to figure out who killed Rolfe, Allon finds himself involved with Rolfe's daughter, gifted violinist, Anna Rolfe. The English assassin of the title is the person who is hired by the Swiss powers to hide the trail of the group who killed Rolfe. The book is a race between the English Assassin and Allon. Allon finds himself in some pretty tricky situations, and at times, I wondered if Allon would be able to extricate himself from the dilemnas that he finds himself in. As with the other books, the plot is intricate and the pacing is fast. It was an interesting read, and again, I have to highly recommend the book to anyone who likes thrilling action. As with the other books, you also get an education in how the Nazi rulers stole the art collections of prominent Jewish collectors and how the Swiss government has blood on its hands from its willingness to line the pockets of the powerful in the country without reguard for human life.


---

Tuesday, August 22, 2006 -- Afternoon I just finished reading The Messenger by Daniel Silva. It is the sixth and latest in the Gabriel Allon series. The book was one of those that I had difficulty putting down. I devoured the book in just a few days. I highly recommend this one to anyone who likes thrilling spy stories. Read my review.


---

Tuesday, June 27, 2006 -- Early Afternoon JK Rowling has said that two characters that she didn't plan on killing off will die in the 7th Harry Potter book. It seems that as she was writing that it just turned out that way. Sometimes when you start to put pen to paper (and in her case she actually does it that way), things go in directions that you haven't planned. In her case, one character that she had planned to kill off is going to survive and two others die. No other clues on who the characters might be, but one of them might be Harry himself. As Rowling said, before this book, she didn't have a strong urge to kill Harry off. In fact, it was necessary that he stay on. Rowling did admit that she can understand the urge that writers have to kill off a favorite creation so it can't be resurrected by someone else. This really sounds like Harry does die in the end. So for my guess, I am thinking that a Weasley is going to die. It may be Ginnie, but it may be Ron. And unfortunately, I think that Harry will be the other.


---

Thursday, June 8, 2006 -- Evening JK Rowling was named as the greatest living British writer by The Book Magazine. Terry Pratchett trailed Rowling with a third of the number of votes to win second place. The authors were picked by a survey of readers.


---

Monday, April 24, 2006 -- Evening Later in the afternoon, my boyfriend and I went to the Festival of Mystery that was held by the Mysterylovers Bookstore in Oakmont, PA. There were around 50 authors there, and there were probably a few hundred mystery fans there. The authors were in one section of the hall, and the other end of the hall was setup with chairs and a section where some of the authors could be interviewed by the bookstore owner. I got to meet Rhys Bowen. I haven't read any of her books just yet, but I have heard alot about the books on the DorothyL mystery list. I was able to take a few pictures before my camera battery died, and unfortunately they didn't turn out very good because of the lack of light in the area. However, Rhys Bowen's picture turned out pretty good. It was a fun event. I only stayed for a short while because it was crowded, and the interviews were minimal.


---

Sunday, April 23, 2006 -- Late Afternoon I have just finished reading the new Cesar Millan book, Cesar's Way. The book is identical to the television show, Dog Whisperer. As Cesar Millan tells dog owners, you have to establish yourself as pack leader from the beginning and you have to practice calm, asssertive behavior with the dog at all times. Consistency is the key to having a well-behaved animal. In the dog world, there are leaders and followers. The dog looks to the owner as a leader, but when the owner fails at that role, the dog feels that he has to become the leader. If your dog leads when you walk, determines the stops along the walk (stopping to sniff and pee whenever the urge comes to him), jumps on people, barks or displays aggression to other animals or people, or if you ever find yourself saying that your dog does things because he wants to do it, then you have a problem. Your dog believes that he is the leader of your pack and that you are just a follower. If you have a powerful breed of dog, like a Pitbull, Rottweiler, or Doberman, then you might find yourself with a Red-zone dog. That's a dog that has aggression problems that could spell trouble or lawsuits for you. This is a book that's worth the cover price. Even if you don't have a dog, you might find yourself analyzing your own personality and the energy that you project.


---

Friday, April 21, 2006 -- Evening If you love to read mysteries, you might want to check out the Festival of Mystery that is being held by the Mystery Lovers Bookshop here in Oakmont, PA. The festival is going to be held this coming Monday from 4:00 pm until 9:00 pm. A slew of authors will be at there. I'll be attending and will post pictures and commentary.


---

Wednesday, April 19, 2006 -- Evening I just got a book from the library today, and it brought tears of laughter to my eyes. It's Atomic Wedgies, Wet Willies, & Other Acts of Roguery by Greg Tananbaum. The book is a short one and was obviously written for the adolescent boy in all of us. The book lists every type of prank that can be pulled on others--like wedgies, Dutch Ovens, Hoodwinks, Nose Tweaks, and other fun things that I can't wait to pull on my boyfriend. The Lift Lies will be great--you know, make up bizarre and gross stories about others or yourself in the elevator. The best thing about this book is that it describes the prank, gives tips on how to best pull it off, and ways to defend yourself from attack. A great, quick read that I strongly recommend.


---

Friday, April 7, 2006 -- Late Evening Dan Brown was found to not have copied the ideas of Holy Blood and the Holy Grail. The judge even said that Michael Baigent and Richard Leigh must pay 85% of Random Houses costs for battling the lawsuit. Totally cost for Random House was approximately $2.6 million. Baigent and Leigh were also denied the permission to appeal the decision. I think that Baigent and Leigh just filed the suit for the publicity. For some reason, even though they lost, they believe that they won on the "spirit of the law."


---

Saturday, March 18, 2006 -- Late Morning I just finished reading Prince of Fire last night. It's a spy novel by Daniel Silva. I had heard about the series of books that Silva wrote about Israeli spy, Gabriel Allon, but hadn't had a chance to read any of the books. However, a couple of weeks ago, I was in the library, and Prince of Fire was sitting on the best sellers cart. The book was a very good read, and I would have finished it sooner if I had more time to read. It is an enjoyable page turner. Read my review.


---

Saturday, March 11, 2006 -- Late Morning An interesting turn in the Dan Brown trial in England. This is the trial where the authors of The Holy Blood and the Holy Grail are accusing Brown of stealing their idea for his book. Well, one of the authors of the Holy Blood book has admitted that one of the ideas in his book was appears in someone else's book. Richard Leigh, one of the authors of Holy Blood said that the idea that Jesus did not die on the cross, but lived to marry Mary Magadlene and father child was "Not copied, repeated." I say that what is sauce for the goose is sauce for the gander. Mr. Leigh and Michael Baigent profitted from the Da Vinci Code because people bought the Holy Blood and Holy Grail book to read more about it. Also, it does help them that Brown credits them as a source of information. Some folks like Mr. Leigh and Mr. Baigent are just darned greedy!


---

Sunday, March 5, 2006 -- Evening I finally finished reading Aunt Dimity and the Deep Blue Sea by Nancy Atherton. It was an okay read, but somewhat of a disappoitment. It is the rare author who is able to keep the story and characters fresh after serveral installments in a series. I really liked listening to Ms. Atherton at her recent book signing, but if I met her today, I would beg for a stronger mystery. Read my full review.


---

Saturday, February 11, 2006 -- Evening This morning, I went to a breakfast talk with Nancy Atherton at the Mystery Lovers Bookstore to promote her new book Aunt Dimity and the Deep Blue Sea. Atherton is an extremely entertaining talker, and wowed the audience with stories of how she writes and funny events that have happened in her life. She talked of her childhood and how her parents raised her and her five brothers and two sisters to be independent and observant thinkers. Atherton has had several, low paying jobs that gave her alot of life experience and characters to draw from for her books. Mystery Lovers provided a breakfast of bagels, scones, fruit and coffee/tea for the 20 or so women who attended the talk. Afterwards, Atherton did a book signing. I will give a review on the book as soon as I have a chance to read it. That may not be soon because of the work that I have to do for my journalism class. In fact, that is why I attended the lecture today. Read the piece that I did on Atherton's comments on writing for the class.


---

Friday, December 30, 2005 -- Early Evening If one of your upcoming New Year's resolutions is to do more reading, you might want to check on the email bookclub DearReader.com. Every Monday through Friday, you can receive a few pages from a book fitting the genre of your choice. Only about a chapter of the book is sent out via email, and if you are interested in reading more, you can get the book from the local library or purchase it. A link to your home library is set at registration time and is included in every email to facilitate the process. The genres available are mystery, sci-fi, horror, romance, plain old fiction, non-fiction, business, and prepublication books. The woman who runs the site includes a chatty comment about life in each email that at times is more entertaining than the book selection. Next week, the non-fiction option will be The Last Season: A Team in Search of Its Soul by Phil Jackson.


---

Monday, December 19, 2005 -- Afternoon One of my favorite authors is Charles Dickens. When I was a young child, I would reread David Copperfield every summer. Another of my favorites is Christmas Carol, and Penguin Books UK is releasing a free podcast of the book as read by Geoffrey Palmer on its web site. The podcast is broken up into five pieces, and today was the release of the third piece. The podcast will only be available until the New Year, so go to Penguin Books UK and subscribe to the RSS feed to get the mp3s.


---

Thursday, August 18, 2005 -- Late Afternoon I have been reading the Case for Israel by Alan Dershowitz for the past week. It is a very good book, and does a nice job of both identifying the common misconceptions about Israel and providing the evidence that proves those claims wrong. As the settlers are evaluated from Gaza, this is a good time to read more about Israel and get an understanding of the issues that the country faces. I read the following interview with Binyamin Netanyahu were he details his concern about the safety of Israel with the evacuation of Gaza. As he states, 300 million Israeli dollars have been poured into the western Negev. This is the area of the country that abutts the Gaza. In the past, security issues weren't as big of a concern in the area because the Israeli forces were in Gaza and were able to staunch attacks to deeper areas of Israel. Now as Netanyahu says, the front has just moved back, and areas that weren't vulnerable to attack are. The proof will be in the eating of the pudding. We will have to see what happens in Gaza over the next few months.


---

Monday, August 1, 2005 -- Afternoon I just finished reading Die Laughing by Carola Dunn. The book is the twelfth in the Daisy Dalrymple mysteries. This time around Daisy has to go to the dentist because of a sore tooth, and finds the dentist dead in his chair with the gas mask around his face. The dentist died laughing from laughing gas. Who is the murderer? The dentist was cheating on his wife and she was cheating on him. Was the murderer his wife, his mistress, his wife's lover, or someone else. Daisy is on the case helping out her husband, Chief Inspector Alec Fletcher. Ms. Dunn did an excellent job with this mystery. The number of suspects was a small one, and each was lying or hiding something. Although I had an inkling of who the murderer was towards the beginning of the story (and it did turn out to be the murderer), the twists and turns were well done and made me really wonder if I had gotten it all wrong. The book is a good, light, quick read, and perfect for a lazy day at the beach or in the park. Or lying around in bed waiting for your foot to heal. So far, the series has been an enjoyable one, and I would recommend it to anyone who likes a light, historical cozy.


---

Sunday, July 31, 2005 -- Afternoon JK Rowling has inflamed some other authors with comments that she made about fantasy. Terry Pratchett thought that Rowling should have known that writing about witches, goblins and magic fall in the realm of fantasy. What raised his ire is that she seemed to minimalize the genre while obviously not knowing alot about it and while writing in that genre. As Pratchett says, she writes fantasy, and other authors who write good novels that sell well aren't given the media hype that Rowling gets. You could say that it is sour grapes, but Pratchett is a well-known and acclaimed author of fantasy. I think that he just wants Rowling to admit what she writes and be proud of it. Fantasy and mystery books are not anything to be ashamed of writing or reading.


---

Wednesday, July 27, 2005 -- Afternoon I finished reading Mistletoe and Murder by Carola Dunn. This is the eleventh book in the Daisy Dalrymple series. The books are set in the 1920s, and Daisy is a modern woman for the times and supports herself by writing articles about stately homes. Since her father was an Earl, Daisy has access to and knows how to behave in the higher levels of society. From the first book in the series, Death at Wentwater Court, Daisy finds herself involved in murder and meeting her future husband, Scotland Yard's own Alec Fletcher. In Mistletoe and Murder, we find Daisy travelling to Lord Westmoor's home in Cornwall that is based on a real-life house, Cotehele. Daisy asked Lord Westmoor if she could write an article about the house based on the fact that she is a distant relation to Westmoor. Since Daisy's visit is around Christmas time, it is only natural that her mother would wrangle an invite for Christmas under the mistaken impression that the Lord of the Manor would be present. Unfortunately, the Lord of the Manor isn't there, but his poor relations are. As the holiday nears, murder appears when a clergyman brought from Indian by one of the relations winds up dead. Motive for the murder is that the clergyman can prove that the matriarch of the poor relations was actually married to the son of the former Lord Westmoor which will mean that the family will inherit the title and wealth. Since Alec is a Scotland Yard man on the scene, he is told to carry on an investigation. With the help of Daisy, his young daughter Belinda, and Daisy's nephew, Derrick, Alec solves the murder. The story is a very fun, light real, and as with the other books in the series, it's not very hard to figure out whodunit. The one problem that I have with the books is that the first book starts in 1923, and by the time you get to the 12th book, it is still 1923. Obviously, Carola doesn't keep track of the passing time. Other than that, the story is light and entertaining. A quick read when you want to forget about the troubles of the world.


---

Tuesday, July 19, 2005 -- Afternoon I finally finished my review of the new Harry Potter book. I really did enjoy the story, and can't wait for the final book. Unfortunately, that will be some time from now. What will happen to Harry and how will Voldemort be defeated? We will just have to wait to for book number seven. In the meantime, this book does the series proud by providing us with all the elements that make a story exciting: love, danger, and action. Tears will be shed by the end, but that is life for you. We can't always have a storybook ending, even in a storybook.


---

Monday, July 18, 2005 -- Afternoon I finished reading the Harry Potter book last night, and am working on my review. There are many comments that I want to make and spoilers so I taking my time over it and hope to have a complete review ready by tomorrow. I will say this now: the book was a very good one. It does an excellent job of setting up expectations for the next book, and I have to admit that I have some ideas where things will be going that I will put in the review. The story did have me crying at the end because an important character dies, and it was unexpected in how it happened. The book sales broke all the sales records, selling 6.9 million in the first 24 hours. In the UK over 2 million copies were sold in the first 24 hours. That's pretty impressive. Meanwhile Ms. Rowling says that she needs a break to care for her 6 month old daughter. she is doing some writing, but really can't give all the time to it that she would like to. The end is going to be difficult for Rowling because she has been living with the idea for the book for so long. She also says that she is going to consider doing something other than fantasy, and will probably use a pseudonym for her next book to reduce the pressure and expectations on the book. After all, what could possibly live up to Harry Potter?


---

Sunday, July 17, 2005 -- Evening I am hoping to finish Harry Potter and the Half Blood Prince tonight. I am slowly getting there, and am now on page 461 of 652. JK Rowling won't be starting the next book until later this year. I would have hoped that she would have started already because that means another two years before we find out how it all ends. As soon as I finish, I'll give a review.


---

Saturday, July 16, 2005 -- Morning My boyfriend bought my copy of Harry Potter and the Half Blood Prince. I'm going to start reading it now. My boyfriend went to the early registration at the local Barnes and Noble, and was the 113th person to get the book after midnight. By the time he got home, it was late, so I put off reading the book until this morning. I do plan on spending the day reading it. According to reports from last night's reading by JK Rowling, she promises answers to many questions.


---

Friday, July 15, 2005 -- Late Afternoon Last night, I finished reading the first in the Lyn Hamilton archaeological mysteries. This one was called The Xibalba Murders. The book was a very quick read. Of course, I haven't had much else to do other than read. Lara McClintoch appears in this book, and it is just right after her divorce from Clive Swain, and she has had to give up the antique business because of division of properties in the divorce. At the beginning of the book, Lara is at loose ends. She has no business, no husband, and has returned to college because she has been advised by her attorney to not make money. Lara receives a cryptic call from Dr. Hernan Castillo asking her to come to Merida in Mexico to help him with a mysterious project about a writing rabbit. Of course, Lara goes down to assist him, but unfortunately by the time she gets there, Hernan is not there to meet her. He calls to let her know that he will see her soon. That's not the only intrigue that Lara has to deal with. The Children of the Talking Cross are a revolutionary group who are involved with the theft of a Mayan statue from a local cafe owned by the rich Diego Maria Gomez who is a huge collector of art and Mayan artifacts. Lara is in the cafe at the time and recognizes her one of the participants. It's the son of the family who is putting her up in their hotel. One of the members of the children of the Talking Cross shows up dead on the roof of the museum where Hernan is director. Then Hernan turns up dead. What is the writing rabbit? Can Lara track down the meaning of the clue and figure out who murdered her friend? Who can Lara trust to help her? The charming Jonathan? The elusive Lucas? The possible corrupt federal officer Martinez? The book was a good thrill ride. The thing that I liked the most about this book was that it was action packed. Lara is one of those heroines who jumps to action. Of course, sometimes she jumps into action with telling anyone or thinking it through all the way. There was this level of tension that ran throughout the book, and Ms. Hamilton did a good job with it. I have to admit that I guessed a part of the mystery, but not the whole of it, so there were some shocking and surprising moments at the end. I am going to move on to the others in the series, and in fact, just started The Maltese Godess. However, I will be putting it aside so I can read Harry Potter tonight.


---

Tuesday, July 12, 2005 -- Morning It seems that a few Harry Potter and the Half Blood Prince books were mistakenly sold early in Canada, and there is now a court order out to prevent anyone from leaking details about the book. It seems that the book went on sale in one shop on July 7, and was quickly pulled. Some folks who bought copies returned them willingly, but not all the copies were returned. You would think that folks would know from the last book that there were issues with early sales.


---

Monday, July 11, 2005 -- Afternoon Where will you be buying your new Harry Potter and the Half-Blood Prince? It seems that in Britain, book stores are fighting for folks to come and buy the book from their stories with giveaways. Some places are having elaborate costume parties, while others are giving away gift certificates on other purchases. I am going to get my copy from the local Barnes and Noble on Friday night. Well, actually I am going to be laid up at home because I can't put weight on my foot for 10 days, but my boyfriend is going to get it for me.


---

Friday, June 24, 2005 -- Evening I finished reading the newest Carolyn Hart book, Death of the Party. It's another book in the Death on Demand series featuring Annie and Max Darling, and comes next in the series after Murder Walks the Plank. Now this book was slightly different from the other books in the series because it takes place outside of Broward's Rock. Max Darling is approached by Britt Barlow, who tells him of the murder of her brother-in-law, Jeremiah Addison. The problem is that the murder occurred a year earlier, and Britt hid the fact that a wire trap was laid out for Jeremiah at the top of the stairs, causing him to fall to his death. Britt's reason for hiding the murder attempt was to save her dying sister Cissy (Jeremiah's wife) from the horror of a murder investigation. Cissy died shortly after Jeremiah, and Britt inherited Golden Silk, the island getaway that Jeremiah had owned. Britt received a blackmail threat, and her plan is to bring all the guests who were at Golden Silk when Jeremiah died, and unmask the murderer. For this she needs Max's help. Of course, where Max goes, Annie follows. The guests wind up trapped on the island after the handyman beats a hasty retreat with the only boat. Another murder is committed and Max and Annie are in a race to find out who is the murderer before anyone else dies. The mystery is a good one, and although I managed to figure out who the murderer was, I thought that the plot had a really nice twist. The difference between this book and others in the series is that there isn't alot of mention of other mystery books and authors. I didn't miss it because the the story was intriguing. What I really like about the Death on Demand series is that the quality of the stories remains consistent which isn't always the case with mystery series. As for the five paintings in Annie's bookstore, I was only able to guess one of them this time too. It was a good book, and I would recommend it for anyone who likes a good read.


---

Monday, June 6, 2005 -- Evening I have been trying to catch up on my reading. I admit that I am a book addict, and if I'm not buying a book, I'm getting a few from the library. Since I work in Oakland, the Carnegie Library is right there. However, I really prefer the local Carnegie Library here in Squirrel Hill. The book that I just finished was Murder Walks the Plank by Carolyn Hart. It was an entertaining book, and I did enjoy reading it.


---

Tuesday, May 24, 2005 -- Morning This morning before I came to work, I finished reading Sick of Shadows by Marion Chesney. This is the third in the series of the Edwardian mysteries that I have been reading that included Snobbery with Violence and Hasty Death. Although this series was entertaining and quick to read, the books were light on the mystery, and I think that Sick of Shadows was the lightest of the three. We return to the adventures of Lady Rose Summer and her new fiance, Captain Harry Cathcart. Daisy and Beckett also return as the sidekicks. We get more of the same misunderstandings between Rose and Harry, who can't see that they are made for each other even though it is quite obvious to all of their non-society friends. The book goes from one misunderstanding to another, and almost reached a point where I wanted to wring both of their necks. However, in the end, all works out. I don't think that I will be reading another of these books just because it was so light on the mystery, and the writing was so terse and staccato in nature. I'm sure that the next book (which will probably be out in the fall or next spring) will put another impediment into the path of happiness for Rose and Harry. There will be more misunderstandings and threats of being sent to India. The only aspect of the books that I do find interesting is Ms. Chesney's excellent grasp of the Edwardian time period. You can almost feel the stays in the women's clothes, and she paints a very good picture of the culture and society at that time with the many class restrictions and snobberies.


---

Friday, May 20, 2005 -- Afternoon Batya Gur died yesterday from cancer. She is the author of mysteries written in Hebrew and set in Israel. The books have been translated into English, and have actually met with a good response. The books have a more psychological overtone to them. The latest is Bethlehem Road Murder, and you can read the first chapter. Batya was only 57, and had just found out last year that she had cancer.


---

Thursday, May 19, 2005 -- Evening I just finished reading Hasty Death by Marion Chesney. Although I have grown interested in the characters, I have to admit that this book was not as good as the first Snobbery With Violence. We have the return of Captain Harry Cathcart and Lady Rose Summer (along with Daisy and Beckett). Why didn't I enjoy it that much? Because the whole story seemed very rushed. Ms. Chesney (or Ms. Beaton) writes in a very terse, staccato way, but it just seemed to be extremely exaggerated in this particular book. There is one more in the series, Sick of Shadows which just came out in April. I just got it from the library, and I plan on reading it even though I was not excited with this story. We still have Lady Rose in Hasty Death trying to find her role in life. She starts the story getting permission from her family to take on a typing job with Daisy, little realizing that it is a job that has been setup by Harry at a friend's bank. Murder entertains the picture, and a society person who may have been blackmailing other nob types winds up dead. Lady Rose uses her detective skills at the bank to get information on money that has been put in the murdered Freddy's bank account. Before we know it, Lady Rose and Harry are in the thick of things. A slight diversion into an asylum for Rose heightens the suspense, but doesn't deter Rose from her goal, to show up Harry Cathcart. It's obvious to everyone buy Harry and Rose that they are perfect for each other. The reason that I am going to continue with the next book, is that I think they finally realize it for themselves in that one.


---

Monday, May 16, 2005 -- Evening I just finished reading Snobbery With Violence by Marion Chesney. It was an entertaining book and a quick read. I have a more detailed review.


---

Saturday, May 14 2005 -- Evening 70 lucky kids are going to get to hear JK Rowling read from her new book one minute after the start of the sell of Harry Potter and the Half Blood Prince. The 70 children will be winners of a variety of competitions that are going to be held. They will then travel Edinburgh Castle, and that's where JK Rowling will do her reading. The event should be broadcast live worldwide. It will be interesting to see. I haven't yet put my order in for the book. I like to live dangerously and wait for the last minute.


---

Sunday, May 8, 2005 -- Late Afternoon I just finished reading an older library book. It's Columbo: the Hoover Files by William Harrington. The book was reminiscent of the television show in that we know whodunit, and see how Columbo figures it out. I'd have to read another one to see how I feel about it. The problem with this book is that Columbo spends the majority of his time interacting with someone who is NOT the killer. I think in total, he only talks with the killer two times. The thing that was also disconcerting about this book is that it didn't jive well with the television Columbo. The accent in the book was very jarring. I kept on trying to put Peter Falk's voice into the scene, but it just didn't ring true. The other thing that I didn't like is that Columbo appeared to be abit of chick magnet in the book. There was the women police officers and the news reporter who seemed to want to get in his pants. It just didn't ring true. The book was quick to read, and I did get a second Columbo book from the library at the same time The Game Show Killer. I'll have to see if it is better.


---

Wednesday, May 4, 2005 -- Afternoon I just finished reading Aunt Dimity and the Next of Kin by Nancy Atherton last night. The book definitely falls into the catagory of cozy books that I love to read so much. I think that life is stressful enough. Why should I read something that just increases my stress load?


---

Thursday, April 28, 2005 -- Afternoon Amos Oz, Israeli writer, has won the 2005 Goethe cultural award for his life's work. Amos Oz was born in Jerusalem in 1939, and has written 18 books and 450 articles and essays over the years. He is also known for his work with the peace movement in Israel. Here is a list of books by Amos Oz.


---

Monday, April 25, 2005 -- Evening I finished reading The Serpent on the Crown last night.


---

Friday, April 22, 2005 -- Afternoon The DaVinci Code won the best book award at the British Book Awards.


---

Thursday, April 7, 2005 -- Evening JK Rowling has read through her new book, Harry Potter and the Half Blood Prince and has declared it her best. As Ms. Rowling said, she liked it, but she is sure that some readers won't. It does peak my interest about what is going to happen. She is also going to take several months off to be with her new baby before she starts the seventh book. That's the hardest part of enjoying a series. The readers want to know what is going to happen next, and the author has to take the time to write it. The anticipation for the next book is going to be great because obviously it is going to be delayed, and it is to be the last book. It's going to be hard to wait to find out how it all ends, and it will be hard to know that it is finally over.


---

Sunday, March 27, 2005 -- Afternoon I finished reading Cat's Eyewitness by Rita Mae Brown, and I was underimpressed. It was definitely a subpar book, and not up to Rita Mae Brown's usual efforts. Read my review of the book.


---

Tuesday, March 22, 2005 -- Morning The next time you go to Rome, remember to take along Angels & Demons by Dan Brown. It seems that fans are flocking to Rome and retracing the steps of Robert Langdon around Rome. If you haven't read the book yet, you should give it a try. It is a non-stop thriller. Once you start reading, you'll find it difficult to put down. The only problem is that you will want more, and Dan Brown doesn't have that many books published.


---

Saturday, March 12, 2005 -- Late Evening I just finished reading The Mysterious Affair at Styles by Agatha Christie today. It was an enjoyable book, and I have to admit that I picked the wrong murderer from the beginning. This was the first book that Agatha wrote, and it was published in 1920. It seems that as time past, Agatha was sorry that she had started out with Hercule Poirot as old as he was in the first book because it became difficult to age him as the years past. He is described in this book as a retired policeman which would put him in the 60 year age range. Poirot was a popular character though, and readers kept on asking for more. There were 30 novels with Poirot, and I read somewhere that she really didn't like the character but was stuck with him because of his popularity. In the Mysterious Affair at Styles we are introduced to Captain Hastings as Poirot's not too bright assistant and Inspector Japp as the police investigator. The novel is set the country estate of Styles and fits well into the country manor type of cozy mystery. At the time that Agatha wrote the story, she was working as a nurse during World War I, and spent time in the pharmacy. She made use of her knowledge of hospital pharmacies and drugs in this book. I have to admit that I love mysteries like this one. You have a closed set of characters who could have committed the crime, and you have someone who has no professional standing (since Poirot is a retired policeman and Belgian refugee in England) who investigates the crime. As whodunit is unravelled at the end of the book, you realize that all the clues were staring you in the face all the time. Agatha just did a great job of leading you down the garden path.


---

Thursday, March 10, 2005 -- Afternoon The cover art for the British versions of the new Harry Potter book that will be coming out on July 16 has been released. The children's edition will feature Harry and Professor Dumbledoor in the center of a ring of fire while the adult version will show a leather bound version of a book of Advanced Potion Making by Libatius Borage on a desk. The question is can anyone figure out if the covers will give clues to the action in the book? The one thing that we do know is that the book will only be 608 pages which is 169 pages less than Order of the Phoenix.


---

Sunday, March 6, 2005 -- Evening I just finished reading Timeline, and I really enjoyed the book. It's another Michael Cricton book. The thing that I enjoy about his books is that he brings in a tie with science, and he does alot of research to make the material believable. I wrote a more detailed analysis here.


---

Tuesday, March 1, 2005 -- Evening It seems that Ian Fleming was influenced by the time that he spent in Naval Intelligence during World War II. MI5 has released documents from that time period. One of the documents refers to an Italian plan for a human torpedo that is similar to a jet pack that Fleming created for Bond in Thunderball.


---

Sunday, February 20, 2005 -- Early Evening I just finished reading State of Fear by Michael Crichton, and I really enjoyed it. He writes books that are exciting page turners, and also make you think about things. At least that is what happens with me. I am starting more detailed reviews of books that I read starting with this book.


---

Saturday, February 12, 2005 -- Afternoon I just finished reading The Andromeda Strain by Michael Crichton late last night. It took me a while to get it done because I never seeem to be able to find time to read. The book was an interesting one. You can definitely tell that it is Crichton's first book. Although the story is a gripping one, you can tell that as Crichton published more books, his style became more fluid and flowing.
The US has been sending satelites up into the upper atmosphere to look for molecular life forms that could be used to create a biological weapon. One satelite that is sent up winds up crashing unexpected in 24 hours. The satelite had landed in a remote part of Arizona near the town of Piedmont. Unfortunately, one of the residents of Piedmont got to the satelite first and pried it open. This lead to the death of everyone in the town. The bizarre part of it is that while half of the town died of something unknown, the other half committed suicide. There are only two survivors--an old man and a two month old baby. Why did they survive? Fortunately, the military had been planning for a possibility of dangerous extraterrestrial organism with Project Wildfire. The five members of Wildfire work against time to find out what the organism is and how it spreads. The tension builds to a cresendo at the end, and then fizzles. I have to admit that I was wondering what the organism was, but I really wasn't satisfied at the end. What becomes very obvious though is that all the plans that are made to contain the threat of a deadly contagious extraterrestrial go horribly wrong. The thing that I like the most about Crichton is that he brings in alot of scientific detail. crichton is an intelligent man, and obviously puts alot of work into researching his books. You get an education and a joy ride while reading his books.


---

Monday, January 17, 2005 -- Evening There are five new Sherlock Holmes stories available from the BBC. They have both audio and written versions of the stories.


---

Charlotte MacLeod died today. She was one of my favorite mystery writers, but hasn't had anything new released in seven years. She had been suffering from Alzheimer's disease, and died at the age of 82. My favorite stories of hers were the ones with Sarah Kelling and Max Bittersohn.


---

Wednesday, January 5, 2005 -- Evening I love mystery books. Books are my addiction, and mysteries are the ones that I crave the most. The Carnegie Library has a Mystery Book Group. The book coming up in the last week of January is The Mysterious Affair at Styles by Agatha Christie. I haven't read the book in a long time, so I'll have to catch up on it before the end of the month.


---

Sunday, January 2, 2005 -- Late Afternoon I just finished reading The Sittaford Mystery by Agatha Christie. This book isn't part of a series, so there isn't a Hercule Poirot or Miss Marple in it. The story was a good one. It starts with a seance at Sittaford. A message comes from the great beyond that Captain Trevelyan is dead. One of the members of the seance party is worried, and walks six miles to check on Captain Trevelyan during a viscious snowstorm to find Captain Trevelyan dead. Who killed the Captain? One of his relatives, James Pearson, just happened to show up in the town right before the murder, and left the next day. James also was one of the four beneficiaries in the will. So, of course, he gets arrested, and his spunky, feisty fiancee Emily Trefusis is on the case to prove James innocent. I love stories like this. The book was published in 1931, and it has all the flavor of that time---no phones available to call to the Captain and a snowstorm that makes Sittaford unreachable for days. Also, there is an intriguing subplot about Mrs. and Miss Willett who rent Sittaford from Captain Trevelyan. Who are the Willets and why did they want to come to Dartmoor in the dead of winter? It's a very entertaining and engaging mystery, and definitely one that I would enjoy reading again.


---

Wednesday, December 29, 2004 -- Late Afternoon I had a few books on hold at the Main branch of the Carnegie Library which is in Oakland. The library was recently renovated, and they did an excellent job. The first floor space is bright and spaceous. Low bookcases are used so it is easy to see across the main room where the new books are kept. There is also a small Crazy Mocha cafe area near the checkout counter where coffee, sandwiches and desserts can be had for a reasonable price. A little gift center is also in that area, and it is possible to buy Carnegie Library t-shirts there. Chairs are scattered all over the place, and although modern in style encourage you to sit awhile and browse through the books. Towards the back of the main room, there's a magazine reading room filled with the latest issues of the slew of magazines to which the library subscribes. The outdoor courtyard will be really inviting when the weather is warmer. All in all, it is a very beautiful library, that is well organized and inviting to the reader. My local library is the Squirrel Hill branch of the Carnegie. It's closed for renovations, and should be opening soon. I am very excited about it reopening, and hope that the design is as good as the Main branch.


---

Tuesday, December 28, 2004 -- Late Afternoon I'm just finishing an interesting book. It's In Praise of Slowness by Carl Honore. As I get older, I find myself wanting more from life than just working at a job. I want to enjoy life and smell the roses as I walk past them. The book goes through the ways in which life has sped up, and how to slow it down. One of the ways it mentions is Slow Food. The slow food principle is to eat locally grown organic foods, or foods that are homemade instead of preprocessed. Also, families are encouraged to spend time sitting down together to eat instead of grabbing food on the go, or sitting in front of the television and eating. It's not just about food, but in taking walks instead of driving everywhere. A more traditional way of "going slow" is with meditation and yoga classes. The book covers many aspects of life and how they can be modified to fit into the slow philosophy. The point is to not throw out all aspects of modern life, but to find ways to move out of the fast lane for periods. I am definitely planning on putting the philosophy into practice. Life is too short to rush through it.


---

Thursday, December 23, 2004 -- Evening Dan Brown, author of the DaVinci Code is working on his new book which is being called The Solomon Key. The title sounds interesting, and makes me wonder what it will be about. So far, there is no release date, but I hope that it will be in the coming year. In the meantime, I am thinking of getting myself the illustrated version of the DaVinci Code. It is beautifully done with illustrations of the paintings, photos of the buildings, and floor plans so as you read, you can see what Dan Brown is talking about.


---

Wednesday, December 22, 2004 -- Evening The upcoming Harry Potter book is Amazon.com's largest pre-order ever. I can't wait for it to come out. I have to admit that I only read the series through once, so before the latest comes out, I think a re-read would be in order. The thing is that I have such a large TBR (to be read) pile. I should schedule the first five starting in May so I can move straight into the sixth book when it comes out. If you haven't read any of the books or seen any of the movies, here are plot summaries of the books.


---

Tuesday, Decmeber 21, 2004 -- Morning Harry Potter and the Half-Blood Prince by JK Rowling has been finished. According to the BBC, the book will be released on July 16. It will be very interesting to see how things transpire in the new book. There are only two more left in the series, and I know that some folks wonder if Harry will make to adulthood.


---

Sunday, December 19, 2004 -- Evening Right now, I am reading Football Physics : The science of the Game by Timothy Gay. The combination of physics and football is an interesting concept. So far, I have only read the first 40 pages. So far, the discussion is about the force that is extended by a running back breaking through a defensive line.



---