The Daily Bongo
Restaurant Reviews




Aladdin's / Bagel Factory / Bahama Breeze / Bangkok Balcony / Bangkok Balcony Revisited / Benihana / BRGR / Buffalo Blues / Burgatory / Cafe at Frick / Cafe at Frick Revisted / Chaya Japanese Cuisine / Cheesecake Factory / Claddagh Irish Pub / Coriander / Fuel & Fuddle / Ichiban Hibachi Steakhouse / La Cappella / Lone Star Steakhouse / Mallorca / McCormick & Schmick's Seafood / Mediterranean Grill / Milky Way / Murray Ave. Grill / Nakama / Palomino / Rock Bottom / Silk Elephant / Silk Elephant First Visit / Six Penn Kitchen / Smokey Bones Barbeque and Grill / Sun Penang / Sunnyledge / Sweetbasil and La Filipiniana / Waffalonia

Monday, July 25, 2011 -- Evening
BRGR
I went to dinner at BRGR today. It's another of the gourmet burger places that have been cropping up all over the place. The menu options were limited, basically five types of burgers: plain, 1000 Island, pastrami and egg, guacamole and jalapenos, and mushroom. Plus there is a short rib sandwich, turkey, veggie, Kobe, and salmon. The burger was tasty, but I have to admit that I kept on comparing it to Burgatory and finding BRGR lacking. I think if I went to BRGR first, I would have been gobsmacked. But I didn't. So I will just say decent food, but if you want GREAT burgers, and don't mind waiting, choose Burgatory over BRGR.

---
Sunday, May 8, 2011 -- Evening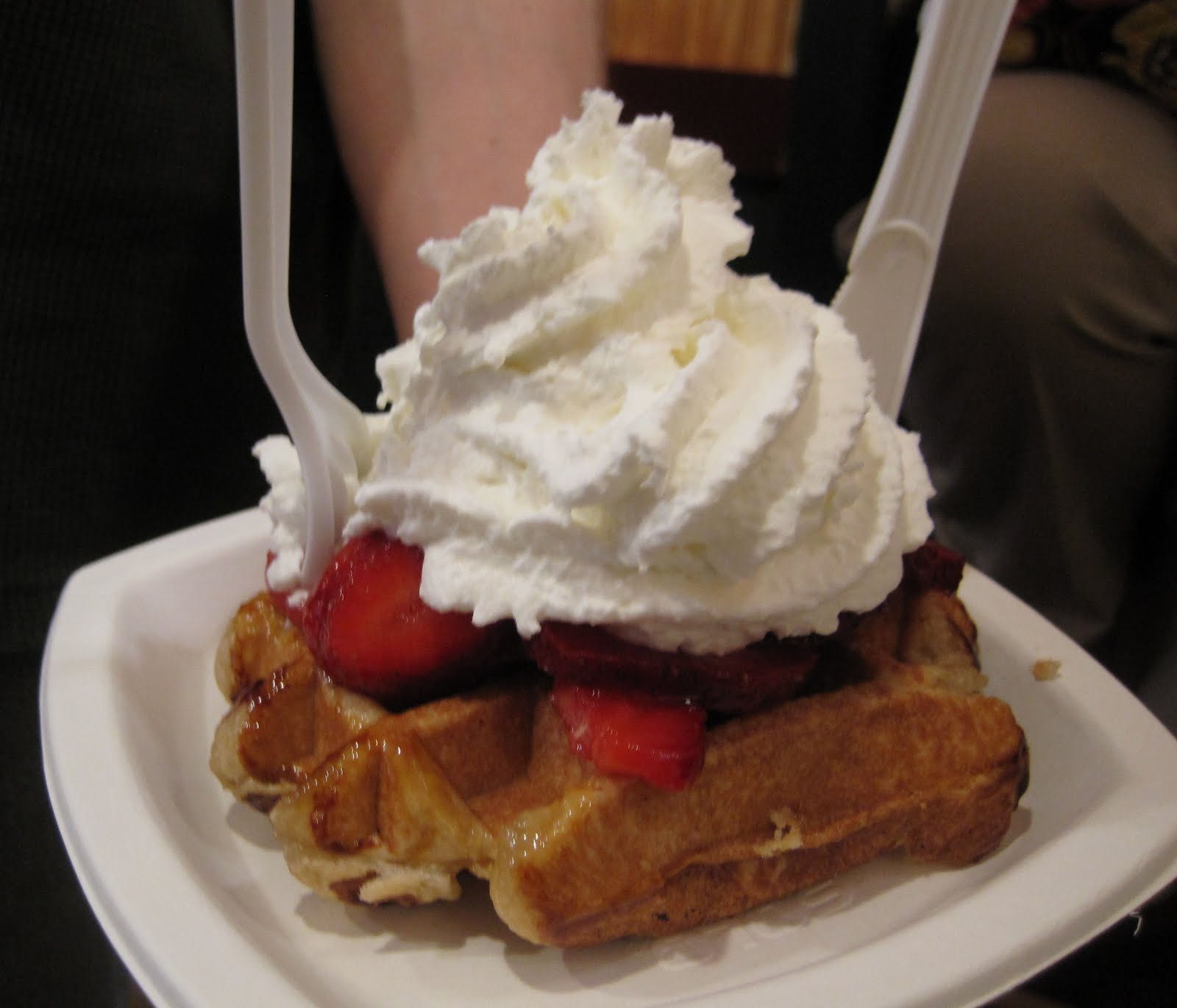 Waffalonia
Over the winter, a new snack shop opened in Squirrel Hill. It's called Waffalonia, and as you can imagine, they sell waffles. But not just any waffles. Really nice, sweet liege waffles. The waffles come with a variety of toppings, fruit (strawberries, bananas), spreads (chocolate, peanut butter), ice cream, and whipped cream. I finally stopped by this afternoon because it was a warmish and sunny day. Perfect for eating outside if you can't find a seat in the very small and cramped shop. I am so glad that I did stop. The waffle was sweet and melted in my mouth. I got it with strawberries and whipped cream, and it tasted like heaven. I can't wait to go back and try some of the other options. I'm sure the banana one would be just great. Unfortunately, I'm allergic to bananas, so I'll have to pass on that. If you find yourself in Squirrel Hill, make sure to save some room for Waffalonia!

---
Thursday, March 10, 2011 -- Evening
Burgatory
Do you like a good, homemade looking and tasting burger? Then Burgatory is your place. i went to the restaurant with some friends this evening and had a great time. Burgatory is in the Waterworks Mall and serves, you guessed it, burgers. They also have milkshakes, chicken, crabcakes, fries, and homemade potato chips (made from Russet and sweet potatoes). I chose the "Create a Burger" option. Pads of order sheets are available at every table to build your own burger, picking the type of bread, meat (beef, chicken, bison, sausage, crabcake, or veggie), rub, cheese, sauce, and toppings. Mine was a beef burger on a brioche bun with cracked peppercorn rub, guacamole, Dijon mayo, house-made relish, iceberg lettuce, red onion, cucumber, and bread & butter pickles. The burger was huge with the patty around an inch thick. Boy, was it tasty, messy, but tasty. By default the burgers come with the chips, but you can upgrade to really tasty rosemary seasoned french fries. I didn't get a shake because I figured I had more than enough calories, but if you can down 3000 calories in a single meal, go for a shake. I would definitely go back to Burgatory. It was worth the half hour wait, which was unexpected for 6 p.m. on a weekday night. Come on, how can you not want to go to a place called Burgatory?

---
Friday, October 8, 2010 -- Evening
Coriander
We finally have an Indian restaurant in Squirrel Hill. Coriander opened at the beginning of the month, and I went to sample its fare this evening. The restaurant is located on the corner of Phillips and Murray, where Rhoda's Deli, later Kazansky's, was for so many years. The current owners made some changes to the interior, knocking out some walls to make the dining area larger. As we were seated, one of the waiters brought out some chips and various spicy dips. The chips were heavenly. It was a good thing that we were supplied with some food because the wait for our order, and service in general, was extremely lengthy. After watching Gordon Ramsay's Kitchen Nightmares, I know that the sheer size of the menu has to be a problem. I would say that over 50 items are on the list. When we finally got our food, chicken tikka marsala, aloo/chana marsala, and garlic nana, we were pleased. The food was tasty, but the service was very minimal and lacking. We waited at least 20 minutes for an ice tea refill. The 20 minute clock started when the waiter asked if we wanted more tea and stopped when our glasses were finally filled. I will probably go back, but I doubt that it will be soon. I think that the owners need to whip their staff into shape before it becomes an enjoyable experience.

---
Saturday, January 2, 2010 -- Evening
Chaya Japanese Cuisine
It has been extremely cold in Pittsburgh, and because of it, I decided to have dinner closer to home. Chaya is a Japanese restaurant only a five minute walk from my apartment, so my boyfriend and I went there. This was my first visit to Chaya, because I thought that it was too expensive, and the restaurant is usually crowded. Even though we went to dinner before 6 p.m., the restaurant was already crowded. Fortunately, we didn't have to wait. I ordered the Tempura Don rice bowl, which was shrimp and vegetable tempura over rice, with salad, edamame starter, and mizo soup. The salad was one of the tastiest that I have had at an Asian restaurant. The greens were mixed, and not a smidge of iceberg lettuce could be found. The ginger dressing was very tasty. The small serving of edamame was cold, but tasty. I have usually had hot edamame in restaurants, but the edamame was very good, and not overly cold. I am not a huge fan of mizo soup in general, but this one was a thicker broth with various greens and tofu. Again, I'm not a fan of mizo, and I was not a fan of this one either. The tempura was very light and tasty, and there was a fan decoration of fried noodles dragged through the tempura to create the fan effect. My boyfriend got the chicken teriyaki, and the portion of chicken good. The meat was thin, but the plate was covered. It was very tender and juicy. All in all, the food was very good, and the service was fast and attentive, even though all the tables were full. The only negative about Chaya is that it is in a small, tight space. It moved from an even smaller space to the new location close to the corner of Hobart and Murray. I could imagine that the could easily fill a much larger space. The prices are higher than other restaurants in the vicinity, with my rice and tempura bowl costing $16 as a dinner. However, the quality and quantity of food made up for the cost. I will definitely go back to Chaya, and already decided to go there for my birthday dinner this year.

---
Saturday, January 10, 2009 -- Afternoon
Sun Penang
When I got home last night, there was a power failure. That means I didn't get a chance to comment on my wonderful dinner last night. I went to a local Asian restaurant called, Sun Penang. It is on Forbes Avenue in Squirrel Hill in the section between Murray and Shady Avenues. The restaurant is small, and the wait staff is very attentive. They have exception food for a cheap price. We have gone there a few times and usually just had the ginger chicken, which is very tasty. Last night, we had Roti Telur as the appetizer. Roti Telur is an extremely thin pancake with egg in the center. It comes with curry sauce, which I use as a dip to add extra flavor to the Roti Telur. It doesn't need the sauce, but it does add a nice touch. Probably one person could eat the Roti Telur, but we share since we are watching calories. For the main course, I had dried curry chicken, which was chicken covered with dry curry and then covered with a curry sauce. My boyfriend had the Spicy Thai Chicken, which was thin strips of deep fried chicken with a spicy dipping sauce. Both dishes had sides of steamed rice. The food is excellent at Sun Penang, and I plan on going back may times to try out entrees. In the summer, the restaurant has outside tables too.

---
Tuesday, August 19, 2008 -- Evening
Frick Cafe
I went to the Frick Cafe for afternoon tea today, and I was very disappointed in it. The cost of the tea had gone up by $2 to $18. The quality of the food, however, had really gone downhill. There was no discernable chicken in the chicken salad, either to see or taste. The bread for the sandwiches was dry. The scones and creme were okay, maybe the scones were abit drier than I would have liked. The desserts were small and tasteless. Instead of giving four whole strawberries, there were only two, cut in half. The tea was good, and the waiter did bring out all the pots of hot water we wanted. Because of the cost and the quality of the food, I doubt that I will return. Instead, I'll make my own afternoon tea with cucumber sandwiches.

---
Saturday, March 24, 2007 -- Evening
Palomino
After the game, my boyfriend and I went to the Palomino restaurant downtown. Since it was an early game, we thought it might be nice to have an early dinner. The restaurant has a special where a person can get a three course meal for $25 if you eat between 4 pm and 6 pm. The three course meal menu is limited to just a few items, but it covers a wide variety. I choose some items from the three course menu, but my boyfriend went with the regular menu. I had the fried calamari as an appetizer, roasted chicken, mashed potatoes, and green beans as an entree, and a berry cobler with ice cream. The portions were huge. For the three course meal, I had the same sized portions as those who paid full price. It was alot of food, more than i could eat so I had a doggy bag for home. The calamari was over cooked and very tough and chewy. The chicken though was very good with tasty mashed potatoes with lots of butter in the potatoes. I loved it, but the whole entree was sitting in melted butter. So it might not be good for someone who doesn't want to clog their arteries. The dessert was quite good. The Dave & Andy's ice cream was smeared along the top of the cobbler, and that meant a nice cold scoop of ice cream with every bite of warm berry cobbler. I would definitely go back to Palomino.

---
Thursday, December 28, 2006 -- Evening
Mallorca
This evening, my boyfriend and I went to Mallorca Restaurant on Carson St. in the South Side. The restaurant has a reputation as a high quality restaurant that specializes in things Hispanic. It's one of the few places in Pittsburgh that has paella. The restaurant is noisy and cramped. When we were placed at our table within inches of another porty of two, I was sure that we would not be able to have a private conversation. Surprisingly, I was wrong. Whoever designed the table layout managed to cram a huge number of tables into a small space while not making the patron feel cramped. The menu is filled with fish items. We passed on the appetizer because all the options were shrimp, crab, or lobster. For the entree, I got the garlic shrimp while my boyfriend got the filet mignon. A small salad came with the meal, and was full of a variety of greens with a Thousand Island dressing of which I wasn't very fond. When the entrees came, we were shocked. The filet was a huge, thick piece of meat, and the shrimp filled the plate. Separate plates were brought out with the sides that we shared: home made potato chips, steamed veggies, and a tasty rice. The amount of food was huge with the concentration on providing the patron with a healthy portion of entree. I was very impressed, and enjoyed the shrimp immensely. The filet was perfectly cooked and actuaally arrived mediuam well. I saved room for dessert and my boyfriend and I shared a chocolate cake which was not overly rich or sweet. We topped off the meal with an alcoholic coffee drink that was really very tasty, called the Mallorca. Although the meal was slightly pricy, I didn't think that it was too much for the amount and quality of the food. The wait staff were very attentive, and there was someone to make sure that we had plenty of drinks and received our food in a timely fashion. All in all, it was a very good experience, and I would definitely go back.

---
Wednesday, December 27, 2006 -- Late Afternoon
Sunnyledge
I just had a rather disappointing afternoon tea at Sunnyledge, a hotel that provides afternoon tea. I went with my boyfriend. Since the cost was the same as that at Frick Cafe, I thought that the quantity of food would be the same. It wasn't. For $16 each, we got a medium sized pot of tea, and a plate that had four tinsy, tiny sandwiches, a scone so small it would fit under a stamp, a tinsy strawberry cream tart, and a very small, dried out gingersnap cookie. When the plates were put in front of us, my boyfriend and I were both in shock. His first question was would there be more food coming out, and the answer was no. I think what made it so disappointing was the scone. It was so small and so unremarkable in taste. The food in general was okay, but definitely not the type of food that makes the taste buds rejoice in eating. I think that the cost was so high because we were paying for atmosphere. The Sunnyledge is a historic landmark. It used to be the home of the person who founded Shadyside Hospital, Dr. James H. McClelland. If you want tea, go to Frick Cafe, and pass up the Sunnyledge.

---
Friday, December 22, 2006 -- Late Afternoon
La Cappella
Before the movie, we went to LaCappella for lunch. It's a small Italian restaurant at the far end of the Waterworks Plaza. The atmosphere is plain and simple. It looks like a simple pizza place inside with the usual pizza parlor booths and tables. However, the food was excellent. We got zucchini strips for an appetizer. The zucchini was cut small and looked like french fries with their light batter. They were served wrapped in paper and stuffed into a spiral holder. A side of dijon horseradish and marinara came with it, and it was very good. Yes, the zucchini was greasy, but that's what I expect from fried foods. For the main entree, I had spaghetti and a meatball. The sauce was thick and spicy, and the meat ball was tender and juicy. All in all a good meal and highly recommended. I hope to go back again to sample the dinner menu.

---
Friday, September 15, 2006 -- Evening
Ichiban Hibachi Steakhouse
My boyfriend and I joined some friends this evening at another Japanese hibachi steakhouse. This time we went to Ichiban in Cranberry. The restaurant is located in one of those strip mall plazas right off of Route 19. It doesn't look like much from the outside, and even from the inside, the space looked small, with the tables tightly packed. However I was pleasantly surprised. The salad with ginger sauce was on the small side, but the traditional soup was piping hot. I usually don't eat the soup, but it did have a nice flavor to the broth. When the chef came, he started out with a juggling and spinning of his utensils. Then he moved on to spinning an egg and tossing it on a metal spatula. It was amazing that the egg didn't break, until he intentional caught the end on the side of the spatula. We got the traditional high flame and we even had a flaming volcano that was put out by a little fireman boy doll that peed the fire out. It was quite a show. The food was also excellent. The rice has an superb taste. The shrimp was full of flavor. We went had lomein that was fried up. Veggies and meat were all served hot and flavorful. I was extremely impressed with the food and the entertainment. The portions may not have been the largest, but the food was excellent. Dessert was a very tiny scoop of ice cream. Only chocolate, vanilla, and strawberry ice cream and orange sherbert were available. All in all, I had a very good time and would highly recommend the restaurant to others.

---
Saturday, September 9, 2006 -- Evening
Lone Star Steakhouse
This evening my boyfriend and I went to the Lone Star Steakhouse at the Pointe in Robinson Township. I have to admit that I was disappointed with the service. The restaurant used to be busy. The restaurant used to be packed. When we got there it was around 6:50. Now considering the location, you would think the place would be hopping. Nope. There were several empty tables. But guess what. I was told that we would have to wait at least 10 minutes and was handed a pager. There were four other couples just sitting there chilling while there were several empty and cleared tables. I asked about it and was told that they wanted to give the kitchen a "break". What? Busy dinner hours should be anticipated, and you should want the tables filled not sitting empty. You should plan for all of your tables to be full and folks told to wait because there is no space. You shouldn't be holding tables empty and having folks wait because your kitchen doesn't like a full restaurant. This is the sign of a loser place and that explains why other restaurants in the area are packed, and this place has empty tables. My boyfriend wanted to leave because he couldn't understand a wait with empty tables. I waited five minutes and then went up and said that I was tired of waiting and wanted to be seated at one of the empty tables. When the table seater tried to tell me that the needed to have empty tables to keep the kitchen in order, I said that they should address the incompetent management because any restaurant should anticipate and be able to handle a dinner rush, and if they couldn't, they needed to get rid of the loser manager. The manager came over then after that to explain, but there is no explanation. The entire time that we were there, there were empty tables. By 8 pm, the place was mostly empty. Yes, 8 pm on a Saturday night. That should be their busiest time. Obviously it is because they make people wait while there are empty tables. Pitiful! I have to admit that the waiter was bending over backward because I had complained. Even then my order still got screwed up--they forgot the shrimp. The manager needs to watch Ramsay's Kitchen Nightmares. I will definitely not return to that location again.

---
Friday, June 30, 2006 -- Late Evening
Nakama
Another disappointing hibachi style steakhouse experience. I had been hearing from friends that Nakama had the best food. Little did I know that these were probably the same folks who think that Benihana is good eating. Well, Benihana isn't and neither is Nakama. In fact, Nakama was just a more expensive version of Benihana with higher costs. The chef that we had was boring and did no tricks at all. He spent most of the evening staring down the cleavage of one of my table mates. The quality of food was sadly on the same par as that of Benihana--tasteless and overcooked. The method of cooking was the same. Each item was cooked separately. So the veggies were cooked and ice cold by the time the rice was ready, which in turn was ice cold by the time that the meat was ready. Our chef, Juma, also had this irritating habit of cooking the steak meat first and THEN asking how someone wanted it cooked. Unfortunately, once meat is well done, it's hard to go back and make it rare or medium. Everyone at my table got well-done meat. My hibachi, sesame chicken was dry from overcooking and tasteless. Even the shrimp was overcooked--tasteless and rubbery. I couldn't even eat the three shrimp that I got, and I LOVE shrimp. The fried rice just tasty strongly of soy sauce with no flavor other than that. So we had salty rice and salty mushrooms. Needless to say, I left (wasted) alot of food because the food was really bad. What every you do, run, don't walk AWAY from Nakama. Nakama is a trendy gathering place (ie meat market) for yuppies whose tasty buds for food and non-slutty clothes is non-existant.

---
Saturday, June 24, 2006 -- Late Evening
Benihana
I was extremely disappointed in Benihana. It was one of the worst, expensive meals that I have ever eaten. Benihana is a chain Japanese hibachi steakhouse, and I suppose that explains why the meal was crap. A chain obviously would not be as good as a standalone hibachi steakhouse. The tables were small and crowded. The hibachi stove at the table was small and didn't have a place for the chef to dispose of food scraps. It was a typical hibachi meal with soup, salad with ginger dressing, shrimp appetizers, and main course with veggies, mushrooms, rice and meat. The chef that we had was incompetent at performing any tricks and kept them to a minimum. We were lucky because at the other table, the chef did a move that broke a dish in front of a woman. Because the hibachi stove at the table was so small, and the chef wasn't very competent, the food was cooked one item at a time. The shrimp were done first, and were flavorless. The rice was mixed with egg and chicken, minimal seasoning, and a huge helping of soy sauce. In other words, the rice was the type that someone's grandmother would make who didn't know how to make fried rice--flavorless except for the soy sauce masking the lack of proper cooking. The veggies were cooked first and were sparse. First they were cooked, then the rice, then the mushrooms, and then the meat--scallops first, then steak, then chicken. By the time I got the chicken, the veggies were ice cold. This didn't make the flavorless food any better. Even my chicken was totally devoid of any flavor whatsoever. Basically, they assumed that you would eat your meal item by item instead of together. This was the absolute worse experience that I have ever had in a hibachi style restaurant. If you are ever considering going to a Benihana, don't! If you want hibachi style food, go to Shogun in Monroeville. The cost is the same, and the food is 100% better. If you want to just take $50 out of your pocket and burn it while forcing flavorless crap down your throat, then go to Benihana. I will never return there again!

---
Saturday, June 24, 2006 -- Morning
Silk Elephant
I forgot to mention that I returned to Silk Elephant, the Thai Tapas place here in Squirrel Hill. My last visit there was not the best, and I was leery of going back. What I was worried about was that my boyfriend and I were taking someone there who was new to the place. Well, let me just say that the service was stellar. The food was brought out quickly and was delicious and hot. We got a slew of tapas that we shared and entrees. The calamari was abit overcooked, but not rubbery and chewy. The chicken curry puffs and taro puffs were great. A note to the wise, the taro curry puffs are NOT on the menu, but ask the wait staff, and you can get them. I wasn't as pleased with the salmon rolls, but I am not a huge fan of salmon. For the entree, my boyfriend and I had fruit rice curry. This one sounds bizarre, but was extremely tasty. It was basically curry fried rice with grapes, pineapple, and apple in it. The grapes were extremely tasty because they were warm and juicy. The dish was sweet and spicy--a must try for anyone. The guy who was with us had a tasty pear saki with his meal that I sampled. It was smooth and tasty, served warm (room temperature). All in all, it was a grand experience--good food, great service, extremely friendly wait staff, and no rushing you out of the place.

---
Friday, June 9, 2006 -- Late Evening
McCormick & Schmick
It's been a long time since my boyfriend and I went out with friends to dinner and a movie. This evening, we went to McCormick & Schmick's Seafood Restaurant. The restaurant is located in the Southside Works which is a favorite place of mine. Granted you have to pay for parking in a lot, but the price for parking is reasonable and easier than searching for free parking on the street. There is a little plaza in the area with benches and live music. Tonight's offering of music was on the lame side with some new ager playing a cd of his music. On to the restaurant. Surprising for the area, we seated very quickly after arriving. It helped that we were able to make reservations, but there weren't many people waiting for tables. The menu is made up daily because the offerings of fresh fish change all the time they say. My boyfriend and I skipped the appetizer because I wanted to save room for dessert. I had grilled Rainbow trout with a few stalks of aspargus, one baby carrot, and two potato croquettes. The fish was very tasty and flaked easily onto the fork. I liked the pine nut butter that was used on the fish. The fish was sliced thin and there wasn't as much of it as I expected. The sides were on the skimpy side too. For close to $20, I expected abit more. However, I suppose that I really don't need large sized portions. There were several options on the dessert tray, but I went for the strawberry shortcake. The "cake" part of the dessert turned out to be more like a shortbreak cookie. It was harder and definitely not fluffy. The strawberries were on the skimpy side. However, there was some ice cream in the middle with a generous dollop of cream. Finally, I had a glass of ruby port with my dessert. The food was definitely good, but I think that they did skimp on some things. The service was very good and the waitress was attentive. I would go back again.

---
Friday, April 28, 2006 -- Evening
Bahama Breeze
This evening, my boyfriend and I went to Bahama Breeze for dinner. It was quite enjoyable. The wait time was not long even though there were a large number of people there. The restaurant is large with indoor and outdoor seating. One of the outdoor tables is for a large group of people and had a fire in the center of the table. The decor of the restaurant is in keeping with a the Caribbean theme. The food was wonderful, fresh, and very tasty. We started with the Jamaican Grilled chicken Wings which were huge, whole wings rubbed with Jerk seasoning. Jerk barbeque sauce was on the side, and a huge slice of fresh, juicy pineapple accompanied the dish. For the main course, my boyfriend had the Jerk Chicken Pasta which he said was very good, but not as spicy as he thought it would be. That doesn't mean he didn't like it, it was just unexpected. The dish came in a normal and light size. I had the fire-roasted Jerk shrimp which had a garlic-thyme butter dip and a whole hoagie sized loaf of bread for dipping. As a side, I had a bowl of fresh fruit that was made up of actual fresh, juicy pieces of pineapple, cantaloupe, and honey-dew melon. I finished the meal with the Dulce de Leche Cheesecake and a hot, alcoholic, coffee drink. The food was great, and the waitress was very attentive and pleasant considering how busy it was there. I will definitely be back.

---
Thursday, April 20, 2006 -- Evening
Silk Elephant
My boyfriend and I went to a restaurant opening today. We were invited to the opening, and it appears that everyone on the guest list was not charged. Never having been to a restaurant opening, I didn't know that it was good luck to do this. The restaurant is owned by the same folks who own and run Bangkok Balcony, and the food is of the same quality--extremely good. Silk Elephant is a Thai tapas restaurant, and the items on the menu this evening were just the tapas part. It was all very tasty, and even though things were tapas sized (ie, small), we were full. We had the chicken curry puffs--my favorite, and the crunchy taro, which was deep, fried taro with crushed peanuts and a hot, spicy sauce for dipping. We also had beef satay and fried calamari (dipped in wasabi). To end the meal, we had a sampling of taro cake which was mushier than cake, but not as soft as pudding. It was very tasty, and I look forward to going again. The menu in future weeks should be more expansive with noodle and curry dishes.

---
Friday, March 24, 2006 -- Late Evening
Six Penn Kitchen
After the game this evening, my boyfriend, two other friends, and I went to Six Penn Kitchen. It's on Penn Ave in the Downtown area of Pittsburgh, several blocks from the Arena. The food there was actually good. The calamari was tender and tasty, the personal pizza with homemade mozzerrella, tomato, and basil was very tasty. We decided to get dessert which was a warm apple pie with cinnamon ice cream. The food was good even though abit on the small side. The nice thing about smaller sizes is that you don't overeat. The prices were comparable to the sizes, so I was not disappointed. The only negative was the number of items on the menu. It didn't have alot of options or variety. Even with that, I would go back again if I was in town.

---
Friday, February 17, 2006 -- Evening
Bangkok Balcony
My boyfriend and I returned to my favorite eatery, Bangkok Balcony. They have the best Thai food, and they have added a new item to the menu. They now have a pastry dough puff that is filled with either curry chicken or taro. Tonight we got the taro, and it was excellent. If you want to sample some of the best Thai food, Bangkok Balcony is the place to go.

---
Saturday, January 22, 2006 -- Evening
Sweetbasil and La Filipiniana
I forgot to mention my restaurant experience recently at Sweetbasil and La Filipiniana. This is a Thai and Filipino restaurant that has opened a second location here in Squirrel Hill. The restaurant is split into two rooms, so there is plenty of seating and space. The food was very tasty but not as hot as I expected for the levels requested. We started the meal with the Sa-Tay Chicken and Crispy Curry Puffs. The puffs were exceptionally good with a light pastry dough filled with a curry chicken and potato stuffing. The puffs were bite size and we had one for each person. So the second appetizer wasa a needed. The Sa-Tay chicken was typical of others of its kind. For the main course, I had the Mussamen Curry with chicken which was the monthly special. The curry was made over a 24 hour period and it was equal in taste to the place with the best curry, Bangkok Balcony. The only problem that I had with the food was that the spicy level seemed extremely bland. The curry was supposed to be at level 5, but it tasted like a level 0. My boyfriend's sister had the ginger chicken and asked for level 5 and that also was not hot at all. I filled out a survey card and expressed by displeasure with the spice level. Other than that the food was very good and tasty. Be forewarned, if you go there, you might want to try a level 10, and hopefully you might get something that in actually is a level 2.

---
Wednesday, November 9, 2005 -- Early Afternoon
Claddagh Irish Pub
I didn't get to watch Amazing Race 8 or Bound for Glory last night because I went out with a group of friends to try Claddagh Irish Pub located at the SouthSide Works. I was looking forward to the visit because the restaurant has homemade shepherd's pie. I've made my own shepherd's pie so I was looking forward to trying it. The design of the restaurant is centered around the bar, hence the pub part of the name. Booths were scattered along the side of the bar, and since we were a large party of nine, we were placed in one of the back rooms. The items on the menu were responsibly priced with appetizers and sandwiches under $10 and entrees under $20. My boyfriend and I started out with the Pots of Gold which were potatoes that were peeled, cut in half, scooped out and filled with cheese and scallions. The potatoes were tasty, and plentiful (six halfs in all). For the entree, I decided against getting the whole shepherd's pie on my own because I heard that it was large, so I went for the half order of fish and chips. The half order was large, with a huge slice of fish. The fish was crispy, but not remarkable. The chips were large, seasoned fries, again unremarkable, and the side of coleslaw was a miniscule portion that was average in taste. Others ordered the shepherd's pie and I was immensely disappointed when I saw it. Bascially, it was a bowl of seasoned ground meat with huge chunks of carrot in it with a scoop of lumpy garlicy mashed potatoes on top. Every shepherd's pie recipe that I have seen has the meat covered with potatos on top that form a crust. It was not at all what I expected, and I was very happy that I didn't get it. My boyfriend had the salmon with dill butter, and it was okay--again a dish that was average and nothing to be excited about. I decided to get a dessert and got "Bailey's Crepes: Two thin crepes filled with a Bailey's cream cheese, rolled and topped with a raspberry and blackberry fruit compote." Again it was a disappointment. The crepes were tough and tasteless and the cream cheese was also bland. All in all, I would have to said that Claddagh's was a huge disappointment to the palate, and I probably won't be returning in the future.

---
Saturday, September 17, 2005 -- Evening
Buffalo Blues
My boyfriend and I went to an early dinner so we could watch the Pittsburgh Panthers game this afternoon on a big screen television. More about the game later, but first I wanted to mention the great experience that we had at Buffalo Blues located on South Highland Ave. in Shadyside. The restaurant is known for having great wings (they have been voted best in Pittsburgh in some local polls) and for having blues music. Today they had all the large screen televisions (of which there are several scattered all over so every seat has an excellent view of a large screen) focused on the Pitt game. The food was served quickly by a very alert and responsive waitress. The wings are some of the best that I have had in a restaurant. They were meaty and on the large size. Usually when you go to a restaurant for wings, you get an anorexic chicken. Not at Buffalo Blues! The flavor of wings that we got today were garlic parmesean (drier, less saucy wings), Buffalo Blues (a buffalo style sauce), and spicy garlic (with hot pepper flakes scattered on the wings). I gave in to the inner fatty who is quickly becoming the outer fatty since I haven't been as mobile since the bunion surgery, and we got the fudge brownie ala mode with chocolate sauce. It was enormous and fabulous with an extra container of hot chocolate sauce on the side for additional pouring and dipping. I was really impressed with the atmosphere, the price ($8 for a dozen wings), the quality of the food, and the service which was exceptional considering how busy it was. I would definitely go back again and recommend the place to others.

---
Saturday, June 18, 2005 -- Evening
Cheesecake Factory
This evening, my boyfriend, his sister and I went to the Cheesecake Factory. It's located on the South Side in an area called the SouthSide Works. The location is being built up with a variety of shops (mostly upscale) to compete with the Waterfront area. The Cheesecake Factory is off of the main street, East Carson Street, but is within sight of the road. Although there is a usually a wait before being seated, the area outside of the restaurant is quite nice. There is a area for a band called the Town Square, and tonight the group was the String Cats. The music was the swing type that you would hear from Frank Sinatra. It was very nice to sit on the bench, listen to music, have conversation, and watch the fountain display. The fountain is a group of perhaps 24 spouts that are placed in the middle of the square. The water spouts up in a changing rhythm. It was very soothing and relaxing. Now on to the Cheesecake Factory itself. The seating area is large, but arranged in such a way that you feel some privacy as you sit in one of the booths. The food was good, and the portions were enormous. The menu is huge, and I had alot of difficult making a selection. We started out with an appetizer, and got the Bruschetta. This was an 8 inch round of pizza dough that was piled high with chopped tomato pieces, garlic and olive oil. It was tasty--abit too many tomatoes, but I am not a big fan of tomatoes. For the entree, I chose the Veggie Curry Pot Pie. The puff pastry was enormous, and overwhelmed the dish. I would have preferred more of the veggies in the dish, and a smaller size in the overall dish. My boyfriend had the salmon special which came with french fries and steamed broccoli. He said that the salmon was tasty. My boyfriend's sister had the fresh Fish Tacos. There were three tacos, and the sides were black beans, rice and guacamole. She liked the tacos which were made with grilled mahi. The spicy avocado cream was abit overwhelming though, and took away from the taste of the fish. The guacamole was salty too. We weren't disappointed in the food, just not overly impressed. The dessert menu in enormous, and dominated by cheesecakes. However there are other options, and we got settled on sharing a chocolate cake. It was a huge piece. Even with three of us sharing, we weren't able to finish it. In fact, a large portion was left over. The cake was very tasty and moist. Desserts are definitely great. I will go back because the area is nice, and the food is decent.

---
Sunday, May 22, 2005 -- Evening
Bagel Factory
My boyfriend and I have decided to start a new tradition, going out to get breakfast on a Sunday morning. We'll probably keep to it as long as the weather is nice. The place that we settled on was the Bagel Factory on Forbes Ave. here in Squirrel Hill. It is a nice little stroll from our apartment. The Bagel Factory shares its facilities with Ben & Jerry's Ice Cream. The food at the Bagel Factory is just like what you would find at an old traditional deli. They have sandwiches, different types of salads, baked goods, and breakfast food. The prices are reasonable, especially considering the fact that they bring the food to you after you order at the counter. This morning, I had egg, cheddar, and bacon on a toasted garlic bagel (for only $2.95) while my boyfriend had Challah french toast (around $4). The food was hot when we got it. In fact, my bagel was so hot, I almost burned my lips on it. The Bagel Factory has seating both inside and on the sidewalk. I think we will be going there for quite a few Sundays.

---
Saturday, May 7, 2005 -- Evening
Fuel & Fuddle
My boyfriend and I went to Fuel & Fuddle this evening for dinner. It was a mediocre meal at the best. He loves the nachos that they have there, and they were okay. The problem was with the main portion of the meal. I ordered the Left Coast Pasta which is described on the menu as follows: "Penne tossed with White Wine, Virgin Olive Oil, Garlic, Sundried Tomatoes, Shitake and Portobello Mushrooms, Pinenuts and finished with fresh grated Asiago". What I didn't realize is that a more accurate description of the dish would have been "mediocre, tasteless tomato goop trying to pretend to be a sauce". Maybe if the dish had been something other than just warm, it might have been better, but the "sauce" was really tasteless. My boyfriend was smart--or at least he thought he was. He had a burger and fries. There is nothing worse then fries that are served cold. So, yeah, you get sweet potato fries mixed in with regular fries, but cold is cold. So if the only thing you want is an okay appetizer--not great, but not bad--Fuel & Fuddle is the place for you. They also have alot of different types of beer there. That's probably why they don't put the effort into the food. They obviously expect people to eat the food with beer goggle tongues. The other peeve that I had with the place is that folks were allowed to smoke in the non-smoking section. The only section where true non-smoking seemed to happen was in one corner against the wall. For all intents and purposes, that means that there is no non-smoking section. All in all, it was a disappointing outing, and I am going to put the boycott on the place.

---
Friday, April 15, 2005 -- Evening
Mediterranean Grill
My boyfriend and I had dinner this evening at Mediterranean Grill. The place was as busy as usual, and the food was good as always. This evening, we had humus and pita, and shared the filet mignon dinner with rice. I love the dressing on the salad. It really has a good flavor.

---
Tuesday, March 15, 2005 -- Evening
Cafe at Frick
My boyfriend and I are on vacation this week. It was one of those "use the days or lose them". The weather here isn't necessarily the best for a vacation, but it isn't snowing. I can handle the cold. This afternoon we went to The Cafe at Frick. This is the location of Henry Clay Frick's home in Pittsburgh, and is known by the name of Clayton. There is only an admission fee to tour the house, and the furnishings in the house are changed seasonally. On the grounds of the house, there is a greenhouse, art museum, and car garage. It's especially nice to go to Clayton when the weather is warmer because you can walk around the grounds. The car garage is very nice, and usually has a selection of around 20 antique cars. However, my favorite thing to do at Clayton is to go to the Cafe and have the afternoon tea. It is a typical British tea with sandwiches, scones and cakes. The cost of it is abit steep. One tea costs $16 and provides you with one individual pot of tea (they do refill it with hot water), four small tea sandwiches, two small scones and three to four small samplings of cake. Now this doesn't sound like much, but it is filling for one person. Usually I get one tea just for myself. The offerings in the restaurant also chance on a seasonal basis. For the tea today, the sandwich selections were chicken curry, egg salad, a slice of bread with mustard, carmelized onion and mushroom, and Irish soda bread with a dollop of cream. The chicken curry sandwich is heaven. The restaurant will provide you with a recipe for the curry if you ask for it. One of these days I'll have to try and see if I can make it at home. The scones today were currant scones, and they are served with Devonshire cream and jam. The scones today were warm from the oven and gloriously soft inside. They are the best scones that I have had in a restaurant/coffee shop setting. For the desserts today, there was a small sample of lemon cheese cake with a cream icing, key lime tart, and chocolate flourless cake. The cakes come with a huge helping of homemade whipped cream. I had the peppermint tea to wash it all down while my boyfriend had the Frick houseblend tea, which he says is very tasty. The ambience at the Cafe is very nice. It is small with seating for maybe 20 to 25 people. The dining area is surrounded by windows so you can look out at the grounds. In warmer weather, there are tables outside, and that is truly relaxing. One of these days, we would like to try something else from the menu, but I can't bring myself to have anything other than the tea if it is being offered (from 2:30 pm until 5:00 pm). Even though it is expensive, it is well worth the treat--just not on a regular basis.

---
Sunday, February 27, 2005 -- Evening
Smokey Bones Barbeque and Grill
On Friday evening, I went to Smokey Bones Barbeque and Grill. It is one of my favorite restaurants, but I don't go there very often because it is in Robinson Township. That means I have to go through the Fort Pitt Tunnels to get there, and that's not always a pleasant drive during rush hour traffic. So I don't go there often. Smokey Bones is a chain restaurant that has a simple barbeque type place feel to it. The menus are placemats on the table. There are televisions all over the place, and you have a selector at your table so you can hear the audio from whichever television catches your eye. There aren't alot of options on the menu, but all the food is good. This time we shared the barbequed chicken nachos, which are very tasty. For an entree I mixed the shrimp appetizer with some rice and broccoli. The shrimp was in a tangy tomato sauce and really had a kick to them. The others with me had burgers or pulled pork. One of these days when I go there, I'd like to save room for dessert. One of the options is a bag of freshly cooked cinnamon sugar doughnuts. The service is always good and fast. I just wish the restaurant were in a more convenient location.

---
Monday, February 7, 2005 -- Evening
Aladdin's
The weather was beautiful today. It's not often that you get sunny, 50 degree days in Pittsburgh in February. Because it was so nice, my boyfriend and I went out to dinner, and went to Aladdin's here in Squirrel Hill. The food there is iffy. There are some good items there if you know what to get, and some over rated, over priced items if you don't know. The soups are tasty, but noodle-less. The garlic soup is an interesting broth. Today I had the lentil soup which was mostly lentil, and very little potato. For the entree, I got the chicken Sambusek appetizer with a side salad. If you do this, you pay less than if you order the Chicken Sambusek entree which is also the sambusek with a salad, but $2 more expensive. The sambusek is toasted for a health alternative. Personally, I think it would be great fried, but the restaurant is going for a healthy item. My boyfriend had a chicken shawarma rolled pita. The food was good, not the best, but good. The one thing to keep in mind when you go to Aladdin's is that it is Americanized Middle Eastern. If you want something that is authentic and delicious (as opposed to just tasty), go to Mediterranean Grill down the street on Forbes Ave. That restaurant is owned and run by a Lebanonese family, and has the best Middle Eastern food in Pittsburgh.

---
Saturday, January 1, 2005 -- Evening
Murray Ave. Grill
My boyfriend and I had an early evening dinner at Murray Ave. Grill this evening. It's a bar/restaurant in Squirrel Hill on Murray Ave. The food there is good, and not very expensive. The cost of a meal for two people is usually around $30. This evening, I had the chicken scallopini pasta. The portion was large, and it was filled with articokes, capers and chicken. My boyfriend just had chicken fingers and fries. That's the nice thing about Murray Ave. Grill. There is a nice assortment of sandwiches, salads, pastas and specials, so it is always possible to find something that you like. We had dinner earlier today because the Fiesta Bowl is on at 8:30 am EST.

---
Thursday, December 30, 2004 -- Evening
Milky Way
his evening I got some dinner from the Milky Way restaurant here in Squirrel Hill on Murray Ave. They are a vegan restaurant and although they make pizza, they also have authentic Israeli falafel and humus. The food there is very tasty, and the restaurant is usually crowded in the evenings. Because the restaurant is a Kosher one, it closes on Friday evenings, and opens after sundown on Saturdays.

---
Wednesday, December 29, 2004 -- Late Afternoon
Rock Bottom
After the going to the library, my boyfriend and I went to Rock Bottom at the Waterfront. Usually I boycott the Waterfront area because of the traffic conditions. There's only one way into the complex from this side of the river, and that is basically over the Homestead Highlevel Bridge. Everyone goes that way, and the traffic is horrendous. Since we were on vacation today, we decided to skip the boycott. Rock Bottom was not very crowded at the time (around 1:30 pm). The food was abundant. We had the nachos with chicken to start, and they came in a huge pile. There was more salt on some of the nachos than I like, but in general, they were very tasty, and not overburdened with toppings. For a main course, I just got the beef barley soup in a bread bowl. The soup was also alot more salty than I can tolerate, so I didn't eat much of it. My boyfriend got a plain burger. The burger was thick and juicy, and something that I think I would consider for my next visit. There are also a slew of other sandwiches, pastas and specialities that sounded tasty, such as the grilled salmon sandwich. I will go back again, but will steer away from the soups

---
Friday, December 24, 2004 -- Evening
Bangkok Balcony
This evening my boyfriend, a friend and I went to Bangkok Balcony. It's a Thai restaurant located in Squirrel Hill on Forbes Ave. It used to be the Lemongrass. Because it was Christmas Eve, the restaurant had a special presentation with Thai dancers. The dinner was very good. As appetizers, we had satay beef and samosas filled with Asian potatoes, which taste like sweet potatoes. For the main course, I had the yellow curry. The yellow curry at Bangkok Balcony is fabulous. It is made over a 24 hour period and has Asian potatoes in it. It is the best curry in the Pittsburgh area. The sauce is very tasty, and is made at a spicy level of 3. With that, I had a glass of plum wine. It went well with the spicy food, and had a sweet flavor and not a strong wine taste. My boyfriend had the Lemongrass noodles, and they were also wonderful--full of flavor and spicy. For dessert, I had the chocolate fried ice cream. The first one that was brought out had to be sent back because it came with bananas, and I'm allergic to bananas. My boyfriend had a green tea ice cream which had a very unusual taste for ice cream. The Thai dancers were very good. They did three separate dances from the northeastern part of Thailand. One was done for rice planting (Serng Kratip), the other to honor the king, and the last was a dance for the princess to show her love. All in all, it was a very nice evening--great food, wonderful entertainment, and friends.

---