The Daily Bongo
Pittsburgh Penguins
2011-2012 Eastern Conference Quarterfinal Matchup
Game
Date
Matchup/Result
Winner
Score
1
Wednesday, April 11, 7:30pm et
Philadelphia Flyers @ Pittsburgh Penguins
PHI
4-3
2
Friday, April 13, 7:30pm et
Philadelphia Flyers @ Pittsburgh Penguins
PHI
8-5
3
Sunday, April 15, 3:00pm et
Pittsburgh Penguins @ Philadelphia Flyers
PHI
4-8
4
Wednesday, April 18, 7:30pm et
Pittsburgh Penguins @ Philadelphia Flyers
PIT
10-3
5
Friday, April 20, 7:30pm et
Philadelphia Flyers @ Pittsburgh Penguins
PIT
2-3
6
Sunday, April 22, TBD
Pittsburgh Penguins @ Philadelphia Flyers
PHI
1-5
2011-2012 Atlantic division
Team
GP
W
L
OT
PTS
L10
NY Rangers
82
51
24
7
109
6-4-0
PITTSBURGH
82
51
25
6
108
6-4-0
Philadelphia
82
47
26
9
103
5-4-1
New Jersey
82
48
28
6
102
7-2-1
NY Islanders
82
34
37
11
79
5-5-0
---
Wednesday, January 16, 2013 -- Evening
Pens Are Back In Action
The Pens are back in action. Hockey had a lockout for the second time in eight years. I have to admit that as time passed, I didn't find myself missing it. They made a deal, and there will be a shortened season. It's starting this weekend, and going through the end of April. Then there will be playoffs. I'm still not much interested, and I'll have to see if my feelings for the game returns when the season starts. The Pens are doing a nice thing tonight. They had a black on white scrimmage game for free at Console. The stands were standing room only to watch the Pens play each other.

---
Sunday, September 16, 2012 -- Afternoon
NHL Lockout
Because the NHL owners and players were unable to come to an agreement, the owners have locked out the players. Most analysts believe that the season will be delayed. It's just a matter of how long. Some of the NHL players, like Evgeni Malkin, are going to play in the KHL.

---
Wednesday, July 4, 2012 -- Evening
Parise to the Wild
Ray Shero wasn't able to get Zach Parise to sign with the Pens. After four days of everyone wondering where Parise was going, Parise announced that he would be joining Ryan Suter, the other big free agent out there, with the Minnesota Wild. Parise comes from Minnesota, so it was a return home. I think Parise intended this from the beginning, and I think he was just dragging out the drama. The problem is that Shero doesn't seem to be able to get wingers to sign on with the Pens. Last year, Jaromir Jagr went to the Flyers. Jagr signed with the Dallas Stars for the upcoming season. We'll have to see if Shero is able to get anyone else to be Sidney Crosby's winger.

---
Sunday, July 1, 2012 -- Evening
Zach Parise to the Pens?
Zach Parise, captain of the New Jersey Devils was unable to come to an agreement with the team before noon today, and he entered the free agent market. Parise is a close friend of Sidney Crosby, and the Pens are one of the teams making offers. We won't know what Parise's decision is before tomorrow, but Pens nation is on the PariseWatch.

---
Friday, June 22, 2012 -- Evening
Bye-bye Jordan Staal
As I write this, the NHL draft is being held here in PIttsburgh. That leads me to the shocking news that the Pens traded Jordan Staal to the Carolina Hurricanes. The Pens had made a good ten year deal to Staal yesterday, but Staal turned down the offer and said he wanted to go free agent. Well, the Pens decided to trade him to get something at the draft. Supposedly, Staal wanted to go to Carolina so he could play with his brother, Eric, and possibly with his younger brother, Jared, who is a prospect with Carolina. Staal got married today, and supposedly Ray Shero referred to it as a wedding gift. The Pens got the eighth pick, and they chose a defenseman, Derrick Pouilot. The Staal trade isn't such a shock to me. Staal really didn't have a role here, and he probably was getting tired of being on the third line. Also, he was getting as many hours as he wanted.
Malkin's Trophies
Evgeni Malkin made out at the NHL Awards a couple of days ago. He got the Art Ross since he lead the league in scoring. Then he won the Hart Trophy, for the league MVP. The NHLPA members voted Malkin the league's best player, giving him the Ted Lindsay Award. Malkin deserved all the accolades for the great work he did this season.

---
Thursday, April 5, 2012 -- Evening
Annual Pens Awards
The annual Pens team awards for the regular season are:

Baz Bastien Memorial "Good Guy" Award - Marc-Andre Fleury and Pascal Dupuis
NHL Masterton Nominee - Matt Cooke
A.T. Caggiano Memorial Booster Club Cup - Evgeni Malkin
Player's Player Award - Brooks Orpik
Edward J. DeBartolo "Community Service" Award - Evgeni Malkin
Defensive Player of the Year - Brooks Orpik & Marc-Andre Fleury
Most Valuable Player Award - Evgeni Malkin

---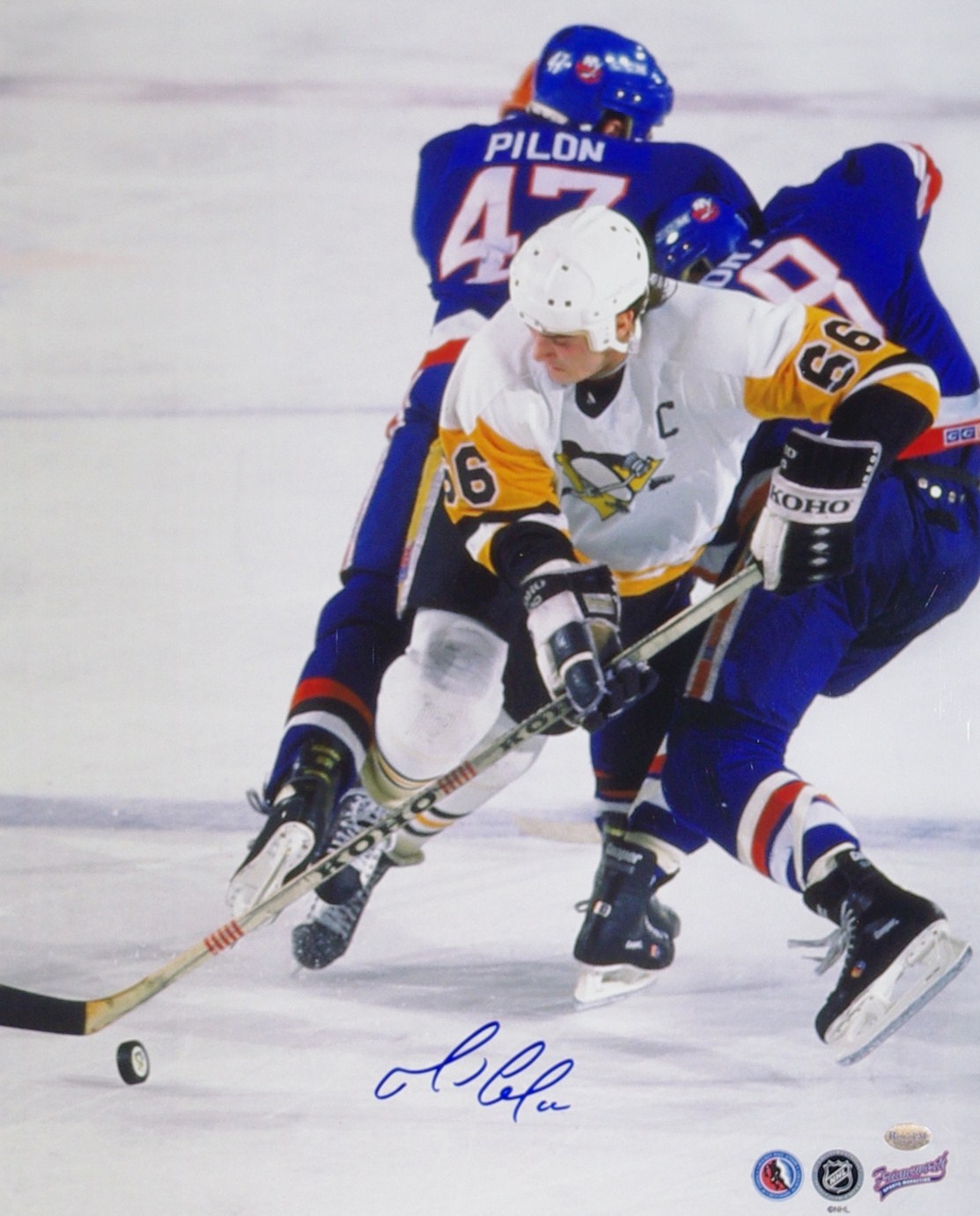 Wednesday, March 7, 2012 -- Evening
Mario Lemieux Statue
A statue honoring Mario Lemieux was unveiled in front of Console Energy Center this afternoon. The statue shows Lemieux splitting two Islanders defensemen in 1988. Of course, the play resulted in a goal. The picture to the right is the photo that was used for the statue. It's a pretty cool looking photo, and the concept is in interesting one. It's hard for me to tell from the photos of the statue how it looks. From some angles, it doesn't look that great. Some people have said that it seems too busy, but that was based on leaked images. It may look much better in person. I'm going to be by the arena on Tuesday, and I'll check it out in person. With the unveiling today, the Pens also honored Mario at the start of tonight's game against the Toronto Maple Leafs.
Crosby Cleared for Contact
Sidney Crosby has been cleared for contact, and he practiced with the team today. The hope is that Crosby will be back for Sunday's game against the Bruins. However, Crosby said that he did not want to just play for a few games and then wind up on the sidelines. So he's going to take his time on the comeback. Needless to say, I'm sure that people will be trying to beg, borrow, or steal a ticket to Sunday's game, which will be here in Pittsburgh.

---
Sunday, February 19, 2012 -- Afternoon
James Neal Contract Renewal
James Neal renewed his contract, it was announced today. Neal's contract is for six years and will pay him an average of $5 million a year. Neal has been doing a great job in Pittsburgh this season, and yesterday's goal gave him 30 goals so far this season. That is Neal's first 30 goal season. Since hockey players do their best before they are over 26 years of age, the Pens should still get some good hockey out of 24-year-old Neal. This guy did a great analysis of players scoring based on age.

---
Sunday, January 29, 2012 -- Evening
Crosby's Injuries
The news this NHL All-Star weekend centered around Sidney Crosby. This weekend, the Pens announced that after seeing a specialist in LA that Crosby indeed did have a concussion. In addition, he had fractures to two vertebrae, which had healed. Now Crosby is seeing a third party specialist, and there are rumors that Crosby is unhappy with the diagnosis that he has been getting from the Pens' doctors. However, I'm not sure that he is blaming the Pens. I could understand that he would blame them if they were pushing for him to return, which they aren't, or diminishing his claims, which they aren't. But there is obviously some stress there. Who knows where this will lead.

---
Friday, January 13, 2012 -- Evening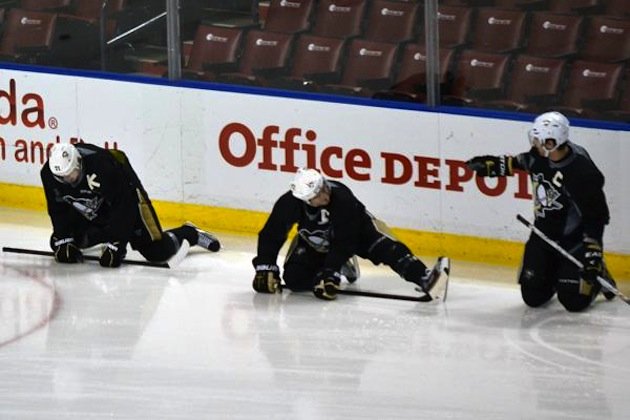 Pens Wear C
The Pens were in Florida to play the Panthers this evening, and today at the morning skate, the players all wore Cs on their jerseys to show support for their captain. There have been rumors that there was dissension in Pens' locker room over Sidney Crosby being out for so long with concussion symptoms. Although Crosby was skating with the team, he has had problems with headaches and balance. An anonymous player said that the team's players were planning on assigning someone else the job as temporary captain. it's hard for people to understand something like a concussion or brain injury. Others cannot see a headache, and they don't know how serious it is. Sometimes I really wonder if Crosby will make it back to the ice. With the team's losing streak, emotions are high on the side of the fans, and probably even with the players. Hopefully, things will end well.

---
Sunday, January 8, 2012 -- Afternoon
More Bad News for the Pens
The Pens are having a really rough time of it this year. Not only are Sidney Crosby and Kris Letang out for an indefinite period, with no updates or comments from the team on them, but there are more injuries. Jordan Staal is out for 4-6 weeks with a knee injury, and James Neal is out indefinitely with a broken foot. Ray Shero is going to have to do make some sort of trade to try to get something going for the team. I really feel for Neal because he has been scoring as if he were on fire.

---
Sunday, November 20, 2011 -- Afternoon
Sidney Crosby to Play Tomorrow
Sidney Crosby will be playing in tomorrow's Pens game against the New York Islanders. He finally got the clearance for game activity, which is great news. The team will be playing back at Console, here in Pittsburgh.

---
Thursday, October 13, 2011 -- Evening
Crosby is a Black Hat
Good news for the Pens! Sidney Crosby has seen improvement with his concussion and has been upgraded to practice with contact. That means that during practice, Crosby gets to wear a black helmet just as the others wear. There's no rush to get Crosby onto the ice for a game. Since the team is doing okay without him, they can hold off to have a healthy Crosby in the latter part of the season. We want to get the Stanley Cup, not get Crosby back on the ice in the first month of the season.

---
Friday, July 1, 2011 -- Afternoon
Flyers Suck
Really horrible news with Jagr came out around an hour ago. Jagr signed a $3.3 million, one year deal with the Flyers. Then shortly after that, they announced that Max Talbot had signed with a 5 year, $9 million deal with the Flyers. Gosh, we hate the Flyers in this city, and now with they getting Jagr and Talbot, the hate is even stronger. I can only imagine Jagr's reception in the city when the Flyers come to town.

---
Friday, July 1, 2011 -- Late Morning
JagrWatch Over
JagrWatch is over. The Pens have withdrawn their offer to Jaromir Jagr because his agent has been trying to generate more interest and money for Jagr. This is a huge disappointment because I thought for sure that Jagr would be a Pen. There have been rumors flying all around the city over the past few days, and people were really hyped up over the thought that Jags would be back in a Pens' uniform. But it was not to be. I don't know how much of this is due to Jags, and how much to his agent, but I know that a deep sadness has fallen over me over the whole thing. It's so disappointing. :(

---
Wednesday, June 29, 2011 -- Evening
JagrWatch
Pens fans around the 'Burgh have been on seat's edge all day, waiting to hear whether Jaromir Jagr is going go accept the one year offer made by Ray Shero. Supposedly, Jagr was on the way to New York from Europe/Russia, with his plane landing at 4:00 p.m. However, as of almost 8:00 p.m., there has been no word from Jagr or the Pens. What this means I don't know. I just know that I'm on the edge of my seat waiting and hoping that next year I get to see Jagr and Crosby on the same team.

---
Tuesday, June 28, 2011 -- Afternoon
Jaromir Jagr Returns?
The Pittsburgh sports media have been buzzing for weeks about the possibility of Jaromir Jagr returning to the Pens. At first, most people were nay saying the whole discussion. The Pens were just reaching out to Jagr to attend an alumni golf event. Others were saying that Jagr was a cancer for any team, and that he would definitely not fit on the Pens with Sidney Crosby and Evgeni Malkin. Then Jagr was quoted as saying that he loved playing with the Pens and that he wished he could return. Jagr even said that he owed everything he had in hockey to Mario Lemieux, and that for Mario, he would come back to the Pens for a smaller amount of money. Dan Bylsma said that he would love to have Jagr on the team. Then it started to become real. Jagr was planning on returning to the NHL. The Red Wings were interested in him. And the reports of talking to the Pens returned with renewed vigor. Jagr and Mario had a recent phone conversation that "went well." Now the city is abuzz because the Pens appear to be making a serious effort to sign Jagr. All I know is that I have always loved Jagr. I was hurt when he first left, as most Pens fans were. I was amongst those that booed him in the early years to express my displeasure at the way he left. But then the love returned. I was back on the Jagr bandwagon, and I really hope that he returns to the Pens. We should know this week, because Jagr can't sign with a team before July 1.

---